Lore & Bio
"They say pain is all in the mind, but they're wrong: It's all in my hands."
The Ecclesiast-King of Elze craved pain — forbidden pain. Such desires might be considered unwise in a less prominent political figure, but in a monarch of his stature, to satisfy such thirsts would have jeopardized the Divine Throne's very virtue. As a result, he turned to his demonologists in his dungeon, promising freedom to anyone who could summon a personal succubus of torment and bind it entirely to his service. The creature who arrived, Akasha, inflicted such exquisite torments on him that he dubbed her his Secret Queen, and he began to spend all his spare moments submitting to her cunning torments, eventually abdicating all his responsibilities in pursuit of the painful pleasures that only she could bring.Queen of Pain had the power to kill him, but she was rune-bound to keep him alive. Finally, the King's neglect of state caused an uprising. He was dragged from his chamber and thrown from the Tower of Invocations, and at the moment of death, Queen of Pain was released into the world, free of servitude—free to inflict her sufferings on anyone who dared to notice.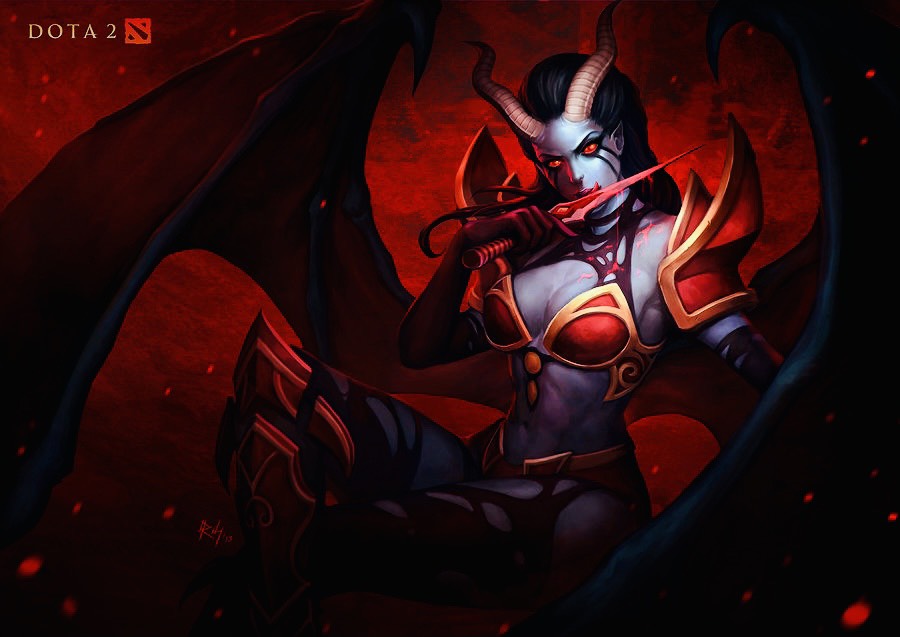 Attribute & Stats
Level: 0 1 15 25 30
Health: 200 560 1220 1940 2220
Health regen: +0.25 +2.05 +5.41 +9.01 +10.41
Mana: 75 375 939 1491 1719
Mana regen: +0 +1.25 +3.63 +5.93 +6.88
Armor: 0 3.67 9.5 15.67 18.08
Damage Block: -
Magic Resistance: 25%
Status Resistance: 0%
Damage: 24-30 49-55 96-102 142-148 161-167
Attack Rate: 0.67/s 0.81/s 1.05/s 1.29/s 1.39/s
Attack Range: 550 (800)
Attack Speed: 100 (1.5s BAT)
Attack Animation: 0.56+0.41
Projectile Speed: 1500
Movement Speed: 290
Turn Rate: 0.6
Collision Size: 24
Vision Range: (G) 1800 • 800
Legs: 2
Gib Type: Default.
Ability Upgrades:
Upgradable by Aghanim's Scepter - Sonic Wave.

Upgradable by Aghanim's Shard - Blink.
Abilities & Talents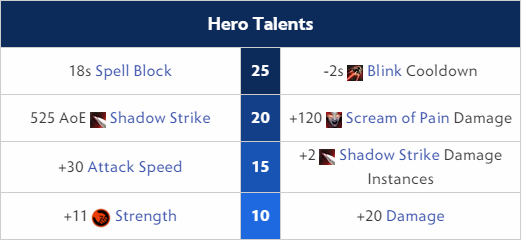 Skills building guide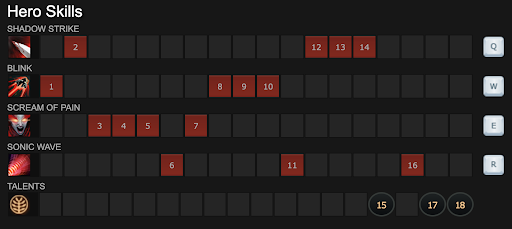 With all of these items in mind, the best way to construct your Queen of Pain is to first understand the items and basic abilities of your and your opponent's teams. Understand. Relate. Improvise, then execute. There is no such thing as 'the perfect build.' There is only one 'ideal build for a specific game.' Consider your own.
Abilities

Shadow Strike
Mana cost: 110/120/130/140
Cooldown time: 16/12/8/4
Cast animation: 0.4+0.67
Cast range: 450/500/550/600
Duration: 15
Radius: 525
Effect: Hurls a poisoned dagger, dealing significant initial damage and then dealing damage over time. For 15 seconds, the poisoned unit's movement speed is slowed. Every 3 seconds, an instance of damage is dealt. The Queen of Pain revels in inflicting pain, healing every time the enemy is damaged. Creeps only heal for half the damage.

Blink
Mana: 60
Cooldown Time: 12/10/8/6
Cast animation: 0.33+0.07
Cast Range: Global
Radius: 300
Damage: 125
Effect: Queen of Pain can move in and out of combat by using short-distance teleportation.

Sonic Wave
Mana cost: 250/400/550
Cooldown time: 125 seconds.
Cast animation: 0.452+0.9
Cast range: 700
Damage: 310/430/550
Effect: Creates a massive wave of sound in front of Queen of Pain, dealing heavy damage and pushing all enemy units back.
Effective items guides
Early game

Magic Wand
Magic Wand: Provides Queen of Pain with much-needed burst regen that can be used in emergencies.

Bottle
Bottle: Gives Queen of Pain consistent health and mana regeneration Blink gives her nearly unrivaled rune control, allowing her to easily replenish Bottle charges.

Infused Raindrops
Infused Raindrops: Helps Queen of Pain resist harassment and gankers while also replenishing her mana
Mid game

Power Treads
Power Treads: Provide Queen of Pain with attack speed and attribute switch, making her more durable and gaining more value from Bottle.

Witch Blade
Witch Blade: Provides her with intelligence, armor, attack speed, and a passive ability.

Orchid Malevolence
Orchid Malevolence: Gives Queen of Pain silence to keep the hero she's blinking on from fighting back, as well as a lot of mana regeneration and damage increase.

Linken's Sphere
Linken's Sphere's: Spellblock provides all-around attributes and regen to Queen of Pain, allowing her to survive long enough to blink to safety.

Black King Bar
Black King Bar: Protects against most disables and nukes, allowing Queen of Pain to enter battle fearlessly.
Late game

Shiva's Guard
Shiva's Guard: Increases both armor and mana pool The Arctic Blast active augments Queen of Pain's ability to stun and nuke enemies.

Mjollnir
Mjollnir's: Chain Lightning and Static Charge, when combined with Spell Lifesteal, can significantly increase Queen of Pain's survivability in teamfights.

Bloodthorn
Bloodthorn: Is a natural late-game improvement over Orchid Malevolence. It can be purchased in advance to assist Queen of Pain and her team with evasion.

Assault Cuirass
Assault Cuirass: Is a different armor piece that aids Queen of Pain's team in capturing objectives such as towers and Roshan.
Situation items

Veil of Discord
Veil of Discord: Gives Queen of Pain good early-mid game attributes while also significantly increasing her team's spell damage

Eul's Scepter of Divinity
Eul's Scepter of Divinity: Can either dispel silence or buy Queen of Pain enough time to blink while providing cheap mana regen.

Aghanim's Scepter
Aghanim's Scepter: Sonic Wave's cooldown time is greatly reduced, ensuring that it is always available when needed. It also provides a minor boost to Sonic Wave's damage.

Scythe of Vyse
Scythe of Vyse: Gives good attributes, increasing Queen of Pain's survivability while also providing her with the mana she requires to cast her expensive spells Hex is also one of the most powerful hard-disables in the game, capable of completely reversing teamfights.
Enemies & Allies
Allies

Axe
Berserker's Call can be used to set up a multi-hitting Sonic Wave and Scream of Pain, bringing them low enough for Culling Blade.

Dark Seer
Vacuum is an excellent setup for a multi-hitting Sonic Wave and Scream of Pain.

If your Blink is still on cooldown or you're silenced, Surge can help you escape.

Enigma
The Black Hole has the ability to set up enemies for a multi-hitting Sonic Wave and Scream of Pain.

Faceless Void
Chronosphere will provide an excellent platform for Queen of Pain to effectively use her nukes.

Lifestealer
Queen of Pain is an excellent ally for Infest because she provides Lifestealer with a useful gap closing ability and a followup magic burst.

Magnus
Reverse Polarity is an excellent setup for a multi-hitting Sonic Wave and Scream of Pain.

Omniknight
Purification and Guardian Angel from Omniknight can keep Queen of Pain alive and in the middle of the fight, giving her better positioning for her nukes.
Counters

Anti-Mage
Anti-Mage can easily use Mana Void if she spams Queen of Pain's spells because they cost a reasonable amount of mana.
Anti-Mage has similar mobility thanks to Blink, allowing him to catch up to her.
Shadow Strike and Scream of Pain's damage will be reduced by Counterspell.

Arc Warden
Sonic Wave is a poor choice of ability if he and the Tempest Double both use Blade Mail to reflect Queen of Pain's damage, potentially killing her outright if her health is low enough.
Unless she has Monkey King Bar, Magnetic Field protects himself or an ally from Queen of Pain's attacks.
Another benefit of Tempest Double is that he can deny himself if he is near death from Shadow Strike's debuff.

Axe
Berserker's Call stops Queen of Pain from fleeing with Blink while also piercing her Black King Bar.
Counter Helix will be triggered quickly due to Mjollnir's fast attack speed.
Culling Blade eliminates Queen of Pain's low health pool before she has a chance to flee, preventing her from engaging in the hit-and-run style that has become synonymous with Queen of Pain.

Bloodseeker
Blood Rite rendered her speechless, preventing her from initiating or fleeing.
Bloodseeker can easily catch up to Thirst, even if she Blinks away.
If the Queen of Pain tries to Blink away, Rupture will severely damage her.
She is, however, one of the few heroes who can successfully blink-walk away from Rupture damage.

Centaur Warrunner
Queen of Pain can be caught with a Blink Dagger and a Hoof Stomp by a skilled Centaur.
Blade Mail reflects all of Queen of Pain's damage, particularly Sonic Wave.
Stampede provides an increase in movement speed, which can prevent Queen of Pain from initiating.
If she isn't careful, Double Edge can sever her low health pool.

Death Prophet
Silence prevents Queen of Pain from using Blink to flee or pursue.
If Queen of Pain uses Blink to close the gap on Death Prophet, Death Prophet will be in range for Spirit Siphon and will usually have the upper hand over Queen of Pain.

Disruptor
When the Queen of Pain is attempting to flee, Thunder Strike appears. Her mobility and hit-and-run style can be negated when combined with Glimpse.
Static Storm restricts Queen of Pain to using only right-clicks during a team fight.
She can only wait until she respawns when combined with the Kinetic Field.

Faceless Void
Faceless Void can easily negate Queen of Pain's burst damage with Time Walk and Backtrack.
Queen of Pain is unable to escape with Blink due to Chronosphere, and her low survivability makes her an easy kill.
Time Dilation will either prevent Queen of Pain from using her low-cooldown spells or force her to purchase a Black King Bar or an Eul's Scepter of Divinity to remove the debuff and re-engage.a

Legion Commander
Duels prevent Queen of Pain from using Blink, which may force her to purchase a Linken's Sphere or go for the spell block talent.
Legion will have little difficulty in duels because Queen of Pain is also not a right-click hero.
The Shadow Strike debuff is removed by pressing the Attack button.

Luna
Aggressive blinking will not work against Luna, as Queen of Pain will be an easy target for Lucent Beam and Eclipse.
Because Queen of Pain's HP is so low, Luna can dispatch her as soon as she initiates with Blink.

Meepo
Queen of Pain's hard counter is Meepo - chaining Earthbinds prevents her from using Blink for a long time, and Queen of Pain cannot survive several Poofs and attacks without any other escape options.
Meepo frequently constructs items with attributes, which mitigates Queen of Pain's magical burst.

Night Stalker
Through Crippling Fear, Night Stalker achieves a massive, almost instant silence. The main issue is that if he creeps up to her during Dark Ascension, he can get it off while Queen of Pain barely sees him. Before she can get a Black King Bar or an Eul's Scepter of Divinity, she'll have to play very carefully.

Nyx Assassin
A good Nyx can use his Spiked Carapace to reflect Queen of Pain's Sonic Wave, or even initiate a gank on her in Vendetta while she farms a creep wave with Scream of Pain.
Her strength to intelligence ratio is so low that he should be able to kill her without even using a Dagon, assuming he can pull off his full combo.

Puck
Puck will use Phase Shift to avoid as many Shadow Strikes as possible. He will also avoid Sonic Wave if he is a good player. If he's a good player, he'll also avoid Scream of Pain. All with a single spell.
Puck can also use Waning Rift to silence her blink.
If she blinks into the trees with Illusory Orb, Puck will be able to track her down.
Queen of Pain will be unable to blink out while under the influence of Dream Coil.

Shadow Shaman
Shadow Shaman has many disables to lock down Queen of Pain and prevent her from blinking away, even with Linken's Sphere or her spell block talent.
Once Queen of Pain is restrained by Hex & Shackles, Mass Serpent Ward can rip through her low health pool.

Skywrath Mage
A skilled Skywrath Mage with quick fingers will punish Queen of Pain for her aggressive blinking. Ancient Seal is a six-second silence with no cast time, allowing him to interrupt her Shadow Strike or Sonic Wave, and a good Mystic Flare on top of that will seal the deal for her.
Ancient Seal also has a decent range, so he should be able to get it off before she blinks away.

Mirana
A good Mirana can stun Queen of Pain for 3 seconds with a sacred arrow. A hit followed by a startstorm can easily deal significant damage to a low-health Queen of Pain.
Mirana can easily attack or flee with the help of her leap.
Position Mirana close to Queen and attack as her ultimate Moonlight shadow.
Items Counter

Blade Mail
Blade Mail: Can reflect all of her nukes, particularly Sonic Wave

Orchid Malevolence
Orchid Malevolence: Silences her, preventing her from fleeing or unleashing her magical burst It can later be upgraded to Bloodthorn, allowing anyone to easily dispatch her.

Rod of Atos
Rod of Atos: Prevents Queen of Pain from fleeing or initiating combat.

Scythe of Vyse
Scythe of Vyse and Abyssal Blade: Have immediate disables.
Favorable Matchups

Drow Ranger
Often, you can knock down a Drow Ranger before she has a chance to Gust you away. Try to get a teammate to bait her Gust before you Blink and get the upper hand.

Enchantress
Untouchable will not protect you from magic damage, and a squishy Enchantress is extremely vulnerable to Queen of Pain's magic burst.

Huskar
He's the type of hero who prefers to keep his HP low, which is ideal for Queen of Pain to use Sonic Wave on.

After he jumps on you with Life Break, you should be able to blink away.

Slark
During his Shadow Dance, he should be hit by both Scream of Pain and Sonic Wave.
Game plan
Early game ( 0:00 - 12:00)
It's your time to shine, Queen of Pain, in the early game. Almost every hero on the map is weaker than you and cannot compete with you. Go mid with the recommended items; possibly, ward the cliff of the opposing solo Mid-lane in order to have complete control over his actions and the rune. Keep in mind that warding the side closest to the carry is more beneficial because it may reveal potential ganks targeting your main carry.
The gameplay is straightforward: keep spamming Shadow Strike as much as possible to harass the Solo-Mid. To keep your lane control, get a bottle, push the lane, and blink out for the rune.(You already have the ward, so you know where to look for the rune.) Finding a Haste, D.D, or Invisibility can guarantee a kill on either lane; repeat while maintaining your farm. You are not farm dependent, but you can benefit greatly if you are. Ward up again around 6:00 p.m. Continue harassing with Scream of Pain while gaining more last hits in the process.
Mid game (12:00 - 25:00)
Your ultimate is strong, your right clicks are strong, and you should have all of your items, P.T, Bottle, Wand, and half Scepter, by now. You only want to kill. Continue to target carries as much as you can. Maintain your mana pool with rune control, and keep some Dust of Appearance in your inventory to hunt down the Invisible carry, who can be a nuisance in the later scenario. Be present in each and every gank while doing so. Farming is not an option; you must farm on heroes or farm with abilities as you progress to ganks. You only need good positioning to get kills, not farming. Allow the carry to do their work while you do yours.
Late game (25:00-75:00)
Your Scream of Pain has little effect on anyone, even though your ultimate still hurts a lot; however, at this point, you can't solo-out anyone. Carriers have a B.K.B., while supports have a Meck. You must have quick hands and strike at the right moment to cast your ultimate, and a couple of heroes will be destroyed. Do not prolong the game; instead, finish it as soon as possible because you are no longer regarded as a major threat.
Your time has passed, and you are now viewed as a butterfly struggling to bring down massive monsters. There isn't much you can do except stand by your carries and assist them as best you can. You must rely on your right clicks and carries rather than your nukes. They are unlikely to cause any harm. Getting an Ethereal Blade, Heaven's Helbard, or Shiva's Guard to defend yourself against carries can be beneficial.