Lore & Bio
As the first son of heaven, Mars became the center of attention, raging through the battles. He caused and witnessed countless battles in his long life. Whether because of hatred, controversy or in the name of justice, all the battles that Mars experienced were brutal.
Inheriting his father's personality and being somewhat more impulsive, his infidel tendencies are even somewhat more than that of Zeus. Sometimes Mars felt that battles no longer satiated his hunger, causing his mind to be more driven. Consecutive battles are waged for a purpose he considers greater. However, only the remaining participants or remnants can clearly feel that the things that Mars causes are only brutal and miserable.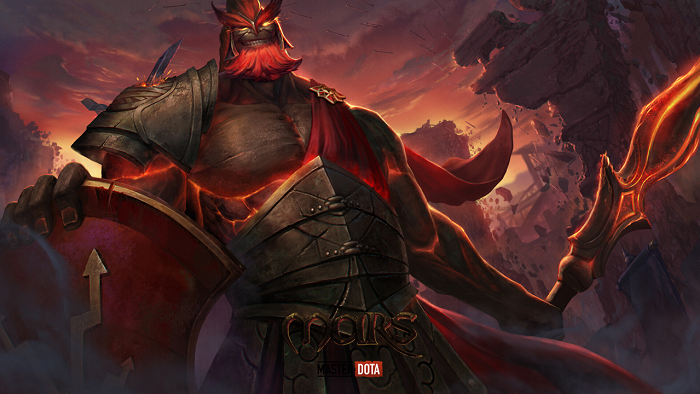 Attribute & Stats
Level: 0 1 15 25 30
Health: 200 660 1600 2520 2900
Health regen: +0.25 +2.55 +7.31 +11.91 +13.81
Mana: 75 327 687 1095 1251
Mana regen: +0.5 +1.55 +3.09 +4.79 +5.44
Armor: -1 2.33 6.3 11.13 12.88
Damage Block: 16 (50%)
Magic Resistance: 25%
Status Resistance: 0%
Damage: 29‒37 52‒60 99‒107 145‒153 164‒172
Attack Rate: 0.56/s 0.67/s 0.8/s 0.96/s 1.02/s
Attack Range: 250 (600)
Attack Speed: 100 (1.8s BAT)
Attack Animation: 0.4+1.38
Projectile Speed: Instant
Movement Speed: 310
Turn Rate: 0.8
Collision Size: 24
Vision Range: 1800 • 800
Legs: 2
Gib Type: Default
Ability Upgrades:
Upgradable by Aghanim's Scepter.
Upgradable by Aghanim's Shard.
Abilities & Talents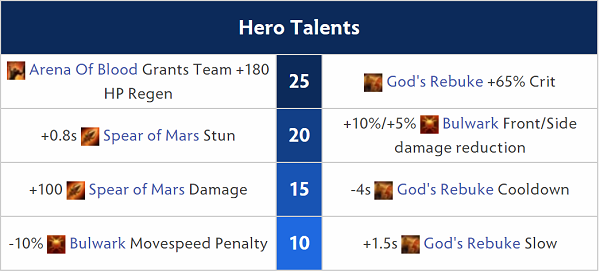 Skills building guide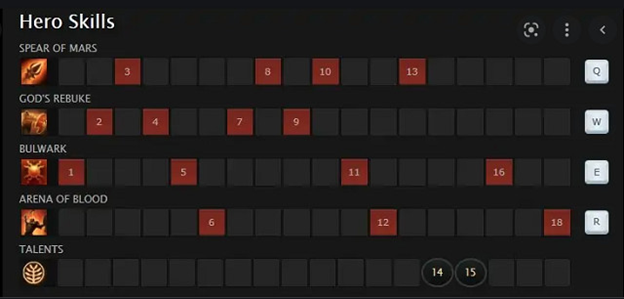 How to play Mars Dota 2 has a flexible transformation depending on the location as well as the enemies that Mars has to face. The strength of Mars in the early game is quite large, he will unleash his potential with the Spear of Mars and Arena of Blood, so you should increase these 2 skills first.
Bulwark is a defensive move that helps Mars block attacks and damage dealt by enemies. Therefore, you should only +1 skill point in the early game. Late game stage, when the above 2 skills have been maxed, start adding points.
Arena of blood is the ultimate move that can both control and deal great damage, so when you have a plus, you need to increase the skill immediately to optimize the power of this skill.
Abilities

Spear of Mars
Skill: Point Target
Impact: Enemy unit
Damage Type: Spell
Magic Immunity Piercing: No
Can be dissolved: Only strong dissolving
Damage: 100 / 175 / 250 / 325
Cast Range: 900 / 1000 / 1100 / 1200
Stun Duration: 1.6 / 2.0 / 2.4 / 2.8
Effect: He deals damage to any enemy hit by the thrown legendary spear. The first champion hit is not only dealt damage, but is also pushed back. Enemies will be stunned if pushed back hit cliffs, structures or trees.

God's Rebuke
Skill: Point Target
Impact: Enemy unit
Damage Type: Physical
Critical Damage: 150% / 190% / 230% / 270%
Distance: 500
Slow from knockback: 40%
Slow knockback time: 2.0
Damage increased to champions: 20 / 25 / 30 / 35
Cooldown: 3.5
Effect: Besides Beloved, Mars is also equipped with a shield. He possesses his shield to both protect himself and defend against enemies. Smashing shields on enemies can knock them back, dealing damage and crit their next basic attacks.

Bulwark
Skill: No Target
Front damage reduction: 40% / 50% / 60% / 70%
Side Damage Reduction: 20% / 25% / 30% / 35%
Active Speed Reduction: 20%
Effect: Activating this ability, his shield will be enhanced to become even bigger with the ability to block physical attacks from all sides: front, back, his sides.

Arena Of Blood
Skill: Point Target
Impact: Enemy unit
Damage Type: Spell
Magic Immunity Piercing: No
Time: 5.0 / 6.0 / 7.0
Radius: 550
Warrior Damage: 100 / 160 / 220
Forming time: 0.3
Effect: The undead warriors of the Ashes will be summoned around an arena created by Mars. Any attack or movement in and out of the arena will be blocked. Enemies in the citadel are not only attacked, dealing damage, but also being knocked back within a radius of 550 units.
Effective items guides
Early game

Soul Ring
Soul Ring: Mars may maintain using the Spear of Mars and God's Rebuke thanks to the Soul Ring.

Clarity
Clarity: Clarity's let you harvest and maintain your mana pool at a far quicker rate than other heroes.

Boots of Speed
Boots of Speed: Mars may utilize Boots of Speed to get into position to use his skills.

Magic Stick
Magic Stick: To keep Mars fighting, the Magic Stick delivers burst health and mana regeneration.

Bracer
Bracer: Bracer is a nice situational choice because it provides Mars some early magic resistance as well as some stats.
Mid game

Phase Boots
Phase Boots: Mars lacks armor, therefore Phase Boots provides him with armor and lets him maneuver across the map more quickly.

Magic Wand
Magic Wand: Magic Wand, which has been enhanced from Magic Stick, has more features.

Blink Dagger
Blink Dagger: Blink Dagger puts Mars in a good position to land Spear of Mars stuns and begin Arena Of Blood.

Vladmir's Offering
Vladmir's Offering: Mars can battle early with his team and farm lanes with some sustain thanks to Vladmir's Offering, as he can do so much faster than other tanky heroes.

Desolator
Desolator: Mars can swiftly take towers with Desolator throughout the mid game, which is where he excels.
Late game

Black King Bar
Black King Bar: Black King Bar offers spell immunity, which may be necessary if the other team has a high number of stuns, which can prevent you from being effective and disruptive.

Heaven's Halberd
Heaven's Halberd: Mars can use Heaven's Halberd to prevent a hero from attacking if that hero has break or spell immunity (if he can use it before them).
Situation items

Pipe of Insight
Pipe of Insight: The magical resilience of the Pipe of Insight permits Mars to survive magical nukes.

Vanguard
Vanguard: When the opponents are not striking Mars from the front, Vanguard will make it difficult to kill him with physical strikes.

Crimson Guard
Crimson Guard: Crimson Guard is a powerful physical damage dealer who may assist your squad in pushing forward.
Enemies & Allies
Allies

Bloodseeker
Bloodseeker is prevented from targeting a Ruptured victim by Arena Of Blood.
Bulwark assists Mars in surviving Rupture ganks by just facing Bloodseeker without moving.
Bloodseeker can be pushed away from Ruptured targets by Spear of Mars and God's Rebuke.

Juggernaut
Juggernaut mostly does physical damage, which Bulwark can readily neutralize.
Mars may offset much of Juggernaut's damage by switching to opposing directions with each slash, as he only absorbs full damage from one direction: his back.

Legion Commander
Bulwark makes it impossible for Legion Commander to win in Duel.

Phantom Assassin
Bulwark drastically reduces Phantom Assassin's heavy physical damage.
God's Rebuke has a real strike, despite Blur's avoidance.

Slark
Even during Shadow Dance, Bulwark prevents a lot of Slark's basic attack damage.
When Spear of Mars and God's Rebuke put pressure on Slark in the early game, it's tough for him to have a solid early/mid game.
Shadow Dance can strike Slark with the Spear of Mars and God's Rebuke.
Slark is extremely susceptible within Arena of Blood if Pounce is on cooldown.

Spectre
If Spectre is aggressively harassed in lane, which Mars can do, she will not have a successful game.
Spectre can use Haunt and Spectral Dagger both inside and outside of Arena of Blood, but it doesn't matter because Mars is most effective in the early and middle game.
If Spectre survives until the end of the game, Mars can deflect a lot of her damage and split the teamfights in his favor.

Terrorblade
Bulwark removes much of Terrorblade's physical damage, as well as his illusions.
Terrorblade's illusions are rapidly destroyed by Mars' AoE abilities.

Weaver
Shukuchi is unable to assist Weaver in escaping the Arena of Blood, hence Weaver is an easy kill with vision.
Weaver will not be saved by Time Lapse in many instances inside Arena of Blood, particularly if he is pinned to the walls using Spear of Mars.
Swarm and Geminate Attack are ineffective against a hero that can withstand 70% of his primary damage source.
Counters

Axe
Mars is forced to face the chosen direction by Berserker's Call.
Spear of Mars is a considerably weaker lane trader than Counter Helix.

Lifestealer
Rage as a spoof of the Black King Bar If utilized in time, the Black King Bar fully eliminates Mars' initiation.
Feast does damage and heals according to maximum health, making it ideal for heroes with high health strength, such as Mars.
With a fast burst of additional health, Lifestealer can potentially save teammates from Mars' initiation.

Riki
Backstab damage is increased by Blink Strike. It totally skips Bulwark, along with Tricks of the Trade.

Batrider
Mars' turn rate is slowed by sticky napalm, making it difficult for him to control the direction he is looking in order to trigger Bulwark.
While adversaries reposition themselves behind Mars to evade Bulwark, Flaming Lasso disables Mars.

Faceless Void
Faceless Void may use Time Walk to escape or enter Arena Of Blood, as well as to recuperate from Mars' burst damage.
Bulwark is unaffected by Time Lock's magical harm.
Faceless Void is able to redeploy behind Mars, disregarding his Bulwark while he is helplessly stuck in time, thanks to Chronosphere.

Huskar
In the laning stage, the magical damage of Burning Spear is quite problematic for Mars.
Bulwark is bypassed by Life Break's percentage-based magical damage, and it may also be utilized to enter or exit Arena Of Blood.

Lina
During the laning phase, Dragon Slave deals consistent magic damage to Mars.
The combination of Eul's Scepter of Divinity and Light Strike Array can stop Mars from being disruptive for a while, leaving him vulnerable to follow-up stuns.
With Aghanim's Scepter, Laguna Blade provides tremendous magical and pure damage.

Necrophos
Bulwark is totally ignored by Necrophos' mostly magical damage.
The Ghost Shroud shields Necrophos from God's wrath, but it also prevents Mars from being a danger in lane.

Ogre Magi
Because of his strong base health, resistance, and Ignite, Mars has no chance to trade with Ogre Magi in the early game.
When Ogre Magi reaches level 2, he may gain Bloodlust, making him even more difficult to deal with in lane.
Later in the game, when it comes to dominating Mars, Fireblast may be insanely powerful.
The early game's major source of damage for Mars, Spear of Mars, cannot guarantee kills against Ogre Magi.

Outworld Destroyer
The pure damage of Arcane Orb is unaffected by Mars' Bulwark.
Astral Imprisonment can be employed to keep Mars from disrupting the game or to protect teammates from his powers.
Mars takes a lot of harm from Sanity's Eclipse because of his poor intellect.

Pugna
Nether Blast, Decrepify, and Life Drain are powerful spells that bypass Bulwark.
Nether Ward limits the number of abilities Mars may utilize during battles and causes him to be cautious of Arena Of Blood's high mana cost.
Pugna is one of the few heroes that can challenge Mars' early abilities to push and protect towers.

Pangolier
Because Swashbuckle is an auto attack, it ignores Mars' Bulwark.
Shield Crash, which has been improved with Aghanim, is an automatic strike that ignores Mars' Bulwark.
Pangolier can roll in and out of Mars' Arena Of Blood thanks to Rolling Thunder, which renders him resistant to magic.

Shadow Fiend
Shadow Fiend can maintain the lane pushed against Mars if Mars takes the middle lane.
Shadow Fiend may use a purely magical-based build against Mars, which is quite successful.

Storm Spirit
Ball Lightning makes catching Storm Spirit nearly hard unless someone else initiates for you.
Bulwark has no effect on overload, and the magical damage spam may soon wear Mars down.

Underlord
In team battles, Firestorm and Pit of Malice are very disruptive, entirely matching Mars, especially as they may all be cast within Arena Of Blood and deal percentage-based magical damage, negating Bulwark.
Any Underlord friends stuck in Arena Of Blood can be rescued via Dark Rift.
Because Underlord does not have the strongest base damage in the early game, Atrophy Aura allows him to lane against Mars rather successfully.
Pipe of Insight and Mekansm /Guardian Greaves are both carried by Underlord, helping his squad to confront Mars in the mid to late game.

Undying
Bulwark is ignored by Decay, Soul Rip, and Flesh Golem, which all deal magical damage.
Mars' innate strength and hence his health pool are reduced by decay, which is what he depends on to trade efficiently in lane.

Venomancer
Bulwark is ignored by Venomancer's spells, which all deal magical damage.
The multiple slows of Venomancer are especially useful when kiting Mars.
Plague Wards can use the Arena Of Blood to assault.

Viper
Bulwark's damage block is broken by Nethertoxin.
Mars' poor mobility makes it tough for him to participate in engagements owing to Poison Attack and Viper Strike's slows.

Tusk
After an Arena of Blood, Snowball may defend Tusk and his comrades from a Spear of Mars stun, and with perfect targeting, even pull them out of the Arena.
This is most obvious in the early stages of the game, before allies purchase Black King Bar and become less reliant on it. Tusk may buy a Blink Dagger even late in the game to save comrades who are trapped before Black King Bars can be utilized by Blinking in and Snowballing out.
Tag Team is a persistent danger to Mars in-lane, since it does so much damage and slows that even with early Bulwark points, Mars is forced to retreat from the lane and play defensively every time the spell is used.

Zeus
Because Zeus inflicts tremendous quantities of magical harm, Mars' own father is a powerful foe. Because it avoids Bulwark fully, the high damage, low cooldown nukes of Arc Lightning and Lightning Bolt, paired with the % health magic damage of Static Field, will wreak havoc on Mars' health.
Items Counter

Silver Edge
Silver Edge: Bulwark is broken by Silver Edge.

Black King Bar
Black King Bar: Heroes can easily enter and exit Arena Of Blood thanks to the Black King Bar.

Glimmer Cape
Glimmer Cape: The Glimmer Cape can save an ally from the Arena of Blood.
Favorable Matchups

Dark Seer
Arena Of Blood is best played in a vacuum.

Huskar
Berserker's Blood's mechanics make it excellent for Huskar, especially when allies can split heroes like Mars can.
Inner Fire allows Huskar to force adversaries into the Arena of Blood corners.
If foes are stuck in Arena of Blood, Huskar can swiftly gain a significant number of Burning Spear stacks.

Crystal Maiden
Spear of Mars has an easier time dealing with an adversary that has been rooted by Frostbite.
Mars gains extra mana regen from Arcane Aura.
Enemies imprisoned in Arena Of Blood are readily damaged by Freezing Field.

Disruptor
Glimpse has the ability to bring adversaries who have fled back into the Arena Of Blood.
Arena Of Blood is an excellent starting point for Static Storm. Disruptor may also block foes from activating Black King Bar and leaving Arena Of Blood using Aghanim's Scepter.

Keeper of the Light
Mars' limited mana pool is helped by Chakra Magic.
Enemies are knocked into the Arena of Blood's walls by Blinding Light.
Keeper of the Light can easily hit foes with Illuminate in the Arena of Blood.

Kunkka
It's simple to land Torrent and Ghostship on adversaries stuck in Arena Of Blood.

Lich
With Frost Shield, Mars may take considerably more damage when using Bulwark.
Heroes are kept closer together in the Arena Of Blood for more assured Chain Frost bounces.

Monkey King
The Arena Of Blood makes it impossible for foes to flee Wukong's Command.
Monkey King can easily obtain Jingu Mastery stacks in the Arena Of Blood.

Phoenix
On foes imprisoned inside Arena Of Blood, Supernova and Sun Ray are effective.
Phoenix's Supernova can also be protected by a well-placed Arena Of Blood from both melee and ranged attacks.

Riki
Smoke Screen and Tricks of the Trade work well in Arena Of Blood.

Sven
The stun from Spear of Mars may be extended using Sven's Storm Hammer.
Mars' already strong resistance to physical assaults is boosted by Warcry's shield, making him practically unkillable in team confrontations.
With his Great Cleave and God's Strength, Sven will be able to grab an easy victim in the Arena Of Blood.
Game plan
Early game
Players should equip a Quelling Blade, as well as some regeneration and stat items, at the start of the game. Making a bracer will increase Mars' inherent toughness. He has good base damage, and with the bracer, he can easily battle last hits and denials with the opposition carry.
Spearing foes back into Mars' tower is one method to ensure victory in the lane. In Dota 2, the tower is one of the most powerful sources of damage in the early game. It is a certain kill if an adversary can be impaled into it. Supports with a debilitating ability work well with Mars since their abilities can be combined.
Because Mars has a small mana pool, a bottle can help you farm more efficiently.
Mid game
The best conceivable item for Mars is Eul's Scepter. It's one of the few items in Dota 2 that ignores Status Resistance, which makes it ideal for combining with other abilities. In the case of Mars, Eul's setup is suitable for Spear of Mars to shock foes. With his ultimate, he may even combine Eul's and Spear's abilities.
Another essential equipment for Mars is the Blink Dagger. It enables him to get the upper hand on opponents and prevents them from fleeing. The Shard-upgraded Spear of an Aghanim may impale two foes at once, making it extremely effective in team battles. One of Mars' only flaws is magic immunity, which Black King Bar provides.
If Mars' squad is lacking in damage, Desolator is a solid option, while other situational items include auras like Vladimir's Offering and Pipe of Insight. On this hero, Solar Crest is also fantastic, and during mid-game, Mars' objective should be to assist his team's carry to win fights and take control of the map.
Late game
Late-game key goods are scarce on Mars. All late-game goods are situational, depending on the team's need. Mars is one of Dota 2's most resilient heroes, and a Heart of Tarrasque or Shiva's Guard may help him stay even longer.
Blink Dagger may be upgraded to Overwhelming Blink, which increases Mars' strength and deals additional damage. During combat, an Assault Cuirass or Lotus Orb can benefit both Mars and his squad, while an Aghanim's Scepter greatly enhances his damage output.
Mars players should concentrate their efforts in the late game on capturing the enemy carry in their arena and ensuring the safety of their own carry. Arena is one of Dota 2's strongest talents, and a successful Arena may determine the game's fate.
Mars, being one of Dota 2's most popular off-laners, may be used in a variety of roles. He can be a tank, an initiator, or a damage dealer. Arena of Blood may be utilized for everything from slaying opponents to rescuing teammates.