Lore & Bio
"There can never be too much sacrifice."
After escaping the pain in the holy kingdom of Nothl, Huskar opened his eyes to find himself under the influence of the dark priest Dazzle. Huskar's soul had escaped eternity after resisting the ancient rituals of the Dezun clan, but now he found an irresistible change in him, like all others. entered the kingdom of Nothl. His body no longer resembled that of a mortal, Huskar's bloodline had now become a source of unimaginable strength. For every 1 drop of blood in his body, a fiery power is returned to him, TEN TIMES. However, this gift made Huskar not happy at all, because during his rescue in Nothl, Dazzle deprived him of the opportunity to enter the divine order. Huskar was martyred, but now everything has been completely denied.
As the Dezun elders sought to expand their influence, they agreed to use Huskar as a formidable tool for this campaign. However, Huskar is even more unhappy about this, because the tribe that once denied his inheritance, now wants to use him as a weapon. And when the first sparks of war were kindled, Huskar fled his homeland, his ancestors, to find new allies, hoping to use the energy he could free up for a righteous cause.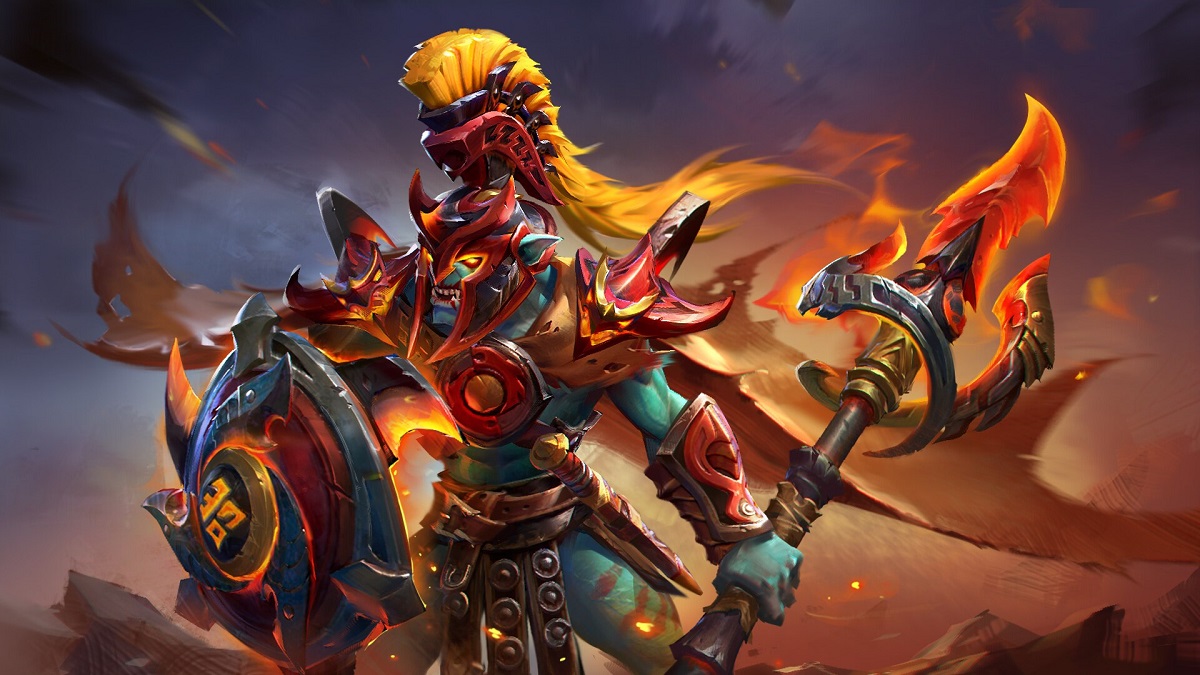 Attribute & Stats
Level: 0 1 15 25 30
Health: 200 620 1560 2480 2860
Health regen: +0.25 +2.35 +7.11 +11.71 +13.61
Mana: 75 291 543 867 975
Mana regen: +0 +0.9 +1.95 +3.3 +3.78
Armor: -1 1.17 4.9 9.57 11.23
Damage Block: -
Magic Resistance: 25%
Status Resistance: 0%
Damage: 21‒26 42‒47 89‒94 135‒140 154‒159
Attack Rate: 0.63/s 0.71/s 0.85/s 1.02/s 1.08/s
Attack Range: 400 (800)
Attack Speed: 100 (1.6s BAT)
Attack Animation: 0.3+0.5
Projectile Speed: 1400
Movement Speed: 295
Turn Rate: 0.6
Collision Size: 24
Vision Range: (G) 1800 • 800
Legs: 2
Gib Type: Default
Ability Upgrades:
Upgradable by Aghanim's Scepter;

Upgradable by Aghanim's Shard.
Abilities & Talents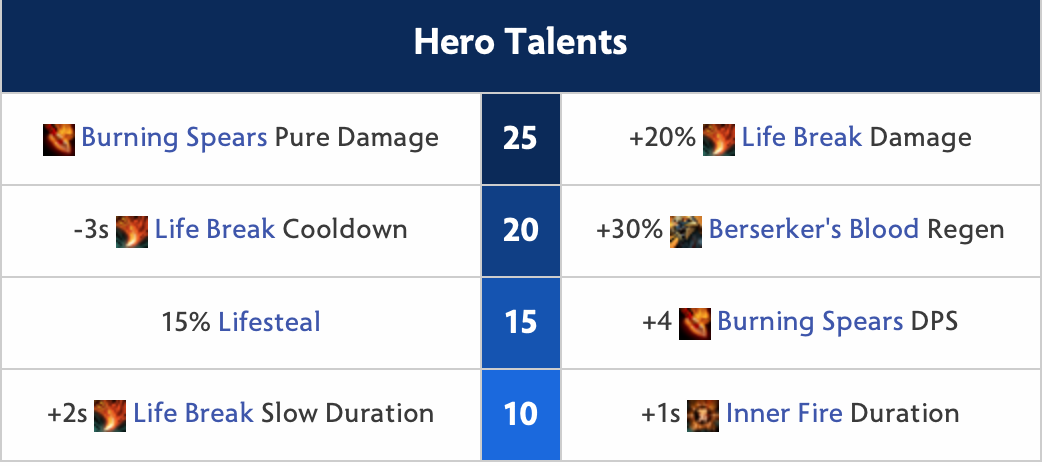 Skills building guide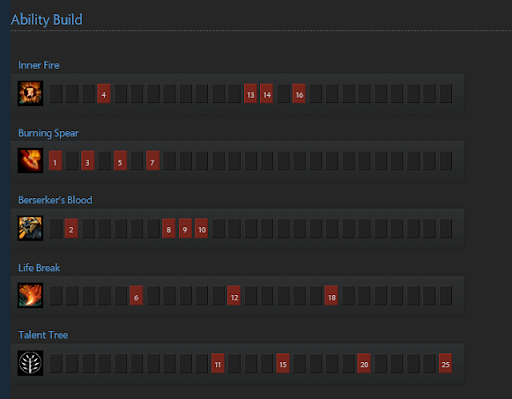 There are 2 ways to increase Huskar's skills, with the first way you will play in a safe way when maxing out Inner Vitality (Q) and Berserker Blood (E), ensuring Huskar's healing ability as well as being ready to turn on. back to the enemy when they chase you (in case they don't have enough time to stack physical damage, whoever is more prone to hand damage and chases you, your chance is much higher). Get 1 point of Burning Spear (W) to poke the enemy's health as well as use orb walk (which is to click on that skill and then use it on an enemy champion, creeps will consider you to use a spell, not a normal hand attack on the champion should be ignored).
The second way to raise Burning Spear (W) and Berserker blood (E) at the same time is more inclined to poke the opponent's blood in the first minutes (extremely annoying) and can brazenly turn away when the opponent has eaten. 4 to 5 fire javelins in the face for them to die slowly in pain, but with this type, you need more equipment to heal yourself, still ensure safety from sources of magic damage. With all build types, no matter what, the ultimate must still get the right level.
Abilities

Burning Spear
Damage: 15 health
Cast Range: 450
Effect: hurls flaming spears at the target enemy, dealing 5/10/15/20 damage per second and stacking unlimitedly.
Duration: 8 seconds per stack.
Note: this skill can be used with lifesteal equipment.

Berserker's Blood
Effect: For every 7% health lost, he gains 3/4/5/6% magic resistance and 14/16/18/20 attack speed.
Note: this skill gives you 1 stack immediately while you are still full of health.

Life Break
Loss: 35% of your current health
Cooldown: 12 seconds.
Casting Range: 550
Effect: leaps to a target enemy and stabs him with a powerful javelin, burning 35% of that target's current health and slowing the target's movement speed by 40%/50%/60 %
Slow duration: 4/5/6 seconds.
Upgraded by Aghanim's Scepter:
Effect: Deals increased damage to 65% of the target's current health.
Cooldown: 4 seconds.
Inner Fire
Knockback duration: 1
Mana Cost: 75/100/125/150
Cooldown Time: 18/16/14/12
Effect: All foes within 400 range are knocked away from you in a blazing anger, causing 100 / 155 / 210 / 265 damage and disarming them for 1.75 / 2.5 / 3.25 / 4 seconds. Enemies are pushed back to a range of 550 yards from you.
Effective items guides
Early game

Power Treads
Power Treads: Huskar gains several stats and some much-needed attack speed thanks to Power Treads.

Magic Stick
Magic Stick: When Huskar's health is low, the Magic Stick can save him from burst damage.

Armlet of Mordiggian
Armlet of Mordiggian: Armlet of Mordiggian supplies Huskar with every stat he requires to be more effective, and its Unholy Strength allows Huskar to manage his health. If you can master armlet toggling, Huskar's damage output will skyrocket, and he'll be able to utilize it to survive fights as long as the adversaries don't have damage-over-time skills.

Morbid Mask
Morbid Mask: Huskar may lifesteal from strikes with Morbid Mask, allowing him to maintain the health cost of Armlet of Mordiggian and Burning Spear. In the late game, it becomes Satanic.
Mid game

Aghanim's Scepter
Aghanim's Scepter: Huskar gains a pseudo-disable from Aghanim's Scepter, allowing him to finish off a fleeing hero or cancel TP/channeling.

Black King Bar
Black King Bar: Huskar may wade into the battle with minimal chance of dying thanks to Black King Bar, which cancels Life Break's self-damage and most opponent disables.

Heaven's Halberd
Heaven's Halberd: Heaven's Halberd grants some strength, status resistance, increases the berserker's blood health regen, and disarm to stop an assaulting enemy carry.
Late game

Satanic
Satanic: Huskar can maintain his health while under attack from the opposition team thanks to Satanic. Strength, damage, and lifesteal are all provided by it. Its active ingredient might also be employed to prevent death in an emergency.

Assault Cuirass
Assault Cuirass: With Berserker's Blood and Assault Cuirass, Huskar gains much-needed armor, making him considerably tougher to kill and substantially increasing his damage output.
Situation items

Shadow Blade
Shadow Blade: Huskar becomes a significantly superior ganker after using Shadow Blade. It also increases attack speed, allowing you to stack more Burning Spears.

Heart of Tarrasque
Heart of Tarrasque: Huskar can maintain Unholy Strength active indefinitely, and Heart of Tarrasque provides enough health to keep you at a low enough percentage to generate stacks from Berserker's Blood without being burst down.

Mjollnir
Mjollnir: With Berserker's Blood's attack speed increase, Mjollnir commonly procs Chain Lightning.

Monkey King Bar
Monkey King Bar: The magical damage proc of Monkey King Bar counteracts opponent evasion.

Abyssal Blade
Abyssal Blade: Abyssal Blade Procs of Abyssal Blade Even with the lowered probability, Huskar's strong attack speed allows him to bash at a respectable pace, and Overwhelm is a devastating follow-up to Life Break.

Hood of Defiance
Hood of Defiance: Because Berserker's Blood no longer defends Huskar against magical burst damage, Hood of Defiance may be upgraded to Pipe of Insight to assist the team.

Blade Mail
Blade Mail: Huskar obtains an advantage over high-damage opponents by turning their damage output against them with Blade Mail.

Solar Crest
Solar Crest: Solar Crest reduces Huskar's armor and gives him additional armor, allowing him to focus on targets more quickly.
Enemies & Allies
Allies

Weaver
Huskar's burn damage is unavoidable for Weaver to Time Lapse out of.

Clockwerk
Even if he gets the start on Huskar, Clockwerk's powers are insufficient to defeat him in a one-on-one duel.

Dragon Knight
With numerous Burning Spear exchanges, Huskar may eliminate Dragon Knight's passive.

Earthshaker
Once Huskar has begun on him with Life Break, Earthshaker's stuns are rarely enough to save him.
Huskar will not be killed with a complete initiation combination; it will just reduce his health and raise his attack speed.

Ember Spirit
Huskar takes extremely little damage from Ember Spirit until the very end of the game.

Nature's Prophet
If Sprout has already locked on with Life Break, he will not shield Nature's Prophet from Huskar.
Even a cultivated Nature's Prophet is seldom strong enough to stand up against Huskar on his own.

Phoenix
Huskar's fast attack speed allows him to effortlessly defeat Fire Spirits and the Supernova.
Counters

Abaddon
Huskar's damage accumulates over time, allowing Abaddon to shield and heal his teammates.
Borrowed Time also makes Abaddon a difficult support to gank, removing Huskar's early game advantage.

Alchemist
Burning Spears' damage is almost entirely negated by Chemical Rage.

Ancient Apparition
Huskar is immune to healing, regeneration, and the health acquired from activating an Armlet of Mordiggian, and will die if his health falls below a certain level. As a result, using his skills is extremely perilous for him.

Axe
After Huskar jumps on Axe with Life Break, Berserker's Call and Blade Mail may be utilized right away.
Counter Helix is constantly triggered by Huskar's rapid attack speed.
Huskar's diminished health as a result of his talents makes him a popular target for Culling Blade.

Bristleback
At practically any stage in the game, Bristleback's tankiness and Bristleback allow him to endure Burning Spears' damage-over-time. Furthermore, if Huskar decides to cast Life Break on Bristleback, Bristleback may simply spin around before the spell lands, taking little damage.
Huskar's poor armor will be exacerbated by Viscous Nasal Goo, while Quill Spray and Warpath will swiftly deplete him.

Enchantress
Untouchable makes stacking Burning Spears nearly difficult.
Huskar's low-health brinkmanship is put to a stop instantly by Impetus' sheer damage.

Bloodseeker
Huskar is frequently in poor health, giving Bloodseeker significant Thirst benefits.
Rupture's damage can be triggered by Life Break.
Huskar is virtually suicidal if he attacks Bloodseeker with Life Break with self-applied Bloodrage and Blademail.

Juggernaut
Blade Fury protects Juggernaut from Life Break and Burning Spears damage.
When Juggernaut sees Huskar flying at him with Life Break, it may be triggered instantaneously, preventing all damage.
Burning Spears' damage-over-time is effectively negated by Healing Ward.
Huskar has no resistance against Omnislash, and his poor armor causes him to suffer a lot of damage.

Lifestealer
Rage protects Lifestealer from the effects of Burning Spears.
Lifestealer is one of the few heroes that can outlast Huskar in a one-on-one battle thanks to Feast.

Naga Siren
Huskar can be brought back to life by a mirror image. The incorrect target was broken.
Huskar's already poor armor is reduced by Rip Tide.
Song of the Siren helps teams to recover from Huskar's initiation and the damage caused by Burning Spears over time.

Slardar
Even if Slardar is alone, Corrosive Haze and Bash of the Deep will quickly degrade Huskar's meager armor.

Ursa
Huskar's suicide is commonly jumping on Ursa with Life Break, since he will be promptly bursted down with Fury Swipes.

Viper
Because Huskar prefers to linger at low health, his Poison Attack is quite effective against him.
Berserker's Blood and other passive abilities are disabled by Nethertoxin.
Huskar should avoid jumping on Viper since Corrosive Skin and Viper Strike slow down mobility and attack speed, which is typically fatal for Huskar.

Windranger
Windranger can't be attacked with Burning Spears because of Windrun.
Huskar can't use the Armlet of Mordiggian to heal himself while absorbing Focus Fire damage.

Necrophos
Huskar is a very easy target for Reaper's Scythe since he prefers to stay at low health to reap the most benefits from Berserker's Blood.
Items Counter

Black King Bar
Black King Bar: Unless the level 25 skill for Burning Spears is chosen, Black King Bar prevents the magical damage from Burning Spears and Inner Fire.

Pipe of Insight
Pipe of Insight: Huskar's damage output is considerably reduced by Pipe of Insight, which lessens and/or blocks the damage inflicted by Burning Spears and Life Break.

Silver Edge
Silver Edge: Silver Edge breaks Berserker's Blood, making it considerably simpler to burst Huskar and decreasing his damage.

Heaven's Halberd
Heaven's Halberd: Huskar is prevented from assaulting and using Burning Spears by Heaven's Halberd.

Linken's Sphere
Linken's Sphere: Life Break is blocked by Linken's Sphere.

Spirit Vessel
Spirit Vessel: The majority of Berserker's Blood health restoration is disabled by Spirit Vessel.

Manta Style
Manta Style: If timed right, Manta Style can avoid Life Break's damage. Huskar isn't very good at dealing with illusions.

Shiva's Guard
Shiva's Guard: Health regen and lifesteal are both reduced by Shiva's Guard.

Eye of Skadi
Eye of Skadi: Huskar's health regeneration and lifesteal may be reduced by the Eye of Skadi. Huskar's attack speed can also be reduced somewhat.
Favorable Matchups

Ancient Apparition
When Ice Blast and Life Break are used together, an adversary is rapidly killed.
If the adversary escapes, Life Break can also cause Ice Blast to shatter.

Beastmaster
Huskar's Inner Beast allows him to stack a large number of Burning Spears in a short amount of time.

Dazzle
Shallow Grave allows a Huskar who is practically dead to attack swiftly and place a large number of Burning Spears.

Dawnbreaker
Dawnbreaker may assist Huskar from everywhere on the map with an AOE healing/damage and an AOE stun with Solar Guardian.

Aghanim's Scepter will appear later. Dawnbreaker's healing is boosted much more by Aghanim's Scepter.

Necrophos
The first percentage-based damage from Life Break is a good starting point for Reaper's Scythe.

Omniknight
Huskar's endurance will be extended while he is in poor health thanks to the Guardian Angel and Heavenly Grace.

Life Break complements Purification by providing Omniknight with a heal target upon which he may inflict damage.

Oracle
Huskar may linger at low health and attack quickly with False Promise.

Huskar may be targeted with Fortune's End and released shortly before he uses Life Break. The opponent Huskar leaps on will be dispelled and rooted as a result of this.

Pugna
If combined with other magic amplification abilities/items, Decrepify increases Life Break's damage by a significant amount, perhaps killing its target instantaneously.

Huskar is kept alive at a low health level by Life Drain, allowing him to fully use Berserker's Blood.

Terrorblade
When Terrorblade is approaching death, using Sunder on Huskar can help both heroes, since Terrorblade is healed while Huskar gets attack speed.

Tiny
Tiny can toss Huskar on an opponent hero, or he can toss an enemy hero to Huskar with a little effort.

Witch Doctor
Multiple stacks of Burning Spears are dramatically amplified by Maledict.
Game plan
Early game
Huskar can completely play aggressive in the early game, he can go solo lane or dual lane. With the ability to orb walk right from the first level, he will easily poke the enemy's blood thanks to the ability Burning Speard (W) without fear of being hit by the creeps in the lane, but with the cost of blood to do this. So managing the amount of blood based on the equipment you have in your body is always extremely important if you don't want to run out of blood later and can't be aggressive anymore.
The way to play Huskar is also nothing special because this is a hero of the vegetarian type, not much combo skills. If the enemy in your lane is in a magic damage-oriented genre like a nuker, it is extremely easy for you to defeat him.
Mid game
This is the time when you should gank a lot with your teammates or call your teammates to help if you are solo lane to put pressure on the opponent. The fact that your ultimate has a cooldown of only 12 seconds allows you to use it continuously so Huskar's gank ability is extremely annoying.
Try to get kills to accumulate points for Urn of Shadow to ensure your health as well as support healing for teammates, combined with the ability Inner Vitality (Q) allows you to not need to go home regen (2 skills use your own health). With damage as % of health, you can stick your spear at anyone even if that person is a stubborn tanker, but you should pay attention to whether the opponent buys Blade mail or not lest you get enough.
With thick targets, you should wait for your teammates to kill it if you don't want to lose food or die backwards, but with weak health targets, you can completely finish them off quickly. The equipment I always carry with me right now is the Town portal scroll.
Late game
You can play the role of initiator in this phase by ironing directly into the enemy squad, catching dangerous skills, cornering the enemy to create an opportunity for allies to attack (note that timing and buff Inner Vitality first then do this).
When equipped with Aghanim's Scepter, you can drag the health of all enemy heroes to low quickly with your ultimate. Huskar is a not too prominent turret pusher, so if there's nothing special, don't leave the team and go farm to split push.
If you already have Boots of Travel, it's okay, but if not, take the time to spend 1 slot to store the Town portal scroll, so you can support your teammates in time or return to tower defense.