Lore & Bio
"I will slake my thirst for revenge."
Even the most agreeable Skywraths, they are still irritable and easily angered. They can take revenge for minor and insignificant offenses. Because that is the nature of Skywrath. However, even the divinity of an entire tribe could not be compared with Vengeful Spirit's desire for revenge. Because revenge is in her nature. Once an arrogant and cruel young Skywrath, Shendelzare was the number one heir to the throne of the Ghastly Eyrie, until she was betrayed. by a sister who took her inheritance.
Trapped in an assassin's trap, Shendelzare escaped at the cost of her own wings, and used the most humiliating method for a Skywrath: running on her feet.
Shendelzare understood that the Skywrath tribe would never accept someone who had lost her wings as ruler. Furthermore, without her wings, she would not be able to touch her traitor, who now sat on the high throne of the Ghastly Eyrie.
Unwilling to live a temporary life as a crippled person who can't fly, a desire for revenge that has surpassed all worldly lusts, the fallen princess has turned to the goddess Scree'auk pleads: She sacrifices her devastated body, to transform into an existence form of soul energy, subsisting on a thirst for vengeance, and possibly causing terrible destruction to with the physical world. The Vengeful Spirit may never fly again, but she will get revenge.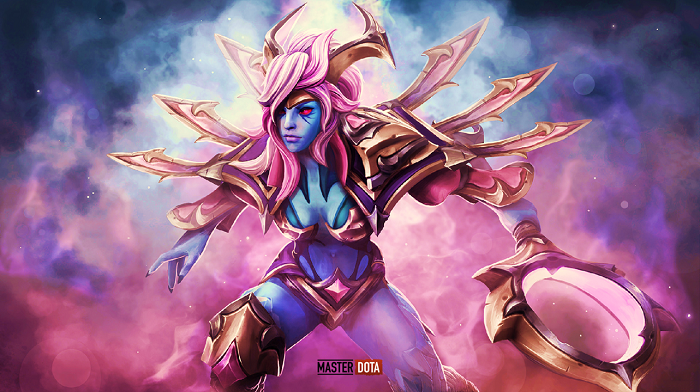 Attribute & Stats
Level: 0 1 15 25 30
Health: 200 580 1300 2060 2360
Health regen: +0.25 +2.15 +5.79 +9.59 +11.09
Mana: 75 303 555 879 987
Mana regen: +0 +0.95 +2 +3.35 +3.83
Armor: 0 3.33 10.8 18.13 21.13
Damage Block: -
Magic Resistance: 25%
Status Resistance: 0%
Damage: 24‒30 44‒50 88‒94 132‒138 150‒156
Attack Rate: 0.59/s 0.71/s 0.97/s 1.23/s 1.33/s
Attack Range: 400 (800)
Attack Speed: 100 (1.7s BAT)
Attack Animation: 0.33+0.64
Projectile Speed: 1500
Movement Speed: 295
Turn Rate: 0.6
Collision Size: 24
Vision Range: 1800 • 800
Legs: 2
Gib Type: Ethereal
Ability Upgrades:
Upgradable by Aghanim's Scepter;
Upgradable by Aghanim's Shard.
Abilities & Talents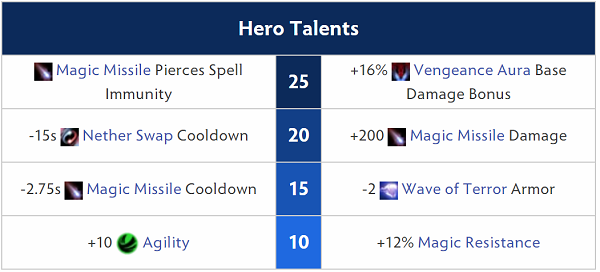 Skills building guide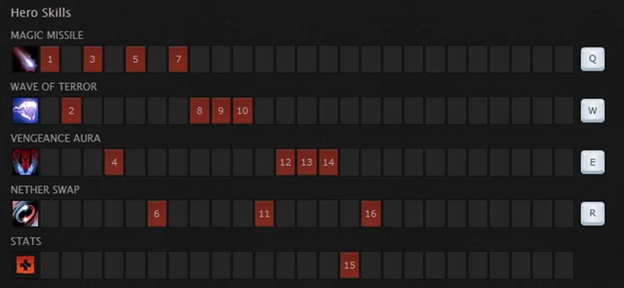 The first build is a fairly common build when VS will take all skills that deal damage immediately after using Magic missile (Q) and Wave of Terror (W), with this the target getting hit with those 2 skills will lose a lot of health and the armor index is also reduced quite a lot, can be combined very well with cheap but effective equipment in this stage, it's the Medallion of courage.
The second build is more about increasing the aura of allies while playing the suicide mode is to use Nether Swap (R) on a dangerous target in the middle of the enemy squad for teammates to beat it and then die. .
The 3rd build method involves equipping the Medallion of Courage early, this is really a nightmare for the enemy when you subtract their total to 12 armor with your skill set and equipment (stage 3). In the beginning, there are few people who have a lot of armor, maybe DK has thick armor). This build is suitable for squads with a lot of hand damage on your team.
Abilities

Magic Missile
Cost: 110/120/130/140 mana
Cooldown: 10 seconds
Cast range: 500 distance.
Effect: hurls a magical missile at a designated enemy target, dealing 100/175/250/325 damage and stunning the enemy.
Impact Duration: 1.45/1.55/1.65/1.75 seconds

Wave of Terror
Cost: 110/120/130/140 mana
Cooldown: 10 seconds
Cast range: 500 distance.
Effect: hurls a magical missile at a designated enemy target, dealing 100/175/250/325 damage and stunning the enemy.
Impact Duration: 1.45/1.55/1.65/1.75 seconds

Vengeance Aura
Effect: Increases 12%/20%/28%/36% base damage to nearby allied units, also when an enemy kills VS, she will haunt the one who destroyed her and surrounding allies of that enemy, dealing the same amount of damage reduction.
Radius: 900

Nether Swap
Cost: 100/150/200 mana.
Cooldown: 45 seconds.
Cast Range: 700/950/1200
Effect: swaps your position with a specified ally or enemy champion.
Upgraded by Aghanim's Scepter:
Cooldown: 10 seconds
Effect: grants the ability to swap positions with minions and monsters.
Note: when using the combo Blink dagger + Nether Swap, the target affected by this skill can move across terrain for 5 seconds (to avoid it swapping into that corner)
Effective items guides
Early game

Magic Stick
Magic Stick: When you're in a lane with heroes that have cheap mana cost spells and are pestering you with them, Magic Stick is a good pick up. Vengeful Spirit's increased HP and mana regen helps him to last a little longer and cast at least one more spell in a combat, which may make or break a fight.

Boots of Speed
Boots of Speed: Vengeful Spirit needs Boots of Speed early on since the increased speed will help her to flee dangerous situations and rapidly reach into range to stun enemies with Magic Missile.
Mid game

Magic Wand
Magic Wand: For the same reasons as the Magic Stick, the Magic Wand is a good pick up. Vengeful Spirit's attribute boosts are especially effective on low-farm supports, and the higher charge storage helps her to refill a considerable portion of her HP and mana rapidly, allowing her to stay in a battle longer and make a bigger difference.

Power Treads
Power Treads: Vengeful Spirit's attack speed is increased by using Power Treads. She can choose to give herself more HP for survival, more mana for firing her strong spells, or more damage and attack speed for damage output by switching characteristics.

Medallion of Courage
Medallion of Courage: Medallion of Courage may be used with Wave of Terror to degrade opponent armor even further. It's also possible for Vengeful Spirit to use it on friendly targets to boost their armor, which may help them survive conflicts. Vengeful Spirit's perks provide her greater armor to help her survive physical damage, as well as mana regeneration to help her keep her mana pool up to date.

Force Staff
Force Staff: The Force Staff is a low-cost support item that comes in handy on Vengeful Spirit. It may be utilized to reposition her so that she can cast skills like Magic Missile and Nether Swap. It may also be utilized to flee unsuccessful engagements or ganks, save close friends, and force foes into your grip. It also boosts her mana pool, allowing her to cast spells more frequently during battles.
Late game

Solar Crest
Solar Crest: Solar Crest, an upgrade from Medallion of Courage, boosts the benefits even further. In tandem with the additional mobility and attack speed, the improved armor shift allows Vengeful Spirit to make an even greater dent in the enemy's armor or give even more protection to a target ally.

Aether Lens
Aether Lens: Aether Lens expands her small mana pool, making it easier for her to perform spells and providing mana regen for increased endurance. With all of her spells' cast ranges increased, she can stun opponents from further away with Magic Missile and debuff more targets with Wave of Terror. Most notably, it extends Nether Swap's cast range, allowing her to displace foes from a considerable distance.
Situation items

Tranquil Boots
Tranquil Boots: For a wandering Vengeful Spirit, Tranquil Boots are a powerful alternative. The improved movement speed allows her to wander more freely, following down and stuning adversaries more swiftly. Vengeful Spirit's passive HP regen may quickly refill any HP lost during a fight, allowing him to be ready for another gank.

Arcane Boots
Arcane Boots: Arcane Boots are a useful support item that aids Vengeful Spirit and any wandering companions in casting spells. Vengeful Spirit's mana pool may be increased to alleviate the strain of casting Magic Missile and Nether Swap, and the active can also allow her to restore her own and her allies' mana pools, whether they require their spells to function in teamfights or to kill gank targets.

Aghanim's Scepter
Aghanim's Scepter: Aghanim's Scepter causes a Vengeance Illusion to spawn upon her death, allowing her to participate in combat even after she has died. The item enhances her HP and mana, making her more robust and increasing her mana pool to alleviate the strain that firing her ultimate repeatedly causes.

Blink Dagger
Blink Dagger: In the hands of Vengeful Spirit, Blink Dagger is highly powerful. While Nether Swap cannot be utilized to imprison adversaries on inaccessible terrain, it considerably boosts her mobility and allows her to instantly stun an attacker or switch a vital target. It also increases her roaming capability by allowing her to seek for targets while traversing across cliffs and woods.

Desolator
Desolator: Desolator is a strong carry item that increases the damage output of Vengeful Spirit. When combined with Wave of Terror and Medallion of Courage, the attack modifier can lower a target's armor by up to 19, which can be enough to take out even the most tanky heroes.

Butterfly
Butterfly: Butterfly is a high-priced, high-quality luxury item for a carry build. Vengeful Spirit's physical damage output is greatly increased with this item, especially when coupled with Wave of Terror, and she gains evasion, making her tougher to take down in combat.
Enemies & Allies
Allies

Batrider
Vengeful Spirit can use her Nether Swap to save an ally who has been trapped by Flaming Lasso. Batrider's attempt at a lasso is also extremely perilous due to Nether Swap, since it might result in his own death deep behind enemy lines.
Vengeful Spirit can see Batrider trying to close in on his victim with Firefly thanks to Wave of Terror's aerial vision.

Clockwerk
Vengeful Spirit can use Nether Swap to save an ally from Clockwerk's Power Cogs.
Clockwerk's attempt to run down Vengeful Spirit's allies with Battery Assault will be interrupted by Magic Missile.

Faceless Void
A well-placed Vengeful Spirit can use her Nether Swap to save the life of a more essential friend stuck in Chronosphere.

Huskar
Huskar's poor armor makes him vulnerable to heroes that do a lot of physical damage. Vengeful Spirit's Wave of Terror and Vengeance Aura assist in increasing her team's physical damage.

Meepo
Vengeful Spirit may use Nether Swap to isolate one of the Meepos, making him simpler to kill for the squad.
Her Magic Missile makes canceling Meepo's Poof a breeze, stopping isolated Meepos from leaving.

Monkey King
With Nether Swap, she may easily negate Wukong's Command.
While he's in the trees, Wave of Terror can detect him.
Counters

Anti-Mage
Anti-Mage can easily destroy an isolated Vengeful Spirit after the mid-game.
Vengeful Spirit's only disable versus Anti-Mage is Magic Missile, but he may either Blink away to disjoint the stun or use Counterspell to reflect it back at Vengeful Spirit.
Nether Swap isn't very effective against Anti-Mage; if used offensively, Anti-Mage can easily blink away to safety, and if used defensively, Blink's low cooldown lets him to pursue down targets for a long time.

Anti-Mage
Lina has the ability to take down Vengeful Spirit if she can use Light Strike Array before Vengeful Spirit uses her Magic Missile.
Laguna Blade is a powerful weapon that can easily kill a squishy Vengeful Spirit.

Nyx Assassin
Vendetta disables Vengeance Aura, allowing him to use Impale and Mana Burn to assault Vengeful Spirit.
Using Spiked Carapace against a Wave of Terror or Magic Missile is simple.

Phantom Lancer
Against Phantom Lancer's Illusions, Vengeful Spirit has no significant AoE nuke or disable.
Diffusal Blade, Phantom Lancer is a natural Diffusal Blade Vengeful Spirit's limited mana pool is swiftly depleted by Diffusal Blade bearer, leaving her vulnerable.
The abilities of Vengeful Spirit can be avoided by Doppelganger.
Phantom Rush can effectively pursue Vengeful Spirit thanks to his illusions.

Spirit Breaker
Magic Missile has a long cast time, making it difficult to use it to counter Charge of Darkness.
Other than Magic Missile, there is no method for Vengeful Spirit to negate Nether Strike.
Items Counter

Linken's Sphere
Linken's Sphere: Magic Missile and Nether Swap are both blocked by Linken's Sphere.

Diffusal Blade
Diffusal Blade: Vengeful Spirit's low mana is burned by Diffusal Blade.

Lotus Orb
Lotus Orb: Magic Missile or Nether Swap are reflected by Lotus Orb.

Assault Cuirass
Assault Cuirass: Assault Cuirass offers armor to everyone inside its aura radius, decreasing both the additional damage from Vengeful Spirit's Vengeance Aura and the armor loss from Wave of Terror.

Silver Edge
Silver Edge: Vengeance Aura is disabled by Silver Edge.
Favorable Matchups

Techies
Vengeful Spirit may easily kill an opponent hero by Nether Swapping them into a stack of Remote Mines or a Stasis Trap (albeit at the risk of her own life).

Shadow Fiend
The Dark Lord's presence and Wave of Terror shred the foes' armor, while Vengeance Aura increases Shadow Fiend's damage.

Slardar
Wave of Terror can be used to spy out a potential target for Corrosive Haze. Because to the huge quantity of negative armor generated by these two spells, most heroes will quickly melt under Slardar's blows.

Drow Ranger
Drow Ranger and Vengeful Spirit are a perfect match because their Precision and Vengeance auras augment each other's damage, which is useful in the late game.

A support with a stun (Magic Missile) is especially useful to a Drow Ranger, as it allows her to catch up and fire her Frost Arrows at her victim. Nether Swap can be utilized on the offensive to get extra kills for Drow, or on the defense to save her if her Gust fails.

Mirana
A Sacred Arrow can be preceded by a Magic Missile.

Bloodseeker
A proper Nether Swap can increase Rupture's damage.

Nether Swap also stops the opponent from using Town Portal Scroll to escape.

Crystal Maiden
Vengeful Spirit and Crystal Maiden create an excellent support and ganking team, since their numerous single target disables can be simply piled to ensure that the target is rarely able to escape.

In addition, Arcane Aura drastically reduces Vengeful Spirit's mana requirements.

Weaver
Wave of Terror stacks with the Swarm's armor decrease.

The Vengeance Aura increases the damage dealt by Geminate Attack.

Sniper
In a teamfight, Sniper's placement is crucial to whether or not he can attack safely. A selfless Nether Swap that repositions him to safety if he gets caught out or surrounded due to his weak mobility can be the difference between winning and losing a fight.
Game plan
Early game
If roaming, you should use Smoke of Deceit effectively to avoid the enemy's vision if they have wards, otherwise hide in the forest, waiting for another uncontrollable skill from your teammates. can easily bring fb to the team if you know the sequential combination of those skills. With lane support, don't forget to pull the jungle camp to earn some money for a poor support life and create safe conditions for teammates to avoid ganking the enemy when their creeps are always rising high, if the opponent has an anti-pull ward, 200 gold to buy Sentry ward is not a big deal, moreover you can even destroy 1 more eye of the enemy in the river if you judge Accurately predict enemy ward placement.
Wave of Terror (W) is also an extremely effective stacking skill of jungle monsters, based on the 53rd, 54th second of the current minute, it's done with the jungle monsters, creating an opportunity for teammates to make a lot of money. (Note that it can be used to stack Ancient monsters).
Mid game
The messy work of a support/roamer/initiator like VS is quite messy in this period onwards when you have to perform roams, ganks, push and other teammates continuously to keep the enemy busy, creating The most favorable conditions for carry farm the necessary equipment, and at the same time increase the amount of exp and gold for you if these roams, ganks, and pushes are successful, don't forget the things that support must always carry with you: Observer ward, Sentry ward, Town Portal Scroll, Smoke of Deceit, Dust of Apperance (if needed).
Clever use of Nether swap (R) so that allies can put damage on the right target to destroy or can save important allies in a moment of danger. If you can get close to throw Magic Missile (Q) on the enemy champion, it's bad luck for that enemy because next he will have 12 armor deducted and the risk of dying from physical damage is very high.
Late game
There are 2 ways to play for you at this stage: Kamikaze (suicide), Nether swap (R) on an important enemy target for your teammates to kill them as quickly as possible then you die in the enemy's heart, reduce their damage to limit their ability to deal damage to allies, order of preference: carry/nuker>support>initiator/tanker.
The second way is safer, that is to let your teammates lure or initiate a teamfight, then you use Nether swap (R), during chaotic combat, your survivability will be higher. Note during this stage, with much equipment in the inventory, buying wards will be a distraction, don't forget to buy wards, because vision is extremely important in this stage, take 1 cup go 1 mile like play. Wave of Terror (W) is a very good ability to check vision, flexibly use this skill when needed.