Lore & Bio
Slardar is a Slithereen, one of the Deep Ones (respected members), guardian of the city deep in the ocean and rich with treasures buried there. In the depths of this place, the Slithereen Guard carries a source of light - which attracts the other creatures that accompany the Slardar through secret treasures. Underwater thieves are often attracted to that ghostly image until the terrible truth behind approaches and then, the unfortunate thief will never return.
Going to shallow water despite the pain that comes from the light on the ground, enduring to scout, to make sure there is no conspiracy against the deep ocean, and sometimes he pursues relentlessly to get things back. stolen treasure. Because Slardar had spent his life here, under the great responsibility of the sea, in a way Slardar or the Slithereen Guard alone were powerful beings.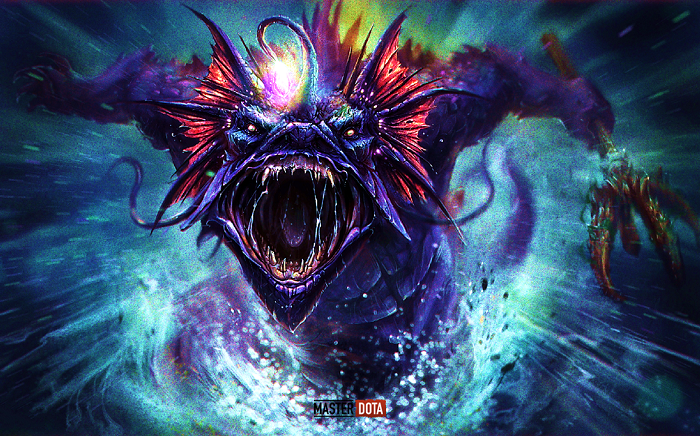 Attribute & Stats
Level: 0 1 15 25 30
Health: 200 620 1620 2580 2980
Health regen: +0.5 +2.6 +7.64 +12.44 +14.44
Mana: 75 255 507 831 939
Mana regen: +0 +0.75 +1.8 +3.15 +3.63
Armor: 3 5.83 11.43 17.43 19.77
Damage Block: 16 (50%)
Magic Resistance: 25%
Status Resistance: 0%
Damage: 30‒38 51‒59 101‒109 149‒157 169‒177
Attack Rate: 0.59/s 0.69/s 0.89/s 1.1/s 1.18/s
Attack Range: 150 (600)
Attack Speed: 100 (1.7s BAT)
Attack Animation: 0.36+0.64
Projectile Speed: Instant
Movement Speed: 300
Turn Rate: 0.6
Collision Size: 24
Vision Range: 1800 • 800
Legs: 0
Gib Type: Default
Ability Upgrades:
Upgradable by Aghanim's Scepter.
Upgradable by Aghanim's Shard.
Abilities & Talents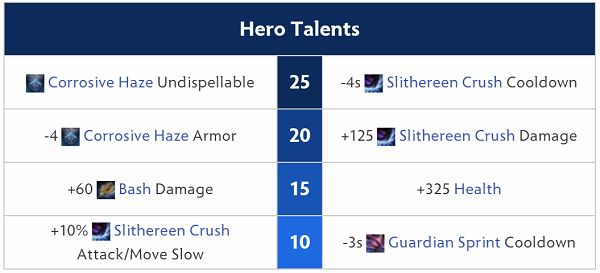 Skills building guide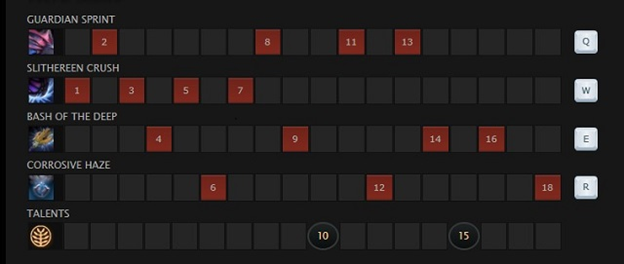 Maximize Slithereen crush (W) to damage and stun the enemy, hold them to finish, wait for teammates or use it to escape. After lifting, you continue to upgrade Sprint (Q) to increase Slardar's mobility (after all, take 15% more damage at all levels, then maximize it to hate it) Bash (E) is maximized finally, and now Slardar also has quite a bit of attack speed, so raising it at this time is very suitable, or you can get 1 point in the early levels for luck and farming to grab the elbow by bashing (ie. is to press hit the target and then just press S to watch me, when you hear the *pop* sound, release, you have successfully hacked bash). Ultimate get the correct level.
Abilities

Guardian Sprint
Consumption: no
Cooldown: 17 seconds
Effect: Increases his movement speed for a duration and the ability to walk through minions, monsters, and champions, but he also takes 1 extra damage if attacked.
Effect duration: 12 seconds
Bonus Movement Speed: 20%/28%/36%/44%
Damage received boost: 15%

Slithereen Crush
Cost: 80/95/105/115 mana
Cooldown: 8 seconds
Effect: slams the ground, dealing 75/125/175/225 damage and stunning nearby enemies for 1.6/1.9/2.2/2.5 seconds. Enemies hit are then slowed to attack and movement speed for a short duration
Radius: 350
Run Speed Slow: 20%
Attack Speed Slow: 20
Slow duration: 2 seconds

Bash of the Deep
Effect: Slardar's basic attacks have a 10/15/20/25% chance to hit 1 hit that stuns the enemy for 1 second and deals 60/80/100/120 bonus damage for each of those attacks. Deals double effects to minions and monsters.

Corrosive Haze
Cost: 25 mana
Cooldown: 5 seconds
Range of use: 700
Effect: weakens the enemy's armor against physical damage and reveals the target with a 400 vision radius
Armor subtraction: 10/15/20
Impact time: 25 seconds
Effective items guides
Early game

Magic Stick
Magic Stick provides inexpensive burst healing and mana, giving Slardar extra survivability or enough mana to cast Slithereen Crush again for a kill.

Boots of Speed
Boots of Speed: For every hero, Boots of Speed are essential early on. In Slardar's instance, it considerably increases the power of Guardian Sprint, allowing him to catch up to fleeing adversaries or elude pursuers more quickly.

Helm of Iron Will
Helm of Iron Will: The increased protection makes you incredibly survivable against physical damage in the early game, while the Helm of Iron Will gives strong sustain in lane. It instantly transforms into a Mordiggian Armlet.
Mid game

Magic Wand
The Magic Wand gives Slardar a cheap attribute increase as well as a rapid burst heal. It may be used to withstand the last piece of damage or to deliver a last spell in a teamfight.

Power Treads
Power Treads: Slardar can get more strength for HP and basic damage, or more intellect to use more of his abilities, thanks to Power Treads' attribute swapping.

Blink Dagger
Blink Dagger: In Slardar's hands, Blink Dagger is highly effective since he can immediately reach into range to perform Slithereen Crush. It should be treated as a priority in all situations and completed as quickly as feasible.

Armlet of Mordiggian
Armlet of Mordiggian: Armlet of Mordiggian boosts his attack speed, armor, and damage while also replenishing his HP. He gains extra strength and damage from the active, making him far more tanky and making his strikes hit harder.
Late game

Black King Bar
Black King Bar: Slardar's ability to kill crucial targets in teamfights is considerably enhanced by the Black King Bar, which lets him to disregard opponent crowd control spells. It also delivers greater physical damage output and additional strength for more HP.

Lotus Orb
Lotus Orb: Slardar may use Lotus Orb to counter opposing target spells, letting him to cripple enemy supports or dissuade them from concentrating on him. It also grants tankiness armor, as well as HP and mana replenishment to allow him to travel freely.
Situation items

Shadow Blade
Shadow Blade: Shadow Blade is a powerful starting item that boosts Slardar's physical DPS while also allowing him to hunt for opponents covertly. When Slardar uses Guardian Sprint and Shadow Walk together, he may travel at maximum speed while invisible and deliver backstab damage when attacking out of invisibility.

Echo Sabre
Echo Sabre: On a ganking Slardar, Echo Sabre may be a highly useful equipment. On a hero that desires both, the extra health and mana/regen are nice. Bash of the Deep's increased attack speed and quick attack passive work nicely together.

Heart of Tarrasque
Heart of Tarrasque: The best survival item in the game is the Heart of Tarrasque. Slardar can stay in teamfights longer and heal faster with its raw HP and passive regeneration ability.

Desolator
Desolator: The Desolator is a reasonably inexpensive equipment that increases additional damage. Its attack modifier reduces enemy armor and works in tandem with Corrosive Haze to allow Slardar to shred foes with his assaults.

Assault Cuirass
Assault Cuirass: Slardar's armor and attack speed are improved by Assault Cuirass, making him more tanky and raising his Bash of the Deep proc probability. On top of Corrosive Haze, the aura offers friends extra armor and attack speed, while the opponent armor decrease further weakens their physical damage resistance.

Crimson Guard
Crimson Guard: Crimson Guard improves Slardar's tankiness and allows him to withstand most kinds of physical damage by increasing his health, damage block, and armor. For a limited period, he may offer damage block and armor to all surrounding teammates, enhancing their durability as well as his own.
Enemies & Allies
Allies

Anti-Mage
Physical damage is dealt by Slithereen Crush and Bash of the Deep, overcoming the magic resistance boost from Counterspell.
Corrosize Haze considerably increases the damage delivered to Anti-Mage and makes it more difficult for him to leave with Blink, however Anti-Mage can use Counterspell to prevent it from being cast.

Bounty Hunter
With Corrosive Haze, Bounty Hunter's Shadow Walk is rendered worthless, making Bounty Hunter an easy target for Slardar and his squad.

Clinkz
Skeleton Walk is the only way for Clinkz to survive. Corrosive Haze renders Clinkz's invisibility worthless while also making him more vulnerable to physical harm.

Legion Commander
Slardar can easily tank the Duel with armor items like Solar Crest or Assault Cuirass combined with Bash of the Deep. If not dueled himself, he can drop Legion Commander minimap armor during the duel and/or buff and save his teammate, leaving her with only dueling supports who can also be saved with fast Blink into Slithereen Crush.

Ursa
Slardar is one of the few melee heroes who can lane against Ursa early in the game, out harassing him with Bash of the Deep and escaping a poor battle with Guardian Sprint.
Ursa may be forced to cast Enrage defensively rather than aggressively if she uses Corrosize Haze.
Slardar's squad can easily remove Roshan with Corrosize Haze, negating one of Ursa's strongest advantages.

Pudge
Rot cannot slow Slardar while he has Guardian Sprint on, and Meat Hook is simpler to evade.
Slardar can use Slithereen Crush to halt Dismember at close range (when Slardar is not a target).
Pudge's position is revealed by Corrosive Haze, making it impossible for him to land hooks from the fog.
Counters

Abaddon
Abaddon can use Aphotic Shield to instantly dispel Corrosive Haze and/or the stun and slow effects of Slithereen Crush on any of his allies.
If Abaddon's Borrowed Time is triggered, all of Slardar's debuffs are likewise eliminated.

Meepo
Slardar struggles against numerous opponents, as Slithereen Crush is his sole means of doing damage to several targets.
Slardar will be rooted by Meepo's Earthbind, rendering him unable to chase/escape for the time being. Poof's low cooldown and tremendous damage may very swiftly knock Slardar out.

Oracle
Fortune's End is a simple dispel that may be used to remove Corrosive Haze or even Slardar's Guardian Sprint.
Any allies Oracle decides to cast False Promise on will be immune to Corrosive Haze and Slithereen Crush stun/slow.
Fate's Edict can also be used to stop Slardar from using his Bash of the Deep.

Phantom Lancer
Phantom Lancer's Doppelganger has a short cooldown and only applies a basic dispel on PL, making Corrosive Haze difficult to stay on him.
Phantom Lancer generally buys Manta Style, which adds another basic dispel to his arsenal for removing Corrosive Haze.
Slardar has no other option to deal with illusions than Slithereen Crush, and his mana pool is low, allowing Phantom Lancer with Diffusal Blade to swiftly build up illusions while draining Slardar's mana.
Phantom Rush outruns Guardian Sprint, forcing Slardar to Blink or defend with Slithereen Crush to avoid being slain.

Phoenix
Slardar's already poor initial attack speed (which Bash of the Deep relies on) is severely reduced by Fire Spirits, making the laning phase extremely difficult for him and preventing him from aggressively threatening lane kills.
Supernova is incredibly difficult for Slardar to take down on his own, especially after being blasted by Fire Spirits, despite Phoenix's lack of armor and Slardar's high damage single strikes.
Icarus Dive is one of the game's longest-range escape spells, and it can aid a competent Phoenix in escaping Slardar before he receives a Blink Dagger. However, because of the long cooldown, Phoenix is vulnerable to backstabs from roamers after using the spell.
Slardar can use both of his stuns to prevent an Icarus Dive from finishing the flight, although this will almost always result in death if Supernova is on cooldown.
Slardar is inherently countered by many of the equipment a Phoenix builds over the game. Spirit Vessel's percentage-based damage is strong against Slardar's intrinsic durability, while Shiva's Guard, Heaven's Halberd, and Eul's Scepter of Divinity all delay Slardar's standard attacks in some fashion.
Items Counter

Ghost Scepter
When does activate Ghost Scepter, Slardar has absolutely no options because his damage output is exclusively physical.

Shiva's Guard
Shiva's Guard gives protection against Slardar, as well as a passive attack slow that inhibits him from hitting as frequently.

Radiance
Radiance, Butterfly, Heaven's Halberd, and Solar Crest can lower the value of your Corrosive Haze with many misses and are difficult to itemize against for Slardar, needing Black King Bar, Monkey King Bar, or both. The same is true for his teammates who wish to benefit from the armor decrease.

Black King Bar
Until Slardar obtains a Black King Bar, dealing with Diffusal Blade can be a problem.
Favorable Matchups

Bounty Hunter
Jinada's damage is considerably increased by Corrosive Haze.
Bounty Hunters frequently use Desolator, which increases the physical damage done to the adversary.
Slardar can more easily target foes with Corrosize Haze thanks to Track, and vice versa.
Slardar can easily catch up to adversaries with to Track's movement speed aura, especially while using Guardian Sprint.

Vengeful Spirit
When Wave of Terror and Corrosive Haze are used together, the enemy's armor is significantly reduced and physical damage is amplified.
With the vision offered by Corrosize Haze, Nether Swap is easier to cast.

Shadow Fiend
Shadow Fiend's passive Presence of the Dark Lord decreases armor for opponents in his vicinity, and when combined with Corrosive Haze, Shadow Fiend, who is mostly a basic attack hero, will be able to annihilate adversaries with ease.

Alchemist
When combined with Alchemist's additional armor loss from Acid Spray and the fact that his Unstable Concoction does physical damage, Alchemist is capable of dealing massive amounts of damage.

Lifestealer
With his Guardian Sprint and Corrosive Haze, Slardar is an excellent host for Infest.
Game plan
Early game
At the beginning of the game, if there is coordination from your teammates, you can get kills very easily thanks to the strong hand damage and Slithereen crush (W) skill that stuns for 1.6 seconds and slows for 2 seconds after that, just need to replenish A control skill related to movement speed or damage is more than enough. You can go solo lane, dual lane (except for tri lane or solo mid out). At this point you need to farm to have the necessary amount of items for later ganking in the mid game. Sprint (Q) is a very good ability to chase or run away, but you should time it to turn it on or you will receive a decent amount of damage from the enemy.
Mid game
Once you have the basic equipment, and especially after having the Blink dagger, you are a very mobile and annoying ganker when it comes to surprise as well as the ability to kill / help knock down enemies quickly. quickly with his skill set (Medallion of courage combined with Amplify damage minus 16 enemy armor in this phase, whoever can stand it). When ganking, you should pay attention to use Sprint (Q) reasonably, time it so that you have just reached the gank location, this skill will limit the amount of damage you receive, or use it when the opponent has finished ganking the tail cup running away no longer has the ability to resist. The Town portal scroll is an item that should always be in your gear during this phase.
Late game
You are one of those heroes who won't be bored with anyone if you know how to properly build, with the tendency to build armor like above, you can subtract a maximum of 20+6+7+5 = 38 armor, an extremely terrible number, moreover you also have stun skills so you won't be afraid of any solo duel (for those who cause misses, go to monkey king bar to overcome), but Slardar is an initiator is not really as powerful as other pure initiators so he is more or less dependent on his teammates. With teammates pressing the field, controlling Roshan as well as pushing down the tower is essential in this stage to lead to victory.