Lore & Bio
"Some breathe fire. I breathe ice."
Like many great poets, Auroth just wanted to spend all his time writing, but life as a Winter Wyvern is full of distractions. Eldwurm epics have a long and illustrious history, but some fear the surviving dragon scholars have not composed as many as in the past, as evidenced by the fragmented Eldwurm Eddas. a few more lines from the last great era. Auroth groaned: "We forget that life is not just about winning and ruling over enemies. Life is also about the pursuit of creative emotions." She engages in travel research, collecting books for inspiration. But the whole research took a completely different turn, the time she spent writing less and less. She knew she should have hid herself in the cave to write new lines to Eddas, but instead she engaged in epic battles against powerful enemies. She plundered castles, raided ancient libraries… And if she happened to bathe in battle glory, she told herself it was just a byproduct of her research. In fact, although her skills and prowess on the battlefield have become legendary, her scholarly work is far from celebrated by the literary community. But being the protagonist of heroic legends was not what she aspired to be. She wanted to create her own legend.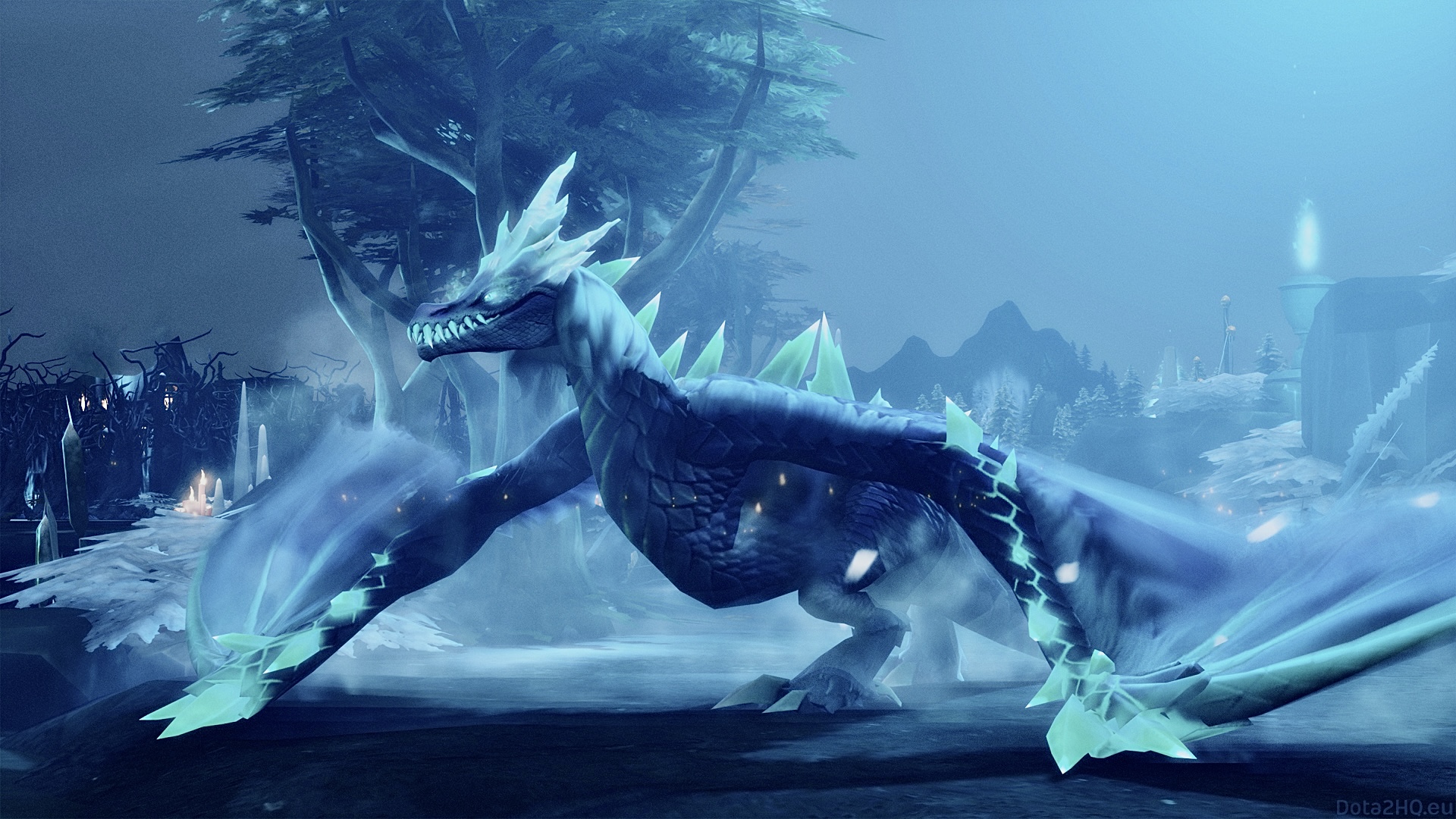 Attribute & Stats
Level: 0 1 15 25 30
Health: 200 680 1400 2160 2460
Health regen: +0.25 +2.65 +6.29 +10.09 +11.59
Mana: 75 387 987 1563 1803
Mana regen: +0 +1.3 +3.82 +6.22 +7.22
Armor: 0 2.67 6.63 11.47 13.22
Damage Block: -
Magic Resistance: 25%
Status Resistance: 0%
Damage: 14‒21 40‒47 90‒97 138‒145 158‒165
Attack Rate: 0.59/s 0.68/s 0.82/s 0.99/s 1.05/s
Attack Range: 425 (800)
Attack Speed: 100 (1.7s BAT)
Attack Animation: 0.25+0.8
Projectile Speed: 700
Movement Speed: 285
Turn Rate: Takes 0.175s to turn 180°. 0.6
Collision Size: 24
Vision Range: 1800 • 800
Legs: 2
Gib Type: Ice
Ability Upgrades:
Upgradable by Aghanim's Scepter - Arctic Burn

Upgradable by Aghanim's Shard - Cold Embrace
Abilities & Talents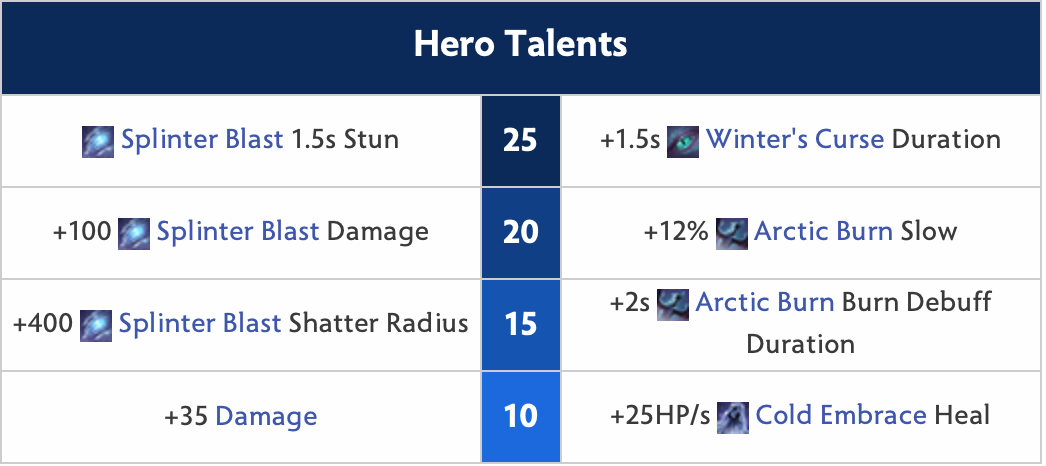 Skills building guide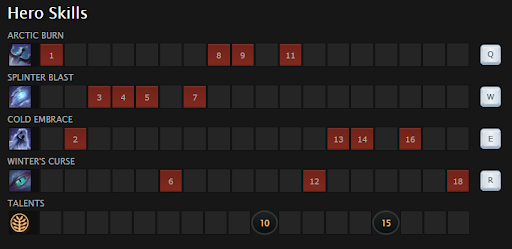 Maximize Arctic burn (Q) first because this is WW's main damage ability and it is easier to use than other skills, then Splinter blast (W). Cold Embrace (E) is a very good healing and saving skill with low mana and not too long cooldown. Ultimate get the correct level.
Abilities

Arctic Burn
Cost: 120/110/100/90 mana
Cooldown: 50/40/30/20 seconds.
Effect: flaps his wings to fly high, gaining the ability to cross terrain, increasing attack range, and each shot of WW during this time deals bonus damage and slows the target
Operation time: 6 seconds.
Damage: 6% of current health per second.
Impact time: 5 seconds.
Bonus Attack Range: 275/375/475/575
Movement Speed Slow: 25%/30%/35%/40%
Bonus night vision: 400

Splinter Blast
Cost: 120/130/140/150 mana.
Cooldown: 7 seconds.
Casting Range: 1200
Effect: spews an ice ball at the specified enemy, upon impact with the target, the ice ball shatters and deals 100/180/260/340 damage and slows movement speed on enemies. Enemies around the main target (main target takes no damage or effects from this skill).
Damage radius: 500 around the target.
Movement Speed Slow: 25%
Slow duration: 4 seconds.

Cold Embrace
Consumption: 70 mana.
Cooldown: 17/16/15/14 seconds.
Casting Range: 1000
Effect: envelops an allied unit in a block of ice, causing them to freeze, immune to all physical damage from all sources, and heal them for the duration of the effect. This ice block cannot be disarmed by debuff effects (Diffusal blade, Purge, Demonic purge, etc.).
Heal: 20 + 3%/4%/5%/6% of target's maximum health per second.
Effect time: 4 seconds.

Winter's Curse
Cost: 250 mana.
Cooldown: 90/80/70 seconds.
Casting Range: 800
Effect: Curses an enemy champion, causing him to stand still for a period of time. During this time, nearby allied units of the bad guy will be forced to attack that enemy with hand damage. If the target is killed by this method, the life will be counted for WW. This skill cannot be dispelled.
Duration: 2.5/2.75/3 seconds.
Attack radius: 350
Effective items guides
Early game

Magic Stick
Magic Stick: Winter Wyvern may use Magic Stick to get a burst of life and mana, allowing her to live just long enough to cast one more vital spell in a teamfight.

Boots of Speed
Boots of Speed: Boots of Speed will aid increase Winter Wyvern's sluggish movement speed, which will be especially effective while using Arctic Burn to get in position or chase/escape.

Wind Lace
Wind Lace: Wind Lace also has a modest movement speed, which is ideal for weak or sluggish supports.

Urn of Shadows
Urn of Shadows: Winter Wyvern gains increased attributes, armor, and mana restoration from the Urn of Shadows. The active may be utilized in conjunction with Cold Embrace to heal allies or to provide extra damage to her nuke arsenal.
Mid game

Magic Wand
Magic Wand: Winter Wyvern gains more qualities and improved charge storage for a low cost using the Magic Wand.

Arcane Boots
Arcane Boots: Arcane Boots boosts your mana pool while also providing a method to restore it. It's possible to deconstruct it and turn it into a Holy Locket.

Glimmer Cape
Glimmer Cape: In Winter Wyvern's hands, the Glimmer Cape is a cheap yet effective utility support item. It may be used on herself to allow her to approach the adversary secretly during initiations, or it can be used on an ally who is under the influence of Cold Embrace to bolster their magical resistance while also nullifying physical damage.

Spirit Vessel
Spirit Vessel: Spirit Vessel is a natural upgrade to Urn of Shadows that increases her single-target damage.
Late game

Holy Locket
Holy Locket: Holy Locket improves the healing from Cold Embrace and is readily constructed and dismantled from an upgrade of Magic Wand.

Mekansm
Mekansm: Winter Wyvern gains extra attributes and armor from Mekansm, and the active offers her another way to heal teammates in addition to Cold Embrace.

Guardian Greaves
Guardian Greaves: Winter Wyvern and her allies regain a large amount of health and mana thanks to Guardian Greaves. Mend also eliminates any negative debuffs that would make it difficult for her to use her skills.

Force Staff
Force Staff: Winter Wyvern's utility is considerably increased by the Force Staff, which is an inexpensive multifunctional equipment. The active can let her position herself more readily for casting spells, especially to get Winter's Curse off on a key target, and the intelligence and life regeneration offer her more mana and improved roaming ability. During Cold Embrace, it can also relocate teammates to a safer location.
Situation items

Aether Lens
Aether Lens: Aether Lens increases mana and mana regeneration, as well as the cast range of skills, allowing them to be used further away from threatening adversaries.

Meteor Hammer
Meteor Hammer: Meteor Hammer follows Winter's Curse with area stun and damage, and adds some building damage to Winter Wyvern's pushing power.

Solar Crest
Solar Crest : Winter Wyvern receives a slew of great benefits from Solar Crest for a relatively low cost. Her armor and characteristics make her a lot more tanky, while the mana regeneration keeps her mana pool full. The active may be used on a Winter's Curse target to degrade their armor and increase their chances of being killed.

Blink Dagger
Blink Dagger: Blink Dagger is an excellent technique to boost Winter Wyvern's mobility and make it easier for her to use Winter's Curse.

Lotus Orb
Lotus Orb: Lotus Orb removes certain debuffs from the victim and offers them a shield to reflect single target spells, which may dissuade foes from utilizing abilities on them.

Aghanim's Scepter
Aghanim's Scepter: The movement speed bonus makes positioning really easy before and during fights; however, the massive mana drain means it should never be purchased early. Aghanim's Scepter allows toggling of Arctic Burn and refreshing the debuff with following attacks, making it a great item to control enemy heroes from a long distance; the movement speed bonus makes positioning really easy before and during fights; however, the massive mana drain means it should never be purchased early.

Scythe of Vyse
Scythe of Vyse: Winter Wyvern's intellect is considerably improved by Scythe of Vyse, which also offers all-around characteristics and ample mana regeneration to power her expensive spells. The hex is a strong hard-disable that greatly improves her ganking and teamfighting abilities.
Enemies & Allies
Allies

Beastmaster
In order to fight his cursed comrade, Beastmaster's summons and Inner Beast are quite important.

Primal Roar's single-target initiation on allies is effectively mitigated by Cold Embrace.

Chaos Knight
If the player knows who the actual Chaos Knight is, Winter Wyvern can make his illusions attack him.

Winter's Curse, on the other hand, can cause Chaos Knight and all of his illusions to attack one of his friends.

Cold Embrace shields an ally targeted by Chaos Knight.

Chaos Knight's illusions take a lot of damage from Splinter Blast.

Lycan
All of Lycan's damage is physical, which Cold Embrace completely negates.

Lycan frequently travels with a huge number of creeps, wolves summoned by Summon Wolves, and neutral creeps ruled by Helm of the Dominator, Splinter Blast can easily clear the Helm of the Dominator, or Winter's Curse can use it as a powerful source of damage. If you catch Lycan with creeps nearby and he's afflicted by Shapeshift, you'll almost likely kill him with Winter's Curse.

Legion Commander
Duel is particularly vulnerable to Cold Embrace.

Also, casting Winter's Curse on Legion Commander while an ally is in a Duel will stun her for the most of the time, perhaps averting deadly damage. It's also possible for her high-damage to be used against her teammate.

Meepo
When Meepo's clones are collected together in a teamfight, any of them becomes a suitable target for Winter's Curse, compelling Meepo to kill himself. He also can't use Linken's Sphere to shield himself, unlike another hero.

Splinter Blast will hit practically every clone while Meepo's clones are clustered together, slowing Meepo and making him easier to combat.

Troll Warlord
If your companion is targeted by Troll, Cold Embrace will shield him from being injured, but be aware that Fervor will continue to acquire stacks while Cold Embrace is active.

His strong attack speed and bash will aid in the speedier death of his cursed comrade.

Ursa
Anyone cursed in Ursa's area would almost always die as a result of his high attack damage output with Fury Swipes.
Counters

Ancient Apparition
Cold Embrace's healing component is disabled by Ice Blast, thus turning it into a 4 second stun on an ally and an ideal setup for Ice Blast.

If Cold Feet is cast on an Allied hero who has been impacted by Cold Embrace, the Ally will almost certainly be surprised.

Invoker
Cold Embrace is the ideal setting for all of his nukes, including Chaos Meteor, EMP, and, most importantly, worldwide Sun Strike.

Luna
Against Lucent Beam and Eclipse, Cold Embrace is useless.

Winter's Curse prevents Moon Glaives from hitting a hero, making it weak against allies but effective against enemies.

When impacted by Arctic Burn, Luna has stronger night vision thanks to Lunar Blessing than Winter Wyvern.

Naga Siren
When used with Aghanim's Scepter, Song of the Siren may be used to negate the effects of Winter's Curse. Cold Embrace's heal is likewise outmatched by Aghanim's Scepter.

Naga Siren will be able to use her Ensnare to extend the disable on the hero impacted by Cold Embrace if Winter Wyvern is foolish enough to place an ally in Cold Embrace.

Omniknight
Winter's Curse is totally reversed by Guardian Angel, allowing his squad to withstand Winter Wyvern's initiation.

Purification and Heavenly Grace can also be used to counter Arctic Burn and Splinter Blast.

Outworld Destroyer
Arcane Orb will continue to deliver damage to the unprotected hero if Winter Wyvern puts her allies in Cold Embrace against Outworld Destroyer.

When Arcane Orb is taunted by Winter's Curse, he does not damage his allies, making it weak against allies but strong against adversaries.

Winter's Curse can be protected by using Astral Imprisonment.

Pugna
Cold Embrace is a death sentence for Pugna, since it provides the ideal setup for all of his abilities, particularly Life Drain.

Decrepify may be used to save an ally who is under the Winter's Curse effect, although it will waste the majority of the effect's duration.

The skills of Winter Wyvern demand a lot of mana, allowing Nether Ward to do a lot of damage.

Skywrath Mage
Cold Embrace is an excellent setup for Mystic Flare, and his 6-second quiet is particularly effective versus Winter Wyvern.

Slark
The debuffs Arctic Burn and Splinter Blast may be removed using Dark Pact. Arctic Burn is likewise no match for Pounce.

Slark gets free Essence Shift stacks from Cold Embrace. Early in the game, he also depends heavily on magic damage.

Timbersaw
Cold Embrace is a fantastic setup for Timbersaw's nukes because he depends on providing large quantities of pure damage.

Timbersaw may tank damage from his friends if he has Reactive Armor stacks and is targeted by Winter's Curse. Timbersaw's terrible attack damage will contribute next to nothing when he is cursed to attack an ally if he isn't the target.

Tinker
Cold Embrace is a wonderful setup for his nukes because all of his damage is magical and pure.

Tinker is difficult to cast Winter's Curse on since he frequently stays in the back-lines of team engagements. Tinker, on the other hand, has middling attack damage and will not contribute much if he is cursed to attack an ally. With Ethereal Blade, he may also save his buddy from the Winter's Curse effect.

Undying
The Zombies generated by Tombstone are too much for Winter Wyvern to manage. Zombies will usually be faster than her in most cases.

In Cold Embrace, Undying can obtain one or two simple Decay stacks on an ally. Because it is magical, the ally will also receive the harm.
Items Counter

Dagon
Dagon and Ethereal Blade: Cold Embrace will harm items that cause magical damage, such as Dagon and Ethereal Blade.

Ethereal Blade
Ethereal Blade: Under the impact of Winter's Curse, Ethereal Blade can be thrown on an ally, squandering the majority of its time. Any attempt to commence with a Winter's Curse will be readily blocked by Linken's Sphere.

Black King Bar
Black King Bar: Winter's Curse will not taunt enemies that are impacted by Black King Bar. They can still be directly targeted by the spell, which might be handy for securing vital carries for a few crucial seconds (e.g. a Sven that has just activated his ultimate and Black King Bar and is about to wreak havoc on your team). Additionally, the debuffs from Arctic Burn and Splinter Blast will not work.
Favorable Matchups

Dark Seer
Vacuum can drag in surrounding adversaries that haven't been taunted yet after Winter Wyvern has cast Winter's Curse.

Enigma
Winter's Curse may be used with Midnight Pulse and Black Hole for a simple Midnight Pulse + Black Hole combination.

Magnus
Reverse Polarity has the ability to group a large number of foes together. When the stun has finished, cast Winter's Curse to ensure that all taunted enemy heroes kill the target as soon as possible.

Venomancer
Winter's Curse can be set up for a simple Poison Nova, but bear in mind that poison damage will not impact enemies that are still under the curse.

In the laning phase, Plague Ward and Venomous Gale, along with Winter Wyvern's Arctic Burn and Splinter Blast, can weaken opponent heroes. All four abilities include slows that can easily secure a kill.

Invoker
All of Invoker's AoE spells may be set up with Winter's Curse.
Game plan
Early game
No matter at any stage of the game you are really strong thanks to your skill set, Arctic burn (Q) is a very poor damage and holding skill right from the early game, you can You can easily get kills if you have the support of your teammates, but to roam, you need to be lvl2 or higher, then with 2 slow skills, Arctic burn (Q) and Splinter blast (W) you will roam very easily.
Note with the skill Splinter blast (W) that it does not cause effects and damage to the main target, so you need to choose carefully before using it, this skill is quite far, so you can roam. Many surprises when using this skill, turn on Arctic burn (Q) and discharge bullets with teammates. Cold embrace (E) is a skill that guarantees you the ability to heal yourself and your teammates, the rest is only your mana amount.
Mid game
This is when both teams are trying to push the enemy's outer turrets, always keep the Town Portal Scroll in your body to make sure you can push and promptly support the turret and nearby teammates. Remember to fully ward to push as well as gank enemy heroes. Depending on the situation, you and your teammates can mobilize a total push to end the game early if you find that in the late game your team can't win against the opposing team. Winter's curse (R) is a very powerful control and damage skill if you choose the right target, location and time (for example, the other party has Sven biting and turning on MoM, for example, cast on your teammates. he let it smash).
Late game
At this stage, all heroes on both sides have quite a lot of equipment in general and support like you in particular, so warding in this stage will be easy to forget, keep this in mind. there and try to reserve at least 1 slot to store wards, because just a little negligence will lead to your team losing the soldier, even losing at that time.
In the total combat, use Winter's curse (R) on the enemy's thin targets to finish them off the fastest, especially the ones near the carry, they will treat you well, then use Splinter blast (W) causes disturbance and then turns on Arctic burn (Q) to discharge bullets and thick targets to limit their aggression. With a relatively long range, you can wrap yourself or save your teammates from physical damage with Cold Embrace (E). Winter's wyvern is a relatively difficult hero to play, but very good and worth trying, this is a hero with great potential in future ranked or competitive matches if put into Captain mode.