Lore & Bio
Among the oaths of supremacy of the Slithereen Guard, there is a solemn oath that is repeated before every battle: the Slithereen never fails. In fact, this is not only an oath, but also a covenant that must be fulfilled. Because, all Slithereen who fail in the quest will be banished. The loser is not worthy of Slithereen blood.
Once the most revered warrior in the tribe, Slithice has commanded an army of her fellow countrymen over the years, wielding her fearsome voice as her most powerful weapon. Powerful, agile, and elusive, she leads her deadly army to protect the Deep Ones and the Suken city's hidden treasure and museum beneath the ocean.
However, in the final battle of the Crey campaign, when faced with the army of the Levianth-the worshipers of Maelrawn who wanted to steal treasures to offer to their god, her army was consecutive. pushed back. Experiencing a persistent and bloody attack, after repelling the enemy and clearing the battlefield, they suddenly discovered that the treasure was missing a jewel-encrusted holy grail, the only one. At that time, Slithice's army of 100 men had only a few survivors, but their bravery and sacrifice were not appreciated. It is important that the museum was stolen. Their honor was ruined.
Naga Siren was banished. Banished to find the stolen holy grail. Although she could make up for it with a hundred times more gold, she still had to live in exile until she found the stolen museum. The honor she had lost, no other gold or silver could compare.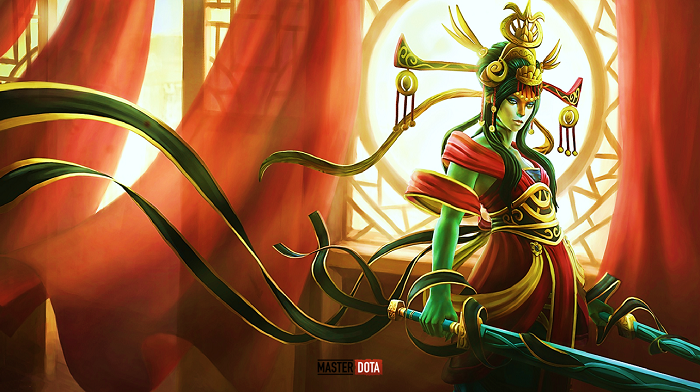 Attribute & Stats
Level: 0 1 15 25 30
Health: 200 620 1400 2200 2520
Health regen: +1.5 +3.6 +7.52 +11.52 +13.12
Mana: 75 327 663 1047 1191
Mana regen: +0 +1.05 +2.45 +4.05 +4.65
Armor: 3 6.5 14.2 21.7 24.78
Damage Block: 16 (50%)
Magic Resistance: 25%
Status Resistance: 0%
Damage: 23‒25 44‒46 90‒92 135‒137 153‒155
Attack Rate: 0.59/s 0.71/s 0.98/s 1.25/s 1.36/s
Attack Range: 150 (600)
Attack Speed: 100 (1.7s BAT)
Attack Animation: 0.5+0.5
Projectile Speed: Instant
Movement Speed: 330
Turn Rate: 0.6
Collision Size: 8
Vision Range: 1800 • 800
Legs: 0
Gib Type: Default
Ability Upgrades:
Upgradable by Aghanim's Scepter;
Upgradable by Aghanim's Shard.
Abilities & Talents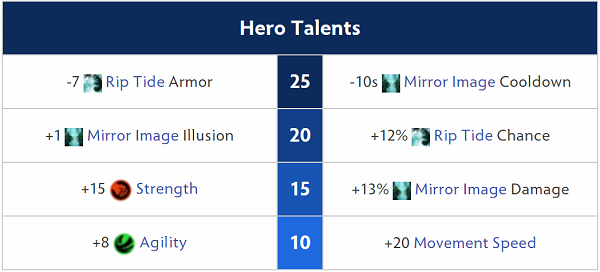 Skills building guide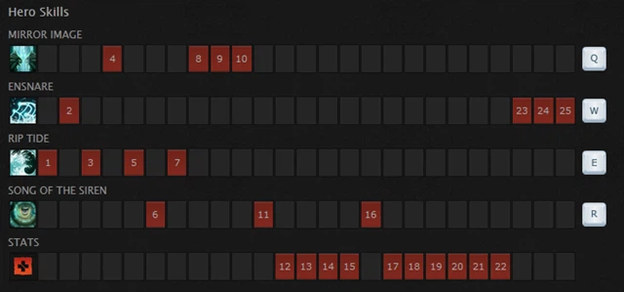 With the above skill increase, you have the main source of damage from the beginning of the game is Rip Tide (E) to farm a large area (3 clones, 1 time using Rip tide is a large area), get 1 point Ensnare (W) at the first level to have the ability to control and maximize the 2nd, when there are not many puzzles, the hand damage is not high, the Naga clone doesn't have much dmg so it should be maximized last ( get 1 point at the beginning of the game to spread Rip tide), ultimate gets the right level to chase, gank and escape when in danger.
Abilities

Mirror Image
Cost: 70/80/90/100 mana
Cooldown: 7 seconds
Effect: Naga disappears for a moment and then reappears with 3 fighting clones under her control.
Clone Damage: 20%/25%/30%/35% Base Damage
Damage taken by the clone: 600%/500%/400%/300%
Duration: 30 seconds or until destroyed
Note: when using this skill, Naga will disappear for a moment ---> can be used to dodge attacks and ballistic skills. When using this skill, Naga can cancel some basic bad buffs.

Ensnare
Cost: 90/100/110/120 mana
Cooldown: 12 seconds
Casting Range: 650
Effect: Naga throws a net at an enemy target and immobilizes them for a period of time, and cancels the target's channeling state.
Tie Time: 2/3/4/5 seconds
Note: when using the ability, the clones will also throw nets like naga but without additional effects.

Rip Tide
Cost: 80/90/100/110 mana
Cooldown: 10 seconds
Effect: sends out a wave around himself, dealing 100/140/180/220 damage and reducing the armor of enemies hit.
Damage radius: 320
Armor subtraction: 2/3/4/5
Effect duration: 8 seconds
Note: Naga's clone will also use Rip tide when Naga uses it, dealing the same damage and effects but not stacking.
Song of the Siren
Consumption: 100 mana
Cooldown: 180/120/60 seconds
Effect: sings a song that puts all nearby enemies to sleep (including buildings), however they will not take damage from any source. This skill has an extra skill to end the effect earlier.
Maximum duration: 7 seconds
Radius of Influence: 1250 around Naga
Upgraded by Aghanim's Scepter:
Bonus Effect: Restores 8% of your maximum health per second to nearby allied units

Song of the Siren End
Effect: Release enemy units from your song so they can be targeted again.
Effective items guides
Early game

Bottle
Bottle: When farming the mid lane, a bottle can aid with sustain and rune management.

Boots of Speed
Boots of Speed: Naga Siren can stroll to her farm with the help of Boots of Speed.
Mid game

Power Treads
Power Treads: Rip Tide is triggered by using Power Treads, which increases agility and attack speed while also benefiting illusions.

Diffusal Blade
Diffusal Blade: Diffusal Blade increases her damage, armor, and attack speed, as well as providing Mana Break on attacks, which dramatically increases her and her illusions' damage output.

Manta Style
Manta Style: Manta Style grants her positive attribute enhancements and the ability to conjure additional illusions.
Late game

Octarine Core
Octarine Core: Naga Siren's skills' cooldowns are reduced by Octarine Core, dramatically increasing her pushing strength and making her considerably more difficult to gank. Lifesteal has no impact on her own abilities, but it may be coupled with Radiance to make her illusions immune to creep damage.
Situation items

Quelling Blade
Quelling Blade: To ensure final hits, Quelling Blade delivers additional damage to creeps.

Infused Raindrops
Infused Raindrops: Infused Raindrops provides strong mana recovery, allowing Naga Siren to continue utilizing her abilities while also allowing her to withstand some magical blasts.

Magic Wand
Magic Wand: The Magic Wand offers attributes as well as bursts of life and mana, making it a strong sustain item regardless of Naga Siren's function.

Arcane Boots
Arcane Boots: Naga Siren's early mana concerns are solved with Arcane Boots, and you may deconstruct it later to recycle the Energy Booster into Octarine Core.

Drum of Endurance
Drum of Endurance: Naga Siren, allied heroes, and illusions around her gain good overall characteristics and an active that improves mobility and attack speed.

Meteor Hammer
Meteor Hammer: Song of the Siren's area stun works nicely with Meteor Hammer's area stun, giving foes little time to respond.
Enemies & Allies
Allies

Abaddon
Abaddon Borrowed Time is entirely wasted while Song of the Siren keeps him in place.
Naga Siren may easily use Mirror Image to dispel Abaddon's Curse of Avernus before being hit four times in a row.
Although Aphotic Shield may quickly demolish Naga Siren's illusions, Naga Siren can simply remedy this problem by purchasing Heart of Tarrasque, which greatly increases her endurance. Furthermore, the stated item makes Naga Siren's illusions more difficult to identify.

Omniknight
Guardian Angel will be squandered by Song of the Siren.
Ensnare is completely effective against Heavenly Graced targets. Ensnare, on the other hand, may be dispelled by any dispel, even Heavenly Grace.
Naga Siren is one of the most natural Diffusal Blade carriers, the bane of any hero with a tiny mana pool, as an agility hero that relies on illusions.

Nature's Prophet
Naga Siren is a split-pusher by nature. She will easily out-push Nature's Prophet with Rip Tide, farming his treants in the process.
Teleportation is prevented by Ensnare. Song of the Siren lasts long enough to keep him from fleeing, even if he hides within Sprout.

Legion Commander
The Siren's Song lasts long enough to prevent a successful Duel (but only if Naga isn't the intended victim).

Templar Assassin
Ensnare takes away Templar Assassin's invisibility and Blink Dagger (a fundamental item), and her illusions are readily broken by Refraction.

Crystal Maiden
Frostbite may be cured by using Mirror Image.
Freezing Field may be stopped by Ensnare and Song of the Siren.
Song of the Siren can help her squad narrow the distance on the Crystal Maiden minimap rapidly.

Chen
Because Naga Siren is an illusion hero, she may make landing Chen's combination extremely difficult.
Chen will be unable to activate the Hand of God because of Ensnare.

Bounty Hunter
Bounty Hunter is a one-target damage dealer, hence he won't be able to deal much damage to Naga Siren. He may try to track her, but the impact will be negated by her Mirror Image. While rooted, Ensnare also reveals unseen troops, placing Bounty Hunter at a disadvantage.
Counters

Axe
Due to being attacked by more strikes, Axe will demolish her illusions by proccing Counter Helix more frequently.

Batrider
Batrider can demolish illusions from Mirror Image with many stacks of Sticky Napalm paired with Flamebreak and Firefly.
If Batrider is successful in destroying Naga Siren's illusions, he will be able to use Flaming Lasso on the actual Naga Siren and drag her toward his team, perhaps preventing Naga Siren from fleeing with Song of the Siren.

Earthshaker
Naga Siren's illusions can be dispelled by Earthshaker's powerful AoE abilities, or at the very least made simpler to recognize by the damage they suffer.
When used against Naga Siren and her illusions, Echo Slam does greater damage against more adversaries, which may be devastating.

Lion
Hex and Mana Drain both instantly demolish Naga Siren's illusions, making it difficult to teamfight or push against a team using Lion. Lion's pushing potential may be completely negated if she picks the AoE effect talent for Hex or the shard for multi-target Mana Drain.
Earth Spike is a good-damaging AoE disable. It can assist recognize the actual Naga Siren by the damage they suffer if utilized correctly (illusions take more damage).

Outworld Destroyer
All illusions will most likely be destroyed by Sanity's Eclipse.

Timbersaw
As Naga Siren, dealing with Timbersaw's intrinsic resilience is difficult since she focuses on persistent damage rather than burst damage. Naga Siren's illusions may be quickly destroyed by Timbersaw's high Pure Damage and low-cooldown AoE nukes.

Zeus
Zeus' abilities do a lot of burst magical damage, even if Naga Siren has a lot of armor.
Naga Siren's illusions may also be destroyed using Zeus' Arc Lightning.

Gyrocopter
Naga Siren's illusions are readily dispelled with Flak Cannon and Call Down.

Snapfire
Naga Siren's illusions may be quickly dispelled with Mortimer Kisses.
Naga's illusions may also be dealt with using Scatterblast and Firesnap Cookie's AoE damage.

Leshrac
Naga Siren's illusions are readily dealt with by all of Leshrac's abilities, notably Pulse Nova.
Items Counter

Blade Mail
When you're rooted by her Ensnare, Blade Mail may be used to restore all of the damage she and her illusions deliver to you while you're crippled.

Ghost Scepter
The Ghost Scepter protects you against the attacks of her and her illusions (although you will still take damage from her Rip Tide, if Naga Siren targets others near you).

Battle Fury
With their area damage, Battle Fury and Maelstrom (and eventually Mjollnir or Gleipnir) can destroy illusions.
Favorable Matchups

Dazzle
If you surround an adversary with your Mirror Images early in the game, you may deliver massive amounts of physical damage with Shadow Wave. This may be prepared with Ensnare, and the damage can be boosted even more using Rip Tide's armor decrease.
A dying Naga Siren can use Shallow Grave to cast Song of the Siren and teleport safely. The Song can be used as cover for other allies when the Grave is used against them.

Disruptor
During Song of the Siren, both Kinetic Field and Static Storm can be thrown ahead of time.
If the opposition team is caught in the combination, there is absolutely nothing they can do, especially if Disruptor has also acquired an Aghanim's Scepter, muting equipment.

Kunkka
In the early game, Song of the Siren can be used to set up Ghost Ship.
Ensnare is also a nice Torrent set-up.

Razor
With Static Link, Ensnare will assist Razor in totally stealing an enemy's damage (ideally their carry in the middle of a fight).

Tidehunter
Ravage is a great follow-up to Song of the Siren for early-game teamfights.
Later stages, however, allow players to acquire a Blink Dagger to avoid the Ravage or a Black King Bar to neutralize it.
Game plan
Early game
You can use clones with Rip tide to eat minions from afar, use clones to stack jungle camps, and check visibility. Clones last up to 30 seconds, so you can feel more secure when controlling the lane, but you should know how to coordinate mana when traveling, lest bad or good cases happen that you don't have enough mana to participate. so sorry.
There is a very tricky game with Radiance that you clone and split, pull the clone up to push the lane, and the main body can farm in the jungle without fear of being stalked because your lane's soldiers are always high. , takes a huge advantage in vision, controlling vision in other locations will become simpler with the rest of the clones, it's easier for your teammates to go to wards than to take care of them. your area (this requires high microphone capabilities).
At the beginning of the game, you are not capable of being aggressive without the support of your teammates. When you have all 3 moves, then your life will be a little more comfortable. This phase is still mainly about sticking to the minion farm, if you are pinched, you can use the game I mentioned above to farm as well as stack jungle monsters. You shouldn't do anything in this stage, sometimes if your teammates go to gank, they will run out and throw a net and then hit a few times to get support or get kills if possible.
Mid game
This stage, getting to Radiance is a very nice transition for you, you can coordinate the clone to farm a clean lane with the jungle for a while, remember to split the clone to maximize the effect of Radiance, yes. What combat is just screaming and dragging the clone to burn the enemy heroes' ass to get support. And if you don't farm and can't get to Radiance early, you can build in method 2, then go farm and fight to earn some money on items, Radiance can be for the late game. Remember to ask your teammates to have full wards and always have the Town portal scroll ready.
Late game
With teammates to control the map and Roshan or Split push (split push), you need Boots of Travel to be able to maximize that ability. In the total teamfight, you will usually be the one to come in later or you can help the Initiators open the fight with Song of the Siren (use it carefully to avoid squeezing them), otherwise just Split push, Naga is too good at this, Just apply the game in the mid game and they will tickle right away. And if you think it's cowardly, ok! Go up, throw the net, clone, turn on the Manta and kill them all.