Lore & Bio
" You should be honored to bleed so that the Flayed Ones may live."
Strygwyr the Bloodseeker, Hound of the Flayed Twins, is a ritually sanctioned hunter sent down from the mist-shrouded peaks of Xhacatocatl in search of blood. The Flayed Ones require oceans of blood to keep them satiated and placated, and if the priests of the high plateaus do not appease them, their mountain empire will be depopulated. Strygwyr then goes in search of carnage. The vital energy of any blood he lets flow to the Twins immediately via the sacred markings on his weapons and armor. He has come to embody the energy of a vicious hound over the years, and in battle he is as savage as a jackal. It is said that beneath the Bloodseeker's Mask, in the rush of bloody quenching, you can sometimes see the features of the Flayers taking direct possession of their Hound.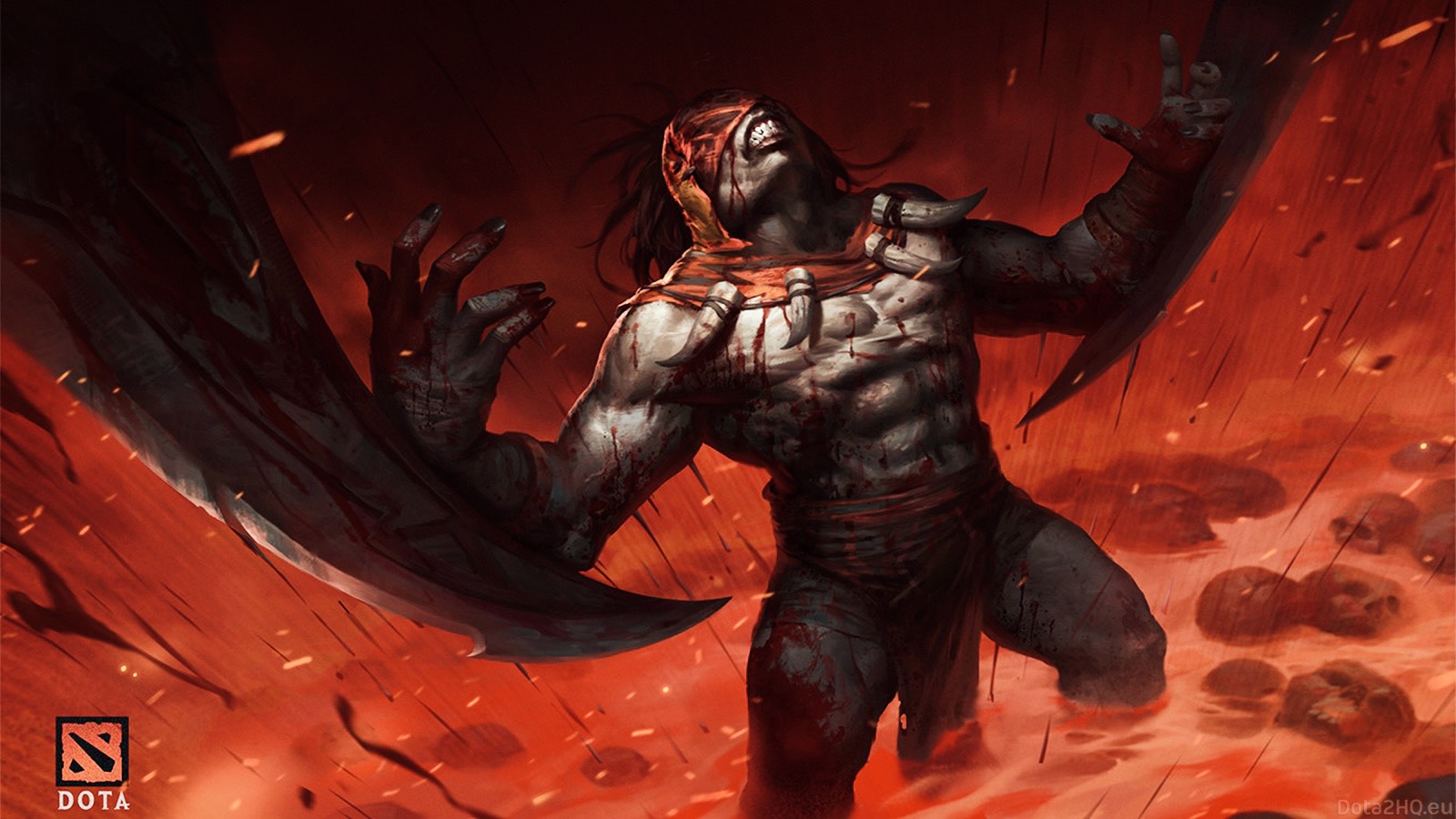 Attribute & Stats
Level: 0 1 15 25 30
Health: 200 680 1420 2200 2520
Health regen: +0.25 +2.65 +6.43 +10.33 +11.88
Mana: 75 279 615 999 1143
Mana regen: +0 +0.85 +2.25 +3.85 +4.45
Armor: 2 5.67 12.9 20.07 22.98
Damage Block: 16 (50%)
Magic Resistance: 25%
Status Resistance: 0%
Damage: 35-41 57-63 100-106 143-149 160-166
Attack Rate: 0.59/s 0.72/s 0.97/s 1.23/s 1.33/s
Attack Range: 150 (600)
Attack Speed: 100 (1.7s BAT)
Attack Animation: 0.43+0.74
Projectile Speed: Instant.
Movement Speed: 300
Turn Rate: 0.6
Collision Size: 24
Vision Range: (G) 1800 • 800
Legs: 2
Gib Type: Default.
Ability Upgrades:
Upgradable by Aghanim's Scepter - Blood Mist.

Upgradable by Aghanim's Shard - Bloodrage.
Abilities & Talents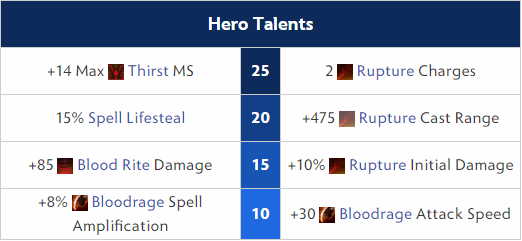 Skills building guide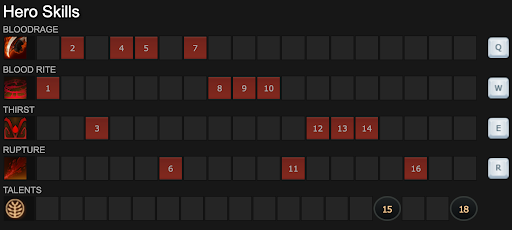 Bloodseeker should try to reach level six as soon as possible so that he can begin ganking with Rupture.Because of the damage and speed boost provided by Thirst, Bloodseeker players should always keep an eye on the enemy team's overall health regardless of where they are.Blood Rite grants ground vision in the area of effect.Bloodseeker works well with allies who have AoE damaging effects or spells with global range.Bloodrage can be used on creep-hero units such as the Brewmaster's Primal Split Brewlings, the Lone Druid's Spirit Bear, Visage's Familiars, and the Warlock's Golem.
Abilities

Bloodrage
Mana: 25
Cooldown time: 14/12/10/8
Cast animation: 0+0.4
Cast range : 800
Damage: 15%/20%/25%/30%
Effect: Bloodseeker is driven into a bloodthirsty rage, causing him to attack faster and deal more spell damage at the cost of a percentage of his health per second. Allies' attack speed is reduced by half.

Blood Rite
Mana cost: 90/100/110/120
Cooldown time: 15/14/13/12
Cast animation: 0.3+0.63
Cast range: 1500
Radius: 600
Damage: 120/160/200/240
Effect: Bloodseeker uses sacred blood to baptize an area. The ritual ends after 2.9 seconds, causing any enemies caught in the area to take damage and become silent.

Thirst
Radius: Global.
Health Threshold: 80%
Duration: 4
Speed Bonus: 14%/24%/34%/44%
Effect: Bloodseeker is energized by his enemies' wounds, restoring some life when he kills a unit. When denying or if an ally kills a nearby enemy hero, half values are restored. When an enemy hero's health drops below 80%, they gain bonus movement speed, with the bonuses increasing as their health drops further. If the health of an enemy hero falls below 25%, he will gain vision and True Sight of that hero. Bonuses accumulate per hero. Bloodseeker's maximum movement speed is unlocked.

Blood Mist
Mana: 0
Cooldown time: 3 seconds.
Radius: 450
Duration: 0.5
Effect: Bloodseeker continuously sprays his blood in the area around him, causing himself to be damaged and slowing his enemies. Thirst's healing is increased while active. It is not possible to turn off while on cooldown.

Rupture
Mana cost: 100/150/200
Cooldown time: 70 seconds.
Cast animation: 0.4+0.53
Cast range: 800
Duration: 10/11/12
Effect: The skin of an enemy unit ruptures, dealing initial damage based on its current health. If the unit moves, it takes damage proportional to the distance traveled. Spell immunity is used to deal the damage.
Effective items guides
Early game

Wraith Band
Wraith Band: In the early game, it provides a cheap and efficient stat boost.

Boots of Speed
Boots of Speed: Increases the effectiveness of Thirst by increasing base move speed, and the item can be upgraded for very gold-efficient damage or stats.

Orb of Corrosion
Orb of Corrosion: Can help Bloodseeker slow enemies and deal more damage in early ganks.

Magic Wand
Magic Wand: Provides some characteristics as well as a way to restore Bloodseeker's health and mana on demand
Mid game

Power Treads
Power Treads: Provide increased attack speed and agility for increased damage output; when using abilities, Bloodseeker can switch to strength for survivability or intelligence for mana.

Maelstrom
Maelstrom: Bloodrage's Chain Lightning ability complements Bloodrage nicely, providing a decent damage boost and speeding up his farming.

Sange and Yasha
Sange and Yasha: Bloodseeker receives numerous bonuses, including attributes and movement speed.

Black King Bar
Black King Bar: Makes Bloodseeker immune to most disables and nukes, allowing him to enter teamfights with confidence.
Late game

Silver Edge
Silver Edge: Because of Bloodseeker's natural speed and ability to break enemy passives, he can be extremely useful in ganking.

Abyssal Blade
Abyssal Blade: Gives Bloodseeker a strong stun and a moderate amount of durability.

Butterfly
Butterfly: Provides much-needed agility, attack speed, and evasion.

Gleipnir
Gleipnir: Bloodrage replaces Mjollnir's attack speed boost and provides a root that can also be used to pin down fleeing foes or set up Blood Rite.
Situation items

Blade Mail
Blade Mail: During teamfights, this prevents enemies from targeting Bloodseeker.

Echo Sabre
Sabre Echo: Is sometimes used as a source of extra damage and mana early in the game, and it works well with chance-based attack modifiers like Skull Basher.

Hand of Midas
Hand of Midas: Is occasionally purchased if Bloodseeker has a strong early game or needs to match harder carries in the late game.

Radiance
Radiance: Area damage allows Bloodseeker to quickly farm a large number of creeps at once, making it a valuable item when Bloodseeker is carrying. Bloodrage increases the area damage and allows him to gain the Thirst bonus from all nearby enemies.

Monkey King Bar
Monkey King Bar: Adds to Bloodseeker's attack damage and counters enemy evasion with magical damage Pierce procs that will always land.

Eul's Scepter of Divinity
Eul's Scepter of Divinity: Provides Bloodseeker with movement speed and mana regeneration, as well as a way to prevent enemies from teleporting away.

Dagon
Dagon: Is sometimes picked up to deal high initial damage during ganks, triggering Thirst's damage and speed bonuses to give Bloodseeker an immediate advantage and finish off the target. Its damage is increased by Bloodrage.

Ethereal Blade
Ethereal Blade: Gives decent attributes and can deal massive damage when combined with Dagon and Bloodrage's damage amplification.

Nullifier
Nullifier: Removes buffs that can prevent Bloodseeker from focusing down targets (such as Ghost Scepter).

Aghanim's Shard
Aghanim's Shard: Gives decent late-game value, providing Bloodseeker with extra sustain and allowing him to easily tear down tanky foes

Satanic
Satanic: Allows Bloodseeker to heal quickly without relying on kills, which can be difficult in the late game.
Enemies & Allies
Allies

Ancient Apparition
When Bloodseeker is ganking, Ice Blast comes in handy because Rupture prevents the target from moving out of Ice Blast's impact radius.

Thirst allows Ancient Apparition to precisely target Ice Blast on retreating enemies, particularly before they reach the Fountain.

Batrider
Batrider can use Flaming Lasso to drag Ruptured victims and deal more damage.

The slow stacks of Sticky Napalm give Bloodseeker more time to pursue fleeing enemies.

Bounty Hunter
Bloodseeker can efficiently track down Tracked foes and claim their bounty thanks to Thirst's speed and detection.

Earthshaker
The initiation of Echo Slam increases the bonuses from Thirst.

Earthshaker's numerous stuns aid in the capture of targets for Bloodseeker.

Earth Spirit
Smashing Boulders Ruptured enemies will be forced to take significant damage.

Rolling Boulder and Geomagnetic Grip stop enemies from fleeing Bloodseeker ganks.

Invoker
Thirst grants Invoker global vision of all low health enemies, allowing him to land quick Sun Strikes throughout the game.

In a teamfight, Bloodrage can assist Invoker in dealing significantly more damage.

Jakiro
Rupture forces enemies to choose between remaining in Jakiro's Macropyre and moving and taking Rupture damage.

The long range of Ice Path prevents Ruptured enemies from teleporting away or moving out of Blood Rite's radius.

Magnus
Skewer moves a Ruptured enemy while dealing significant damage.

Reverse Polarity activates Blood Rite, which damages and silences all enemies in the area.

Throughout the game, Empower assists Bloodseeker in scoring last hits and farming effectively.

Nature's Prophet
Thirst's vision assists Nature's Prophet in dispatching fleeing enemies using Teleportation and Wrath of Nature.

Wrath of Nature frequently affects multiple heroes, increasing Thirst's benefits.

Phoenix
Initiations with Icarus Dive and Supernova boost the bonuses from Thirst before a fight significantly.

Rupture prevents targets from fleeing Supernova's AoE range and being stunned, allowing Bloodseeker to cast Blood Rite.

Queen of Pain
Before a fight, initiations with Sonic Wave and Scream of Pain significantly increase the bonuses from Thirst.

With Bloodrage, Bloodseeker can also increase Queen of Pain's nuke damage.

Venomancer
Bloodrage greatly increases Venomancer's area nuke damage.

Bloodseeker can more easily pursue dying enemies thanks to Venomancer's slows.

Bloodseeker can get his Thirst bonuses from multiple sources thanks to Venomancer's health degenerating abilities.

Enemies who lose health will be visible through Thirst.

Because Poison Nova is non-lethal, Bloodseeker can reap the benefits of Thirst even after most enemies have fled.

Warlock
Fatal Bonds multiplies enemy damage and works at any distance, greatly increasing Thirst's bonuses and assisting Bloodseeker in pursuing fleeing targets.

Because of Fatal Bonds, Warlock's disables allow Bloodseeker to land Blood Rite and deal massive damage.

Zeus
Before an engagement, Bloodseeker can increase Zeus' damage with Bloodrage, which can greatly reduce the enemy's health with Thundergod's Wrath.

The bonus damage from Thirst is greatly increased by Zeus' magical nukes.

Thirst reveals vulnerable foes for Zeus to dispatch with Nimbus or Thundergod's Wrath.
Counters

Abaddon
Borrowed Time makes ganking Abaddon nearly impossible.

Bloodseeker's Thirst bonuses are prevented by Aphotic Shield and Mist Coil.

Dazzle
Shallow Grave prevents Bloodseeker from regenerating health by defeating enemies.

Ember Spirit
Ember Spirit is able to flee while Ruptured thanks to Fire Remnant.

Faceless Void
Rupture's damage is mitigated by Time Walk.

During teamfights, Chronosphere prevents Bloodseeker from running down and picking off weak enemies.

Medusa
Mana Shield makes gaining Bloodseeker's Thirst bonuses extremely difficult.

Medusa is rarely killed by Rupture using Mana Shield.

Morphling
Morphling is unharmed because Waveform ignores Rupture's damage.

Because Morphling can use Attribute Shift (Strength Gain) to sustain damage while trading attacks when Ruptured, Bloodseeker finds it difficult to kill Morphling or gain his Thirst bonuses.

Morphling typically constructs Linken's Sphere, which prevents Rupture.

Morphling typically constructs Ethereal Blade, which can be used to transform himself or an ally into ethereal and avoid Bloodseeker's attacks.

Omniknight
Guardian Angel's near invulnerability prevents Bloodseeker from reaping the benefits of Thirst, preventing him from gaining an advantage in teamfights.

Purification's pure damage makes it difficult for Bloodseeker to pursue enemies and prevents him from replenishing his health by killing them.

Storm Spirit
Storm Spirit is invulnerable during Ball Lightning, allowing him to flee any Rupture ganking attempts.

Ball Lightning also prevents Bloodseeker from pursuing or catching an injured Storm Spirit in Blood Rite.

Tinker
Bloodseeker is blinded by the laser, preventing him from getting last hits and denies during the laning stage and from finishing off enemies.

Tinker always buys Boots of Travelto help him avoid Bloodseeker's early ganks.

Tinker's high magical damage will kill Bloodseeker in the early to mid game because he has little health.

Troll Warlord
Berserker's Rage will frequently trap Bloodseeker in a one-on-one battle.

Whirling Axes (Melee) blinds Bloodseeker, causing him to miss 60% of the time and, as a result, limiting his ability to gain an advantage in teamfights.

Underlord
Atrophy Aura's damage reduction prevents Bloodseeker from killing targets and gaining his Thirst bonuses.

The area of effect of Pit of Malice easily catches Bloodseeker, negating his speed bonus during teamfights.

Underlord can use Dark Rift to transport Ruptured allies to the fountain, rendering it useless.

Wraith King
Due to reincarnation, Wraith King is nearly impossible to gank with Rupture.

Vampiric Spirit heals Wraith King and reduces the effect of Thirst.
Items Counter

Town Portal Scroll
Town Portal Scroll: Because he lacks disables, he frequently prevents Bloodseeker's ganking attempts.

Magic Stick
Magic Stick: As Bloodseeker frequently uses Bloodrage to farm in lane, he gains charges.

Blade Mail
Blade Mail: A reflection of Rupture damage When Ruptured, strength heroes with mobility skills such as Clockwerk or Centaur Warrunner can reflect a large amount of damage.

Linken's Sphere
Linken's Sphere: Rupture is obstructed.

Crimson Guard
Crimson Guard: Reduces Bloodseeker's damage, making his Thirst bonus less effective.

Heart of Tarrasque
Heart of Tarrasque: Thirst's effectiveness is reduced by health regeneration.

Lotus Orb
Lotus Orb: Rupture is reflected.

Guardian Greaves
Guardian Greaves: Removes Blood Rite's silence and prevents any heroes from bestowing a Thirst bonus on Bloodseeker.
Favorable Matchups

Anti-Mage
Blood Rite prevents Anti-Mage from using Blink to escape.

Rupture's damage will be triggered by Blink.

Blood Rite and Rupture are both pure damage spells that can bypass Counterspell.

Clinkz
Skeleton Walk is ineffective against Bloodseeker and is detected by Thirst.

Huskar
Huskar is frequently low on health, providing significant Thirst bonuses.

Rupture's damage is triggered by Life Break.

Lycan
Lycan's high mobility is completely negated by rupture.

With Bloodrage, all of Lycan's summons are excellent sources of healing.

Meepo
Thirst's bonuses are increased by every Meepo clone.

When Meepo attempts to cycle weaker clones away from combat, Bloodseeker can pursue them.

Mirana
During Moonlight Shadow, Thirst detects Mirana or an ally who is low on health.

When Mirana uses Leap, Rupture deals a lot of damage.

Pangolier
Rupture works through Rolling Thunder and Swashbuckle, limiting Pangolier's mobility significantly.

Phoenix
Phoenix uses up health when using its abilities, making it an ideal target for Thirst.

Rupture is extremely damaging to Icarus Dive.

Queen of Pain
Blood Rite stops Queen of Pain from fleeing with Blink.

Rupture's extra damage will be triggered by Blink.

Riki
When Riki's health is low, thirst detects him.

When Riki uses Blink Strike, Rupture deals a lot of damage.

Slark
Thirst prevents Slark from using Shadow Dance to heal.

During Pounce, Rupture will deal damage.

Slark cannot escape ganks because Dark Pact cannot dispel Rupture.

Sniper
Sniper's lack of mobility and escape mechanisms makes him one of Bloodseeker's favorite heroes to gank.

Timbersaw
Timbersaw is restrained by Rupture and Blood Rite, preventing him from fleeing with Timber Chain. Timbersaw, on the other hand, may reflect a significant amount of damage with Blade Mail.

Vengeful Spirit
Nether Swap causes Rupture to deal more damage.

Vengeful Spirit uses her Nether Swap correctly timed while Blood Rite sets up.

Weaver
Shukuchi will cause Rupture to deal additional damage.

Thirst notices Shukuchi's invisibility.

Rupture cannot be dispelled by Time Lapse, preventing Weaver from escaping ganks.

Windranger
Rupture's damage is triggered by Windrun.
Game plan
Early game ( 0:00 - 12:00)
Bloodseeker's early game is extremely powerful. It's insane how he can rupture someone and use his bloodrite to either do pure damage or have them run with rupture on. Once that combo has begun, simply bloodrage and begin hitting them. Back off and try to last hit or deny creeps so you can heal before going back in if they are killing you. Troll warlord is an excellent counter to bloodseeker. With lifesteal and fervor, he can easily kill you. If you're playing against a troll, I recommend using bloodrite before rupturing to make him move. If you want to fight him, use bloodrage, enter the room, and begin right clicking. If he returns to farming creeps after your ult expires, fight him again because his fervor stack is broken. Avoid towers and try to force him to go a certain way with bloodrite where your team might be waiting or where you might be able to get a kill easier. Most people focus on running, so when you bloodrite in front of them and have the tip of the rite on them, they just keep running, hoping to outrun it and give you free damage.
Mid game (12:00 - 25:00)
This may be a bad idea for most people, but farming during this stage of the game is a good idea for you. This includes hero kills; however, don't just run into a fight unless you know you can win because if you don't have farm as a bloodseeker, you'll be useless late game. You should have a decent farm at this point if you ganked properly and know how to last hit. If your team is in a team fight and has a chance to win or almost win, go to a lane where they aren't and farm. This may appear to be a selfish move at first, and your team may punish you for it, but they will thank you later. Believe me. Once you've established your farm, you can gank enemies who are off farming on their own. It should be about 30-35 minutes into the game at this point.
Late game (25:00-75:00)
As I mentioned in the previous section, bloodseeker dies quickly if not properly farmed. One of the reasons we get radiance is that you don't want to be hit all the time or you'll be nuked. If you've been properly farmed at this point in the game, you should be playing with the team if you're winning or splitting pushing if you're losing. Bloodseeker is an excellent team fighter as well as a great pick-up hero. He has a high damage output with bloodrage, which makes him a good pusher. He can also bloodrage a siege creep, increasing its damage to the tower. As a bloodseeker, you rely on your allies to protect the map because he is a squishy hero at the start of the game. Though most people do not believe it, bloodseeker will die early in the game before obtaining any levels or items.