Lore & Bio
" Yurnero, the Juggernaut "
The face of Yurnero the Juggernaut, which is concealed beneath his mask, has never been revealed. If he even has one, that is just a hunch. Yurnero was banished from the historic Isle of Masks as retribution for disobeying a corrupt lord; this punishment spared his life. Soon after, the island disappeared beneath the water during a night of vengeful magic. He is the only one left to continue the long-standing Juggernaut legacy of ritual and swordplay on the Isle. The last practitioner of the craft, Yurnero's self-assurance and bravery come from years of practice, and his creative use of the blade shows that he has never ceased pushing himself. However, his intentions are as opaque as his facial expression.He fights with the confidence of a hero who has already lost everything twice.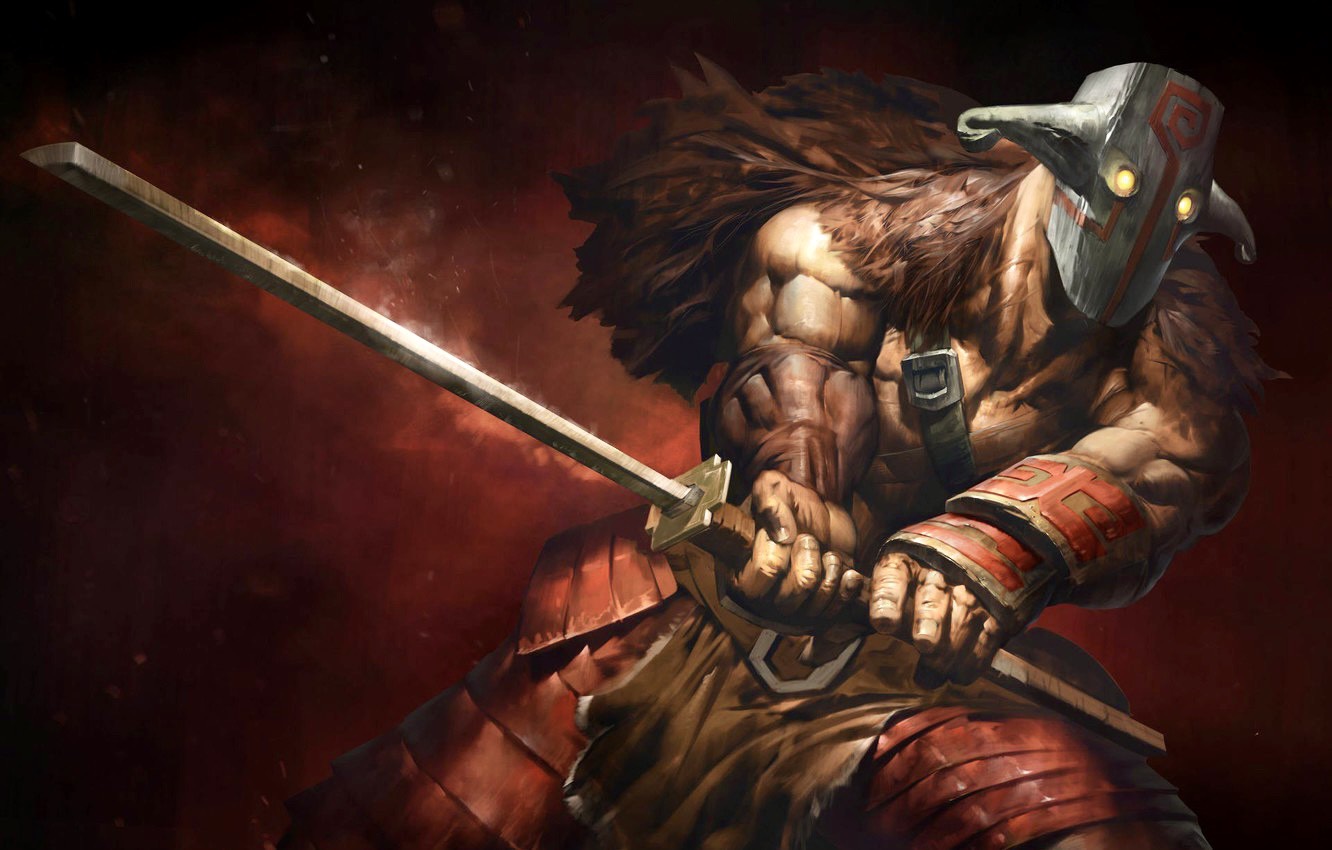 Attribute & Stats
Level: 0 1 15 25 30
Health: 600 1200 1880 2140
Health regen: +0.5 +2.5 +5.58 +8.98 +10.28
Mana: 75 243 471 783 891
Mana regen: +0 +0.7 +1.68 +2.98 +3.43
Armor: 0 5.67 12.2 18.87 21.53
Damage Block: 16 (50%)
Magic Resistance: 25%
Status Resistance: 0%
Damage: 16-20 50-54 89-93 129-133 145-149
Attack Rate: 0.79/s 1.03/s 1.31/s 1.59/s 1.71/s
Attack Range: 150 (600)
Attack Speed: 110 (1.4s BAT)
Attack Animation: 0.33+0.84
Projectile Speed: Instant
Movement Speed: 305
Turn Rate: 0.6
Collision Size: 24
Vision Range: (G)1800 • 800
Legs: 2
Gib Type: Default.
Ability Upgrades:
Upgradable by Aghanim's Scepter - Swiftslash.

Upgradable by Aghanim's Shard - Blade Fury.
Abilities & Talents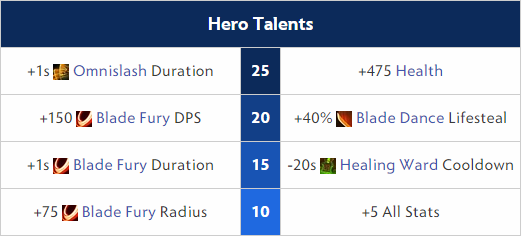 Skills building guide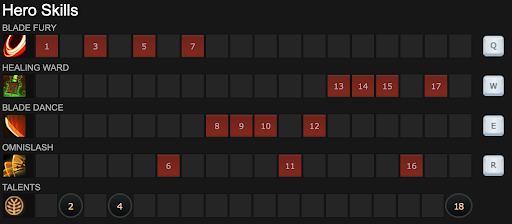 There are many methods to launch Juggernaut, but there are a few important considerations to keep in mind while making your first purchases. Always have a health-restoring item with you. Generally speaking, Iron Branches are a more profitable gold investment than Slippers of Agility. Unless you have a VERY precise approach in mind, do not purchase Boots of Speed first. It's usually a good idea to take one or two Clarities.
Abilities

Blade Fury
Mana cost: 120/110/100/90
Cooldown: 42/34/26/18
Radius: 260
Duration: 5
Effect: Creates a violent bladestorm that surrounds Juggernaut, making him magic-immune and harming nearby enemy units.

Healing Ward
Mana cost: 140/130/120/110
Cooldown time: 60s
Cast animation: 0.3+0.47
Cast range: 350
Radius: 500
Duration: 25
Effect: Summons a Healing Ward that, based on the maximum health of all adjacent allies, heals them. After being called, the Healing Ward moves at a speed of 325. 25 seconds long.

Blade Dance
Critical Damage: 180%
Lifesteal: 40%
Effect: Gives Juggernaut the opportunity to cause critical damage with each strike.

Swiftslash
Mana: 125
Cooldown time: 20s
Cast animation: 0.3+0
Cast range: 550
Duration: 0.8
Effect: Performs a short Omnislash for 0.8 seconds.

Omnislash
Mana cost: 200/275/350
Cooldown time: 130s
Cast animation: 0.3+0
Cast range: 350
Radius: 425
Duration: 3/3.25/3.5
Effect: Juggernaut charges the enemy units it wants to cut, then attacks them and any other enemies in the area more quickly. Juggernaut is impervious for the time being.
Effective items guides
Early game

Boots of Speed
Boots of Speed: Give a constant speed boost, improving escape and catching up. Later, they could be incorporated into Phase Boots.

Magic Stick
Magic Stick: Is a helpful item for mana and healing bursts if the adversaries in the lane cast a lot of spells. Later, it can be transformed into a Magic Wand.

Quelling Blade
Quelling Blade: Juggernaut last hit is improved by creep damage increase.

Wraith Band
Wraith Band: Offers Juggernaut more characteristics and damage.
Mid game

Phase Boots
Phase Boots: Give Juggernaut faster movement so he can keep foes within the range of Blade Fury.

Magic Wand
Magic Wand: Is superior to the Magic Stick in terms of additional characteristics and burst health and mana.

Diffusal Blade
Diffusal Blade: Gives Juggernaut an efficient attack damage advantage in Manabreak while enhancing its intelligence and agility. Juggernaut is able to slow down adversaries thanks to its active Inhibit

Manta Style
Manta Style: Can end pauses and aid in split pushing. Diffusal Blade can be used in conjunction with it to increase damage output.

Mask of Madness
Mask of Madness: Gives Juggernaut cheaply increased attack speed and lifesteal to increase the effectiveness of his farming. The active can be utilized for additional slashes during Omnislash.
Late game

Butterfly
Butterfly: Provides him a significant increase in damage, attack speed, armor, and the ability to dodge physical assaults. Juggernaut's ability to take physical damage is considerably increased, while Blade Fury offers protection from magical damage. Blade Dance can also happen more frequently thanks to the faster strike speed.

Abyssal Blade
Abyssal Blade: Gives the chance to bash, which Juggernaut appreciates given its low base attack time and respectable agility, as well as the ability to actively stun enemies in the late game to lock them down.

Black King Bar
Black King Bar: Is advantageous when Blade Fury cannot adequately defend against the opponent team's magical damage. In contrast to Blade Fury, the Black King Bar has a maximum duration of 9 seconds and permits Juggernaut to attack while it is active.
Situation items

Drum of Endurance
Drum of Endurance: Enables Juggernaut to move significantly earlier than other carries and run faster.

Blink Dagger
Blink Dagger: Is practical as an initiation or escape item because Juggernaut's Omnislash necessitates a rather close range.

Monkey King Bar
Monkey King Bar: Enables Juggernaut to attack targets while avoiding attacks during Omnislash.

Sange and Yasha
Sange and Yasha: Juggernaut is a reasonable choice because he lacks gap-closing skills. This item improves strength, agility, movement, and attack speed, making chasing more effective.

Desolator
Desolator: Lowers the target's armor, causing Juggernaut's strikes and Omnislash to deal more damage. Since this influence has an impact on towers, pushing can also benefit from it.

Battle Fury
Battle Fury: Gives Juggernaut additional farming and pushing power, increases the lethality of Omnislash against clustered foes, and grants cleave.

Eye of Skadi
Eye of Skadi: Targets inside the attack range of Juggernaut and the radius of Blade Fury are kept by the award of attributes and a slow on attacks.

Mjollnir
Mjollnir: Is a logical improvement over Maelstrom that grants a significant increase in attack speed for additional lightning procs and Omnislash assaults.

Nullifier
Nullifier: May counteract the slow impact of several challenging items, such as the Ghost Scepter and Eul's Scepter of Divinity. Juggernaut also has a fast attack speed.

Satanic
Satanic: Possesses active lifesteal, strength, status resistance to status effects, and attack damage that work well with Juggernaut's high attack speed to greatly increase his survival in teamfights.

Aghanim's Scepter
Aghanim's Scepter: Enables Juggernaut to destroy lone adversaries without engaging in Omnislash by unlocking Swiftslash.
Enemies & Allies
Allies

Crystal Maiden
Frostbite and Crystal Nova from the Crystal Maiden can keep foes within Juggernaut's Blade Fury's range throughout the laning phase.

Juggernaut, who has a low mana pool, really benefits from her Arcane Aura.

Lich
Frost Shield and the Frost Blast of the Lich can shield foes from Juggernaut's Blade Fury when laning.

Dazzle
If Juggernaut is rendered incapable of casting any of his spells due to a disability, Shallow Grave can keep Juggernaut alive long enough for him to utilize Blade Fury to teleport away.

Enemies are slowed by Dazzle's Poison Touch, allowing Juggernaut to get closer to Blade Fury.

Axe
Axe may utilize Berserker's Call to hold down adversaries, allowing Juggernaut to unleash Omnislash or Blade Fury to their fullest ability.

Magnus
Juggernaut can farm more quickly thanks to the cleave and additional damage that empowerment offers.

Omnislash is devastating against groups of opponents when Reverse Polarity and Empower are used together.

Shadow Shaman
Juggernaut, Omnislash, and Blade Fury have their targets fixed by the Shadow Shaman's Hex and Shackles.

When a creep wave is cleared, Ether Shock is excellent because Juggernaut may use Omnislash without worrying that his attacks would be wasted on creeps.

Venomancer
Venomous Gale's and Poison Sting's mobility slowdowns enable Juggernaut to deal more damage to foes with Blade Fury.

Juggernaut can be shielded from ganks when laning with the use of Plague Wards.

Zeus
Invisible heroes are revealed by Lightning Bolt and Thundergod's Wrath, giving Juggernaut the chance to utilize Omnislash.
Counters

Axe
Blade Fury teleport escapes are impossible since Berserker's Call pierces spell immunity. Additionally, it works wonders against Omnislash.

Juggernaut takes a lot of damage from Counter Helix because to his low base health and quick attack speed.

Axe is a frequent holder of both Blade Mail and Blink Dagger, giving him a highly serious potential threat before Juggernaut obtains his equipment.

Bane
Blade Fury is all but worthless due to Fiend's Grip, which breaks through spell immunity.

Chaos Knight
Juggernaut may be quickly eliminated by a regular Chaos Bolt & Reality Rift combo while Blade Fury is on cooldown.

Illusions from phantasms can resist Omnislash.

Enigma
Damage from Omnislash can be absorbed by Eidolons of Enigma, diminishing the attack's potential.

Blade Fury is pierced by Black Hole and Midnight Pulse damage, especially when he tries to flee with it.

Mars
Bulwark significantly reduces the physical damage that Omnislash deals by mitigating it.

Every time it slashes, Omnislash changes its direction, making it simple for Mars to mitigate the majority of its damage.

However, Juggernaut can simply escape from the Arena of Blood since Blade Fury provides spell immunity.

Nature's Prophet
Due to their combined huge health pool, Nature's Call can be used to tank Omnislash in the early to midgame.

Juggernaut can be caught by Sprout even if he is using Blade Fury. If Juggernaut purchases Battlefury, Aghanim's Shard enhanced Sprout can additionally stop Juggernaut from escape.

With the leash skill equipped on Sprout after Nature's Prophet reaches level 20, he can prevent Juggernaut from fleeing with Blade Fury and TPing away.

Compared to Juggernaut, Nature's Prophet can farm and push considerably more quickly, taking control of the map before he can do much.

Pugna
Until Juggernaut acquires a Nullifier, Decrepify stops Omnislash damage.

Pugna moves quickly, making it challenging for Blade Fury to pursue him without a disability.

Juggernaut uses a lot of mana, and his talents are expensive. Nether Ward will harm him more, and to make matters worse, the damage from the ward occurs before Blade Fury's spell immunity kicks in.

Omniknight
Omnislash is not affected by Guardian Angel, which entirely eliminates all physical damage.

Outworld Destroyer
Outworld Destroyer is able to protect himself or his teammates during Omnislash thanks to Astral Imprisonment.

Juggernaut will sustain a great deal of damage from Sanity's Eclipse due to his low mana from his low intelligence growth.

Ursa
Blade Fury does not provide protection for Fury Swipes, which enables Ursa to constantly bother Juggernaut.

Enrage lessens the harm done by Omnislash.

Pudge
During his Blade Fury, Meat Hook can strike and knock Juggernaut off balance.

Dismember breaks through Blade Fury's spell immunity against Juggernaut.

Legion Commander
He is forced to attack Legion Commander because of the duel, which pierces his magic immunity and prevents him from using Omnislash.

Sniper
Juggernaut lacks a gap-closer and mostly provides damage at close range. Without worrying about retribution, Sniper can just sit in the backline and right-click Juggernaut.

From a secure distance, the long-range strike of the Sniper can destroy the Healing Ward and stop any healing of Juggernaut's buddy.

Nevertheless, a sniper can be readily killed if discovered alone.

Windranger
Windrun cancels off the harm done by Omnislash.

Windrun gives Windranger enough speed to escape Blade Fury's striking area.

Blade Fury is destroyed by Focus Fire.
Items Counter

Aeon Disk
Aeon Disk: lessens the harm that Omnislash causes.

Eul's Scepter of Divinity
Eul's Scepter of Divinity: Completely stops Omnislash from striking.

Lotus Orb
Lotus Orb: Potentially protect the target from harm from Omnislash.

Force Staff
Force Staff: Can, in rare circumstances, destroy vision, breaking Omnislash.

Shadow Blade
Shadow Blade: If Juggernaut does not possess True Sight, can halt Omnislash. However, he can still utilize Dust of Appearance when using Omnislash.

Skull Basher
Skull Basher: Spell immunity is breached by bash, possibly preventing a Blade Fury-teleport escape.

Manta Style
Manta Style: Produces illusions to support Omnislash as a tank.
Favorable Matchups

Dark Willow
Blade Fury is a potent counter to Dark Willow because none of her spells can pierce Spell Immunity. Bramble Maze and Cursed Crown are also banished by it.

Because Dark Willow tends to be weak, Omnislash is lethal when used against her.

However, the attack damage is negated if Shadow Realm is active when Omnislash is being used (though Omnislash can still jump to other enemies).

Enchantress
In the early laning phase, Blade Fury was utilized to burst her down and remove the slow from Enchant as well as spell immunity.

The physical damage burst of Swiftslash and Omnislash disregards Untouchable.

The Silver Edge icon. Juggernaut can effectively deal with Untouchable by using Silver Edge to render her vulnerable to close-ranged strikes.

Invoker
Juggernaut can avoid Invoker's combo attacks thanks to his immediate magical immunity to Blade Fury. He has the ability to walk through Ice Wall, negate the effects of Cold Snap and Deafening Blast, and dispel their disables. He can also avoid Chaos Meteor's damage.

Juggernaut's tremendous DPS enables him to easily dispatch split-pushing Forge Spirit(s), while his high armor shields him from their threats.

Juggernaut has a threat from the Tornado and Sun Strike combination if he fails to avoid Tornado because Invoker can hit him with Sun Strike through Blade Fury.

Keeper of the Light
Even when fighting the Illuminati of Keeper of the Light, Juggernaut's Healing Ward keeps his team in good condition.

Blade Fury has the ability to deflect Blinding Light and deflect an approaching Illuminate. Juggernaut can engage in tower attacks while in Blade Fury, allowing him to avoid an Illuminate without pausing his pushing.

If the Keeper of the Light purchases an Aghanim's Scepter and acquires Will-O-Wisp, Juggernaut can dispatch Ignis Fatuus without being hindered by its draw.

Keeper of the Light lacks a natural defense against Blade Fury and has minimal health and armor.

Necrophos
Death Pulse and Reaper's Scythe's damaging effects are countered by Blade Fury. Additionally, Necrophos's magic resistance is reduced by Ghost Shroud, leaving him more vulnerable to Blade Fury's damage.

Nyx Assassin
With the exception of Vendetta, Blade Fury renders Juggernaut immune to all of Nyx's powers.

Nyx can be destroyed by Omnislash and Swiftslash while ignoring Spiked Carapace. Omnislash/Swiftslash can be stopped by using Vendetta to flee, though.

Phoenix
Juggernaut can quickly destroy a Supernova thanks to his quick attacks. Even during Blade Fury, he is capable of using his regular strikes to harm a Supernova.

Juggernaut is shielded by Blade Fury from all of Phoenix's spells (except Supernova, which pierces spell immunity).

Additionally, Blade Fury has the ability to cancel out Icarus Dive's movement and attack speed slows.

Phoenix's poor armor makes it simple to kill, and its Icarus Dive won't shield it from Omnislash until it dives into creeps.

Templar Assassin
Refraction is nearly immediately removed by the damage progression of Blade Fury.

As long as Juggernaut or his team has detection, he can survive long enough to remove Refraction and threaten her with Omnislash.

She finds it challenging to target a strategically placed Healing Ward due to the Templar Assassin's limited strike range. She is unable to use Psi Blades to splash upon it.

Zeus
In Blade Fury, none of Zeus's special abilities can harm a Juggernaut.

Zeus finds it challenging to target a strategically positioned Healing Ward due to his limited strike range. Arc Lightning, which he employs frequently, will have essentially little impact on teammates who are receiving healing from Juggernaut.

Even if Juggernaut is unable to utilize Blade Fury, Zeus has no method to defend himself. If cornered, he can sometimes be killed even without Omnislash.
Game plan
Early game
You could wish to pick up stuff in a different order depending on how your lane is going and how your farm seems. Consider picking up early on, for instance, if your lane is relatively safe and you've even secured an early first blood or kill. Go straight for your lane buddy if they want to gank. Consider finishing if you discover that the opposing team is constantly bugging you. Turn the iron branches into if the opponents in your lane frequently use spells.
Keep in mind that adaptability is the key to DotA. By 10 minutes, if your lane is progressing well, you ought to have at the very least the following: You need to be close to finishing a Concentrate on finishing your as quickly as you can. The rate at which you acquire your Battle Fury will be slowed down if you choose to complete instead, which will also slow down your mid-game farm.
Mid game
You should have these two items farmed up by the 24 minute mark, assuming 240 GPM or so (which is on the low-side if you're farming well): At this point, Juggernaut truly starts to shine. The majority of your player damage early on was dealt by Blade Fury, with the ult being added for good measure. Juggernaut's damage starts rapidly increasing, though, with a Blade Fury and two Power Treads. As your mid-game presence can quickly change the course of a conflict, you should participate in team fights frequently. You don't want to allow your farm to go lax, so be sure to keep farming.
Battle Fury will speed up your farming while also giving your hero regeneration and the ability to cleave. If a support hasn't already started stacking your ancient camp, ask them to do so before you start killing the stacked ancients. In the early stages of the game, some players choose to acquire it instead of Power Treads in order to increase Blade Fury's damage. You can choose which pair you want to wear, however Power Treads are typically the preferred option because they provide you a stat benefit and faster attack speed.
Late game
Juggernaut gains an incredible damage boost from Desolator, and the enemy he strikes with it receives a debuff that reduces armor. Desolator is a very potent equipment on Juggernaut, yet it only costs 4100 to obtain. Juggernaut cannot use things like Satanic, Diffusal, or other items of the Orb type since Desolator IS an Orb effect. The second item I recommend is because it may be highly damaging to not have a life steal on a carry.
Juggernaut is given an AoE life steal by the aura from Vladimir's Offering, enabling it to stack with Desolator. Additionally, it offers everyone within a 900 unit radius of Juggernaut armor, mana regeneration, and a 15% increase in base damage. With these two items, Juggernaut will start dealing 500+ critical hits to heroes, and tankier characters won't be as much of a threat.