Lore & Bio
Medusa did not have such a hideous figure before. She was once one of the candidates for the position of goddess of the Gorgon domain in place of her mother, along with her two sisters. However, they did not fight, but were extremely satisfied and loved each other. The beautiful life went on until one day strangers infiltrated the territory and kidnapped her two sisters.
Hence, Medusa dreamed of saving her dear sisters, going to the Gorgon temple to beg her mother to give her strength instead of eternal life. As a result, she lost her perfect face and body. But now for Medusa, those things no longer mattered. Now, strength is all she cares about.
Medusa is a ranged agility hero. She is an item-dependent carry with the capacity to take out whole teams at once while being shielded by tank-like resilience. Split Shot allows her to hit numerous targets with her attacks, considerably enhancing the damage-dealing potential of damage-dealing items. Mystic Snake gives Medusa a presence in the lane and in skirmishes, and its mana stealing ability offsets some of the cost, making it a great farming and harassing weapon. Mana Shield defends her from teamfights' initial damage, and when combined with gear, it makes killing Medusa a fatally slow process. Stone Gaze is a superb defensive mechanism against both ganks and initiations, devastating those who dare to face the Gorgon.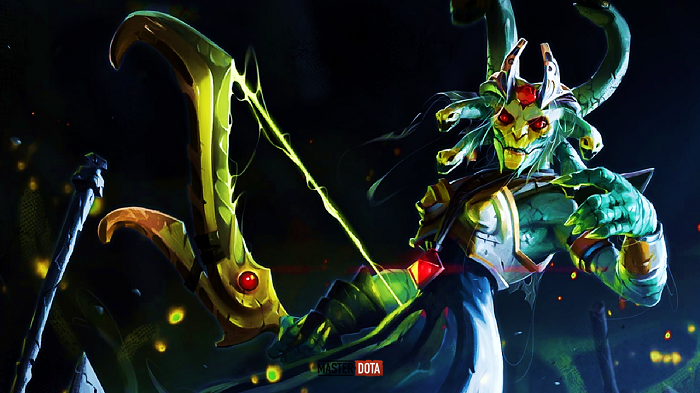 Attribute & Stats
Level: 0 1 15 25 30
Health: 200 540 960 1500 1680
Health regen: +0.25 +1.95 +4.05 +6.75 +7.7
Mana: 75 351 915 1467 1695
Mana regen: +0 +1.15 +3.53 +5.83 +6.78
Armor: -1 2.67 10.6 18.27 21.43
Damage Block: -
Magic Resistance: 25%
Status Resistance: 0%
Damage: 26‒32 48‒54 95‒101 141‒147 160‒166
Attack Rate: 0.59/s 0.72/s 1/s 1.27/s 1.38/s
Attack Range: 600 (800)
Attack Speed: 100 (1.7s BAT)
Attack Animation: 0.5+0.6
Projectile Speed: 1200
Movement Speed: 275
Turn Rate: 0.6
Collision Size: 24
Vision Range: 1800 • 800
Legs: 0
Gib Type: Default
Ability Upgrades:
Upgradable by Aghanim's Scepter;
Upgradable by Aghanim's Shard.
Abilities & Talents
Skills building guide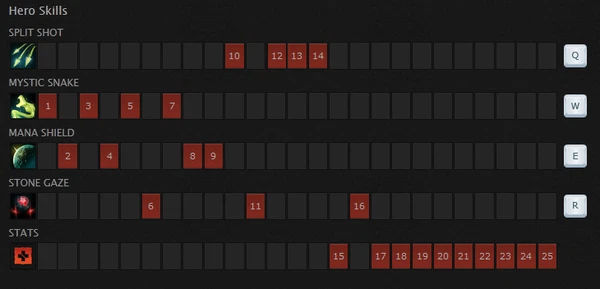 How to play Medusa Dota 2, the most important thing is that you have to upgrade skills in a certain order. First, raise the max level for Mystic Snake to minimize mana consumption, followed by Manashield to avoid being killed too early during ganks. And finally Split Shot at the remaining points and Ulti in each level.
Abilities

Split Shot
Cast Animation: 0+0
Secondary Arrows Range Bonus: 150
Bonus Attack Targets: 4
Outgoing Damage: 50%/60%/70%/80%
Effect: Medusa divides her arrow into numerous shafts using her sorcery. These arrows do a fraction of the damage that her usual arrows do. Other attack effects will not be applied to the extra targets (such as critical strike).

Mystic Snake
Cast Animation: 0.2+0.67
Cast Range: 700
Bounce Radius: 450
Number of Bounces: 3/4/5/6
Base Damage: 80/120/160/200
Damage Increase per Bounce: 35%
Max Mana as Mana Restored: 11%/14%/17%/20%
Move Speed Slow: 30%
Turn Rate Slow: 50%
Slow Duration: 3
Effect: A magical energy snake leaps from target to target, inflicting damage. It returns to Medusa after reaching its final victim to refill her mana. The snake inflicts greater damage every jump and restores 11 percent/14 percent/17 percent/20 percent mana dependent on the total mana of the targets.

Mana Shield
Cast Animation: 0.2+0.67
Cast Range: 700
Bounce Radius: 450
Number of Bounces: 3/4/5/6
Base Damage: 80/120/160/200
Damage Increase per Bounce: 35%
Effect: In return for Medusa's mana, creates a shield that absorbs 70% of incoming damage. Increases your mana capacity.

Cold Blooded
Effect: A single-target Mystic Snake is sent back towards the enemy when Medusa is targeted by a spell. Cooldown: 12 minutes

Stone Gaze
Cast Animation: 0.4+0.5
Radius: 1200
Facing Angle: 85°
Self Move Speed Bonus: 50%
Enemy Move Speed Slow: 35%
Effect: The movement and attack speed of any opponent units gazing at Medusa will be slowed. If a unit spends more than 2 seconds staring at Medusa while Stone Gaze is active, it will turn to stone. Units that have been petrified are shocked and incur additional physical damage.
Effective items guides
Early game

Power Treads
Power Treads: Medusa can use Power Treads to increase her movement speed and improve her characteristics to compensate for her limited mobility.

Wraith Band
Wraith Band: Wraith Band boosts Medusa's qualities for a low cost, and may be picked up in bulk to fill up her inventory spaces early on.

Magic Wand
Magic Wand: Early on on Medusa, the Magic Wand is one of the most cost-effective survival tools. Because of Mana Shield, the instantaneously restored health and mana you obtain from charges is even more effective on her.
Mid game

Hurricane Pike
Hurricane Pike: Hurricane Pike is a very cost-effective item for Medusa, with low attributes, attack range, and a useful active ability.

Mask of Madness
Mask of Madness: Mask of Madness is useful for speeding up your farming and staying active in the middle game. Her Mana Shield almost cancels out the damage increase, provides her the movement and attack speed she needs for farming and team battles, and allows her to be active early on.
However, you must exercise caution when using the active ability, as the silence will prohibit you from switching Mana Shield.
Late game

Manta Style
Manta Style: Medusa's characteristics are bolstered all over, and Manta Style can even remove debuffs. Split Shot is also beneficial to illusions.

Eye of Skadi
Eye of Skadi: The Eye of Skadi provides both killing power and survival through characteristics and mana for Mana Shield.

Butterfly
Butterfly: Butterfly increases your damage, attack speed, and armor, and its evasion increases your survivability even higher.
Situation items

Drum of Endurance
Drum of Endurance: On Medusa, the Drum of Endurance is a fantastically cost-effective characteristic item. It provides her with both intellect and strength, which she needs, as well as a slight mobility and attack speed that is ideal for cultivating or pushing.

Linken's Sphere
Linken's Sphere: If your farm is being disturbed or you're being shut down in combat, Linken's Sphere might be prioritized. It grants good characteristics and protection against disables.

Mjollnir
Mjollnir: To cope with summons or illusions, Mjollnir can be purchased.

Monkey King Bar
Monkey King Bar: If the opponents have evasion items or heroes, Monkey King Bar may be required.

Black King Bar
Black King Bar: If you can't get Stone Gaze off because the enemy have you locked down, Black King Bar is a good option.

Bloodthorn
Bloodthorn: Bloodthorn increases your intellect and mana regeneration, making you even more tanky, as it essentially combines a Crystalys and a Monkey King Bar into one slot.

Moon Shard
Moon Shard: Moon Shard increases attack speed even more, making it a useful item in the late game because you may use it to spare a slot for lower benefits.

Scythe of Vyse
Scythe of Vyse: Scythe of Vyse provides an additional disable, attributes, and mana restoration, all of which may aid Mana Shield.

Aghanim's Scepter
Aghanim's Scepter: Mystic Snake may petrify any foes he strikes with Aghanim's Scepter, giving the ability a hard-disable utility that enables for more strategic use. It also adds a significant amount of health and mana to Medusa, as well as providing qualities in all sectors.

Divine Rapier
Divine Rapier: Medusa's strongest damage item is the Divine Rapier. Even with Mask of Madness, she's tanky enough that the chances of her dropping this are incredibly minimal, and it'll let you take on the opposition team with Split Shot. However, if you're up against heroes that can burn through your Mana Shield, it can be too dangerous.

Satanic
Satanic: When constructing Divine Rapier, Satanic should be chosen. Due to Divine Rapier's exceptionally high damage, Satanic passive lifesteal and active skill become useful in terms of self-healing, reducing the possibilities of losing the Rapier.
Enemies & Allies
Allies

Enchantress
Medusa may attack Enchantress with a later bounce of her Mystic Snake since she usually has a small army of neutral creeps.
Secondary strikes from Split Shot disregard Untouchable.

Lifestealer
Because of his poor mobility, Lifestealer is simple to kite.
Rage is pierced by Stone Gaze, squandering its cooldown and rendering Lifestealer helpless to fight.

Necrophos
Mana Shield absorbs the majority of the damage dealt by Reaper's Scythe; with enough mana, the kill threshold reduces to 15% /17.5% /19.5% health (before reductions).
Because Heartstopper Aura does not deplete Medusa's mana, it isn't a danger because it just does damage depending on her current health.
Necrophos moves at the same pace as Medusa and is easy to catch with a slowing item from Medusa's inventory.

Sven
Medusa can easily kite and kill Sven with Stone Gaze.
Sven's burst damage is mitigated by Mana Shield.

Undying
Split Shot has the ability to kill Tombstone Zombies and Tombstone itself while still causing damage to heroes.
Mana Shield mitigates the effects of Decay and the Plague Aura of the Flesh Golem.

Lycan
Despite his quickness, he is easily frightened.
Split Shot or Mystic Snake will target summoned wolves.

Enigma
With Enigma's Black Hole and Pulse combination, Mana Shield makes Medusa more difficult to destroy.
Demonic Conversion creeps are easier to kill with Medusa's Split Shot, and Mystic Snake bounces off of them.
Enigma finds it difficult to approach Medusa for a Black Hole because of Stone Gaze.
Counters

Anti-Mage
Medusa's mana is quickly burned by Mana Break, especially when combined with a Manta Style.
Blink may be used to quickly begin on Medusa, depleting her mana or forcing her to utilize Stone Gaze.
Mana Void is powerful against Medusa's large mana pool and mana use, posing a significant threat to Medusa's allies, as her Mana Shield still protects her if she has mana.

Arc Warden
Tempest Double, unlike other illusion heroes, will not be instantaneously killed by Stone Gaze because it is a clone rather than an illusion.
He can utilize his own or his double's Flux to go beyond Linken's Sphere's spellblock, then use the remaining Flux + Spark Wraith to slow Medusa down to a crawl.
With a double Hand of Midas, Arc Warden has a farming edge, and can typically bully Medusa with other items that benefit from duplication.

Bane
If Bane's teammates can protect him or he initiates at the correct time thanks to Spell immunity, Fiend's Grip renders Medusa defenseless.

Broodmother
Broodmother will be able to select her own fights and sneak away to attack Medusa thanks to Spin Web.

Invoker
EMP is a huge mana burn nuke that may inflict enough damage on Medusa's Mana shield to cause her to lose even more mana.
During teamfights, Deafening Blast disables Medusa's ability to perform pseudo-AOE damage.
Due to the long cast duration of Medusa's ultimate, Cold Snap allows the opposing team to stun her repeatedly in a short period of time, preventing her from effectively performing it.

Nyx Assassin
If Medusa only raises her mana pool with intellect, Level 4 Mana Burn consumes 38.5 percent of her mana every 4 seconds. Mana Shield also mitigates 70% of the Mana Burn damage, allowing you to burn even more mana.
Due to the passive nature of Mystic Snake and Split Shot, if Nyx is within range of Medusa's abilities and isn't invisible, it may proc Nyx's Spiked Carapace.
Nyx with Aghanim's Scepter is incredibly difficult to deal with if Medusa is the team's main damage generator because Medusa lacks single target damage.

Phantom Lancer
Phantom Lancer with Diffusal Blade will swiftly consume Medusa's mana, reducing the effectiveness of Mana Shield.
Medusa's petrification from Stone Gaze, as well as Mystic Snake's petrification, may be avoided with Doppelganger's 1 second invulnerability.
Phantom Lancer's illusions overwhelm Medusa's Split Shot targets, effectively sheltering your squad.
Items Counter

Diffusal Blade
Diffusal Blade: Diffusal Blade not only burns away the mana Medusa requires for Mana Shield, but it also slows her down.

Blade Mail
Blade Mail: Any auto strikes or Mystic Snake spell might make her regret using Blade Mail for a while.

Heaven's Halberd
Heaven's Halberd: Medusa is disarmed for 5 seconds by Heaven's Halberd.

Spirit Vessel
Spirit Vessel: Spirit Vessel's healing and lifesteal effects are slowed, her mana pool is slowly depleted, and the effects can be sustained if it has stacks.

Solar Crest
Solar Crest: Solar Crest debuffs attack speed and removes a large portion of armor. Slows her damage output and mobility in team engagements, allowing her to concentrate while simultaneously lowering her durability.

Hurricane Pike
Hurricane Pike: Hurricane Pike sets a safe distance for disengaging, despite her capable evasive abilities from equipment.

Bloodthorn
Bloodthorn: On debuffed targets, Bloodthorn ignores evasion and strikes the debuff's 30 percent damage total at the conclusion of its duration.

Monkey King Bar
Monkey King Bar: For disregarding evasion, Monkey King Bar has an 80% chance of adding additional damage and true strike.
Favorable Matchups

Axe
During Medusa's Stone Gaze, Berserker's Call might force foes to confront her.

Earthshaker
With his ultimate, he does area damage and may stun/disable Stone Gaze, making it easier to freeze opponent heroes.

Keeper of the Light
Medusa's Mana Shield gains considerably from Chakra Magic, and Mystic Snake may be used more freely as well.
Stone Gaze slows and stuns enemies for a short time. Keeper of the Light may use a fully charged Illuminate on many opponents at the right time.
When Medusa casts Stone Gaze, Will-O-Wisp assists in ensuring that foes face her. Both ultimate abilities have a considerable duration, providing significant teamfight disruption.

Lich
Medusa's tankiness is further enhanced with Frost Shield.
During the Stone Gaze Chain, Sinister Gaze compels an adversary to confront Medusa. Frost may be utilized to drive enemies away from Medusa's melee warriors.

Phoenix
Phoenix can deploy its Supernova considerably more aggressively because of the protection provided by Stone Gaze.
Medusa's HP is restored thanks to Sun Ray.
The Scepter of Aghanim may save Medusa from a dangerous scenario with Aghanim's Scepter upgrade for Supernova, and Medusa can fully recover her HP and MP if the egg lasts 6 seconds.

Pugna
If Medusa is being overpowered by physical harm, Decrepify can be employed to defend her.
Pugna can perform Life Drain on Medusa to recover her mana as long as she has full HP.

Shadow Demon
Casting Disruption on Medusa during a teamfight generates a pair of illusions with Split Shot and 80 percent of her base damage.
Shadow Demon may build up to three jungle camps at once, accelerating Medusa's farming phase.
Medusa will have an easier time chasing down opposing heroes fleeing Stone Gaze thanks to Demonic Purge.
Game plan
Early game
You should focus all of your effort on farming from the beginning of the game until you obtain at least two luxury goods. The goal is to start collecting as many last hits as possible right away, so assess your competition and choose the lane that will provide you with the most farm. Don't worry if you have to change lanes; that's perfectly normal. Anyone who opposes you on this is a moron. You want to go where the farm is, plain and simple.
You should have more than enough lane domination with solid assistance from your team if you go with Stats and Mystic Snake with every level early game. In terms of products, you want to make quick judgments; what will you require? In what sequence should they be done? What is the most beneficial to you right now? These are the kinds of thoughts you should be thinking, although they're mostly confined to goods like the Ring of Aquila, Power Treads, and Magic Wand. While you can stray a little, the ultimate result should remain the same, albeit in some cases you may want to bypass Ring of Aquila (which is why I did not suggest it in her build at the top).
Mid game
Everything changes now that you're in the Middle Game. You'll now be able to farm more gold and hug more towers! On a more serious note, you'll continue to play conservatively and make the most of what you have. Stick to farming instead than pushing out when it's unsafe. When the lane is hazardous or pushed too far, ask your teammates to stack neutral camps for you so you can swiftly farm them with Split Shot. Keep an eye out for missing heroes; any deaths will knock you back significantly and may even lose you the game at this stage.
Manta Style and/or Linken's Sphere are the items you're looking at in the midst of the game. They're both excellent stuff on her, so choose which will be more effective against your opponents and buy it. Most of the time, I choose Manta Style because the damage output is simply too high to ignore.
Since you're still winding down, you shouldn't worry about being aggressive. Because she is so item dependent, Medusa takes the longest to pick up compared to the other carriers. Do not become smug when you begin to see how difficult it is to kill you and your damage output increases considerably. Keep in mind that without Petrifying Gaze and at least one luxury item, you will most likely be outperformed by the enemy carry at this point.
You should always have a Teleportation Scroll on you since you should always be near the farm. When you get two creep waves of gold in your pocket for the fraction spent on the Teleportation Scroll, it's not simply protecting. While you'll be mostly concerned with farming, you have the ability to be a deadly hero in a defensive position. It's also crucial to ensure that the game can last at least 40 minutes, therefore bring the Teleportation Scroll. You also have no true escape option, so waiting for their stuns and tanking damage with Mana Shield might help you finish the channeling period.
Late game
The moment has finally arrived. You should just be a monster at this point. In this section of the guide, I don't believe any explanation is required. Simply keep an eye out for what objects you should be constructing in order to enhance your current game's performance. When analyzing what you require, a short checklist should always be reviewed from top to bottom; the greater the number, the higher the priority.