Lore & Bio
" Nothing can stop us. Nothing can slow our march. And when we have arrived, all will burn."
There is no tale or song that predicts their arrival. Unknown treasures and horrors existed far beneath the earth's surface. The obsidian metropolis of Aziyog is well below the snaking magma fields and seething roots of dormant volcanoes, its unmatched stonework covering an unending chasm. The territory of the ruthless Abyssal Horde and their underlord Vrogros is enclosed inside honeycomb walls that were mortared with the bones of countless slaves. Vrogros is able to summon flame and debilitating malice through the twist between worlds thanks to the weapons created by monster forgemasters of his kind and his proficiency in the arts of the Dark Rift. He constantly tries to increase his holdings by destroying or enslaving everyone he comes across.His eyes have since gone upward because there aren't many lands available in the underground realm. A few doomed legions destined only to test the power of nations above have already crossed the chasm under his command as the first waves of abyssal invaders. Now when his complete force is prepared for never-ending conquest, Vrogros himself enters a realm lighted by the sun to proclaim his impending throne. Those who stand before the Underlord will either be crushed where they are or made to bow and pay tribute.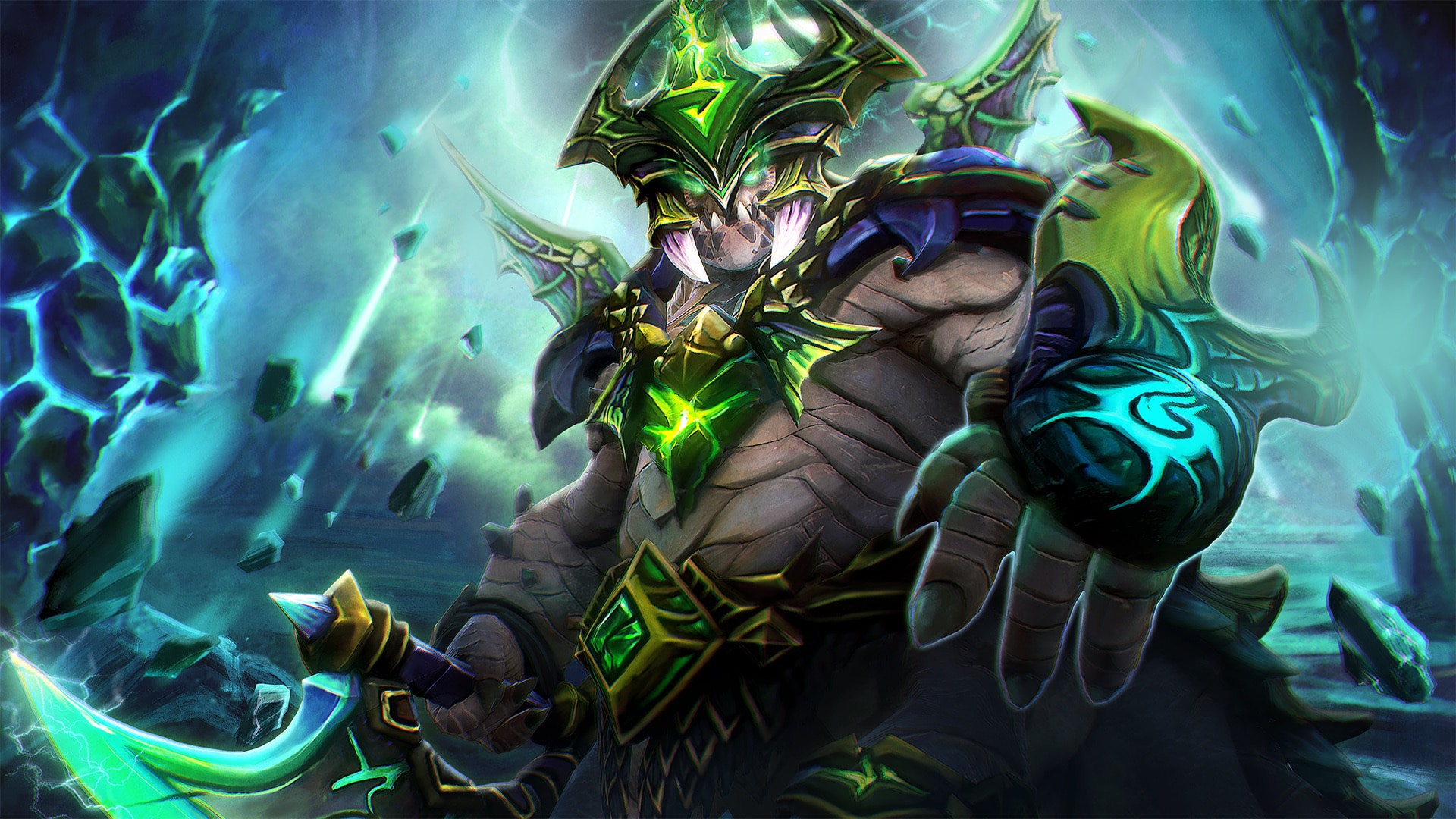 Attribute & Stats
Level: 0 1 15 25 30
Health: 200 700 1540 2380 2720
Health regen: +0.25 +2.75 +6.95 +11.15 +12.85
Mana: 75 279 663 1083 1239
Mana regen: +0 +0.85 +2.46 +4.21 +4.89
Armor: 3 5 8.73 13.4 15.07
Damage Block: 16 (50%)
Magic Resistance: 25%
Status Resistance: 0%
Damage: 37‒43 62‒68 104‒110 146‒152 163‒169
Attack Rate: 0.59/s 0.66/s 0.79/s 0.96/s 1.01/s
Attack Range: 200 (600)
Attack Speed: 100 (1.7s BAT)
Attack Animation: 0.45+0.7
Projectile Speed: Instant.
Movement Speed: 290
Turn Rate: 0.6
Collision Size: 24
Vision Range: (G) 1800 • 800
Legs: 2
Gib Type: Default.
Ability Upgrades:
Upgradable by Aghanim's Scepter - Fiend's Gate.
- Pit of Malice.
Upgradable by Aghanim's Shard - Firestorm.
Abilities & Talents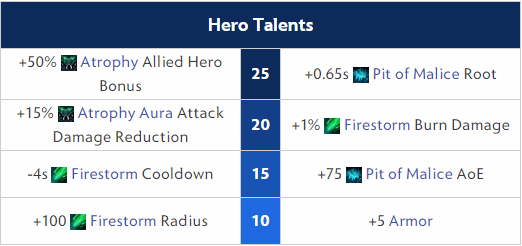 Skills building guide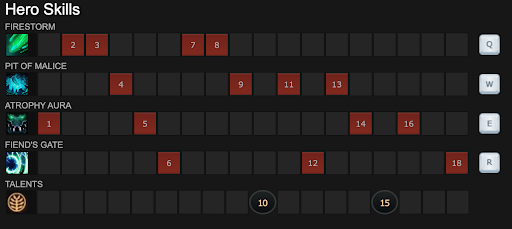 In general, your leveling priority of Q>W>E>R. Keep in mind that Firestorm has a 0.6 cast point for all of his talents. This needs to be maxed out first.Another zone-making tool is Pit of Malice, which also prevents initiations and traps opponents. This ability, which is the second of the Firestorm-PoM combo's two circle abilities, roots any target inside the radius for 1.8 seconds.Atrophy The passive of Under is Aura. It has a wide radius that makes the big guy stronger and weakens the opposition. Because of this, Underlord can easily jungle, control his lane, and harass the other lane.Underlord is a solid choice and a true play-making machine because of Dark Rift, which is his major strength. This skill can target allying units and structures and has a wide area of effect.
Abilities

Firestorm
Cast Animation: 0.5+0.6
Cast Range: 600/625/650/675
Effect Radius: 425
Number of Waves: 6
Wave/Burn Interval: 1
Damage per Wave: 25/40/55/70
Max Health as Damage per Second: 1%/2%/3%/4%
Burn Duration: 2
Cooldown: 12
Mana: 110/120/130/140
Effect: Sends down a series of fire waves that harm enemy troops nearby while doing more damage over time.

Pit of Malice
Cast Animation: 0.45+0.6
Cast Range: 675
Effect Radius: 400
Root Interval: 3.6
Root Duration: 1.2/1.4/1.6/1.8
Pit Duration: 12
Cooldown: 21/19/17/15
Mana: 80/100/120/140
Effect: Any unit that enters the lethal pit at the target area will become rooted. Every 3.6 seconds, every enemy unit in the pit is afflicted.

Atrophy Aura
Radius: 900
Attack Damage Reduction: 5%/15%/25%/35%
Attack Damage Bonus per Hero Death: 30/35/40/45
Attack Damage Bonus per Non-Hero Death: 2/4/6/8
Buff Duration: 30/45/60/75
Aura Linger Duration: 0.5
Effect: Enemy units nearby suffer a reduction in base damage, which weakens them. Underlord receives temporary extra damage whenever an enemy dies while under the influence of this effect.

Fiend's Gate
Cast Animation: 0.45+0
Cast Range: Global
Minimum Placement Distance: 2000
Move Speed Bonus: 10%/20%/30%
Buff Duration: 5/6/7
Portals Duration: 20
Cooldown: 140/120/100
Mana: 100
Effect: Opens two portals: one close to the Underlord and one at the intended target. For three seconds, heroes can channel a portal to transport to the other side. Allies who pass through the portal momentarily increase their movement speed and damage resistance. At least 2000 feet must separate each portal from the next.
Effective items guides
Early game

Wind Lace
Wind Lace: Compensates the lack of mobility and slow movement of the Underlord.

Boots of Speed
Boots of Speed: Is a requirement for all heroes in order to advance quickly.

Magic Stick
Magic Stick: Can provide Underlord with the necessary mana for another ability while saving him from danger.

Soul Ring
Soul Ring: Provides health regeneration and strength benefits to keep Underlord going, and when it's active, it gives him mana so he can use his skills.
Mid game

Magic Wand
Magic Wand: Is a logical development of Magic Stick that offers more health and mana in bursts.

Arcane Boots
Arcane Boots: Give some much-needed mana to Underlord and his troops.

Mekansm
Mekasnm: Provides health and armor to the Underlord's team to keep them alive.
Late game

Guardian Greaves
Guardian Greaves: Is an obvious improvement over Arcane Boots and Mekansm, giving the entire squad significant health and mana regeneration.

Shiva's Guard
Shiva's Guard: Aids Underlord in keeping adversaries inside the reach of Pit of Malice and Atrophy Aura.
Situation items

Pipe of Insight
Pipe of Insight: Decreases incoming magical damage, increasing the resistance of Underlord and his squad.

Crimson Guard
Crimson Guard: Substantially reduces enemy damage against the Underlord and his team in conjunction with Atrophy Aura.

Rod of Atos
Rod of Atos: Helps Firestorm's opponents be chained together.

Lotus Orb
Lotus Orb: Aids in absorbing magical nuke damage and is helpful to allies when pushing towers.

Urn of Shadows
Urn of Shadow: Gives Underlord a heal, more attributes, and improved mana regeneration.

Blink Dagger
Blink Dagger: Is suitable for starting out with Pit of Malice.

Force Staff
Force Staff: Allows Underlord to move more easily and force foes into the Pit of Malice.

Eul's Scepter of Divinity
Eul's Scepter of Divinity: Increases Underlord's movement speed to keep adversaries inside the range of his atrophy aura and helps him with his low mana. He can better set up Pit of Malice with the cyclone active.

Blade Mail
Blade Mail: Prevents the Underlord's enemies from attacking.

Assault Cuirass
Assault Cuirass: Substantially decreases enemy damage output when paired with Atrophy Aura.

Heart of Tarrasque
Heart of Tarrasque: Enables Underlord to attack considerably harder and provides him excellent durability.

Radiance
Radiance: Is a highly situational item that works well in pushes and teamfights. Burning down creeps will help Atrophy Aura's additional damage bonus grow, and Underlord will become even more resilient because to the increased evasion.

Linken's Sphere
Linken's Sphere: Stops the disablement of Underlord and his teammates.
Enemies & Allies
Allies

Disruptor
During a teamfight, Static Storm, Kinetic Field, Firestorm, and Pit of Malice will lock down or zone off significant portions of the map.

Dragon Knight
Breathe Fire greatly lessens enemy damage when used with Atrophy Aura.

Multiple opponents trapped in Pit of Malice will be struck by the splash strikes of the Elder Dragon Form.

Elder Titan
Enemies are rendered utterly defenseless when Natural Order and Atrophy Aura are combined.

Leshrac
For Leshrac to use Pulse Nova and Split Earth to do significant damage, foes are held in place by Pit of Malice.

Mirana
After utilizing Dark Rift, Moonlight Shadow provides an additional layer of concealment.

Riki
Pit of Malice binds down opponents so that Riki can use Tricks of the Trade to assault them.

Rubick
Atrophy Aura and Fade Bolt will significantly lessen enemy damage.

Because of the Pit of Malice's lengthy duration, Rubick can use Telekinesis to pick up foes and throw them into.

Timbersaw
Pit of Malice aids in securing adversaries so Timbersaw can use any ability to assault them.

Vengeful Spirit
When coupled with the Atrophy Aura, the Vengeance Aura and Wave of Terror render foes weak on offensive and defense.

Enemies can be Nether Swapped into the Pit of Malice by Vengeful Spirit.
Counters

Necrophos
Underlord's high health is disregarded by Reaper's Scythe and Heartstopper Aura, which deal damage based on percentage.

Razor
Even while within the range of Atrophy Aura, Static Link significantly lessens Underlord damage while enhancing Razor's own performance.

Razor can easily absorb Underlord's damage with Static Link to the maximum and burst him down from the added damages, combined with the armor decrease from Eye of the Storm, because Underlord is a sluggish and poor mobility hero who cannot outpace Razor's high movement speed.

Luna
Allies receive additional damage from Lunar Blessing to withstand the initial Atrophy Aura attack.

When the Underlord's crew groups up for Dark Rift, Eclipse can be devastating, and it can also be utilized to intercept arrivals with Dark Rift. And Luna is still able to use it despite Pit of Malice.

Even worse, an enhanced Eclipse equipped with an Aghanim's Scepter can use Dark Rift to end Underlord or any of his teammates' escape attempts.

Disruptor
If timed properly, Glimpse will bring back Underlord or any of his team members who are trying to flee with Dark Rift.

As a slow and immobile hero who is simple to build up Static Storm and Kinetic Field, Underlord is unable to use his skills or escape utilizing Dark Rift.

Kunkka
If the Underlord or one of his teammates use Dark Rift to flee, X Marks the Spot will bring them back.

Doom
Underlord Doom, who has a big health pool, can benefit from Infernal Blade because it does damage based on percentage of health, preventing him from overusing his abilities and, more importantly, from using Dark Rift to flee.

Sniper
Due to Sniper's extremely long range, he can avoid being in the area of effect of Atrophy Auras, Firestorm, and the Pit of Malice.

Outworld Destroyer
Arcane Underlord may sustain significant damage from Orb's pure damage.

As OD has a far higher mana pool than Underlord, Sanity's Eclipse can significantly reduce Underlord's health.

Winter Wyvern
When the Underlord's team is assembled for Dark Rift, Winter's Curse and Splinter Blast can completely destroy them.

Rubick
Rubick can use all of Underlord's skills to cast Spell Steal.

Shadow Fiend
While imprisoned in Pit of Malice, Shadow Fiend can still do significant damage with Requiem of Souls and Shadowraze.

Ursa
Atrophy Aura has no effect on Fury Swipes damage, thereby disabling the Underlord's only line of protection.

Pit of Malice's root can be easily removed by enrage.
Items Counter

Force Staff
Force Staff: Will push opponents outside the effective range of Firestorm, Pit of Malice, and Atrophy Aura. Even before Dark Rift's teleportation kicks in, it can move Underlord's squad members away from him.

Diffusal Blade
Diffusal Blade: Punishment for Underlord's limited mana, and its active further decreases his mobility.

Shiva's Guard
Shiva's Guard: Captures the Underlord's troops as they come together for Dark Rift and, if caught in his Pit of Malice, can be used to inflict harm.

Pipe of Insight
Pipe of Insight: Almost all of the magical harm done by the Underlord is negated by the barrier.

Boots of Travel
Boots of Travel: Can be utilized to push back after Dark Rift has been employed by Underlord or to defend.
Favorable Matchups

Drow Ranger
Drow Ranger's reliance on agility for effectiveness causes Atrophy Aura to substantially diminish her damage.

Legion Commander
The Legion Commander struggles to prevail in duels due to the Atrophy Aura.

Underlord and his allies can be rescued from a Duel via Dark Rift.

Phantom Lancer
Firestorm is a great tool for quickly removing many illusions.

Many illusions will constantly be disrupted by Pit of Malice, greatly decreasing their strength and damage.

The damage of Phantom Lancer and his illusions is lessened by Atrophy Aura.

Phantom Assassin
Phantom Assassin is unable to engage Phantom Strike or flee thanks to Pit of Malice.

Because Phantom Assassin only deals physical damage, Atrophy Aura has no effect. The majority of the stages are exceedingly dangerous for her because Atrophy Aura also affects Coup de Grace Coup de Grace, which reduces the effectiveness of Phantom Assassin's primary attack.

Phantom Assassin can still kill a unit that is a target for Dark Rift if she reacts quickly enough and if it is in her range, but she is unable to stop Underlord and his squad from using Dark Rift to flee. She is also unable to intercept them if Underlord chooses to teleport to any location of the map.

Templar Assassin
Refraction charges will be destroyed by Firestorm fairly quickly.

Templar Assassin will be struck by Firestorm while Meld Meld is active.

It is challenging for Templar Assassin to navigate the Pit of Malice.
Game plan
Early game ( 0:00 - 12:00)
Here, you should concentrate on the laning stage because that is where it all begins. The laning phase in Underlord is effective and secure. His passive reduces a small part of the opposing damage, allowing him to effortlessly farm the lane, jungle, and harass. Your primary objective at this point in the game is to gain XP, not die, and to roam as much as you can.
Mid game (12:00 - 25:00)
You'll gradually begin to form groups as the game progresses to capture objectives like towers or Roshan. Underlord gains strength at this point. The majority of the time, completing objectives will lead to teamfights, making Underlord a serious threat to anyone who opposes his team since if something goes wrong, his Atrophy Aura and Dark Rift will provide him a ton of additional damage. If everything is going well, you can Dark Rift your team to another lane and keep pushing, making the opposition defend it and squander TPs and crucial abilities.
Late game (25:00-75:00)
Underlord achieves his peak at this point. The majority of your essential pieces will be finished, and you might possibly be fully built. Additionally, you'll gang together more often so that your team and you may take over a lane. You might even set up for Roshan by smoking to kill a key target and luring the opposing team to battle in confined quarters. Your strong STR and INT numbers will help you survive fights, and you'll be aggressively pushing the lanes with stacks of Firestorm and Atrophy Aura. Also at this point, the effects of your Dark Rift will determine whether you win or lose. You'll either win or lose the game depending on whether you use your ultimate to counterpush or push another lane following a successful initial push.