Lore & Bio
"You only miss the water when the well runs dry."
At that dark age, there was a rotating comet, bound by a gravitational force. The giant ice ball just flew away, through the dark spaces between the worlds. On the eve of the ancient wars of the Vloys. It tore through the sky, slamming to the ground, lighting a bright spot in the night sky, a sign that both sides of the war took as an omen.
That ice ball was melted by an intense heat as it passed through the atmosphere. While the 2 factions are forced to fight across a border of a narrow river. Then, Morphling, released from the ice ball, appeared in the midst of battle, an elemental with the power of ocean tides, erratic and unbounded. He joined the war, instinctively restoring himself to the form of the first man who dared to set foot across the boundary river, and then killed him shortly after.
As warriors on both sides slowly died away, Morphling also transformed his form again and again, instantly absorbing the roles of those creatures he considered bizarre - sometimes as an infantryman, sometimes as a sniper, sometimes as a cavalryman… until the last warrior fell, Morphling had played all the roles on the battlefield. The end of that war was his starting point.
Attribute & Stats
Level: 0 1 15 25 30
Health: 200 640 1480 2320 2660
Health regen: +0.25 +2.45 +6.65 +10.85 +12.55
Mana: 75 303 603 963 1095
Mana regen: +0 +0.95 +2.21 +3.71 +4.26
Armor: -2 2 11.1 19.6 23.18
Damage Block: -
Magic Resistance: 25%
Status Resistance: 0%
Damage: 9‒18 33‒42 87‒96 138‒147 160‒169
Attack Rate: 0.67/s 0.83/s 1.19/s 1.53/s 1.67/s
Attack Range: 350 (800)
Attack Speed: 100 (1.5s BAT)
Attack Animation: 0.5+0.5
Projectile Speed: 1300
Movement Speed: 280
Turn Rate: 0.6
Collision Size: 24
Vision Range: 1800 • 800
Legs: 0
Gib Type: Ethereal.
Ability Upgrades:
Upgradable by Aghanim's Scepter - Morph.

Upgradable by Aghanim's Shard - Adaptive Strike.
Abilities & Talents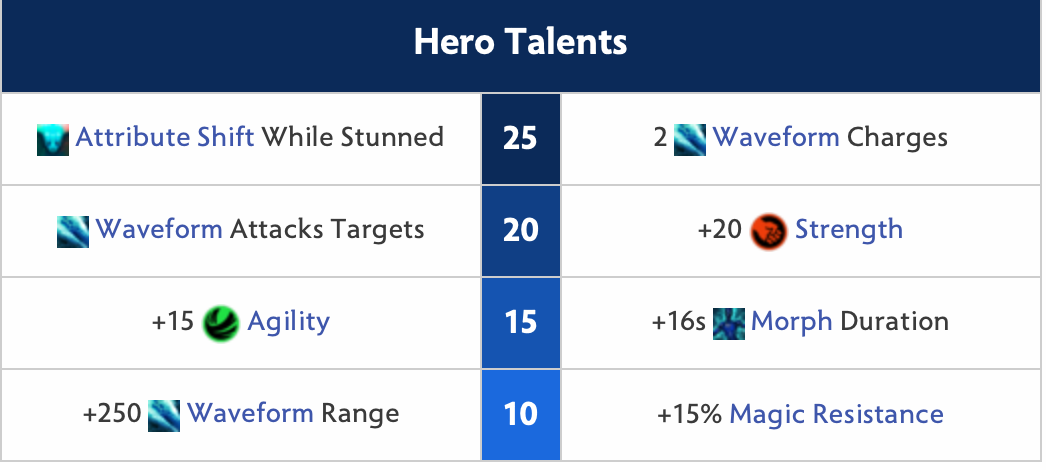 Skills building guide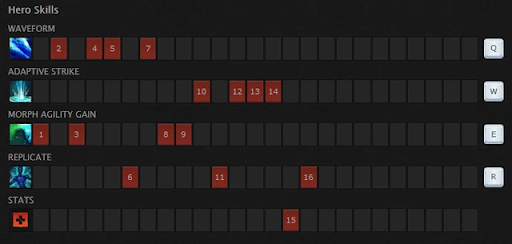 You should max out on Waveform to get damage to farm, gank and lane when needed. The remaining points can be increased into Morph to get more stats as well as a large Agility-Strength conversion rate when needed. If you have a good "protection" teammate at first, you can increase the Morph first to get bonus points as well as convert a bit of Strength into Agility and improve the initial hand damage.
If you are worried about going to lane, then level 1 should have Waveform ready to run away when needed. Adaptive Strike can increase late in the game because this is when Morphling has great stats and unleashes the power of this skill. However, if the enemy team has heroes with channeling skills, it is advisable to add at least 1 point to Adaptive Strike at first to prevent the opponent from comboing.
Abilities

Waveform
Cost: 140/155/160/165 mana.
Cooldown: 11 seconds.
Range of use: 1000 distances.
Effect: transforms into a powerful wave that dashes to the target location, dealing 100/175/250/325 damage to all enemy units in the path. While gliding, the Morp is immune to all damage and cannot be targeted.
Width: 200

Adaptive Strike (Agility)
Consumption: 100 mana.
Cooldown: 10 seconds.
Usage range: 600/700/800/900
Effect: shoots a powerful jet of water at the specified enemy, dealing damage + knocking back enemies based on Agility and stunning them based on Morp Strength.
Base Damage: 50/60/70/80
Bonus Damage: 0.5/1/1.5/2 x Agility stat.
Base stun duration: 0.25 seconds.
Maximum stun duration: 1.25/2.25/3.25/4.25 seconds.
Repulse: 100 – 300 distance.
Note:
Strength > Agility 50%: maximum stun, minimum bonus damage.
Strength < Agility 50%: minimum stun, max bonus damage.

Adaptive Strike (Strength)
Cast Range: 600 / 700 / 800 / 900
Min Stun Duration: 0.5
Max Stun Duration: 1.5 / 2 / 2.5 / 3
Min Knockback Distance: 100
Max Knockback Distance: 500
Effect: Based on Morphling's strength, sends a wave of water toward an opposing unit, stunning and knocking it back. The maximum stun is inflicted if his Strength is 50 percent greater than his Agility.

Attribute Shift (Agility Gain)
Shift Rate: 3 / 6 / 12 / 24
Bonus Agility: 3 / 5 / 7 / 9
Effect: Morphling changes its shape, transferring points from Strength to Agility. The procedure can be reversed. Increase the pace of stat change by adding more points to Attribute Shift. Agility boost is granted passively. Each second costs 10 mana.

Attribute Shift (Strength Gain)
Shift Rate: 3 / 6 / 12 / 24
Bonus Strength: 3 / 5 / 7 / 9
Effect: Morphling changes its shape, transferring points from Agility to Strength. The procedure can be reversed. Increase the pace of stat change by adding more points to Attribute Shift. Strength is increased passively. Each second costs 10 mana.

Morph
Cost: 30 mana/s.
Effect: converts Original Strength (white) to Agility.
Switches per second: 3/4/5/6
Note: this skill turns on/off as soon as the Morp gets control status (except for Doom's ultimate).

Morph Replicate
Consumption: 25 mana.
Cooldown: 80
Usage range: 700/1100/1500
Effect: creates a clone of the specified champion, this illusion will fight under the control of the Morp. The Morp has an extra skill to destroy the clone and swap the Morp's current location to the clone's current location.
Clone damage received: 100%
Clone damage dealt: 50%
Duration: 30/45/60 seconds or when swapped or destroyed.
Upgraded by Aghanim's Scepter:
Effect: has 1 new skill: Hybrid
Effective items guides
Early game

Wraith Band
Wraith Band: For a reasonable price, Wraith Band provides characteristics and attack speed.

Boots of Speed
Boots of Speed: Morphling needs Speed Boots to boost his poor basic movement speed.

Magic Wand
Magic Wand: The Magic Wand gives sustained health and mana.
Mid game

Power Treads
Power Treads: Power Treads are a cost-effective source of characteristics. Casting on intelligence can reduce the cost of his skills, and they can also supply agility or strength for increased offensive or defensive power without the requirement for Attribute Shift.

Linken's Sphere
Linken's Sphere: Linken's Sphere gives him a minor amount of attributes and regeneration, as well as protection from single-target abilities, making him even more difficult to gank.

Ethereal Blade
Ethereal Blade: Ethereal Blade boosts Adaptive Strike (Agility) with additional agility while lowering opponent magic resistance, allowing most heroes to burst in the middle game. Morphling may also deconstruct it to create Butterfly in the late game.
Late game

Black King Bar
Black King Bar: The Black King Bar is an important item for late-game teamfights since it allows Morphling to do damage without being disabled.

Eye of Skadi
Eye of Skadi: The Eye of Skadi has the most total characteristics of any item, offering a significant amount of HP even when entirely changed to agility.
Situation items

Morbid Mask
Morbid Mask: Morbid Mask gives Morphling lifesteal to keep him alive while he gathers stronger goods. It has the potential to become Satanic in the future.

Dragon Lance
Dragon Lance: Dragon Lance is a low-cost source of characteristics that provides useful attack range to help Morphling in his early encounters. It may later be upgraded to Hurricane Pike for increased mobility, mana regeneration, and health regeneration, or deconstructed to produce Black King Bar and/or Yasha.

Butterfly
Butterfly: Butterfly provides a lot of attack damage and evasion, therefore it's best for a build that focuses on attacks rather than Adaptive Strike.

Satanic
Satanic: Morphling may leverage his strong DPS to quickly heal himself to full health using Satanic's active. However, if you are stunned while attempting to lifesteal, you can still be murdered quickly, hence it should be utilized in conjunction with Black King Bar or against teams who have low lockdown potential.

Manta Style
Manta Style: Manta Style enhances Manta's ability to remove silences and debuffs, as well as his escape options.

Diffusal Blade
Diffusal Blade: Diffusal Blade has modest stats but allows him to burn mana with his strikes. If you're up against a hero who uses mana, this is a viable option (Medusa, Storm Spirit etc).

Aghanim's Scepter
Aghanim's Scepter: Aghanim's Scepter is a good buy that gives you even more versatility thanks to its benefits (cast range increase and the ability to Morph into allies).
Enemies & Allies
Allies

Lifestealer
Morphling may use Rage to obtain spell immunity and a movement speed increase on Lifestealer, which is a fantastic target for Morphling to utilize Morph on.

Because of Morphling's strong armor, Lifestealer's attacks deal less damage.

Bloodseeker
Morphling can use Waveform to get away from Rupture.

Morphling is a standard Manta Style carrier that may be utilized to break Blood Rite's quiet.

Clockwerk
Morphling may use Waveform to get away from Power Cogs.

Morphling can employ Attribute Shift (Strength Gain) to survive the time even if he is caught in Power Cogs.

Morphling, on the other hand, should avoid utilizing his Ethereal Blade combination on a Clockwerk with Blade Mail.

Drow Ranger
Morphling can utilize Waveform to narrow the gap between him and Drow Ranger, but Gust and Frost Arrows should be avoided.

Gust's stillness is broken by Morphling, who is a natural Manta Style bearer.

Lone Druid
With Waveform, Morphling may disregard Spirit Bear and cut the distance to Lone Druid in half.

Morphling can utilize his nukes to take down Lone Druid if he isn't already rooted or crippled by Spirit Bear.

Phantom Assassin
Morphling's innate high armor and mobility make it difficult for Phantom Assassin to take him out with Coup de Grace.

Phantom Assassin is weak to magical damage, and the Adaptive Strike + Ethereal Blade combo will quickly defeat him.

Razor
With Waveform, Morphling can break Static Link. Morphling may also transform into Razor and utilize the same ability against him.

Because of Morphling's strong armor, Eye of the Storm is generally ineffective, allowing Morphling to battle Razor for extended periods of time.

Morphling can escape Razor's abilities as needed because he has no disables.
Counters

Ancient Apparition
Ice Blast prevents Morphling from gaining more health from Attribute Shift (Strength Gain), and it also brings Morphling closer to the shatter threshold.

If Ancient Apparition has a good lane partner, Ice Vortex slows Morphling's already sluggish movement speed to a crawl, which, along with the amplification of magic damage, can set up an early kill on Morphling.

Anti-Mage
The Ethereal Blade and Adaptive Strike combination deals much less damage thanks to Counterspell's enhanced magic resistance.

The active component of Counterspell can reflect Morphling's Ethereal Blast and Adaptive Strike combination, delivering considerable damage or perhaps killing him.

Combining Mana Break with Morphling's mana is swiftly depleted by Manta Style, rendering him unable to cast spells.

Arc Warden
Arc Warden may use Magnetic Field to protect buildings against Morphling's strong pushing powers.

Arc Warden frequently constructs Orchid Malevolence or Bloodthorn, both of which are hazardous to Morphling.

Arc Warden's Tempest Double is a serious danger because he can easily destroy Linken's Sphere with Flux and then slow him with Spark Wraith.

Chaos Knight
Morphling is primarily a single target damage dealer with limited mobility and no wave clear, making him vulnerable to Phantasm's Chaos Knight illusion.

Chaos Bolt's long-lasting stun, along with Reality Rift's high damage output and Phantasm's high damage output, may quickly burst down Morphling before he can transition from Agility to Strength.

Bloodthorn is frequently purchased by Chaos Knight, rendering Morphling ineffective for 5 seconds (unless he possesses Linken's Sphere or Manta Style).

Earth Spirit
Linken's Sphere does not block Geomagnetic Grip, and it can silence Morphling, preventing him from employing Waveform or Attribute Shift to avoid ganks.

When used simultaneously, Boulder Smash and Rolling Boulder produce a firm lockdown.

Elder Titan
Morphling's excellent agility provides the majority of his armor, which is lowered by Natural Order.

However, the aura has a range of just 350 meters, and if Elder Titan isn't cautious, Morphling's nuclear combination can take him down.

Lion
Morphling's already low mana pool is quickly depleted by Mana Drain, rendering him unable to activate Waveform or Adaptive Strike. Hex also prohibits these powers from being used.

If an unprepared Morphling's strength is entirely switched to agility, an Earth Spike and Finger of Death combo can burst him down.
Items Counter

Monkey King Bar
Monkey King Bar: Monkey King Bar - Because Morphling seldom gains any form of magic resistance other than Black King Bar, which Monkey King Bar pierces, its Pierce passive's strong magic damage is more effective than other physical damage items.

Heaven's Halberd
Heaven's Halberd: Morphling is forced to use his nukes to do damage due to Heaven's Halberd inexplicable disarm.

Spirit Vessel
Spirit Vessel: Morphling gains 60 percent less health while utilizing Attribute Shift (Strength) with Spirit Vessel.

Scythe of Vyse
Scythe of Vyse: Morphling is completely disabled by Scythe of Vyse, allowing the opposition team to blast him down.

Blink Dagger
Blink Dagger: Axe, Earthshaker, Legion Commander, Lion, Outworld Destroyer, Shadow Shaman, and Slardar can use Blink Dagger to bridge gaps and stop Morphling before he can change into strength.
Favorable Matchups

Drow Ranger
Morphling may be successful by transforming into Drow Ranger, with rapid attacks, low consumption abilities, additional silence talent, and even misuse of Ethereal Blade in her form, and additional damage from additional Multishort in teamfights.

Earthshaker
During Morph, Morphling gets a massive damage increase from Enchant Totem. An Aghanim's Scepter may be added to this combination to make it even better. Because of the decreased mana cost of abilities and better cast range, as well as the extra Fissure the team may deploy, Aghanim's Scepter is an excellent upgrade.

Tiny
By mixing his own ethereal combination with Toss and Avalanche, Morphling may aid blast down adversaries with magical damage.

With talent, Morph may be employed on Tiny, opening up a world of possibilities. Two Toss / Avalanche gives you greater stun/burst damage, and two Tree Grab gives you a lot of lane and tower pushing power.

Pugna
Decrepify serves as a low-cost Ethereal Blade for Morphling, letting him focus on other things instead of crafting Ethereal Blades.

Decrepify may be used defensively on Morphling when he is being concentrated by physical damage, allowing him to alter his characteristics to higher strength and therefore live for longer. Life Drain can swiftly restore Morphling to full HP after transforming to full agility.

Morphling may transform into Pugna using Aghanim's Scepter, giving your team twice the Nether Ward.

Keeper of the Light
Morphling can have several easy kills in lane with Illuminate and Waveform, providing him a gold edge.

Morphling's limited mana pool is alleviated by Chakra Magic, allowing him to utilize his talents more frequently.

Crystal Maiden
Waveform can obtain several kills in lane with the help of Crystal Nova and Frostbite.

Morphling gains mana restoration from Arcane Aura, letting him utilize his nukes more frequently.

Dazzle
Morphling may use Dazzle's Shallow Grave to Attribute Shift Agility for additional health during a fight without dying.

Dazzle usually builds Arcane Boots and because to Bad Juju, he can spam it a lot to aid morphlings with their mana troubles.
Game plan
Early game
Morph can go solo mid, dual lane, trilane. Plowing money is the carry's eternal job, early in the game, with short range, speed of running side, farming is still the main job, don't be aggressive, if you have teammates to support, then hit, otherwise then just farm. You need to farm a lot to be hegemon.
Mid game
At this point, once you have your Manta style, you can stick to a lane to push straight very well at a fairly fast speed, use your ultimate to switch lanes, cheat, participate in teamfights in time. However, farming is still the main job. Remember to ask your team's support to fully ward and you always follow the Town portal scroll to increase your mobility.
Late game
Now is the time for Morp to prove himself as a super carry. When you have enough equipment, you can switch all Strength to Agility stats while still ensuring your health is abundant (if you have Heart of Tarrasque, your health must be close to 3k), Adaptive strike can now kill a single cockroach health target if combined with an Ethereal blade. When fighting, you keep your Agility max, when you take damage, you start to switch Agility to strength to increase health, with too many stats, the opponent will be very tired when focusing on hitting you. Waverform you easily choose the position to stand in the teamfight. The first priority targets in combat are the cockroaches first, then the bullies.