Lore & Bio
"There's a lot of stories about the Monkey King. Some of 'em are even true."
500 years after being crushed by the rocks on his back, only his head was able to pull himself out of the weight of the rock prison that the old gods had summoned to stop his childish rebellion. Moss grows on the face, grass groves the ears; eyes filled with wildflowers growing from the ground on the cheekbones. Most people think that Wukong here has died a long time ago, tortured by the gods for the crime of causing chaos in the heavens for a long time, until only legends exist. But, just like the stories, this is the Immortal Monkey King.
So you wait here. Until the day the gods came to give him a chance to atone, he endured. And then when the gods came to make a deal, Sun Wukong accepted the challenge: traveling with a young monk on a secret mission, protecting people from evil and obstacles along the way, and returning home with holy relics as desired. By doing so, and humbly obeying that man's command to fulfill that holy mission, then Wukong will prove that he has converted.
Because he wanted to change the atmosphere a little, Ngo Khong fulfilled his promise with the gods in honor, thereby atoning for his past mistakes. The other monk, having learned much from the long and arduous journey, returned to the temple with the relic in his hand; and Wukong finds himself on par with the gods for the first time, without any consequences...so that's why Wu Ta is satisfied for a moment and temporarily forgets his hunger for freedom, adventure, and glory. . But the American Hou Vuong here was born to cause trouble...and offending the gods never goes out of style.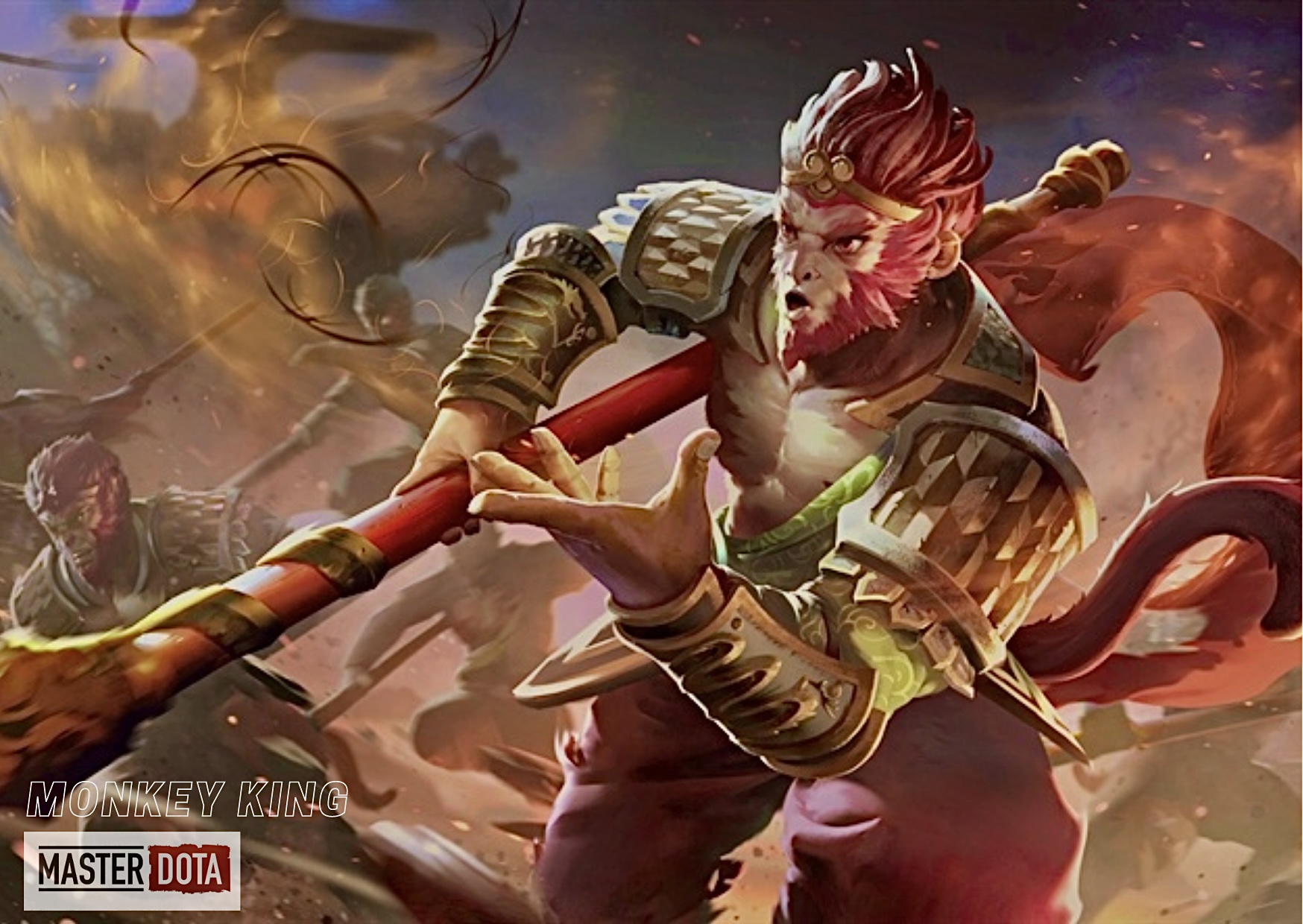 Attribute & Stats
Level: 0 1 15 25 30
Health: 200 560 1340 2140 2460
Health regen: +1 +2.8 +6.72 +10.72 +12.32
Mana: 75 315 615 975 1107
Mana regen: +0 +1 +2.26 +3.76 +4.31
Armor: 2 5.67 14.3 22.47 25.88
Damage Block: 16 (50%)
Magic Resistance: 25%
Status Resistance: 0%
Damage: 29‒33 51‒55 102‒106 151‒155 172‒176
Attack Rate: 0.59/s 0.72/s 1.02/s 1.31/s 1.43/s
Attack Range: 300 (600)
Attack Speed: 100 (1.7s BAT)
Attack Animation: 0.45+0.2
Projectile Speed: Instant
Movement Speed: 300
Turn Rate: 0.6
Collision Size: 8
Vision Range: 1800 • 800
Legs: 2
Gib Type: Default
Ability Upgrades:
Upgradable by Aghanim's Scepter - Wukong's Command

Upgradable by Aghanim's Shard - Mischief
Abilities & Talents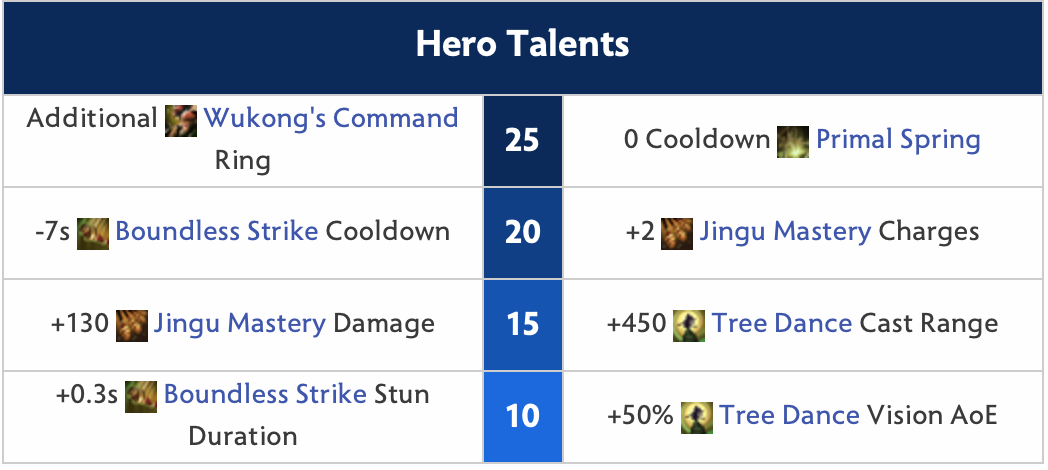 Skills building guide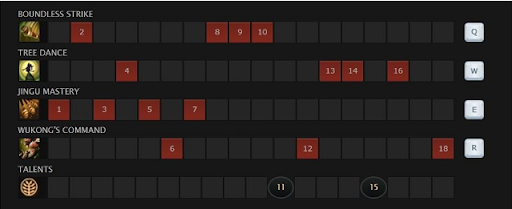 Prioritize maxing out Jingu Mastery to counter other skills with long cooldowns. Besides, this is also a skill that helps Monkey King exchange benefits with enemy champions after 4 hits, MK receives damage and Life Steal ability. Followed by Boundless Strike, Tree Dance and finally Wukong's Command.
Abilities

Boundless Strike
Cast Animation: 0.4+0.5
Cast Range: 1100
Effect Length: 1100
Effect Width: 150
Critical Damage: 135%/165%/195%/225%
Stun Duration: 1/1.2/1.4/1.6 (Talent 1.3/1.5/1.7/1.9)
Effect: Monkey King expands his staff and smacks it on the ground, stunning foes in a line and inflicting critical damage with his assault. True Strike is present.

Tree Dance
Cast Animation: 0.1+0
Cast Range from Ground: 900 (Talent 1350)
Cast Range from Tree: 1000 (Talent 1350)
Damage Cooldown: 3
Day Tree Vision: 800 (Talent 1200)
Night Tree Vision: 600 (Talent 900)
Unperch Stun Duration: 4
Effect: Monkey King leaps to a tree and climbs to the summit. He obtains the Primal Spring ability, which is a channeled jump attack, while perched. Monkey King falls and is dazed for 4 seconds if his tree is destroyed. Tree Dance is put on cooldown when it takes damage from player-controlled troops or Roshan while on the ground.

Primal Spring
Cast Animation: 0+0
Cast Range: Global.
Max Leap Distance: 1000
Radius: 375
Max Channel Time: 1.6
Max Damage: 140/210/280/350
Max Move Speed Slow: 20%/40%/60%/80%
Slow Duration: 4
Effect: Monkey King leaps from his tree perch, inflicting damage and slowing foes in his path. The damage and slow levels are proportional to the length of the channel.

Jingu Mastery
Required Hits: 4
Charges: 4 (Talent 6)
Attack Damage Bonus: 40/70/100/130 (Talent 170/200/230/260)
Lifesteal: 25%/40%/55%/70%
Counter Duration: 7/8/9/10
Buff Duration: 35
Effect: The Jingu Bang's strength is awakened by Monkey King's assaults. Monkey King gains four charged attacks with additional damage and lifesteal after the fourth hit on the same opponent hero.

Mischief
Cast Animation: 0+0.53
Set Move Speed: 200
Creep Search Radius: 200
Rune Search Radius: 300
Tree Search Radius: 350
Courier Search Radius: 400
Damage Immunity Duration: 0.2 (With Aghanim's Shard 0.5)
Effect: Changes Monkey King's appearance to trick opponents, drawing influence from the surrounding surroundings. Monkey King's disguise is broken when he takes damage, attacks, or uses any item or ability. When you morph, you get damage immunity for 0.2 seconds.

Wukong's Command
Cast Animation: 1.2+0.37
Cast Range: 550
First Ring Radius: 300
Second Ring Radius: 750
Leadership Radius: 780 (Talent 1130)
Number of First Ring Soldiers: 5
Number of Second Ring Soldiers: 9
Soldiers Attack Interval: 1.2
Armor Bonus: 12/18/24
Max Duration: 13
Effect: From his vantage point, Monkey King forms a circle formation of warriors. Monkey King's army will scatter if he leaves the region. The soldiers are under the control of the Monkey King and can only assault heroes. For the duration of the spell, Monkey King gains additional armor.
Effective items guides
Early game

Boots of Speed
Boots of Speed: The Boots of Speed give increased movement speed when chasing after foes.

Magic Stick
Magic Stick: Monkey King is saved by Magic Stick, which provides burst life and mana.

Blight Stone
Blight Stone: Blight Stone assists Monkey King in hitting harder and may later be upgraded to Desolator.
Mid game

Power Treads
Power Treads: Monkey King may use Power Treads to increase his attack speed and agility, which helps him gain Jingu Mastery. To deal with early game mana concerns, he can convert to intelligence.

Phase Boots
Phase Boots: Monkey King can catch up to opponents thanks to Phase Boots' extra mobility and attack damage.

Magic Wand
Magic Wand: When compared to Magic Stick, Magic Wand has more qualities, as well as higher burst health and mana.

Battle Fury
Battle Fury: With Tree Dance, Monkey King can swiftly clear creeps with Battle Fury, and its cleave works with Wukong's Command.

Echo Sabre
Echo Sabre: Because it gives attack speed, slow, and double attack, the Echo Sabre makes it considerably simpler for Monkey King to gain Jingu Mastery stacks. However, as of 7.27, Wukong's Command troops are no longer using the slow.
Late game

Black King Bar
Black King Bar: Monkey King's Jingu Mastery charges can be built up without being interrupted, and Black King Bar increases his survivability so he can keep up with Wukong's Command.

Butterfly
Butterfly: Butterfly increases damage output and evasion, making Wukong's Command more lethal and lasting.

Desolator
Desolator: Desolator increases damage and decreases armor of targets, dramatically increasing Monkey King's damage output against opposing units and buildings, and working well with Boundless Strike's critical hit.
Situation items

Bottle
Bottle: Monkey King uses Bottle to store runes, which he can readily get by hopping through trees.

Mjollnir
Mjollnir: Mjollnir gives increased attack speed, and its Chain Lightning may be activated by Boundless Strike and Wukong's Command warriors.

Diffusal Blade
Diffusal Blade: The active slow of Diffusal Blade aids Monkey King in gaining Jingu Mastery or keeping targets under Wukong's Command. Wukong's Command troops can also perform Manabreak.

Eye of Skadi
Eye of Skadi: Monkey King has higher durability and a severe slowing effect from Eye of Skadi, which helps him land the several hits required to charge Jingu Mastery. Soldiers from Wukong's Command can also use the slow.

Silver Edge
Silver Edge: Silver Edge assists Monkey King in remaining alive while inside Wukong's Command. It also uses break to counter specific opponent heroes, allowing you more kill opportunities.

Monkey King Bar
Monkey King Bar: The Monkey King Bar boosts attack damage while also preventing enemy evasion.

Abyssal Blade
Abyssal Blade: Monkey King can use Abyssal Blade to stun an adversary for long enough to get Jingu Mastery stacks or hold them under Wukong's Command.
Enemies & Allies
Allies

Alchemist
Because Alchemist's armor is poor and he doesn't develop armor items for the entirety of his build, Jingu Mastery and Wukong's Command may be extremely lethal.

Desolator, Sange, and Yasha, as well as Diffusal Blade, may all be acquired to boost your damage against Alchemist, or just to keep your movement speed up to par while Chemical Rage is active.

Acid Spray loses its efficacy later in the game since Monkey King is an agility hero who scales with armor.

Drow Ranger
Monkey King can scout the Drow Ranger's whereabouts from the treetops and easily leap on her, impairing Marksmanship.

She lacks the natural mobility to flee Wukong's Command, whose additional armor provides MK an advantage in battle.

Faceless Void
Because Monkey King's clones from Wukong's Command and Aghanim's Scepter are resistant to Chronosphere, Chronosphereing Monkey King with his clones nearby is a horrible idea.

If Monkey King is not trapped inside Chronosphere, he can cast Wukong Commands close to it to disseminate Faceless Void.

Omniknight
Even if Guardian Angel is active, Jingu Mastery will continue to build stacks.

Monkey King has the ability to enter a fight whenever he wants, which means he can head straight to Omniknight.

Jingu Mastery with Boundless Strike will kill Omniknight during the laning phase, while Purification is weak.

Against Monkey King's ultimate and Jingu Mastery bonuses, Heavenly Grace is worthless.

Meepo
Divided We Stand allows Monkey King to obtain Jingu Mastery stacks on Meepo's clones.

Tree Dance helps him to sneak up on a lone Meepo clone and gank it.

Nature's Prophet
Nature's Prophet will not be protected from Tree Dance by Sprout.

Boundless Strike can reach Nature's Prophet within the tree line, interrupting Teleportation attempts.

Pudge
From the treetops, Monkey King can scout Pudge's location, making it simpler for him and his teammates to avoid Meat Hook.

If Monkey King has already cast Wukong's Command, he doesn't care about Dismember; his soldiers will make quick work of Pudge's poor armor.

If Dismember is targeting someone else, Boundless Strike can simply cancel the channeling from afar.

Shadow Fiend
Due to its long cast time, Boundless Strike may easily disrupt Requiem of Souls.

Because of Shadow Fiend's lack of mobility and escape, he's an ideal target for Primal Spring to ambush, especially during the laning stage.

He can't use all three razes on you before you obtain your Jingu Mastery stacks since you're so close.

Spectre
Due to his massive lifesteal with Jingu Mastery, Dispersion will do nothing against you throughout the game.

Monkey King frequently purchases Manta Style, which prevents Desolate from gaining benefits in 1v1 circumstances.

People locked under Monkey Kings ultimate will be unaffected by Haunt.

Overall, Spectre is a simple gank target to organize with your team and is readily pressured by Monkey King early in the game.
Counters

Batrider
Batrider can see Monkey King when he's on a tree, and Firefly may destroy any adjacent trees, depriving Monkey King any places to hop to, or forcing him to fall.

Monkey King's ability to hop from tree to tree and collect Jingu Mastery stacks is substantially hampered by Sticky Napalm's poor turn rate. It also shows Monkey King, who is perched on a tree.

Batrider uses Flamebreak and Flaming Lasso to free Monkey King from Wukong's command.

Beastmaster
The ability of Wild Axes to cut down trees makes it harder for Monkey King to use Tree Dance effectively.

When Monkey King is perched on top of trees, Call of the Wild Hawk can spy him.

Even if Monkey King has spell immunity, Primal Roar can stun him for a long time.

Bounty Hunter
Monkey King can be seen even while he's in the trees thanks to Track.

Brewmaster
Monkey King finds it difficult to combine Jingu Mastery with Cinder Brew and Drunken Brawler.

If none of his friends have dispels, Cyclone can eliminate Monkey King for 6 seconds.

Jingu Mastery's perks can be dispelled using Dispel Magic.

Disruptor
When Monkey King is in the trees, Thunder Strike gives him eyesight. If Monkey King is on the ground, the periodic damage will prevent him from utilizing Tree Dance.

If Monkey King tries to escape using Tree Dance, Glimpse will drag him out of the trees, and if Monkey King is Glimpsed out of its radius, Wukong's Command will finish prematurely.

If Monkey King hits first and has already cast Wukong's Command, however, Disruptor's powers will be of little help.

Enchantress
The additional armor offered by Wukong's Command is ignored by Impetus pure damage.

Monkey King's Jingu Mastery bonuses can be removed with Enchant.

Monkey King has a hard time landing Jingu Mastery stacks because of Untouchable.

Enchantress is able to flee Wukong's command thanks to Sproink.

Enigma
Maleficent puts Tree Dance on cooldown, which might cause Wukong's Command's long cast time to be disrupted.

A vast number of trees are destroyed by Midnight Pulse.

Keeper of the Light
Blinding Light has the ability to both force Monkey King out of Wukong's Command and blind him.

Monkey King is prone to burst damage, and Solar Bind exacerbates this vulnerability.

During the early-mid game stage, though, Monkey King may easily gank Keeper of the Light.
Items Counter

Tango
Tango, Quelling Blade, and Battle Fury: The tree Monkey King is standing on can be destroyed by Tango, Quelling Blade, and Battle Fury.

Force Staff
Force Staff: Monkey King is pushed out of Wukong's command by the Force Staff. Trees may be destroyed by pushed heroes.

Orb of Venom
Orb of Venom: In the early game, the damage over time of Orb of Venom prevents Monkey King from utilizing Tree Dance for the period.

Dragon Scale
Dragon Scale, Urn of Shadows, and Spirit Vessel: Tree Dance is kept on cooldown by Dragon Scale, Urn of Shadows, and Spirit Vessel.

Radiance
Radiance: When Monkey King is disguised with Mischief, Radiance's area burn will show him while also putting his Tree Dance on cooldown until he exits the area, severely limiting his escape options. Furthermore, the blind makes it more difficult for him to earn and land Jingu Mastery stacks.

Eul's Scepter of Divinity
Eul's Scepter of Divinity: Jingu Mastery's buff is removed by Eul's Scepter of Divinity.

Shiva's Guard
Shiva's Guard: When Monkey King is on a tree, Shiva's Guard will unveil him.
Favorable Matchups

Beastmaster
Monkey King gains Jingu Mastery charges faster with the aid of Inner Beast.

Monkey King may land more Jingu Mastery stacks with Primal Roar.

The opposition team's positioning can be disrupted by Primal Roar and Boundless Strike.

Crystal Maiden
Monkey King can get additional Jingu Mastery stacks with the aid of Frostbite.

The Freezing Field keeps foes inside Wukong's Command's radius.

Dark Seer
Monkey King has little issue remaining near opposing heroes, and Ion Shell considerably improves his damage. Vacuum attracts foes to Wukong's Command.

Elder Titan
Echo Stomp excellently positions foes for Wukong's Command.

Magnus
Enemies may be moved into Wukong's Command using Skewer and Reverse Polarity.

Mars
It's simpler to land the Spear of Mars on foes stunned by Boundless Strike.

God's Rebuke has the ability to drive foes into Wukong's Command.

Wukong's Command gives a fantastic setup in Arena Of Blood. The walls of the Arena prohibit adversaries from fleeing.

Nature's Prophet
Sprout creates trees for Monkey King to hop on, as well as traps for Monkey King to use Primal Spring on.

Oracle
Monkey King can land Primal Spring and build up Jingu Mastery because of Fortune's End's low cooldown root.

False Promise allows Monkey King to accumulate and waste Jingu Mastery stacks while also allowing him to endure the entirety of Wukong's Command.

Puck
Enemies are stunned by Dream Coil and are unable to leave Wukong's Command.

Treant Protector
Overgrowth is an excellent setup for Wukong's Command since it prevents foes from fleeing.
Game plan
Early game
In the early stages of the game, take Monkey King to farm and try to get to Bottle to check runes. With Bottle, Monkey King can go to Bot lane or Top lane to gank early. Therefore, farm enthusiastically and try to last hit/deny carefully to earn a lot of gold. You can use Boundless Strike to clear monsters and harass your opponent. In case, see creeps running up too far and approaching the turret, immediately turn on Primal Spring to kill them as quickly as possible.
You can also gank right from this point. However, make sure you get some lives yourself. Otherwise, you can focus on the mid lane to farm and wait for enough items to move on to the next stage.
Mid game
This stage you need the ability to withstand combat. So let's go to BKB as quickly as possible. Balance between farming and ganking to not lose too many items. At this point, use the Tree Dance to scout and sneak attacks on the enemies behind. Try to work well with your teammates to be able to gank, farm and push turrets as fast as possible.
Late game
Towards the end of the game, you can separate your teammates to gank oddly and sneak up on paper heroes first. Besides, you can use Ultimate to create a protective shield around the tower. Avoid harassment from the enemy while you are pushing the turret. The faster you push the tower, the higher the advantage your team has to win. So use Ultimate so that it is reasonable to achieve the most achievements.