Lore & Bio
"Let the sky tear down the unworthy!"
How could she be so lost? Once the ferocious leader of the Scourge of the Plains, commanding a horde of minions and beasts, daring to spread terror wherever she went. But now that she was far from her homeland, starving to the point of madness after several months of wandering, her army soon turned into piles of corpses, or even worse.
Then, when she stopped at the side of an ancient forest, from among the old branches, a pair of red eyes was silently watching her. Was a wild beast (The beast that Luna later rode, named Nova), beautiful and deadly, looking for a good meal in the late afternoon. Without making a sound, it silently turned and walked away. Indignant at being looked down upon, she clutched a rusted dagger in her hand, dashing toward the beast, only to regain a little bit of past glory. But her prey seems to be difficult to catch. Three times she cornered it between trees and rocks, and three times she caught its shadow before it shot like an arrow.
However, the bright moonlight above made the animal's footprints very easy for her to detect and follow. When Luna chased her to a high mountain, the great beast sat quietly, waiting intently for her. As she raised her dagger, the beast took a slight step back, then roared in her direction. Death had almost come to her in this strange land. Luna stood there, calm and ready to receive. However, in the blink of an eye, the beast suddenly rushed forward and snatched her dagger, then disappeared into the woods. At this time, everything became quiet, a few figures in a headscarf appeared and approached Luna.
With all due respect, they told her that Selemene, Goddess of the Moon, had chosen her, helped her, tested her: Luna had passed the sacred ritual of the Black Moon, the warriors of the Nightsilver Woods. She has two choices: join the Dark Moon and swear to serve Selemene, or leave this place and never return. Wanting to be forgiven and give up her bloody past, Luna did not hesitate and accepted a new identity: Luna of the Black Moon, Moon Rider, forever loyal to the Nightsilver Woods.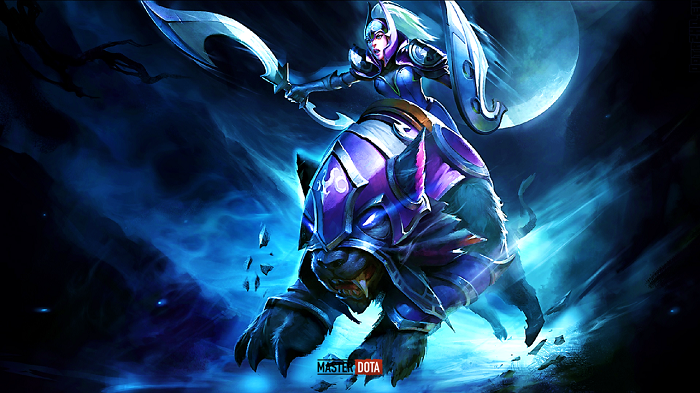 Attribute & Stats
Level: 0 1 15 25 30
Health: 200 620 1220 1900 2160
Health regen: +0.5 +2.6 +5.68 +9.08 +10.38
Mana: 75 351 663 1035 1179
Mana regen: +0 +1.15 +2.48 +4.03 +4.61
Armor: 2 6 13.93 21.6 24.77
Damage Block: -
Magic Resistance: 25%
Status Resistance: 0%
Damage: 26‒32 50‒56 97‒103 143‒149 162‒168
Attack Rate: 0.59/s 0.73/s 1.01/s 1.28/s 1.39/s
Attack Range: 330 (800)
Attack Speed: 100 (1.7s BAT)
Attack Animation: 0.35+0.54
Projectile Speed: 900
Movement Speed: 325
Turn Rate: 0.6
Collision Size: 24
Vision Range: 1800 • 800
Legs: 2
Gib Type: Default
Ability Upgrades:
Upgradable by Aghanim's Scepter;
Upgradable by Aghanim's Shard.
Abilities & Talents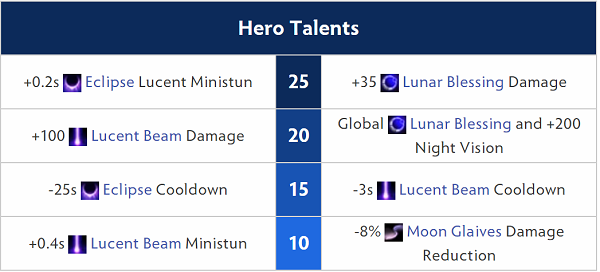 Skills building guide
This is a common skill boost to get Luna's initial damage: easy last hit, low Lucent beam (Q) jerk, and ulti too poor. Why not get Moon glaive (W) from early levels? Simply because at first Luna has no damage, taking that skill point will initially be very wasteful, later when Luna has a big damage, it's fine. Ultimate get the correct level.
Abilities

Lucent Beam
Cost: 90/100/110/120 mana
Cooldown: 6 seconds
Casting Range: 800
Effect: hurls a powerful energy moonshine at the specified target, dealing 75/150/225/300 damage and briefly stunning the target.
Stun duration: 0.6 seconds

Moon Glaives
Effect: Each of her throws, her blade bounces to random enemies next to the main target 1/2/3/6 times (can bounce to old targets), however damage per The bounce is reduced by 35% compared to the previous bounce
Bounce Radius: 500

Lunar Blessing
Effect: Increases damage to herself and nearby allied champions by 14/22/30/38 and grants her greater night vision
Night vision bonus: 1000
Aura Radius: 900 seconds

Eclipse
Cost: 150/200/250 mana
Cooldown: 140 seconds
Effect: Summons moonbeams that randomly descend on nearby enemies' heads and deal damage based on Lucent beam's current skill level. While using this ability, Luna turns day into night if used during the day for 10 seconds.
Damage radius: 675
Number of rays falling: 5/8/11
Maximum number of beams 1 target can receive: 4
Duration of rays to descend: 2.4/4.2/6 seconds
Upgraded by Aghanim's scepter
Number of rays falling: 6/12/18
Maximum number of rays 1 target can receive: unlimited
Duration of rays to descend: 3/5.4/7.8 seconds
Effective items guides
Early game

Magic Wand
Magic Wand: Most heroes can benefit from using the Magic Wand to get additional burst health and stats.

Boots of Speed
Boots of Speed: Boots of Speed are essential for any hero that needs greater movement speed to hunt and escape.

Town Portal Scroll
Town Portal Scroll: The Town Portal Scroll is useful for easily jumping into conflicts from all around the map. Luna is one of the carriers who, owing to Eclipse, can alter the tide of battle.
Mid game

Power Treads
Power Treads: Luna's damage output is increased by using Power Treads, which improve attributes and attack speed.

Dragon Lance
Dragon Lance: The Dragon Lance is one of the most cost-effective tools in the game, offering strength and agility at a low cost.
The range boost is especially useful for Luna, as her own range is limited and she lacks any mobility options other than her fast movement speed to assist her get closer to foes. The equipment is especially important for pushing and battling in the early to mid game.

Manta Style
Manta Style: Manta Style is a key gear in most Luna games, providing her with increased damage, health, and movement speed. Manta Style's illusions are effective for pushing and improving damage output because they gain Moon Glaives as a passive.

Mask of Madness
Mask of Madness: With improved movement speed, attack speed, and lifesteal, Luna can farm neutral and lane creeps with Mask of Madness. In the late game, disassemble to develop Butterfly and Satanic.
Late game

Black King Bar
Black King Bar: With spell immunity, opponent disable countering, and strength, the Black King Bar increases Luna's durability.

Butterfly
Butterfly: Butterfly provides Luna with an excellent balance of strong damage and durability, as well as increased attack speed, damage, armor, and evasion.

Satanic
Satanic: Satanic provides Luna with much-needed survivability, providing her with a burst heal that allows her to survive massive amounts of damage in battle.
Situation items

Helm of the Dominator
Helm of the Dominator: Helm of the Dominator has a synergistic effect with Lunar Blessing, allowing you to dominate Alpha Wolf and enhance your damage even more.

Hurricane Pike
Hurricane Pike: Hurricane Pike is a situational upgrade of Dragon Lance. Luna can use Dragon Lance as a pursuit and fleeing tactic.

Eye of Skadi
Eye of Skadi: The slow effect will keep foes inside Luna's attack range, while the Eye of Skadi gives excellent attribute benefits that also aid illusions.

Aghanim's Scepter
Aghanim's Scepter: Eclipse's max single target damage is increased by Aghanim's Scepter. It's fantastic when your team has a strong initiator like Faceless Void and the opponent team has few options for avoiding a long-range Eclipse.
Enemies & Allies
Allies

Luna
Luna can remove Arc Warden's Tempest Double with her Moon Glaives.
Luna can battle Arc Warden inside his Magnetic Field due to her limited range and quick movement speed.

Bane
The vast cast range of the Lucent Beam makes it nearly hard for Bane to employ Fiend's Grip effectively against Luna's allies.

Bounty Hunter
Despite the fact that Luna is the type of hero that Bounty Hunter can handle because Shadow Walk protects him from Eclipse, Luna is a wise woman who will always purchase Dust of Appearance, allowing her to provide vision on him to her team and possibly kill Bounty Hunter with Eclipse.

Chen
Chen's creeps are quickly cleared by Moon Glaives, while Chen's allies are killed by Eclipse before he can respond.

Enchantress
Enchantress has a low HP, therefore Lucent Beam and Eclipse can easily destroy her.
Luna can quickly eliminate Enchantress' creeps with Moon Glaives.

Legion Commander
Eclipse can assist Luna win a Duel against Legion Commander if she can cast it in time.
If Luna isn't the intended target, she may easily win the fight for the ally using Lucent Beam and Eclipse.

Pugna
If Pugna does not have Black King Bar, Lucent Beam will always cancel Life Drain.
Due to Lucent Beam and Eclipse, Decrepify might be suicide versus Luna.
Nether Ward is vulnerable to Luna since she lacks skills that require a lot of mana.
Counters

Bristleback
Luna is harassed more effectively by Quill Spray and Bristleback than she is by Lucent Beam.
Bristleback can endure Luna's nukes while doing a lot of damage.
Nasal Goo and Warpath are enough to outrun a lightning-quick Luna.
Crimson Guard is an excellent defense against bouncing glaives, and Bristleback is a regular carrier of it.

Broodmother
Because Luna has no AoE abilities to destroy Spiderlings, her Spiderlings may aggressively harass Luna in lane.
Broodmother has the ability to easily tear down towers in the early game, limiting Luna's farming area.

Juggernaut
Luna is unable to readily defeat Healing Ward due to her limited range.
Blade Fury and Omnislash are both direct Eclipse counters that grant Juggernaut spell immunity.

Lina
Lina's magic burst damage is incredibly powerful, which she may exploit against Luna's limited health pool.
Laguna Blade may be upgraded with Aghanim's Scepter to circumvent Luna's Black King Bar, increasing Lina's danger.

Meepo
Because of his clones, Meepo can tank Eclipse.
The benefit of Luna's mobility is taken away by Earthbind.
With his global presence, Meepo can disable Luna's split-push ability.

Phantom Lancer
Phantom Lancer uses a variety of deceptions to counter Luna's Eclipse.
During Eclipse, Doppelganger can be employed to avoid a number of Lucent Beams.
Thanks to Phantom Rush and Spirit Lance, Phantom Lancer can easily follow Luna despite her fast movement speed.
Luna's limited health pool is readily abused by the enormous damage output from his illusions, even when her Moon Glaives remove his illusions rapidly.
Items Counter

Glimmer Cape
Glimmer Cape and Shadow Blade: Glimmer Cape and Shadow Blade are items that allow the opponent to become invisible. Moon Glaives will be disabled as a side effect of using Silver Edge.
However, Dust of Appearance can help to overcome this problem in part.

Necronomicon
Last Will and Necronomicon: Luna is heavily harmed by the Last Will of the Necronomicon fighter because of her low HP and high indiscriminate AoE damage.

Vanguard
Vanguard/Abyssal Blade/Crimson Guard: Damage from bouncing glaives is considerably reduced by Vanguard/Abyssal Blade/Crimson Guard.

Black King Bar
Black King Bar: Despite the fact that Black King Bar and other kinds of Spell Immunity prevent Luna's magical damage, they are not reduced by Luna's tremendous physical damage.

Ghost Scepter
Ghost Scepter and Ethereal Blade: Many carry the struggle to deal with heroes that purchase Ghost Scepter and Ethereal Blade. Items and abilities that transform the user ethereal, on the other hand, are worthless against Luna since she will do massive damage, especially when farming Aghanim's Scepter, and she will frequently utilize her magical damage to kill heroes.

Manta Style
Manta Style: Manta Style illusions are often flimsy, and Luna will readily demolish them. Unless you have natural illusions (Mirror Image, etc.) or illusion-related skills, avoid building Manta Style against Luna (e.g. Mana Break).

Linken's Sphere
Linken's Sphere: Luna can use Lucent Beam to put Linken's Sphere on cooldown, albeit the -4s talent for Lucent Beam is preferred for bursting Linken's Sphere.

Town Portal Scroll
Town Portal Scroll: Luna's Eclipse can be used to intercept heroes that utilize Town Portal Scroll and/or Boots of Travel to teleport. She can also employ Lucent Beam to thwart any efforts at escape.
Favorable Matchups

Crystal Maiden
Luna may use Arcane Aura to spam Lucent Beam more often.
Frostbite and Crystal Nova aid in the pursuit of heroes.

Keeper of the Light
Luna's mana pool may be sustained by Chakra Magic, and her nuke has a shockingly low cooldown (up to 0 seconds) in the early game. Illuminate Heal is also quite beneficial.

Night Stalker
The eclipse turns day into night, activating Night Stalker's Hunter in the Night for the extra ten seconds.
Both of them benefit from Dark Ascension's extended vision range.

Vengeful Spirit
Vengeance Luna's strike range and damage may be improved by using Aura. Early on, she may set up kills and utilize Nether Swap on Luna to help her get out of a tight spot and perhaps save her life.

Shadow Demon
Disruption has the ability to produce strong Luna illusions that also have her Moon Glaives, enabling for safe and quick tower pushing.
Game plan
Early game
The early game is when you should focus on farming, not being aggressive, you really don't have any defensive skills called high efficiency. Luna's gameplay is also quite boring like the Drow rangers, Dragon knights at all stages, because besides the farm farm with pushing the turret, Luna's gank ability is average poor with low mana and short attack range. (however, when you buy a bottle for Luna it's slightly improved, but still sida better than other pure gankers).
Luna is a hero that needs to farm a lot of items to be dominating, so if your teammates don't have anyone to effectively support your ganking, you just stick to the farm lane, earn lvl, have ulti. then pick up your ass and go get some lives and then farm again. Luna can go to the safe lane, solo mid is very good. Lucent beam (Q) is Luna's main damage skill in this phase, sometimes you can jerk the enemy's head to poke blood or finish the target if the opponent is negligent or you are supported by teammate.
Mid game
This stage is the period when you farm intensively (or farm compensating if the early game is a bit slow). Ask your teammates to fully ward, pay attention to the mini-map farm for safety, or push the lane to take down the enemy turret. When the ultimate is ready, why don't you go get some lives for yourself, especially the guys who are alone on the enemy team like roamer, support, jungler.
Always carry the Town portal scroll with you in all cases to avoid unfortunate things happening and increase the ability to roam the farm lane, lick Luna's combat to earn chips.
Late game
This is the time when you need to follow the team, or farm near your teammates so that you can receive timely support or assistance. If you go to split push, ask your support team to fully ward to ensure life. In teamfight or home defense, you take a good position to shoot, grab Lucent beam (Q) and drop ulti, shoot anyone, because your 2nd skill will bounce to the rest of the guys. The most important thing is that you have to hit many shots (pay attention to turn on bkb and Satanic at the right time lest you break your mouth). And when pushing, it's very simple, aim at the pillar to hit, anyone who dares to step in will probably eat the bouncing knife.