Lore & Bio
"All these fancy knights and scary monsters. Pff! What do they got that I ain't got? Nothing, that's what."
Life is all about who you know and what you can find, in my opinion. Just getting by in the Riftshadow Ruins can be challenging, let alone finding food. Therefore, you must be resourceful, economize, and be aware of your strengths. You need a way to catch the weak and avoid the strong since some of the creatures up there can kill you. The ruins do, however, contain history, and some people place a high value on history. There once stood a palace where all of these sinister rituals were performed. nasty stuff They would split your soul into pieces and shatter a crystal if you made it through the ritual unscathed. But they produced fantastic art! statues and the like. I'll tell you something: occasionally, you run across some of those ancient carvings. Sell a bunch of those in the city, then buy enough food for a few weeks. If you're really lucky, you might come across a Riftshadow crystal. Start by asking around and getting it appraised. There is always some crazy person looking for this kind of thing that someone knows. Sell it to a Magus the following time one is in town if all else fails. They adore that material. However, whatever you do, handle those crystals with caution. One going off on you wouldn't be good. It hurts a lot.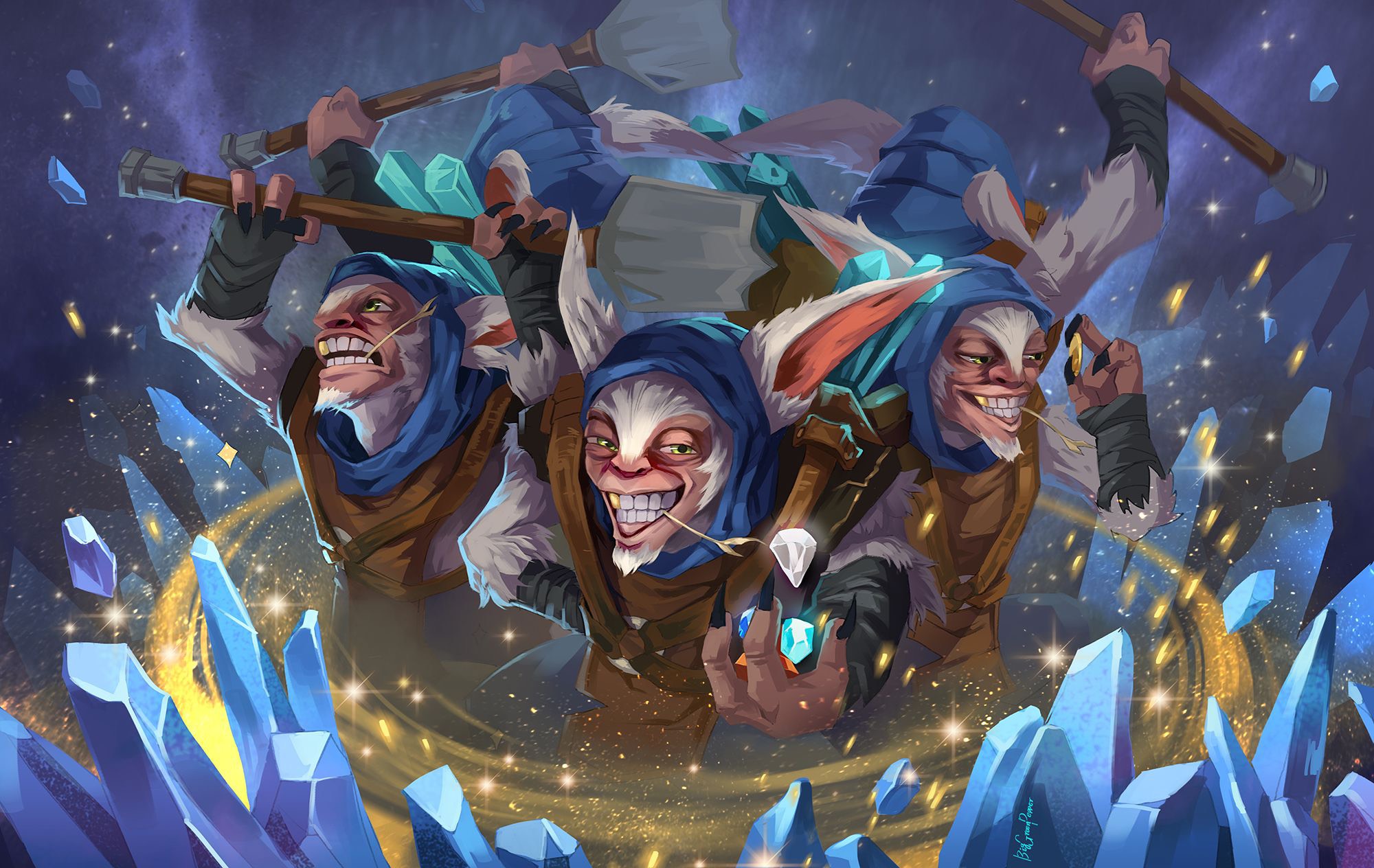 Attribute & Stats
Level: 0 1 15 25 30
Health: 200 680 1280 1960 2220
Health regen: +0.25 +2.65 +5.73 +9.13 +10.43
Mana: 75 315 627 999 1143
Mana regen: +0 +1 +2.33 +3.88 +4.46
Armor: 4 6.83 11.97 17.63 19.8
Damage Block: 16 (50%)
Magic Resistance: 25%
Status Resistance: 0%
Damage: 29‒35 46‒52 76‒82 110‒116 123‒129
Attack Rate: 0.59/s 0.69/s 0.87/s 1.07/s 1.15/s
Attack Range: 150 (600)
Attack Speed: 100 (1.7s BAT)
Attack Animation: 0.38+0.6
Projectile Speed: Instant.
Movement Speed: 330
Turn Rate: 0.7
Collision Size: 8
Vision Range: (G) 1800 • 800
Legs: 2
Gib Type: Default.
Ability Upgrades:
- Upgradable by Aghanim's Scepter - Dig.
- Upgradable by Aghanim's Shard - Divided We Stand.
Abilities & Talents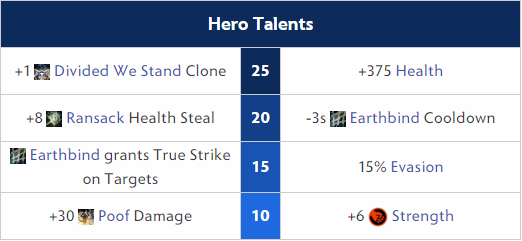 Skills building guide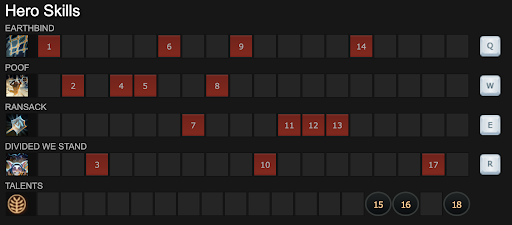 The skill build is self-expanding: as soon as possible, get your ulti and two maximum Poof. The only decision to be made is whether to choose Earthbind and Geostrike 1-1 at lower levels or to only receive one of these at a higher level (and max it after Poof). While maxing Geostrike might help a little with jungling, we can't disable anyone who isn't right in front of you without a level 4 Bind. Additionally, ganking power outweighs jungling speed (we will clear camps with Poof anyway).
Abilities

Earthbind
Cast Animation: 0.3+0
Cast Range: 500/750/1000/1250
Radius: 220
Duration: 2
Talent Accuracy: 100%
Cooldown: 20/16/12/8
Mana: 70/80/90/100
Effect: Tosses a net at the target point, entangling all hostile units nearby.
Poof
Cast Animation: 1.5+0
Cast Range: Global
Damage Radius: 400
Damage: 45/60/75/90
Cooldown: 12/10/8/6
Mana: 80
Effect: A Meepo can teleport to another Meepo or to itself after channeling for 1.5 seconds, dealing damage in both the destination and the departure locations.
Ransack
Hero Health Steal: 6/10/14/18
Creep Health Steal: 4/6/8/10
Effect: Each attack causes the enemy to lose health, after which all other Meepos are healed by that same amount.

Dig
Cast Animation: 0+0
Channel Time: 0.75
Max Health Restored: 60%
Duration: 4
Cooldown: 50
Mana: 125
Effect: Channels for 0.75 seconds while digging for 4 seconds, dispelling Meepo and rendering him defenseless and untargetable for that time. over that time, restores 60% of his maximum health. cannot be rooted and cast.

Divided We Stand
Mana: 75
Cast Animation: 0.2+0
Number of Meepo Clones: 1/2/3 (Talent 2/3/4)
Clone Experience Gain: 30%
Magic Resistance Bonus: 5%/10%/15%
Cooldown: 18/16/14
Effect: Meepo can summon a flawed, semi-autonomous copy of himself that shares his experience, traits, and skills and can accumulate gold and experience along with him. The only weapons the clones can use, though, are the boots that Meepo himself wears. They all perish if one of the clones perishes. Divided We Stand increases Magic Resistance for all Meepos.
Effective items guides
Early game

Boots of Speed
Boots of Speed: In the early game, increase Meepo's mobility to get around the jungle and lanes.

Wraith Band
Wraith Band: Gives all of Meepos' qualities, especially agility, for a low cost.

Bracer
Bracer: Is a stat item that can be used instead of the Wraith Band when Meepo and his clones prefer durability to damage.

Bottle
Bottle: Gives sustenance and keeps runes for useful times. To refill your bottle, you can always Poof to the fountain and back.

Town Portal Scroll
Town Portal Scroll: Meepo has a strong global presence when combined with Poof because he can disperse his clones across the map and Poof them to one another as necessary.
Mid game

Power Treads
Power Treads: Give all Meepos attack speed and attributes, increasing Meepo's ability to deal damage and switching attributes as necessary to give his clones more health, mana, or damage.

Diffusal Blade
Diffusal Blade: Gives all Meepos a sizable bonus to their agility, but Manabreak is excluded. To make netting much simpler to complete, combine Earthbind and the active Inhibit.

Blink Dagger
Blink Dagger: Is a potent initiation item that significantly increases Meepo's lethality and mobility. Meepo can cast Poof offensively to deal nuke damage and jump himself and his clones on top of an enemy by combining the Blink with a Poof from every clone.
Late game

Boots of Travel
Boots of Travel: Considering that every clone has its own cooldown, combines incredibly well with Poof to give Meepo tremendous global mobility.

Scythe of Vyse
Scythe of Vyse: The active gives Meepo an instant hard-disable to use against targets who are too slippery to catch with Earthbind, and provides attributes that benefit all Meepos.
Situation items

Dragon Lance
Dragon Lance: Gives Meepo and his clones strength and agility so they can tank up and deal more damage.

Eye of Skadi
Eye of Skadi: Increases the damage, attack speed, health, and mana of each Meepo clone while allowing the primary Meepo to slow enemies on contact.

Heart of Tarrasque
Heart of Tarrasque: When purchased on Meepo, the item's strength attribute benefits all of Meepo's clones, greatly enhancing their ability to survive. As a result, Meepo can fight for a lot longer because each clone is much more durable.

Aghanim's Scepter
Aghanim's Scepter: Meepo and each of his clones receive additional attributes and a new saving skill that, when used properly, increases their combat effectiveness and enables them to avoid nukes and disables.

Manta Style
Manta Style: Gives all Meepo clones attributes, especially Agility. The illusions will gain from Divided We Stand's attribute sharing and can be used as extra damage, decoys, or Poof targets.
Enemies & Allies
Allies

Disruptor
Meepo can land Earthbind with less difficulty thanks to Glimpse and Kinetic Field.

Static Storm can easily target enemies who are pinned by Earthbind, preventing them from retaliating against Meepo with disables.

Kunkka
It is simpler for Meepo to land Earthbind thanks to X Marks the Spot.

Meepo's kit works well with Ghostship and Torrent, enabling the two of them to take out a number of enemies quickly. Meepo and his clones are much more resistant to damage thanks to the Ghostship's rum buff.

Silencer
Many of Meepo's more dangerous counters, which use either area-of-effect disables or high area damage, are neutralized by Global Silence.

Sven
In order to set up Meepo's other abilities and enable the two of them to defeat the enemy, Storm Hammer locks down targets. Initiating with Earthbind allows Meepo to trap opponents and set up a multi-target Storm Hammer.

Meepo's clones are more resistant to physical damage thanks to the area armor buff from Warcry.

Dazzle
Meepo's best counters sometimes center on separating a real Meepo from his clones. When a Meepo clone is in trouble, Shallow Grave can rescue him.

Multiple Meepos are healed by Shadow Wave at once, extending his life. When ganking, Meepo frequently places his clones close to one another so that he can unleash a powerful burst of damage with Shadow Wave.

The armor reduction caused by Bad Juju helps Meepo and his clones' attack power to be amplified.
Counters

Axe
Multiple Meepos can be taken out and significant area damage can be dealt with the help of Counter Helix and Berserker's Call.

It is challenging to burst Axe down with Poof or slowly deplete his health with Ransack because of his high survival rate by nature.

Earthshaker
Anyone nearby will suffer terrible damage from Echo Slam when it hits a group of Meepos.

He may be able to stunlock any number of Meepos for a considerable amount of time, frequently long enough to kill one.

Elder Titan
Multiple Meepos can be completely shut down with an Echo Stomp for 5 seconds.

Meepo clones will be impacted by Astral Spirit because they are not considered illusions. Each Meepo has the potential to deal enormous amounts of damage, armor, and movement speed to an Elder Titan.

With Natural Order, Meepo is at a disadvantage because of Elder Titan's aura, which completely negates his base armor and magic resistance. Depending on how much damage he receives from Astral Spirit, Elder Titan can quickly kill any Meepo by combining Astral Spirit and Natural Order.

Due to Natural Order, Earth Splitter deals over 30%/40%/50% of each Meepo's maximum health, and it is even more potent if the Meepos are close to Elder Titan.

Ember Spirit
Battle Fury enhances Sleight of Fist icon Meepo can be easily defeated by Battle Fury and Daedalus if the clones are clustered together.

Meepo's initiating is stopped by Searing Chains because Meepo's clones lack spell immunity.

Kunkka
Meepo's clones can be quickly worn down by Tidebringer's cleave damage. Because of his melee range and initially low health pool, it can also cause problems for Meepo in the lane.

Meepo can be effectively disabled by Ghostship and Torrent while taking a lot of damage.

X Marks the Spot foils any Poof-based escape attempts.

Lion
Meepo will be an easy target for Earth Spike & AoE Hex from his level 25 talent if he manages to gank Lion with Poof and Earthbind.

Mars
Meepo and his clones try to attack, but Bulwark repels them.

Meepo and his clones are prevented from being initiated or escaping by Spear of Mars & God's Rebuke.

Monkey King
He can pursue a Meepo that is fleeing thanks to Tree Dance and Primal Spring.

Boundless Strike receives critical strike bonuses, and Wukong's Command has a high rate of success against Meepo and his clones.

Pangolier
Even for a Meepo with a high magic resistance, Pangolier is lethal due to his arsenal's capacity for dealing heavy damage over a wide area.

Shield Crash can quickly grant him an absurd 90% damage resistance, turning him into a Pangolier who is all but unkillable in a short period of time.

Meepo cannot initiate or escape while Rolling Thunder is active.

Swashbuckle is able to hit every Meepo clone.

Meepo's clones can be disarmed by Lucky Shot.

Phantom Assassin
Phantom Strike gives Phantom Assassin permission to climb on his replicas.

Meepo's low health reserve can be destroyed by a critical Coup de Grace strike.

Sven
Meepo and his clones can be quickly defeated by Great Cleave and God's Strength.

Storm Hammer can harm Meepo's clones because they lack spell immunity.

Techies
Mines in close proximity, far away, and blast off! can deal numerous Meepos significant magic damage.

Venomancer
Poofing and Earthbinding Venomancer aggressively won't work because he will be a simple target for Poison Nova.

Meepo's mobility is significantly reduced by Venomancer's constant slows.

Viper
Ransack is unable to steal life thanks to Nethertoxin.

Meepo and his clones are susceptible to Poison Attack & Viper Strike directed at one clone because they lack magic resistance.

Winter Wyvern
Meepo and any of his close allies are pretty much doomed after the late game spell Winter's Curse. If she can get it on one of your clones, she won't care about natural counters to Winter's Curse like Linken's Sphere or Lotus Orb.
Items Counter

Black King Bar
Black King Bar: Can shield a hero from Earthbind and Poof.

Scythe of Vyse
Scythe of Vyse: Can prevent a lone Meepo from making their escape with Poof.

Manta Style
Manta Style: Can remove Earthbind from yourself or your allies.
Favorable Matchups

Anti-Mage
Anti-Mage can be killed by Meepo using attacks and Ransack if Earthbind stops him from using Blink.

Legion Commander
The Legion Commander can use his other Meepos to kill a Meepo when he uses Duel on one of them. If he wasn't dueled, he could assist the teammate who was dueled in taking Legion Commander's damage instead of the teammate.

However, if Legion Commander were to pick up an Aghanim's Scepter and engage in combat with Meepo, Meepo might lose if Legion had managed to accumulate enough damage from earlier encounters.

Phantom Lancer
Phantom Lancer's illusions will be quickly dispelled by Poof.

Phantom Lancer is prevented from using Doppelganger by Earthbind.

Phoenix
Phoenix's only means of escape is Icarus Dive, which Earthbind can stop him from using.

Phoenix can be easily killed by Poof's powerful burst damage, even when it slows down all the Meepos with Fire Spirits.

Even when they are slowed down by Fire Spirits, Meepo's clones easily destroy the Phoenix Sun from Supernova.

Meepo's innately high magic resistance makes it difficult for Phoenix to burst him to pieces. If Icarus Dive is on cooldown, he can even reverse the situation.

Queen of Pain
She cannot use Blink because of Chain of Earthbinds, so Meepo can easily finish her off with Poof and other attacks.

Meepo favors purchasing goods with traits, which reduces the magical burst caused by the Queen of Pain.

Shadow Demon
Shadow Demon's illusions will be destroyed by Poof as he swiftly flees from Shadow Poison and Demonic Purge.

Storm Spirit
Like any root, Earthbind prevents the use of Ball Lightning, which renders Storm Spirit immobile.
Game plan
Early game
In order to prevent any ganks, head off with your carry after purchasing your starting items and prepare to use ensnare. If used properly, a 2 second aoe disable can frequently stop ganks. Although pulling the easy camp when your lane pushes past the side shop helps you get your early tranquil boots, you really don't need much cs to be effective. If it is safe to do so, make sure you are sitting the runes every two minutes. Until you reach level 3, you can only keep your lane alive and pull waves to earn a few cs.
Once you reach level 3, use a smoke to gank with your primary Meepo. Just sit in the trees ready to ensnare if the enemy is pushing into your offlane tower because they will probably be diving your offlane hero. It should be possible for your offlane to take the lead in their lane thanks to the tower damage, your creep wave, and the damage you and your ally deal to them. If at all possible, make sure to grab bounty runes in between ganks, and if they ever cross the river, gank them in the middle.
Although you can't defend cliffs as a melee hero, advise the other support to buy sentries instead of upgrading the courier for your team. Additionally, always have teleport scrolls on hand because you want to try to be everywhere at once.
Start buying your cheap items, but don't stay in your lane for too long if you're not there to kill someone; otherwise, you'll just be gaining experience, which could be detrimental. Take advantage of a lane that opens up because an ally is returning to base or heading into the jungle, but leave one Meepo roaming.
Mid game
With level 4 poofs, you have a ton of kill potential once you reach level 10. You ought to be either still roaming between lanes or jungling with two Meepos so you can buy your mek.
You can now play in three lanes simultaneously, allowing you to respond to any aggression or potential dives from the opposing teams. For your team to gain more gold, it is a good idea to stack with at least one Meepo. You can stack with more than one Meepo at once, but you will need to practice Control Shift commands to time it properly.
If your team can use a force staff and needs assistance positioning, go for it. However, if your team needs a follow-up initiative from heroes like "Enigma" that can set up a team fight, get a blink dagger instead. More frequently, blink is a much better but more difficult to find item.
When the enemy supports are still levels behind you and don't have their mid-game core items, you will be at your strongest. Once you have your mek, make sure to push with your team and look for teamfights. Playing a support Meepo won't cause you to level up quickly, but once midgame is over, you'll start to have a big level advantage.
Late game
At this point, you serve as your team's living aura. You should have everything your team requires. Make sure you are farming in three different locations while you wait for teamfights to occur. At this point, you can easily transition into a carry because you can catch up with Meepo very quickly. Drums, Mek, Vlads, Scythe, etc. will also need some sustain for themselves.
When the enemy is on your side of the map, farm in various locations while hiding in the trees. One of the great things about this hero is that he respawns very quickly so if you die but your enemy team hasn't advanced past the river, your team should be able to defend uphill. Blink poof comboing with 4 or 5 Meepo's can almost instantly kill any agility or int hero late game.
Choose Boots of Travel for your team if the match will involve split pushing. You can frequently win the game if you teamwipe the opposition and push a lane to their T3 if you have this item.