Lore & Bio
"The self-righteous shall choke on their sanctimony."
Terrorblade, a demon living outlaw of the Underworld, even other demons have to fear him. But he made a mistake when he dared to steal the Demon Lord's things and was punished for his crimes. Even hell has its own hell, Terrorblade is imprisoned in Foulfell.
But Foulfell is not an ordinary prison, the demons imprisoned here all have to look in the mirror that reflects the evil and disease in the souls of the demons, causing great fear and pain for the demons. demons by their own souls.
But Terrorblade not only feels no pain, he overpowers his most fearsome soul and uses that copy to cause terror to all creatures.
Deep in the depths of hell, Terrorblade is imprisoned behind rugged walls, forever tormented mentally by his crimes through the mirror at Foulfell. He looked at his worst reflection day by day, and the shadow in the mirror looked at him too, and so on and then one day they fused together, rising up and stronger than ever...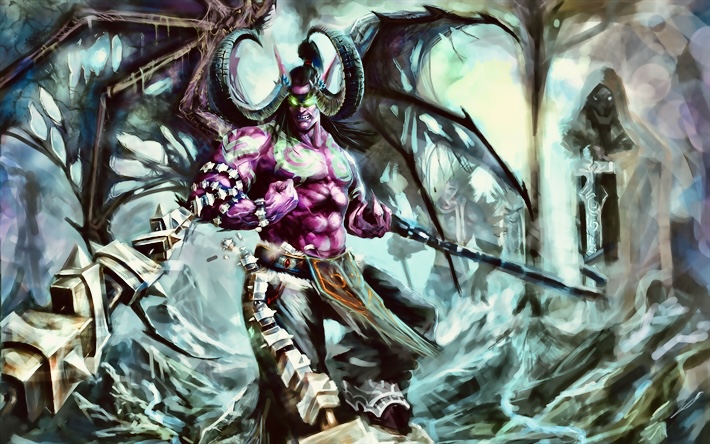 Attribute & Stats
Level: 0 1 15 25 30
Health: 200 520 1080 1720 1960
Health regen: +1 +2.6 +5.4 +8.6 +9.8
Mana: 75 567 903 1023
Mana regen: +0 +0.95 +2.07 +3.47 +3.97
Armor: 5 8.67 18.93 28.27 32.27
Damage Block: 16 (50%)
Magic Resistance: 25%
Status Resistance: 0%
Damage: 30‒36 52‒58 113‒119 169‒175 193‒199
Attack Rate: 0.67/s 0.81/s 1.22/s 1.6/s 1.76/s
Attack Range: 150 (600)
Attack Speed: 100 (1.5s BAT)
Attack Animation: 0.3+0.6
Projectile Speed: Instant
Movement Speed: 315
Turn Rate: 0.6
Collision Size: 24
Vision Range: 1800 • 800
Legs: 2
Gib Type: Ethereal.
Ability Upgrades:
Upgradable by Aghanim's Scepter - Terror Wave.

Upgradable by Aghanim's Shard - Demon Zeal.
Abilities & Talents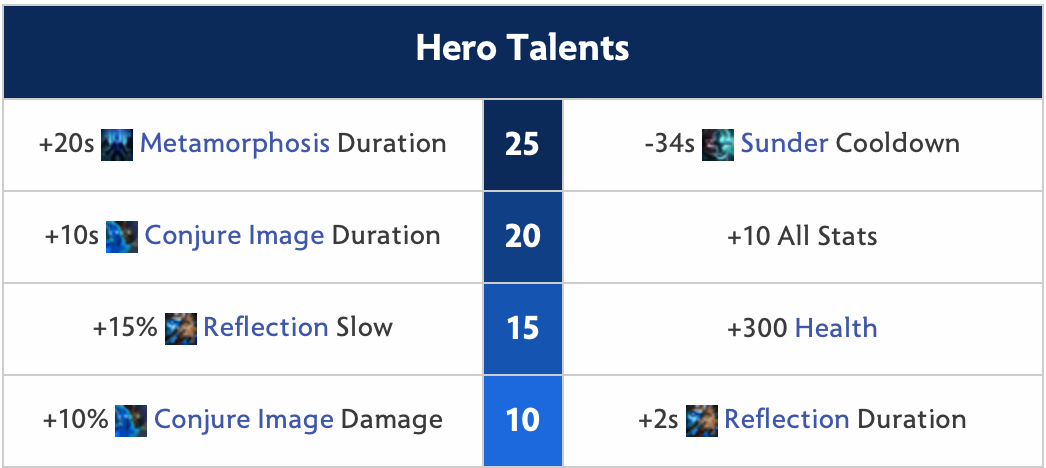 Skills building guide

You can get Metamorphosis (E) first or Reflection (Q) first, that's okay, it's best to just leave the level 1 bonus there, as long as it's nothing special, until the creeps come out to fight. it's not too late to add.
Maximize Metamorphosis (E) first to get bonus damage from this ability, note the bonus damage here is white damage and clones benefit from this % damage. Then maximize Conjure Image (W), combining these two things makes TB and clones hit harder, increasing the ability to push the pillar push line. Reflection (Q) can be maxed out at the end, Sunder (R) gets the right level to cheat.
Abilities

Reflection
Cost: 50 mana.
Cooldown: 22/20/18/16 seconds.
Effect Range: 900 distances.
Effect: casts a target-like illusion on all nearby enemy champions, slowing the opponent's movement and attack speed, this illusion will continuously attack that champion until it disappears. This illusion cannot be attacked.
Impact duration: 2.5/3.5/4.5/5.5 seconds.
Movement Speed Slow: 25%
Attack Speed Slow: 25
Illusion Damage: 40%/60%/80%/100%
Blocked by magic immunity state and solvable by spells, debuff debuff equipment.

Conjure Image
Consumption: 80 mana.
Cooldown: 16 seconds.
Effect: Creates a battle clone for TB.
Clone duration: 32 seconds.
Clone damage: 30/40/50/60%
Clone damage taken: 425%

Metamorphosis
Consumption: 50 mana.
Cooldown: 140 seconds.
Effect: he transforms into a true demon, increasing attack range, base attack speed, and damage but becoming slower to move. All clones standing around him will automatically change to this form.
Effective radius: 900
Duration: 40/44/48/52 seconds.
Bonus Damage: 20/40/60/80
Switched Attack Range: 550
BAT conversion: 1.6
Movement speed reduced: 25

Sunder
Cost: 200/100/0 mana.
Cooldown: 120/80/40 seconds.
Cast Range: 550 range.
Effect: TB swaps his own health with 1 random target champion (can be used on clones), the amount of swap health received by the enemy cannot be reduced by more than a certain %.
Minimum amount of health received by the target: 25%

Demon Zeal
Cast Animation: 0.2+0.5
Current Health as Cost: 20%
Move Speed Bonus: 50
Attack Speed Bonus: 50
Melee Bonus: 100%
Duration: 7
Effect: Casting this spell costs 20% of Terrorblade's current HP, banishing him and giving him +50 Movement and +50 Attack Speed for 7 seconds. While in melee, gives you a 100% boost. 14-minute cooldown.

Terror Wave
Cast Animation: 0+0
Radius: 1600
Effect Delay: 0.6
Metamorphosis Duration: 10
Fear Duration: 2.5
Effect: Terrorblade Metamorphosis is granted for 10 seconds and causes a wave to flow outwards in all directions, causing opponent heroes to become frightened upon hit.
Effective items guides
Early game

Boots of Speed
Boots of Speed: Boots of Speed increase your movement speed.

Magic Wand
Magic Wand: Terrorblade's HP and mana are restored using the Magic Wand's characteristics and charges.
Mid game

Power Treads
Power Treads: His illusions benefit from the attack speed and characteristics provided by Power Treads.

Dragon Lance
Dragon Lance: In Metamorphosis, Dragon Lance substantially boosts attack range, allowing Terrorblade and his illusions to strike towers from a safer distance. He has the option of upgrading the item to Hurricane Pike or dismantling it to create Black King Bar and Yasha.

Manta Style
Manta Style: You may have even more illusions using Manta Style. If Terrorblade uses the item while in melee form and then casts Metamorphosis to convert all to ranged illusions, he can obtain greater illusions and a shorter cooldown.
Late game

Eye of Skadi
Eye of Skadi: Eye of Skadi provides a lot of qualities that help bulk up his illusions, and its sluggish attack and movement speed works well with Metamorphosis to put opponent heroes to a standstill.

Black King Bar
Black King Bar: When Terrorblade's health is low enough to merit using Sunder, Black King Bar stops him from being stunned or silenced.

Butterfly
Butterfly: Butterfly benefits illusions by providing agility for harm and evasion for defense.
Situation items

Quelling Blade
Quelling Blade: Last-hit grabbing is much easier with Quelling Blade.

Diffusal Blade
Diffusal Blade: Diffusal Blade provides agility and Manabreak, both of which enhance damage on Terrorblade and illusions; the active can also delay enemy targets, preventing them from retaliating quickly.

Hurricane Pike
Hurricane Pike: Upgraded from Dragon Lance, Hurricane Pike provides characteristics, attack range, and a means to place Terrorblade to pop opponent Linken's Sphere.

Sange and Yasha
Sange and Yasha: Terrorblade and his illusions have qualities thanks to Sange and Yasha.

Boots of Travel
Boots of Travel: Early purchases of Boots of Travel can assist Terrorblade with split pushing and farming.

Linken's Sphere
Linken's Sphere: The characteristics, regeneration, and Spellblock provided by Linken's Sphere shield Terrorblade against most targeted abilities, boosting the possibility of Sunder success.

Blink Dagger
Blink Dagger: Terrorblade can leap right after casting Metamorphosis with Blink Dagger, forcing weaker adversaries to face you and your illusions one-on-one. Terrorblade may shift the tides in their favor when coupled with Terror Wave, which was released after Aghanim's Scepter and serves as a replacement for Metamorphosis. Terrorblade can pick between a Swift Blink, which raises his already-high attack damage and attack speed while also offering added movement speed to hunt down fleeing foes, and an Overwhelming Blink, which provides an immediate magical damage burst and improves his teamfight sustainability.
Enemies & Allies
Allies

Ancient Apparition
Ice Blast has no effect on Sunder, and he will continue to swap health with any target as usual.

Bane.

Terrorblade's spammable illusions may quickly clear Nightmare.

Bane's damage is almost entirely composed of single-target effects. Terrorblade is nearly always able to pull off a Sunder.

Viper.

Viper's damage is solely based on damage-over-time effects on a single target. Terrorblade can also nearly always get a Sunder off without any heavy disables.

Techies
Terrorblade under Metamorphosis may swiftly kill Viper due to Viper's restricted mobility and the fact that Corrosive Skin does not defend against physical damage.

Shadow Fiend
Terrorblade's spammable illusions may demolish Techies' mines.
Terrorblade may push without worry of being killed by mines; instead, he can utilize his illusions to do it.

Pudge
The Presence of the Dark Lord is affected by Shadow Fiend's Reflection, decreasing his armor and making it easier for Terrorblade to destroy him. Shadow Fiend also lacks the necessary survivability and control abilities to flee.

Shadow Fiend will struggle against Terrorblade's high armor if he opts to adopt a right-click build.

Anti-Mage
Pudge is vulnerable to Terrorblade's right-clicks because of his poor armor and agility.
It's far more difficult to land Meat Hook on the genuine Terrorblade if he's surrounded by illusions.
Because Dismember only affects one hero at a time, Terrorblade's illusions may be able to save the actual Terrorblade if he is trapped in it.

Sniper
Mana Break is also carried by Reflection's illusion, making it beneficial in battle.
At any point during the game, Anti-Mage is unable to battle Terrorblade alone.
Counters

Drow Ranger
The Drow Ranger's marksmanship allows him to breach Terrorblade's high natural base armor. Terrorblade is weak to Drow since he doesn't like to acquire armor equipment like Assault Cuirass.

Terrorblade is unable to use Sunder due to Gust.

Earth Spirit
Terrorblade is unable to use Sunder due to Rolling Boulder and Geomagnetic Grip.

Axe
Terrorblade may be destroyed by Berserker's Call and Counter Helix when used combined, especially if Terrorblade has a lot of illusions. Counter Helix will be triggered frequently due to their rapid attack speed, and the sheer damage will quickly slash through Terrorblade's minimal health and kill his illusions. More crucially, the taunt defeats Terrorblade's single survival item, the Black King Bar, which he probably uses to do damage rather than cleanse debuffs. Terrorblade can be killed even before the taunt time expires if teammates do enough burst damage.

Due to Terrorblade's low health in the early to mid game, Culling Blade kills him before he can Sunder.

Elder Titan
Before Terrorblade can Sunder, the other team can use Echo Stomp and Astral Spirit to coordinate a kill on him.

Terrorblade's armor is crippled by Natural Order, which he desperately needs to survive owing to his poor strength increase.

Ursa
Before Terrorblade has Sunder, Ursa delivers a lot of damage during the laning phase.

Ursa can live after Terrorblade has used Sunder thanks to Enrage's damage reduction.

Lina
Due to its powerful magical (pure with Aghanim's Scepter) burst damage, Laguna Blade is one of the greatest tools for killing Terrorblade before he can use Sunder.

Lina may use Dragon Slave to erase Terrorblade's illusions from Manta Style and Conjure Image.

Dark Seer
The Vacuum and Ion Shell of Dark Seer let him remove a wave of Terrorblade's illusions.

Terrorblade illusions may be strengthened by using the Wall of Replica.

Terrorblade will be slain before he has a chance to utilize Sunder if Dark Seer can use Vacuum to assist allies in landing their AoE abilities.
Items Counter

Ethereal Blade
Ethereal Blade and Dagon: Ethereal Blade and Dagon are highly good at breaking down Terrorblade before he can use Sunder to rescue himself. Furthermore, they are both effective against him in different ways: the former may be utilized to shield the targeted hero after Terrorblade has used Sunder on him. It can also be used to disarm Terrorblade and make him more vulnerable to magic damage (assuming he doesn't have any dispelling items), and aside from Sunder, Terrorblade has no other way of dealing damage than direct attacks, whereas the latter can instantly destroy illusions upon casting and kill real Terrorblade before he can use Sunder to save himself.

Monkey King Bar
Monkey King Bar: The Monkey King Bar is a right-click item that allows players to perform magical damage while avoiding Terrorblade's high armor.

Linken's Sphere
Linken's Sphere: Sunder will be prevented by Linken's Sphere, and Terrorblade has no way to spend its cooldown. Furthermore. Terrorblade despises buying single-target items, which are the only way to explode it.

Orchid Malevolence
Orchid Malevolence: Terrorblade will be unable to use his powers due to Orchid Malevolence.

Scythe of Vyse
Scythe of Vyse: Terrorblade will be unable to use both abilities and items as a result of Scythe of Vyse and Nullifier.

Maelstrom
Maelstrom and Mjollnir: Maelstrom and Mjollnir have a lot of power when it comes to dispelling illusions.

Satanic
Satanic: Satanic has the ability to swiftly negate the effects of Sunder.

Skull Basher
Skull Basher and Abyssal Blade: Terrorblade's abilities and attacks may be prevented by Skull Basher and Abyssal Blade. This item is very useful for heroes that have a fast attack speed and great attack damage.

Black King Bar
Black King Bar: Heroes that have the Black King Bar can defend themselves against Terrorblade's powers.
Favorable Matchups

Dazzle
Terrorblade is protected from death by Shallow Grave, which gives him extra time to perform his Sunder and leaves his Sundered opponent with the lowest possible HP.

Oracle
Terrorblade's vulnerability to magic damage is mitigated by Fate's Edict.

Terrorblade may be kept alive by False Promise, allowing him to cast Sunder.

Shadow Demon
Terrorblade's vulnerability to magic damage is mitigated by Fate's Edict.

Terrorblade may be kept alive by False Promise, allowing him to cast Sunder.

Necrophos
A Terrorblade with low HP can use Sunder on a high-HP enemy hero, followed by a Reaper's Scythe from an ally Necrophos, nearly ensuring the opponent hero's death.
Game plan
Early game
Earning money is the carry's job forever, but when you have Metamorphosis and the support of your teammates, you can be aggressive early, because considering the 2nd skill level at lv3, Metamorphosis gives you 40 kills bonus damage and also gives 1.6x base attack speed, so it's good to be able to kill right now if you have the support of your lane teammates. When you have the basic equipment, you can go to the jungle if you want to be safe (remember to ask support to put wards at the entrances to the forest).
Mid game
At this point, once you have your Manta style, you can stick to 1 lane to push straight very well with extremely high speed (in one game I took out all 3 enemy turrets in less than 4 minutes) in 1 lane). The push is very simple: when your creeps are close to entering the enemy turret, turn Metamorphosis up, create a clone using Manta style, and pull all focus to the turret. The money gained from pushing lanes and pushing towers will allow you to buy Eye of Skadi very quickly. Sometimes you can join a few teamfights during this phase.
Late game
With your teammates pushing all the way in this phase, with this phase you can buy Boots of Travel, you have the ability to push 2 lanes at once and be present to participate in teamfights when needed. Don't forget to control Roshan. TB's def ability is also very good when your job is just to create clones and pull out to fight soldiers, very safe.