Lore & Bio
"You can learn faith at the end of a sword."
Born in the godless wasteland of Hazhdal Barrens, Chen grew up among tribes of outlaws who struggled to make ends meet in the blazing desert sun. Using ancient techniques to manipulate animals, Chen's tribe tamed the hardy desert locust, a stunted breed of earth dragon that can melt desert sand into glass tubes to store water, which is extremely precious in this place where it only rains twice a year. Always on the verge of starvation and thirst, having to fight for each other and fight with neighboring tribes to survive, Chen's tribe made the mistake, on that fateful day, by choosing the wrong group. travel to attack.
In the fierce battle that followed, Chen's tribe was completely overwhelmed. The paladins Knights of the Fold in full armor annihilated the locust with ease, the attackers falling layer after layer. When the dragons fell, the people of the Clan suffered the same fate. Chen had fought, struggled, scratched, torn to pieces – it was supposed to happen. But no, kneeling in the posture of a defeated man, he faced the execution with extraordinary composure, neck stretched out ready to take the blade down. Moved by Chen's bravery, the executioner stopped his sword. Instead of his head being removed from his neck, Chen was given a choice: Die or convert. Chen embraced the new faith with extreme brutality. He joined the knight order and received uniform rank after each bloody conversion conquest. Now, with a convert's fanaticism and his ability to manipulate animals at their peak, he hunts down the unbelievers and enlightens them to ultimate enlightenment.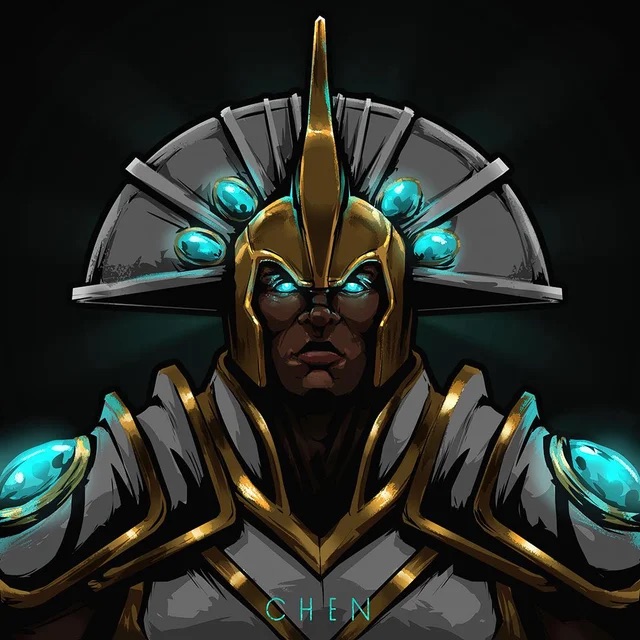 Attribute & Stats
Level: 0 1 15 25 30
Health: 200 700 1260 1900 2140
Health regen: +0.25 +2.75 +5.55 +8.75 +9.95
Mana: 75 303 831 1359 1575
Mana regen: +0.5 +1.45 +3.69 +5.89 +6.79
Armor: -1 1.5 6.4 11.9 13.98
Damage Block: -
Magic Resistance: 25%
Status Resistance: 0%
Damage: 27‒37 46‒56 90‒100 134‒144 152‒162
Attack Rate: 0.59/s 0.68/s 0.85/s 1.04/s 1.12/s
Attack Range: 650 (800)
Attack Speed: 100 (1.7s BAT)
Attack Animation: 0.5+0.5
Projectile Speed: 1100
Movement Speed: 300
Turn Rate: 0.6
Collision Size: 24
Vision Range: 1800 • 800
Legs: 2
Gib Type: Default
Ability Upgrades:
Upgradable by Aghanim's Scepter - Hand of God

Upgradable by Aghanim's Shard - Holy Persuasion
Abilities & Talents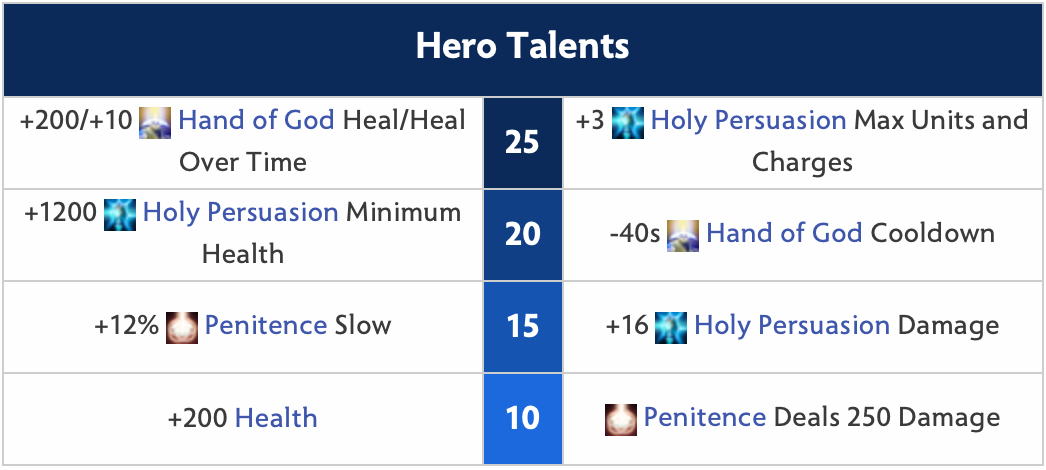 Skills building guide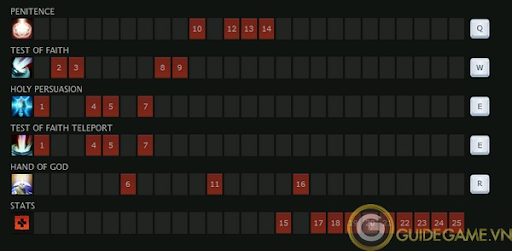 Why not get Penitence at first levels even though it's Chen's only control skill? Simply because Holy persuasion captures jungle monsters, and jungle monsters lack control skills (binding, purge, stun, slow of all types). Prioritize maxing Test of Faith with Holy persuasion first, ultimate get the correct level.
Abilities

Penitence
Consumption: 100 mana.
Cooldown: 14/13/12/11 seconds.
Cast Range: 800 distances.
Effect: debilitates the target, causing them to have their movement speed reduced and take extra damage if attacked during the skill's duration.
Movement Slow: 15%/20%/25%/30%
Bonus Damage: 15%/20%/25%/30%
Impact duration: 5/6/7/8 seconds.

Holy Persuasion
Consumption: 100 mana.
Cooldown: 30/26/22/18 seconds.
Casting Range: 800
Effect: himself as an adept herder, with this skill, Chen can capture enemy units or monsters, and increase their health.
Maximum number of units captured: 1/2/3/4
Minimum health when recovered: 700/800/900/1000
Upgraded by Aghanim's Scepter:
Effect: Allows Chen to subjugate Ancient forest monsters.
Note: if the unit's HP captured by Chen is less than 700/800/900/1000 health, their HP will jump to that mark, but for captured units that have more health 700/800/900/1000, that unit will keep its health. When Chen captures more units than the allowed number of units of this skill, the unit that Chen captures first will roll to death. Chen can use this skill to capture clones.

Hand of God
Cost: 200/300/400 mana.
Cooldown: 160/140/120 seconds.
Effect: heals all allied champions and units under Chen's control on the entire map.
Heal: 200/300/400 for champions and 100% for units Chen controls.
Upgraded by Aghanim's Scepter:
Cooldown: 30 seconds.

Divine Favor
Radius: 1200
Health Regen Bonus: 1.5/3/4.5/6
Armor Bonus: 1/2/3/4
Aura Linger Duration: 0.5
Effect: Aura of improved health regeneration and armor is passively provided.
Effective items guides
Early game

Boots of Speed
Boots of Speed: Chen's Boots of Speed increases his movement speed, which is useful for getting between jungle camps faster and rotating for ganks with his creeps. Getting close enough to cast Penitence on an enemy hero can cause them to slow down enough for follow-up attacks.

Medallion of Courage
Medallion of Courage: When paired with Penitence's attack speed bonus, Medallion of Courage delivers an armor debuff to hostile targets, allowing you to kill them faster. It also gives an ally unit an armor boost, which may allow them to take tower blows while pushing. If Chen desires the slow, he can upgrade the item to Solar Crest later.
Mid game

Arcane Boots
Arcane Boots: Chen's and his creeps' mana pools are replenished by Arcane Boots, ensuring that abilities are always available to use. Additionally, keeping teammates' mana pools full helps them to utilize their abilities more frequently, which is beneficial when pushing towers.

Mekansm
Mekansm : When Chen buys Mekansm early enough, he may swiftly knock down towers while healing his creeps and allies, preventing the enemy from simply defending. It grants Chen an extra ability to heal his team in teamfights, in addition to Hand of God and Divine Favor.
Late game

Aghanim's Scepter
Aghanim's Scepter: Hand of God may use Aghanim's Scepter to apply a Strong Dispel, allowing him and his team to withstand confrontations with strong disables.

Guardian Greaves
Guardian Greaves: Chen saves an inventory slot by wearing Guardian Greaves, which combines Mekansm and Arcane Boots. Chen's squad has a survivability advantage in battles thanks to the aura, while the active heals them, restores mana, and removes debuffs on Chen that may be hindering him from helping his team.

Holy Locket
Holy Locket: Holy Locket is a good choice because it boosts your HP and Mana pool, adds some extra stats, boosts HP regeneration, and has an active that restores up to 300 HP and mana when fully charged. The true power of this item comes from the 35 percent heal amplification it provides, which also applies to Mekansm and Guardian Greaves; this item grants massive burst healing, considerably improving your survivability and supporting abilities.
Situation items

Sentry Ward
Sentry Wards: Sentry Wards should be acquired in tandem with Observer Wards on a frequent basis to prevent enemy map visibility. Additionally, they may be required to clear any opponent wards that are obstructing Chen's neutral camps and preventing him from farming during the laning stage.

Vladmir's Offering
Vladmir's Offering: Vladmir's Offering is a powerful teamfight and pushing aura that benefits Chen's creeps and allies significantly. The armor aura boosts their resistance to physical attacks and tower hits, while the mana aura allows them to recover mana more quickly for casting spells. Creeps, both converted and friendly lane creeps, as well as heroes, can use lifesteal to keep their HP during pushes and become a stronger danger to towers.

Helm of the Dominator
Helm of the Dominator: The Helm of the Dominator adds another creep, as well as strong characteristics, attack speed, and a health regeneration aura.

Drum of Endurance
Drum of Endurance: Chen gains qualities from the Drum of Endurance, including increased durability and a greater mana pool. Chen and his creeps may be able to move more quickly as a result of the active, allowing them to track down a gank target or flee opposing pursuers.

Pipe of Insight
Pipe of Insight: The Pipe of Insight is an extremely effective teamfight item. It increases Chen's magic resistance while also giving an aura that provides health regeneration and magic resistance to his team and creeps. The active may be employed to defend his congregation, preventing the enemy from exploding them with magic nukes in an instant.

Solar Crest
Solar Crest: Chen can use Solar Crest to provide an armor debuff on an adversary from a distance. Chen may also use it to offer armor, attack speed, and movement speed to ally targets, keeping them alive and bolstering them during clashes and pushes.

Ghost Scepter
Ghost Scepter: Chen may use the Ghost Scepter to temporarily avoid physical damage, which is useful for increasing his combat durability. Chen's inability to attack poses little of a problem for him because he prefers to use his spells and his creeps' abilities over physical combat.

Glimmer Cape
Glimmer Cape: Chen may use the Glimmer Cape to shield his allies from the enemy by cloaking them in invisibility and enhancing their spell resistance. The active can also be used on a converted creep to assist it in approaching an adversary in order to launch a disable.

Force Staff
Force Staff: In Chen's hands, the Force Staff is extremely strong. It increases Chen's intellect and life regeneration, making it easier for him to cast spells. The active can swiftly reposition Chen to initiate or flee, and teammates can do the same. The active may also be used on a creep to give it a rapid burst of movement to get it close enough to deactivate it.

Eul's Scepter of Divinity
Eul's Scepter of Divinity: Eul's Scepter of Divinity is a low-cost mana item that provides Chen with a number of useful abilities. Chen's increased intelligence and mana regen allow him to cast spells more frequently, while the bonus movement speed aids in ganking, chasing, and escaping. He can also use the active to make himself temporarily invulnerable if he is jumped on by an enemy, to remove debuffs from himself, or to disable an enemy long enough for a creep to disable them further.

Heaven's Halberd
Heaven's Halberd: Chen's Heaven's Halberd is a survivability and support item that increases his usefulness. Chen can escape opponent assaults thanks to his increased strength, status resistance, and evasion, and the active allows him to disarm the enemy from a distance, stopping them from striking.

Shiva's Guard
Shiva's Guard: Chen gains a powerful teamfight aura as well as powerful benefits from Shiva's Guard. The increased intellect boosts his mana pool significantly, while the armor boosts his physical damage resistance. The aura makes opponent assaults less effective, and the active ability can limit their movement speed and apply a damage nuke to them.

Scythe of Vyse
Scythe of Vyse: Chen gains all-around traits and considerably enhanced casting ability with Scythe of Vyse. Chen gets a targeted immediate hard-disable from the Hex, which is extremely useful in teamfights and ganks because it can create chain-disables with Chen's creeps.
Enemies & Allies
Allies

Techies
His creeps can waste them by triggering Proximity Mines and Stasis Trap.

Arc Warden
Until Arc Warden buys Maelstrom, Chen is a faster pusher than Arc Warden in the early game.

Beastmaster
Chen can take possession of the Boar at any point in Call of the Wild Boar.

Clockwerk
Chen can frequently save a trapped ally with Hand of God because of Clockwerk's delayed damage output.

Clockwerk has no way of dealing with Chen Creeps since he lacks a source of damage.

Chen may use his creeps to prevent Clockwerk from using Hookshot.

Pugna
When it comes to Chen's creeps, rot isn't very effective.
Chen may employ his creeps to protect himself and his teammates from Meat Hook's attacks.
Dismember may be interrupted by a Centaur Conqueror or a Mud Golem controlled by Chen.

Bane
To deal with multiple Chen's Creeps, Bane has no Spells.

Centaur Conqueror and Mud Golem abilities may easily disrupt Fiend's Grip.

Shadow Shaman
Because Shadow Shaman has no effective burst damage, Chen has enough time to use his creeps or Hand of God to defend an ally from a gank.

Shadow shaman's Shackles channeling Mass Serpent Ward may be easily torn down by Chen's creep army using Centaur Conqueror or Mud Golem.
Counters

Crystal Maiden
For 10 seconds, Frostbite roots and disarms your creeps.

Between Crystal Nova and Freezing Field, Crystal Maiden has a lot of AOE damage to remove your creeps outside and during team battles.

Enchantress
With Enchant, Enchantress may turn Chen's own creeps against him. The creeps still have the health boost that Holy Persuasion bestowed upon them.

Her invulnerability and the presence of Nature's Attendants make her tough to kill.

Earthshaker
Because Chen will have a lot of creeps, Echo Slam will do a lot of damage.

Chen transforms non-ancient creeps with Fissure and Enchant Totem, which do a lot of AOE damage.

Legion Commander
Chen's frailty and limited mobility make him an attractive Duel opponent.

Converted creeps' numbers can be used in Overwhelming Odds and Moment of Courage.

Legion Commander can frequently kill any of Chen's unfortunate comrades before he can utilize Hand of God if he has enough damage from Duel stacks.

Sven
Chen and his converted creeps are apprehended by Storm Hammer.

Chen and his creeps are easily defeated by Great Cleave and God's Strength.

Warcry reduces the amount of damage taken from creep assaults.

Lina
Lina's high damage bursts from Dragon Slave, Light Strike Array, and Laguna Blade can easily kill Chen's allies or Chen himself before Hand of God can be used.

Luna
Chen's creeps are easily killed by Luna's Moon Glaives and Lunar Blessing.

Monkey King
Before he can utilize Hand of God, Monkey King can kill Chen or any of his teammates with his physical damage burst from Boundless Strike and Jingu Mastery.

Because none of the neutral creeps have the ability to break trees, Chen is vulnerable to Tree Dance and Primal Spring ganks.

Venomancer
Chen may be forced to utilize Hand of God too soon as a result of Venomancer's damage over time, perhaps missing a chance to save his comrades during a teamfight.

Jakiro
Before Chen utilizes Hand of God, Liquid Fire and Dual Breath can eliminate Chen's creeps and kill his teammates.

Macropyre can destroy Chen's creeps rapidly and inflict significant damage on his allies.
Items Counter

Shiva's Guard
Shiva's Guard: The converted creeps' damage output will be considerably hampered by Shiva's Guard, while Chen and his creeps will be easy targets thanks to Arctic Blast slow.

Dagon
Dagon: Chen's teammates can be rapidly killed by Dagon's Burst damage before he can unleash Hand of God.

Battle Fury
Battle Fury: Melee heroes can use Battle Fury to destroy converted creeps.

Maelstrom
Maelstrom and Mjollnir: Ranged heroes can use Maelstrom and Mjollnir to kill converted creeps.

Hand of Midas
Hand of Midas: Converted creeps are instantaneously killed by Hand of Midas, and a farm is granted in the process.

Black King Bar
Black King Bar: Chen's and his creeps' abilities are both blocked by Black King Bar.

Manta Style
Manta Style: Penitence is dispelled by Manta Style, which might cause Chen to spend spells on illusions.

Shadow Blade
Shadow Blade: Heroes can use Shadow Blade to go through Chen's creeps and kill him.

Helm of the Dominator
Helm of the Dominator: Converted creeps may be controlled by the Helm of the Dominator.

Radiance
Radiance: All of Chen's converted creeps will be subjected to Radiance's area damage.

Spirit Vessel
Spirit Vessel: The AOE healing decrease provided by Spirit Vessel effectively reduces the healing from Divine Favor and Hand of God.
Favorable Matchups

Vengeful Spirit
Chen's creeps benefit from the Vengeance Aura.

Lycan
Summon Wolves: They have a lot of lane pressure with Chen's creeps.

All of Chen's creeps gain attack speed, armor, and health regen from Howl.
Game plan
The jungle monsters that help Chen farm well and save health from the very first level: Harpy Stormcrafter (with 4s cd lightning, pretty good dmg), Satyr Tormenter (with shockwave with splash damage, healing aura, copper) good time to tank creeps), Dark Troll Summoner (creates 2 bones from enemy corpses, increases the ability to clear the jungle). The other big monsters only get big butts, the ability to clear the forest is quite slow.

Do you see the big bird Wildwing Ripper? It has the ability to cast a spell that creates a tornado, deals damage and lasts a long time, moreover, jungle creeps will not run away when hit by this ability. To take advantage of that, you should stack a certain camp (prioritize the large camp) then use the Wildwing Ripper to create a tornado to earn money. For Chen, stacking is not too difficult because you already have a pile.

You should use many different types of jungle monsters to perform combos when ganking. The simplest is the combination of Dark Troll Summoner + Centaur conqueror x3, you throw a net, then put each Centaur into the stun, the stun time can be up to 6 seconds. Or combine the auras of jungle monsters together if your team has a lot of control skills, you don't need any more: Alpha wolf + Hellbear smasher + Wildwing ripper + Kobold Foreman.

Once you have the green stick, it's best to capture the Ancient monster, leaving one as the Centaur conqueror so that you can still have a stun to fight. Prioritize capturing the Granite golem because it has a health aura, then the dragon (to push the lane), otherwise the big lizard Thunderhide.

With heroes using multiple units, always remember: the TAB key is to transfer control to another unit.
Early game
Catch the necessary jungle monster that I mentioned above, if it's too small, just pick the biggest one, you need to get to lvl3 early to catch more, then your jungle ability will be getting boosted, and ganking is also good thanks to the two of them. Chen jungling is quite economical, but it is very mana waste, you can buy more mango (Enchanted Mango) to bite in necessary cases. Remember to clear runes regularly, make sure to see you and a bunch of bull-faced brothers, no one dares to be aggressive in the early game. Don't forget to stack camp to earn more money and exp.
Mid game
This is the period when you gank often. With the Test of Faith teleport skill, you can switch lanes and still make sure you have followers, or use this skill to send teammates back (as a free Town portal scroll) in cases of need. When you raise the Penitence skill, the ability to stack damage of your teammates as well as yourself will be increased. Pay attention to the minimap regularly so you can use your ultimate in time to support your teammates when you can't get there. Don't forget to keep an eye on and follow the Town portal scroll.
Late game
At this stage, you should accept to give up farming and go with your teammates to be able to participate in timely combat as well as push the turret push. You and your team's support should assign each other warding as well as using Smoke of Deceit to ensure vision as well as hunt down important enemy targets to have the greatest advantage in teamfights and take down towers. Chen's ability to initiate team fights is quite poor (due to the underdogs) so it's best if you put your team's initiator in first, you're just behind the buff, pull him up to fight and then discharge his skills.
The chaotic combat is also an opportunity for you to pull him to aim at weak targets of the enemy, typically supports and a few nukers, pull him up and attack them or force a corner to prevent them from fighting. Chen's ability to push is quite strong, especially when he has a green stick, but don't think that your brother is a buffalo, you have the right to fight tigers, watch out for all of them to use. How to use it, I said above.