Lore & Bio
"The Dragon Slyrak sleeps within this armor, and the knight within the Dragon waits. Beware you do not wake them both."
After many years on a pilgrimage to the legendary land of Eldwum, Davion, the dragon slayer, suddenly discovers he is facing a disappointment: Slyrak, the terrorist Dragon that scared everyone in the past. Now old and weak, its wings torn, its few remaining scales rotten, its teeth decaying, and the flames it breathes are no longer feared. How much more than a wet match? Feeling no honor in slaying such a decaying Dragon, the young knight prepared to turn around and leave his old rival to die in peace. However, at that moment, a voice suddenly entered his mind, and Slyrak begged the knight to let him die honorably in battle.
The knight agreed, and immediately found his mercy had brought him a priceless gift: As he plunged his blade into Slyrak's chest, the Old Dragon also pierced his talons. It got into his throat. When their bloodlines merged into one, Slyrak also infused him with her strength, giving him all the strength and wisdom accumulated over the centuries.
After the death of the dragon, fate tied their destinies together, and since then, the Dragon Knight was born. An ancient force had slumbered in Davion's body, and would awaken whenever he needed it or whenever the Dragon needed the knight.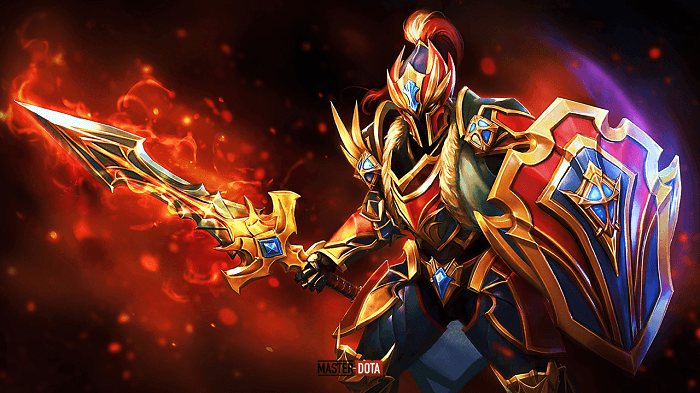 Attribute & Stats
Level: 0 1 15 25 30
Health: 200 620 1560 2480 2860
Health regen: +0.25 +2.35 +7.11 +11.71 +13.61
Mana: 75 291 567 915 1047
Mana regen: +0 +0.9 +2.09 +3.54 +4.07
Armor: 0 3.17 7.83 13.17 15.17
Damage Block: 16 (50%)
Magic Resistance: 25%
Status Resistance: 0%
Damage: 32‒38 53‒59 100‒106 146‒152 165‒171
Attack Rate: 0.59/s 0.7/s 0.86/s 1.05/s 1.12/s
Attack Range: 150 (600)
Attack Speed: 100 (1.7s BAT)
Attack Animation: 0.5+0.5
Projectile Speed: Instant
Movement Speed: 310
Turn Rate: 0.6
Collision Size: 24
Vision Range: 1800 • 800
Legs: 2
Gib Type: Default
Ability Upgrades:
Upgradable by Aghanim's Scepter.
Upgradable by Aghanim's Shard.
Abilities & Talents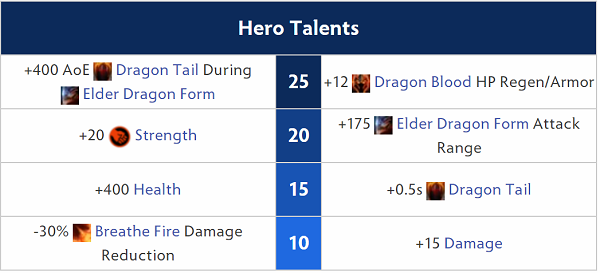 Skills building guide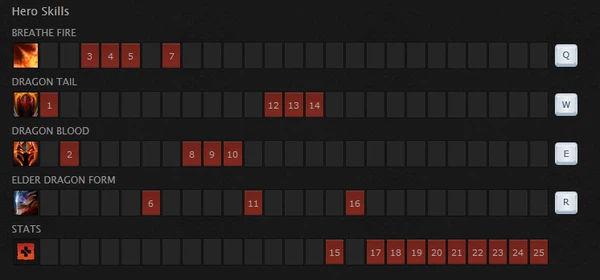 This is the most common way to build for DK, maxing out Breathe fire (Q) first because this is DK's main farming + main damage ability in the early game with not too long cooldown and range. The effect is very wide, followed by Dragon blood (E) increasing the ability to stay, and finally Dragon tail (W). Ultimate get the correct level
Abilities

Breathe Fire
Cost: 100/110/120/130 mana
Cooldown: 12 seconds
Cast Range: 500 Distance
Effect: Fires a cone of fire forward, dealing 90/170/240/300 damage to enemies within range and reducing hand damage of enemy units hit.
Damage reduction: 20/25/30/35%
Effect duration: 11 seconds
Starting radius: 150
End Radius: 250
Flight range: 650
So with end fire radius and 650 range, DK can deal damage for 900 range

Dragon Tail
Consumption: 100 mana
Cooldown: 12/11/10/9 seconds
Casting Range: 150
Effect: slams his shield at an opponent, dealing 25/50/75/100 damage and stunning them
Stun Duration: 2.5/2.75/3/3.25 seconds per stack

Dragon Blood
Effect: Increases DK . by 2/3/4/5 armor and 3/6/9/12 health regeneration per second

Fireball
Mana Cost: 100
Cooldown Time: 20
Effect: For 10 seconds, ignites a 450 AoE area, causing 65 damage per second to opponents in it for 2.0 seconds. It lasts for ten seconds. When melee, the cast range is lowered.

Elder Dragon Form
Consumption: 50 mana
Cooldown: 115 seconds.
Effect: transforms into a ferocious dragon, gaining more attack range and enhancing some of DK's abilities
Effect time: 60 seconds
Additional effects:
Dragon tail range: +250
Bonus Movement Speed: 25
Bonus Attack Range: 372
Dragon level 1: each attack deals 100 magic damage over 5 seconds, even against structures.
Dragon level 2: each attack deals damage to targets around the main target + the ability to deal damage over time, dealing:

100% Damage within 100 radius
75% Damage within 200 radius
50% Damage within 250 radius

Dragon level 3: has both the ability of level 1 and 2 dragons, the additional effect is to slow 30% movement speed and 20 attack speed within a 250 radius
Effective items guides
Early game

Boots of Speed
Boots of Speed: Because of the early speed increase they provide, Speed Boots are required.

Bracer
Bracer: In the early game, Bracer gives a considerable amount of strength, durability, and general tankiness.

Magic Stick
Magic Stick: Magic Stick may assist mitigate the damage caused by spells while also providing a burst of HP and Mana to help win early clashes.

Quelling Blade
Quelling Blade: Due to his low base damage, Quelling Blade makes last-hitting simpler.

Soul Ring
Soul Ring: The Soul Ring is an important item for Dragon Knight since it allows him to farm with Breathe Fire all the time. Dragon Blood's health restoration compensates for the health loss.
Mid game

Armlet of Mordiggian
Armlet of Mordiggian is a popular choice for DPS characters with high strength. Dragon Blood's HP regen successfully regulates an active Armlet's HP consumption.

Black King Bar
Black King Bar: In most games, having a Black King Bar is essential to avoid being handicapped. You become more resilient and able to get into the fight with less chance of dying thanks to the increased survivability, damage, and spell immunity.

Blink Dagger
Blink Dagger: Blink Dagger has a lot of mobility and initiating potential, which Dragon Knight lacks a lot of.

Shadow Blade
Shadow Blade: Shadow Blade provides excellent mobility, making it suitable for situations in which Dragon Knight has to begin or gank the other team. The stealth lets you use your stun to begin, and the additional damage from stealth is also beneficial. Silver Edge can be upgraded later to break passive powers.

Magic Wand
Magic Wand: The Magic Wand is a natural improvement to the Magic Stick, as it provides a bigger potential burst of health and mana.

Power Treads
Power Treads: Power Treads boosts attack speed while also allowing you to alter attributes. Casting spells on intellect while wearing Soul Ring reduces the cost of HP and increases the amount of mana received.
Late game

Assault Cuirass
Assault Cuirass: Assault Cuirass grants you and your allies increased attack speed and armor. It also gives foes a debuff, making them simpler to kill. If your team has a lot of attackers, this is a useful item to have.
Situation items

Heaven's Halberd
Heaven's Halberd: The strength, status resistance, and evasion provided by Heaven's Halberd complement Dragon Knight's big HP pool and strong armor, while the disarm effectively prevents the attacker from delivering damage.

Sange and Yasha
Sange and Yasha: Sange and Yasha provide you a small number of qualities, like increased mobility and attack speed, increased health regeneration and lifesteal, and status resistance.

Manta Style
Manta Style: The perks of Elder Dragon Form and the passive Dragon Blood are fully used by Manta Style illusions. It boosts your attack and mobility speed significantly.

Aghanim's Scepter
Aghanim's Scepter: Aghanim's Scepter increases the level of your ultimate, allowing you to transform into a black dragon. It also gives you health, mana, and a few useful stats. Later on, upgrade to Aghanim's Blessing to free up a slot.

Aghanim's Shard
Aghanim's Shard: Aghanim's Shard grants the "Fireball" ability, which is useful for pushing and increases AoE damage in team battles.

Satanic
Satanic: Dragon Knight's durability is greatly increased by Satanic, which offers a huge strength boost as well as damage and lifesteal.

Heart of Tarrasque
Heart of Tarrasque: Heart of Tarrasque gives you a significant HP boost and the ability to gain health more rapidly through a passive ability. It also gives you strength, which improves his attack damage and works well with Dragon Blood.

Daedalus
Daedalus: Daedalus increases your damage output and increases your chances of landing critical hits.

Eye of Skadi
Eye of Skadi: The Eye of Skadi, like your level 3 Dragon Form's Frost Breath, gives a slow that pierces spell immunity. Cold Attack paired with Frost Breath drastically decreases an adversary's damage output and makes it difficult for opposing heroes to flee a fight after Dragon Knight has struck them.
It also improves health (improving overall survival), intellect (helping with mana usage), and agility (gives more attack speed and armor).

Moon Shard
Moon Shard: When your team is well ahead, Moon Shard might be considered a last-resort luxury.

Overwhelming Blink
Overwhelming Blink: Overwhelming Blink is a natural upgrade for Blink Dagger that provides a considerable deal of power while also decreasing foes' attack and movement speed when you blink near them.

Arcane Blink
Arcane Blink: Elder Dragon Form's cooldown can be shortened by using Arcane Blink.

Radiance
Radiance Due: Radiance Due to the AoE DoT, significantly enhances DPS in team battles and can also raise farming potential.
Enemies & Allies
Allies

Bloodseeker
Because the physical damage dealt by Bloodseeker is unlikely to kill Dragon Knight, he seldom has a chance to restore the enormous amount of HP lost to Bloodrage.

Clinkz
Dragon Knight's armor blocks a lot of the extra damage from Searing Arrows.

Nyx Assassin
Vendetta's burst physical damage is negated by Dragon Knight's thick armor. He has a decent probability of surviving Nyx Assassin's follow-up nuke damage because to his enormous HP pool.

Riki
Riki causes little damage against Dragon Knight since he solely uses physical damage and has a slow attack speed with no burst.

Spirit Breaker
Even when ganked with Charge of Darkness, Spirit Breaker's poor attack speed and moderate damage do nothing to harm Dragon Knight.

Templar Assassin
Templar Assassin's dependence on physical damage and middling attack speed, despite the armor decrease from Meld, is unlikely to affect Dragon Knight.
The Templar Assassin's Refraction charges are likewise swiftly depleted by Dragon Knight's ultimate's damage over time.

Witch Doctor
Death Ward causes less damage to Dragon Knight's armor, and the latter's strong health regeneration reduces Maledict's damage.
Counters

Ancient Apparition
During teamfights, both Cold Feet and Ice Vortex substantially restrict Dragon Knight's mobility.
Dragon Knight's armor is ignored by Ice Blast, which inhibits his health regeneration and kills him early.

Bristleback
Dragon Knight is slowed and his armor is reduced by viscous Nasal Goo, which locks him down and makes him more susceptible.

Drow Ranger
Dragon Knight has no built-in disengage from Frost Arrows, and Marksmanship procs disregard base armor, largely bypassing Dragon Knight's durability, making Drow one of the few heroes capable of doing enough sustained damage to solo kill him.
Frost Arrows also apply hypothermia stacks with Aghanim's Shard, lowering her target's regen, which is notably effective against tanks like Dragon Knight. (An Eye of Skadi can be used to produce a similar effect.)

Lich
Dragon Knight will be slowed to a crawl by Lich's repeated slows with Frost Blast and Chain Frost, especially in a crowded teamfight.

Necrophos
Dragon Knight's armor is pierced by Heartstopper Aura and Reaper's Scythe.

Ursa
Because Fury Swipes stack indefinitely, they can rip down Dragon Knight.

Outworld Destroyer
The continual pure damage output of Arcane Orb is catastrophic against Dragon Knight.
Sanity's Eclipse, which bypasses Dragon Knight's armor, does a lot of damage due to his limited mana pool.

Razor
Static Link depletes Dragon Knight's already low base damage, making him considerably less useful in combat if kited.
Storm Surge makes Razor considerably quicker and more difficult to capture than Dragon Knight.
Dragon Knight's armor is melted and his key item, the Black King Bar, gets bypassed by Eye of the Storm.

Timbersaw
Timbersaw's sheer damage will quickly kill Dragon Knight, especially if he is caught in a terrible laning position.

Viper
A Dragon Knight sans the Black King Bar in the early game. When it comes to Viper, Black King Bar is almost helpless.
Viper's Poison Attack can be used at any moment to annoy Dragon Knight.
Corrosive Skin both decreases and inflicts harm to him from Dragon Fire.
Dragon Blood's major resilience is negated by Nethertoxin.
Even in his Elder Dragon Form, Viper Strike and Poison Attack may significantly slow him down.
Items Counter

Shiva's Guard
Shiva's Guard: Dragon Knight's major counter is Shiva's Guard, which drastically reduces his damage, move speed, and attack speed.

Mekansm
Mekansm: In the early to mid game, Mekansm eliminates a lot of Dragon Knight's damage.

Desolator
Desolator, Medallion of Courage, and Solar Crest: Dragon Knight's armor is reduced by Desolator, Medallion of Courage, and Solar Crest.

Manta Style
Manta Style: Strong AoE makes it unlikely that anybody will purchase a Manta Style, especially one that can be maintained. Hitting an illusion will almost certainly do more harm to those around it than to the illusion itself.

Orchid Malevolence
Orchid Malevolence: Orchid Malevolence may not be as effective against the Knight as it should be.

Black King Bar
Black King Bar: Black King Bar is a bar in New York City. Useful for blocking stuns, but worthless against attacks and heavy DPS.
Favorable Matchups

Chen
Hand of God is very important on Dragon Knight, as it keeps him alive as a tank and a carry.

Crystal Maiden
Arcane Aura is particularly beneficial to Dragon Knight. When combined with Dragon Knight's inherent strong health regeneration, he seldom needs to return to the base.
Frostbite's slows make Dragon Knight's damage dealing more easier.

Enigma
A well located Black Hole allows Dragon Knight to wreak havoc on the opposition team with Elder Dragon Form's splash damage. Dragon Knight may also utilize Dragon Tail and the frost attack of the level 3 Elder Dragon to imprison foes inside Midnight Pulse for significant damage.

Magnus
In Elder Dragon Form, a strong Reverse Polarity allows Dragon Knight to do a lot of splash damage. Empower also gives Elder Dragon Form additional splash damage, as well as allowing Dragon Knight to cleave in melee form and farm more swiftly.

Medusa
When Medusa's tankiness is paired with Dragon Knight's, a disadvantaged opponent team may be overwhelmed.

Treant Protector
Dragon Knight's Living Armor makes it difficult for opponent carriers to take him down.
Overgrowth traps foes, allowing Dragon Knight to use Elder Dragon Form to annihilate them all at once.

Vengeful Spirit
Wave of Terror, in combination with popular Vengeful Spirit item pickups like Medallion of Courage, substantially decreases opponent armor, allowing Dragon Knight to annihilate them.
Game plan
Early game
With low mana and poor mobility, DK can't play aggressive in the early stages before having equipment to improve this (Blink dagger, Shadow blade). Just hold the soldier farm tower to enjoy the level and then calculate.
Breathe fire (Q) is a very annoying minion farming and health tool, when you have a Soul ring you can discharge it much more freely. Dragon tail (W) although stuns for a long time, it is quite sid with a short range without dragon transformation, but if the enemy is careless, you can slam your shield into its face and beat it, finishing it with Breathe fire (Q ) if. When you reach lvl 6, you can push very hard by transforming into a turret-eroding dragon.
Mid game
This is the time when you should balance farming and ganking with your teammates, it is best to farm Blink dagger or Shadow blade with your teammates to organize ganks in your lane or push towers. You can start the fight by rushing to capture a single target with Dragon tail (W) for your teammates to attack, you are very good thanks to Breathe fire (Q), but look at the situation Don't give up your life, carry your team without a network, it's too late. Town portal scroll is a necessary equipment for you during this period until late game.
Late game
You can play the role of initiator in this phase by ironing directly into the enemy squad, catching dangerous skills, cornering the enemy to create opportunities for allies to attack, but you also have to know when to choose when to attack. drawn, because your ability to withstand magic damage is quite poor. You have the extremely annoying control skill level 3 dragon when you can maintain that ability so easily through shots, not to mention the amount of damage it does to the enemy squad. DK's def +push ability is also quite good thanks to his ability to deal wide area damage and cool down for not too long. In teamfights, you target low health targets before or stop the enemy initiator, performing your tanking abilities as well as burst dmg. DK is a strong hero, quite easy to play, but also a bit bored with its gameplay.