Lore & Bio
"The elements of my nature are in torment."
Leshrac is a being ripped from the heart of nature, a normative life whose existence saves half on the plane of matter, the other half on the other. Knowledge was so profound that he could not for a moment ignore a moment of terrible pain that exploded in the heart of all creation. Once a great philosopher, he delves into the ravines of nature with haunted Chronoptic crystals, only to be forever transformed by the horrifying mysteries now unearthed. Now, his pride is the only light that shines in the darkest abyss of enlightenment. Like all elemental beings, he was one with nature, but a nature of beauty and vileness. He alone sees the cruel truth of reality, and therefore no longer believes that the universe will reward the doer of good.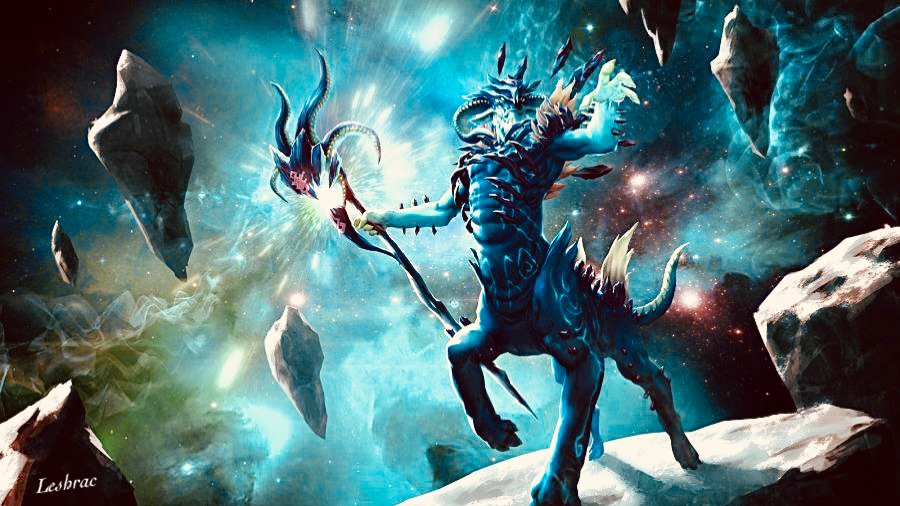 Attribute & Stats
Level: 0 1 15 25 30
Health: 200 600 1300 2040 2320
Health regen: +0.25 +2.25 +5.75 +9.45 +10.9
Mana: 75 339 927 1491 1719
Mana regen: +0 +1.1 +3.55 +5.9 +6.88
Armor: 0 3.83 10.37 17.03 19.7
Damage Block: -
Magic Resistance: 25%
Status Resistance: 0%
Damage: 22‒26 44‒48 93‒97 140‒144 159‒163
Attack Rate: 0.59/s 0.72/s 0.95/s 1.19/s 1.28/s
Attack Range: 575 (800)
Attack Speed: 100 (1.7s BAT)
Attack Animation: 0.4+0.6
Projectile Speed: 900
Movement Speed: 325
Turn Rate: 0.6
Collision Size: 24
Vision Range: 1800 • 800
Legs: 4
Gib Type: Default.
Ability Upgrades:
Upgradable by Aghanim's Scepter - Nihilism.

Upgradable by Aghanim's Shard - Split Earth.
Abilities & Talents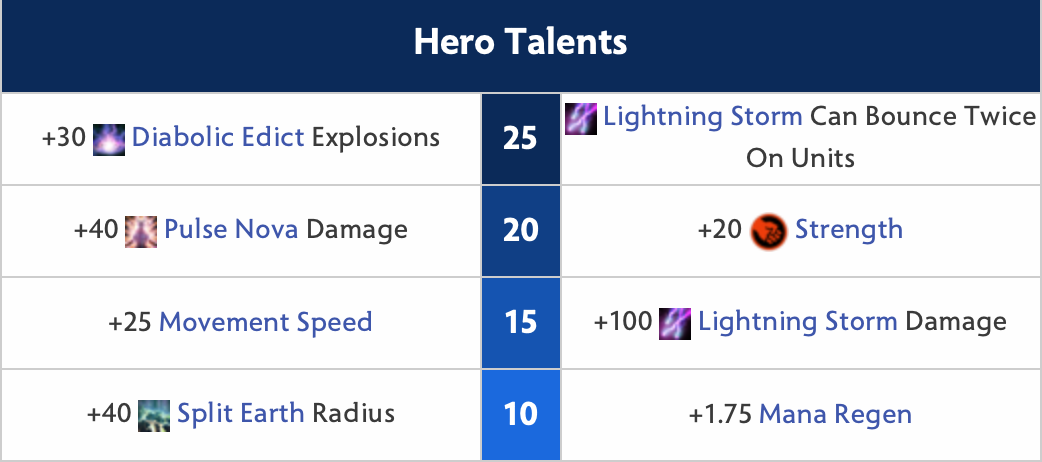 Skills building guide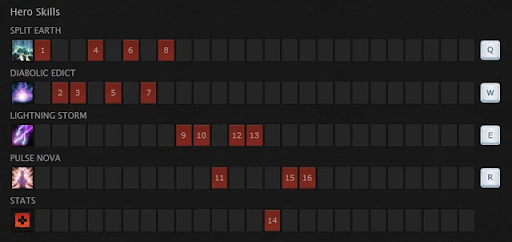 The first way is the way you get the large area control skill with the maximum of Split earth (Q) and Diabolic edict (W) skills because the more Split earth (Q) increases, the larger the area, and Diabolic edict (W) If you lift to the maximum, then push is strong enough. The second way is in favor of push/gank direction when parallelizing Lightning storm (E) with Diabolic edict (E): both deals good damage to champions, minions and monsters, and ensures damage to turrets, but Split earth (Q) ) will be a bit difficult to use because the area is too small. Leshrac's ultimate is usually obtained at later levels because Leshrac already has a decent amount of mana to use.
Abilities

Split Earth
Cost: 100/125/140/160 mana.
Cooldown: 9 seconds.
Casting Range: 750
Effect: Creates a concussion at the target location, dealing 120/180/240/300 damage and stunning all enemies in the area of impact.
Stun duration: 2 seconds.
Blast radius: 150/175/200/225
Cast time: 0.7+0.67 seconds (super delay).

Diabolic Edict
Cost: 95/120/135/155 mana.
Cooldown: 22 seconds.
Effect: emits shock explosions around himself, creating a total of 40 explosions and dealing 9/18/27/36 damage per explosion to nearby enemies, damage is evenly divided give all enemies standing around Les (if standing in the crowd, divide the dmg, and 1 guy standing there will eat enough). This skill deals damage to the whole building.
Effect radius: 500 around Les.
Effect time: 10 seconds.
Damage dealt to structures: 40%

Lightning Storm
Cost: 90/100/110/120 mana.
Cooldown: 4 seconds.
Casting Range: 800
Effect: Strikes a bolt of lightning to the specified target, dealing 50/100/150/200 damage, slowing the enemy for a brief moment and bouncing onto enemies nearby the main target, dealing same damage and effects.
Number of targets bounced: 4/5/6/7
Movement Speed Slow: 75%
Slow duration: 0.75 seconds.
Bounce Radius: 475

Pulse Nova
Cost: 70/90/110 mana.
Cooldown: 1 second.
Effect: emits destructive energy around Les, dealing 100/130/160 damage per second to all enemies around him, however he will drain mana over time to maintain.
Mana loss per second: 20/40/60
Damage radius: 450
Upgraded by Aghanim's Scepter:
Damage per second: 160/190/220

Nihilism
Cast Animation: 0+0
Radius: 450
Enemy Magic Resistance Reduction: 30%
Move Speed Change: 30%
Aura Linger Duration: 0.5
Duration: 4
Effect: All nearby opponents in a 450 AoE become ethereal, preventing them from attacking and subjecting them to 30% greater magic damage and a 30% slowdown for 4 seconds. Leshrac's speed is increased rather than decreased. You will not be subjected to increased damage.
Effective items guides
Early game

Magic Stick
Magic Stick: Leshrac's ability to use abilities is aided by the use of Magic Stick, which provides burst health and mana.

Boots of Speed
Boots of Speed: Leshrac's movement speed is boosted by Boots of Speed, allowing him to position and chase with Disbolic Edict.

Bottle
Bottle: The Bottle aids in the preservation and storage of runes for the appropriate moments.

Wind Lace
Wind Lace: Wind Lace also provides a movement speed benefit for Eul's Scepter of Divinity, which is a cheap later build.

Infused Raindrops
Infused Raindrops: Infused Raindrops provide inexpensive mana restoration while also absorbing some magical harm.

Soul Ring
Soul Ring: The Soul Ring provides regeneration and more mana, allowing you to use more skills.
Mid game

Arcane Boots
Arcane Boots: Leshrac and teammates gain mana from Arcane Boots, which may be disassembled later for Bloodstone or Aether Lens.

Magic Wand
Magic Wand: For additional burst restoration, the Magic Wand grants characteristics and improved charge storage.

Bloodstone
Bloodstone: Bloodstone boosts Leshrac's health, mana, and mana regeneration, allowing him to use his skills more frequently. Leshrac's active heal may keep him alive long enough to flee or avoid taking damage in exchange for kills.

Eul's Scepter of Divinity
Eul's Scepter of Divinity: The greater mana pool and mana regeneration of Eul's Scepter of Divinity prevents an enemy from landing Split Earth, allowing for longer prolonged use of abilities. When chasing with Diabolic Edict and Pulse Nova, the extra movement speed comes in handy.

Kaya
Kaya: Kaya increases Leshrac's intelligence and spell damage while lowering the mana cost of abilites and items, allowing him to use them more frequently.
Late game

Octarine Core
Octarine Core: Octarine Core improves health and mana to ensure long-term viability. Leshrac can use his skills all the time while staying healthy thanks to Cooldown Reduction and Spell Lifesteal. To get the most out of this item, you'll probably need a lot of mana or regeneration.

Shiva's Guard
Shiva's Guard: Leshrac's survivability against physical assaults is improved by Shiva's Guard's armor and attack speed slow aura, as well as his intelligence. Arctic Blast can be used to slow enemy mobility and keep them within Pulse Nova's range.
Situation items

Urn of Shadows
Urn of Shadows: The Urn of Shadows grants some characteristics, armor, and mana restoration, and its charges from fallen opponents can heal or deal damage depending on the victim.

Phase Boots
Phase Boots: With Diabolic Edict and Pulse Nova, Phase Boots gives excellent movement speed boost to position, as well as chase or flee.

Drum of Endurance
Drum of Endurance: The Drum of Endurance gives you characteristics and movement speed to help you position yourself in ganks.

Aether Lens
Aether Lens: Leshrac can use abilities and items while keeping a safe distance from dangerous adversaries thanks to Aether Lens' increased mana and mana regeneration.

Veil of Discord
Veil of Discord: The active ability, Veil of Discord, reduces enemy magic resistance, allowing Leshrac's and allies' abilities to deal more magical damage.

Blink Dagger
Blink Dagger: Blink Dagger provides an excellent location for a surprise Split Earth, as well as keeping up with Diabolic Edict and Pulse Nova targets.

Force Staff
Force Staff: The Force Staff allows you to relocate any of the game's characters, pushing allies to more advantageous spots while moving opponents into your abilities.

Glimmer Cape
Glimmer Cape: The Glimmer Cape provides invisibility and magic resistance to Leshrac and companions. It is an item for escape, but it can also be used to initiate with Split Earth.

Boots of Travel
Boots of Travel: Leshrac may use his Boots of Travel to travel throughout the world to join ganks and pushes. Leshrac can also chase down practically any enemy target thanks to his increased movement speed.

Rod of Atos
Rod of Atos: Rod of Atos provides qualities and a root for long-range Split Earth setup.
Enemies & Allies
Allies

Meepo
Pulse Nova inflicts a massive amount of damage in his immediate vicinity, quickly wearing down Meepo clones.

Leshrac can use Split Earth to catch many Meepos and then follow up with the rest of his area damage spells, rendering Meepo unable to approach Leshrac.

Diabolic Edict is a powerful ability that can quickly wear down a single Meepo clone.

Visage
All troops around Leshrac were hit by Diabolic Edict and Pulse Nova, making it very easy for him to eliminate the Summon Familiars.

Gravekeeper's Cloak is also nullified by Diabolic Edict and Pulse Nova, which cause a lot of damage.

Even while under the effects of Grave Chill, Visage finds it tough to kite Leshrac due to Split Earth and Lightning Storm.

Chen
Chen's creep army is quickly dispatched by Leshrac's AoE abilities.

Broodmother
Her spiderlings should be easy prey for your AoE skills.

Io
Because Io and his Tethered target will be close enough for the lightning to jump, Lightning Storm will usually hit both of them. Split Earth can then be used as a follow-up.

Leshrac's Diabolic Edict and Pulse Nova affect all nearby units, allowing him to deal massive damage to Io and his Tethered victim.

Shadow Demon
Split Earth can punish incorrect use of Disruption with Diabolic Edict and Pulse Nova, which will shatter any illusions generated by Disruption.

Leshrac does not have any bonuses that Demonic Purge can remove.

Phantom Lancer
With his massive area of effect damage, Leshrac can quickly dispel Phantom Lancer's illusions.
Counters

Pugna
Leshrac's constant mana expenditure from spamming spells is punished by Nether Ward.

Leshrac needs to be in the middle of the action in order to deliver damage, therefore he can't simply avoid Nether Blast or Life Drain.

Anti-Mage
Leshrac's magical damage is greatly reduced by Counterspell.

Leshrac has already depleted his own mana with Pulse Nova, and Mana Break will deplete it much further.

When Leshrac's mana is low, Mana Void will do more damage to him because of his large mana pool.

Clockwerk
Clockwerk produces Blade Mail as a natural reaction to Leshrac's strong magic damage output.

Leshrac will not be able to reach Clockwerk's team and do huge AOE damage to them because of the Power Cogs.

Leshrac's Diabolic Edict will be wasted on only Clockwerk, thanks to Power Cogs.

Leshrac's long cast periods of Split Earth and Lightning Storm are interrupted by Battery Assault.

Lifestealer
Rage ignores Leshrac's high magic damage.

Lifestealer can use Rage to get in Leshrac's face and use Open Wounds to lessen any extra damage Leshrac takes.

Nyx Assassin
When hit by any of Leshrac's AOE abilities, Nyx Assassin's Spiked Carapace will stun him.

Due to Leshrac's high intelligence gain, Mana Burn causes a lot of damage and consumes a lot of his crucial mana pool.

Oracle
Leshrac's nuking damage will be mitigated by Oracle's Fate's Edict.

Leshrac's stun and slow can be removed with Oracle's False Promise, allowing an ally to flee.

Leshrac can be stopped from following after opponents or fleeing with Fortune's End.
Items Counter

Black King Bar
Black King Bar: Leshrac's magical damage is ignored by Black King Bar.

Blade Mail
Blade Mail: Leshrac's tremendous damage is reflected by Blade Mail.

Diffusal Blade
Diffusal Blade: Leshrac's mana is drained by Diffusal Blade.
Favorable Matchups

Dark Seer
Leshrac can then follow up with his AOE damage because Vacuum gathers enemies together.

Enigma
Leshrac can sit in the middle of the Black Hole and injure people with Diabolic Edict and Pulse Nova without fear of being hurt. If any enemies survive, Leshrac can use Split Earth to finish them out.

Io
Tether Frequently Leshrac can be a Frontliner, and tether offers a huge amount of healing, extending Leshrac's lifespan significantly.

Since patch 7.28, tethered unit spell damage has been somewhat increased, improving Leshrac's DPS.

Enigma
Leshrac may use Reverse Polarity to lure the opponent team together, allowing him to use his high AOE destructive abilities.

Skewer can draw foes closer to Leshrac, making Pulse Nova and Diabolic Edict more effective against them.

Oracle
False Promise and Fate's Edict can help Leshrac overcome his inherent vulnerability.
Game plan
Early game
You can go offlane, solo mid, in many unforeseen cases you can go double or roam (however with a big nuker like Les, doing so is a waste of his potential). When in lane, simply farm, harass the enemy with hand damage and skills. When you have the support of your teammates, you can use a little standard skill and you will get kills anyway, creating favorable conditions in the beginning, as well as opening up the opponent's defense to be able to push the turret early. Les only has the ability Split earth (Q) which is difficult to use, but the other skills have nothing to do with ease (click to activate or select a target, not an area like this skill) . You are ready to follow the Town portal scroll early to be able to reverse lanes to support your teammates with your extreme skill set.
Mid game
Mid game onwards is the time when you show your hegemony with great damage from skills, and also a nightmare for the enemy turrets because you are too fast with Diabolic edict (Q ) (2 times used + hand hit + creep hits the turret, it's nothing :mrgreen: ), and about fighting, all your skills deal damage, so when Les' mana is still high , then your team's damage is guaranteed very well, your job is to base Split earth (Q), then every other skill is released, remember to pay attention to keep your position while ganking as well as Join the small combat, because at first, Les is not a hero so strong that he rushes to pick up all the skills of the enemy. Blink dagger makes you a real monster in this phase because of its high mobility, gives you an unexpected advantage, helps you approach and stack damage extremely easily.
Late game
When you have the equipment of your dreams, this is the time when you are most enthusiastic. At this stage, you should stay around with your teammates, participate in combat, control the big target of Roshan or the remaining towers of the opponent. Because of the great damage, the lack of you in the teamfight affects a lot. In total combat, it's still the correct Split earth (Q), choose a position and then release all of your skills. If you haven't bought Boots of travel yet, never forget to buy a Town portal scroll to be able to reverse lanes, defend turrets in time, and mana is an eternal problem for you: you can def/push easily thanks to his skill set. However, mana use is extremely high, so managing your mana is also a decisive factor to your success with this hero.