Lore & Bio
"None may flee death for long"
Hidden beneath the gazes of the dim gargoyles sitting mockingly atop the entrance to the Narrow Maze was the entrance to the underworld. Beasts, birds, humans and monsters, all creatures that died and decided to pass through the afterlife had to pass through "them". For unshackled souls, the decision to walk through the darkness that shrouds death is inescapable. When the opportunity comes, one way or another, the souls who have not yet rested will find a way to escape from hell and heaven. That's when Visage, the henchman of the eternal Necro'lic souls, was sent to capture them. Ruthless yet effective, unfettered by the principles of death and weariness, the Visage hunts its prey mercilessly or restlessly, ready to kill all who shelter the fugitives. . The laws of the afterlife never rest, it's only a matter of time before Visage finds and returns those souls.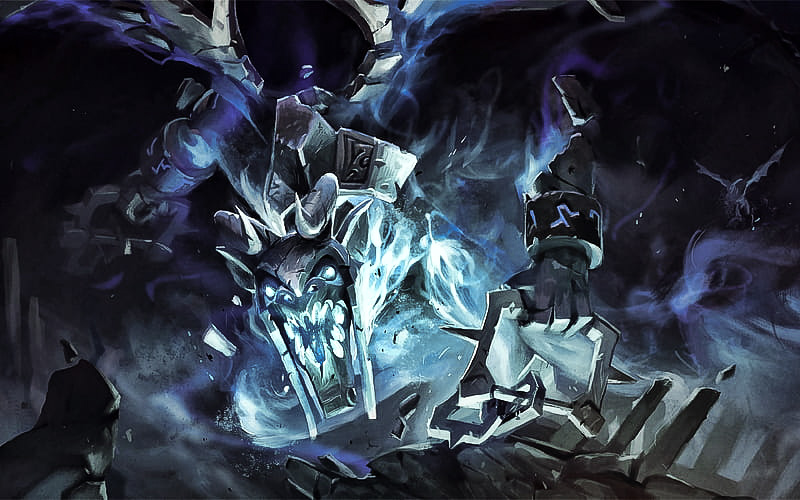 Attribute & Stats
Level: 0 1 15 25 30
Health: 200 640 1420 2220 2540
Health regen: +0.25 +2.45 +6.37 +10.37 +11.97
Mana: 75 339 819 1311 1515
Mana regen: +0 +1.1 +3.13 +5.18 +6.01
Armor: -1 0.83 3.87 8.03 9.45
Damage Block: -
Magic Resistance: 25%
Status Resistance: 0%
Damage: 23‒33 45‒55 85‒95 126‒136 143‒153
Attack Rate: 0.65/s 0.71/s 0.82/s 0.97/s 1.02/s
Attack Range: 600 (800)
Attack Speed: 110 (1.7s BAT)
Attack Animation: 0.4+0.54
Projectile Speed: 1400
Movement Speed: 285
Turn Rate: 0.6
Collision Size: 24
Vision Range: 1800 • 800
Legs: 2
Gib Type: Ethereal
Ability Upgrades:
Upgradable by Aghanim's Scepter - Silent as the Grave

Upgradable by Aghanim's Shard - Gravekeeper's Cloak
Abilities & Talents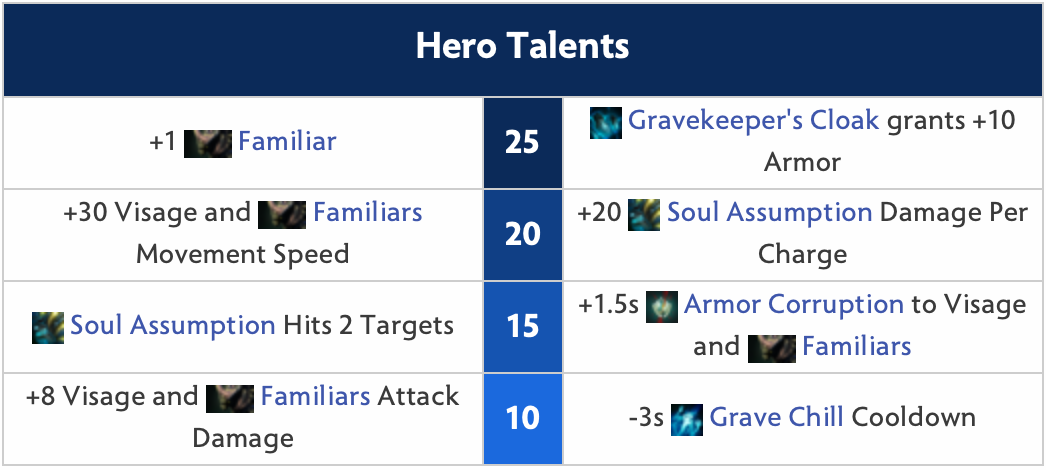 Skills building guide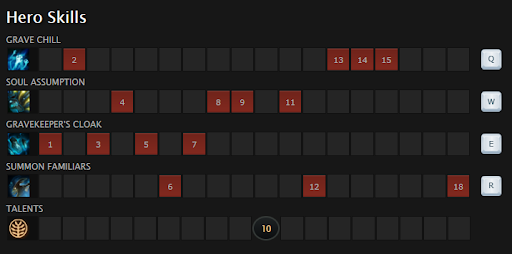 Get 1 point of Gravekeeper's Cloak (E) at the first level to increase the defense for Visage (new to negative armor, 10% magic resistance, slow movement speed, no matter what you take), then Grave chill (Q) for the ability to control.
Maximize Soul Assumption (W) first because this is Visage's main damage ability, finishing the target (attack is the best defense that :mrgreen: ). Then you can max out the remaining 2 moves (if you want to tank, max armor, and if you want to max slow the enemy, max Chill). Ultimate get the correct level.
Abilities

Grave Chill
Cost: 100 mana.
Cooldown: 16/14/12/10 seconds.
Usage range: 600
Effect: Visage cools the target down, stealing the target's movement and attack speed.
Steal Speed: 64
Steal Movement Speed: 32%
Duration: 3/4/5/6 seconds.
Soul Assumption
Cost: 170/160/150/140 mana.
Cooldown: 4 seconds.
Usage range: 900
Effect: every time the heroes around Visage take damage (both allies, enemies and himself), he will accumulate damage points. When cast, he will fire a blast of death and deal damage based on those stacks.
Charging time per damage point: 6 seconds.
Max stacked damage: 3/4/5/6
Value per damage point: equivalent to 110 damage dealt to heroes.
Damage dealt: 20 + (points) x 65
Point radius: 1375 around Visage.

Gravekeeper's Cloak
Charging time: 4 seconds per point.
Effect: Accumulating bonus points over time helps Visage increase magic resistance and armor. Each stack will be lost according to the number of times Visage is attacked.
Bonus Armor: 1/2/4/5 per point.
Bonus Magic: 3%/6%/12%/16% per point.
Maximum number of points stored: 4

Summon Familiars
Cost: 150 mana.
Cooldown: 180/160/140 seconds.
Effect: Summons his grave bats to fight under your control.
Number of Familiars: 2
These bats have the following special skills:
Health: 3 hits from champions, 6 hits from turrets, and 12 hits from other units.
Duration: forever or until killed.
Upgraded by Aghanim's Scepter:
Number of Familiars: 3
Note: when you use this skill again and the old bats are still there, the old bat will die immediately.

Silent as the Grave
Cast Animation: 0+0
Fade Time: 0
Move Speed Bonus: 20%
Attack Damage Bonus: 30%
Damage Bonus Duration: 4
Invisibility Duration: 35
Effect: Visage and familiars become invisible, and Visage's movement speed is increased and its movement type is upgraded to flying. Visage and its familiars do greater damage for 4 seconds after they escape invisibility. This video is 35 seconds long. When fighting or casting, invisibility ends.

Stone Form
Cooldown: 26 seconds.
Effect: petrifies, lands on the ground, damages and stuns nearby enemies. During petrification, Familiars gradually heal to full health, attack stacks and become invulnerable targets.
Petrification time: 8 seconds.
Damage: 60/100/140
Stun: 1/1.25/1.5 seconds.
Damage radius: 340
Effective items guides
Early game

Boots of Speed
Boots of Speed: Visage's slow movement speed necessitates the use of Speed Boots. Visage may chase adversaries during ganks by getting boots as early as possible in the laning phase, especially to come within range to throw Grave Chill to slow them.

Magic Stick
Boots of Speed: Visage's slow movement speed necessitates the use of Speed Boots. Visage may chase adversaries during ganks by getting boots as early as possible in the laning phase, especially to come within range to throw Grave Chill to slow them.

Ring of Basilius
Ring of Basilius: Visage's lane has greater physical survivability as well as some mana regeneration to keep spell casting going. It may be upgraded to Vladmir's Offering once you've completed the laning stage.

Medallion of Courage
Medallion of Courage: In Visage's hands, the Medallion of Courage is a potent utility support item. The item grants Visage with armor and mana regeneration, increasing his survivability and allowing him to sustain his mana pool. The active allows him to either augment or diminish an enemy's armor to increase the amount of damage they suffer from friends, Visage's attacks, and, most crucially, his Summon Familiars.
Mid game

Magic Wand
Magic Wand: Visage gains extra characteristics and greater charge storage for burst regeneration with the Magic Wand, which is made from Magic Stick. Visage, as a support, may tremendously benefit from both if she is short on farm.

Solar Crest
Solar Crest: Many of the same bonuses are available with Solar Crest, which is an upgrade from Medallion of Courage. Visage's armor, stats, and mana regeneration have all been enhanced, giving him even greater tankiness and allowing him to keep his mana up until late in the game. Can be used on foes to reduce target armor and delay and boost familiar damage. When assaulting towers, it may also be used on a familiar to grant it +80 attack speed.

Vladmir's Offering
Vladmir's Offering: Vladmir's Offering gives familiars extra damage, lifesteal, and armor. Visage's mana pool is additionally maintained thanks to 1.75 mana regeneration.
Late game

Aghanim's Scepter
Aghanim's Scepter: The increased move speed during invisibility and bonus damage after breaking out make Aghanim's Scepter a powerful item for Visage, since it can lead to higher kill potential when attacking a target. Visage gains all-around benefits from the item, including increased health and mana.

Rod of Atos
Rod of Atos: Visage gains greater life, more intelligence for mana and base damage, and a long-ranged root with a low cooldown from Rod of Atos. Visage's ability to hunt down adversaries is considerably enhanced by the ability to root them at long range with the active, then stun them with Familiar's Stone From, and end with Grave Chill for extra movement speed slow.

Assault Cuirass
Assault Cuirass: Visage's armor and attack speed are considerably increased by Assault Cuirass, making him a formidable opponent in teamfights and ganks. The aura can increase the attack speed of his Familiars and lower enemy armor, allowing the Familiars' assaults to deliver more damage.
Situation items

Glimmer Cape
Glimmer Cape: Visage and her comrades are saved by the Glimmer Cape, which provides magic resistance and invisibility.

Ghost Scepter
Ghost Scepter: Visage becomes invulnerable to physical assaults with the Ghost Scepter, allowing him to employ more abilities and equipment.

Aether Lens
Aether Lens: Only two of Visage's spells and any appropriate equipment, such as Force Staff or Orchid Malevolence, benefit from Aether Lens, although Grave Chill and Soul Assumption can help him attack foes from afar.

Force Staff
Force Staff: Visage gains more intelligence from Force Staff, which increases his base damage and mana pool size while also providing some life regeneration. Visage may use the active to rapidly reposition himself to perform spells during ganks and engagements, as well as to flee if necessary. It can also be used to save teammates who are caught out of position.

Hurricane Pike
Hurricane Pike: Hurricane Pike helps him become more competent at attacking by allowing him to build out of Force Staff. Visage's range is already rather strong, so he may aid in combat without placing himself in too much risk while his Familiars strike.

Mekansm
Mekansm: Visage's utility is improved thanks to Mekansm, and he may help his team even more by healing them. Visage's durability is greatly improved by the enhanced characteristics and armor, making him more tanky in battle and allowing him to contribute more.

Pipe of Insight
Pipe of Insight: Visage's team can benefit from Pipe of Insight's increased survivability and utility. When Gravekeeper's Cloak is down, Visage can weather magic nukes more successfully, and the magic barrier can protect teammates from magic damage during fights.

Guardian Greaves
Guardian Greaves: Visage's Guardian Greaves are a potent support item that allows her a lot of versatility in teamfights. Visage is significantly tankier thanks to his enhanced attributes and aura, and he can heal himself while simultaneously eliminating negative debuffs with the active.

Orchid Malevolence
Orchid Malevolence: Visage gains numerous valuable abilities from Orchid Malevolence, including increased physical damage output, greater mana, and more potent mana regeneration. During ganks, the quiet can prevent foes from using escape spells, and at the conclusion of the silence, Visage's tremendous burst damage does severe burn damage.

Bloodthorn
Bloodthorn: Bloodthorn is an improved version of Orchid Malevolence, granting critical and true strike to afflicted targets and combining nicely with Solar Crest's armor reduction to shred foes.

Nullifier
Nullifier: When a familiar attacks the target, Nullifier's slow will be applied, and because the slow duration is the same as the attack time for familiars, the slow can be applied to the target for the duration of the mute. This item may also be used in conjunction with an Orchid or Bloodthorn to successfully debuff an adversary for the same length as a Scythe of Vyse, but with the added benefit of Bloodthorn's guaranteed crits and Soul Rend effect.

Lotus Orb
Lotus Orb: Because of the fear of reflection, enemy heroes are hesitant to use single-target abilities against Visage or impacted allies when utilizing Lotus Orb's Echo Shell. Otherwise, it provides Visage with armor and regeneration, allowing her to last a bit longer in battle.

Scythe of Vyse
Scythe of Vyse: Scythe of Vyse is a powerful support item that, despite its high cost, gives a lot of value. Visage's all-around qualities, bigger mana pool, and enhanced mana regeneration let her to contribute more in teamfights, and the immediate hard-disable may be critical for ganking and disabling key targets in teamfights.

Shiva's Guard
Shiva's Guard: Visage's resilience against physical damage is considerably improved by Shiva's Guard, as is his mana pool and basic damage. The active may be utilized as a slow and nuke, slowing an adversary even more while also increasing damage for Soul Assumption.
Enemies & Allies
Allies

Clockwerk
Visage can spy for Clockwerk's whereabouts via familiars, allowing her to avoid or stop Hookshot attacks.

Hookshot is significantly absorbed by Gravekeeper's Cloak.

Nature's Prophet
Gravekeeper's Cloak and Familiars provide no natural threat to Nature's Prophet.

Nature Prophet's health can be eroded by Familiar's low base attack time.

Sprout's trees are destroyed by Familiar's Stone Form.

Familiars can scout for Nature's Prophet in the forests and foggy places where he is attempting to employ Teleportation.

Puck
The extended stun duration of Stone Form may prohibit Puck from employing his escape skills.

Visage frequently constructs Rod of Atos for the root, which renders Puck immobile and unable to use his escape abilities.

Pudge
Due to his melee range and slow attack speed, Pudge has a hard time defeating Familiars.

Dismember can be immediately interrupted by Stone Form.

Shadow Shaman
Visage's Summon Familiars will easily shatter Mass Serpent Ward because to their fast attack speed, providing Visage a large sum of cash.

Spectre
When Spectre uses Spectral Dagger, Familiars can follow her into the forest, while Visage can keep shooting her with Soul Assumption.

Visage will always have nearby Familiars, hence Desolate will practically never occur.

Techies
Familiars have the ability to fly over mines, protecting them against Techies' mines. Visage can also utilize Familiars to scan the map for mines.

Techies will have a difficult time eliminating Visage's Familiars due to their poor attack speed and damage, which will be exacerbated if they are hit by Grave Chill.

Visage can withstand Techies' mines thanks to the Gravekeeper's Cloak.
Counters

Axe
Axe may summon a swarm of Familiars with Berserker's Call, causing Counter Helix to appear and destroy them.

Due to their short strike range, Familiars' quick assaults will trigger Counter Helix, causing them to take full damage.

Doom
Scorched Earth may be used to engage Visage while also reducing the charges from the Gravekeeper's Cloak.

Due to Visage's large health pool, Infernal Blade will deliver massive amounts of damage over time.

Gravekeeper's Cloak is fully nullified by Doom, and Visage is unable to perform spells.

Luna
Moon Glaives is powerful against Familiars, and each hit against Visage removes one instance of Gravekeeper's Cloak, making him vulnerable to damage.

Phoenix
Familiars have no effect on Phoenix's Supernova.

Sun Ray will not deliver enough damage to be lessened by Gravekeeper's Cloak in the early and mid game.

A layer of Gravekeeper's Cloak is burned every 0.2 seconds once Sun Ray has dealt enough damage to safeguard Visage.

Tidehunter
Even with Medallion of Courage or Solar Crest, Visage's Familiars cannot penetrate Kraken Shell and will do almost no damage to Tidehunter.

The bonus damage from Anchor Smash has the potential to kill Familiars.

Timbersaw
Familiar strikes quickly store up Reactive Armor, making Timbersaw difficult to destroy.

Timbersaw can easily line up his abilities because of Visage's poor mobility.

Tiny
Gravekeeper's Cloak loses a significant number of layers when Tiny's Avalanche is used. When used in conjunction with Toss, it burns through all of the Gravekeeper's Cloak while inflicting three times the damage of Toss on Visage in mid-air.

Visage's Familiars will be dispatched quickly thanks to Tiny's already high damage and Tree Grab's attack modifier.

Venomancer
In addition to delaying an already sluggish hero, Venomous Gale, Poison Sting, and Poison Nova do damage over time and chip away at Gravekeeper's Cloak.

The usual assaults of the Venomancer cause Poison Sting and eat away at the Gravekeeper's Cloak.

Viper
Viper can easily kite Visage with Poison Attack and Viper Strike while effectively chipping away at Gravekeeper's Cloak because Visage is a sluggish hero.

All layers of the Gravekeeper's Cloak are removed by Nethertoxin, exposing Visage.

Viper's Corrosive Skin makes him very immune to Soul Assumption.
Items Counter

Assault Cuirass
Assault Cuirass or Shiva's Guard: Items that provide armor, such as Assault Cuirass or Shiva's Guard, can protect foes from Visage's damage to a large extent. The only way to get rid of the armor is to use a method like Solar Crest's.

Butterfly
Butterfly or Heaven's Halberd: Items that provide evasion, such as Butterfly or Heaven's Halberd, can also shield foes from Visage's damage. The only way to help the Familiars is to obtain a Bloodthorn; the Monkey King Bar will not assist them.

Black King Bar
Black King Bar: Grave Chill, Soul Assumption, and Stone Form are all nullified by Black King Bar, removing some of Visage's damage and all of his control.

Vanguard
Vanguard and Crimson Guard: Crimson Guard's damage output will be drastically reduced.

Radiance
Radiance: Visages' Gravekeeper's Cloak will be no match for Radiance.
Favorable Matchups

Slardar
Visage's Familiars will do massive damage when used in conjunction with Corrosive Haze.

Lifestealer
Visage's Familiars can be infested by Lifestealer.

Beastmaster
Visage's Familiars may be extremely strong when combined with Beastmaster's summons and Inner Beast. Beastmaster's ultimate is also an excellent lockdown for Familiars to do damage and then stun.

Elder Titan
Titan can easily land Earth Splitter and Echo Stomp with Stone Form of Familiars. Titan, on the other hand, can set up Visage for a chain stun.
Game plan
You can support in lane or roam gank from the start, but Visage's main gank ability is to deal damage based on Soul Assumption (so most of you will get kills), moreover to accumulate points for that skill you depend a lot on the amount of damage the hero takes. Pay attention to this to know when to shoot Soul Assumption (if you give up your life, shoot early, and ks should just wait for the enemy to close to death).

When acting as a support lane, you go to pull creeps to earn some more money, which can be stacked camp to carry farm later. Gank just circles around behind, uses Grave Chill on the enemy champion, deals damage and shoots Soul Assumption to finish.

Gravekeeper's Cloak is a skill that turns you into a temporary tanker thanks to the great resistance stats it gives, but it's pretty useless if you encounter damage players over time, pay attention to this.

You can use the tab key to change control commands to familiars.
Early game
Smoke ganking, going around the jungle and then getting behind the enemy to gank are common things for support when roaming, or pulling, stacking jungle monsters. To play Visage effectively, it is best to move flexibly between lanes. You need to have a certain amount of money and items to be able to support your teammates and deal better damage to enemies.
Mid game
At this time, you should work with the gankers and tankers to put pressure on the opponent by pushing the tower, also to prolong the time for your carry team to farm important items. Familiar will completely recover stack dmg when using Stone form, and Familiar's attack speed is very fast, so Visage's ability to push towers is extremely good, moreover Stone form also stuns enemies, you can use used in many cases of chase/gank/escape/cover (however the cast time is a bit slow), in different situations you can also use Familiar to tank damage from minions and turrets.
Late game
Nothing special, this stage you should always be with your allies to push the turret, put pressure on the enemy and control the big goal: Roshan. Late game Visage is quite weak when the opponent has quite a lot of equipment, the damage done by Visage will not be the same (unless you intend to buy a bunch of armor-less items to rebel as a carry, this is completely Feasibility).