Lore & Bio
"The blood sun rises, and if I feed, it's never going away."
As the last surviving sentry of an outpost on the world at the edge of the abyss, Harbinger, a member of a lordly and magisterial race, prowls the edge of the Void. He has looked up into the heavens for all of eternity, constantly vigilant for any movement in the bottomless night beyond the stars, from this jagged, crystalline Outworld. A resonant pattern akin to prophecy, a dark music that suggests that eventually some evil will awaken out there, beyond the edges of creation, and turn its attention to our world, is imprinted deeply in the shining lattices of his intellect. Outworld Destroyer paid little attention to what was happening closer to the sun because his entire attention was on keeping his vigil.But eventually the Ancients' clamor and a sense of an increasing internal and external threat sent him flying sunward to visit the battle plains. It is clear that the role of the harbinger in our own prophecies is that of a sign of even worse things to come. However, his mere arrival is bad enough.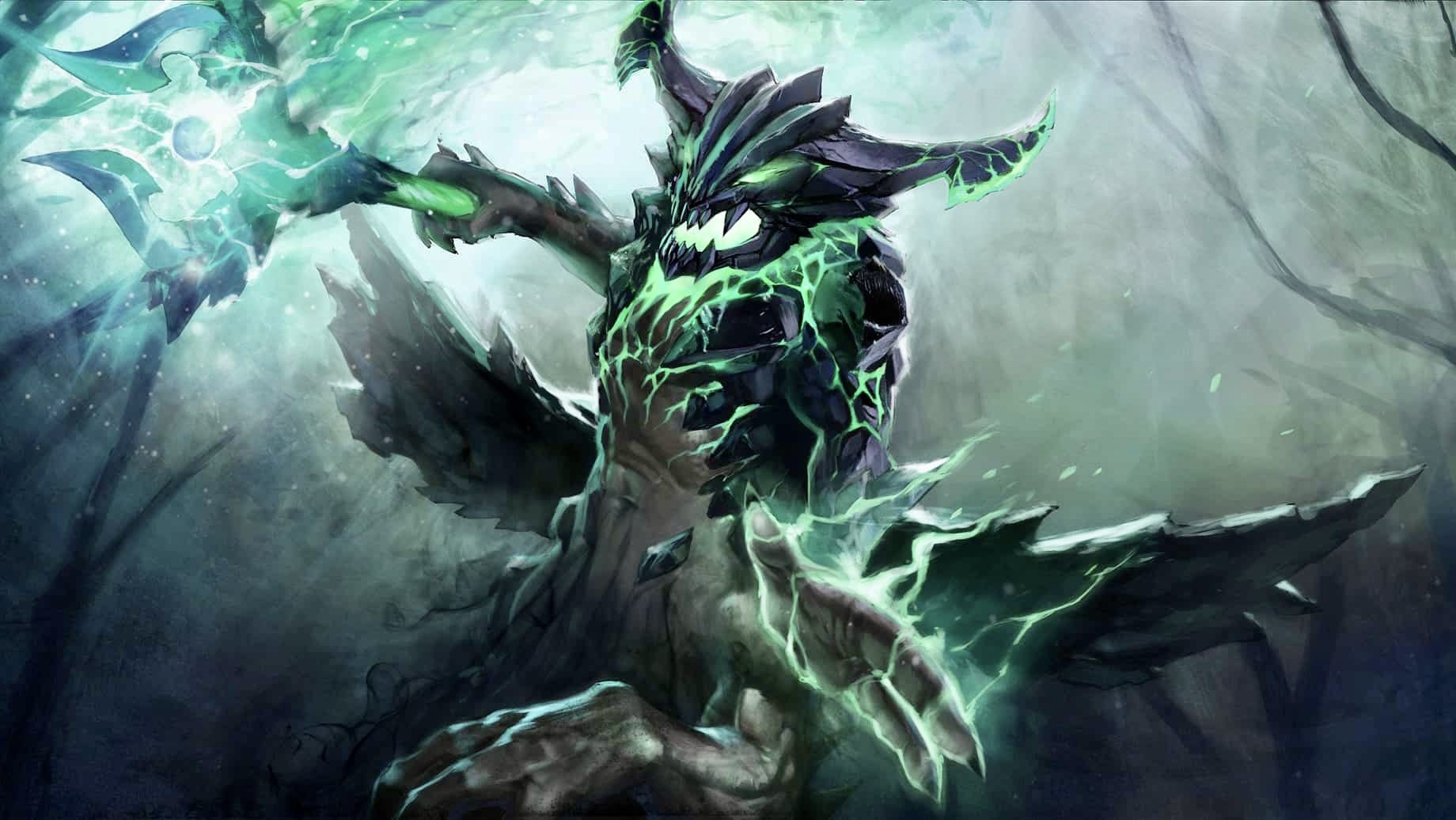 Attribute & Stats
Level: 0 1 15 25 30
Health: 200 620 1420 2240 2580
Health regen: +1 +3.1 +7.16 +11.26 +12.91
Mana: 75 435 1131 1779 2055
Mana regen: +0 +1.5 +4.44 +7.14 +8.29
Armor: 2.5 6.17 9.9 14.57 16.23
Damage Block: -
Magic Resistance: 25%
Status Resistance: 0%
Damage: 19-31 49-61 107-119 161-173 184-196
Attack Rate: 0.53/s 0.64/s 0.76/s 0.91/s 0.96/s
Attack Range: 450 (800)
Attack Speed: 100 (1.9sBAT)
Attack Animation: 0.46+0.56
Projectile Speed: 900
Movement Speed: 320
Turn Rate: 0.6
Collision Size: 24
Vision Range: G 1800*800
Legs: 4
Gib Type: Ethereal.
Ability Upgrades:
Upgrade Astral Imprisonment.
Abilities & Talents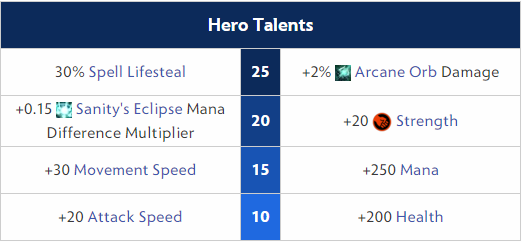 Skills building guide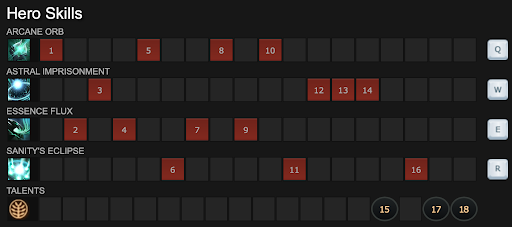 Outworld Devourer's skill build is fairly rigid. Arcane Orb and Essence Aura are two skills that you almost always max out because you need them to effectively control lanes and have strong last hit damage. Astral is postponed until later because you need Arcane to easily farm the jungle and control your lane opponents. The other variation tries to deter gankers by investing early points in imprisonment. Sanity's Eclipse should generally be avoided at level 6 because you need more points for your other skills, especially Essence Aura, but if getting it ever guarantees you a kill, level it.
Abilities

Arcane Orb
Cast range: 450
Mana: 20% of current mana.
Cooldown time: 6/4/2/0
Effect: Depending on the amount of mana the Outworld Destroyer has left, increases the pure damage of his attacks.

Astral Imprisonment
Effect: Incarcerates a target unit in the astral realm. The concealed unit is defenseless and unusable. When the astral prison collapses, a portion of the target's maximum mana is taken along with damage.
Cast range: 650
Damage: 120/200/280/360
Mana: 150
Radius: 400

Essence Flux
Proc Chance: 30%
Effect: Every time you cast an ability, you have a chance to recover a portion of your maximum mana.
Note: Recharges mana after casting other abilities.

Sanity's Eclipse
Mana: 200/325/450
Cast range: 700
Radius: 400/500/600
Cooldown: 160/145/130
Effect: Releases a psychic blast that deals damage to enemies according to the difference in mana between you and the target. Units held captive by Astral Imprisonment are susceptible to Sanity's Eclipse.
Effective items guides
Early game

Ring of Health
Ring of Health: Creates a meteor hammer and offers HP.

Boots of Speed
Boots of Speed: Make Outworld Destroyer move more quickly, which is crucial in the middle lane.
Mid game

Meteor Hammer
Meteor Hammer: If you are not already stunned, Astral Imprisonment ensures that you are active. Arcane orbs that land with this deal extra damage and are stunned for 1.25 seconds. Additionally aids in taking out the mid and safelane towers, giving your team access to a large portion of the map.

Boots of Speed
Boots of Speed: Enhances movement speed. Can be built into Boots of Travel for split pushing or Power Treads for increased attack speed and intelligence.

Blink Dagger
Blink Dagger: Increases Outworld Destroyer's mobility, allowing him to escape an Astral Imprisonment he self-cast by blinking.
Late game

Hurricane Pike
Hurricane Pike: Gives the attack's capabilities and range. Outworld Destroyer can position himself while using the active, which also speeds up some of his attacks.

Black King Bar
Black King Bar: Gives Outworld Destroyer the time to stack intelligence and use his ultimate more skillfully because it defends against the majority of disables and nukes.

Scythe of Vyse
Scythe of Vyse: Gives him a hex and extra intelligence, giving him more time to use Arcane Orb to do damage.

Aghanim's Scepter
Aghanim's Scepter: Increases mana, health, and attributes. Additional Astral Imprisonment charges and its increased range add another disable.

Aghanim's Shard
Aghanim's Shard: Enables allies to move while they are imprisoned in the astral plane, albeit at a slower speed. Extremely helpful for protecting allies from severe disabilities like Black Hole, Reverse Polarity, Arena of Mars (allies can leave the Arena while hidden), and so forth. especially complements Aghanim's Scepter.
Situation items

Hand of Midas
Hand of Midas: Allows Outworld Destroyer to scale more effectively, though it might reduce some of your power in the early game.

Power Treads
Power Treads: Gives the ability to use more arcane orbs and attack speed.

Linken's Sphere
Linken's Sphere: Can be used as a substitute for Black King Bar if you frequently find yourself targeted by single target spells.

Octarine Core
Octarine Core: Gives the most mana for a single item and enables you to spam Astral imprisonment to steal more mana. Additionally, it raises damage and makes Sanity Eclipse more frequently usable.

Moon Shard
Moon Shard: Gives him a boost in attack speed that is high, enabling him to deal more damage in combat. As catching a hero with your astral imprisonment + meteor hammer combo is very lethal, the bonus night vision is also nice for ganking at night.

Rod of Atos
Rod of Atos: Will give him the ability to root against a single target, plus more health, intelligence, and power. If your team doesn't have a lot of crowd control, get this item.

Orchid Malevolence
Orchid Malevolence: Gives him increased intelligence, attack speed, and a silence that increases his damage for the duration of the silence. also develops into Bloodthorn later.

Refresher Orb
Refresher Orb: Is one of the most powerful late-game items on the Outworld Destroyer because it enables the double use of items like Sanity's Eclipse, Black King Bar, and Scythe of Vyse, which can be devastating in teamfights.

Bloodstone
Bloodstone: Give you a lot of mana, significantly boost the damage of Sanity's Eclipse, and grant you 25% spell lifesteal. After casting Sanity's Eclipse on a number of heroes, this can restore your health to 100 percent. Additionally pairs well with the talent at level 25.
Enemies & Allies
Allies

Anti-Mage
Arcane Orb deals only damage, so counterspell cannot be used against it.

Due to Essence Flux, Anti-Mage cannot burn all of Outworld Destroyer's mana without causing disabilities.

Arcane Orb quickly dispels the Manta Style illusions created by Anti-Mage.

Anti-Mage has better mobility than Outworld Destroyer with Blink, Mana Void becomes a threat to Outworld Destroyer, and Counterspell blocks a significant amount of the damage from Sanity's Eclipse if the enemy has multiple ways to drain mana.

Axe
Pure damage from Arcane Orb cannot be blocked by Berserker's Call bonus armor.

An ally or the Outworld Destroyer himself can be kept from receiving an axe initiation through the use of astral imprisonment.

Due to his low mana, Axe is vulnerable to a potent Sanity's Eclipse.

Huskar
With Astral Imprisonment, Outworld Destroyer can avoid Life Break and remain unharmed while Huskar loses HP.

Due to Huskar's low mana reserve, Sanity's Eclipse can deal a ton of damage to him before he can stack Berserker's Blood.

Legion Commander
Outworld Destroyer can use Astral Imprisonment to free an ally hero trapped in a Duel, and he can use Arcane Orb to deal significant damage to Legion Commander in order to help his ally. However, given his lack of toughness, if he is discovered, he will probably not make it through the duel.

Winter Wyvern
Arcane Orb's pure damage for Outworld Destroyer can pass through Cold Embrace.

Astral Imprisonment allows Outworld Destroyer to counteract Cold Embrace's healing while stealing mana.

Due to Arcane Orb's inability to target allies during Winter's Curse, Outworld Destroyer's damage is diminished.

Morphling
Regardless of Morphling's high armor from Attribute Shift, Arcane Orb deals a lot of damage (Agility Gain).

Sanity's Eclipse will almost always be effective against Morphling because of its very low intelligence gain and base intelligence.

Slark
By banishing Slark or his target, Outworld Destroyer can thwart Slark's attacks with Astral Imprisonment.

If Slark is directly attacked by Outworld Destroyer, he will succumb to Arcane Orb quickly due to his low health pool.

If Slark tries to run with Shadow Dance, Sanity's Eclipse will easily finish him off due to his low intelligence gain.

Timbersaw
Timbersaw's reactive armor is disregarded by Arcane Orb's pure damage.

If Astral Imprisonment is used at the right moment, Timber Chain can be interrupted, preventing him from escaping.

Wraith King
Wraith King, who has a naturally low mana pool and usually doesn't build items to increase it, takes a ton of damage from Sanity's Eclipse.

It is simple to avoid using Astral Imprisonment thanks to the slow projectile speed of Wraithfire Blast.
Counters

Nyx Assassin
Outworld Destroyer is a prime target for Mana Burn due to his high mana pool, high intelligence, and other characteristics.

Outworld Destroyer will receive the complete damage from Sanity's Eclipse if Spiked Carapace is timed correctly. Even a reflected Arcane Orb can cause serious harm and leave him open to a follow-up attack from the Nyx Assassin.

Additionally, Spiked Carapace is the ideal weapon against Astral Imprisonment because, if used on Nyx, he can deflect the damage as he escapes the prison by using the skill while confined.

Phantom Lancer
Phantom Lancer can initiate on Outworld Destroyer using Doppelganger and Juxtapose, and even though Arcane Orb normally instantly destroys his illusions, Phantom Lancer will spawn far too many to handle without using Sanity's Eclipse.

Outworld Destroyer's primary AOE is Astral Imprisonment with Aghanim's Scepter, which does insufficient damage to dispel Phantom Lancer's illusions.

Rubick
If Rubick obtains Aghanim's Scepter icon.png Aghanim's Scepter, he gains two charges to Spell Steal, allowing him to steal Astral Imprisonment. In team battles, this can defeat the Outworld Destroyer.

When facing the teammates of the Outworld Destroyer, Rubick can also steal Sanity's Eclipse.

Silencer
Outworld Destroyer's damage output will be significantly reduced by Silencer's Intelligence Steal, especially from Sanity's Eclipse.

Unless he has constructed Black King Bar, Last Word and Global Silence will eliminate Outworld Destroyer from the conflict.

Sniper
Sniper can kite and harass Outworld Destroyer in lane with his long range and zone him out in fights because Outworld Destroyer lacks gap-closing abilities and has short cast and attack ranges. Astral-Blink escapes are also prohibited by the continuous area damage caused by shrapnel.

Templar Assassin
Refraction is challenging for the Outworld Destroyer to deal with because, when used properly, it mitigates the majority of the damage from Arcane Orb and Sanity's Eclipse.

A Psionic Trap-slowed Outworld Destroyer is an easy target for a Templar Assassin if Astral Imprisonment is on cooldown, especially during the laning stage.
Items Counter

Mekansm
Mekansm, Magic Stick and Faerie Fire: When used inside Astral Imprisonment, instant healing items like Mekansm, Magic Stick, and Faerie Fire will begin to work before the prison's damage does, possibly saving the target.

Pipe of Insight
Pipe of Insight: Reduces Sanity's Eclipse's damage noticeably.

Black King Bar
Black King Bar: Makes the user immune to every spell cast by Outworld Destroyer.

Helm of the Dominator
Helm of Dominator: An Ogre Frostmage's Ice Armor slows the Outworld Destroyer's attack speed when wearing Helm of the Dominator, making it challenging for him to build charges and deal damage with Arcane Orb.
Favorable Matchups

Ogre Magi
Outworld Destroyer's damage output is significantly increased by bloodlust, and he can build charges more quickly.

Outworld Destroyer can attack an enemy that has been pinned down by Ignite or Fireblast.

Silencer
The mana gap between Outworld Destroyer and his enemies will grow as a result of Silencer's passive and active Intelligence Steal, making his enemies more vulnerable to Sanity's Eclipse.

Outworld Destroyer will be able to easily land attacks thanks to Global Silence's ability to stop enemies from disabling him.

Shadow Shaman
An enemy is held down for a very long time by shackles and hex. Outworld Destroyer typically kills an enemy after 9 seconds of stuntedness.

Bane
Fiend's Grip is a very long duration disable that, like Shadow Shaman, can bind an enemy long enough for Outworld Destroyer to kill them. The enemy's maximum mana pool is also drained by 5%, which can significantly increase the damage Sanity's Eclipse deals.

When combined with Astral Imprisonment, Nightmare, a 7 second sleep at maximum level, can render an enemy helpless for a very long time.

Lion
Earth Spike and Hex can hold an enemy down for a very long time, similar to Shadow Shaman, allowing Outworld Destroyer to deal significant damage.

Mana Drain reduces the enemy's mana supply and increases the damage that Sanity's Eclipse can deal.

For quick Finger of Death stacks, the Finger of Death can assist in picking off fleeing enemies.

Disruptor
Enemies are prevented from kiting Outworld Destroyer by Kinetic Field.

Faceless Void
Astral Imprisonment can remove heroes outside the Chronosphere who might pose a threat to Faceless Void, and Chronosphere works well with the entire skill set of Outworld Destroyer.

Setting up Chronosphere is simple for Sanity's Eclipse. The damage dealt will be even greater if Faceless Void has a diffusal blade.

Arcane Orb can be used by Outworld Destroyer without interruption from outside the Chronosphere.

Time dilation slows down heroes so that foes can't kite the Outworld Destroyer.
Game plan
Early game
You should move toward mid lane after collecting your starting items. At some point, I might create a build for the side lanes, but for Outworld Devourer, I believe the mid lane is the best place to start the game and the fastest way to spiral out of control. In this early part of the game, your goal is to last hit and deny as much as you can.
Before using ultimate, imprisonment should be used. It makes perfect sense to steal extra intelligence before using an ability that depends on the hero's intelligence difference. However, take care to alert your teammates to your intentions. There is nothing worse than having everyone waste their stuns and ultimates on an opponent for 4 seconds while they are imprisoned in an impenetrable prison with no way out.
Mid game
Your role during the middle of the game is crucial and will probably affect how the game turns out. Disabling any durable or nuker heroes in a teamfight will give your team an extra crucial 4 seconds to concentrate on taking out the opponent's carry. Also keep in mind that your Arcane Orb should be dealing PURE additional damage based on your remaining mana pool at this point, increasing your DPS even further. Be prepared if you take down weak supports or poorly farmed carries in 3, 4, or more hits; this is what Outworld Devourer excels at!
Late game
You should be finished building your item at this point. If you've constructed your hero as described above, you'll most likely have one extra item slot. This would be the place for a situational item that will help your team.
By this time, you ought to be able to identify who the main teamfight troublemakers are. For their disruptive behavior, give them a 4 second Astral Imprisonment sentence. Also, don't forget to remind your team to cast their spells repeatedly! Many of your teammates will be very pleased to learn that spells they cast while near you have a 40% chance to replenish their mana.