Lore & Bio
Kaldr, the Ancient Apparition, is a projection that transcends time. He was born from the extreme cold of the infinite void, has seen the whole universe being born, and is waiting for the moment when it will die. Kaldr was, Kaldr is, and Kaldr always will be. so…all that we realize, or see how mighty he is, is really just a fading sigh of the only true, of the eternal Kaldr .
There are many people who believe that, with the metamorphosis and decay of the universe, Kaldr's power and glory will become stronger and stronger – that the Ancient Apparition will become more and more full of life and become more powerful. near eternity. Kaldr's frost can freeze all things, his projection will create a flash of terrible glare beyond vision. He was long beyond the reach of an Apparition.
"My spirit may be locked in ice, but my rage still burns."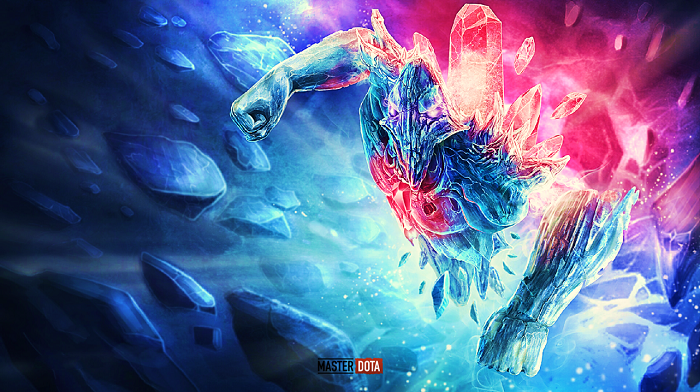 Attribute & Stats
Level: 0 1 15 25 30
Health: 200 600 1120 1740 1980
Health regen: +0.25 +2.25 +4.91 +8.01 +9.16
Mana: 75 351 915 1467 1695
Mana regen: +0 +1.15 +3.53 +5.83 +6.78
Armor: -1 2.33 7.47 13.13 15.3
Damage Block: -
Magic Resistance: 25%
Status Resistance: 0%
Damage: 21‒31 44‒54 91‒101 137‒147 156‒166
Attack Rate: 0.59/s 0.71/s 0.89/s 1.09/s 1.16/s
Attack Range: 675 (800)
Attack Speed: 100 (1.7s BAT)
Attack Animation: 0.45+0.3
Projectile Speed: 1250
Movement Speed: 285
Turn Rate: 0.6
Collision Size: 24
Vision Range: 1800 • 800
Legs: 0
Gib Type: Ice
Ability Upgrades:
Upgradable by Aghanim's Scepter;
Upgradable by Aghanim's Shard.
Abilities & Talents
Skills building guide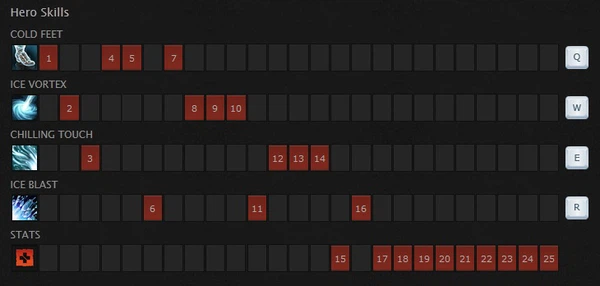 Raise Cold Feet (Q) at the first and maximum levels to take damage and lock the enemy, making it easy for you and your teammates to earn lives while roaming, ganking when your teammates can gain 1 skill some control like slow or stun.
If it's a support lane, you can get Chilling touch (E) first if that hero is suitable (like PA, Ursa, Riki for example). Maximize Cold Feet (Q) first for damage and duration. Depending on the next situation, you can max out the 2nd Ice vortex (W) or Chilling touch (E). Ultimate get the correct level.
Abilities

Cold Feet
Cost: 150 mana.
Cooldown: 15/13/11/9 seconds.
Cast Range: 700/800/900/1000 distance.
Effect: cools the target down, dealing 37.5/50/62.5/75 damage per second. If the enemy doesn't run far away from the location where this skill was cast, they will be frozen.
Impact time: 4 seconds
Freeze Time: 1.25/2/2.75/3.5 seconds
Break-down distance: 740

Ice Vortex
Cost: 80/90/100/110 mana
Cooldown: 4 seconds
Casting Range: 1500
Effect: creates an icy vortex at the specified location, enemies that step on this area will have their movement speed and magic resistance reduced.
Spinning Radius: 275
Duration: 16 seconds
Run Speed Slow: 15%/20%/25%/30%
Magic Resistance Reduction: 15%/20%/25%/30%

Chilling Touch
Cost: 110/120/130/140 mana
Cooldown: 50/42/34/26
Casting Range: 800
Effect: Casts on allied champions (including yourself) an icy curse, reducing the attack speed of affected units but in return their attacks deal bonus damage (inactive) on piers and structures
Damage: 50/60/70/80
Number of hits: 3/4/5/6
Attack speed reduction: 20
Curse radius: 525
Effect time: 30 seconds

Ice Blast
Cost: 100/125/150 mana.
Cooldown: 40 seconds
Range: the entire map
Effect: throw an icy mark in the specified direction, activate this skill 1 more time to stop the mark, and as soon as the mark stops, AA will throw an ice ball at that location for 2 seconds . If an enemy champion has less than 10%/11%/12% of their maximum health for the duration of the effect, they will be instantly killed. The farther the mark flies, the bigger the explosion. Enemy units that are dashed by the orb take damage over time.
Impact time: 8/9/10
Impact radius: 275
Minimum explosion radius: 275
Maximum explosion radius: 1000
Upgraded by Aghanim's Scepter:
Note: every second the mark flies it will increase by 50 explosion radius, up to a maximum of 1000. Since the orb's flight time is 2 seconds to the target location, casting this ability at long range will be beneficial. superior in flight speed and explosive radius. There is a small trick here is that if when shooting the orb that AA tries to increase the distance between him and the mark, when he shoots the ice ball, it will explode with a larger radius.

Release
Effect: The ice blast is released, exploding at the tracer's present location.
Cast Animation: 0.01 + 1.07
Cooldown Time: 1
Effective items guides
Early game

Urn of Shadows
Urn of Shadows: Urn of Shadows provides various general benefits as well as high mana regeneration. It has the power to make ganking simpler while also healing teammates.

Magic Wand
Magic Wand: The Magic Wand aids in the maintenance of both your health and mana.

Boots of Speed
Boots of Speed: For the movement speed boost, you'll require Boots of Speed.
Mid game

Arcane Boots
Arcane Boots: Arcane Boots offer much-needed mana support for Ancient Apparition and his allies, as well as increasing Ancient Apparition's own mana pool.

Eul's Scepter of Divinity
Eul's Scepter of Divinity: Eul's Scepter of Divinity provides a lot of mana regeneration, a little bit of mana, and a little bit of movement speed. After casting Cold Feet on an adversary, you can use its ability to stun and freeze them for the majority of the duration.
Late game

Force Staff
Force Staff: The Force Staff is a very handy tool that may be used as a pursuit item or as an escape method. It can also be utilized to assist teammates.

Glimmer Cape
Glimmer Cape: Ancient Apparition and allies can use the Glimmer Cape to gain magic resistance and invisibility, allowing them to flee or initiate without being detected.
Situation items

Hand of Midas
Hand of Midas: When Ancient Apparition has an above-average early game, Hand of Midas might be an excellent item pick, providing him with a constant stream of money and experience.

Mekansm
Mekansm: Mekansm is a fantastic utility item that will make it much more difficult to kill you and your squad. Use its ability to heal you and nearby allied heroes for a small amount of mana while boosting everyone. Guardian Greaves can be improved later.

Tranquil Boots
Tranquil Boots: Tranquil Boots are preferable than Arcane Boots for Ancient Apparition's health, as his fast Intelligence growth and low mana requirements make mana less of a concern.

Ghost Scepter
Ghost Scepter: Ancient Apparition is resistant to physical assaults thanks to the Ghost Scepter, allowing him to survive when enemy carriers are closing in on him.

Kaya
Kaya: Kaya increases Ancient Apparition's damage output, making Ice Blast more hazardous in particular, at a low cost. Kaya and Sange can be upgraded for a much-needed durability increase.

Rod of Atos
Rod of Atos: Ancient Apparition's health pool is depleted, and his mana is depleted. Rod of Atos provides a considerable amount of overall stats, padding out his anemic health pool and augmenting his mana. Cold Feet, Ice Vortex, and Ice Blast all work nicely with its root.

Spirit Vessel
Spirit Vessel: Spirit Vessel is an excellent upgrade to Urn of Shadows, and its percentage-based damage complements Ice Blast wonderfully.
Enemies & Allies
Allies

Abaddon
Borrowed Time and Mist Coil's healing are both negated by Ice Blast.

Alchemist
Chemical Rage's health regeneration is nullified by Ice Blast, which Alchemist relies on to stay alive in combat.
Armlet of Mordiggian, which may be lethal during Ice Blast, is a common Alchemist construct.

Chen
Divine Favor and Hand of God are unable to heal his friends or himself due to Ice Blast.

Crystal Maiden
Cold feet can be utilized to prevent the whole channel of Freezing Field from activating.

Dazzle
Ice Blast's shatter is prevented for up to 5 seconds by Shallow Grave, although it can generally merely postpone it because Ice Blast's debuff lasts 10 seconds and prevents Shadow Wave from healing them.

Death Prophet
Death Prophet cannot acquire life from Spirit Siphon or Exorcism while using Ice Blast.
Counters

Anti-Mage
Cold Feet may be avoided by Blinking or by constructing a Manta Style.
Anti-Mage gets less damage from all of Ancient Apparition's abilities while he uses Counterspell.
Due to his large mana pool, Ancient Apparition takes a lot of damage from Mana Break and Mana Void.

Brewmaster
Brewmaster becomes invulnerable for the duration of Primal Split, rendering Cold Feet and Ice Blast worthless.
Cold Feet may be dispelled by using Dispel Magic on allies.
With the slow from Thunder Clap and Cinder Brew, Brewmaster can easily take down Ancient Apparition.

Riki
With Blink Strike, Riki can easily overcome Ancient Apparition. Along with Tricks of the Trade, this may also be used to avoid Ice Blast.
Ancient Apparition will commonly use Ice Blast as a last option just before dying. Smoke Screen may be employed to prevent this, thereby blocking the effects of Ancient Apparition.

Lycan
Lycan's movement speed is increased and he becomes unstoppable, allowing him to effortlessly evade and escape Ancient Apparition's skills.
Due to his immobility and poor armor, both of Lycan's wolves from Summon Wolves may deal a lot of damage to Ancient Apparition.

Mirana
Mirana can quickly escape Cold Feet's chilling radius thanks to Leap. Mirana also has a proclivity for creating Manta Style, which is capable of dispelling Cold Feet.
Invisibility makes it difficult to capture Mirana's troops with Ice Blast during Moonlight Shadow.
Because of Ancient Apparition's lack of mobility and escape skills, he is an easy target for Mirana at any point in the game.
Items Counter

Cloak
Cloak: All of Ancient Apparition's abilities take less damage with Cloak and its upgrades.

Hood of Defiance
Hood of Defiance and Pipe of Insight: With their active abilities and passive magic resistance, Hood of Defiance and Pipe of Insight may both mitigate damage from Ice Blast.

Black King Bar
Black King Bar: With the exception of Ice Blast, Black King Bar dispels Cold Feet and prevents damage from Ancient Apparition's abilities.

Force Staff
Force Staff/Hurricane Pike: To avoid Ancient Apparition powers, utilize the Force Staff/Hurricane Pike.

Shadow Blade
Shadow Blade/Silver Edge: Ice Blast is difficult to catch with Shadow Blade/Silver Edge.

Manta Style
Manta Style: The Cold Feet debuff is removed using Manta Style.

Essence Ring
Essence Ring: The hero's health is raised above the shatter threshold by wearing the Essence Ring.
Favorable Matchups

Bloodseeker
Rupture prevents the target from moving out of the impact radius of Ice Blast.
Thirst grants Ancient Apparition vision, allowing them to precisely target retreating adversaries with Ice Blast, especially before they reach the fountain.

Faceless Void
Chronosphere is an excellent setup for Ice Blast, and it may be followed up by Cold Feet to stun adversaries for a longer period of time.
Cold Feet may use Time Dilation and Time Lock to stun foes successfully.

Meepo
Earthbind spells after casts keep the attacker in place long enough for Cold Feet and Ice Blast to strike.
Poof's damage is amplified by Ice Vortex.

Necrophos
Death Pulse, Heartstopper Aura, and Reaper's Scythe all have their damage increased by Ice Vortex.
Ghost Shroud's slow can assist in securing Cold Feet stuns.
Heartstopper Aura provides damage dependent on maximum health, bringing foes dangerously near to the kill threshold of Ice Blast while in effect.
Game plan
Early game
Ancient Apparition is a pretty bad roaming hero without the support of teammates, so the ability to make lane support will be quite high. If you meet long-armed allies, you can buff Chilling touch (E) enthusiastically to poke the enemy's blood.
Using Cold Feet (Q) when there is support from an ally or when the enemy is chasing you or an allied champion, you can trigger them to freeze (and sometimes even die backwards). Ice vortex (W) is an extremely annoying slow skill, but it is very mana-consuming, so when you do not have an abundant amount of mana, you should not use it wastefully.
Mid game
This is the extremely frequent roam + gank phase when your team's gankers already have enough levels and basic equipment for ganking, and create space for your carry team to farm to the maximum, or go to that lane to help it push lane, counter gank if the enemy targets your carry team.
The way you use Ice blast (R) to be most effective is to throw it from your base, then use the Town portal scroll to expand the position you just threw and join the fight. In teamfights or ganks, place Ice vortex (W) to squeeze the corner as well as reduce the opponent's magic resistance. Cold feet (Q) is a skill to trigger if you are being chased or combined with another control ability from an ally to freeze the target.
Late game
This stage you go with your teammates, fully ward, use Smoke of Deceit to gank single targets or start a teamfight by surprise, creating conditions to proceed to destroy the opponent's Ancient or push 1 lane, force the opponent to deflect turret or have to fight.
Before entering the teamfight you can't corner the opponent by placing Ice vortex (W) which reduces their movement speed and magic resistance if your team has heroes that poke the enemy with ranged skills. You choose the correct time to launch Ice blast (R) to be able to hit the most enemy heroes to block their healing, Chilling touch (E) buff increases damage to allies. Cold feet (Q) are used to block the opponent's initiator when they jump into your team's formation (don't use it on targets with bkb). You can also launch Ice blast (R) at long range to reach the largest area and then teleport up with your teammates or use it to defy towers and push creeps.