Lore & Bio
"And so the dead will bury the dead."
While still alive, the ice mage Ethreain (who had not yet become a Lich) used his destructive icy spells to threaten and enslave the kingdoms en masse. Those under his rule, aided by a few reckless witches, were finally brave enough to plot an ambush against him. With ropes enchanted with magic enough to seal him off forever, they tied the evil mage to a heavy iron block, then dropped him into the Black Pool, a pool of water passed down by generations. each other's ears are bottomless. But not.
He only continued to sink for a year, before getting caught in a ledge. His body remained there forever, dead but not decaying, until the feng shui master Anhil, wishing to verify the anecdote about the bottomless Black Lake, came here to study. Anhil's plumb line got caught in the ropes that bound the magician to the depths of the water, and Anhil ended up with an unexpected "reward". Thinking that if he could bring the dead back to earth, he could question the Lich about the Black Lake, Anhil removed the seal and performed a simple resurrection ritual. Even the descendants of those who once sealed Ethreain had been forgotten by time, so there was no one left to warn Anhil of this foolish act. And as soon as Lich released his shackles, the bad guy had to pay for his fatal mistake, with his life.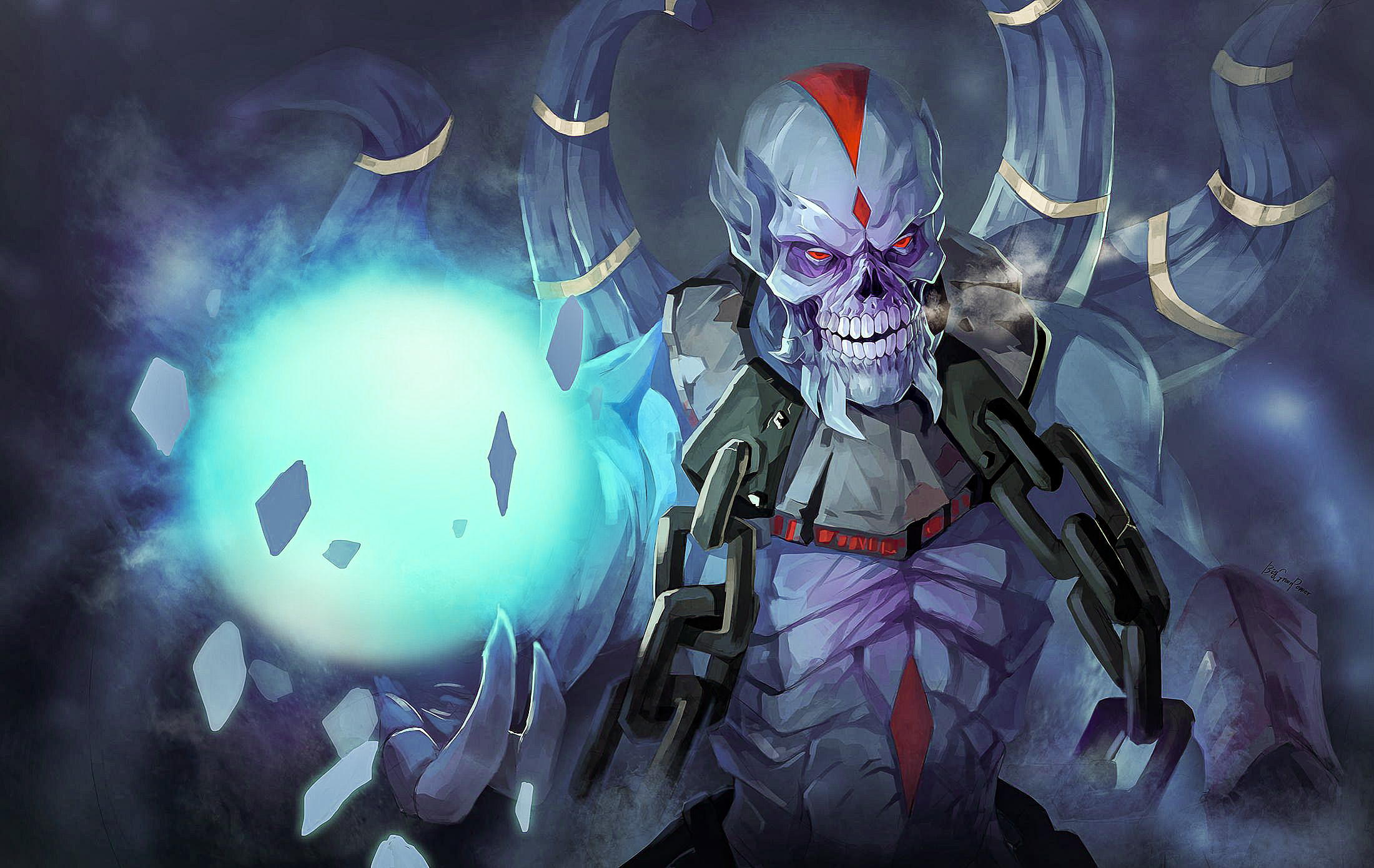 Attribute & Stats
Level: 0 1 15 25 30
Health: 200 600 1180 1840 2080
Health regen: +0.25 +2.25 +5.19 +8.49 +9.74
Mana: 75 363 1047 1683 1947
Mana regen: +0.75 +1.95 +4.82 +7.47 +8.6
Armor: -1 1.5 6.17 11.5 13.5
Damage Block: -
Magic Resistance: 25%
Status Resistance: 0%
Damage: 24‒33 48‒57 105‒114 158‒167 180‒189
Attack Rate: 0.59/s 0.68/s 0.84/s 1.03/s 1.1/s
Attack Range: 550 (800)
Attack Speed: 100 (1.7s BAT)
Attack Animation: 0.46+0.54
Projectile Speed: 900
Movement Speed: 295
Turn Rate: 0.6
Collision Size: 24
Vision Range: 1800 • 800
Legs: 2
Gib Type: Ice
Ability Upgrades:
Upgradable by Aghanim's Scepter - Sinister Gaze

Upgradable by Aghanim's Shard - Ice Spire
Abilities & Talents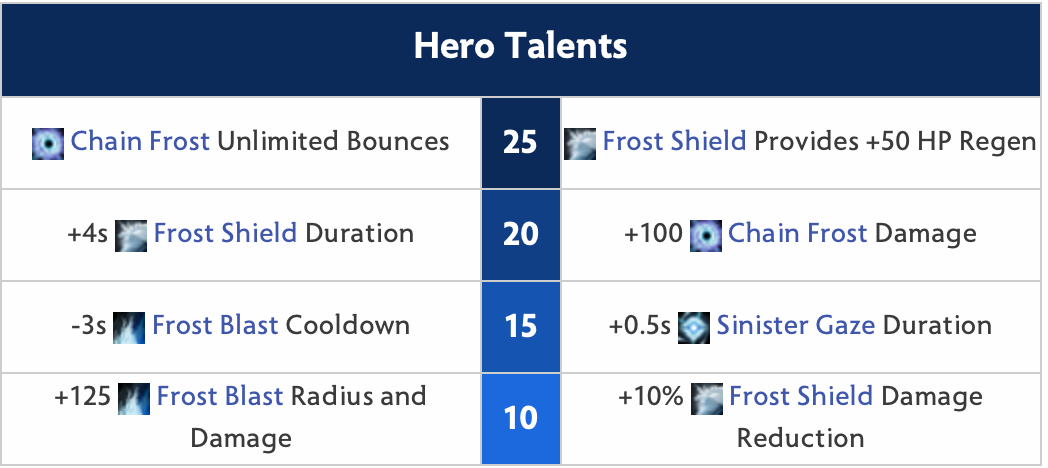 Skills building guide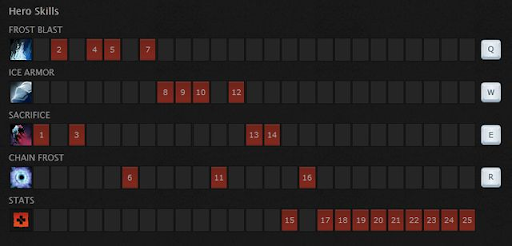 Increasing skills in the most accurate way to play Lich DOTA 2 to maximize the power of this champion is really important. Because this champion specializes in a support position, gamers need to maximize the Frost Blast skill to effectively harass and create the best amount of damage. After that, priority should be given to increasing the Ice Armor skill, and the Sacrifice skill should only add 1 to 2 points at the beginning, and should only add the most when it is in the last levels.
At the beginning of the game, the player can choose two ways to increase the initial score in 2 cases:
Case 1: If you go on a Trip-lane and the whole team intends to destroy First-Blood, you should add points to the Frost Blast skill to get the slow ability and damage level.
Case 2: At the beginning of the game, your whole team has a strategy in a peaceful direction, does not rush to fight to ensure absolute safety, you should increase the score for Sacrifice skill, by waiting at home for creeps appear and kill always to both increase health, and can cause the level of the enemy team to decrease.
Abilities

Frost Blast
Cast Animation: 0.4+0.93
Cast Range: 600
Effect Radius: 200 (Talent 325)
Primary Damage: 40/80/120/160
Area Damage: 80/120/160/200 (Talent 205/245/285/325)
Move Speed Slow: 30%
Attack Speed Slow: 30
Slow Duration: 4
Effect: Damages the target enemy unit with damaging frost, reducing movement and attack rates for 4 seconds and causing area damage. Both base and area damage are dealt to the primary target.

Frost Shield
Cast Animation: 0.2+0.93
Cast Range: 1000
Attack Damage Resistance: 30%/40%/50%/60% (Talent 40%/50%/60%/70%)
Pulse Radius: 600
Pulse Interval: 1
Pulse Damage: 20/30/40/50
Pulse Move Speed Slow: 20%/25%/30%/35%
Pulse Slow Duration: 0.5
Shield Duration: 6 (Talent 10)
Effect: A magical frost barrier is cast around the subject, diminishing damage from attacks. Ice magic will hit surrounding enemy units every 1 second while the shield is active, delivering small damage and slowing them.
Sinister Gaze
Cast Animation: 0+0
Cast Range: 600
Distance Moved: 32%/38%/44%/50%
Current Mana Drained: 10%/15%/20%/25%
Duration: 1.4/1.7/2.0/2.3 (Talent 1.9/2.2/2.5/2.8)
Effect: Hypnotizes an opponent unit, forcing it to draw closer to you and draining a percentage of its mana.

Ice Spire
Cast Animation: 0.3+0
Cast Range: 750
Radius: 750
Move Speed Slow: 30%
Aura Linger Duration: 0.5
Duration: 15
Effect: For 15 seconds, an icicle forms at the selected location, slowing foes within 750 range by 30%. Has an 800 health rating. If there are no other foes in range, Chain Frost will bounce to the Icicle. On it, you can cast Frost Shield.

Chain Frost
Cast Animation: 0.3+1.03
Cast Range: 750
Bounce Distance: 600
Number of Bounces: 10 (Talent Infinite).
Bounce Delay: 0.2
Initial Damage: 250/400/550 (Talent 350/500/650)
Damage Increment per Bounce: 15/20/25
Move Speed Slow: 65%
Attack Speed Slow: 65
Slow Duration: 2.5
Effect: Releases an ice orb that bounces up to ten times between adjacent enemy units, slowing and harming them each time it impacts. The damage for following bounces rises with each bounce.
Effective items guides
Early game

Magic Stick
Magic Stick: The Magic Stick, and subsequently the Magic Wand, provide burst healing and mana, allowing Lich to stay in fights or ganks for longer.

Tranquil Boots
Tranquil Boots: While employing clarities to replenish mana, Tranquil Boots assist Lich maintain his health. It also helps Lich kite melees in lane build up their wind lance.
Mid game

Aether Lens
Aether Lens: Aether Lens replenishes Lich's mana and lets him cast spells from a safe distance, while Sinister Gaze further displaces foes.

Force Staff
Force Staff: The Force Staff assists Lich in manipulating the positions of friends and adversaries in order to set up Lich's spells or escape in a pinch.

Glimmer Cape
Glimmer Cape: Glimmer Cape provides inexpensive magic resistance and invisibility, allowing you to avoid ganks and escape dangerous situations.
Late game

Blink Dagger
Blink Dagger: With his disables or Chain Frost, Blink Dagger aids Lich in getting the upper hand on foes.

Aghanim's Scepter
Aghanim's Scepter: Sinister Gaze may disable many enemy heroes with Aghanim's Scepter, which works well with Chain Frost and other allies' AoE abilities.
Situation items

Refresher Orb
Refresher Orb: With a second Chain Frost cast, Refresher Orb greatly enhances Lich's teamfight damage, but also depletes his mana supply.

Scythe of Vyse
Scythe of Vyse: Scythe of Vyse provides a strong disable and fixes Lich's mana issues, but it comes at an exorbitant cost.

Ghost Scepter
Ghost Scepter: Lich characteristics and ethereal to negate physical damage are provided by Ghost Scepter, allowing him to survive against farmed carriers.

Urn of Shadows
Urn of Shadows: As long as Lich keeps ganking, Urn of Shadows provides cheap armor and mana restoration, as well as a valuable heal or damage-over-time. Spirit Vessels may be improved to break down heavier foes.

Mekansm
Mekansm: Before upgrading to Guardian Greaves, Mekansm may be utilized to bolster teammates with burst healing in the mid-game, albeit the heal depletes Lich's mana pool.

Eul's Scepter of Divinity
Eul's Scepter of Divinity: Lich gains additional mana with Eul's Scepter of Divinity, as well as some mobility and a sought hard disable.

Rod of Atos
Rod of Atos: Rod of Atos provides a powerful attribute increase as well as a long-range root for ganking.

Solar Crest
Solar Crest: Solar Crest provides a slow and armor debuff to teammates in ganks, defends allies who are focused down in teamfights, and softens up Roshan.

Pipe of Insight
Pipe of Insight: Pipe of Insight is a helpful utility item that works well with Frost Shield against nuke-heavy teams.
Enemies & Allies
Allies

Meepo
The Poof combination brings all of the Meepos together, rendering them vulnerable to Frost Blast's AoE slow and Chain Frost's repeated bounces.

Chaos Knight
Chaos Knight's Phantasm army is vulnerable to Chain Frost, especially after he clumped up with Reality Rift.

Frost Shield will significantly diminish the efficacy of his troops.

Lone Druid
If Lone and his bear do not separate quickly enough, Chain Frost may do a lot of harm to them both.

Arc Warden
Arc and his clone may take a lot of damage from Chain Frost.
Counters

Anti-Mage
Although he may be successful versus Anti-Mage in an aggressive offlane, Lich's Counterspell makes it difficult for him to nuke Anti-Mage in the midgame.

All of Lich's abilities are also targeted, making Anti-Mage far more difficult to deactivate.

Anti-Mage can easily pick off Lich in the late game with Blink, and Lich's enormous mana pool leaves him vulnerable to Mana Void due to Chain Frost's high mana cost.

Anti-Mage is able to avoid Chain Frost thanks to Blink.

Bloodseeker
Lich does not slow Bloodseeker if Thirst is active.

If he notices Chain Frost is pursuing him, he may easily isolate himself with Thirst or compel Bloodseeker to construct Blade Mail, causing Lich to unintentionally murder himself.

When Bloodseeker is impacted by Rupture, even Lich creates Glimmer Cape or Force Staff, which are suicidal items.

Broodmother
Broodmother generates Spiderlings, and Chain Frost can bounce to them.

Huskar
Because of Berserker's Blood's strong health regeneration, Lich will have a hard time nuking Huskar.

Due to Life Break and Burning Spear, Lich is a squishy support with no escape mechanism, making him an easy kill.

Even a maxed up Frost Blast will struggle to kill Huskar after he gets the Armlet of Mordiggian.

Lycan
Because of Shapeshift, Lycan is unconcerned by Lich's slows.

Lycan's summoned wolves can bounce off Chain Frost.

Nature's Prophet
Nature's Prophet summons treants, which Chain Frost can bounce to.

The Prophet's Sprout from Nature may be utilized to isolate and destroy the squishy Lich.

Phantom Assassin
With Phantom Strike, Phantom Assassin can easily avoid Lich's slows.

The squishy Lich can be burst down with Phantom Assassin's Coup de Grace.

Queen of Pain
Thanks to Blink, Queen of Pain can easily avoid Chain Frost.

Shadow Strike, Scream of Pain, and Sonic Wave may easily kill him due to his low resilience.

Weaver
Because of Shukuchi, Weaver is unconcerned about Lich's slowness.

If he notices Chain Frost is aiming for him, he may simply isolate himself with Shukuchi and stop it from bouncing about.

Lich has no hard disables or silences that will prevent him from using Time Lapse unless he bursts Weaver right away.
Items Counter

Glimmer Cape
Glimmer Cape, Shadow Amulet, Shadow Blade, Silver Edge: Chain Frost may be avoided with the Glimmer Cape, Shadow Amulet, Shadow Blade, and Silver Edge.

Blade Mail
Blade Mails: Lich may mistakenly kill himself with Chain Frost if his team has numerous Blade Mails.

Pipe of Insight
Pipe of Insight: The majority of Chain Frost's damage is blocked by Pipe of Insight.

Black King Bar
Black King Bar: The user of Black King Bar will be immune to Lich's spellcasting.

Manta Style
Manta Style: Chain Frost's efficacy will be reduced by Manta Style. Manta Style will also remove any sluggish effects that the target may have received from the Lich.

Eul's Scepter of Divinity
Eul's Scepter of Divinity: Frost Shield will be removed from Lich and his allies by Eul's Scepter of Divinity.

Force Staff
Force Staff: Force Staff is a strong selection against Lich because all he does is slow you down. The jolt it provides may be enough to catch up with him or force him to flee.

Linken's Sphere
Linken's Sphere: When Linken's Sphere collides with Chain Frost, it deflects it.
Favorable Matchups

Magnus
Magnus uses Reverse Polarity to not only cripple the opponent, but also to pack them together, making Chain Frost more effective.

Warlock
The damage output of your AOE abilities is considerably increased by Fatal Bonds.

Upheaval slows foes, making it impossible to escape Chain Frost, which, when combined with lethal bindings, may easily bring down the opposition squad.

When Chain Frost is cast, Chaotic Offering can be used to block foes from disengaging. The summoned golem's high regeneration and perpetual immolation make it an ideal target for Frost Shield.

When Shadow Word is used with Frost Shield, a team member's survivability is greatly increased.

Treant Protector
Living Armor works well with Frost Shield and provides a target with a lot of survivability.

Chain Frost thrives in environments where there is a lot of overgrowth.

Witch Doctor
When it comes to poorly coordinated foes, paralyzing Cask and Chain Frost is a recipe for catastrophe.

Faceless Void
Faceless Void may use Chronosphere to lock down numerous foes, rendering them powerless against Chain Frost.

Enigma
When you use Black Hole, all of your foes are grouped together, causing chain frost to cause a lot of damage to everyone trapped in it.

Axe
Axe may use Berserker's Call to taunt all adjacent enemies, causing them to be slain by Chain Frost.

Grimstroke
Lich's abilities are all targeted, which works in tandem with Soulbind to essentially double Lich's debilitating power and damage.

When both Frost Shield and Ink Swell are cast on the same ally, they are very powerful.

Both abilities work together to increase ally movement speed, slow down foes, and keep them within Ink Swell's radius, allowing for greater damage and an AoE stun at the end.
Game plan
Early game
You should determine whether you are going to roam or stick to the lane to protect your teammates from the beginning so that you can buy appropriate equipment. With roaming, you and your teammates can easily get kills if combined well thanks to the Ice blast (Q) slows up to 4 seconds and cools down for 8 seconds. With a protective lane, if your lane teammates are heroes with good damage ability, you and that person can overwhelm the enemy lane or get kills early. However, with thin blood and too much armor, the most important thing for you is to choose an appropriate standing position to minimize the damage taken when roaming or laning. During the match phase, you always have to follow the Town portal scroll to support your teammates in time.
Mid game
This is the extremely roam + gank phase when your team's gankers already have enough levels and basic equipment for ganking, and create space for your carry team to farm to the maximum, or go to that lane to help. It pushes the lane, counter gank if the enemy targets your carry team. Because Lich's mana regeneration is very good, you can gank continuously during this phase (unless you already have the ultimate, it's different ). Chain frost (R) is a very powerful damage skill, you should launch it when the enemy heroes are standing close to each other (the nice number here is usually 2 or 3 heroes). When buying equipped with Blink dagger or Force staff, you can actively rush to arrest the enemy so that your teammates run to defeat that bad guy.
Late game
This stage you go with your teammates, fully ward, use Smoke of Deceit to gank single targets or start a teamfight by surprise, creating conditions to proceed to destroy the opponent's Ancient or push 1 lane, force the opponent to deflect turret or have to fight. Before entering combat, buff Ice armor (W) enthusiastically to your teammates so that they can get high armor and annoy the attackers. When entering combat, your most essential thing is to choose a target to drop Chain frost (R) so that it hits and bounces to other targets as much as possible, the enemy squad will soon be divided or crushed due to The magic this skill brings (especially when there is a green stick).