Lore & Bio
"The fog of war is no match for the mist of fate"
The holy spring of Avernus is the source of a family's strength, a crevice in the ancient stone, from which emanates the old energy that has been passed down through the generations. All children born in the Avernus cave are bathed in a black mist, which grants them an innate ability: the ability to connect with the mysterious energies of the land. As they grow up, they are taught that they are merciless guardians of the family tradition, the customs of the kingdom – but in reality, what they are really protecting is the holy spring. And the truth about the mist remains a mystery.
When Abaddon was christened, it was said that something was wrong. The child's eyes suddenly flashed, as a signal of awareness, startling everyone, the priests whispered to each other about this. When he grew up, everyone thought he would walk the path chosen by his forebears - train by fighting, and then later lead the family's legion in battle to protect the holy place when needed. But Abaddon was always different. While the others practiced using the weapon, he forced himself to practice in the mist. He dived deep into the holy springs, learned to merge his soul with the potential that flowed from the depths of the earth, becoming a creature of the black mist.
Conflict broke out within the Avernus family – the elders and peers accused him of neglecting his duties. However, that all came to an end when Abaddon led his army into the battlefield, and all saw that the power of the mist gave him a mastery over life and death far surpassing any Avernus lord.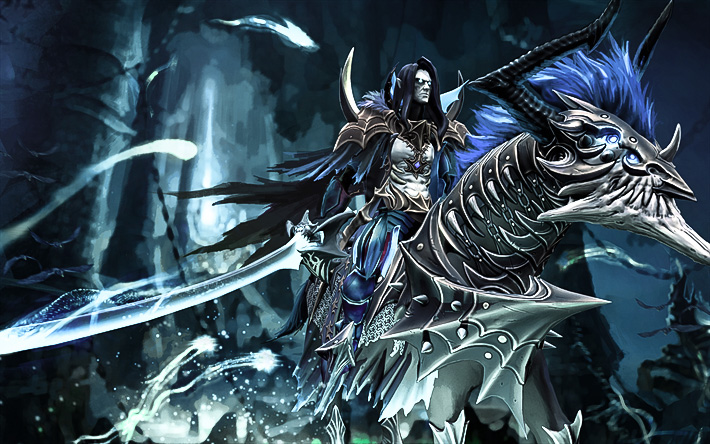 Attribute & Stats
Level: 0 1 15 25 30
Health: 200 640 1420 2220 2540
Health regen: +1 +3.2 +7.12 +11.12 +12.72
Mana: 75 291 627 1011 1155
Mana regen: +0 +0.9 +2.3 +3.9 +4.5
Armor: -1 2.83 6.33 10.83 12.42
Damage Block: 16 (50%)
Magic Resistance: 25%
Status Resistance: 0%
Damage: 28‒38 50‒60 89‒99 129‒139 145‒155
Attack Rate: 0.71/s 0.84/s 0.96/s 1.12/s 1.18/s
Attack Range: 150 (600)
Attack Speed: 120 (1.7s BAT)
Attack Animation: 0.56+0.41
Projectile Speed: Instant
Movement Speed: 325
Turn Rate: 0.6
Collision Size: 24
Vision Range: 1800 • 800
Legs: 2
Gib Type: Ethereal
Ability Upgrades:
Upgradable by Aghanim's Scepter - Borrowed Time

Upgradable by Aghanim's Shard - Mist Coil
- Aphotic Shield
- Curse of Avernus
Abilities & Talents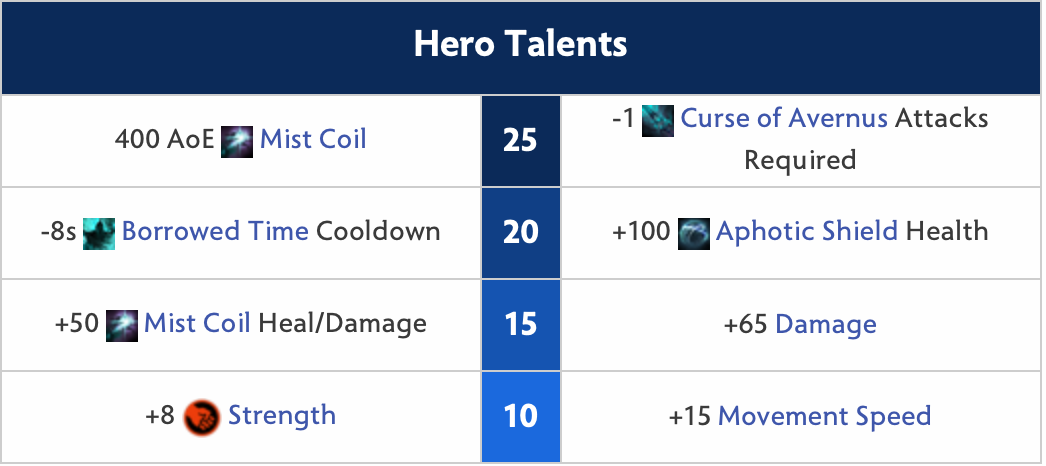 Skills building guide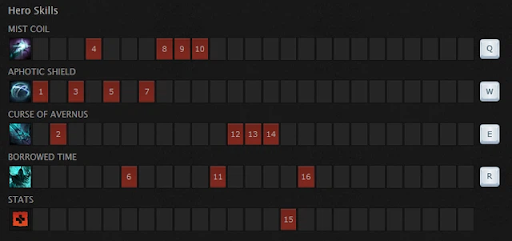 With a skill boost like this, you can become a stiff tank in lane (unless you run out of mana). Aphotic shield (W) is an extremely annoying skill to remove adverse effects on friends, sometimes teammates (except for Doom's ridiculous ult) and absorb quite a bit of damage in the early stages.
At the beginning of the game as well as deal damage to the opponent, then the Curse of Avernus (E) to increase the ability to duel, farm as well as control the opponent, you can get 1 point of Mist coil (Q) in the positions. first level for kills or suicides (sometimes buffs to teammates if possible) in a few lucky cases. Ultimate get the correct level.
Abilities

Mist Coil
Cost: 50/60/70/80 mana.
Cooldown: 4.5 seconds.
Cast Range: 800 range.
Effect: Releases a ghostly mist on the selected target. If it's an ally, it heals, if it's an enemy, it takes damage.
Damage/Heal: 100/150/200/250
Self-inflicted damage: 75/100/125/150
Note: this skill can be used to commit suicide or damage Aphotic Shield.

Aphotic Shield
Cost: 100/105/110/115 mana.
Cooldown: 12/10/8/6 seconds.
Casting Range: 500
Effect: wraps the target ally with a shield (can be used on self), removes all adverse effects on the target, and absorbs 110/140/170/200 damage damage, if enough damage is received, the shield explodes dealing damage equal to the damage absorbed. At the end of its duration, the shield explodes dealing damage equal to the amount of damage it can absorb.
Duration: 15 seconds.
Explosion radius: 675
Note: when you buff over a previously shielded unit, the old shield will explode.

Curse of Avernus
Effect: His basic attacks curse the target, slowing their attack speed and movement and leaving a beneficial buff to his teammates and himself if attacking that target.
Effect duration: 2.5 seconds.
buff duration: 4.5 seconds.
Attack speed reduced: 5/10/15/20
Movement speed reduced: 5%/10%/15%/20%
Bonus Attack Speed: 10/20/30/40
Movement Speed Bonus: 15%

Borrowed Time
Cooldown: 60/50/40 seconds.
Effect: shielded by a mist, removes all adverse effects upon activation, absorbs all damage he takes as healing for him while activating this ability. Automatically activates when his health drops below 400, can be activated while under hard control skills (stun, knock, silent, etc., but not when hit by Doom's ultimate).
Duration: 4/5/6 seconds.
Upgraded by Aghanim's Scepter:
Effect: Absorbs 50% more damage to nearby allies when active and converts it to healing for him.
Effective range: 900
Duration: 5/6/7 seconds.
Note: when the amount of damage taken is greater than his current health, he will die instantly and this skill does not activate on its own. When Abaddon is below 400 and this ability cools down, the next source of damage he takes will activate this ability even though he is below 400 health.
Effective items guides
Early game

Magic Wand
Magic Wand: Abaddon has improved characteristics as well as burst health and mana restoration from the Magic Wand, increasing his survivability and allowing him to use his abilities more.

Boots of Speed
Boots of Speed: Abaddon's movement speed is boosted by the Boots of Speed, since he relies on solid location to make the most of his skills. It also makes it easier for him to track down foes using Curse of Avernus.
Mid game

Phase Boots
Phase Boots: Abaddon can run towards the opponents with high speed and armor thanks to his Phase Boots.

Blade Mail
Blade Mail: Blade Mail is a potent semi-carry item that compensates for some of Abaddon's flaws. For combat and farming, the additional armor boosts his tankiness, while the bonus damage increases his damage output. When Abaddon does not have Borrowed Time enabled, the active allows him to use his HP pool offensively during fights, hindering the adversary from concentrating him down.

Solar Crest
Solar Crest: Solar Crest's armor and mana regeneration provide Abaddon with survivability and mana sustain, while the active lets him to either boost a teammate's survivability against physical assaults or provide an armor debuff and slow to adversaries to weaken their fighting abilities.

Radiance
Radiance: Abaddon's strike damage is increased by radiance, and he has a burn aura that pushes the adversary to confront him. As long as Abaddon is around, the aura also gives the adversary a blind debuff, forcing them to miss strikes directed at friendly troops.
Late game

Assault Cuirass
Assault Cuirass: Abaddon's armor and attack speed are considerably improved by Assault Cuirass, providing him more physical survivability and higher damage output, allowing him to carry more efficiently. The aura also helps teammates by lowering opponent armor and letting Abaddon and his squad to inflict greater damage.

Shiva's Guard
Shiva's Guard: Shiva's Guard improves Abaddon's armor, intellect, and tankiness while also increasing his mana pool. The active ability inflicts light damage and lowers opponent movement speed, and the passive aura drastically reduces enemy attack speed, which stacks with Curse of Avernus.

Guardian Greaves
Guardian Greaves: Abaddon's durability is boosted and his squad is supported by Guardian Greaves. The health and mana regeneration provide incredible endurance, while the dispel lets Abaddon to eliminate debuffs that may be inhibiting him from fighting successfully. The aura also gives Abaddon's and his teammates' resilience, especially when their health is low.
Situation items

Orb of Venom
Orb of Venom: Abaddon may use Orb of Venom to provide a slow to his strikes, and it stacks with Curse of Avernus. The item is ideal for an aggressive Abaddon who enjoys ganking in the early game.

Tranquil Boots
Tranquil Boots: Tranquil Boots improves movement speed, giving Abaddon superior placement and making it easier for him to use his abilities. Abaddon can recuperate the health cost of Mist Coil thanks to the health regeneration, ensuring that he never puts himself in too much danger when using it.

Soul Ring
Soul Ring: The item synergizes effectively with Tranquil Boots, which pay for the health cost. Soul Ring offers strength and health regeneration, as well as mana, at the expense of health.

Urn of Shadows
Urn of Shadows: After using Mist Coil, Abaddon can use Urn of Shadows to heal friends and himself. It also provides him with mana regeneration, allowing him to make better use of his skills.

Drum of Endurance
Drum of Endurance: Abaddon gains attributes and mana regeneration from Drum of Endurance, and his squad gains mobility and attack speed, providing them an advantage in ganks and pushes.

Heaven's Halberd
Heaven's Halberd: Abaddon's survivability is greatly boosted by Heaven's Halberd's increased strength, status resistance, and evasion; also, the active allows him to disarm an opponent during a fight, stopping them from contributing.

Vladmir's Offering
Vladmir's Offering: No matter what role Vladmir plays on Abaddon, his Offering is a strong item. Its aura provides Abaddon and all adjacent allies with armor, mana replenishment, lifesteal, and additional damage, making it a useful item to have in any combat.

Pipe of Insight
Pipe of Insight: Abaddon's magic resistance and HP regen are considerably improved by the Pipe of Insight, allowing him to withstand magic nukes and greatly enhancing his survivability. The active lets Abaddon to shelter his allies from the enemy's magic nukes for a limited period of time, synergizing with Aphotic Shield.

Crimson Guard
Crimson Guard: Crimson Guard is a versatile utility item that helps Abaddon as a carrier and support. Abaddon is considerably tougher to take down with physical damage because to the damage block, increased HP, and added armor, and the active gives all close teammates improved damage block and armor, enhancing their resistance to physical damage for a brief time.
Enemies & Allies
Allies

Death Prophet
Under Borrowed Time, Exorcism will cure Abaddon indefinitely and cannot be turned off.

Under Borrowed Time, Spirit Siphon will continually heal Abaddon for a portion of his maximum health.

Mirana
Aphotic Shield may instantaneously neutralize Sacred Arrow.

Bane
Aphotic Shield may quickly dispel Nightmare and Fiend's Grip.

Because Bane is immobile, he is rendered impotent by the Curse of Avernus.

Batrider
Aphotic Shield can quickly neutralize Sticky Napalm, Flaming Lasso, and Flamebreak.

Under Borrowed Time, Firefly will continue to heal Abaddon.

Beastmaster
Aphotic Shield may instantaneously neutralize Primal Roar.

Aphotic Shield may also remove debuffs from Wild Axes and Poison from Call of the Wild: Boar.

Chen
Chen's combo may be nullified as Aphotic Shield clears Chen's creeps at the same time.

Techies
Allies are less likely to be killed by mines with Aphotic Shield.

A stack of Remote Mines will always trigger Borrowed Time since they detonate in such short intervals, making it impossible to kill Abaddon unless his resistances are reduced enough or he is impacted by Break.

Abaddon can easily dispel the long-lasting root of Stasis Trap on himself and an ally while simultaneously protecting them from the harm of the other mines.

Bloodseeker
Abaddon may utilize Borrowed Time and quickly heal for the length of Borrowed Time by just relocating if Rupture is performed on him.

Necrophos
Abaddon can utilize Borrowed Time to escape Reaper's Scythe during the delay if he isn't silenced.

Nyx Assassin
Aphotic Shield may rapidly dispel Impale and Spiked Carapace stuns.

Abaddon may utilize Borrowed Time and be quickly healed by Nyx's burst damage during the duration of Borrowed Time.
Counters

Ancient Apparition
Abaddon's healing from Borrowed Time and Mist Coil is nullified by Ice Blast, and it is not dispelled by Aphotic Shield.

Axe
If Abaddon's health drops below the threshold, Culling Blade's immediate kill is not protected by Borrowed Time.

Brewmaster
When Brewmaster Storm uses Borrowed Time, he can use Cyclone on Abaddon, losing the time.

Abaddon is prevented from using the Curse of Avernus' silence on him by Drunken Brawler and Thunder Clap.

Doom
Doom will prevent Abaddon from using Mist Coil, Aphotic Shield, and the active component of Borrowed Time. Aghanim's Scepter, on the other hand, may break Curse of Avernus and the passive component of Borrowed Time, allowing his allies to be easily disabled or slain.

Lina
Lina is a frequent Eul's Scepter of Divinity carrier who, if timed appropriately, may squander some Borrowed Time and then follow up with Laguna Blade.

Outworld Destroyer
Borrowed Time's duration is squandered by Astral Imprisonment.

Due to Abaddon's lack of intelligence, the Outworld Destroyer's Sanity's Eclipse can kill him before Borrowed Time begins.

Shadow Demon
Demonic Purge will be used by a Shadow Demon wielding an Aghanim's Scepter to deactivate Curse of Avernus and the passive component of Borrowed Time. Borrowed Time will not activate if this is paired with silence.

Even without Aghanim's Scepter, he may use Disruption to spend Borrowed Time. The Curse of Avernus completely reverses the passive ability of illusions.
Items Counter

Bloodthorn
Bloodthorn and Orchid Malevolence: At certain periods, Bloodthorn renders a supporting Abaddon worthless.

Eul's Scepter of Divinity
Eul's Scepter of Divinity: Borrowed Time is wasted when Eul's Scepter of Divinity is used.

Silver Edge
Silver Edge: The passive component of Curse of Avernus and Borrowed Time is disabled by Silver Edge. Borrowed Time will not activate when used with Orchid Malevolence, Bloodthorn, or another silence.

Dagon
Dagon and Ethereal Blade: Abaddon can be killed by Dagon and Ethereal Blade before he can use Borrowed Time, forcing him to cast it manually.

Spirit Vessel
Spirit Vessel and Shiva's Guard: Borrowed Time's quantity of healing is reduced by Spirit Vessel and Shiva's Guard.
Favorable Matchups

Storm Spirit
Storm Spirit becomes even more tanky during initiations thanks to Aphotic Shield, and the explosion adds damage to his ability combinations during single hero ganks.

Phantom Assassin
Phantom Assassin can quickly burst a target with Aphotic Shield's explosive damage, and will profit substantially from Curse of Avernus' attack speed boost.

Io
The healing factor of a unit that is tethered will be boosted.

Axe
As Axe utilizes a Blink Dagger into the enemy lines, Abaddon may successfully protect Axe with Mist Coil and Aphotic Shield, and Berserker's Call can produce a powerful combination with Aphotic Shield, as units are driven to assault Axe, making it simple for the shield to explode.

Legion Commander
Legion Commander is another hero that can push the adversary to attack her. With the assistance of the bursting Aphotic Shield, she may win rapid duel pick-offs and help her secure the damage from Duel.

Centaur Warrunner
When Centaur Warrunner uses Aphotic Shield, it absorbs some of the self-inflicted damage from Double Edge and causes the shield to erupt. Not only does this lessen centaur damage, but when paired with an Aphotic Shield explosion, a combo of Hoof Stomp and Double Edge may deal a lot of burst damage.

Oracle
If Abaddon is deactivated, Purifying Flames can be utilized to activate Aphotic Shield's explosion or Borrowed Time. Additionally, when Abaddon is under the effects of Borrowed Time, casting Purifying Flames on him gives him both a burst heal and a heal over time.

Purifying Flames and Mist Coil's heals, which are both doubled under False Promise, when paired with Fortune's End and Aphotic Shield's dispels, may keep an allied hero alive practically indefinitely.
Game plan
Abaddon's only and basic combo when fighting (especially when solo): buff Aphotic Shield (W) to yourself, then use Mist Coil (Q) on an enemy and then rush to slash, if the enemy hits you, the Aphotic Shield (W) will explode immediately (because the Shield blocks 200 dmg at skill level 4, using Coil is to deal 150 dmg at skill level 4, so the enemy only needs to add 50 dmg to be a shield Explosion), this combo deals a total of 550 dmg of unsubtracted magic through the target's magic resistance, however these 2 skills when maxed out have a very fast cooldown, if timing is correct, you can deal 1100 damage Allows for the enemy for only 5 seconds if you include the cast time of the skill (that's not even taking into account the hand damage you hit the target).
Early game
So it's as simple as standing in the lane farm a lot. If you meet guys who like to poke your blood with skills and basic attacks, just buff Aphotic Shield (W) and rush to deal with it, if it doesn't die, it's still awkward (but pay attention to enemy heroes that can your kite flying ability and mana when using skills, mana is not water).
You need to complete a few basic equipment to be able to confidently show off your personality. The Town portal scroll is an item you need to keep on hand so you can retreat in dangerous situations or counter gank in another lane to get yourself some kills or assists.
Mid game
This phase is the stage where, together with other teammates, you start a ganking on all fronts. You are quite strong with your ultimate, so go ahead and force the opponent's corner and get vision for the team. You can both fight and cover your teammates very well thanks to Aphotic shield (W) and Mist coil (Q) skills, having an ultimate will ensure that you mess up the enemy team better.
You can actively turn on the ultimate before dangerous skills to avoid the situation when the ultimate activates on its own, no one hits you (extremely dangerous), try to force the opponent's carry and nuker angle and then kill it. them, which means not allowing them to touch your team while still ensuring Abaddon's nature is inherently a cav3 learning to be a carry. If you don't have Boots of travel, you still have to follow the Town portal scroll.
Late game
At this stage you already have quite a few items, so your job is the same as in the middle of the game, but you will be more confident because of your equipment. Looks so funny, but Abaddon also killed the elephant, and remember when fighting, you should pay attention to other teammates to be able to use shields in time as well as heal. This build is Semi-carry, Off-tank, so you can deal a lot of damage but still ensure your rigidity, and cover teammates is also very good, but the equipment for this build is quite expensive, Red.