Lore & Bio
"I step into a new arena."
Someone once said that the path of a Sagittarius was paved with the corpses of the defeated, but for a man called Warrunner, it was a long road indeed. In the eyes of outsiders, the four-legged clans of Druud were often misunderstood as barbarians, brutal creatures. No writing, no music, no religion. For Sagittarius, fighting is the perfect thing of thought, the highest expression of a tribe.
If killing is an art among the centaurs, then Warrunner Bradwarden deserves to be the greatest artist of the race. He rules the arena of Omexe, an ancient arena where the centaurs have for thousands of years performed their gladiator ritual.
His fame spread far and wide, countless people from all over the world flocked here just to see the centaur fight. Always the first to enter the arena, and also the last to leave, he composed a masterpiece here, an immortal song of blood and steel, thrown in the parts of the vanquished above. sand sand background of death arena.
Warrunner defeated warrior after warrior, until the arena exploded with cheers calling his name, and then he found himself, the champion of his Clan. Omexe's championship belt was given to him. But then he realized, he no longer has an opponent in this Omexe arena. What would a warrior be without a challenge?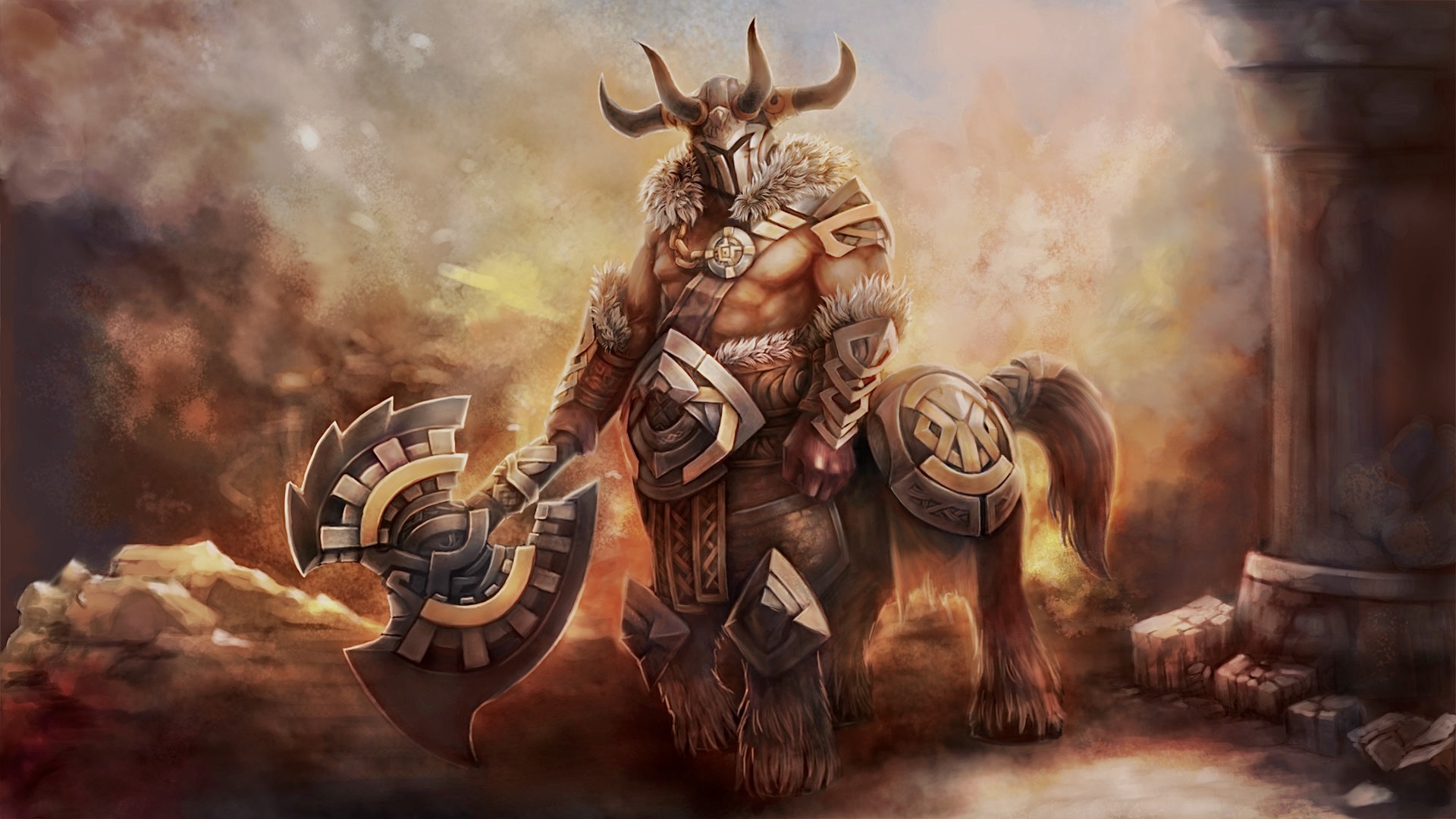 Attribute & Stats
Level: 0 1 15 25 30
Health: 200 740 2020 3180 3680
Health regen: +0.25 +2.95 +9.39 +15.19 +17.69
Mana: 75 255 519 855 975
Mana regen: +0 +0.75 +1.87 +3.27 +3.77
Armor: 0 2.5 4.83 8.5 9.67
Damage Block: 16 (50%)
Magic Resistance: 25%
Status Resistance: 0%
Damage: 36‒38 63‒65 127‒129 185‒187 210‒212
Attack Rate: 0.53/s 0.62/s 0.7/s 0.83/s 0.87/s
Attack Range: 150 (600)
Attack Speed: 90 (1.7s BAT)
Attack Animation: 0.3+0.3
Projectile Speed: Instant
Movement Speed: 300
Turn Rate: 0.6
Collision Size: 24
Vision Range: 1800 • 800
Legs: 4
Gib Type: Default
Ability Upgrades:
Upgradable by Aghanim's Scepter - Stampede

Upgradable by Aghanim's Shard - Double Edge
Abilities & Talents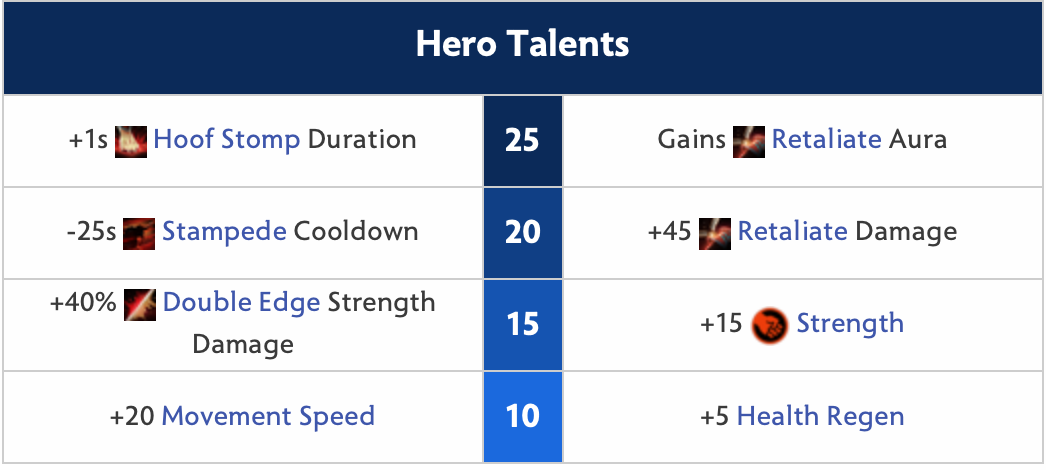 Skills building guide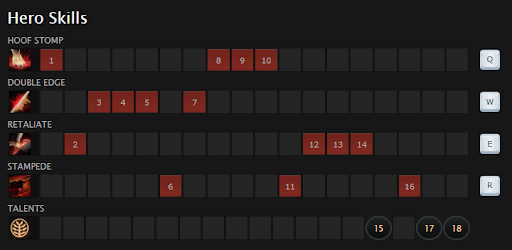 Get 1 point of War Stomp (Q) at the first level so that depending on the case you and your teammates can eat fb or not, if not, just leave the plus point there and then add it when creeps appear. Double Eagle (W) is Cen's main damage ability, so it is a priority to maximize first, but you will have to use it carefully if you do not want to feed the enemy network, then War stomp (Q). Maximize Return (E) in the end (take 1 point at early levels to deal a little more damage to those who like to hit you) because you already have quite a bit of power by then. Ultimate get the correct level.
Abilities

Hoof Stomp
Cost: 130 mana.
Cooldown: 13 seconds.
Range of effect: radius 315 around.
Effect: Slams hard on the ground dealing 100/150/200/250 damage and stunning enemies for 2/2.25/2.5/2.75 seconds.

Double Edge
Cooldown: 8 seconds.
Usage range: 150
Effect: Deals a powerful blow to the opponent, dealing 175/250/325/400 damage to the main target and spreading to the surrounding area, also taking the same amount of damage himself.
Damage radius: 190
Note: Centaur cannot die using this skill if the damage taken is greater than the current health.

Retaliate
Effect: every time an enemy hits Cen with a basic attack, that person will take 1 amount of damage back.
Damage: 16/18/20/22
Power stat bonus damage: 30/42/54/66% stat.
Note: this skill works when the attack hits Cen, meaning that missed attacks will not activate this skill.

Stampede
Cost: 100 mana.
Cooldown: 90/75/60 seconds.
Scope of use: whole map.
Effect: Increases movement speed to maximum for himself and allied champions and cannot be slowed. When he and his allies touch an enemy while this ability is active, they take damage and have their movement speed slowed.
Damage: 100/200/300% stat.
Slow: 100%
Slow duration: 1.75 seconds.
Impact time: 3.75 seconds.
Upgraded by Aghanim's Scepter:
Bonus Effect: Reduces damage taken by 60%, and allows all allied champions (including him) to run across terrain for the duration of the effect.
Effective items guides
Early game

Magic Wand
Magic Wand: The Magic Stick may help you survive in lane and can later be transformed into a Magic Wand.

Tranquil Boots
Tranquil Boots: Tranquil Boots provide a significant increase in movement speed and health regeneration, assisting in the recovery from Double Edge self-damage.

Bracer
Bracer: The Bracer provides a little attribute gain, particularly in terms of strength, which helps to offset the health cost of the Double Edge.
Mid game

Magic Wand
Magic Wand: The Magic Wand grants attributes as well as increased burst health and mana regeneration.

Blink Dagger
Blink Dagger: To begin with Hoof Stomp, you'll need Blink Dagger. If your team doesn't have any other heroes that can begin well, it's a must-have item.

Hood of Defiance
Hood of Defiance: Hood of Defiance reduces self-inflicted Double Edge damage by granting life regeneration and magic resistance.
Late game

Heart of Tarrasque
Heart of Tarrasque: The bonus health and regeneration from the Heart of Tarrasque grant extra survivability, and the increased strength increases damage done by attacks, Double Edge, and Stampede. The massive health regeneration also allows Double Edge to be used on a near-constant basis without the need to heal.

Pipe of Insight
Pipe of Insight: In team fights, Pipe of Insight helps to endure a lot of magical damage (especially to defend allies from magical nukes) while also lowering the health cost of the Double Edge.
Situation items

Phase Boots
Phase Boots: Phase Boots are a second boot option for early game initiation and tankiness.

Aghanim's Scepter
Aghanim's Scepter: When Centaur's squad is under the impact of Stampede, Aghanim's Scepter allows them to gank or flee from ganks via inaccessible terrain. Furthermore, if the squad is weak to strong burst damage, Stampede damage reduction is a huge aid in setting up a better team battle and surviving it.

Vanguard
Vanguard: If you're dealing with a lot of physical attack damage, Vanguard is a solid choice. It may be upgraded to Crimson Guard for increased team resilience or to Abyssal Blade for more consistent disabling.

Assault Cuirass
Assault Cuirass: Centaur's team gains extra armor and attack speed from Assault Cuirass, as well as the ability to deal more Retaliate damage to enemies (particularly, to towers).

Blade Mail
Blade Mail: With Retaliate, Blade Mail damage reflect accumulates, making Centaur an even less appealing target. In fights, however, enemies will most likely be focusing on your teammates rather than you.

Heaven's Halberd
Heaven's Halberd: Strength and the ability to disarm enemies are both granted by Heaven's Halberd, which can be useful late in the game when Centaur's damage drops.

Black King Bar
Black King Bar: On disable-heavy teams, Black King Bar may be required to ensure initiations.

Lotus Orb
Lotus Orb: The active can remove crippling debuffs and decimate enemies who carelessly target Centaur, while Lotus Orb grants mana and armor.

Vladmir's Offering
Vladmir's Offering: To complement Retaliate, Vladmir's Offering adds armor, mana restoration, and lifesteal. Centaur is a decent aura carrier that is typically used as an offlaner and is praised for its tankiness.
Enemies & Allies
Allies

Arc Warden
He won't be able to take you down easily, and his nukes aren't powerful enough to stop Centaur Warrunner.

Through Hoof Stomp, Centaur Warrunner deals massive AoE damage and applies an AoE disable to the double as well as the main Arc Warden.

When it comes to melee heroes, Magnetic Field isn't particularly effective.

This ability also improves the attack speed of his teammates, allowing Retaliate to do greater damage.

Doom
Centaur Warrunner may perform Stampede whenever Doom uses his ultimate, allowing the Doomed hero to flee and waste Doom's ultimate.

Nyx Assassin
Although they are both nukers, Centaur Warrunner has the advantage in terms of health and strength growth.

Mana Burn has a low damage output due to Centaur's low Intelligence.

With the exception of certain unusual skill builds, Centaur's Hoof Stomp stun should always stay longer than Nyx's Spiked Carapace stun, making Nyx's escape difficult.

Centaur can decimate Nyx in the open with Blink Dagger and detection.

Pangolier
If Pangolier tries to use Swashbuckle on Centaur Warrunner, he will get Retaliate numerous times.

Centaur can use Stampede to easily avoid Rolling Thunder for all of his allies.

In the late game, Centaur's tankiness makes it difficult for Pangolier to blast him down.

Phantom Assassin
For every assault and Stifling Dagger thrown at Centaur, Retaliate causes damage to Phantom Assassin.

Blur is unable to avoid Double Edge.

Phantom Lancer
Because of Retaliate, his illusions will perish in a few blows. For a considerable stretch of the game, the nukes from Hoof Stomp and Double-Edge should be enough to clear them.

Due to Centaur Warrunner's limited mana pool, Diffusal Blade's damage is greatly reduced until Centaur has no more mana to burn. Double Edge does not cost mana, so keep that in mind.

When pursuing Phantom Lancer, be cautious. Because of Hoof Stomp's slow cast time, it's very easy to avoid with Doppelganger.

Sniper
Slow headshots and shrapnel are inefficient against a hasty team (which Stampede gives).

His enormous health pool, common mobility items, and hasty movement during his Stampede make him incredibly difficult to kill from afar, hurting Sniper with Retaliate and Blade Mail if he has one.

He's an easy target for Centaur Warrunner's burst damage and initiation because he has a limited health pool and no escape option (even making his team possible initiators with Stampede).

Windranger
Windranger has a significant attack speed increase from Focus Fire, but her attack damage is normally minimal. With Windranger's limited health pool and armor, Retaliate can do significant damage in a short amount of time, making Centaur a hero she can never hope to kill or harass.

Although Windrun provides evasion, Centaur Warrunner does not rely on successful assaults to do damage. Hoof Stomp, Double Edge, and Stampede are all powerful magical attacks that may totally destroy Windranger in a matter of seconds.
Counters

Clockwerk
Due to Centaur Warrunner's low cast animation, Battery Assault easily interrupts him.

Stampede can be negated by Power Cogs.

Disruptor
Stampede is completely negated by Kinetic Field and Glimpse.

Kunkka
Stampede is negated by X Marks the Spot.

Lifestealer
Feast is a useful tactic against Centaur Warrunner, who have high health and little armor, and it compensates for Retaliate reflected damage.

Rage protects Lifestealer against Hoof Stomp, Double Edge, and Stampede when triggered.

Necrophos
Centaur Warrunner is a good target for Reaper's Scythe because he has high health and rarely buys Linken's Sphere or Black King Bar. Centaur Warrunner, on the other hand, can mitigate the damage by purchasing Pipe of Insight or Hood of Defiance.

Heartstopper Aura is effective against heroes with high health, such as Centaur Warrunner.

Nyx Assassin
Nyx may easily initiate on you if you've taken a point in Retaliate: he can utilize Spiked Carapace and hit you with Vendetta. Retaliate damage will be reflected back to you, stunning you and leaving you with little time to react after he's exposed himself, ensuring a successful Impale.

Templar Assassin
Centaur has no countermeasures against Refraction that will counteract his burst damage.

Psionic Traps provide him good vision, making him more difficult to initiate.
Items Counter

Radiance
Radiance: Centaur Warrunner is unable to blink due to Radiance, forcing him to employ Stampede.

Black King Bar
Black King Bar: If utilized correctly, Black King Bar can save a victim from Centaur Warrunner's attack.

Rod of Atos
Rod of Atos: During Stampede, Rod of Atos has the ability to root for a hero.
Favorable Matchups

Abaddon
Aphotic Shield mitigates portions of Double Edge's self-damage while still giving a solid extra aoe nuke when the shield is broken.

Dark Seer
Vacuum creates the ideal environment for Hoof Stomp and Double Edge.

Centaur Warrunner's Ion Shell increases his damage versus melee heroes.

Mirana
Centaur may be able to arrange an initiation with the aid of Moonlight Shadow.

Sacred Arrow is simpler to land because of Hoof Stomp's long stun.

Sven
Centaur Warrunner becomes even more resistant to attacks thanks to Warcry.

Tusk
Snowball is a simple way to get started, and it may be followed up by a Hoof Stomp.

Tiny
Toss provides a rapid beginning that may be followed up by a Hoof Stomp.

Vengeful Spirit
Retaliate's damage is amplified by Wave of Terror.

Centaur may be positioned into foes or pulled into Centaur for a Hoof Stomp initiation using Nether Swap.

Grimstroke
Because both are AoE and the first requires more than one enemy hero nearby, Ink Swell can unleash its full power when coupled with Stampede or even Hoof Stomp.
Game plan
Early game
At the beginning of the game, you should last hit the leveled minion, because you are quite slow, so the use of War stomp (Q) is very awkward without the support of teammates or careless enemies, and the mana consumption is quite high. compared to Cen's mana. Because your damage and resistance are very good, farming under turrets is not too difficult, it is essential that you level up to lv6 quickly to get the ability to gank or kill the enemy hero easily. Best.
Mid game
This is when you have 2 options: stick to the jungle or farm lanes, monsters to get the fastest Blink dagger or if you meet the right teammates you can gank continuously in enemy lanes and jungles. . Your way of fighting is to chop the opponent, so when you fly in, you should use Double eagle (W) when you have a lot of health or when you kill the enemy. The important target while ganking is a target to be gank or a support target, carry the enemy (if there are multiple targets) Stampede (R) is a skill that helps your teammates and you to reach the target well or use it to run away as well. not bad Town portal scroll is an indispensable thing in your inventory.
Late game
You are a tanker, initiator, so it is extremely dangerous to leave the squad at this stage if your teammates are beaten down or forced to fight without people. With Stampede (R) and War stomp (Q) with Blink dagger you can easily choose a target to stun in combat, usually it will be a carry, nuker, initiator and your teammates will swarm as fast as possible. with maximum running speed. If you stand in the tank and turn on Blade mail at the right time, you will absorb a large amount of damage and deal with the damage reflected from this equipment with Return (E).