Lore & Bio
"There are none so stabbed as those who will not see."
Riki was the middle child of the powerful Tahlin dynasty. Riki, the small middle son, appeared destined for the art of invisibility with an older brother being trained for the throne and a younger brother being pampered and kept. On the night his people were betrayed and his family was massacred, he developed an art that ultimately saved his life. He was the only member of the royal line to escape; he was small and agile, unassuming, and used smoke as cover. Using the benefit of surprise, he quietly slit the throats of one enemy warrior after another as he made his way out of the royal grounds. Now that he is free of his royal duties, Riki applies his skills to a new line of work: stealth assassination. He subdues his adversaries while honing his abilities in the hopes of one day exacting revenge on those who murdered his family and stole his birthright.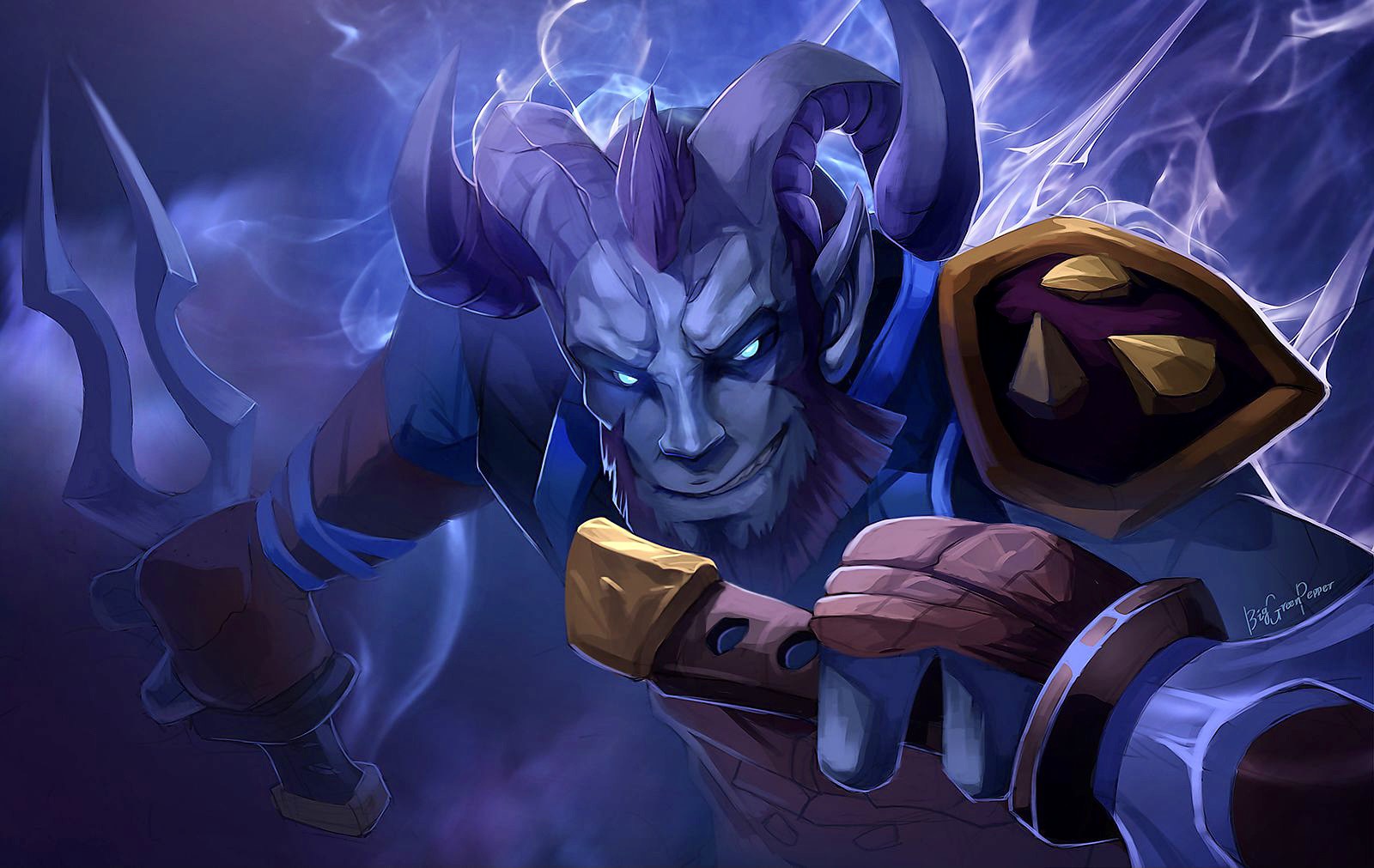 Attribute & Stats
Level: 0 1 15 25 30
Health: 200 560 1280 2040 2340
Health regen: +2.5 +4.3 +7.94 +11.74 +13.24
Mana: 75 243 459 759 855
Mana regen: +0 +0.7 +1.61 +2.86 +3.29
Armor: 3 6 9.27 13.6 15.1
Damage Block: 16 (50%)
Magic Resistance: 25%
Status Resistance: 0%
Damage: 41-45 59-63 78-82 104-108 113-117
Attack Rate: 0.59/s 0.69/s 0.81/s 0.96/s 1.02/s
Attack Range: 150 (600)
Attack Speed: 100 (1.7s BAT)
Attack Animation: 0.3+0.3
Projectile Speed: Instant.
Movement Speed: 315
Turn Rate: 0.6
Collision Size: 24
Vision Range: (G) 1800 • 800
Legs: 2
Gib Type: Default.
Ability Upgrades:
Upgradable by Aghanim's Scepter - Tricks of the Trade.

Upgradable by Aghanim's Shard - Sleeping Dart.
Abilities & Talents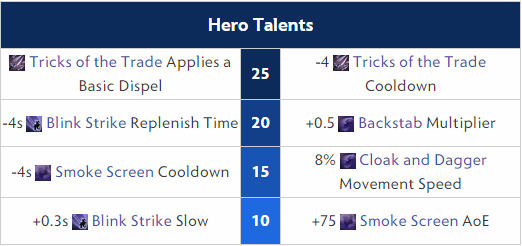 Skills building guide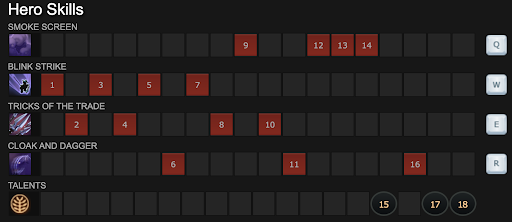 When jungling, you should start by using your smoke screen, which, depending on your skill level, will cause monsters to miss frequently and, if they have a stun skill, will silence it. You can gain the extra gold or experience you need to unlock your next skill or item by going jungle.Riki is great in team battles; he will put an end to escaping foes or simply use Smoke Screen to assist your team in taking down a number of foes. Due to his value in team battles, Riki excels in Team vs. Team competitions. He will become strong enough to defeat almost any foe he comes across in the middle or late stages of the game, making him THE ULTIMATE ASSASSIN. Therefore, be sure to ban Riki if no one on your team intends to use him before the opposing team chooses him.
Abilities

Smoke Screen
Mana cost: 65/70/75/80
Cooldown: 20/17/14/11
Duration: 6
Cast animation: 0.2+0
Cast range: 550
Effect: Hurls a smoke bomb at the enemy, distracting them and preventing them from attacking.

Blink Strike
Mana cost: 50/55/60/65
Cooldown time: 0.1 seconds.
Cast animation: 0.3+0
Cast range: 600/700/800/900
Damage: 40/60/80/100
Effect: Teleports behind the target unit, temporarily slowing them, and, if it's an enemy, dealing extra damage.

Tricks of the Trade
Mana: 55
Cooldown Time: 18/16/14/12
Cast range: 400
Radius: 450
Agility Bonus: 55%/70%/85%/100%
Attack Damage: 40%
Effect: While attacking arbitrary enemy units in the vicinity of him from behind, Riki phases out of the world.

Sleeping Dart
Mana: 75
Cooldown time: 12 seconds.
Cast animation: 0.2+0.57
Cast range: 1000
Damage: 150
Move speed slow: 30%
Effect: Hurls a dart at the intended adversary, knocking them unconscious. At the end of the time frame or if they sustain too much damage, the target will awaken. The target suffers damage and is slowed after awakening.

Cloak and Dagger
Fade Delay: 4/3/2
Damage per Agility: 1.4/1.8/2.2
Move Speed Bonus: 8%
Effect: Riki vanishes into the darkness and disappears. Riki always deals extra damage to his adversary when he attacks them from behind, according to his Agility. Riki is visible when he attacks.
Effective items guides
Early game

Magic Stick
Magic Stick: Replaces your consumables with a different source of recovery, which is especially helpful if the opposing team has heroes who depend on skills.

Boots of Speed
Boots of Speed: Give Riki movement speed so she can follow escaping heroes while Blink Strike is on cooldown.

Orb of Venom
Orb of Venom: Helps secure kills with its slow movement and makes up for Riki's own slow movement.
Mid game

Power Treads
Power Treads: Give Riki an additional attribute bonus and increased attack speed to help increase the damage done by Cloak and Dagger.

Magic Wand
Upgraded from Magic Stick, this upgrade provides better attribute bonuses and improved healing.

Diffusal Blade
Diffusal Blade: Gives casters the ability to burn mana for additional damage while slowing heroes who are fleeing and keeping them in Smoke Screen. Additionally, it increases agility, which raises the damage of Cloak and Dagger's backstab.

Skull Basher
Skull Basher: Gives more strength and damage, which is always nice on a right-click hero like Riki who moves in for kills. The Bash is also helpful for keeping adversaries inside the Smoke Screen.
Late game

Butterfly
Butterfly: Provides a significant increase in attack speed, damage, and survivability. Additionally, it increases your agility, which scales well with the backstab damage of Cloak and Dagger.

Abyssal Blade
Abyssal Blade: Enables Riki to cancel channeled spells with its stun and bash, and to keep opponents in place even after they have obtained Black King Bar.

Nullifier
Nullifier: The slow movement of Nullifier keeps adversaries inside Trick of the Trade. Additionally, the mute and dispel support Smoke Screen's silence and miss to further incapacitate adversaries and stop them from using defensive tools like Ghost Scepter.
Situation items

Drum of Endurance
Drum of Endurance: Is a good mid- to early-game purchase because it speeds up everyone and gives Riki attributes and mana regeneration.

Black King Bar
Black King Bar: Enables Riki to kill enemies who have powerful disables and fight effectively in team battles.

Sange and Yasha
Sange and Yasha: Provide excellent attribute bonuses in addition to attack damage.

Eye of Skadi
Eye of Skadi: Enables Riki to take more hits, deal more damage, and use more skills by giving all-around attributes as well as a flat health and mana pool bonus. Additionally, it grants a potent, spell immunity piercing slow that will stop your target from fleeing.

Blink Dagger
Blink Dagger: Allows Riki to start using Tricks of the Trade and Blink Strike before safely blinking away just as Tricks of the Trade is about to end.

Manta Style
Manta Style: Debuffs, such as Dust of Appearance icon.png Dust of Appearance, can be removed using this ability. The illusions can be used by Riki for scouting and as targets for Blink Strike when fleeing.

Battle Fury
Battle Fury: Gives Rikki much-needed Mana regeneration and can proc with Tricks of the Trade and Backstab.

Mjollnir
Mjollnir: Can proc with Tricks of the Trade, but due to the item's 0.2 second internal cooldown, only up to once per strike.

Aghanim's Scepter
Aghanim's Scepter: Increases his potential in teamfights by doubling the duration of Tricks of the Trade and enabling him to cast it on an ally hero.
Enemies & Allies
Allies

Faceless Void
Use Tricks of the Trade first, then Chronosphere, with Riki. This will result in a series of all Tricks of the Trade attacks being made against the enemies inside the Chronosphere.

Lifestealer
For a Lifestealer Bomb, Lifestealer can Infest on Riki. Even if the enemies are ultimately detected, you can still use the same strategy to surprise them.

Meepo
Enemies can spend more time in the vicinity of Tricks of the Trade or Smoke Screen if Earthbind is active.

Dark Seer
Riki's Ion Shell resembles an invisible Radiance, which will greatly irritate the lane, especially when facing double melee lanes.

Surge is a fantastic spell for chasing down enemies and escaping difficult situations because it ensures that you always move at your maximum speed while it is active.

Magnus
The use of Empower and/or Battle Fury on Riki's Tricks of the Trade will defeat enemies caught by the Reverse Polarity, which will bring them close together.

Enigma
Black Hole's duration is sufficient for Tricks of the Trade to hit the enemies caught in succession despite its lengthy cooldown.

Axe
Axe's Call for Smoke Screen by Berserker brings enemies together, having the same effect as Magnus and Enigma.
Counters

Axe
With the aid of Berserker's Call, Axe can render Cloak and Dagger invisible, forcing Riki to attack him from an unfavorable angle.

If you manage to survive engaging him, Axe has a very high HP pool, making it difficult for you to kill him before you get big items. Counter Helix completely disregards Smoke Screen and ignores Riki's armor before attacking his meager HP pool.

Due to Riki's limited HP pool and Axe's natural preference for buying lifesteal items, Riki frequently kills himself when attacking.

Bounty Hunter
Track makes Riki visible while he is invisible, which makes it difficult for him to gank as much. This may compel Riki to purchase Manta Style in order to get rid of it.

Bristleback
Bristleback makes no difference to the additional Backstab damage from Cloak and Dagger, and the passive Quill Spray makes Riki more vulnerable than he is.

Even though Riki is invisible, Bristleback's Quill Spray can still harm her, and dealing with it in lane can be challenging.

Smoke Screen doesn't seem to bother Bristleback much. Even though he cannot manually use Quill Spray inside of it, it still passively activates whenever he receives back damage. He can easily leave the area thanks to Warpath's quick movements.

Bristleback makes a great Gem of True Sight carrier due to his inherent tankiness.

Due to the redundant invisibility feature of Silver Edge, Riki rarely purchases it to break Bristleback's passive.

Legion Commander
Riki faces yet another significant threat because her duel forces him to fight from the front and exposes him the entire time, almost always ensuring an easy victory (unless Riki has allies helping him).

Meepo
Riki faces a deadly threat in the form of Root, who renders him completely visible and disables both Blink Strike and Tricks of the Trade, making Earthbind a useful ability to use against him.

The Meepo clones might not all be silenced by Smoke Screen.

Since Tricks of the Trade's damage is split among all Meepo clones, Riki lacks true area damage, making it impossible for him to deal with Meepo's potent ability to push without Battle Fury.

Omniknight
While ganking Omniknight's allies or himself, Purification deals a lot of damage to Riki.

Heavenly Grace gives his victim a significant amount of survivability while also instantly eliminating the slow from Diffusal Blade icon.png Diffusal Blade.

Riki's positioning strategies may be hampered by Degen Aura, which can also significantly slow down Riki's already slow movement.

Guardian Angel can be easily used by Omniknight to defend his allies.

Razor
Riki's damage is removed by Static Link while his location is made known for the duration of the effect, enabling his team to successfully use area-of-effect or detection skills.

He is alerted to Riki's proximity by Storm Surge, which activates on heroes who are invisible.

Slardar
Similar to Track, Corrosive Haze allows the opposing team to see Riki. While it doesn't increase movement speed, it melts Riki's armor, allowing Slardar to catch up to him using Guardian Sprint.

Even if Slardar has no vision of him, Aghanim's Shard causes Slithereen Crush to apply Corrosive Haze.

Spectre
Even after Riki turns invisible, Spectral Dagger stays on him using Tricks of the Trade, revealing his location.

Regardless of Smoke Screen's blind, Desolate gives Spectre the ability to damage Riki with right clicks.

Riki's reliance on high damage to eliminate opponents is negated by Dispersion.

Riki's potential to gank is greatly diminished by the fact that Haunt can always locate him globally.

Underlord
Pit of Malice prevents Riki from using Tricks of the Trade or Blink Strike.

Riki's damage is reduced by Atrophy Aura.

Riki can be harassed in lane using Firestorm.

Viper
Cloak and Dagger are rendered useless by Viper's Nethertoxin, negating Riki's invisibility and most of his damage. Additionally, it increases his susceptibility to magic damage, which is undesirable given Riki's low health reserve. He cannot even blink to safety or use Tricks of the Trade to hide when the talent is active.

Riki finds it challenging to pursue Viper and attack him because of Corrosive Skin's slow attack speed.

Even after Riki turns invisible, Viper Strike remains on him.

Riki's ability to get last hits is at risk due to Poison Attack, which can also make the laning phase challenging for him.

Zeus
True Sight is revealed for a brief period of time by Zeus's Lightning Bolt and Thundergod's Wrath, revealing Riki while possibly dealing significant damage.

Tricks of the Trade may be damaged, stunned, and revealed if Zeus's Nimbus is placed directly on top of him the moment he becomes targetable once more.
Items Counter

Sentry Ward
Sentry Ward: Is a common item used to combat heroes like Riki, dissuade him from traveling alone, and force him to invest in team detection.

Dust of Appearance
Dust of Appearance: Not only makes Riki visible but also slows down his movement, making him extremely vulnerable because he is unable to turn off Cloak and Dagger. He will be compelled to spend money on a Manta Style as a result of this.

Gem of True Sight
Gem of True Sight: Is Riki's worst nightmare, making him very reluctant to wander off in the dark or follow an enemy.

Book of the Dead
Book of the Dead: A more advanced neutral item In addition to the Necronomicon Warrior's true sight, Necronomicon can also pose a threat thanks to the bonus stats that its summons have.

Silver Edge
Silver Edge: Nullifies Cloak and Dagger, reducing your damage and invisibility by half, and rendering Tricks of the Trade only partially effective. Even so, you are already at a significant advantage if you can find Riki and land the Silver Edge.

Force Staff
Force Staff: Can force the user or their allies outside of Tricks of the Trade's or Smoke Screen's range. Remember that Riki has two charges on his Blink Strike, so he can easily overtake you. Forcefully take the high ground, or immediately follow with other disable/escape techniques.

Ghost Scepter
Ghost Scepter: Is another excellent escape tool because it shields Riki from all physical harm and creates a secure window for TP.

Shadow Blade
Shadow Blade: Can be used to flee, Riki can easily stop it with Dust of Appearance, further securing the kill.
Favorable Matchups

Anti-Mage
To escape from Smoke Cloud, Anti-Mage cannot use Blink or Manta Style icon.png Manta Style.

Even if he activates a Black King Bar, Smoke Cloud will still blind his Manta Style illusions.

Riki has a small mana pool and rarely purchases items that increase it, making Mana Void ineffective.

Chen
Chen is basically Riki's natural prey: he has little HP, low armor, and relies on his persuaded creeps to fight, which will not save Chen from Riki in most situations. Just be wary of Centaur Conqueror, who can stun Riki outside of Smoke Screen and ruin his attempt on Chen's life.

Clinkz
Because Smoke Cloud prevents the use of Death Pact, Searing Arrows, and Skeleton Walk, Clinkz is unable to defend himself or fight back effectively against Riki.

It's difficult to gank Riki because Clinkz has to find him first.

Crystal Maiden
Crystal Maiden's channeling spell, Freezing Field, is effectively disabled by Smoke Screen.

Riki can easily kill her due to her low health and armor throughout the game.

Drow Ranger
Riki can use Blink Strike to get close to Drow Ranger and disable her Marksmanship, while Smoke Screen prevents her from using Gust.

Lifestealer
When affected by Smoke Cloud's silence, Lifestealer cannot use Rage, Infest, or Open Wounds, and Feast cannot heal him effectively due to the blind, leaving him extremely vulnerable both offensively and defensively.

Infest ganks are more difficult when the opposing team has a Riki, because there are frequently only four heroes on the map that you can initiate on.

Mars
Bulwark is largely ineffective against Riki because he primarily deals bonus damage from behind.

Queen of Pain
Queen of Pain is unable to respond to Riki's attack because Smoke Cloud prevents her from using any of her offensive or defensive spells.

Sonic Wave can be easily avoided by using Blink Strike and Tricks of the Trade.

Storm Spirit
Storm Spirit is unable to respond to Riki's attack because Smoke Cloud prevents him from using any of his offensive or defensive spells.

Skywrath Mage
Riki can easily kill Skywrath Mage due to his low health and armor.

Skywrath is unable to use all of his abilities because he does not purchase Black King Bar.

Skywrath Mage, on the other hand, can easily kill Riki if he can root him with Rod of Atos or Gleipnir, followed by Dust of Appearance, Ancient Seal, and Mystic Flare.

Sniper
Sniper has no natural escape and must rely on his range and slows to keep himself safe, which Riki can quickly deplete with Blink Strike.

Ursa
If Riki checks the Pit frequently, he can detect early Roshan attempts due to Cloak and Dagger.

Ursa cannot rage while in the Smoke Screen (Black King Bar will help though).

Even if Ursa gains vision of him, Riki can use Blink Strike or Tricks of the Trade after Ursa's initiation to avoid all Fury Swipes damage until Earthshock's slow is removed.

Weaver
Shukuchi and Time Lapse are stopped by Smoke Cloud, leaving Weaver defenseless against Riki.

The Swarm is ineffective against Riki because invisibility removes the beetles instantly.
Game plan
Early game
I recommend that you begin with 2 Slippers of Agility and 1 Tango or Healing Salve. Get a Stout Shield as soon as possible to combine it with a poor man shield, which you can buy near the side lane shop (top lane or bottom lane). It can block some damage in the early laning stage, which may help you survive the harassment. Furthermore, it does provide some agi/damage which will help you in the early laning stage, and you may get a Magic Stick if the other side has a lot of skill heroes.
Mid game
The items should be purchased in the following order: Power Treads first, Mask of Madness second, and Skull Basher last. Try your hardest to get them in 20 - 25 minutes; if you do, no one will beat you in a 1v1 situation, trust me. Bounty Hunter, your predator, can also be your prey (get a Dust of Appearance). You can use these items to roam around and kill anyone in a 1v1 or team fight. Go behind your prey, open your smoke screen, and then activate your Mask of Madness; after all, just chase him like there's no tomorrow. I doubt anyone will survive, so the squishy target will be your primary goal. Whoever was inside your smoke screen couldn't win you in mid game unless they had purchased Black King Bar or Monkey King Bar, both of which are extremely rare to have in mid game. After that, get a Yasha to improve your moving speed, damage, and attack speed.
Late game
Your opponent may purchase Sentry Ward as a result of your CRAZY ownership of Mid game. Appearance Dust and Gem of True Sight You will need a Black King Bar to survive; try to get it in 30-35 minutes.
After you obtain a Black King Bar, you can resume your mid-game strategy, with the person holding the gem as your priority target. With the most recent update, the duration of the Gem of True Sight CD has been increased to 10 minutes, making enemies reconsider holding/purchasing it.At the same time, it cannot be broken right now, so make sure to clear 1 slot for the Gem of True Sight in case you or your teammate manage to take down the Gem of True Sight holder.
Get a Manta Style after Black King Bar to help you push and confuse your opponent. Furthermore, you might get Abyssal Blade if someone bought Ghost Scepter or some late game hero that you need to take down quickly. Butterfly is the best item for Riki, but I don't buy it early on because it doesn't help you owning early on.Butterfly provides the most agi among items, and with the evasion provided and your smoke screen, they have virtually no chance of harming you unless Monkey King Bar is purchased. Butterfly will also increase the damage of the backstab skill.