Lore & Bio
" A wolf in man's clothing."
The largest of the landed castes in the former country of Slom, Banehallow was born into a noble family and came from the house of Ambry. The house of Ambry was the first to rebel against the avarice of the crown before the Fall when the King's desires grew bizarre and his court grew overrun with sorcerers and charlatans. They dispatched 6,000 swords into the capital instead of continuing to offer honor and fealty, where they were killed off in the Massacre of the Apostates. The old adage, "When you strike a king's neck, you had better take his head," then arrived with teeth.
The king destroyed the huge Ambry dynasty out of wrath for the betrayal, only sparing the lord of the house and his youngest son, Banehallow. The King instructed his wizards to change the youngster into a wolf so that he may slit his own father's throat in front of the entire royal court, with the disgraced lord bound to the elaborate marble floor. The king instructed them to do this in order for Lord Ambry to recognize the bitterness of betrayal. The child was changed after calling upon strong magic. Although his physical form had been altered, his spirit was unaffected; as a result, he attacked his handlers and tore them to pieces rather than biting his father's exposed neck. Before they were able to drive the wolf into the night, a dozen of the King's knights were killed by its teeth. Even as the King stabbed him with his sword, Lord Ambry chuckled while he was imprisoned. Banehallow, the current heir to the slain house of Ambry, wanders the path as a Lycan, a hybrid of a warrior and a wolf, seeking recompense for everything he lost.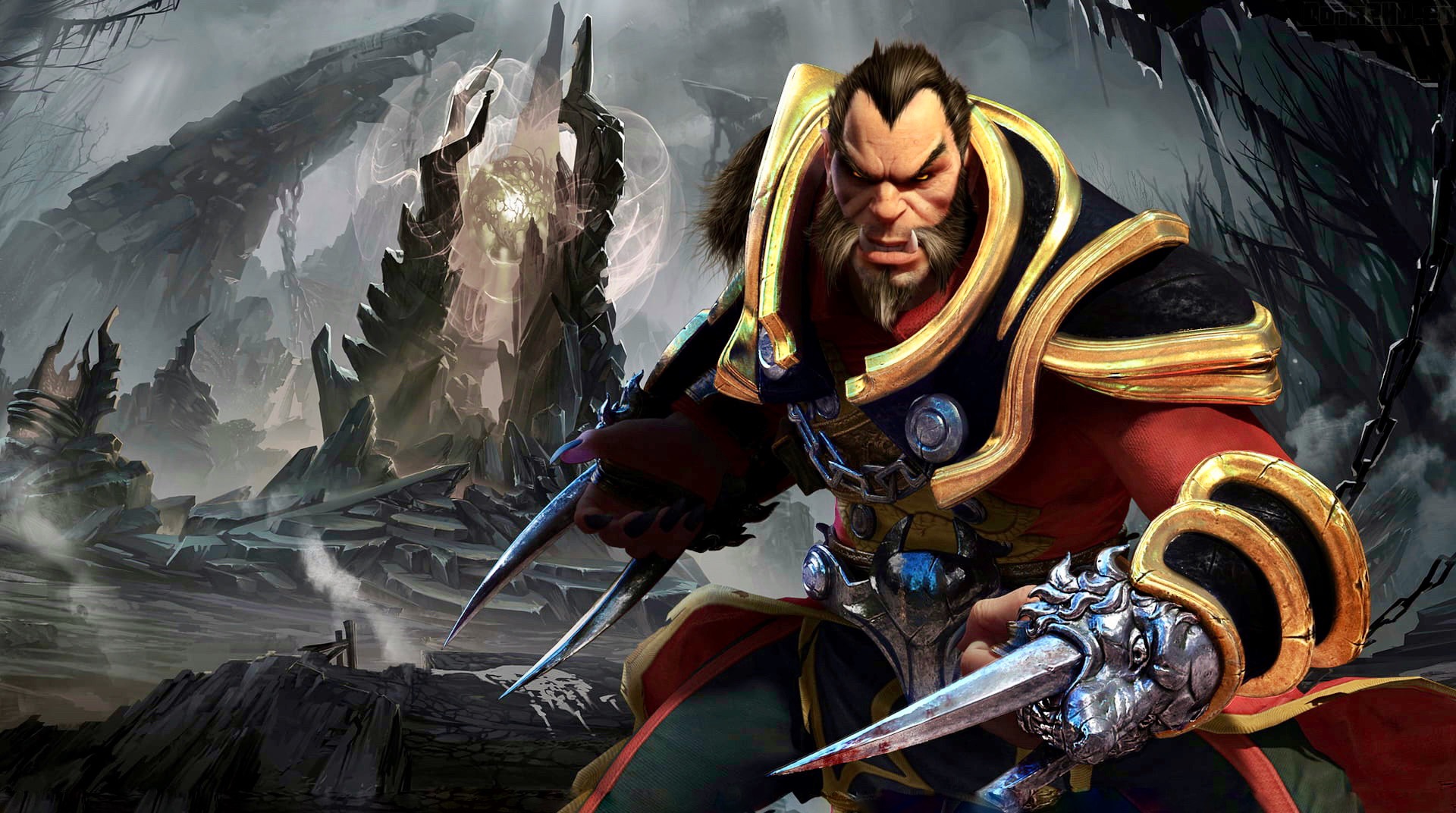 Attribute & Stats
Level: 0 1 15 25 30
Health: 200 720 1660 2580 2960
Health regen: +0.25 +2.85 +7.61 +12.21 +14.11
Mana: 75 351 627 975 1107
Mana regen: +0 +1.15 +2.34 +3.79 +4.32
Armor: 0 2.67 6.63 11.47 13.22
Damage Block: 16 (50%)
Magic Resistance: 25%
Status Resistance: 0%
Damage: 24-29 50-55 97-102 143-148 162-167
Attack Rate: 0.65/s 0.74/s 0.88/s 1.05/s 1.11/s
Attack Range: 150 (600)
Attack Speed: 110 (1.7s BAT)
Attack Animation: 0.55+0.25
Projectile Speed: Instant.
Movement Speed: 315
Turn Rate: 0.6
Collision Size: 8
Vision Range: (G) 1800 • 800
Legs: 2
Gib Type: Default.
Ability Upgrades:
Upgradable by Aghanim's Scepter - Wolf Bite.

Upgradable by Aghanim's Shard - Summon Wolves.
Abilities & Talents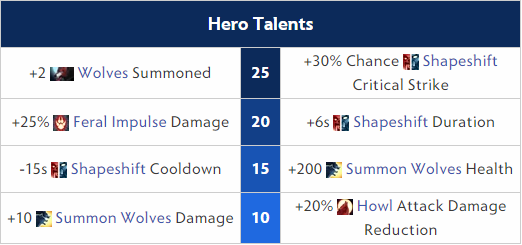 Skills building guide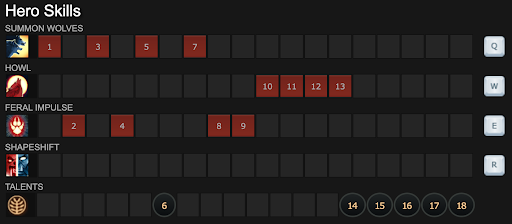 Due to the fact that wolves are how you jungle early on, generally speaking, maxing them out is a wise decision. Another smart move is to maximize the radius attack speed and damage, which will help you farm faster and affect wolves. Howl is a fantastic ability, but it typically shines in teamfights, so holding off on using it until teamfights are more common is a wise move. Feel free to move a point out of your passive and into Howl if you feel bad about not giving your team a damage boost. You can give your team the boost they need to get a kill by paying attention to the lanes, and you can also jungle more quickly.
Howl cannot be leveled because of the mana requirement. Although it doesn't cost much, every little bit taken away reduces your supply for wolves. Passive action is typically more effective for YOUR farm. However, maxed wolves with invisibility can be useful for purposes other than jungling. If you have sufficiently hurt the enemy during a gank or teamfight, they may grant you a kill. They may also bodyblock you if you need to flee, which is very useful if you need to leave the jungle to spawn.Shapeshift, a Lycan ultimate that grants extra damage, night vision, movespeed, initiation, and escape, is one of the best in the game. When maxed, it is a versatile ultimate with a brief cooldown.
Abilities

Summon Wolves
Mana cost: 125/130/135/140
Cooldown time: 13 seconds.
Cast animation: 0.3+0.73
Duration: 50
Effect: Two wolves are called to battle for Lycan. Wolves at levels 3 through 4 have Permanent Invisibility, whereas wolves at levels 4 have Cripple.

Howl
Mana cost: 35/40/45/50
Cooldown: 22/20/18/16
Cast animation: 0.3+0
Radius: 2000
Duration: 8
Damage Reduction: 25%/30%/35%/40%
Effect: Reduces armor and attack damage for all adversaries within 2000 range of Lycan and his wolves by striking dread into them.

Feral Impulse
Radius: Global.
Attack damage: 10%/20%/30%/40%
Duration: 0.5
Effect: Increases Lycan's and all of his controlled units' HP regeneration and damage.

Wolf Bite
Mana: 150
Cooldown: 125/110/95
Cast animation: 0.3+0.73
Cast range: 300
Radius: 1200
Effect: An ally receives Shapeshifting abilities after being bitten by a Lycan. As long as they are within 1200 yards of one another, Lycan and the bitten target each gain 30% Lifesteal and share the healing benefits of Lifesteal.

Shapeshift
Mana: 100
Cooldown: 125/110/95
Radius: Global.
Health bonus: 200/300/400
Duration: 25
Effect: Lycan transforms into a lupine, giving him and his units critical strikes and improved nighttime vision. Lycan and all controlled units move more quickly, are impervious to slowdowns, and have a 40% chance to deal a critical strike that deals 160%/190%/220% damage.
Effective items guides
Early game

Boots of Speed
Boots of Speed: Give a basic increase in movement speed.

Blight Stone
Blight Stone: Will decrease targets' armor, increasing wolves' damage output. It can develop into Desolator or Medallion of Courage.
Mid game

Power Treads
Power Treads: Gives you the ability to switch to appropriate attributes and increases your movement and attack speed.

Helm of the Dominator
Helm of the Dominator: Controls a neutral creep that will gain from Lycan's skills as well.
Late game

Assault Cuirass
Assault Cuirass: Reduces the armor of the adversaries (including their towers) while increasing the armor and attack speed of Lycan and his allies (including his summons).

Desolator
Desolator: Increases Lycan's damage and enhances his tower pushing. Additionally, it works in concert with an Assault Cuirass pickup to produce a significant armor disparity.

Black King Bar
Black King Bar: Provides increased power and momentary spell immunity so Lycan can destroy his targets without being concerned about being disabled.
Situation items

Smoke of Deceit
Smoke of Deceit: Enables Lycan and his team to enter Roshan's pit undetected by the adversaries.

Solar Crest
Solar Crest: Applies armor reduction to take down both Roshan's opponents.

Armlet of Mordiggian
Armlet of Mordiggian: Provides bonus attack speed, attack damage, and strength to effectively increase the damage output of strength heroes. With health regeneration, armor, and the ability to switch on Unholy Strength to generate more health, it also improves survivability.

Mask of Madness
Mask of Madness: Increases attack speed significantly to farm heroes and creeps.

Vladmir's Offering
Vladimir's Offering: Gives armor, damage, and lifesteal in the form of an aura, making his wolves stronger as well. With his limited mana supply, the mana regeneration is also helpful.

Echo Sabre
Echo Sabre: Uses double attacks and slow movement to reduce ganking.

Diffusal Blade
Diffusal Blade: Slows the target, making it more difficult for them to defend themselves or run away from Lycan.

Heaven's Halberd
Heaven's Halberd: Increases Lycan's capacity for evasion, status resistance, and strength. He is also able to better combat enemy heroes thanks to the disarm and bonus attack damage.

Boots of Travel
Boots of Travel: Enables Lycan to teleport to lanes, push them down, or join allies in ganks in the late game. Any allying creeps, including your wolves, are fair game.

Abyssal Blade
Abyssal Blade: Improves Lycan's lack of disabilities by offering a dependable stun and sporadic blows to lockdown a target.

Heart of Tarrasque
Heart of Tarrasque: Increases health and health regeneration significantly, making Lycan tanks more efficient. Additionally, all of the damage it deals is strength-based, amplified by both Feral Impulse and Vladmir's Offering. Using Shapeshift, Lycan can leave a battle with extremely low HP and immediately rejoin it after a brief rest.

Aghanim's Scepter
Aghanim's Scepter: Provides Lycan with the ability to use "Wolf Bite," which allows him to enhance an ally's Shapeshift hero by giving them increased speed, resistance to slows, a 40% chance to deal a critical strike doing 150% damage, and lifesteal. However, keep in mind that the Wolf Bite effect will end if the hero affected by it moves more than 300 yards away from Lycan. Additionally, the affected hero will have a melee attack if the ranged hero who is affected by the Wolf Bite ability also happens to be a ranged hero.
Enemies & Allies
Allies

Beastmaster
Additionally, His Inner Beast works on Lycan's own minions.

Chen
Howl helps creeps affected by Holy Persuasion.

There are plenty of those creeps who give Lycan and his minions energizing auras.

Lycan is a well-known solo performer. If he overstayed his welcome in the enemy base, the Hand of God might be able to keep him alive.

Nature's Prophet
Since Nature's Prophet is a jungling and laning hero (like Lycan), his teammates are not overly concerned if he is not present when they are fighting Roshan. Also helpful for avoiding enemy wards is the Prophet's ability to teleport straight into Roshan's pit (using Sprout and Nature's Call in Roshan's Pit is advised, though, to avoid being seen by said wards).
Counters

Axe
Even with Black King Bar, Lycan can remain stationary while performing his Shapeshift thanks to Berserker's Call.

Due to his summons, Counter Helix is very effective against Lycan.

When he drops low, Culling Blade will stop Lycan from escaping with Shapeshift.

Beastmaster
Beastmaster can hold Lycan in place after he uses Shapeshift thanks to Primal Roar.

Bloodseeker
Lycan's high mobility is entirely negated by rupture.

With Bloodrage, all of Lycan's summons make excellent healing allies.

Bristleback
Lycan's summons can be defeated with Quill Spray.

He can survive against Lycan by using Bristleback to deliver counterattacks.

Instead, he can use his Warpath to defeat Lycan.

Earthshaker
Lycan, who heavily relies on limited seconds from Black King Bar and Shapeshift to fight, may be taken out of the fight for several seconds by a well-placed Fissure.

His summons are less effective with aftershocks, and Lycan finds it very annoying.

With Lycan's massive unit count, Echo Slam has a lot of power and will make him pause before pushing towers.

Enigma
Can turn this battle into a numbers game by casting Demonic Conversion on one of Lycan's wolves.

Malefice will drastically lower his ability to interact.

Midnight Pulse can steep a region, making it more difficult for Lycan to participate.

Enchantress
One of the wolves can be charmed to join her.

Lycan's attack speed is still slowed by Untouchable.

Grimstroke
Stroke of Fate is very effective against Lycan and his troops because it deals more damage when it hits more targets.

Lycan is kept from fleeing by Soulbind, which also makes him very easy to control.

Kunkka
Using Tidebringer, Lycan's summons can be destroyed.

can be made into the icon for Heaven's Halberd.

Heaven's Halberd, which will prevent Lycan from using his auto attacks, will further impair him.

Medusa
Lycan cannot penetrate her Mana Shield due to its strength.

Once it spreads among his summons, Mystic Snake can strike with tremendous force.

Omniknight
Since Lycan primarily deals physical damage, Guardian Angel completely negates all of Lycan's damage.

The fact that Purification deals damage to areas around the target, which is problematic for Lycan and his summons, can also be a problem.

Phantom Assassin
When Blur deals critical hits, Lycan faces a serious problem.

Sven
Quickly killing Lycan's summons is Great Cleave.

Sven and his allies will be able to withstand most of the physical damage that Lycan deals thanks to Warcry.

Both Lycan and his summons will sustain damage and be stunned by Storm Hammer.

Tidehunter
His massive physical attack defense is greatly increased by Kraken Shell, and Anchor Smash will completely clear the area of Lycan's wolves.

Timbersaw
Timbersaw's spells all deal AoE damage, quickly dispatching Lycan's summons.

Lycan's summons will cause Reactive Armor to quickly gain stacks.

Winter Wyvern
Even when Winter Wyvern employs his ultimate, Arctic Burn enables him to get away from Lycan.

Lycan's summons can be defeated very effectively with Splinter Blast.

Cold Embrace shields allies from the direct physical harm caused by Lycans and can buy allies enough time to change the course of the conflict.

Due to Lycan's summons, Winter's Curse effectively stops him in his tracks.
Items Counter

Town Portal Scroll
Town Portal Scroll: Is quite effective against Lycan because he lacks the disables necessary to prevent a Hero from teleporting away.

Heaven's Halberd
Heaven's Halberd: Is an effective defense against attacks, on which Lycan heavily depends.

Blade Mail
Blade Mail: Lycan might refrain from attacking his victim if he receives return damage. If not, Lycan will sustain significant damage in return.

Ghost Scepter
Ghost Scepter: Prevents the user from taking physical damage. Lycan primarily deals physical damage.

Rod of Atos
Rod of Atos: Restricts Lycan's range of motion during his ultimate.

Crimson Guard
Crimson Guard: Drastically increases a tower's ability to withstand Lycan's push and decreases the damage that his units deal to it.
Favorable Matchups

Lich
Lycan doesn't care about the slows that Lich possesses because he can Shapeshift.

Lich is a prime target for Lycan because he lacks an inherent means of escape.

Techies
He has the ability to dispatch wolves to disarm proximity mines and to pursue and kill Techies before they can deny him. Due to his tankiness, Lycan can still survive even if the suicide is successful.

Arc Warden
Due to the fact that Magnetic Field has no effect on melee heroes, Lycan can attack Arc Warden without missing.

Because Shapeshift gives Lycan immunity from slows and because he is never alone, Flux doesn't really have an impact on him.

Lycan can still kill Arc Warden even if their Tempest Double has been called before it expires.

Drow Ranger
The speed of the Wolves renders Gust's knockback useless.

When someone is close to her, she loses her ability to escape and marksmanship. Lycan preys on these shortcomings.

Ursa
With Lycan's ultimate, he can outmaneuver Ursa during Enrage and is immune to the slows caused by Earthshock. If Ursa tries to run, Lycan can easily pursue her while changing shapes.
Game plan
Early game
Try to stay away from the spawn as much as you can in the early stages of the game. Depending on the camp spawns you receive, it might be necessary, but the more time you spend in the jungle, the better. It's also a good idea to stack one creep camp for later on when you're stronger. Keep in mind that your wolves are extremely vulnerable in the beginning. Pull it back and let the other wolf or yourself tank if one is becoming more focused because of the camp. This helps Lycan establish his dominance because it saves time and mana.
Mid game ( levels 5-11~)
The best course of action for Lycan is to rush Vladimir's aura. It grants him and his wolves lifesteal and damage, both of which are necessary for a strong to survive in the jungle. Lycan should be able to gather the rest of his items with ease since he has the ability to quickly destroy camps.
Even though you can gank mid or safelane easily at Level 6, you should continue farming in the jungle for Power Treads, Vlad's and Boots, and Medallion of Courage. The effective snowballing of Lycan is greatly aided by a few early kills. You can kill Roshan by yourself once you have your Skull Basher.
Late game ( Levels 11+)
The enormous damage boost and armor reduction can really help whether in teamfights or picking off that Sniper in the offlane because you can gank well at this point in the game with immortality and a strong pick-off game. The armor reduction stats on a Medallion can make it simple to take out an enemy in a few hits if you snowballed midgame and purchased one. You can easily solo Roshan, just like in the middle game, and you should be able to get the Aegis. The Cheese is great on Lycan because he can dive with it and maintain presence after he's been "nuked down," depending on how frequently you kill him, how long the game is, and how many items you've purchased.