Lore & Bio
"My grimoire opens again to a new page".
As head of the Arcane Archives at Ultimyr Academy, Demnok Lannik has always pursued rare books. As soon as he heard any rumors about where the book of primordial legends was hidden, he would immediately set off without any regard for his own safety.
He began to study the use of magic, with the same passion as he had been in collecting ancient books. And then, he became the mightiest Warlock in a shorter time than most of the other students.
Soon after, Demnok Lannik carved for himself a Staff of Darkness. Next, he summoned and sealed within it a spirit from the Outer Hells. With the hope that one day, he would recover all the lost magic books, Demnok Lannik began to create his own Black Grimoire.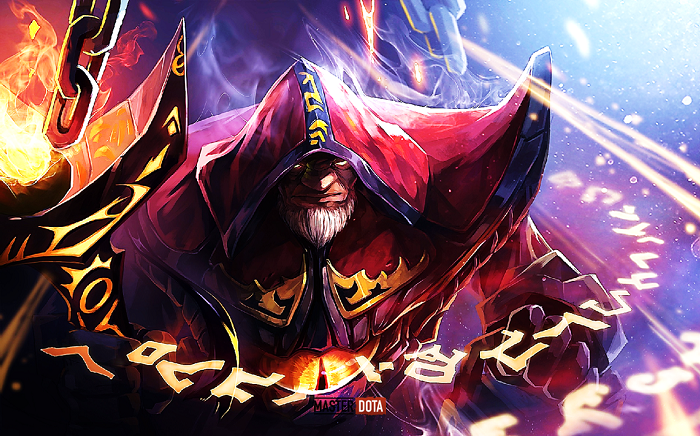 Attribute & Stats
Level: 0 1 15 25 30
Health: 200 680 1520 2360 2700
Health regen: +0.25 +2.65 +6.85 +11.05 +12.75
Mana: 75 375 891 1407 1611
Mana regen: +0 +1.25 +3.42 +5.57 +6.45
Armor: 1 2.67 5 8.67 9.83
Damage Block: -
Magic Resistance: 25%
Status Resistance: 0%
Damage: 24‒34 49‒59 92‒102 135‒145 152‒162
Attack Rate: 0.59/s 0.65/s 0.73/s 0.86/s 0.9/s
Attack Range: 600 (800)
Attack Speed: 100 (1.7s BAT)
Attack Animation: 0.3+0.3
Projectile Speed: 1200
Movement Speed: 290
Turn Rate: 0.6
Collision Size: 24
Vision Range: 1800 • 800
Legs: 2
Gib Type: Default
Ability Upgrades:
Upgradable by Aghanim's Scepter;
Upgradable by Aghanim's Shard.
Abilities & Talents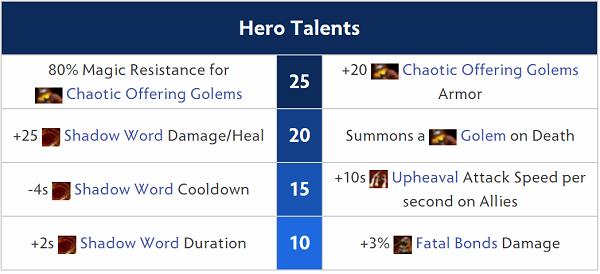 Skills building guide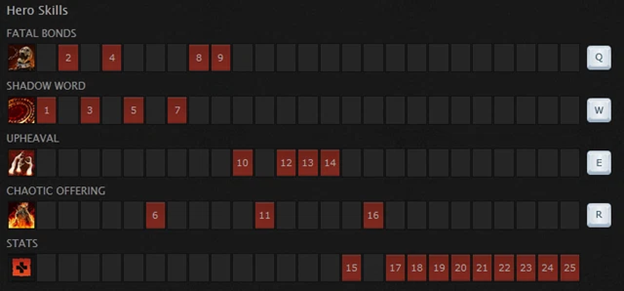 With the first build, you tend to be safe in lane, and at the same time, this build is very effective if in that lane you are completely passive before the enemy because they have terrible healing ability, and When harassing you very well, but Fatal bonds (Q) poke how much they heal quickly (typically heroes like Omniknight, Dazzle, Io, Witch doctor)
With the 2nd build, you can poke the enemy extremely hard with Fatal bonds (Q) if you align correctly to stick all the wave creeps and stick to the enemy hero. What if you chained the target with 3/4/5/6 other targets? It will be disastrous for the enemy for each wave of their creeps in lane. You heal very well thanks to Shadow word (W) without much worry. No matter how you build, you have to get the ultimate at the right level.
Abilities

Fatal Bonds
Cost: 120 mana
Cooldown: 25 seconds.
Range of use: 1000
Effect: curses an enemy, this curse will jump to up to 3/4/5/6 enemy units around the target, creating a chain linking enemies together, making them feel take each other's pain every time one of them takes damage.
Damage taken: 25% of damage dealt to each target and does not stack with itself.
Jump radius: 700

Shadow Word
Cost: 90/110/130/150 mana
Cooldown: 16 seconds
Range of use: 500
Effect: enchant an enemy unit or ally, if it's an enemy, it takes damage, if it's an ally, it heals.
Impact time: 11 seconds
Damage/Heal: 15/25/35/45

Upheaval
Cost: 100/110/120/130 mana
Cooldown: 50/46/42/38 seconds
Usage range: 1200
Effect: creates a haunted land, any enemies who step on this land will be slowed down, the longer they stand on this land, the more they decrease their movement speed.
Movement Speed Slow per second: 7%/14%/21%/28%
Max Movement Speed Slow: 84%
Chanting time: 16 seconds
Duration of effect: 3 seconds after stepping out of the land.

Chaotic Offering
Cost: 200/300/400 mana
Cooldown: 165 seconds.
Casting Range: 1200
Effect: Summons a Golem from another world to fight for him after an explosion, stunning all enemies in the area of effect.
Stun: 1 second
Blast radius: 600
Golem's Health: 900/1200/1500
Golem damage: 75/100/125 (mixed damage)
Movement Speed: 320/340/360
Attack Range: 225
Attack Speed: 1.2s/play
Armor: 6/9/12
Upgraded by Aghanim's Scepter:
Number of Golems: 2
Power of 2 Golems: each Golem takes 75% damage and health, reduces gold by 50% when killed

Flaming fist
Effect: Each Golem's basic attack has a 40% chance to deal 80/115/150 damage to the main target and surrounding area.
Effective radius: 300

Golem Permanent Immolation
Effect: Golem's flaming body ignites nearby enemies, dealing 30/40/50 damage per second
Effective radius: 300
Effective items guides
Early game

Magic Stick
Magic Stick provides a burst of life and mana to Warlock, allowing him to survive or utilize additional abilities.

Boots of Speed
Boots of Speed: Boots of Speed increases Warlock's movement speed, allowing him to get into position to utilize Shadow Word or Fatal Bonds to secure kills or save friends in a timely manner.

Town Portal Scroll
Town Portal Scroll: The Town Portal Scroll transports Warlock to the ideal location for ganking or counter-ganking with his skills to inflict damage or save teammates.
Mid game

Magic Wand
Magic Wand: In addition to restoring life and mana, the Magic Wand also grants various qualities.

Arcane Boots
Arcane Boots: Arcane Boots restores the mana of Warlocks and allies, allowing them to stay on the battleground longer.

Glimmer Cape
Glimmer Cape: The Glimmer Cape provides Warlock or allies invisibility and magic resistance, allowing them to flee; it also works when Warlock is channeling Upheaval.
Late game

Aghanim's Scepter
Aghanim's Scepter: Chaotic Offering may summon two Golems with Aghanim's Scepter, increasing total damage in teamfights while Permanent Immolation and Flaming Fists remain effective.

Refresher Orb
Refresher Orb: Warlock can use Fatal Bonds and Chaotic Offering twice with Refresher Orb, doubling the damage done to enemy targets. The item also increases Warlock regeneration, allowing him to continue performing abilities without returning to base.
Situation items

Urn of Shadows
Urn of Shadows: As a Warlock engages in ganks, Urn of Shadows gives attributes, mana restoration, and the ability to heal or harm.

Force Staff
Force Staff: The Force Staff helps Warlock to get into position to utilize his spells, as well as situating teammates and displacing adversaries; it may even be used on Golem to assist it in chasing down fleeing enemies.

Ghost Scepter
Ghost Scepter: The Ghost Scepter deflects physical attacks from enemies, allowing Warlock to flee or utilize abilities without being slain.

Solar Crest
Solar Crest: Solar Crest increases friends' or Golems' armor, attack speed, and movement speed; it decreases opponents' and Roshan's armor.

Drum of Endurance
Drum of Endurance: Warlock gains new characteristics from the Drum of Endurance. In teamfights, the active improves mobility and attack speed to help teammates and Golems.

Mekansm
Mekansm: Mekansm provides heal, armor, and health regeneration to Warlock and teammates so they can survive teamfights.

Eul's Scepter of Divinity
Eul's Scepter of Divinity: Eul's Scepter of Divinity increases Warlock's movement speed, helping him to better position himself in battles and ganks, as well as providing intelligence and mana regeneration, letting him to utilize abilities more freely. The active grants him a disable that he may employ against foes or on himself to grant temporary invulnerability while erasing debuffs like silences.

Rod of Atos
Rod of Atos: Rod of Atos immobilizes an enemy target from afar, allowing Warlock's allies and Golems to concentrate their assaults. It also improves Warlock's survivability by increasing his characteristics.

Lotus Orb
Lotus Orb: The active dispels and grants an ally a shield that reflects target abilities, which may deter adversaries from focusing on them.

Shiva's Guard
Shiva's Guard: Shiva's Guard boosts Warlock's survivability by limiting attack speed and increasing intelligence, allowing him to perform all of his abilities with Refresher Orb. The sluggish active movement speed may also aid in keeping foes inside Upheaval and Golems' range.

Scythe of Vyse
Scythe of Vyse: Scythe of Vyse provides a significant increase to Warlock's mana regeneration and attributes, particularly intellect. The Hex ability disables an adversary from a distance, substantially lowering the possibilities for hostile teamfights.

Octarine Core
Octarine Core: Octarine Core shortens the cooldown period of Warlock abilities, allowing him to use Chaotic Offering more frequently. In addition, Warlock may lifesteal from Fatal Bonds and Shadow Word damage, enhancing his combat resilience.

Guardian Greaves
Guardian Greaves: Guardian Greaves, which replace Mekansm and Arcane Boots, giving Warlock a significant boost in teamfights while also freeing up an inventory slot. Warlock can use self-dispel to remove debuffs on himself, such as silences, that prohibit him from performing spells.
Enemies & Allies
Allies

Huskar
When Huskar's health is low, Warlock Golems inflict a lot of physical and pure damage on him. Huskar should avoid using Life Break on Warlock since Chaotic Offering may quickly stun him, even when Black King Bar is up, allowing Warlock's squad to regroup and retaliate.
Huskar will have no way of getting out of Upheaval once he jumps in. This is detrimental for him, as he is an attack-dependent hero.

Meepo
The Meepos are linked by Fatal Bonds.

Templar Assassin
When the Templar Assassin uses Meld, the Warlock can cast Upheaval, stopping the Templar Assassin from escaping.
Due to the Golem Permanent Immolation, Warlock can also deploy near where she used Meld, preventing Blink Dagger from escaping.

Shadow Fiend
Due to the Shadow Fiend's lack of escape options and reliance on fair placement and channeling for his ultimate, it's simpler for you to lock him down to your team as a Warlock using your long-range crowd control abilities.

Enigma
Because Chaotic Offering pierces spell immunity and is an area of effect ability, Enigma will always be able to cancel Black Hole channeling regardless of whether he purchases Black King Bar or Linken's Sphere Warlock.
Foes frequently congregate around Black Hole, providing Warlock with an ideal opportunity to cast Fatal Bonds and Upheaval on several enemies.
Counters

Weaver
Weaver's Shukuchi helps him to move quickly enough to evade Warlock's Upheaval.
His ultimate Time Lapse helps him to avoid Warlock Golem's damage and flee.

Anti-Mage
Warlock is unable to perform spells due to Mana Break.
Anti-Mage is able to flee Upheaval thanks to Blink.
Shadow Word and the Warlock Golem's Permanent Immolation deal less damage with Counterspell.
After Chaotic Offering, Mana Void does a lot of damage and disrupts Upheaval.

Bloodseeker
Blood Rite has the ability to silence Warlock, which is problematic for him as a spellcaster.
Rupture prohibits Warlock from moving without receiving damage, which is detrimental for him given his usual lack of escapes, and when paired with Blood Rite, may be a devastating combination.

Silencer
Silencer can make a little influence because Warlock's skills are all active abilities.
Arcane Curse slows Warlock by 9 percent /12 percent /15 percent /18 percent and prohibits him from utilizing his abilities without receiving 56/84/112/140 damage.
Last Word has the ability to prevent Warlock from performing his combo.
Warlock's effect in battle is reduced by Global Silence, and he is unable to cast any spells.

Dark Seer
Because Surge ignores any slow, it lets Dark Seer and his companions flee Upheaval.

Ember Spirit
Ember Spirit is able to flee Upheaval thanks to a pre-placed Fire Remnant.
Shadow Word's damage is blocked by Flame Guard.
Ember Spirit can use Sleight of Fist to strike from a distance, disregarding Upheaval, and Searing Chains to disrupt it.

Lycan
Lycan can flee Upheaval with 650 movement speed thanks to Shapeshift.
To deal with Lycan's wolves from Summon Wolves, Warlock doesn't have many AoE skills.

Ancient Apparition
The healing from Warlock Golem and Shadow Word is nullified by Ice Blast.
If Warlock decides to keep channeling Upheaval, Cold Feet stuns him.

Nyx Assassin
Upheaval is interrupted by Impale.
He can escape Warlock's Upheaval with maximum movement speed thanks to Nyx Assassin Vendetta.
Nyx Assassin's burst damage may quickly take down a Warlock due to his tiny health pool and mobility.

Sven
The combination of God's Strength and Great Cleave eliminates Chaotic Offering golems in a matter of seconds.
Items Counter

Orchid Malevolence
Orchid Malevolence: Warlock gets silenced by Orchid Malevolence, which is detrimental for him as a spellcaster.

Diffusal Blade
Diffusal Blade: With each attack, Diffusal Blade drains Warlock's mana. Given his spells' high mana requirements, it's possible that he won't be able to cast any more spells.

Eul's Scepter of Divinity
Eul's Scepter of Divinity: Eul's Scepter of Divinity can prevent Warlock from casting Upheaval, allowing the opposition team to flee or come near enough to cause damage.

Blink Dagger
Blink Dagger: Heroes can use Blink Dagger to flee Upheaval and come closer to Warlock.
Favorable Matchups

Sven
Warlock's Upheaval pairs nicely with Sven's Storm Hammer.
If coupled with Fatal Bonds, Great Cleave may do huge damage to the whole opponent team at once.
Warcry allows Warlock Golem to catch up to foes and increases its physical damage resistance.

Bloodseeker
After Warlock uses his ability combination (Chaotic Offering -> Fatal Bonds -> Upheaval), Bloodseeker may use his Blood Rite to do a lot of damage while Silencing them.

Axe
Warlock can use Fatal Bonds on foes captured by Berserker's Call to enhance the damage they incur from Counter Helix procs, then use Upheaval to keep them from exiting Axe's range when the call finishes.

Dark Seer
Heroes can be drawn into an Upheaval by using vacuum.
Surge let's Chaotic Offering's Warlock Golem pursue opposing heroes.

Kunkka
The combination of Fatal Bonds, Chaotic Offering, and Upheaval is ideal for Torrent and Ghostship.

Magnus
Chaotic Offering and Upheaval can be used to create Reverse Polarity.
With an Empowered Magnus, Fatal Bonds may be very hazardous.

Enigma
With Black Hole and Midnight Pulse, Chaotic Offering, Upheaval, and Fatal Bonds are very hazardous, bringing down adversaries in a matter of seconds.

Silencer
The effects of Silencer's Last Word and Global Silence prohibit the opponent team from stuns or silences being cast on Warlock.

Spectre
In the lane, Shadow Word keeps Spectre healthy. With Dispersion, having greater health also implies more reflected damage.
Haunt's damage is increased much more when Fatal Bonds is applied to a group of opponents.
Game plan
Early game
Warlock in this stage has a relatively poor ability to defeat enemy champions, more inclined to poke blood for others to kill (with ultimate is different), so you should choose a safe farm and poke the enemy thanks.
Fatal bonds (Q) with a few basic attacks (if you're lucky, remember if you're lucky, you'll get a life if the opponent is negligent). Shadow word (W) is a tool to help you recover lost health and in many situations is also a skill to damage enemies, convenient for poke and finish. You need to reach lvl 6 quickly to promote your hegemony.
Mid game
At this point, when you have the ultimate, you should take advantage of the gank + push roam or call your teammates to your lane to support the push. Because the cooldown of the ultimate is quite long, in the meantime you can farm again. Always carry the Town portal scroll with you so you can actively roam and escape.
Warlock in total combat depends a lot on Chaotic Offering (R), so if there's nothing special you must know to remind your teammates to limit fighting when there is no ultimate. The combo of wl is also simple, use the ultimate to stick the star with the most enemy champions, run up to use Fatal bonds (Q) and control the Golem to beat the opponent.
Shadow word (W) now to buff the health of Golems or teammates to jump into the fight or you keep it there, waiting for someone who has the ability to escape but your team can't get it to buff it, if you're lucky you have can get kills (this is called Kill Secure, not Kill Steal) Upheaval (E) is a very useful slow tool in long combat or narrow terrain.
Late game
Going with teammates is essential at this time, Warlock is one of the heroes that has the ability to turn the tide of combat very badly (together with Enigma, Necrophos, Magnus because these guys have wide area skills that bkb is not resistant to.
Your ultimate and Fatal bonds (Q) need the majority of the enemy team so try to force them to fight when you have the ultimate to be able to maximize the power of this skill. You depend a lot on your ultimate and teammates to win the teamfight. One more thing is that you should not forget the skill Upheaval (E), it is a tool that slows down the enemy terribly in teamfights with a very large AoE and slows down a lot of movement speed, use it immediately. when the ultimate is discharged, Fatal bonds (Q)