Lore & Bio
After a bar brawl it's customary, as a courtesy, to buy everyone who's still standing a round of drinks."
Tusk is a melee hero with a variety of ice disables, making him an excellent team initiate and ganker. In Ice Shards, he possesses a damage nuke and a disable, allowing him to precisely create a barrier in an enemy's path, impeding their progress and obstructing their escape route. Tusk can aid his teammates close the gap on foes by using Snowball, which envelops Tusk and any surrounding friends in a protective shell of snow as he rolls at a target adversary, damaging and stunning anything in its path.
Tusk also has the ability to Tag Team while he's in a battle, which allows all close friends to delay foes they're attacking with physical damage. Walrus PUNCH!, his ultimate, sends a target enemy flying with a powerful uppercut, stunning and paralyzing them while inflicting a critical hit and delaying them for a short period. The Terror from the Barrier, a formidable initiator and brawler, should never be underestimated in a fight, as he has a unique set of spells and disables that may put his opponents down for the count.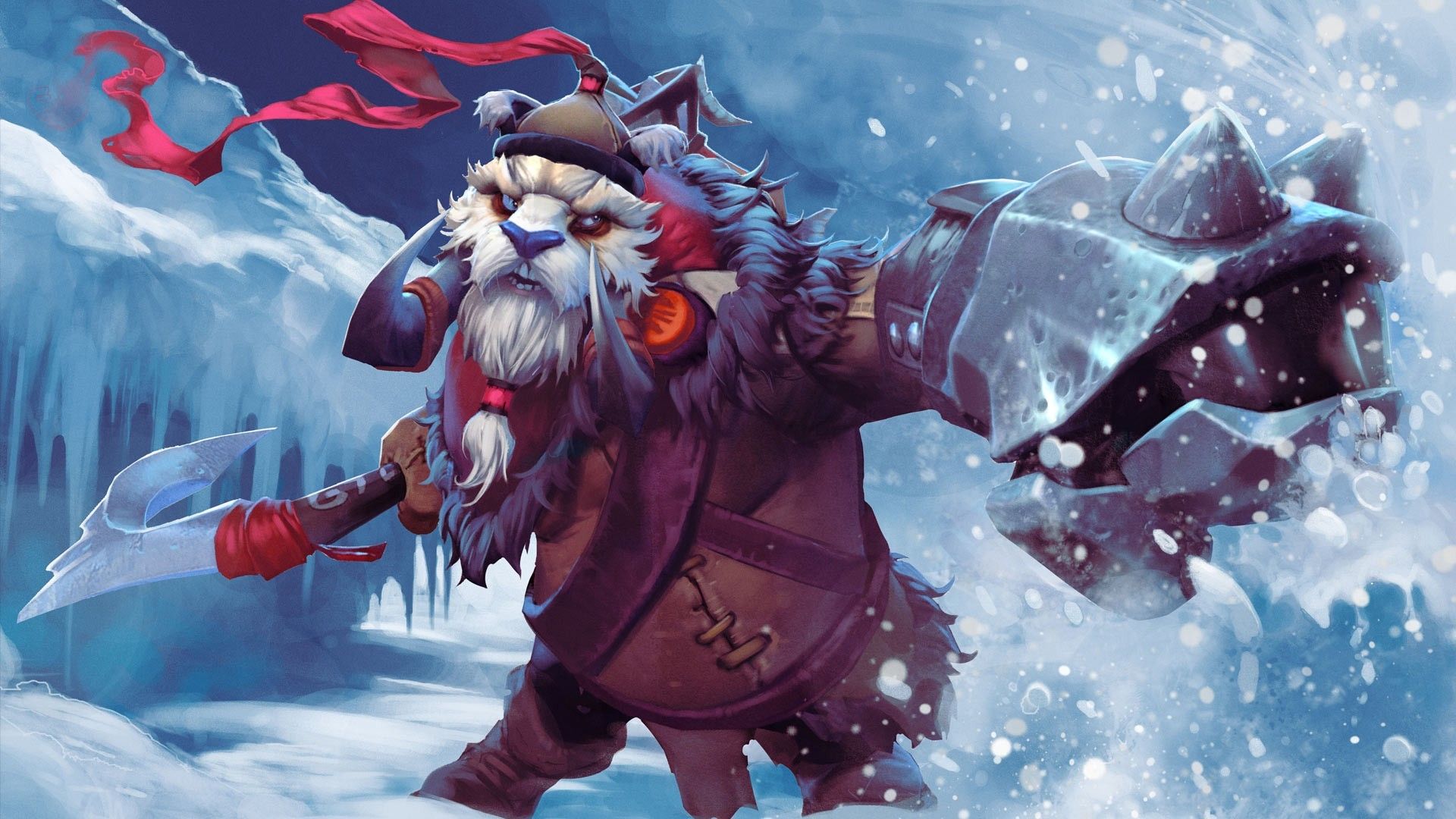 Attribute & Stats
Level: 0 1 15 25 30
Health: 200 660 1740 2760 3200
Health regen: +0.75 +3.05 +8.51 +13.61 +15.76
Mana: 75 291 567 915 1047
Mana regen: +0 +0.9 +2.09 +3.54 +4.07
Armor: 1 4.83 9.73 15.23 17.32
Damage Block: 16 (50%)
Magic Resistance: 25%
Status Resistance: 0%
Damage: 27‒31 50‒54 104‒108 155‒159 177‒181
Attack Rate: 0.59/s 0.72/s 0.9/s 1.09/s 1.16/s
Attack Range: 150 (600)
Attack Speed: 100 (1.7s BAT)
Attack Animation: 0.36+0.64
Projectile Speed: Instant
Movement Speed: 315
Turn Rate: 0.7
Collision Size: 24
Vision Range: 1800 • 800
Legs: 2
Gib Type: Default
Ability Upgrades:
Upgradable by Aghanim's Scepter - Walrus Kick

Upgradable by Aghanim's Shard - Ice Shards
Abilities & Talents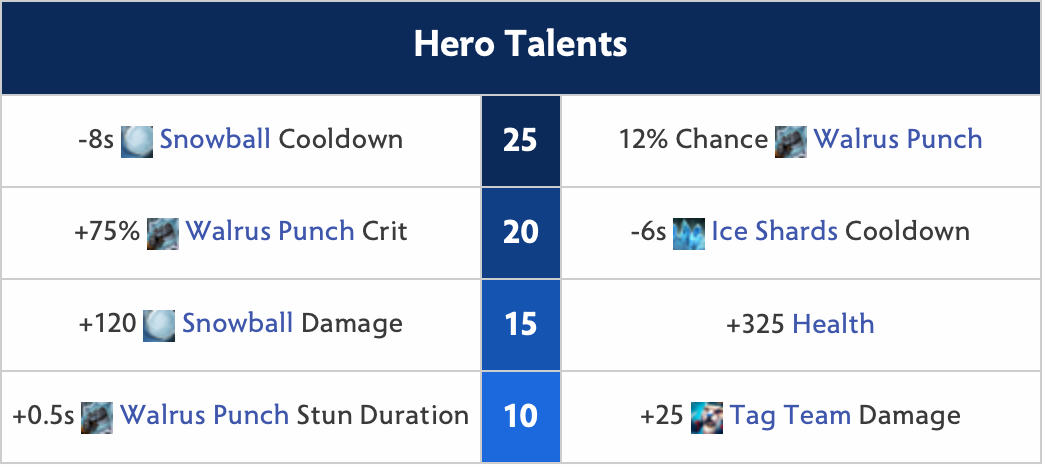 Skills building guide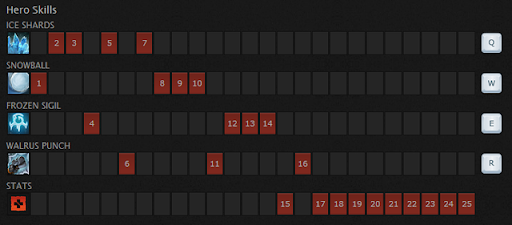 Players should max out the first Ice Shards skill with the aim of taking big damage. Frozen Sigil and Snowball should increase at the same point at first, Snowball maxing first. Particularly for Ultimate Walrus PUNCH needs to be increased with the level.
Abilities

Ice Shards
Effect: Tusk compresses each ice block into a sphere of energy to the specified location. All enemies hit take damage. The energy block reaches the destination, the iceberg within which forms a wall of ice in the way for 4.0 seconds.
Radius: 200.
Shard time: 4/5/6/7.
Shard Damage: 70/140/210/280.
Cast Range: 1800.
Mana: 100.

Snowball
Effect: Tusk creates a snowball, rolling to the specified target. At 350 units, allies can inject snowballs by clicking on them with the right mouse button, even while rolling. All enemies rolling in the path to the snowball target are stunned, taking damage. Allied champion walls in snowballs deal increased damage.
Base Damage: 80/120/160/200.
Damage increased per ally: 25/50/75/100.
Snowball speed: 600/625/650/675.
Stun Duration: 0.5/0.8/1.0/1.3.
Rolling waiting time: 3.
Input range: 100.
Mana: 75/75/75/75.

Tag Team
Effect: Creates an aura that lasts about 5.0 seconds. Tag Team causes nearby enemies to take physical damage. At the same time, when hit, the running speed is usually reduced.
Bonus Damage: 20/45/70/95.
Slow duration: 0.4.
Movement speed reduced: 75%.
Aura duration: 5.
Mana: 70.

Walrus PUNCH!
Effect: Tusk unleashes each fatal punch, so powerful that it sends the target into the air. When falling to the ground, the subject is slowed down.
Critical Damage: 350%/375%/400%.
Slow duration: 2/3/4.
Time in the air: 1.
Movement speed reduced: 40%.
Mana: 50 / 75 / 100.

Walrus Kick
Effect: Walrus Kick chooses a direction and kicks the enemy unit nearest to you within a 250-meter radius. Heroes are given precedence.
Cast Time: 0.2 + 1.3
Cast Range: 250
Damage: 350
Knockback Distance: 1400
Move Speed Slow: 40%
Slow Duration: 5
Stun Duration: 1
Effective items guides
Early game

Boots of Speed
Boots of Speed: Tusk needs a strong location to make the most of his abilities, therefore Boots of Speed should be purchased early on. During ganks, he can more quickly track down adversaries or flee from pursuers.

Magic Wand
Magic Wand: Tusk can instantly recover his HP and mana thanks to the charge storage on his Magic Wand, which may make or break fights or ganks given his potent spells.

Urn of Shadows
Urn of Shadows: Tusk gets a lot of advantages at a low price when he buys Urn of Shadows. Tusk can quickly get charges as a very mobile ganker, which he can use to heal himself and teammates or inflict greater damage in ganks; also, Urn charges may instantly put opponent Blink Daggers on cooldown from afar. Tusk gains higher HP and basic damage from the item, as well as scaling mana regen, making it easier for him to perform spells.
Mid game

Phase Boots
Phase Boots: Damage done with Walrus PUNCH! is increased by Phase Boots' boost to attack damage. During Tag Team, he can utilize the active to stay near to the adversaries.

Drum of Endurance
Drum of Endurance: Tusk gains qualities from Drum of Endurance that offer him additional health, damage, and a larger mana pool to work with. When fighting the adversary, the active boosts his mobility and offers his squad an advantage.
Late game

Blink Dagger
Blink Dagger: Blink Dagger is effective in a variety of scenarios. Tusk's spells need solid location, thus Blink Dagger can let him reach inside range quickly enough to perform a disable. It may also be utilized as an escape mechanism after casting Snowball to shield himself long enough for it to come off cooldown, or to climb on top of a struggling friend to defend them with Snowball.

Aghanim's Scepter
Aghanim's Scepter: Walrus Kick is unlocked by using Aghanim's Scepter, dramatically improving Tusk's impact in engagements and ganks. Tusk's tank is increased, and his mana pool is increased, allowing him to perform spells longer.

Lotus Orb
Lotus Orb: Tusk's durability increases when he uses Lotus Orb against tough foes. Echo Shell not only gives Tusk additional armor to help him survive, but it also allows him to utilize the opponent's unit-targeted spells against them if they try to target him during initiations, and it can provide him a bigger window to act while the enemy hesitates. Tusk can keep casting his spells thanks to the increasing mana replenishment.
Situation items

Bottle
Bottle: Bottle is particularly effective on mobility initiators like Tusk, since he may roam and set up kills for his team, and as a result, he benefits from always being at full HP and mana should a gank chance present itself. In addition, he may use runes to improve his ganking power.

Desolator
Desolator: When coupled with Walrus PUNCH, Desolator increases Tusk's additional damage and lets him impart an armor debuff to foes.

Shadow Blade
Shadow Blade: Tusk's physical damage output is increased by Shadow Blade, and he gains yet another initiation ability. Shadow Walk may be utilized to provide massive physical damage to a gank target when combined with Walrus PUNCH!, or it can be used to get out from a tight position.

Heaven's Halberd
Heaven's Halberd: Through its many perks, Heaven's Halberd aids Tusk in becoming a better all-around warrior. It provides improved strength, status resistance, and evasion, as well as a disarm to disable opposing carriers.

Assault Cuirass
Assault Cuirass: While pricey, Assault Cuirass is a powerful aura and combat equipment that may dramatically increase Tusk's damage output. Tusk's armor has been upgraded, and his attack speed has been enhanced, allowing him to do greater damage. Tusk can readily use the aura since Snowball gives him a method to approach adversaries, and the aura's armor debuff can help Walrus PUNCH! strike harder.

Solar Crest
Solar Crest: Tusk gains armor and attributes from Solar Crest, as well as mana regeneration, which helps him maintain his pricey but powerful abilities. When you use the active on an adversary during initiation, you can boost the amount of damage they suffer from Walrus PUNCH! and allied attacks while also slowing down their mobility and attack speed.

Silver Edge
Silver Edge: Tusk's initiating strength may be substantially enhanced by Silver Edge. Applying a break to a significant target not only increases Tusk's damage output, but it also disables their passive abilities, making them a considerably smaller danger in an encounter.

Blade Mail
Blade Mail: Blade Mail is a potent survival gear that compensates for many of Tusk's flaws. The armor makes him more tanky, the intellect boosts his limited mana pool, and the damage boosts Walrus PUNCHeffectiveness. !'s Tusk may utilize the active to deter foes from assaulting him and to use his HP pool offensively against gank targets who try to fight back.

Soul Ring
Soul Ring: Tusk can now wander more autonomously thanks to the Soul Ring, which also allows him to cast spells from his HP pool, allowing him to be more active on the map.

Arcane Boots
Arcane Boots: Tusk's mana pool has increased in size, and he has a way to recharge it, as well as that of his teammates, using Arcane Boots. Tusk can stay on the move and use his spells to set up kills for his squad since he can easily sustain his own mana pool.

Force Staff
Force Staff: Tusk's mobility is boosted by the Force Staff, a powerful utility item. It boosts his IQ while also increasing his mana pool and giving him HP regen to keep his health up to date. Tusk may utilize the active as an initiation booster to assist him position himself to launch his spells, as a swift escape, or to reposition allies for different reasons. It may also be used to disorient adversaries or disrupt an enemy's Linken's Sphere during initiation.
Enemies & Allies
Allies

Bane
Bane's mobility and health are both low, giving him a convenient target for Walrus PUNCH!

If he is not the target, Walrus PUNCH! can be used to cancel Fiend's Grip.

Bloodseeker
When Ruptured, Snowball cancels Rupture and protects Tusk friends.

Crystal Maiden
Due to her low health and armor, Crystal Maiden is an excellent target for Walrus PUNCH!

Tusk's Snowball has the ability to protect friends while also canceling Freezing Field.

Freezing Field may be disrupted by Snowball and Walrus PUNCH!

Legion Commander
Legion Commander loses Duel quickly when she uses Walrus PUNCH!, especially if she doesn't have Blade Mail. Tusk may also snowball dueling teammates, stopping them from taking damage for a significant period of the battle.

Pugna
Pugna is vulnerable to Tusk because of his low health and dependence on channeled skills, yet he can win a 1v1 later in the game.

Shadow Fiend
Shadow Fiend is an easy target for early ganks due to his lack of mobility and low starting health.

Sniper
Tusk, on his alone or with his allies, can quickly close Sniper's great range with Snowball, even squandering Shrapnel, leaving Sniper defenseless.

Due to Sniper's low health, Walrus PUNCH! damage can easily kill him.

Venomancer
During Venomous Gale and Poison Nova, Snowball can be utilized to save teammates or himself.

Venomancer is immobile and has a low basic health, making him vulnerable to Walrus PUNCH!

Viper
Snowball may be used to counter Viper Strike, depleting Viper's mana through his ultimate.

Monkey King
Tusk has the ability to Walrus Kick Monkey King out of Wukong's Command, rendering his ultimate unusable.
Counters

Anti-Mage
Tusk has a tiny mana pool, therefore Mana Break is quite powerful against him.

Anti-Mage is able to avoid an oncoming Snowball by blinking.

The Snowball is reflected back onto Tusk by Counterspell.

Disruptor
After using Snowball, Glimpse can restore Tusk to his original location.

Earth Spirit
Tusk may be returned to Boulder Smash following his initiation.

Tusk can't use Snowball to get away because of Geomagnetic Grip.

Earthshaker
Echo Slam is effective against Snowball because it clumps everyone together. This might pave the way for some fantastic Blink Echo Slam chances.

Phantom Lancer
Phantom Lancer is able to avoid an approaching avalanche thanks to Doppelganger.

Phantom Lancer generally invests in a Diffusal Blade, which works well against Tusk's tiny mana pool.

Phantom Lancer frequently purchases Manta Style, which, like Doppelganger, can also evade an approaching avalanche.

Razor
Tusk's base damage is drained, and his Walrus PUNCH is reduced as well. After Tusk uses Snowball, Razor can utilize Plasma Field and Eye of the Storm to follow him down.

Techies
Tusk loses control of his movement after using Snowball, allowing Techies to force him to roll onto mines.
Items Counter

Blink Dagger
Blink Dagger: Snowball shields users from opponent damage, therefore Blink Dagger's damage cooldown of 3 seconds will pass without fail.

Shiva's Guard
Shiva's Guard: Shiva's Guard works in tandem with Tag Team to limit foes' movement and attack speed in team fights, causing greater aggravation and providing more opportunities for your whole team to flee dangerous circumstances.

Force Boots
Force Staff: Heroes are pushed over Ice Shards and an oncoming Snowball by the Force Staff.

Lotus Orb
Lotus Orb: On the Snowball target, Lotus Orb spawns a second Snowball.

Blade Mail
Blade Mail: The physical criticism of Walrus PUNCH is returned by Blade Mail!

Manta Style
Manta Style: Manta Style, when used at the right time, may fully nullify Snowball's stun and damage.
Favorable Matchups

Omniknight
Tusk can encase Omniknight in a Snowball that works well with him: Purification and Heavenly Grace prevent Tusk from succumbing to the enemy's reaction with ease.

It's simpler to bring foes within Degen Aura's radius using Snowball, making escape more difficult.

Axe
While the adversaries are stunned by your Snowball, Axe might be able to set up his Berserker's Call.

Juggernaut
Ice Shards have the ability to trap an adversary for the duration of Blade Fury. It's extremely effective early on in the game, when heroes have minimal hit points.

Legion Commander
With your Walrus PUNCH! and Ice Shards' powerful burst damage, using Snowball to gank an adversary for free Duel damage is a breeze.

Lifestealer
With your Walrus PUNCH! and Infest's burst damage followed by Lifestealer's strikes, snowballing towards an adversary while Lifestealer has infected you might result in an easy death.

You may also use Ice Shards to imprison your adversaries, preventing them from escaping Lifestealer's strikes.

Tidehunter
Tidehunter's snowballing into the opponent might make it easier for him to set up his Ravage.

Tiny
Snowballing into the adversary with Tiny may be a simple combo with Toss and Avalanche trapping with Ice Shards and a Walrus PUNCH if done correctly! to complete the task

Meepo
Starting with the Meepos' Snowball, which may easily trap foes in Earthbind, and then a barrage of magical burst damage from Poof Ice Shards.
Game plan
Early game
Initially, gamers should buy couriers and items that help increase basic stats. In the post-match phase, in case the enemy team has a good shock damage ability, go to Power Tread to increase strength.
On the other hand, if you play in the direction of a completely pressing lane, you go to Phase Boots to take damage for Ultimate. Besides, if the team has not yet installed Arcane Boots, gamers will need to put on this shoe to limit the situation of running out of mana.
Mid game
Tusk's potential after mid-game is not clear when compared to heroes like Magnus, Earth Spirit, Tiny or other popular position 4 heroes. Tusk no longer has a solo kill or an easy way to initiate combat. Tusk also does not contribute much damage in teamfight, mainly focusing on a single target.
Late game
Normally, Tusk will roll first. Therefore, Heart of Tarrasque and Assault Cuirass are reasonable choices. For items that increase damage, gamers should only go to Armlet of Mordiggian and Desolator. Thus, when using the ultimate, the ability to shock damage will be increased. In late game, try to farm items for tank ability to help stay in teamfights.