Lore & Bio
"Failure is just another kind of success. The wrong kind."
No Darkbrew had ever demonstrated the kind of imagination, aspiration, and carelessness that young Razzil exhibited while studying the sacred science of Chymistry, despite this being a family tradition. When he reached adulthood, he abandoned the family business to try his hand at creating gold through alchemy. Razzil declared he would turn an entire mountain into gold in an act of audacity befitting his reputation. After spending two decades researching, planning, and preparing, he failed miserably and was soon imprisoned for the extensive damage his experiment caused. Razzil, who was never one to take defeat lightly, sought refuge in order to carry on with his investigation. He discovered the perfect opportunity when he discovered that his new cellmate was a fearsome ogre. Razzil set about painstakingly creating a tincture for the ogre to drink using the moulds and mosses growing on the prison stonework after persuading it not to eat him. It appeared to be prepared after a week. When the ogre drank the potion, it flew into an uncontrollable berserker rage that caused it to smash through walls and guards while destroying the cell bars. They soon discovered themselves lost in the city's surrounding forest, leaving a trail of destruction in their wake but showing no signs of being pursued. In the glow of the tonic, the ogre appeared calm, content, and even eager. The two decided to cooperate and set out to gather the supplies required to try Razzil's Alchemic transmutation once more.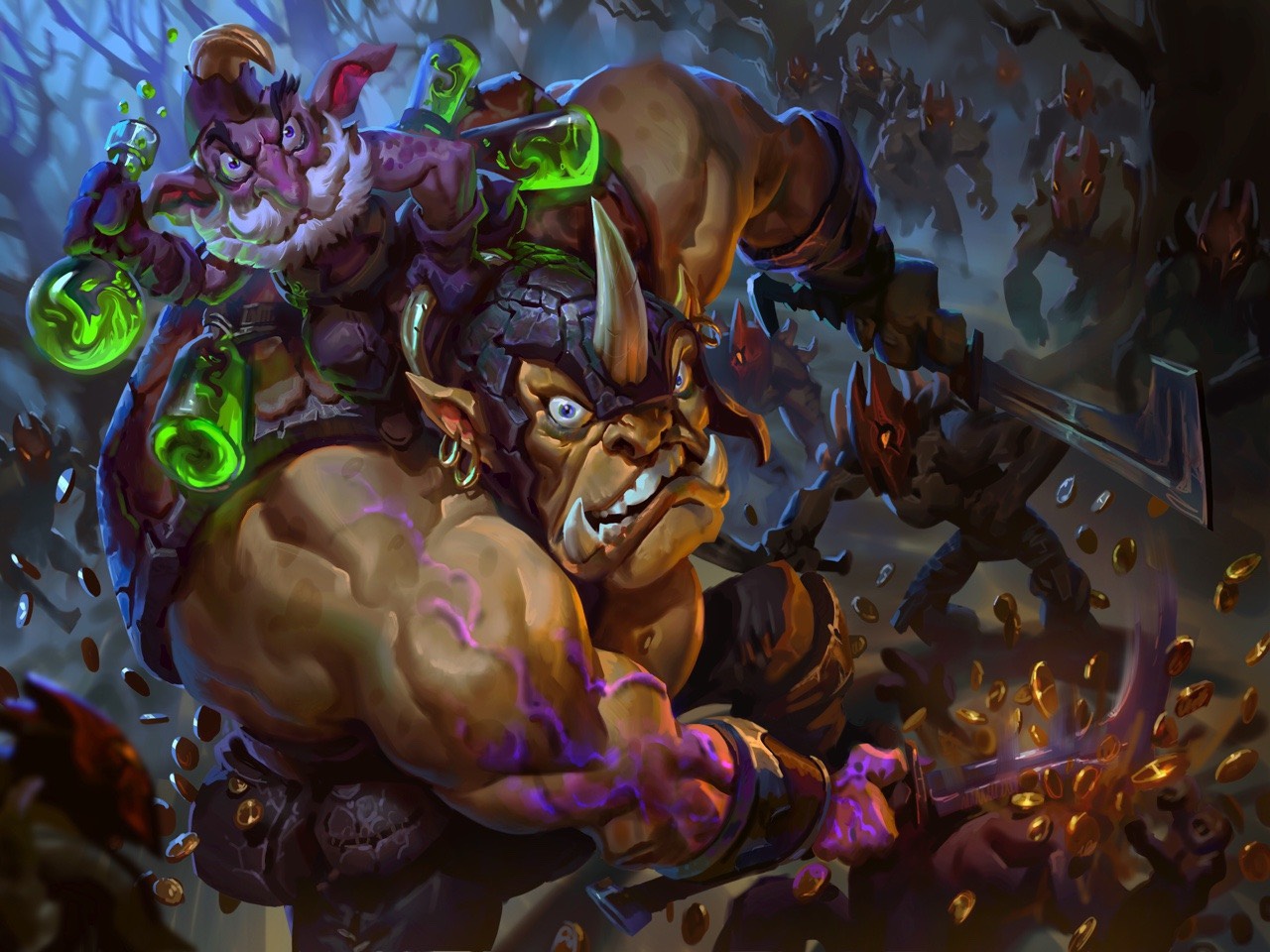 Attribute & Stats
Level: 0 1 15 25 30
Health: 200 700 1500 2320 2660
Health regen: +0.25 +2.75 +6.81 +10.91 +12.56
Mana: 75 375 675 1035 1167
Mana regen: +0 +1.25 +2.51 +4.01 +4.56
Armor: -1 2.67 6.17 10.67 12.25
Damage Block: 16 (50%)
Magic Resistance: 25%
Status Resistance: 0%
Damage: 27‒33 52‒58 92‒98 133‒139 150‒156
Attack Rate: 0.59/s 0.72/s 0.84/s 1/s 1.06/s
Attack Range: 150 (600)
Attack Speed: 100 (1.7s BAT)
Attack Animation: 0.35+0.65
Projectile Speed: Instant.
Movement Speed: 305
Turn Rate: 0.6
Collision Size: 24
Vision Range: (G) 1800 • 800
Legs: 2
Gib Type: Default.
Ability Upgrades:
Upgradable by Aghanim's Scepter.
Upgradable by Aghanim's Shard.
Abilities & Talents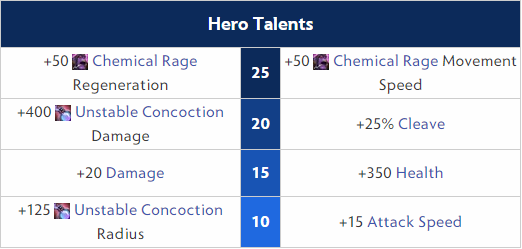 Skills building guide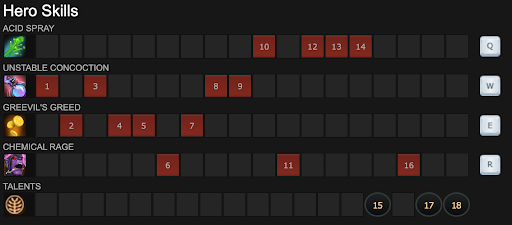 Early on in the game, an alchemist is supposed to farm using Greevil's Greed to quickly acquire his core items. Then we level Unstable Concoction to lengthen the stun and deal more damage. Every time we want to get a kill, we use this skill. We level the final skill, Acid Spray, after we have maximized this one. We employ this skill to farm the jungle, push the lanes, protect our towers, and attack rival towers.
Abilities

Acid Spray
Cast Animation: 0.2+0.7
Cast Range: 900
Radius: 475/525/575/625
Damage per Second: 20/25/30/35
Armor Reduction: 4/5/6/7
Aura Linger Duration: 0.5
Duration: 16
Cooldown: 22 seconds.
Mana: 130/140/150/160
Effect: Sprays acid at high pressure over a target area. Stepping across the contaminated terrain causes enemy units to take damage per second and has a negative impact on their armor.

Unstable Concoction
Cast Animation: 0+0
Concoction Radius: 250
Max Brew Time: 5
Max Throw Time: 5.5
Move Speed Bonus: 5%/10%/15%/20%
Min Damage: 0
Max Damage: 150/220/290/360 (Talent 550/620/690/760)
Min Stun Duration: 0.25
Max Stun Duration: 1.75/2.5/3.25/4
Cooldown Time: 13 seconds.
Mana: 100
Effect: An enemy hero can be stunned and damaged in the vicinity of an explosion by an unstable mixture that an alchemist has created and can throw at them. More damage is dealt and the stunned condition lasts longer as the mixture brews. While charging the mixture, the alchemist works more quickly. The mixture reaches its peak damage and stun duration after 5 seconds. If the mixture isn't thrown, it will explode on the Alchemist after 5.5 seconds.

Greevil's Greed
Base Gold Bonus: 3
Extra Gold Bonus per Stack: 3
Gold Bonus Cap: 15/18/21/24
Stack Duration: 36
Bounty Rune Multiplier: 1.5/2/2.5/3
Effect: Alchemist creates more gold from his adversaries and ransom runes. Alchemist gains base bonus gold and additional bonus gold for each kill. Within the following 36 seconds, if Alchemist kills another unit that produces gold, Extra Bonus Gold is activated once more. Bounty runes also produce more gold as a result.

Berserk Potion
Cast Animation: 0.2+0.63
Cast Range: 800
Move Speed Bonus: 30
Attack Speed Bonus: 50
Health Regen Bonus: 40
Buff Duration: 10
Cooldown: 35
Mana: 100
Effect: An ally is hit by an alchemist's potion, which grants them attack speed, movement speed, and HP regen while also applying a basic dispel.

Chemical Rage
Cast Animation: 0+0
Transformation Time: 0.35
Base Attack Time: 1.2/1.1/1
Health Regen Bonus: 50/75/100 (Talent 100/125/150)
Move Speed Bonus: 40/50/60 (Talent 90/100/110)
Rage Duration: 30
Cooldown: 60
Mana cost: 50/75/100
Effect: The base attack cooldown is lowered, movement speed is increased, and health regeneration is increased when the Alchemist puts his Ogre into a chemically induced rage.
Effective items guides
Early game

Quelling Blade
Quelling Blade: Alchemist's increased attack damage against creeps aids in getting last hits.

Boots of Speed
Boots of Speed: Give a nice increase in movement speed.
Mid game

Power Treads
Power Treads: Boost attack power and speed to aid Alchemist in landing last hits. He can use Acid Spray more often in the early to midgame thanks to the intelligence bonus.

Armlet of Mordiggian
Armlet of Mordiggian: Counters the item's health draining effect by combining well with Chemical Rage's health regeneration.

Blink Dagger
Blink Dagger: Increases mobility, allowing the Alchemist to approach the enemies and unleash Unstable Concoction on them.
Late game

Boots of Travel
Boots of Travel: Alchemist is able to farm free lanes while present at the split push lanes. The increased movement speed also significantly lessens his lack of mobility.

Black King Bar
Black King Bar: Shields Alchemist from the majority of disables so he can keep dealing damage.

Assault Cuirass
Assault Cuirass: Reduces enemies' armor, which builds on Acid Spray's armor reduction. Additionally, it offers a helpful aura that increases the rest of your team's attack speed and armor.
Situation items

Radiance
Radiance: Is a wise choice because Alchemist can quickly obtain it with Greevil's Greed, which is useful when burn damage is at its worst. As Alchemist can use Chemical Rage to stay alive for extended periods of time, it causes significant damage to the opposing team.

Manta Style
Manta Style: Is great for sieging structures and gives Alchemist a much-needed disjoint mechanism.

Mjollnir
Mjollnir: Alchemist's attack speed is greatly increased, and he receives a helpful Static Charge to defend himself or his teammates. Under Chemical Rage, its lightning attack will also frequently go off.

Battle Fury
Battle Fury: Helps Alchemist farm much more quickly.

Blade Mail
Blade Mail: Makes enemies reconsider returning fire against Alchemist.

Abyssal Blade
Abyssal Blade: Goes well with the Alchemist's quick attacks and is very helpful in securing an opponent. Additionally, it boosts attack power and increases survivability by boosting health and deflecting incoming blows.

Heaven's Halberd
Heaven's Halberd: Gives the ability to disarm a dangerous enemy as well as some strength, evasion, status resistance, and other benefits.

Heart of Tarrasque
Heart of Tarrasque: Provides Alchemist with an enormous amount of health. Alchemist is very challenging to defeat when combined with Chemical Rage's health regeneration.

Moon Shard
Moon Shard: Gives Alchemist faster attack speed without taking up any inventory slots. He could also grant the bonus attack speed to an ally by using Moon Shard on them.

Aghanim's Scepter
Aghanim's Scepter: Enables the Alchemist to present the item to an ally, providing them with the necessary upgrades.
Enemies & Allies
Allies

Oracle
The effects of False Promise and Fortune's End will remove debuffs.

Chemical Rage and False Promise might give you some serious sustainability.

An AoE dispel called Fortune's End will root enemies and remove from them buffs like Guardian Angel.
Counters

Axe
With Berserker's Call, Axe can compel Alchemist to engage him in combat. Chemical Rage's rapid attack speed will cause Counter Helix to repeatedly activate.

If the axe has Blade Mail, which transfers all damage back to the Alchemist, things could get worse.

Alchemist frequently use Black King Bar, but Axe's abilities can cut through it.

Axe receives a significant bonus armor from Berserker's Call, which largely mitigates the physical damage dealt by Alchemist.

Ancient Apparition
Chemical Rage's quick health restoration is negated by Ice Blast. Additionally, it can benefit from Mordiggian Armlet toggling, which causes the bearer's health to rapidly deplete, effectively killing him or her in a matter of seconds.

Enchantress
The advantage of Chemical Rage's attack speed is greatly diminished by Untouchable.

Invoker
Due to the fact that Quas regeneration will cancel out Acid Spray's cumulative damage and the Exort damage bonus will enable Invoker to outlast Alchemist, Exort Invoker can easily defeat Alchemist in the mid lane.

Kunkka
Alchemist will take a beating from Tidebringer before creating any items that increase physical survivability.

Alchemist can be controlled by Torrent and X Marks the Spot up until the point where he has the Black King Bar.

The Alchemist's ability to deal Radiance damage in teamfights will be significantly diminished by Ghostship's rum buff.

Lifestealer
Feast is effective against heroes with high health and strength, such as Alchemist.

Unstable Concoction cannot target Lifestealer thanks to Rage, possibly causing Alchemist to stun himself.

Necrophos
Before Chemical Rage has a chance to heal Alchemist, Reaper's Scythe can end his life.

Necrophos can be shielded from damage from Acid Spray and Unstable Concoction as well as kept from being attacked by Alchemist while wearing Ghost Shroud.

For a strength hero like Alchemist, Heartstopper Aura poses a problem because it will continue to deal damage based on Necrophos' health percentage while he is still alive.

Slardar
Corrosive Haze is put first, then Slithereen. Alchemist's primary vulnerability to physical damage before having the chance to increase his survivability with items is exploited by Crush.

During the laning phase, Bash of the Deep will deal a lot of damage.

Slark
Unstable Concoction cannot target Slark because of Shadow Dance, causing Alchemist to stun and expose himself to danger.

If the timing is right, he can also simply purge the stun using Dark Pact.

If Alchemist is unable to kill Slark by dealing enough damage, Essence Shift will steal stats over extended periods of time.

Ursa
Alchemist will rarely be protected by Chemical Rage from Ursa's Fury Swipes.

Ursa can threaten Alchemist while also avoiding his cumulative damage thanks to Enrage.

Ember Spirit
Ember's magic damage build can burst down Alchemist because of Alchemist's normal item pick-up and low strength gain.

Razor
Alchemist is susceptible to Static Link because he relies on rapid attack speed to deal single-target damage. Additionally, it passes through Black King Bar, a common item on Alchemist.

Heroes with high health and strength perform well against Eye of the Storm because it makes them more vulnerable to physical damage.

To counter Acid Spray, Razor has a strong early lane push.
Items Counter

Assault Cuirass
Assault Cuirass: Decreases the physical survivability of Alchemist and his teammates.

Shiva's Guard
Shiva's Guard: Does the same thing as Assault Cuirass but also slows down the attack speed, decreasing Chemical Rage's effectiveness.

Heaven's Halberd
Heaven's Halberd: Apply an irresistible disarm to prevent Alchemist from attacking while in Chemical Rage, forcing him to use Black King Bar first.

Scythe of Vyse
Scythe of Vyse: Disables Alchemist, preventing him from using Chemical Rage to heal, and enables heroes to quickly take him out.

Spirit Vessel
Spirit Vessel: Reduces the regeneration of health for Alchemist.
Favorable Matchups

Broodmother
With Acid Spray and Greevil's Greed, Alchemist can farm Spiderlings with ease.

Broodmother's ravenous appetite is eliminated by the Alchemist's chemical rage.

Nature's Prophet
Pushes with treants will be quickly destroyed by Acid Spray and Greevil's Greed.

Phoenix
Phoenix is quickly killed by Chemical Rage in Supernova.

Undying
Tombstone will fall to Chemical Rage quickly.

Huskar
Burning Spear damage is reduced by Chemical Rage.
Game plan
Early game
You should farm and last hit creeps in the early game while attempting to stay alive. If your laning partner is a support, stick with him and try to gank with him if he has an effective nuke or stun. All you have to do is slightly harass the enemy, use your stuns, and then begin attacking him to score a kill. Instead of going with the tougher foe, pick the weaker one. When Your Mid-Hero reaches level 6, ask him to gank Your lane.
Mid game
You ought to have a Hand of Midas by this point, which will increase your gold and experience gains, and you ought to start gold-mining in the jungle and the lanes. With the help of your allies, you can try to push some towers, but focus on obtaining gold for your core equipment. Once you've done that, pressure every lane you can and don't let the opposition carry creeps because if they have a Hard-Carry, you risk being out carried in the late game.
Late game
At this point, you ought to have all available slots and be effectively farmed. If you and your allies cooperate effectively, you should be able to begin pushing the third towers and seize the barracks.