Lore & Bio
Silencer is a ranged smart hero that may be used as a support, carry, or initiator in battle. He is one of the few intelligence heroes that can genuinely profit from intelligence items, and he is particularly effective against spell-heavy heroes, since he can quiet them while taking their intelligence and increasing it to his own.
Throughout the game, he is a well-known anti-caster hero who can cripple spellcasters and impair their magical skills. Arcane Curse slows and causes foes to lose health for a specific period of time, but the length of the debuff increases with each spell the enemy performs, compelling them to either wait until the debuff expires or cast spells and risk taking more injury. If Nortrom's target casts a spell, Last Word casts a curse that harms and silences the victim for a long time.
The consequences are the same if the victim does not perform a spell before the curse period expires. Glaives of Wisdom is an active attack modifier that does pure damage equal to a percentage of Nortrom's intellect and steals intelligence with each strike.
Furthermore, the glaives allow him to take the intellect of enemy heroes who die near him or are directly slain by him and add it to his own intelligence. This not only rewards his presence in teamfights, but it also strengthens his glaives as the conflict progresses. Nortrom's ultimate, Global Silence, temporarily silences all opponent troops on the map. A well-timed Global Silence can save you or an ally, start a teamfight, or sabotage the enemy's initiation.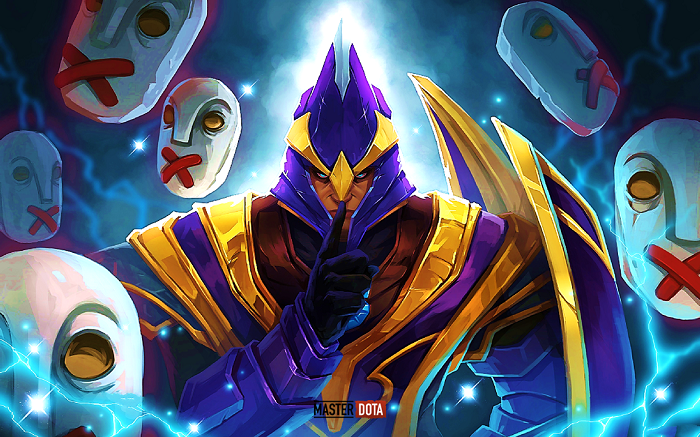 Attribute & Stats
Level: 0 1 15 25 30
Health: 200 580 1240 1960 2240
Health regen: +0.25 +2.15 +5.51 +9.11 +10.51
Mana: 75 375 855 1347 1551
Mana regen: +0 +1.25 +3.28 +5.33 +6.16
Armor: -1 2.67 8.27 14.27 16.6
Damage Block: -
Magic Resistance: 25%
Status Resistance: 0%
Damage: 18‒32 43‒57 83‒97 124‒138 141‒155
Attack Rate: 0.68/s 0.81/s 1/s 1.22/s 1.3/s
Attack Range: 600 (800)
Attack Speed: 115 (1.7s BAT)
Attack Animation: 0.5+0.5
Projectile Speed: 900
Movement Speed: 290
Turn Rate: 0.6
Collision Size: 24
Vision Range: 1800 • 800
Legs: 2
Gib Type: Default
Ability Upgrades:
Upgradable by Aghanim's Scepter.
Upgradable by Aghanim's Shard.
Abilities & Talents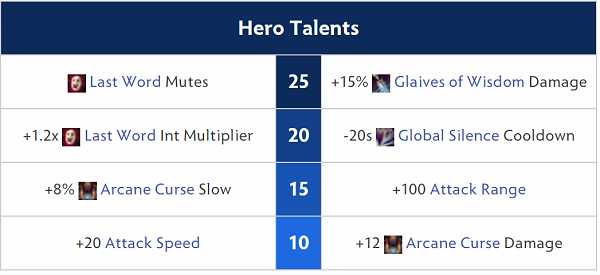 Skills building guide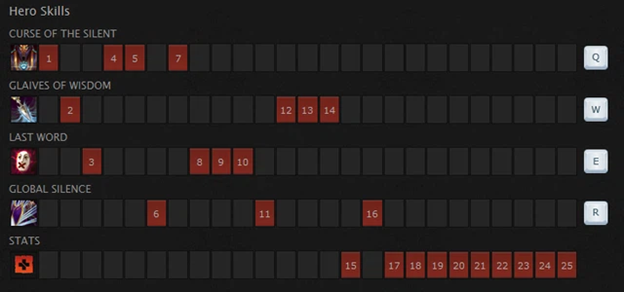 There are two ways to increase Silencer's skill, depending on the target enemy hero in the same lane. If the opponent is a skilled hero that uses a lot of mana, you should max out Curse of the Silent first, use it to force the opponent to use the skill and consume all of your mana.
On the contrary, if the enemy is a hero that can cast skills that cost less mana, you can max out Last Word first because then, Curse of the Silent will have almost no effect on the enemy. In addition, Glaives of Wisdom should be increased by 1 point initially to harass and gain Intelligence when ganking.
Abilities

Arcane Curse
Cast Animation: 0.3+0.37
Cast Range: 1000
Radius: 425
Damage per Second: 16/24/32/40 (Talent 31/39/47/55)
Move Speed Slow: 9%/12%/15%/18% (Talent 17%/20%/23%/26%)
Silenced Multiplier: 1.7
Base Duration: 6
Penalty Duration: 3
Effect: Curses the target region, inflicting damage on enemy heroes and decreasing their movement speed. Enemies who are silenced take 1.7 times the amount of slow and damage. The duration of any spell cast by afflicted opponents is enhanced. As long as the target is quiet, the cooldown is halted.

Glaives of Wisdom
Cast Range: 600 (Talent 700)
Permanent Intelligence Steal Radius: 925
Permanent Intelligence Steal: 2
Intelligence as Damage: 15%/35%/55%/75% (Talent 30%/50%/70%/90%)
Temporary Intelligence Steal: 1/1/2/3
Temporary Steal Duration: 15/20/25/30
Effect: Silencer imbues his glaives with knowledge, causing them to deliver increased damage dependent on his Intelligence. With each hit, Silencer momentarily takes his target's IQ.

Last Word
Cast Animation: 0.3+0.47
Cast Range: 900
Base Damage: 120/160/200/240
Intelligence Difference Multiplier: 1.5/2/2.5/3 (Talent 2.7/3.2/3.7/4.2)
Initial Debuff Duration: 4
Silence Duration: 3/4/5/6
Effect: Enchants a target, giving them eyesight and causing them to be injured and silent if they cast a spell or the enchantment duration runs out. Increases the amount of damage dealt dependent on the intelligence gap between Silencer and the target.

Global Silence
Cast Animation: 0.3+0.37
Radius: Global
Duration: 4.5/5.25/6
Effect: Silencer pauses all sound, making it impossible for opposing heroes and troops on the map to perform spells.
Effective items guides
Early game

Magic Wand
Magic Wand: Magic Wand has all of the advantages of Magic Stick, plus stats and more charge storage. Even as a carry, Silencer is vulnerable to opponent attacks, therefore burst HP regen is always beneficial.

Boots of Speed
Boots of Speed: Silencer may utilize Boots of Speed to get close enough to perform abilities and perhaps obtain kills or assists, allowing him to enjoy Intelligence Steal.

Wind Lace
Wind Lace: Wind Lace also helps to increase movement speed. It may also be combined with Eul's Divinity Scepter or Endurance Drum.

Town Portal Scroll
Town Portal Scroll: Silencer is transported to conflicts via the Town Portal Scroll in order to steal early intelligence.
Mid game

Witch Blade
Witch Blade: Silencer's greatest initial item is the Witch Blade, which provides him with intelligence, armor, attack speed, and a fantastic passive that synergizes with the passive benefits of glaives.

Power Treads
Power Treads: Silencer gains attack speed and suitable traits from Power Treads, notably strength, which increases his health. The ability to alter characteristics can aid spellcasting and damage output.

Hurricane Pike
Hurricane Pike: Hurricane Pike can be used as an escape device for himself or a teammate, or to close the distance on a fleeing adversary, or to drive an enemy out of position. It also extends his assault range, allowing him to finish off an opponent at long range with four glaives.

Orchid Malevolence
Orchid Malevolence: Orchid Malevolence is an excellent item to stack on a carry Silencer, since it works well with all of his spells. Orchid is the sole item that provides a high amount of int, mana regeneration, attack speed, and attack damage in one place, all of which Silencer requires to be a viable carry.
Late game

Bloodthorn
Bloodthorn: Bloodthorn, an improved version of Orchid Malevolence, adds more critical strike and True Strike to counter evasion and take out even the most tanky heroes.

Scythe of Vyse
Scythe of Vyse: Scythe of Vyse is a powerful disable. It also grants him intellect and strength, as well as great mana regeneration, allowing him to maintain his talents.

Black King Bar
Black King Bar: Silencer's durability is considerably increased by Black King Bar's strength and spell immunity, allowing him to continue to do damage without fear of opponent disables.
Situation items

Drum of Endurance
Drum of Endurance: In the early game, the Drum of Endurance suits an attacking Silencer, enhancing the power of pushes and improving his ability to follow adversaries with movement speed.

Glimmer Cape
Glimmer Cape: Silencer and friends gain invisibility and magic resistance when wearing the Glimmer Cape, allowing them to flee.

Blink Dagger
Blink Dagger: No matter what function Silencer plays, Blink Dagger is a potent mobility tool. He can easily position himself as a support to throw his disables on the opponent, as well as dodge enemy ganks.
It offers him good positioning as a carry, letting him to move rapidly into a fight and strike after his ultimate disables the adversary. Alternatively, you may just blink in to grab information from enemy heroes who are dying.

Eul's Scepter of Divinity
Eul's Scepter of Divinity: Silencer can make plays on the map thanks to Eul's Scepter of Divinity, which enhances movement speed and mana regeneration. The active Cyclone has the ability to disable foes, erase debuffs from oneself, and make you invulnerable for a short time.

Rod of Atos
Rod of Atos: Rod of Atos gives intellect and strength, as well as a root that may be used to catch foes off guard or keep them in place as Silencer retreats.

Shiva's Guard
Shiva's Guard: Shiva's Guard is a well-rounded item that enhances Silencer's resistance to physical damage while simultaneously giving him extra intellect to fuel his abilities and attacks. Slowing down might also make it easier to track down fleeing foes.

Nullifier
Nullifier: Nullifier works nicely with quiet to prevent adversaries from using abilities or items while also slowing them down whenever an assault hits them.
Enemies & Allies
Allies

Bristleback
While silent, Bristleback will be unable to perform Viscous Nasal Goo or Quill Spray, thereby negating a large portion of the hero's damage and preventing the accumulation of Warpath charges.
Bristleback is slowed by Arcane Curse, which lasts longer the more abilities he uses. If he doesn't utilize any abilities, on the other hand, he will start to lose Warpath charges.

Crystal Maiden
Crystal Maiden is squishy, spell-dependent, has a low base Intelligence, and is inherently sluggish, making her a perfect Silencer victim.
Because Freezing Field's cooldown is identical to that of Global Silence, it can nearly always be canceled to wreck aggressive Crystal Maiden initiations.

Enigma
Because Global Silence cancels Black Hole, even via Black King Bar and Linken's Sphere, Silencer may easily sabotage Enigma's initiation.

Medusa
Silencer swiftly depletes Silencer's effective HP from Mana Shield by robbing her of her intellect.
Arcane Curse punishes her for casting Mystic Snake repeatedly in order to keep her mana pool high. Before he casts Global Silence and Medusa, he can compel her to employ Manta Style. Medusa is typically averse to constructing the Black King Bar.

Oracle
Silencer's Arcane Curse may easily thwart Oracle's dependence on spamming his spells.
Oracle's attempt to save his comrades with his spells is defeated by Last Word and Global Silence.
Glaives of Wisdom's pure damage renders Fate's Edict ineffective.

Outworld Destroyer
Outworld Destroyer's damage output will be greatly reduced by Silencer's intelligence theft, especially if Destroyer dies frequently near Silencer and loses intelligence permanently.
Unless Outworld Destroyer possesses an item/ally to dispel quiet, Global Silence and Last Word will make him useless.

Pugna
Pugna relies heavily on his skills to deal damage. (Just keep an eye out for the Nether Ward.)

Shadow Demon
Shadow Demon's main source of damage is his low-cooldown, high-damage spells, which means Last Word and Global Silence will effectively knock him out of the game.
Shadow Demon is prone to Arcane Curse since he likes to overuse his skills.
Shadow Demon will lose intelligence if he dies near Silencer, which will reduce his mana pool, mana regen, and attack damage. Furthermore, if the game is long and Shadow Demon dies frequently, his spell damage will be reduced due to intelligence losses.

Timbersaw
Timbersaw's damage and escape are strongly dependent on his abilities, allowing Silencer to effectively disable him and render him worthless in both team battles and 1v1 situations.

Timbersaw
Rearm may be stopped by Silencer, stopping Tinker from spamming his abilities or leaving.

Windranger
Windranger's combat efficiency is hampered by Silencer's powers, which prohibit her from combining skills and escape utilizing Windrun.

Zeus
Zeus' major source of damage is his low-cooldown, high-damage spells, which means Last Word and Global Silence will effectively knock him out of the game.
Zeus has a proclivity for spamming his skills, making him vulnerable to Arcane Curse.
If Zeus dies in close proximity to Silencer, he will lose intelligence, lowering his mana pool, mana regen, and attack damage. Furthermore, if the game is long and Zeus dies frequently, his spell damage will be reduced by the intelligence losses.
Counters

Broodmother
Broodmother focuses on right-clicks rather than skills.
Silencer, who has average protection and no escape weapon, is vulnerable to Spiderlings.

Dragon Knight
Silencer's spells won't be very effective against Dragon Knight if he can't stop him from utilizing Elder Dragon Form, because Dragon Knight depends on right-clicks rather than spells.
Dragon Knight can stay in the lane versus Glaives of Wisdom because of Dragon Blood's armor buff and health regeneration.
Dragon Knight frequently constructs Black King Bar before attacking, allowing him to erase Global Silence.

Lycan
Silencer can be killed or eluded using Shapeshift.
Summon Wolves may be used to track down a seriously injured Silencer, even if Lycan himself is unable to fight.

Nyx Assassin
Silencer is squishy and has little mobility when he isn't equipped, making him an easy target for Nyx.
Silencer's intelligence theft will be turned against him as Mana Burn does escalating damage for each point of intelligence Silencer has stolen.

Phantom Assassin
Phantom Assassin isn't concerned by Silencer's spells because she prefers right-clicks to spells.
Phantom Assassin frequently constructs the Black King Bar, which allows her to break Global Silence before engaging in combat.

Phantom Assassin
A Phantom Lancer with a Diffusal Blade can easily kill Silencer because Phantom Rush and Juxtapose are passives and are unaffected by silence.

Slark
Silencer's debuffs may be removed using Slark's Dark Pact.
Essence Shift reduces damage from both Glaives of Wisdom and his basic attack against a carry Silencer.

Sniper
Silencer's spells are rarely effective against Sniper because of his considerable range.
Sniper will be unaffected by Global Silence as much as other heroes because his attacks account for the majority of his damage output.

Ursa
Silencer depends on Arcane Curse, Last Word, and Global Silence to prevent adversaries from activating abilities in teamfights. They are, however, ineffectual against Ursa, who depend on goods and assaults rather than abilities.
Enrage decreases all damage absorbed, even pure damage from Glaives of Wisdom.
Items Counter

Manta Style
Manta Style: When Manta Style is employed, it removes most debuffs.

Guardian Greaves
Guardian Greaves: All of Silencer's debuffs are removed, and lost health and mana are restored.

Black King Bar
Black King Bar: When activated, Black King Bar eliminates all of Silencer's debuffs and prevents damage from Glaives of Wisdom (not including Silencer's Aghanim upgrade).

Eul's Scepter of Divinity
Eul's Scepter of Divinity: Eul's Scepter of Divinity may be used to temporarily deactivate Silencer or to remove Silencer's debuffs. It also enhances movement speed and mana regeneration, which might be useful.

Lotus Orb
Lotus Orb: Silencer's debuffs are removed from the selected ally using Lotus Orb. Silencer will be unable to cast or use Glaives of Wisdom if Echo Shell reflects Last Word back to him.

Orchid Malevolence
Orchid Malevolence and Bloodthorn: Silencer may be silenced by Bloodthorn, stopping him from casting Global Silence or utilizing Glaives of Wisdom. It also makes Silencer more vulnerable to assaults, making him easier to kill. A fight will be significantly more in your team's advantage now that Global Silence has been removed.

Blade Mail
Blade Mail: Mail from the Blade Glaives of Wisdom will do a lot of damage to Silencer if he has a lot of intelligence. Silencer, on the other hand, is a squishy character who will frequently lose more than half his health in only a few hits if he uses Blade Mail to assault a victim. Blade Mail is very effective against high-hp heroes such as Pudge, Centaur Warrunner, and Ogre Magi.
Favorable Matchups

Slardar
Slardar may assist silencer throughout the laning stage by mining Intelligence from foes and scaling well into the late game by tanking in the frontline as silencer freehits from behind.
Corrosive Haze additionally amplifies Silencer's damage output and grants foes eyesight.




Crystal Maiden
Silencer uses a lot of mana and doesn't have a stun/disable ability. Both of these difficulties are addressed by Crystal Maiden.
During Global Silence, Crystal Maiden can cast her Ultimate without danger of being stopped by opposing abilities.

Anti-Mage
While Anti-Mage is breaking their mana, Global Silence can prevent opponent abilities from deactivating him.
Anti-Mage benefits from Silencer's skills because both penalize spellcasters.

Pudge
Silencer may gather intelligence securely and rapidly by using Pudge's Meat Hook to hook adversaries for easy kills.
Even if you achieve level 25 with all of your gear, you both get stronger with each kill. When your adversaries die, they lose their maximum mana and mana regen (as well as damage if they're an intelligence hero), making them weaker. This is very useful in extended games.

Outworld Destroyer
With Astral Imprisonment, an Outworld Destroyer can save a Silencer with low health, and if any opponents die within range, Silencer will still develop intelligence while imprisoned.
Silencer's passive intelligence theft widens the intelligence gap between Outworld Destroyer and his adversaries, causing Sanity's Eclipse to do more damage to them.
During combat, Global Silence prevents foes from deactivating Outworld Destroyer.
Game plan
Early game
In level 1, grab your Glaives of Wisdom and prepare to trade blows with the adversary while your creeps focus on him and his creeps ignore you. Concentrate on maxing up your last word, and after two levels, consider repeating it. If your opponent has a bottle, do some standard rune checking and last hit as much as possible.
You have the option of receiving the Curse of the Silent or maxing your Glaives of Wisdom at this time.
When there is a mid-game difficulty, I max glaives, but keep in mind that if you don't obtain early curse of the silence, it will be worthless in the late game, so it won't be as beneficial against your adversary midder, but it can perform wonders on your ganks, so think twice before you skill glaives.
Silencer may grab a headdress for his partner, pull the creeps for him, and spam curse of the quiet on the opponents, which I don't enjoy. He isn't ideal as a support, but he isn't horrible either. Thanks to Glaives of Wisdom, he can haras free of agro, which is useful when trading hits with creeps between you and your opponent.
Mid game
If you're a mid silencer or a sidelane farmer, now's your chance to shine and take even more intelligence from your opponents. I recommended Dagon, which is rather unconventional yet effective for one simple reason: You have good Damage over time but no burst, thus it's less likely that someone will die from you and you'll be alive to acquire the information. So, Dagon addresses your problem, but only updates it if you're rapping very hard.
Force Staff, on the other hand, is more traditional (if you have the damage to kill the enemy), not as powerful as it formerly was (providing as), but still useful for chasing or getting out of difficulty.
If you're a support silencer, make sure you have your Mekansm and try to construct Force Staff to save your allies. There's not much to say here; get observer wards/Sentry Wards, install them, grab Smoke of Deceit for the squad, and stick close to them because you're far too squishy to venture out on your own.
Late game
You should be rapping the adversaries at this time, and even the tougher foes should be killable. Normally, you should try to isolate heroes with your team by using smoke ganks, or you should kill 1-2 heroes during global silence and chase the others in large teamfights. Black King Bar and Scythe of Vyse are critical late-game silencer equipment. Unless your allies feed them, you will have 90% control over the foes if you have both.
A decent timing on Global Silence is very important while playing good silencer. Ultimate should be utilized 1-2 seconds after your team's invitation to ensure that your initiator does not burst down and that your squad follows him to crush the enemy. Also, stay close to your teammates. You should be close enough to be focused but not too close to die. The most difficult aspect of this hero's job is positioning.