Lore & Bio
Among the mighty Demons that could enter this world (DotA 2 battlefield), Doom Bringer rarely paid any attention to the happenings between Noninfernals and Lesser Spectral Consorts, Shadow Fiend came here just to collect Souls. As for the Shadow Demon, he was always filled with interest in the material world. In a way, he seemed to sense that holding a solid connection between the two worlds was the key to being able to rule the entire world.
Initially, the Shadow Demon was summoned by a small number of low-level Mages. He fulfilled their wishes, flaunting terrifying powers, until the high-class Scholars of Ecstasy took notice of his existence. Then, with the intention of using magic to maintain their brutal rule, the dictators also began to want to take advantage of the Shadow Demon's demonic forces.
Shadow Demon's art of deception is extremely clever, so those who summon him think that they are the masters, Shadow Demon is just a servant; but in fact, Shadow Demon is constantly devouring their minds, to force them to serve them. In the end, those who summoned him, all became his puppets, selling their lives because of his evil will.
No one can guess what the Shadow Demon wants to do in the next step, but right at that moment, Nevermore the Shadow Fiend accidentally swallowed a very fishy soul, and discovered traces of Shadow Demon in it.
Aware that the Shadow Demon was about to become a threat to his rule, the balance founded upon the Umbral Pact would cease to exist, Doom Bringer and Shadow Fiend formed immediately joined hands to destroy Shadow Demon's puppet army. Faced with the unimaginable power of both, the plot that Shadow Demon took hundreds of years to prepare was destroyed in an instant, his army of puppets was also annihilated – all members were killed. drowned in a sea of blood.
After the purge, nothing remained but a tiny fragment of the Shadow Demon himself. Immortal and unable to be smaller, that sliver was enough to sow the seeds of his next plot, and the first step, over the next few centuries, he began to "reunited". Anything that touches that little piece becomes infected, and the contagion grows stronger. The little pieces that were torn apart, now come together in a mess, and create a mess. Shadow Demon in a new form, more powerful than before. His regeneration was almost complete, and his plan to rule the world forever was even more elaborate than before. Even so, it looked like a lost existence. filled with such pure malice and evil, something that would threaten the safety of all living beings, would never have a place in our world…however, the followers of Shadow Demon have never been lacking.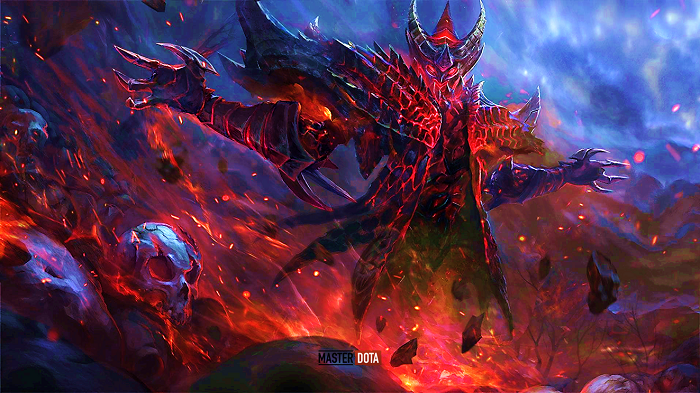 Attribute & Stats
Level: 0 1 15 25 30
Health: 200 660 1380 2140 2440
Health regen: +0.25 +2.55 +6.19 +9.99 +11.49
Mana: 75 339 939 1515 1755
Mana regen: +0 +1.1 +3.62 +6.02 +7.02
Armor: 0 3 8.13 13.8 15.97
Damage Block: -
Magic Resistance: 25%
Status Resistance: 0%
Damage: 29‒33 51‒55 101‒105 149‒153 169‒173
Attack Rate: 0.59/s 0.69/s 0.88/s 1.08/s 1.15/s
Attack Range: 500 (800)
Attack Speed: 100 (1.7s BAT)
Attack Animation: 0.35+0.5
Projectile Speed: 900
Movement Speed: 290
Turn Ratev 0.6
Collision Sizev 24
Vision Rangev 1800 • 800
Legsv 2
Gib Typev Ethereal
Ability Upgradesv
Upgradable by Aghanim's Scepter.
Upgradable by Aghanim's Shard.
Abilities & Talents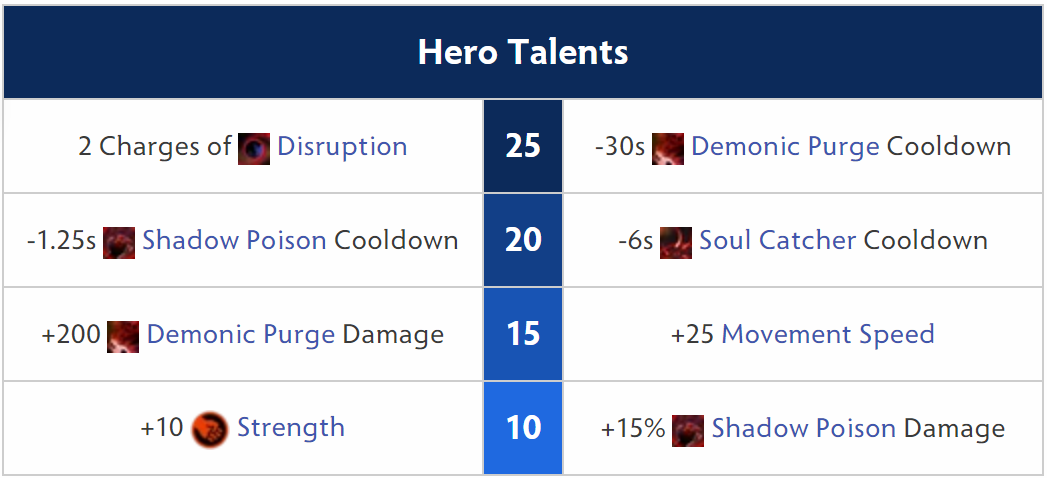 Skills building guide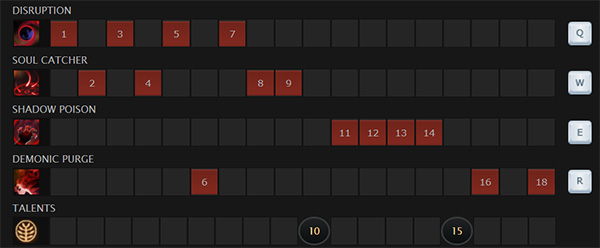 Get 1 point of Disruption (Q) at the first level to keep the opponent if your team intends to gank early to get fb (but be careful not to squeeze your teammates with this skill (because it will destroy all of them). directional skill set is on its way to the enemy when you trap the target) Maximize Shadow poison (E) as this is your main damage skill (with stack of 5 you can deal more than 1000 damage on hit enemies at skill level 4), then maxed out with Soul catcher (W) to increase your ability to deal damage to the enemy (provided you have to align correctly). Ultimate takes the right level of course.
Abilities

Disruption
Cost: 100/120/145/170 mana
Cooldown: 12 seconds.
Cast Range: 500 distance.
Effect: throw the targeted champion (including allied champions) into a hole, imprison them for 1 time, the imprisoned target will disappear from the map. When that person returns, they will come with 2 clones under the control of the Shadow demon.
Locking time: 2.5 seconds
Clone Damage: 30%/40%/50%/60% of the trapped person.
Clone damage taken: 150%
Clone duration: 5/6/7/8 seconds

Soul Catcher
Cost: 60/70/80 mana
Cooldown: 13 seconds
Casting Range: 600
Effect: curse a random target in the target area, that target will take 20%/30%/40%/50% more damage, the extra damage will be converted to pure damage.
Impact time: 12 seconds
Skill radius: 450
Note: this skill also applies to units imprisoned in Disruption

Shadow Poison
Consumption: 50 mana
Cooldown: 2.5 seconds
Range of use: 1500
Effect: Releases a stream of poison in a straight line, dealing 20/35/50/65 on contact and leaving 1 point of poison on the opponent. When this poison is released, they deal additional damage based on the number of poison points on the target's body. Each new point of poison applied to an opponent increases the duration of the old poison points.
Maximum number of poisons: 5 points
Amount of damage per poison applied: 1/2/4/8/16 x amount of contact damage. Extra 50 damage for every plus over 5
Duration: 10 seconds
Poison spot width: 190 radius

Shadow Poison Release
Effect: Release the poison to do damage to all enemies.

Demonic Purge
Cost: 200 mana.
Cooldown: 50 seconds
Casting Range: 800
Effect: curses the target enemy, slowing their movement speed and canceling all beneficial buffs on the target and dealing 200/300/400 damage when the effect ends.
Run Speed Slow: 100%
Slow duration: 5 seconds
Upgraded by Aghanim's Scepter:
Bonus effect: every 40 seconds accumulate 1 point of this skill, up to 3 points
Effective items guides
Early game

Magic Stick
Magic Stick gives a rush of health and mana, as well as a good source of sustenance.

Boots of Speed
Boots of Speed provides Shadow Demon with the mobility he requires to gank and flee.

Wind Lace
Wind Lace,for a little fee, you can get a boost in movement speed.

Smoke of Deceit
Smoke of Deceit, by disguising your team and speeding up their mobility, you may make ganks simpler.
Mid game

Magic Wand
Magic Wand is more powerful than Magic Stick in terms of characteristics, health, and mana burst.

Arcane Boots
Arcane Boots, for repeated applications of Shadow Poison, give an extra mana pool and steady restoration.

Force Staff
Force Staff: Shadow Demon's intellect and usefulness are improved by the Force Staff, which is a common support item used to reposition, flee, chase, initiate, or save an ally.

Glimmer Cape
Glimmer Cape grants Shadow Demon or an ally invisibility and magic resistance, allowing them to flee.

Town Portal Scroll
Town Portal Scroll: Shadow Demon may use the Town Portal Scroll to quickly flee danger, defend towers, enter teamfights, and set up ganks.
Late game

Kaya
Kaya: Kaya enhances spell damage and lowers ability mana costs

Eul's Scepter of Divinity
Eul's Scepter of Divinity: Eul's Divinity Scepter adds an additional dispel to your arsenal. The movement speed bonus assists with mobility and positioning, while the intelligence and mana regeneration bonuses help with ability usage.

Aghanim's Scepter
Aghanim's Scepter: Break with Aghanim's Scepter comes with two more charges that are well worth the money, and you should always consider it at some time.

Aegis of the Immortal
Situation items

Ghost Scepter
Ghost Scepter: The Ghost Scepter gives additional qualities as well as a protective mechanism against physical strikes from enemies

Guardian Greaves
Guardian Greaves: Guardian Greaves bestows an aura of armor and health regeneration that is more effective on injured friends, as well as the ability to restore huge quantities of life and mana in a radius.

Blink Dagger
Blink Dagger: Blink Dagger gives you a lot of mobility, so you may use it to set up ganks with Disruption; you can also use it to defend yourself.

Aether Lens
Aether Lens: Aether Lens improves all Shadow Demon abilities, notably Disruption, which has a short cast range. The mana regeneration also helps you to stay alive when farming or scouting with Shadow Poison. This item may be made by disassembling Arcane Boots.

Veil of Discord
Veil of Discord: The Veil of Discord supplies you with some armor and intellect to help you survive.

Pipe of Insight
Pipe of Insight: The Pipe of Insight emits a positive atmosphere of healing restoration. It also allows Shadow Demon to create a barrier that absorbs magical damage for adjacent teammates, allowing them to last longer in teamfights.

Rod of Atos
Rod of Atos: gives life and mana regeneration, as well as a root to keep opponents in place.

Shiva's Guard
Shiva's Guard: In addition to Demonic Purge, Shiva's Guard provides an extra area-of-effect slow. Shadow Demon's endurance and mana are considerably improved in teamfights because of his Freezing Aura, armor, and intellect.

Scythe of Vyse
Scythe of Vyse: The Scythe of Vyse bestows mana regeneration, as well as additional benefits. Hex may be used right away because it has no cast period, letting teammates to hit the target quickly.
Enemies & Allies
Allies

Alchemist
Alchemist is a well-known Radiance Radiance carrier, as well as other auras that will aid your illusions. They also benefit from his Chemical Fury's increased move speed and reduced base attack time, and it's even better if you can catch him as his own rage is about to expire.
When Alchemist activates Unstable Concoction, Disruption will buy enough time for all allies to flee.

Venomancer
Making illusions of Venomancer during the laning stage will turn his Poison Sting back on him, allowing for a simple gank at level one and later when your mid arrives for ganks.

Anti-Mage
While it's not a good idea to go up against Anti-Mage alone, Disruption's wide cast range makes it an ideal follow-up for any hard-disable. If Anti-Mage is held down, the illusions will swiftly exhaust his already low mana pool, resulting in his death. However, Manta Style will easily allow him to flee.
Anti-Mage is one of the most important targets to disrupt since the illusions can swiftly steal mana from any other target.

Dark Seer
Any attempt to save the victim or himself by Surge will be unsuccessful due to the repeated dispel from Demonic Purge. Demonic Purge, for what it's worth, will also remove Ion Shell.

Legion Commander
Disruption can save teammates while also disrupting an opponent Legion Commander's initiation. When you use Disruption on a Duel-affected ally, she will be completely exposed without the advantage of the life steal from Moment of Courage. To squander Duel's potential, a specific choice to Disrupt Legion Commander or her victim is required.
Demonic Purge is immune to a hard dispel from Press the Attack, which may be countered with your ultimate.

Omniknight
During combat, Demonic Purge might dispel Guardian Angel on a vital target, letting your friends finish them off.

Spectre
Her Desolate illusions are extremely important, especially when combined with Radiance (Active) Radiance. Because Spectral Dagger's fleeing technique demands voluntary movement rather than blinking or forcing movement, Demonic Purge can effectively keep her back and let your friends finish her off.
If she uses Haunt to kill you or any significant ally at any time throughout the game, don't panic and use Disruption on the illusion, whether it's phony or the actual Spectre herself. Demonic Purge can spare a second victim from a haunting Spectre if the circumstance demands it.
Demonic Purge, when improved by Aghanim's Scepter, may eliminate Spectre from a battle by deactivating Desolate and Dispersion, thereby eliminating her damage and tankiness.
Counters

Ember Spirit
With a backup Fire Remnant, Disruption isn't dependable enough to capture an Ember Spirit.
The created illusions will be quickly dispelled by Sleight of Fist.
Ember Spirit typically constructs Eul's Scepter of Divinity to counter Soul Catcher and Linken's Sphere to counter Disruption and Demonic Purge.
The best you can do against an Ember Spirit is use your Demonic Purge to dispel his Flame Guard.

Leshrac
Pulse Nova does damage even if Leshrac is in Disruption, making fast work of any illusions with enhanced damage.
An effort to use Disruption to save an ally might quickly turn into an ideal setup for the adversary to create a Split Earth.
Disruption doesn't stop Diabolic Edict and Pulse Nova from pulsing once they start, and it gives Leshrac a safe haven to keep blasting out his devastating AoE damage into the battlefield.
Leshrac typically constructs Eul's Scepter of Divinity to counter Shadow Poison and Soul Catcher, as well as Linken's Sphere to counter Disruption and Demonic Purge.
Although Demonic Purge can assist his teammates in killing a squishy Leshrac, Shadow Demon lacks the burst damage to knock Leshrac out of the battle quickly.

Lina
Disruption's produced illusions will be dispatched quickly by Dragon Slave.
An effort to defend an ally with Disruption can quickly turn into a superb setup for the enemy's Light Strike Array.
Lina frequently constructs Eul's Scepter of Divinity to counter Soul Catcher and Linken's Sphere to counter Disruption and Demonic Purge.
Although Demonic Purge can aid his teammates kill a squishy Lina, Shadow Demon lacks the burst damage to rapidly knock her out of the battle.

Lion
The Demonic Purge of Aghanim's Scepter is rendered useless because all of Lion's abilities are active.
Hex and Mana Drain, particularly when he obtains his Talents at levels 20 and 25, will swiftly shatter any illusions you've created.
A Disruption attempt to save an ally might easily become a fantastic setup for Aghanim's Scepter's Earth Spike or Finger of Death against the enemy.

Puck
The Demonic Purge of Aghanim's Scepter is rendered useless because all of Lion's abilities are active.
Hex and Mana Drain, particularly when he obtains his Talents at levels 20 and 25, will swiftly shatter any illusions you've created.
A Disruption attempt to save an ally might easily become a fantastic setup for Aghanim's Scepter's Earth Spike or Finger of Death against the enemy.

Pugna
Pugna's abilities are all active, rendering Aghanim's Scepter's Demonic Purge worthless.
Shadow Demon's continuous mana expenditure from spamming spells, notably Shadow Poison, is punished by Nether Ward.
A Disruption effort to save an ally might easily become a superb setup for an opponent Nether Blast.
Life Drain may be used to heal Pugna or an ally, allowing them to escape the Shadow Demon's attacks.
Disruption, on the other hand, can cancel it unless Pugna purchases defensive goods.
Items Counter

Eul's Scepter of Divinity
Eul's Scepter of Divinity and Lotus Orb: Soul Catcher may be dispelled using Eul's Scepter of Divinity and Lotus Orb. Disruption and Demonic Purge may both be reflected by a well-timed Lotus Orb.

Manta Style
Manta Style: Soul Catcher is defeated by Manta Style. It can, however, be used to identify the true hero who has been touched by the Demonic Purge.

Linken's Sphere
Linken's Sphere: Disruption and Demonic Purge are blocked by Linken's Sphere.

Force Staff
Force Staff: Force If Staff can make his way through a cliff to higher ground or create enough space to withdraw into a foggy region, he can save an ally or the victim himself.

Town Portal Scroll
Town Portal Scroll: Shadow Demon usually initiates with a Disruption and has no way to cancel the teleport afterward, while Shadow Poison takes time to stack up and Demonic Purge only deals damage after a long delay. Town Portal Scroll can help a victim survive an early solo gank attempt from Shadow Demon because he usually initiates with a Disruption and has no way to cancel the teleport afterward, while Shadow Poison takes time to stack up and Demonic Purge only deals.
Favorable Matchups

Ancient Apparition
Cold Feet's stun may be readily triggered by Disruption and Demonic Purge.
Chilling Touch slows the victim after Disruption, keeping them in place for illusion damage, and amplifies all magical damage, including Shadow Poison and Demonic Purge.
Disruption can be used as a warm-up for Ice Blast.

Dazzle
Shadow Wave may cause massive damage to foes when combined with Soul Catcher's health reduction and Disruption's illusions.

Terrorblade
Terrorblade's Metamorphosis form is one of the finest targets to obtain your illusions, which delivers more damage than the illusions made by Terrorblade himself using Conjure Image, thanks to an extra boost to raw damage and a very long range.
Terrorblade may be saved from a long chain of disables by using a Disruption, allowing him to use a crucial Sunder.

Razor
Disruption gives Razor plenty of time to bridge the distance and suck dry his victim's attack capacity with Static Link.
During the exile, neither Static Link nor Eye of the Storm are deactivated.
Game plan
Early game
You should determine whether you are going to roam or stick to the lane to protect your teammates from the beginning so that you can buy appropriate equipment. With roaming, when you have up to 2.5 seconds of control, you and your teammates can easily get kills if you combine well. With protective lane keeping, if your lane teammates are heroes with good damage, you and that person can overwhelm the enemy lane or get kills early.
However, with thin blood and too much armor, the most important thing for you is to choose an appropriate standing position to minimize the damage taken when roaming or laning. As a support lane, you should use Shadow poison (E) properly so that you don't kill the carry's creeps, or at least don't kill it, and the most important thing is to stick to the enemy champion. During the match phase, you always have to follow the Town portal scroll to support your teammates in time.
Mid game
This is the extremely frequent roam and gank phase when your team's gankers already have enough levels and basic equipment for ganking, and create space for your carry team to farm to the maximum, or go to that lane to help. It pushes the lane, counter gank if the enemy targets your carry team.
Chaos combat is your chance to stack Shadow poison (E) with maximum efficiency. Disruption (Q) on targets with a lot of hand damage or strong on-hit effects (such as mana burning, crit, ...) to make the most of the damage.
Late game
This stage you go with your teammates, fully ward, use Smoke of Deceit to gank single targets or start a teamfight by surprise, creating conditions to proceed to destroy the opponent's Ancient or push 1 lane, force the opponent to def turret or have to fight. When you have Aghanim's Scepter, you will block a total of 4 targets if used properly (your ultimate can't solve bkb effects but solves effects the opponent has while on bkb and slows through bkb).
The goal of your total teamfight will usually be the enemy initiator, carry, use Disruption (Q) to lock the opponent (usually the initiator or carry) so they don't cause harm to your team in the teamfight, creating a favorable situation. event for teammates to finish or corner the enemy team.