Lore & Bio
"If at first you don't succeed, stand closer, shoot again."
The western forests keep their secrets well hidden. Lyralei, master archer of the wood and wind's favorite godchild, is one of these. Lyralei's family was killed in a storm on the night of her birth, their house blown down by the gale, their contents scattered to the winds. Only the newborn survived the death and destruction debris field. The wind took notice of the lucky infant crying in the grass in the calm after the storm. The wind felt sorry for the child and lifted her into the sky, dropping her on a doorstep in a nearby village. The wind returned to the child's life on occasion in the years that followed, watching from afar as she honed her skills. Windranger can now fire her arrows precisely to their targets after years of practice. She moves at breakneck speed, as if aided by a strong wind at her back. She slaughters her enemies with a hail of arrows, having nearly become a force of nature herself.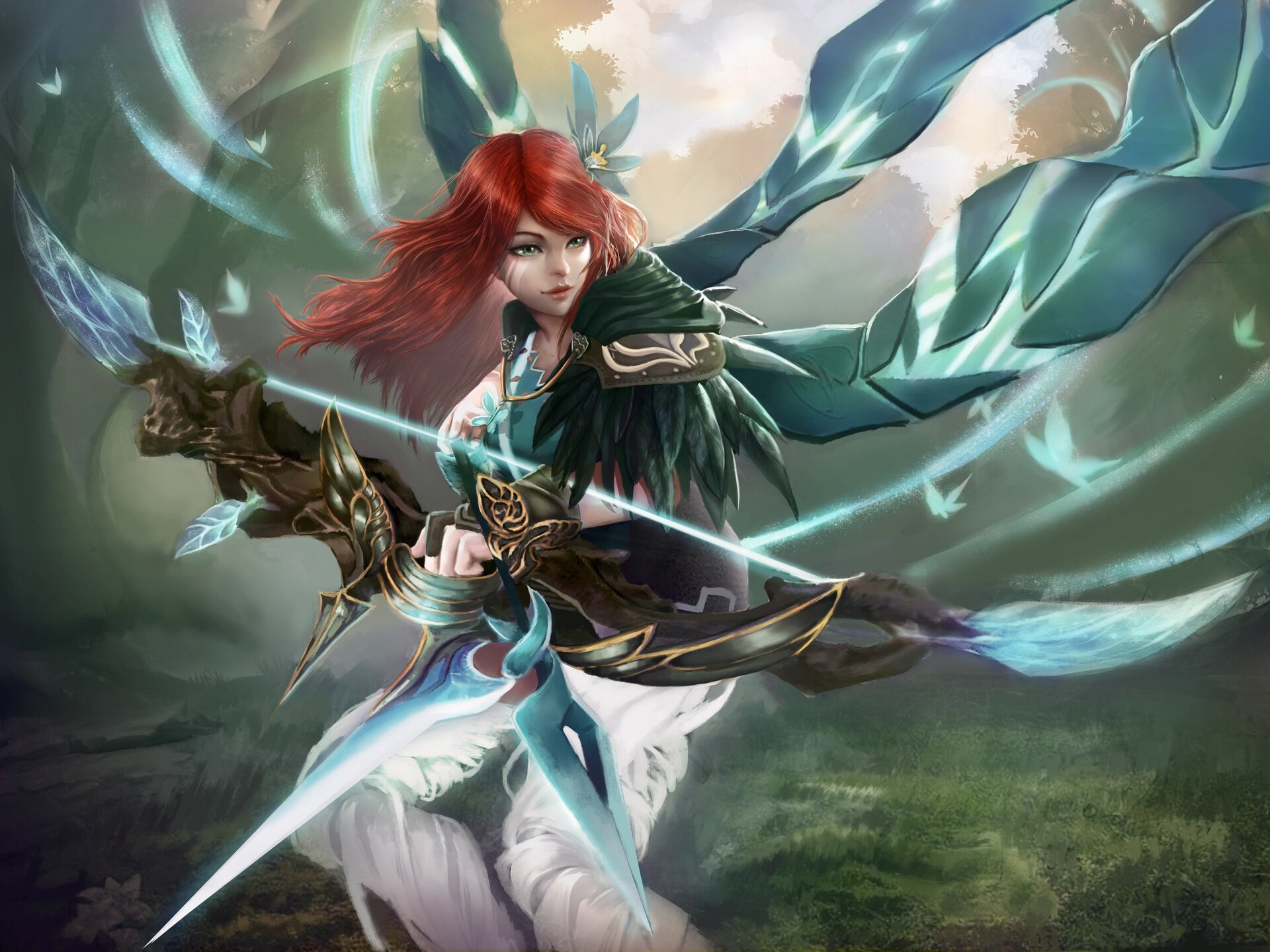 Attribute & Stats
Level: 0 1 15 25 30
Health: 200 560 1400 2240 2580
Health regen: +0.25 +2.05 +6.25 +10.45 +12.15
Mana: 75 291 891 1467 1707
Mana regen: +0 +0.9 +3.42 +5.82 +6.82
Armor: -1 1.83 5.1 9.43 10.93
Damage Block: -
Magic Resistance: 25%
Status Resistance: 0%
Damage: 24-36 42-54 92-104 140-152 160-172
Attack Rate: 0.67/s 0.78/s 0.91/s 1.08/s 1.14/s
Attack Range: 600 (800)
Attack Speed: 100 (1.5s BAT)
Attack Animation: 0.4+0.3
Projectile Speed: 1250
Movement Speed: 290
Turn Rate: 0.8
Collision Size: 24
Vision Range: (G) 1800 • 800
Legs: 2
Gib Type: Default.
Ability Upgrades:
Upgradable by Aghanim's Scepter - Windrun.

Upgradable by Aghanim's Shard - Gale Force.
Abilities & Talents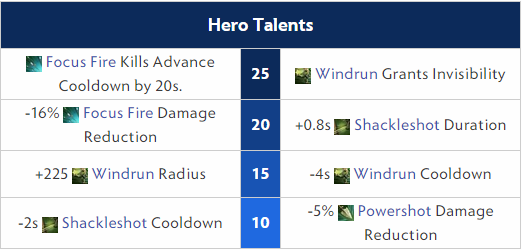 Skills building guide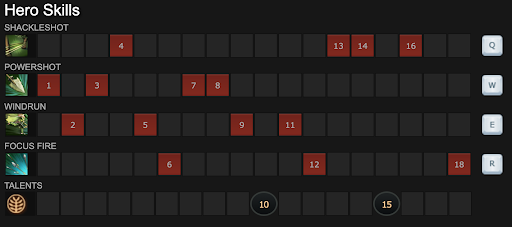 Shackleshot has more than half the maximum duration at level one, so one value point is sufficient until you max out your other spells.Max Powershot is your farming and waveclearing tool. Windrun comes second because it allows you to be aggressive and tower dive. Extra points in Windrun are definitely valuable early on to allow you to tank tower for a level 6 dive, and depending on the enemy mid shackle may or may not be required. At level 7, you should ideally be 1-3-2-1, or 0-3-3-1 if Shackle is unnecessary. Whenever possible, rank up to the highest possible level.
Abilities

Shackleshot
Mana cost: 70/80/90/100
Cooldown time: 16/14/12/10
Cast animation: 0.15+0.45
Cast range: 800
Stun Duration: 2/2.6/3.2/3.8
Effect: Shackles the target to an enemy unit or tree directly behind it in a line. The stun duration is reduced to 0.75 if no unit or tree is present.

Powershot
Mana cost: 90/100/110/120
Cooldown time: 12/11/10/9
Cast range: 2600
Damage: 125
Effect: Windranger charges her bow for up to one second in order to fire a single powerful shot that deals more damage the longer it is charged. The arrow inflicts damage on enemies in its path. Powershot's damage is reduced by 20% for each enemy hit.

Windrun
Mana: 50
Cooldown time: 15/14/13/12
Radius: 325
Speed Bonus: 60%
Duration: 3/4/5/6
Effect: Increases movement speed and adds evasion to all physical attacks, while slowing nearby enemies' movement.

Gale Force
Mana: 150
Cooldown time: 30 seconds.
Cast animation: 0.2+0.47
Cast range: 1500
Radius: 1000
Duration: 3
Effect: For 3 seconds, summons a strong wind that pushes all enemies within 1000 radius by 240 units per second in the target direction. Targeted vector 1500 Mana Casting Range Cost: 150 30 seconds of rest.

Focus Fire
Mana cost: 75/100/125
Cooldown time: 70/50/30
Cast range: 600
Speed Bonus: 300/400/500
Duration: 20
Effect: Windranger uses the wind to gain 300/400/500 extra attack speed against a single enemy unit or structure, but her attack damage is reduced. The additional damage caused by secondary item effects is not reduced. This effect lasts 20 seconds.
Effective items guides
Early game

Phase Boots
Phase Boots: Windranger can use Focus Fire to run down enemies by providing movement and attack damage.

Magic Wand
Magic Wand: In the middle of a fight, it provides burst healing and mana regen.

Null Talisman
Null Talisman: Windranger gains cheap attributes and spell damage, making him a stronger lane player.

Infused Raindrops
Infused Raindrops: Windranger is immune to magical burst damage, which Windrun does not block, giving him an advantage against nukers.

Bottle
Bottle: Windranger's health and mana are restored as she manages runes.

Javelin
Javelin: Focus Fire's damage output is greatly increased in the early game.
Mid game

Blink Dagger
Blink Dagger: When combined with Windrun, Windranger can instantly reposition for her abilities, particularly Shackleshot, or escape incoming enemies.

Maelstrom
Maelstrom: Windranger's flash-farming speed is greatly increased, and Focus Fire will repeatedly proc Chain Lightning for area damage in teamfights. Mjollnir improves Chain Lightning and reduces Windranger's reliance on her ultimate for damage.
Late game

Monkey King Bar
Monkey King Bar: Windranger's damage output is greatly increased. Pierce's ultimate can proc multiple times, bypassing evasion and dealing bonus magical damage.
Situation items

Scythe of Vyse
Scythe of Vyse: Gives her extra intelligence to boost her base damage and more mana regeneration to cast spells The hex can be used to instantly hard-disable priority targets or as a powerful complement to Shackleshot.

Daedalus
Daedalus: With Critical Strike, Focus Fire gains a massive damage boost, allowing it to quickly shred most enemies.

Linken's Sphere
Linken's Sphere: Gives Windranger stats all around and powerful mana regen Its spellblock makes Windranger much more slippery when avoiding enemy ganks, or provides her with a larger window of opportunity to cast her disables in a teamfight without being disabled herself.

Eul's Scepter of Divinity
Eul's Scepter of Divinity: Is a good low-cost utility item to help Windranger. Windranger's mobility is greatly enhanced when combined with Phase Boots icon.png and Windrun, and the extra intelligence and mana regen give her much more utility with her spells. During fights, you can use the active to disable an enemy and position yourself for a full-duration Shackleshot, or to generally disable enemies or grant yourself temporary invulnerability (while removing debuffs from yourself).

Black King Bar
Black King Bar: Windranger is protected from magical damage and disabled, making it an important carry item; combining Avatar with Windrun makes her nearly untouchable.

Nullifier
Nullifier: Provides additional damage, prevents enemies from using defensive items such as Ghost Scepter, Shadow Blade, or Eul's Scepter of Divinity, and locks enemies down during Focus Fire.

Orchid Malevolence
Orchid Malevolence: Soul Burn disables ability-dependent enemies and deals bonus damage. It can be upgraded to Bloodthorn for a significant DPS boost and True Strike to counter evasive enemies.

Force Staff
Force Staff: Is a powerful and versatile tool for positioning a Shackleshot, allowing you to force a unit in front of a tree, a creep/unit in front of another unit, or yourself into position. The increased intelligence grants her more mana and base damage, and it can also be used to displace yourself during escapes in an emergency.

Desolator
Desolator: Windranger gains increased damage output as well as an armor reduction debuff that can be applied to both buildings and heroes.

Rod of Atos
Rod of Atos: Can hold a target down so that Windranger can cast Shackleshot from any angle he wants.

Aghanim's Scepter
Aghanim's Scepter: Windrun's speed is slowed and it becomes unpellable; while these are unimpressive for a carry, they can be useful at times.

Diffusal Blade
Diffusal Blade: With each Focus Fire attack, she drains mana, depriving her target of mana to cast abilities and dealing additional guaranteed damage.
Enemies & Allies
Allies

Bloodseeker
Thirst works well with Windranger's Powershot, allowing her to snipe enemies from afar and finish them when their HP is low.

Nature's Prophet
Windranger has the ability to shackle a unit to a sprouted tree.

Hoodwink
Windranger can shackle a unit to an Acorn Shot tree.

Shackleshot and Bushwhack work together to create a long chain stun, allowing Windranger and Hoodwink to land both Powershot and Sharpshooter. If you destroy the tree too soon with Powershot, Bushwhack's stun will end.
Counters

Axe
Windrun does not provide resistance to Counter Helix or Berserker's Call. Her quick attack speed with Focus Fire will also cause Counter Helix to be triggered multiple times.

Bloodseeker
Rupture exploits Windranger's mobility.

Centaur Warrunner
Stampede can assist his teammates in escaping Windrun and Focus Fire.

Return will deplete Windranger's health if she attacks him during Focus Fire.

Nyx Assassin
Many of Nyx Assassin's skills are effective against Windranger.

Impale is excellent for stunning Windranger and landing additional disables.

Mana Burn is effective against Windranger's decent intelligence growth and also consumes some mana, preventing her from using additional abilities.

Spiked Carapace is a simple counter to Powershot.

Vendetta allows Nyx Assassin to sneak up on Windranger and deal massive damage without allowing Windranger to use Windrun to avoid it.

The item build of Nyx Assassin allows him to easily deal with Windranger.

Ember Spirit
Windranger struggles to find a good position to land Shackleshot or a full duration of Focus Fire due to Fire Remnant's high mobility.

Windranger suffers significant magical damage from Flame Guard.

Razor
Windranger's Focus Fire damage output is greatly reduced by Static Link.

Even if Windrun is active, the Eye of the Storm cannot miss.

Spectre
Spectre can instantly avoid Focus Fire or use Haunt to track down a Windranger.

Even if she uses Windrun, Spectre can catch up to her with Spectral Dagger.

Desolate enables Spectre to attack Windranger via Windrun.

Dispersion strengthens Spectre while also reflecting some damage back to Windranger.

Sven
Sven can easily chase down and dispel her Windrun with his aghanim's scepter and aghanim's shard upgrade (Storm hammer dispels).

Shadow Demon
With Disruption, Shadow Demon can waste precious seconds of Windrun.

Alternatively, Demonic Purge can be used to completely remove it, rendering her defenseless for 7 seconds.

If an ally is stunned by Shackleshot, Disruption can be used to save them.

Venomancer
Venomancer poisons eat away at Windranger's health due to a lack of magical resistance.
Items Counter

Rod of Atos
Rod of Atos: Windranger is prevented from fleeing with Windrun.

Orchid Malevolence
Orchid Malevolence: Windranger's performance will suffer as a result of her reliance on her skills for any tactical advantage.

Linken's Sphere
Linken's Sphere: It is effective against Focus Fire and Shackleshot.

Blade Mail
Blade Mail: Windranger's Focus Fire damage can be returned with this ability.

Nullifier
Nullifier: Is especially useful against windrunners who go aghanims because it removes windrun from her repeatedly, rendering her extra charges useless.

Heaven's Halberd
Heaven's Halberd: Can protect you or a teammate from a large amount of damage from Focus Fire
Favorable Matchups

Earthshaker
Windrun can be used to avoid Earthshaker's abilities if Windranger reacts quickly.

Windranger can kite Earthshaker using Focus Fire and Windrun.

Earthshaker cannot use Fissure with Shackleshot if a Windranger has quick fingers.

Huskar
Windranger uses Windrun to prevent Huskar from landing Burning Spears.

Because Huskar frequently has low health, Focus Fire and Powershot are effective against him.

Hoodwink
Powershot can destroy trees to prevent Scurry's passive, as well as prematurely or completely end Bushwhack.

Windranger can easily avoid Acorn Shot with Windrun because it does not grant True Strike.

Hoodwink is stunned for a long time by Shackleshot due to her frequent reliance on positioning with trees.

Phantom Assassin
Phantom Assassin's Blur will be useless if Windranger obtains Monkey King Bar or Bloodthorn, and Phantom Assassin has no abilities that can bypass Windrun other than Stifling Dagger.

Due to the increased attack speed, Focus Fire can still deal significant damage despite Blur's evasion.

Pudge
Pudge uses his hook to start his combo. Windranger can easily take him down as long as she can avoid the hook with Windrun and shackle him. Pudge's lack of armor means he won't be able to withstand Focus Fire for long.

Ursa
Windranger can use Windrun to avoid Ursa's primary source of damage, Fury Swipes. Windrun also negates the slow from Earthshock.

Ursa can be kited using Focus Fire and Windrun.
Game plan
Early game ( 0:00 - 12:00)
You can kill most heroes on your own once you have your Javelin and ultimate ready. Instead of farming enemy supports, try to figure out which enemy core will pose the greatest threat and gank and kill them to slow down their game.
Mid game (12:00 - 25:00)
This is the point in the game where 5 on 5 teamfights will begin, which means you should have your Black King Bar by now so you can ignore the enemy team and focus on your preferred target.Try to fight around enemy objectives so that when you win a fight, you can get a tower.
While your ultimate is useful for killing Roshan, you cannot fight without it. So, either commit it to Roshan when you are confident that the enemy team will not contest or fight you afterwards, or use the ult to win a fight, in which case you will need an ally skilled at taking Roshan to secure it.Windrun, on the other hand, can tank Rosh quite effectively!
Late game (25:00-75:00)
At this point, you must exercise extreme caution because you can easily be chain-stunned and blown up before you can use your Black King Bar or Windrun. When a fight breaks out, don't immediately commit to the first guy you see; instead, consider who your most valuable target is (usually the enemy hero who deals the most damage) and save your Black King Bar and ultimate for when they appear. You can't afford to use your ult on a support unless you're certain you'll kill them before they can cast any spells or equip any items, and they can't just buy-back and teleport in afterwards!
This is also the point in the game where split-pushing becomes more common, which is fortunate for you because you are one of the best solo-kill heroes in the game! Here are two important pointers:
Use Powershot from a distance to push waves without revealing yourself. You don't always need to get all of the creep's last-hits; all you need is for the enemy creeps to die faster so that the wave can push towards the enemy base!

Make a path in the trees on the side of the lanes with Powershot. This puts you in a much safer position because enemies hunting will have a much more difficult time finding you there, and it also puts you in a great position to catch an enemy who comes to shove the wave back, because you can sneak up right next to them from the trees, which they will not expect!