Lore & Bio
"No chains can hold me."
Long ago there was an enraged wizard who was chained up in the Devarque dungeons with N'aix - a thief cursed by the Vile Council with longevity to punish him as his life-sentence. Taking the advantage of N'aix insanity and his memory lost, the wizard intended to wove a spell of Infestation and cast his life-force into N'aix's body. The plan had gone wrong as his mind was dragged into a powerful vortrex of madness that completely destroyed his intentions and his own mind, leaving N'aix who was jarred to consciousness by the sudden infusion of fresh life and was willing to obey one strange voice in his head to escape the cell.
Lifestealer was born at that precise moment, used his mind to penetrate the guards and troops, driving them to open locks and kill their allies, thereby clearing a path to freedom while feeding on their lives. Lifestealer still wears the broken shackles as a warning that no one can keep him, but on the inside, he is still a prisoner. The one form is inhabited by two minds: a nameless creature of evil cunning and the Master whose voice he professes to obey.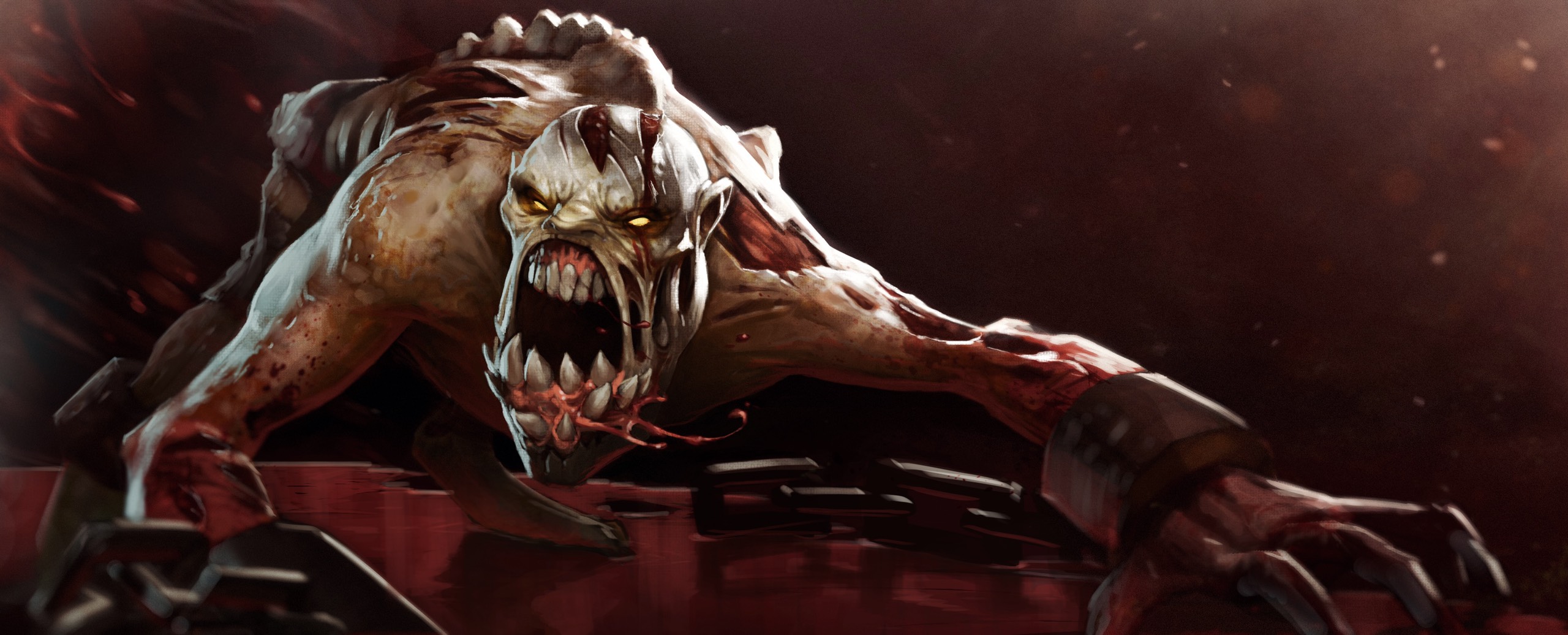 Attribute & Stats
Level: 0 1 15 25 30
Health: 200 700 1360 2080 2360
Health regen: +0.25 +2.75 +6.11 +9.71 +11.11
Mana: 75 255 555 915 1047
Mana regen: +0 +0.75 +2.01 +3.51 +4.06
Armor: 1 4.17 10.23 16.57 19.07
Damage Block: 16 (50%)
Magic Resistance: 25%
Status Resistance: 0%
Damage: 22-28 47-53 80-86 116-122 130-136
Attack Rate: 0.71/s 0.82/s 1.03/s 1.26/s 1.34/s
Attack Range: 150 (600)
Attack Speed: 120 (1.7s BAT)
Attack Animation: 0.39+0.44
Projectile Speed: Instant
Movement Speed: 320
Turn Rate: 0.9
Collision Size: 24
Vision Range: (G) 1800•800
Legs: 2
Gib Type: Default.
Ability Upgrades:
Upgradable by Infest.

Upgradable by Open Wounds.
Abilities & Talents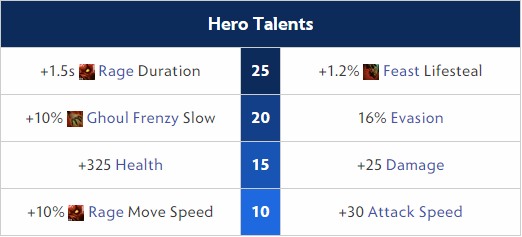 Skills building guide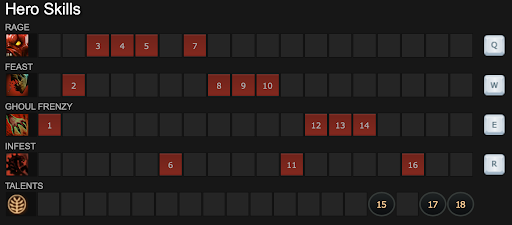 Abilities

Rage
Effect: Launch into a maddened rage, becoming Spell Immune, and gaining increased movement speed.
Mana Cost : 75/100/125/150
Duration: 3/4/5/6
Cooldown Time: 21/20/19/18

Feast
Effect: Regenerate a portion of the attacked enemy's maximum health and deal the same portion of damage per attack.
Max health life steal: 1.6% / 2.2% / 2.8% / 3.4%
Max health damage: 0.8% / 1.0% / 1.2% / 1.4%

Ghoul Frenzy
Effect: Passively causes Lifestealer's attacks to significantly slow enemy movement speed for 1.5 seconds. Grants you Attack Speed.
Slow duration: 1.5
Bonus attack speed: 20/30/40/50
Note: The debuff from successive attacks does not stack, only the duration is refreshed.

Open Wounds
Effect: Slowing the victim's movement speed and allowing all allies to regain health for a percentage of the damage. All damage dealt will steal life, including damage from spells.
Mana cost: 75
Duration: 7

Infest
Cast range: 500
Cool down: 20
Effect: Infests the body of a target unit, becoming undetectable, and healing for a portion of his max hitpoints every second while inside.
Note: Aghanim's Scepter Update.
Aghanim Shard Update.

Rage
Damage radius : 700
Damge: 150/275/400
Effect: Eats the host body from the inside out, exploding from within.
Effective items guides
Early game

Boots of Speed
Boots of Speed: Used with Open Wound to gank.

Magic Stick
Magic Stick: If the enemy has a certain number of spammable skills, it keeps Lifestealer sustainable.

Blight Stone
Blight Stone: Boosts Lifestealer's damage in the early game and develops into Desolator later.

Orb of Venom
Orb of Venom: The slow allowing Lifestealer to catch up to the enemy makes Orb of Venom become a great choice in case his lane offers a moderate level of kill potential.
Mid game

Phase Boots
Phase boots: Used to shorten the distance between his enemy to get within Open Wounds' short range.

Magic Wand
Magic Wand: Mainly making up for a low mana reserve to increases the hero's effectiveness.

Armlet of Mordiggian
Armlet of Mordiggian: Has more damage, HP, and armor due to the active Unholy Strength, all of which Lifestealer desires. While the remaining skills have a chance to toggle the armlet, Feast and Open Wounds partially offset the health loss.

Heaven's Halberd
Heaven's Halberd: Provide the enemy carrier a disarm and more healing from Feast and Open Wounds, while also giving them avoidance from physical opponent attacks..
Late game

Desolator
Desolator: Lifestealer's damage output is considerably increased as a result of the enemy's armor being reduced, supports and carry can be destroyed thanks to the enhanced attack speed and Spell Immunity of Rage. The item also aids in pushing towers and farming.

Abyssal Blade
Abyssal Blade: Provides Lifestealer a reliable source of stunned and enables him to temporarily incapacitate his opponent before taking them out. As a melee carry, it is extremely important to stay close to your target because Lifestealer produces practically minimal damage outside of melee range. Aside from that, the damage reduction and increased health of this item increase the hero's ability to survive.
Situation items

Hand of Midas
Hand of Midas: Gives Lifestealer the chance to recover from a bad laning stage. Due to better items being available with the gold spent, the item would delay your mid-game power spike.

Sange and Yasha
Sange and Yasha: Gives Lifestealer movement speed, attack speed, and attack damage, helps Lifestealer catch up with the enemies.

Assault Cuirass
Assault Cuirass: Gives more attack speed to use with Feast and makes up for the low base armor of the Lifestealer, enables quicker pushing of the towers and a more dominant team fight presence.

Monkey King Bar
Monkey King Bar: Solves the evasion issue. Although the magical damage procs aid in increasing damage output, the item's main selling point is the attack damage it provides.

Maelstrom
Maelstrom: The attack speed provided by the feast enables you to get more Chain Lightning procs. It increases your overall DPS, enables early flash farming, and deals additional damage. Forgoing Armlet of Mordiggian in favor of this item is advised if you intend to pursue it.

Mjollnir
Mjollnir: Both Static Charge and Chain Lightning can be useful against illusion heroes. As a frontliner, Static Charge can be used to its full potential. Meanwhile, the item is useful for farming and wave clearing.

Blink Dagger
Blink Dagger: Gives Lifestealer the ability to close the gap between heroes who prefer to avoid fights; or can be used as an escape after using Infest. Can be upgraded later to Overwhelming Blink, which slows enemies immediately upon casting while dealing large AOE magical damage, or Swift Blink, which attacks quickly while closing the gap with its bonus phased movement speed.

Radiance
Radiance: Lifestealer receives both physical and magical damage from Burn, as well as additional damage, accelerating his farming speed. Allows Lifestealer to have a greater impact in combat by providing a damaging and blinding aura.

Heart of Tarrasque
Heart of Tarrasque: gives Lifestealer incredible durability as well as some damage It's a good item to have if Lifestealer is the main initiator and/or tank for his team and needs the extra health.
Enemies & Allies
Allies

Axe
Feast not only prevents Lifestealer from increasing Culling Blade's health, but also severely damages Ax due to his naturally high health.

Nevertheless, Berserker's Call is capable of breaking through Lifestealer's Range.

Dark Willow
All Dark Willow's abilities are nullified since Lifestealer has Range's protection.

Invoker
Lifestealer is protected from nearly all of Invoker's spells by Range.

Techies
Lifestealer is protected from all of Techies' magic damage and disable by Range.

By popping Range and walking uphill, Lifestealer can easily push high-ground against Techies.

Tinker
Having Range's protection, Lifestealer can avoid all of Tinker's damage and debuffs.

Any mobile hero can become infected by Lifestealer (teams typically choose one against Tinker), which guarantees that Tinker will perish if discovered.

Ogre Magi
Lifestealer becomes immune to all of Ogre's magical debuffs and also dispels them thanks to Rage.

Due to Feast, Ogres are great targets for Lifestealers because they have high health and great durability.
Counters

Ancient Apparition
Ice Blast prevents Lifestealer from lifestealing and healing with Infest in fights.

Bane
Fiend's Grip can disable Lifestealer through Rage.

Beastmaster
Primal Roar pierces Rage and can disable Lifestealer in fights.

Chaos Knight
Chaos Knight's Level 20 Talent: Reality Rift Pierces Spell Immunity allows for quick bursting down of Lifestealer during his Rage.

Lifestealer has no way of dealing with Chaos Knight's illusions.

Clinkz
Clinkz relies heavily on the physical damage provided by Searing Arrows, which completely overrides the capabilities of Rage.

Clinkz, by nature will often build items that Lifestealer hates dealing with such as physical damage items like Desolator or Daedalus and instant silences or hexes from Bloodthorn and Scythe of Vyse.

Terrorblade
Terrorblade's illusions and ranged attacks in Metamorphosis can burst down Lifestealer very quickly.

Terrorblade has low health due to his low strength gain, which reduces Feast's lifesteal and damage.

Terrorblade's high armor makes Lifestealer's Desolator useless.

Because Lifestealer usually walks around with high HP in fights due to his lifesteal (and sometimes Armlet of Mordiggian), he is a great target for Terrorblade's Sunder.

Phantom Lancer
Lifestealer has no way of dealing with Phantom Lancer's illusions.

Phantom Lancer also commonly builds Diffusal Blade, which poses a large problem to Lifestealer and his low mana pool.

Slark
Shadow Dance allows Slark to attack Lifestealer for its duration without any way for Lifestealer to fight back.

Slark commonly buys a Silver Edge, which can break Lifestealer's Feast, severely diminishing his damage output and lifesteal.

Ursa
Lifestealer can't fight Ursa in any stage of the game because of his high physical damage with Fury Swipes and Overpower.

Weaver
The Swarm is not blocked by Rage and can be used to lower Lifestealer's already low armor, making him even more vulnerable to physical damage.

Windranger
Windrun and Focus Fire can easily allow Windranger to kite Lifestealer and do good amounts of damage in the process.
Items Counter

Force Staff
Force Staff: Is very useful to kite Lifestealer in team-fight.

Orchid Malevolence
Orchid Malevolence: If placed before Rage will make Lifestealer unable to use his abilities in a teamfight.

Manta Style
Manta Style: Lifestealer has no way of dealing with illusions and the extra damage from the illusions can damage him more than he can heal.

Aegis of the Immortal
Heaven's Halberd: Gives evasion and an undispellable disarm, making Lifestealer useless if placed before Rage.

Medallion of Courage
Medallion of Courage or Solar Crest, Assault Cuirass, and other armor items: Are useful against Lifestealer's physical-only damage..

Silver Edge
Silver Edge: Breaks Feast and gives an escape tool..
Favorable Matchups

Clockwerk
When your ally has trapped an opponent inside Clorkwerk's Power Cogs to pop out and make an easy kill, he becomes a great ally for Infest.

He also provides good initiation, which Lifestealer with Hookshot may lack.

Queen of Pain
She is a fantastic target for Infest since she closes the gap perfectly with Blink and then follows up with a magic burst.

Riki
Riki is useful for navigating the map rapidly and unseen if Infested. He may also decrease the distance between Lifestealer and his victim and slow them with Smoke Screen, which, when combined with Open Wounds, grants a 90% slow, making the kill considerably simpler.

Slardar
Lifestealer's physical damage is considerably increased by Corrosive Haze.

Slardar is a frequent Blink Dagger carrier who makes an excellent target for Infest.

Spirit Breaker
Spirit Breaker, like many others, is an excellent ally for Infest, providing a fantastic gap closing with Charge of Darkness and a follow-up disable with Nether Strike.

Storm Spirit
Storm Spirit, like many others, is an excellent ally for Infest, providing a fantastic gap closing with Ball Lightning and a follow-up disable with Electric Vortex.
Game plan
Early game
You should try to get as many last hits as possible as a carry in the lane. You should try to be aggressive and pressure your opponents because the hero is strong in the laning stage due to his skill set and stats. Lifestealer has decent kill potential when combined with some strong early game supports.
Stay back and only go in for the last hits if you're being harassed a lot. If you are initiated, use Rage to disengage or dodge projectiles.
Mid game
Since Lifestealer is very strong in the mid game, your playstyle should be proactive and aggressive. Because of his infest ability, Lifestealer excels at ganking in particular; thus, ganking is your top priority. If, on the other hand, the members of the opposing team stick together, you will only have two options: force team fights or farm.
Late game
You should look for 5v5 encounters if the enemy carry is farm-dependent and therefore peaks late in the game, and/or if the opposing team does not have a higher teamfight potential than your team. In any case, farming is a good option for you if you feel that fighting becomes risky at some point because Lifestealer scales well with items in the late game.