Lore & Bio
Rylai the Crystal Maiden was born in a land with a mild climate. She grew up with Lina, her "fire-tempered" sister (enthusiastic + hot-tempered).
Early on, Rylai discovered that her natural attraction to the Ice Elementals would cause trouble for those around her. As long as she rests by her side, the well or the stream will be frozen in an instant, the crops that are about to be harvested will be injured by frost, even the orchard will be frozen into ice, and then quickly. broken and withered.
When their parents were reluctant to send Lina to the South, Rylai was quickly "exiled" to the cold and frosty North, where she was raised by an Ice Wizard living there. the top of the Blueheart Glacier mountain. After a long period of study, after feeling that Rylai was able to cultivate Frozen Arts on his own, the Mage sank himself into the middle of the glacier and began to sleep for a thousand years. mine.
From then on, Rylai's Frozen Arts continued to improve. And now, her magic was unmatched by anyone.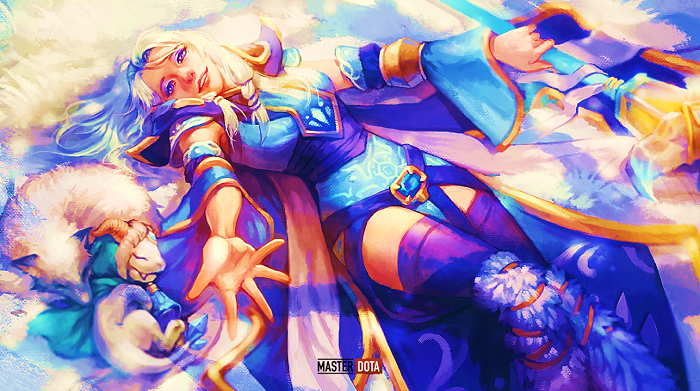 Attribute & Stats
Level: 0 1 15 25 30
Health: 200 560 1160 1840 2100
Health regen: +0.25 +2.05 +5.13 +8.53 +9.83
Mana: 75 267 819 1359 1575
Mana regen: +1 +1.8 +4.11 +6.36 +7.29
Armor: -1 1.67 5.4 10.07 11.73
Damage Block: -
Magic Resistance: 25%
Status Resistance: 0%
Damage: 28‒34 44‒50 90‒96 135‒141 153‒159
Attack Rate: 0.59/s 0.68/s 0.81/s 0.98/s 1.04/s
Attack Range: 600 (800)
Attack Speed: 100 (1.7s BAT)
Attack Animation: 0.45+0
Projectile Speed: 900
Movement Speed: 280
Turn Rate: 0.6
Collision Size: 24
Vision Range G): 1800 • 800
Legs: 2
Gib Type Ice
Ability Upgrades:
Upgradable by Aghanim's Scepter.

Upgradable by Aghanim's Shard.
Abilities & Talents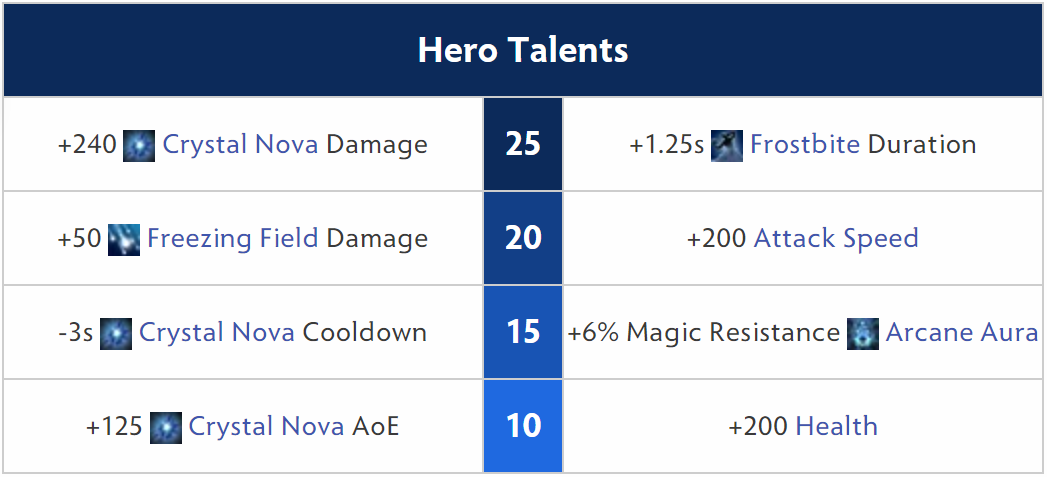 Skills building guide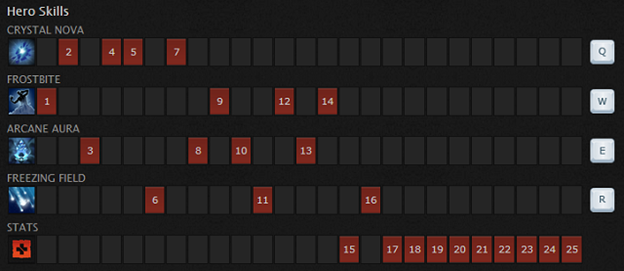 Get 1 point of Frostbite at early level to catch a single target early, or replace it with Crystal nova as both are crowd control skills. Maximize Crystal nova first to get damage as well as slow duration, get 2 points of Arcane Aura and Frostbite at early levels to increase control skills and restore mana for allies. Ultimate you can get last after maxing out all other skills, because it's Rylai's ultimate in the mid and late game that really works because this is the time for total fights.
Abilities

Crystal Nova
Cooldown: 13 seconds.
Cast Range: 700 range.
Effect: Creates an icy blast, dealing 100/150/200/250 damage and slowing enemies hit.
Impact duration: 3.5/4/4.5/5 seconds
Run Speed Slow: 30%
Slow attack speed: 30
Radius: 400
Frostbite
Cost: 115/125/140/150 mana
Cooldown: 9/8/7/6 seconds
Casting Range: 500
Effect: creates a block of ice that immobilizes the target enemy and deals 100 damage per second
Duration: 1.5/2/2.5/3 seconds for champions and 10 seconds for creeps

Arcane Aura
Effect range: full map
Effect: heals allied units for 1/1.5/2/2.5 mana per second and 2/3/4/5 mana to self

Freezing Field
Cost: 200/400/600 mana.
Cooldown: 90 seconds
Effect: Creates a blizzard around a standing position, sleet drops randomly fall in an area, dealing 105/170/250 damage for each sleet that hits the ground on enemies.
Maximum casting time: 10 seconds
Snowball blast radius: 300
Rain radius: random between 195-785
Slow radius: 835
Slow duration: 1 second
Attack Speed Slow: 30
Flashing speed: 30%

Stop Freezing Field
Immediately stops the Freezing Field
Effective items guides
Early game

Magic Stick
Magic Stick: On Crystal Maiden, Magic Stick is extremely beneficial for sustaining foes' spammable abilities throughout the laning stage.

Boots of Speed
Boots of Speed: Crystal Maiden's poor base movement speed necessitates the acquisition of Boots of Speed early on. Crystal Maiden's increased mobility lets her get closer to her enemy and cast disables on them, as well as outrun chasing attackers.

Wind Lace
Wind Lace: Wind Lace also boosts movement speed at a low cost and may be built into a variety of equipment.
Mid game

Tranquil Boots
Tranquil Boots: The Tranquil Boots are the lowest upgradeable boots available, allowing Crystal Maiden to stay out in the field for longer.
Crystal Maiden may stay out in the field indefinitely since Arcane Aura replenishes her mana pool while Tranquil Boots' passive heals her. The improved mobility speed is also beneficial, as it allows her to more efficiently roam, gank, and flee.

Magic Wand
Magic Wand: Crystal Maiden lacks Magic Wand, which is an inexpensive source of extra characteristics. She can also do more in battles now that she has more charge storage.

Glimmer Cape
Glimmer Cape: If you plan on using Freezing Field frequently, Glimmer Cape would be a good investment. Casting the active on yourself before using your ultimate will give you a bit more time to channel it. When used on Crystal Maiden or an ally, it may be a fantastic stealth initiation, escape, or survival tool in other scenarios.

Blink Dagger
Blink Dagger: Blink Dagger improves Crystal Maiden's mobility by letting her to leap into range of opponent heroes and disable them with her disables. It makes it easier for her to maneuver throughout the map, either to help her allies or to flee chasing foes.
Late game

Eul's Scepter of Divinity
Eul's Scepter of Divinity: Crystal Maiden has increased movement speed, a greater mana pool, and mana regeneration from Eul's Scepter of Divinity. If an extra disable against opponents is required, it is usually developed.

Force Staff
Force Staff: Crystal Maiden may use Force Staff to reposition herself and increase the amount of her mana pool, allowing her to cast her disables more readily. It's especially handy if saving up for a Blink Dagger isn't an option.

Black King Bar
Black King Bar: Black King Bar is a high-priced luxury item that should only be considered if the farm has been prioritized and all other support responsibilities have been completed. It increases Crystal Maiden's health pool while also preventing interruptions to her ultimate.
Situation items

Ghost Scepter
Ghost Scepter: The Ghost Scepter grants Crystal Maiden a brief period of invulnerability to physical damage as well as several bonus qualities, allowing her to survive against assaulting carry. The active may also be used to prevent foes from interrupting Freezing Field channeling by hitting her.

Urn of Shadows
Urn of Shadows: Urn of Shadows is a useful item for a roaming Crystal Maiden, as it can be utilized to provide a bit extra damage to her nukes or to heal after ganks. Her mana is replenished by the increased characteristics and armor, while her mana is replenished by the mana regeneration, which works in tandem with Arcane Aura.

Drum of Endurance
Drum of Endurance: Drum of Endurance: Enhances Crystal Maiden's tanking abilities. Her increased movement speed enables her to better position herself for casting spells.

Veil of Discord
Veil of Discord: Crystal Maiden gains an attribute bonus from Veil of Discord, an inexpensive utility item. Aside from the stats, the spell damage amplification helps her squad to deal greater damage in battles with abilities, particularly Freezing Field.
Enemies & Allies
Allies

Slark
Though Slark's high damage output is a problem for the squishy Crystal Maiden, she manages to hold her own against him with the help of her teammates.

Slark does not have a built-in means to negate Freezing Field, but the widespread purchase of Skull Basher makes Slark a far more dangerous threat to Crystal Maiden as the game develops.

While Slark is under the spell of Shadow Dance, Freezing Field may still strike him, and the damage output of Crystal Maiden's ultimate outscales Slark's passive regeneration in the early and mid game, making a rapid usage of Freezing Field as soon as Slark uses Shadow Dance an excellent strategy to oppose him.

Frostbite and Crystal Nova assist Crystal Maiden disable and delay the elusive Slark, allowing her comrades to kill him.

Phantom Assassin
Though not a "hard counter," Crystal Maiden's expertise (magical damage nukes) poses a significant danger to Phantom Assassin in the mid game, especially if accompanied by her team's engagement.

When Phantom Assassin is not covered by Blur, a short use of Freezing Field after Phantom Strike can imprison her inside the area of effect, taking advantage of Phantom Assassin's low HP pool.

Phantom Assassin's attack delay from Freezing Field can severely impede the possibility of Coup de Grace in a teamfight if he does not acquire a Black King Bar Black King Bar early.

However, Phantom Assassin's immense damage combined with her proclivity for building both Black King Bar and Skull Basher makes her a tough adversary as the game progresses, and facing her alone is almost never a wise idea.

Templar Assassin
Templar Assassin, like the other heroes mentioned in this section, is not fully "countered" by Crystal Maiden (as she is against Viper minimap and Jakiro minimap), but the proper combination and execution of Crystal Maiden's spells, stacked with her team, can most certainly spell Templar Assassin's demise.

Frostbite depletes Refraction charges rapidly, making Templar Assassin susceptible to the rest of her squad.

When Templar Assassin is under the spell of Meld, Freezing Field will still do damage to her, making it an even less feasible escape option until a Blink Dagger is obtained.

All of Crystal Maiden's spells cancel Blink Dagger, plus the relatively short cooldowns on Frostbite and Crystal Nova make her a valuable asset in a pursuit versus Templar Assassin.

This isn't to imply that the Templar Assassin has any trouble defeating the Crystal Maiden, but confronting her alone is never a good idea.
Counters

Bounty Hunter
The stun effect of Shuriken Toss is effective for negating Freezing Field from afar.

When Crystal Maiden uses Glimmer Cape, Track can be used to expose her.

Due to Crystal Maiden's low HP and armor, Jinada does burst physical damage (which is amplified if dealt under Track's crits).

Bounty Hunter prefers to remain concealed from the conflict and is therefore less vulnerable to Crystal Maiden's charms.

Bristleback
Crystal Maiden's already limited movement can be hampered by viscous Nasal Goo, allowing Bristleback (or his friends) to run her down and kill her.

If Crystal Maiden's ultimate is utilized when he is under the spell of Blade Mail, Bristleback may rapidly kill her.

Under the damage from Freezing Field, the passive element of Bristleback will activate multiple times, and as the stacks grow, the damage generated from each succeeding cast (or proc) will eat away at Crystal Maiden's limited HP pool.

Clockwerk
Freezing Field can be interrupted by Battery Assault, Power Cogs, and Hookshot, with the latter two being able to pass through invisibility if Crystal Maiden uses Glimmer Cape.

If Crystal Maiden tries to hide in the trees to cast Freezing Field safely, Rocket Flare can be utilized to locate her.

Clockwerk minimap can quickly close in on Crystal Maiden and kill her with Hookshot.

Doom
Doom, even with only basic strikes, Infernal Blade, and Scorched Earth, can easily take down Crystal Maiden due to her vulnerability.

In combat, Doom prohibits her from utilizing any skills, reducing her effect to nothing.

Devour grants Doom a stun, allowing him to negate Freezing Field without the usage of Doom.

Earth Spirit
Due to their tremendous range, Boulder Smash and Geomagnetic Grip allow Earth Spirit minimap to easily destroy Freezing Field regardless of where Crystal Maiden is. Without a Black King Bar, Earth Spirit minimap is the greatest hero for preventing extended channeling abilities, and Crystal Maiden is weak to him.

Earth Spirit can easily close in on Crystal Maiden and kill her with all of his spells. Because she is a low-health support, Earth Spirit tends to lag behind in teamfights, but she can swiftly bridge the gap.

Due to her slow movement speed and lack of alternative escape options, Crystal Maiden is especially vulnerable to Earth Spirit's long-range, devastating spells.
Items Counter

Black King Bar
Black King Bar: Crystal Maiden is rendered practically useless by Black King Bar and other sources of magical immunity/reduction, which prohibit her from activating her abilities and Freezing Field from causing damage or slowing. Even in her ultimate, these items make it simple for opponent heroes to kill her swiftly.

Skull Basher
Skull Basher and other forms of bash are particularly difficult for Crystal Maiden, because the stun will penetrate it and negate her ultimate, even if she has a Black King Bar.

Orchid Malevolence
Orchid Malevolence and Bloodthorn are a problem for Crystal Maiden in the same way they are for any spell-based hero: if she is unable to utilize her powers due to a quiet, her fighting effect is drastically weakened.

Abyssal Blade
Abyssal Blade: Stun with Abyssal Blade allows the caster to blink on Crystal Maiden while also piercing spell immunity.

Blade Mail
Blade Mail reflects Freezing Field, causing Crystal Maiden to take massive damage when she performs her ultimate. Due to her limited health pool, heroes who construct Blade Mail (such as Axe minimap, Clockwerk minimap, or Bristleback minimap) may be extremely difficult for her.
Favorable Matchups

Juggernaut
As early as level 1, Frostbite offers the ideal setting for Blade Fury, a lethal combination. Later, it can be followed by Crystal Nova to provide an extra slow and assure Blade Fury's full damage.

Because all of Juggernaut's abilities require a significant amount of mana, Arcane Aura offers much-needed mana recovery. It enables him to use the Frostbite + Blade Fury combination whenever he wants in the lane, while also keeping him healthy owing to Healing Ward. The aura is still crucial late in the game.

Timbersaw
Frostbite is an excellent setup for Timbersaw's multiple abilities in all phases of the game, allowing him to position Chakram squarely on top of an opponent hero before finishing his combo.

Despite the fact that Timbersaw is obliged to develop considerable mana regeneration in order to fuel Chakram, the inclusion of Arcane Aura is extremely important in the early game, allowing Timbersaw to always have Timber Chain ready for escape or initiation.

Freezing Field works nicely with Timbersaw's Chakram's sluggish movement, and Timbersaw's strong mobility allows him to quickly pursue heroes who have evaded Freezing Field's full damage.

Sven
Sven's beginning mana regeneration is considerably improved by Arcane Aura, letting him to use Storm Hammer and Warcry more easily in lane and later in the game.

In lane, Storm Hammer stacked properly with Frostbite is a quick and easy method to assure a kill, and when Crystal Nova and Warcry are added, it provides for amazing chase potential for even the most obstinate laners.

Crystal Maiden is well-equipped to assist Sven in chasing down adversaries or holding them in place while he kills them, thanks to Frostbite and Crystal Nova. This makes it more difficult for Sven to be slain, especially during God's Strength.
Game plan
Early game
You should determine whether you are going to roam or stick to the lane to protect your teammates from the beginning so that you can buy appropriate equipment. With roaming, when you have 2 control skills, you and your teammates can easily get kills if combined well. With a protective lane, if your lane teammates are heroes with good damage ability, you and that person can overwhelm the enemy lane or get kills early.
However, with thin blood and too much armor, the most important thing for you is to choose an appropriate standing position to minimize the damage taken when roaming or laning. During the match phase, you always have to follow the Town portal scroll to support your teammates in time.
Mid game
This is the extremely frequent roam + gank phase when your team's gankers already have enough levels and basic equipment for ganking, and create space for your carry team to farm to the maximum, or go to that lane to help. it pushes the lane, counter gank if the enemy targets your carry team. Because Rylai's mana regeneration is very good, you can gank continuously during this phase (unless you already have the ultimate, it's different ).
Depending on the approach distance, you can use Frostbite (W) first to hold the enemy and then use Crystal nova (Q) to slow or c0mbo vice versa if the enemy is far away. Freezing field (R) is a very powerful damage skill, you should launch it on slopes or hidden corners (when the opponent is out of sight) when being chased so that the opponent can't react or launch in time.
Teamfight after the opponent has used up all his stun skills to deal the greatest amount of damage possible. When buying equipped with Blink dagger or Force staff, you can actively rush to arrest the enemy so that your teammates run to defeat that bad guy. You are a very "delicious" girl, both literally and figuratively in the game, so it will be the focus of focus if there is a fight, so you have to choose a suitable standing position lest you get on the board quickly. Remember to plug wards, break wards in this phase regularly.
Late game
This stage you go with your teammates, fully ward, use Smoke of Deceit to gank single targets or start a teamfight by surprise, creating conditions to proceed to destroy the opponent's Ancient or push 1 lane, force the opponent to deflect turret or have to fight. When you have bkb you can become an initiator of the team with the skill Freezing field (R) that damages and slows the enemy with a large area.
The target in your total teamfight will usually be the enemy initiator, nuker, tanker, use Frostbite (W) to lock the enemy so that they won't be detrimental to your team in the teamfight (and the carry guys usually already have it. buy bkb in this stage already).