Lore & Bio
"I suffer the innocents and guilty alike. There are no innocents."
Offending a troll is as easy as lifting a hand. A bitter and contentious race, trolls enjoy quarrels and strife, without any excuse to raise their voices in arguments. Males mature in underground chambers located directly below where the eldest daughters live, fed and entertained while giving nothing. Usually the male remains like this for many years beyond adulthood, while the female head of the family provides care and nurture. When the young trolls were finally driven out of their underground chambers, they gathered with their comrades, forming rebellious factions that loudly complained about all sorts of troubles.
And no matter how much trolls love to argue, it seems rare that a troll is ostracized by his fellow humans because of his bad temper. The fate of the troll as above is named Jah'rakal, a merchant from the remote areas of the Hoven forest. So delusional, so cruel, and so cruel that even other trolls in the same boat could not stand it. In one snarky profanity when he claimed most of the spoils from his recent conquest, his comrades burst into dismay. Turned around, then beat him with a mace, then kicked him out of the camp. Frustrated with being chased, he returned the next day, armed with his vessel, and slashed at them all, one by one. And then he cut blood and swore: he will always be a force of war for himself. Now he roams the world in the name of the Troll-warrior lord, bitter and angry, a noble commander of a one-man army.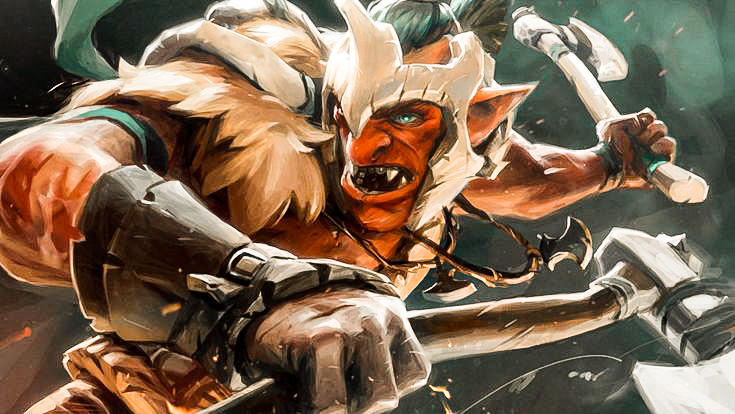 Attribute & Stats
Level: 0 1 15 25 30
Health: 200 620 1320 2060 2340
Health regen: +0.25 +2.35 +5.85 +9.55 +11
Mana: 75 231 399 663 747
Mana regen: +0 +0.65 +1.35 +2.45 +2.8
Armor: -1 2.5 10.2 17.7 20.78
Damage Block: -
Magic Resistance: 25%
Status Resistance: 0%
Damage: 27‒35 48‒56 94‒102 139‒147 157‒165
Attack Rate: 0.59/s 0.71/s 0.98/s 1.25/s 1.36/s
Attack Range: 500 (800)
Attack Speed: 100 (1.7s BAT)
Attack Animation: 0.3+0.3
Projectile Speed: 1200
Movement Speed: 290
Turn Rate: 0.6
Collision Size: 24
Vision Range: 1800 • 800
Legs: 2
Gib Type: Default
Ability Upgrades:
Upgradable by Aghanim's Scepter - Whirling Axes (Melee)/Whirling Axes (Ranged)

Upgradable by Aghanim's Shard - Rampage
Abilities & Talents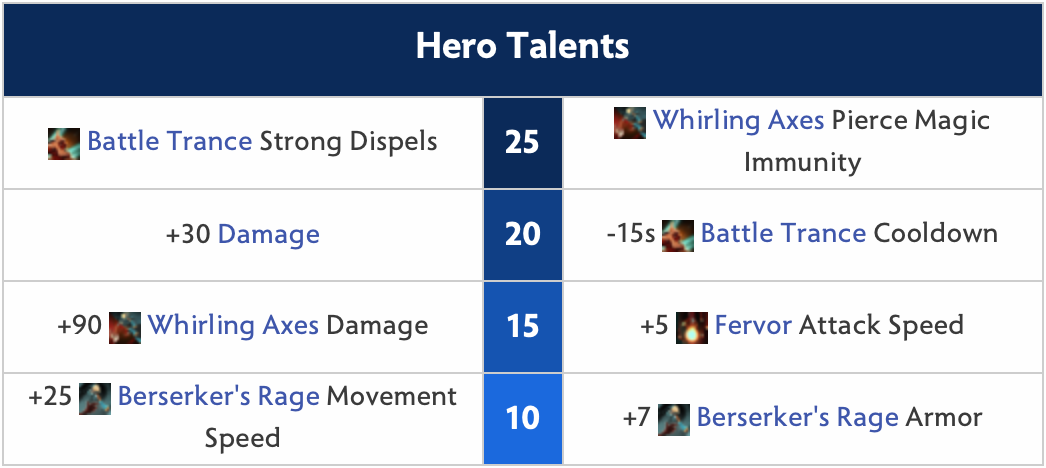 Skills building guide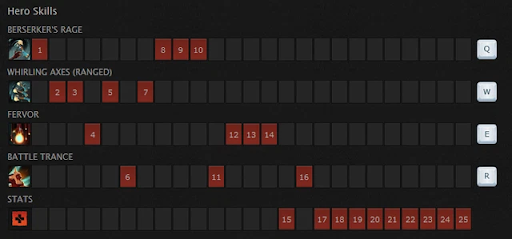 You should gain a point first on Berserker's Rage to get the ability to switch between ranged and melee. Then give priority to Whirling Axes to take damage and the ability to "stop lane" from this skill. The Fervor skill should increase by 1 point at first, which is quite enough for you to solo Roshan, please maximize this skill in late game.
Abilities

Berserker's Rage
Cast Animation: 0+0
Armor Bonus: 4/5/6/7 (Talent 11/12/13/14)
Move Speed Bonus: 15/25/35/45 (Talent 40/50/60/70)
Attack Range Loss: 350
Base Attack Time: 1.45
Root Chance: 14%/16%/18%/20%
Root Duration: 0.8/1.2/1.6/2
Effect: Troll Warlord switches from ranged to melee attacks when engaged. Melee strikes have a chance to trap the opponent, making it impossible for them to move or use mobility spells. Berserker's Rage also improves movement speed, armor, and reduces the time it takes to attack. While Berserker's Rage is active, Whirling Axes has a distinct purpose.
Whirling Axes (Ranged)
Cast Animation: 0.2+0
Cast Range: 950
Axes Travel Distance: 950
Axes Radius: 100
Axes Spread End Radius: 206.17
Damage: 90 (Talent 180)
Move Speed Slow: 40%
Slow Duration: 2.5/3/3.5/4
Effect: Over 950 range, Troll hurls a handful of five axes in a cone form, delaying and damaging opponent units.

Whirling Axes (Melee)
Spin Radius: 350
Axes Radius: 100
Damage: 50/100/150/200 (Talent 140/190/240/290)
Miss Chance: 60%
Blind Duration: 5
Whirl Duration: 3
Effect: Troll hurls two axes in a close-range area of effect, damaging opposing units and causing certain assaults to miss.

Fervor
Max Stacks: 12
Attack Speed Bonus per Stack: 15/20/25/30 (Talent 20/25/30/35)
Effect: Troll gains enhanced attack speed with each sustained strike on the same target. When Troll switches targets, the stacks are reset to zero.

Rampage
Cast Animation: 0+0
Radius: Global.
Attack Speed Bonus (Ranged): 70
Status Resistance Bonus (Melee): 25%
Duration: 5
Effect: Active on a global scale. For 5 seconds, all allied heroes get 70 attack speed or 25% status resistance, depending on Troll's current posture. Ranged attacks have a higher attack speed, whereas melee attacks have a higher status resistance.

Battle Trance
Cast Animation: 0+0.5
Enemy Search Radius: 900
Lifesteal: 40%/60%/80%
Self Move Speed Bonus: 25%/30%/35%
Self Attack Speed Bonus: 140/170/200
Duration: 6.5 (Talent 8.5)
Effect: Troll instills a deep war trance in you, forcing you to constantly attack the next enemy unit within 900 range, with heroes taking precedence. During this phase, damage does not kill you. Bonus lifesteal, attack speed, and movement speed are all increased. Dispels with a Basic Dispel.
Effective items guides
Early game

Magic Wand
Magic Wand: The Magic Wand aids in lane survival against adversaries who can spam spells.

Phase Boots
Phase Boots: To compliment Troll Warlord's fast attack speed, Phase Boots improve attack damage.
Mid game

Maelstrom
Maelstrom: Maelstrom boosts farm speed, allowing you to collect more goods in less time.

Black King Bar
Black King Bar: Because Battle Trance only lasts 6.5 seconds, Black King Bar is essential on troll. Every second counts, as stuns and disables can render you helpless for several seconds, squandering the spell's power.

Morbid Mask
Morbid Mask: Morbid Mask grants lifesteal, which complements your fast attack speed. Obtaining this will let you take out Roshan on your own early in the game. It also upgrades to Satanic, which improves late-game survival.
Late game

Butterfly
Butterfly: Butterfly grants a significant increase in agility and attack speed, as well as evasion. Furthermore, the evasion paired with the blind offered by Whirling Axes gives a significant amount of survivability.

Abyssal Blade
Abyssal Blade: Troll Warlord benefits from Abyssal Blade's stun and bash, which he may use to his advantage because of his fast attack speed. The item also provides damage reduction and health, allowing him to survive confrontations.

Satanic
Satanic: Troll Warlord may strike foes without fear of dying and regain full health in a matter of a second thanks to Satanic active. The passive status resistance makes this item a must-have, as Troll Warlord dislikes being interrupted in battle so he can concentrate on one target.
Situation items

Battle Fury
Battle Fury: Battle Fury is a different approach to farm more quickly.

Yasha
Yasha: For extra movement speed and agility, Yasha is always a good choice. For more endurance, upgrade it to a Sange and Yasha or a Manta Style. For illusions, dispel, and disjointing missiles, Manta Style is the way to go.

Shadow Blade
Shadow Blade: Shadow Blade provides cost-effective gains in attack speed and damage, good initiation and mobility, and mediocre escape. It also comes with an enhanced Silver Edge

Blink Dagger
Blink Dagger: Troll Warlord can use Blink Dagger to climb on top of foes and root and kill them. Swift Blink can be updated later.

Diffusal Blade
Diffusal Blade: Diffusal Blade gives you strong agility and helps you drain a target's mana (fast).

Daedalus
Daedalus: Your assaults will cause a lot of damage thanks to Daedalus. Troll Warlord can focus on damage and gain numerous Daedalus to crit more often and lifesteal even more since his ultimate and passive allow him to achieve maximum attack speed.

Monkey King Bar
Monkey King Bar: Due to its magical damage procs, Monkey King Bar counters enemy evasion and increases attack damage, complementing Fervor and Battle Trance's attack speed boosts.
Enemies & Allies
Allies

Anti-Mage
Anti-Mage is prevented from burning Troll Warlord's limited mana pool by Whirling Axes (Melee), which has a 60% miss probability.

The passive root of the Troll Warlord lets him to battle an Anti-Mage extremely successfully by preventing the Anti-Mage from blinking away. When coupled with a Skull Basher or Abyssal Blade, this becomes much more powerful.

Troll Warlord's high physical damage is unaffected by Counterspell.

Troll Warlord is one of the toughest targets for Mana Void because of his low base intelligence and intelligence increase.

Enchantress
Fervor stacks and Battle Trance can quickly improve Untouchable's attack speed.

Enchantress' Untouchable is disabled by Troll Warlord, who is a natural Silver Edge bearer.

Huskar
Because Whirling Axes (Melee) has a 60% miss probability, Huskar's strikes will miss a lot of the time if it isn't dispelled.

Troll Warlord's Fervor increases in a similar fashion to Huskar's Berserker's Blood: as soon as Huskar's health regeneration is high enough, Troll Warlord's attack speed is fast enough to nullify it.

Juggernaut
Because Troll Warlord can strike as a ranged hero, he can take down Juggernaut's Healing Ward from distance.

When used during Omnislash, Battle Trance permits Troll Warlord to endure the whole event and retaliate once it is ended.

Lifestealer
Troll Warlord is resistant to Feast in the early game because of Berserker's Rage's passive armor.

When Rage isn't active, Whirling Axes (Melee) provides a 60 percent miss probability.

Battle Trance may heal Open Wounds, eliminating a significant portion of Lifestealer damage.

Phantom Assassin
To totally disregard Blur, Troll Warlord can construct a Silver Edge or a Monkey King Bar.

Whirling Axes (Melee) has a 60% chance of missing, making a Coup de Grace critical strike extremely difficult to land.

Coup de Grace is negated by Battle Trance, which prevents Troll Warlord from succumbing to her critical strikes.

Phoenix
Troll Warlord is one of the finest heroes for dealing with Supernova because of Fervor and Battle Trance.

Sven
Berserker's Rage, along with Troll Warlord's fast attack speed, offers Troll Warlord a high probability of rooting foes, allowing him to outmaneuver Sven.

Whirling Axes (Melee) has a 60% miss probability, while Berserker's Rage's passive armor renders Troll resistant to physical damage in the early game. As a result, Sven's God's Strength is far less effective.

Be aware that by stacking ancients and clearing them with Great Cleave, Sven may farm more quicker than Troll Warlord.

Undying
Troll Warlord has a strong attack speed due to Fervor and Battle Trance, allowing him to rapidly smash Tombstone.

Troll Warlord finds Undying to be an easy target because he frequently stays in the front lines with no disables.
Counters

Axe
Due to Fervor and Battle Trance, Troll Warlord has a substantial attack speed, providing Axe a better opportunity to trigger Counter Helix and badly harm Troll Warlord, who has a low maximum health.

Blade Mail is a common purchase for Axe, and it may help him turn Troll Warlord's farm and deal heavy physical damage against him. Troll Warlord will absorb a lot more damage than Axe because of Berserker's Call's increased armor.

If Troll Warlord's HP is low enough, Culling Blade can still kill him during Battle Trance.

Bane
In team engagements, Nightmare and Fiend's Grip can aid control/disable Troll Warlord.

Shadow Shaman
Shadow Shaman's extended disables are good for kiting and depleting Battle Trance's lifespan.

Troll Warlord is particularly vulnerable to Mass Serpent Wards during Battle Trance, since keeping him within for the duration is basically another hard disable, as Troll cannot assault the wards or utilize Phase Boots to escape.

Chaos Knight
Troll Warlord's lack of AoE damage is easily exploited by Chaos Knight's tanky illusions.

Trolls are stunned for up to 4 seconds by Chaos Bolt, and Troll Warlord is prevented from following down adversaries by Reality Rift.

Chaos Knight's physical damage output is increased by four times, allowing him to quickly kill Troll Warlord before he can utilize Battle Trance or a Black King Bar.

Crystal Maiden
If he doesn't have a Black King Bar or a Manta Style, Frostbite can disarm and root Troll Warlord.

Troll Warlord is substantially slowed by Crystal Nova and Freezing Field, making him more vulnerable to ganks and stuns.

Troll Warlord is unable to cancel Crystal Maiden's channel, and the magical damage from Freezing Field deals a lot of AoE damage.

Lich
Troll Warlord may be efficiently kited with Frost Blast and Chain Frost.

Due to Frost Shield's great resistance to physical damage, it may easily spend the majority of the duration of Battle Trance on its own. Troll Warlord is also unable to swap targets when in Battle Trance, thus he cannot choose an easier victim.

Troll Warlord has minimal to no HP regeneration, therefore Frost Blast combined with Frost Shield may effectively harass him.

Oracle
Troll may be disarmed by Fate's Edict, leaving him worthless in a teamfight, especially if he has used Battle Trance.

In the early to mid game, Fortune's End and Purifying Flames can give enough magic damage to easily burst down Troll Warlord.

False Promise can save an ally from the Troll Warlord's initiation by forcing him to switch targets and lose his Fervor stacks, or it can waste time during Battle Trance by forcing him to switch targets and lose his Fervor stacks.

Outworld Destroyer
The sheer damage from Outworld Destroyer's Arcane Orb is particularly powerful in rapidly killing Troll Warlord.

Troll Warlord's participation in a teamfight is reduced by four seconds with Astral Imprisonment, possibly squandering almost half of Battle Trance's lifespan.

Because Troll Warlord only grows 1 intellect point every level, Sanity's Eclipse is exceptionally powerful, killing him almost instantaneously.
Items Counter

Blade Mail
Blade Mail: Due to Troll Warlord's tremendous physical damage and short health pool, Blade Mail is very effective against him.

Silver Edge
Silver Edge: Troll Warlord's Fervor and passive root may be broken by Silver Edge, reducing Troll Warlord's danger to a minimum.

Heaven's Halberd
Heaven's Halberd: Troll Warlord gets disarmed by Heaven's Halberd, removing all of his attack damage and root. Because of the longer duration of the disarm, Heaven's Halberd is especially effective while Troll Warlord is in ranged form.

Bloodthorn
Bloodthorn: Because all strikes on the Bloodthorn silenced target have True Strike, Bloodthorn can be effective against Troll Warlord.

Scythe of Vyse
Scythe of Vyse: Scythe of Vyse may be used offensively as well as defensively, as it disables and prevents him from killing or fleeing.
Favorable Matchups

Ogre Magi
Troll Warlord gains extra attack and movement speed from Bloodlust, allowing him to swiftly hunt down adversaries.

Slardar
Troll Warlord can hit harder than usual thanks to Corrosive Haze.

Vengeful Spirit
Troll Warlord may use Wave of Terror to deliver extra physical damage to his adversaries.

The opposing hero is prevented from escaping Troll Warlord by Nether Swap and Magic Missile.
Game plan
Early game
Rage uses Berserker to easily last hit. It increases your damage. Beware of high-damage nukes, this hero is one of the squishiest heroes on the map. Always keep an eye on your ward so you can easily see any movement from enemies to harm you. You need to farm as much as you can, so focus on last hits because you are your team's carry.
Mid game
At this stage the whole team will roam around the map and find a few people to kill. Don't forget to buy the smoke of lies to hide the Observer Ward from enemies. You already have a few ganking skills here so if you want to start a gank you need:
Communicate with teammates about the gathering of people who need to be ganked, focus on shooting 1 hero in a gank, because if you don't communicate well you may attack your own teammates. That would be a bad gank and lead to a failure to kill the team member himself.

Prepare the required item in gank: Use Smoke of Deceit. Prepare dust, Sentry Wards or Gems when you gank an invisible hero like Rikimaru, Clinkz or Nyx Assassin. Use Whirling Ax. Brutally attack enemy supporters then chase them away using Whirling Ax or use enemy mode if the enemy only needs 1 extra hit in case you can't keep up with him.
Late game
This is your time to shine. You have reached the level here. It will provide many advantages from extra HP and attack. If you have completed the core objective, this means you are ready to crush your opponent in teamfights.
What you have to do here is:
Using BKB

Using Whirling Axes

Kill all the enemies and if your team wins the teamfight, you have two options: get Aegis for your team's main hero or push the enemy base and destroy their building.