Lore & Bio
"Storms gather at my fingertips".
At the highest point of the Druud Plateau, the Disruptor was the first to decipher the secret of the summer whirlwinds. In the past few centuries, the highland Oglodi people have always struggled to survive on this endless plateau. They are the remnants of a great civilization, possessing the ability Stormcraft (I don't quite understand the term), which is found and assembled from fragments of a source of knowledge. suffered a loss that even they themselves cannot fully explain.
Although his status was still very small within the Clan, Disruptor was never afraid, he rummaged through forgotten structures, dilapidated libraries, even manufacturing workshops. has rusted. And then, he found what he needed and returned to the Clan.
Reinventing the coil designed from ancient times, Disruptor gains the power to manipulate lightning, and is capable of summoning lightning anywhere he wants.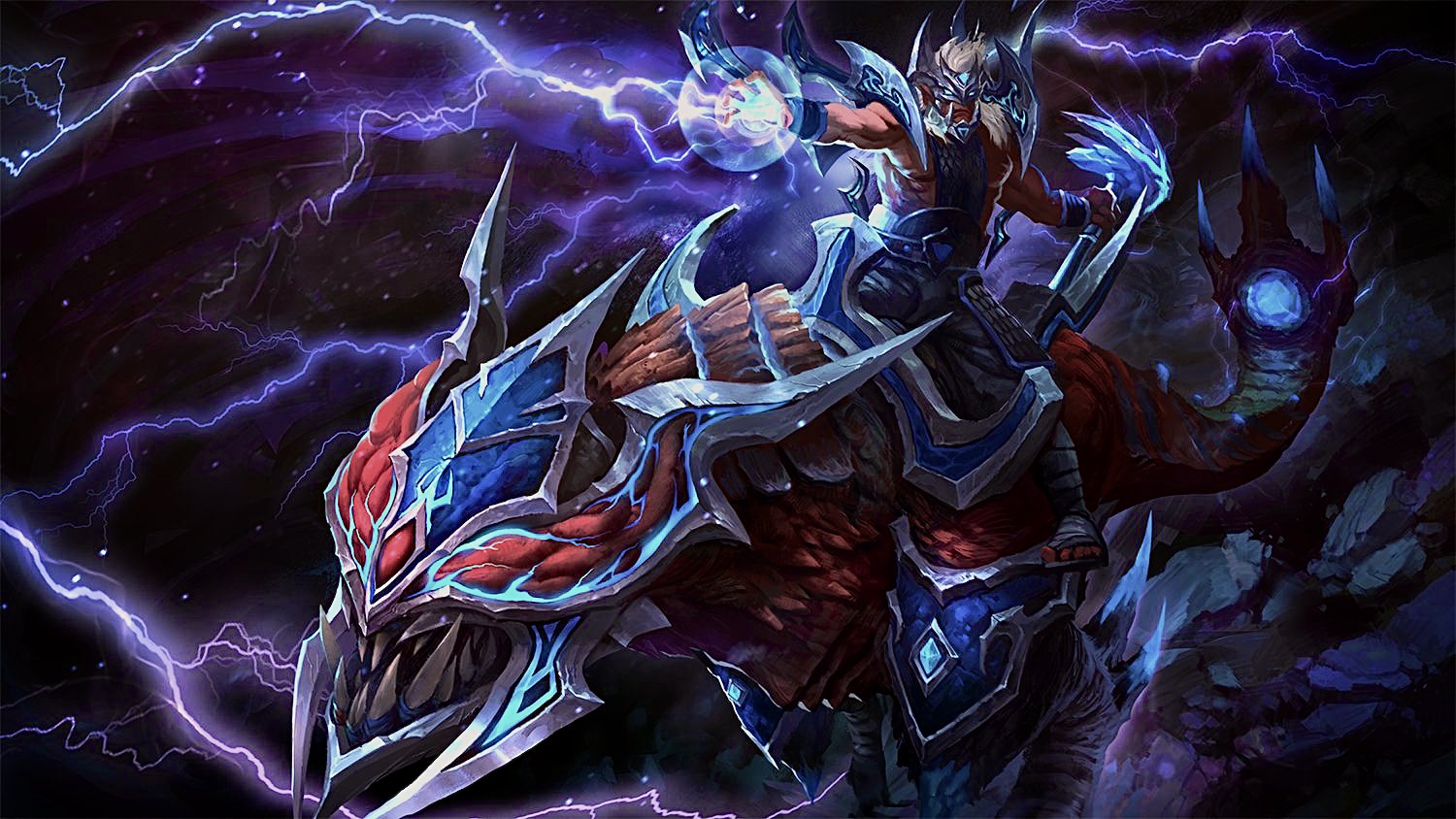 Attribute & Stats
Level: 0 1 15 25 30
Health: 200 620 1280 2000 2280
Health regen: +0.25 +2.35 +5.71 +9.31 +10.71
Mana: 75 315 795 1287 1491
Mana regen: +0 +1 +3.03 +5.08 +5.91
Armor: 0 2.5 5.77 10.1 11.6
Damage Block: -
Magic Resistance: 25%
Status Resistance: 0%
Damage: 29‒33 49‒53 89‒93 130‒134 147‒151
Attack Rate: 0.59/s 0.68/s 0.79/s 0.94/s 1/s
Attack Range: 625 (800)
Attack Speed: 100 (1.7s BAT)
Attack Animation: 0.4+0.5
Projectile Speed: 1200
Movement Speed: 295
Turn Rate: 0.6
Collision Size: 24
Vision Range: 1800 • 800
Legs: 2
Gib Type: Default
Ability Upgrades:
Upgradable by Aghanim's Scepter - Static Storm

Upgradable by Aghanim's Shard - Thunder Strike
Abilities & Talents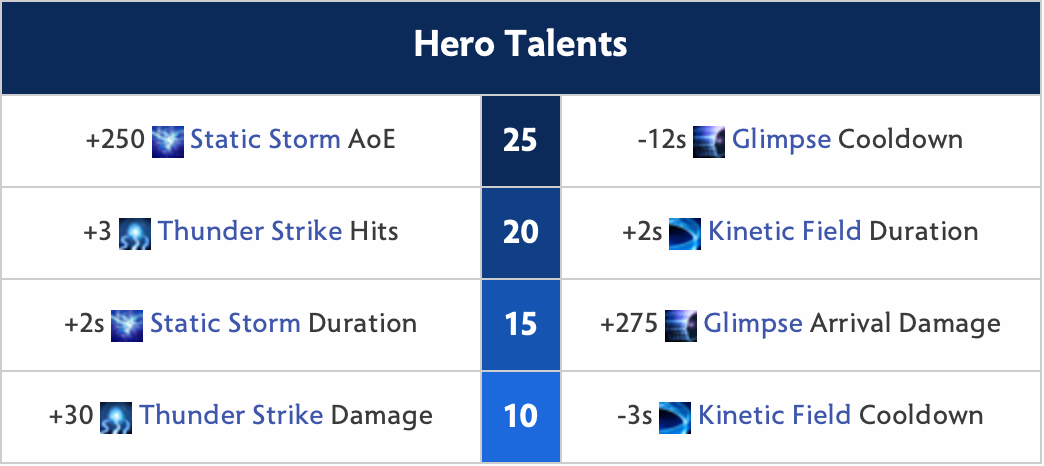 Skills building guide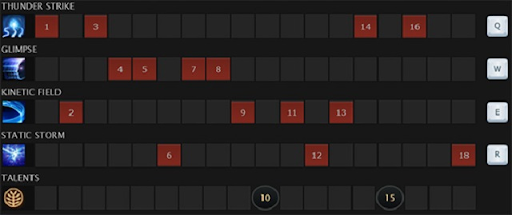 To optimize the ability of Disruptor, Q will be the move that you should upgrade first, because it can both poke and is the ability to bring the best damage.
Next comes E, then W and Ulti is upgraded according to the level milestones. That way, no matter what the situation is, you can handle it flexibly.
Abilities

Thunder Strike
Cost: 100/120/140/160 mana.
Cooldown: 12/11/10/9 seconds.
Cast Range: 800 distances.
Effect: Creates a charged cloud on top of the specified enemy target, dealing 40/60/80/100 damage per lightning strike and spreading around the main target.
Impact time: 6 seconds.
Number of recoils: 4 (1 time on cast and 3 subsequent times every 2 seconds.)
Damage radius: 240
Total Damage: 160/240/320/400

Glimpse
Consumption: 100 mana.
Cooldown: 60/46/32/18 seconds.
Cast Range: 600/1000/1400/1800
Effect: Returns the enemy champion targeted by this skill to its location 4 seconds ago. If it is a clone, the clone is destroyed immediately.
Return time: after 1.8 seconds or at 600 speed (whichever is faster).
Link download offline pc game full crack without ads.
Note: this skill will show a light trail at the location where the enemy is brought back, from which you and your teammates can prepare the next combos.

Kinetic Field
Consumption: 70 mana.
Usage range: 900
Cooldown: 13/12/11/10 seconds.
Effect: creates a circular electromagnetic wall after a period of time at the specified location, enemies will not be able to move past this wall.
Duration: 2.6/3.2/3.8/4.4 seconds.
Wall radius: 325
Duration of the wall to appear after casting: 1.2 seconds.
Note: this wall blocks all moving, dashing units (like Magnus' bulldozer, Force Staff's push, Blinding light's knockback ability,...) but teleport skills like Blink, Phantom strike, Blink strike, Blink dagger, etc. can still pass the wall. This wall does not block units using bkb and skills that give bkb-like effects (Rage, Repel).
Static Storm
Cost: 125/175/225 mana.
Cooldown: 90 seconds.
Use range: 800
Effect: Creates an electromagnetic storm at the target location, silences enemies in it and deals damage every 0.25 seconds, the longer the enemy stands on the storm, the damage will increase for subsequent jerks.
Duration: 5 seconds.
Storm radius: 450
Total damage dealt: 20
Maximum damage per second; 200/250/300
Upgraded by Aghanim's Scepter:
Maximum damage per second: 280/350/420
Effect duration: 7 seconds.
Multiplier effect: also blocks the ability to use equipment if the opponent is standing in the storm.
Effective items guides
Early game

Boots of Speed
Boots of Speed: Boots of Speed allow him to flee chasing opponents or close in to utilize Glimpse, which has a short cast range at first levels.

Magic Stick
Magic Stick: Magic Stick gives any hero a surge of life and mana, allowing them to activate their abilities.
Mid game

Magic Wand
Magic Wand: For a low cost, the Magic Wand grants qualities and enhances charge storage.

Arcane Boots
Arcane Boots: Arcane Boots expand Disruptor's mana pool and provide a mechanism for him to restore it while utilizing abilities.

Force Staff
Force Staff: Force Staff is less difficult to construct than Blink Dagger, and it has the ability to relocate oneself, friends, and opponents. Disruptor now has a larger mana pool to work with thanks to his increased intellect.
Late game

Glimmer Cape
Glimmer Cape: Disruptor's Glimmer Cape allows him to move closer to adversaries to initiate on them, as well as deliver the same benefit to allied initiators. With improved magic resistance and invisibility, it may help defend teammates while fleeing.

Aghanim's Scepter
Aghanim's Scepter: Static Storm may employ Aghanim's Scepter to mute foes on top of the quiet, preventing them from using abilities or items like Black King Bar as long as they remain within the area of effect.

Guardian Greaves
Guardian Greaves: Guardian Greaves, made from Arcane Boots and Mekansm, replenish mana and health to teammates while also eliminating debuffs that may prevent Disruptor from participating in teamfights.
Situation items

Sentry Ward
Sentry Ward: Disruptor may disclose hostile wards by combining Sentry Ward's True Sight with Kinetic Field's ground vision.

Urn of Shadows
Urn of Shadows: Urn of Shadows gives him characteristics and mana regeneration, which helps him keep his mana pool up to date. During ganks or to heal teammates, the active provides extra damage.

Tranquil Boots
Tranquil Boots: Disruptor is usually always at full health because of Tranquil Boots, which grant passive health restoration. The improved mobility speed lets him better position himself for using abilities and ganking.

Medallion of Courage
Medallion of Courage: Disruptor gains higher armor and mana regeneration with the Medallion of Courage. The active reduces the armor of gank targets or increases the armor of an ally in combat. It may also be used to target Roshan in order to assist your team capture the Aegis of the Immortal more quickly.

Blink Dagger
Blink Dagger: Disruptor's Blink Dagger helps him to cover the distance quickly, and his short cast animation allows him to disable adversaries before they can respond.

Veil of Discord
Veil of Discord: Disruptors get characteristics and armor from the Veil of Discord. The active reduces opponent magic resistance, allowing Static Storm and allies to use magical nukes more effectively.

Eul's Scepter of Divinity
Eul's Scepter of Divinity: Eul's Scepter of Divinity enhances his mana pool and regeneration, while increasing his mobility and letting him to position himself for his abilities. He may use the active on himself to remove debuffs like silences, or he can use it on foes to activate Kinetic Field.

Rod of Atos
Rod of Atos: Rod of Atos boosts Disruptor's stats and provides him with additional mana to use abilities. Because of the active's great cast range, he may root adversaries from afar and build up Kinetic Field to severely restrict their movement. Cripple and Kinetic Field have minimal cooldowns, allowing Disruptor to utilize them frequently.

Meteor Hammer
Meteor Hammer: Meteor Hammer's combination works well with Disruptor's. Kinetic Field binds foes to the target region, and Meteor Hammer's stun binds enemies to Static Storm.

Pipe of Insight
Pipe of Insight: Disruptor and teammates gain magic resistance as well as the ability to absorb magical damage from Pipe of Insight, providing them an advantage in battle.

Shiva's Guard
Shiva's Guard: Shiva's Guard increases Disruptor intelligence and armor; the aura can slow foes' movement speed, allowing Kinetic Field to trap them; and the active can delay enemies' physical assaults by decreasing their attack speed.

Scythe of Vyse
Scythe of Vyse: Disruptor gains a hard disable from Scythe of Vyse, which he lacks otherwise. Aside from improving general attributes, notably intellect, utilizing hex on a target slows down their movement while also silencing and muting them, making it an excellent leading disable before employing Kinetic Field and Static Storm.
Enemies & Allies
Allies

Anti-Mage
Glimpse, like Queen of Pain, can deactivate Blink, making him immobile.

Counterspell, on the other hand, may nullify most of Disruptor's damage, therefore he may need a companion to successfully kill Anti-Mage.

Io
After relocating nearer, Disruptor may always Glimpse back Io or his target.

Even better, you may beforehand place Static Storm and Kinetic Field on the location where they will move owing to the ground indication.

Thunder Strike and Glimpse are also useful for retrieving an Io who has become tethered in the fog of war.

Queen of Pain
For Queen of Pain, blinking and posture are key. A excellent Glimpse may effectively counteract these problems.

Queen depends primarily on her spells to do huge burst damage, hence Static Storm is deadly.

Slark
While Slark is invisible, Thunder Strike gives him eyesight.

At lvl 3-4, Glimpse's range is more than enough to pull him back into a position where your team can group up and kill him.

Slark will be literally risking his life by leaping on Disruptor, despite the fact that he is capable of picking you off and doing enough damage to kill you.

Slark is vulnerable to AoE silence and the ability to mute Black King Bar at all phases of the game.

Storm Spirit
Disruptor is generally level 6 or 7 at the 10-minute mark. This implies that, in addition to Static Storm, you can have a level 3/4 peek. Due to his restricted mana pool at the time, a high level peek is enough to bring Storm back to a Static Storm even after he played Ball Lightning.

However, be cautious in the late game, as there's a possibility he'll kill you before Glimpse has completed bringing him back. As a result, once he's slain you or a teammate, Glimpse will just return him to safety. Of course, this assumes he hasn't used an item to mute you.

Tidehunter
Tidehunter relies on Kraken Shell to remain alive and get his Ravage off in the middle of the game. Because none of Disruptor's abilities can be dispelled save Thunder Strike, it's quite easy to imprison him inside Kinetic Field and Static Storm.

However, keep in mind that Kraken Shell still makes Tidehunter extremely tanky, so make sure you can kill him with your combination or with your companions while he is silent and confined.
Counters

Abaddon
Thunder Strike is repelled by Aphotic Shield.

Mist Coil heals an ally imprisoned by the Static Storm-Kinetic Field combination.

Borrowed Time makes ganking Abaddon almost difficult.

Kunkka
Under the influence of Glimpse, Kunkka or his teammates can use X Marks the Spot to fight back.

Juggernaut
Juggernaut may just move out of Kinetic Field and avoid Glimpse with Blade Fury.

Heroes caught in the Static Storm can benefit from Healing Ward.

Glimpse can be avoided by using Omnislash.

Lifestealer
Rage may be utilized to get out of a Kinetic Field and escape from a Glimpse.

Lifestealer may avoid Glimpse thanks to Infest.

Omniknight
Omniknight may use Purification to keep a hero stuck in the Static Storm alive.

Phantom Lancer
Glimpse's most reliable tactic against him is Doppelganger, which allows him to repeatedly avoid it.

Phantom Lancer can also escape Kinetic Field with Doppelganger if there isn't a Static Storm on top of him.

Pugna
Because with his high mana costs, Nether Ward can deal a lot of damage to Disruptor.

Life Drain may be utilized to repair an ally who has been entrapped by the Static Storm-Kinetic Field combination (if Pugna is not a target).

Sniper
Sniper can kill Disruptor from a considerable distance when he is confined by Kinetic Field.

Sniper prefers to stay in the rear, making it difficult for Disruptor to use any of his lane talents on him.

Viper
Corrosive Skin reduces the amount of damage Viper suffers from Disruptor's abilities.
Items Counter

Black King Bar
Black King Bar: Disruptor's Kinetic Field-Static Storm combination is rendered worthless until he obtains an Aghanim's Scepter.

Linken's Sphere
Linken's Sphere: Disruptor can't use Glimpse to drag you out of position with Linken's Sphere.

Lotus Orb
Lotus Orb: Thunder Strike and Glimpse are reflected by Lotus Orb.

Manta Style
Manta Style: Thunder Strike is dispelled by Manta Style, and Glimpse is avoided.

Hood of Defiance
Hood of Defiance: With the barrier and healing, Hood of Defiance upgraded to Pipe of Insight decreases damage from all of Disruptor's abilities.
Favorable Matchups

Zeus
Glimpse's view is provided.

Because Zeus is a nuker, Kinetic Field can allow him to do a lot of magical damage to imprisoned opponents while preventing them from fleeing.

Anti-Mage
He is devoid of disables, therefore he will relish foes caught in Kinetic Field, as well as having more time to target Mana Void.

Keeper of the Light
Illuminate and Kinetic Field work well together. Illuminate maximum damage will be unleashed due to their high and channeling (in the case of Illuminate) duration.

Warlock
Keeping foes within the Kinetic Field allows Warlock to utilize Upheaval on them, allowing his Warlock Golem to cause havoc.

Clinkz
Against heroes stuck in Static Storm and Kinetic Field foes, Strafe's range and attack speed bonuses can be exploited.
Game plan
Basic capture combo: pull back with Glimpse, place a Kinetic Field ring, then torture. If there is an ultimate, put the ultimate in the ring to be sure.
Removes enemies from combat: applies to those who use Town portal Scroll or have teleport skills, just use Glimpse on them.
Combo with whirlwind stick: storm up, set ring, release Static storm.
If the enemy has Blink dagger or similar escape skills: pull back with Glimpse, place a ring and release Static storm while the enemy is not pulled back, make sure they will not be able to escape.
Early game
You should determine whether you are going to roam or stick to the lane to protect your teammates from the beginning so that you can buy appropriate equipment. With roaming, you have the ability to catch people who are extremely disgusting, you and your teammates can easily kill when you can imprison the enemy for 2.4 seconds if used correctly. During the match phase, you always have to follow the Town portal scroll to support your teammates in time. How to combo I have instructed above.
Mid game
This is the extremely frequent roam + gank phase when your team's gankers already have enough levels and basic equipment for ganking, and create space for your carry team to farm to the maximum, or go to that lane to help. it pushes the lane, counter gank if the enemy targets your carry team. The ability to catch odd with extremely long skill cast range, and can block the enemy from roaming with the Town portal scroll thanks to Glimpse, so this is a golden period for you to make money with the team's gankers. Remember to plug your eyes fully.
Late game
This stage you go with your teammates, fully ward, use Smoke of Deceit to gank single targets or start a teamfight by surprise, creating conditions to proceed to destroy the opponent's Ancient or push 1 lane, force the opponent to def turret or have to fight (remember to still buy wards). You can act as an initiator in teamfight. When you have Force Staff or Blink dagger, your ability to catch people is pushed to the next level, but during this phase, you should capture targets without bkb to maximize your teamfight advantage (rather than catching the shopper).
Bkb just wasted effort because it didn't have time to pull it back, it already turned on bkb, the ultimate with a green stick won't work in this case). You should place the ring correctly in the teamfight then add Static storm to the ring to isolate the enemies standing inside, create safety as well as overwhelming your team (mainly the enemy's backline). , like carry, nuker, support). Disruptor, if you know how to use it properly, the ability to carry the team of this support is very high.