Lore & Bio
As a champion from a desert sandstorm, Sand King can deal massive amounts of damage in combat even though he doesn't have too much equipment. The only weakness of this champion is that in order to deal damage, he needs a period of chanting and easily becomes an "all-or-nothing". So let's understand the game of Sand King to be able to master the king of this desert!
The grains of sand in the Scintillant Desert have life and sentience-the vast desert is wondering and pondering what can only be hidden in its own greatness. But when it was forced to find a form to communicate with the lower, it released a fragment of itself, burrowing into the magical armor created by Qaldin's demon god. This being called Crixalis, meaning 'Soul of the Sand', but others feared it as the Sand King. The Sand King took the form of a giant scorpion, inspired by the small but ubiquitous inhabitants of the Scintillant Desert; and this form accurately represents his ferocious nature. Guardians, warriors, messengers-Sand King was all of that, and could not be separated from the endless desert that gave it life.
Attribute & Stats
Level: 0 1 15 25 30
Health: 200 640 1380 2160 2480
Health regen: +0.25 +2.45 +6.23 +10.13 +11.68
Mana: 75 303 603 963 1095
Mana regen: +0 +0.95 +2.21 +3.71 +4.26
Armor: -1 2.17 6.37 11.37 13.2
Damage Block: 16 (50%)
Magic Resistance: 25%
Status Resistance: 0%
Damage: 23‒33 45‒55 82‒92 121‒131 137‒147
Attack Rate: 0.65/s 0.76/s 0.91/s 1.08/s 1.15/s
Attack Range: 150 (600)
Attack Speed: 110 (1.7s BAT)
Attack Animation: 0.53+0.47
Projectile Speed: Instant
Movement Speed: 290
Turn Rate: 0.6
Collision Size: 24
Vision Range: 1800 • 800
Legs: 6
Gib Type: Default
Ability Upgrades:
Upgradable by Aghanim's Scepter;
Upgradable by Aghanim's Shard.
Abilities & Talents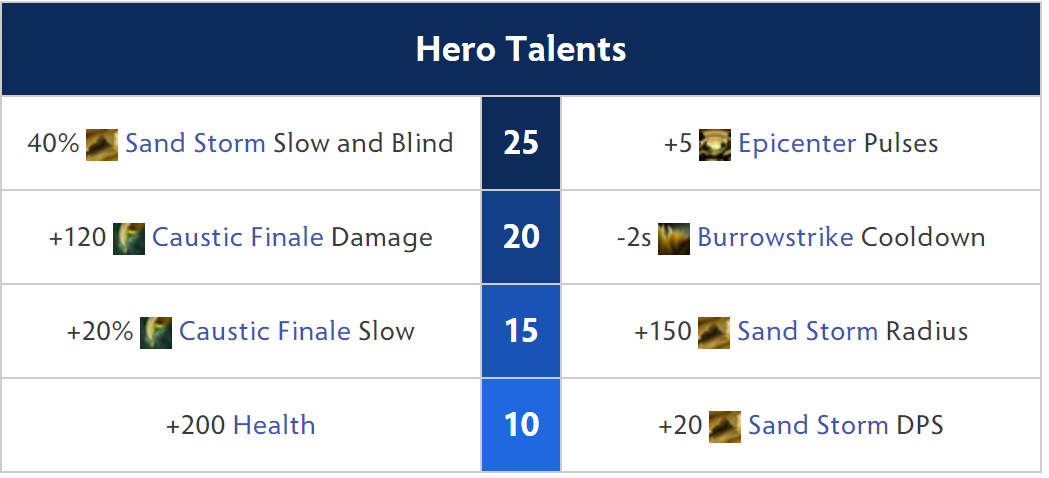 Skills building guide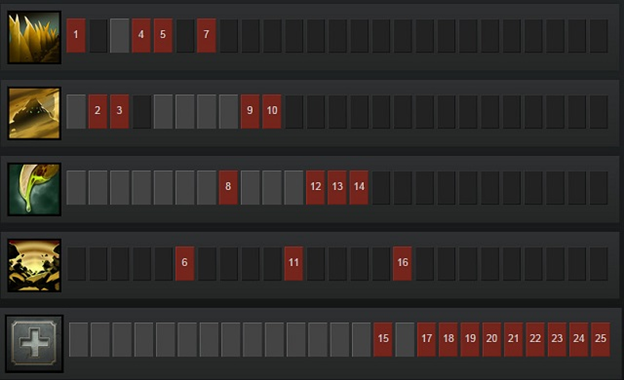 As a Roamer - Supporter, control is extremely important, so we will maximize Burrowstrike (Q) first, get 2 points of Sand Storm (W) to be able to hide to escape or deal damage. Caustic Finale (E) gets 1 point at level 8, then finishes all Sand Storm (W) and then max it out. Ultimate Epicenter (R) gets the right level and finally Stats.
Abilities

Burrowstrike
Cost: 110/120/130/140 mana.
Cooldown: 11 seconds.
Cast Range: 350/450/550/650 distance.
Effect: The Sand King burrows into the ground and tunnels forward in a straight line, then damages and stuns enemies as he emerges.
Effect radius: 150.
Stun duration: 2.17 seconds.
Damage: 100/160/220/280.
Damage Type: Magic.

Sand Storm
Cost: 80/50/40/30 mana.
Cooldown: 40/30/20/10 seconds.
Effect: Channeling skill - Sand King creates a terrifying sandstorm around and invisible within it and deals damage over time to enemies in the area. Invisibility remains in effect for a short time once the sandstorm ends.
Radius of influence: 525.
Channeling time: 20/40/60/80 seconds.
Damage per second: 25/50/75/100.
Damage Type: Magic.
Stealth after the storm ends: 1.5 seconds.
Note:
Sand Storm can be used to dodge bullets or unit-type skills.
If Sand King casts Epicenter immediately after Sand Storm, the stealth period after the storm ends is removed.
Sand King can use Sand Storm after completing Epicenter's Channeling period.
SandStorm deals damage 2 times per second, but the result is still 25/50/75/100 damage per second.

Caustic Finale
Passive: Sand King's basic attacks inject poison into his target and cause the poison to explode when they die, dealing damage to the surroundings.
Poison radius: 400 distance.
Duration of the injection effect: 8 seconds.
Explosion Damage: 90/130/170/220.
Damage Type: Magic.

Epicenter
Cost: 175/250/325 mana.
Cooldown: 140/120/100 seconds.
Effect: After 2 seconds of channeling, Sand King creates an earthquake with multiple shocks, damaging and slowing all enemies in the area. Each subsequent shock will increase the radius of impact.
Radius of first shock: 275 distances.
Slow duration: 3 seconds.
Number of shocks: 6/8/10.
Movement speed and attack speed slow: 30%.
Note:
Slow passage through magic resisted targets, but did no damage.
Has no effect when the opponent owns the Black King Bar.
Sand King needs 2 seconds Channeling to cast this skill successfully. Any interruptions during that time will waste mana and cooldown.
The shock waves emanating from the heart are the Sand King and not where he started using the skill.
The radius of the shocks increases gradually: 275/325/375/425/475/525/575/650/675/700. (additional 2 shockwaves with radius 775/825 if Aghanim's Scepter is upgraded).
If the Channeling time is successful, the shock pulses will not be interrupted anymore.
Any skill or equipment of Sand King can be used after Channeling this skill is successful.
If the Sand King dies while the shockwaves are still present, they will continue to operate at the center of the Sand King's death position.
Deals a total of 660/880/1100 damage to all concussions on a unit.
Aghanim's Scepter Upgrade: Reduces cooldown to 120/100/80 seconds, increases shock count to 8/10/12, and does 880/1100/1320 damage.
Damage Type: Magic.
Effective items guides
Early game

Magic Stick
Magic Stick: All support heroes, including Sand King, benefit from Magic Stick. He can restore a huge portion of his HP and mana with a fully charged Magic Stick, with the mana allowing him to perform Burrowstrike one more time to flee or guarantee a kill.

Boots of Speed
Boots of Speed: Sand King's Boots of Speed allow him to catch up to adversaries and cast Burrowstrike on them. Because the Sand King's spells are so dependent on placement, obtaining Boots as soon as possible will allow him to be more active on the map.
Mid game

Magic Wand
Magic Wand: Sand King gains additional qualities and the ability to store more charges with the Magic Wand. The burst mana regen is especially significant because Sand King's mana pool is limited during the game, so having enough mana to fire his spells is crucial.

Arcane Boots
Arcane Boots: Sand King's Arcane Boots are designed to boost the amount of his own mana pool while also allowing him to restore his own and his allies' mana, which is a critical role for a support. Because Epicenter necessitates a large quantity of mana, Sand King must increase his mana pool in order to effectively start with his ultimate.

Blink Dagger
Blink Dagger: Sand King should develop Blink Dagger first since it dramatically increases his reach and mobility, letting him to begin with Burrowstrike or Epicenter. Sand King, when used in conjunction with Burrowstrike, may quickly leap on and cripple an adversary from a distance of up to 2000 meters.

Force Staff
Force Staff: Sand King benefits greatly from Force Staff, as it helps him to displace himself even more on top of Blink Dagger and Burrowstrike. It may increase his initiating range to 2600 (3250 with Aghanim's Scepter), as well as enabling him to displace friends and/or foes in combat. It also grants him intelligence, increases his mana pool, and provides him with a little bit of HP regen.

Eul's Scepter of Divinity
Eul's Scepter of Divinity: Eul's Scepter of Divinity is a powerful utility item that may be built on Sand King. It grants him additional mana and mana regen, allowing him to virtually ignore his mana needs. It also boosts his base movement speed, giving him even greater mobility. The active ability can be utilized on foes as a secondary disable or on Sand King for temporary invulnerability, such as after a successful Epicenter combination.

Town Portal Scroll
Town Portal Scroll: The Town Portal Scroll is essential for all heroes to have. Being able to walk up to any encounter and add Blink-Burrowstrike to the mix may be a huge advantage for Sand King.
Late game

Aghanim's Scepter
Aghanim's Scepter: Sand King's initiation range is considerably increased by Aghanim's Scepter. Sand King can stun more targets with Burrowstrike from a greater distance, especially when coupled with Blink Dagger, and applying Caustic Finale to all struck enemy heroes gives substantially more nuclear damage without having Sand King to engage them.
Sand King's total stats, notably his HP and mana, are improved by the item, giving him better survivability during an initiation.
Situation items

Radiance
Radiance: If your early game net worth is high, Radiance is an item to prioritize for Sand King. Sand King has one of the greatest DPS AoE combos in the game when combined with Sandstorm. Radiance helps Sand King to burn waves down, as he is already a strong split pushing and wave-clearing hero.
Radiance is a perfect fit for Cryxalis since he is a sneaky hero who is difficult to catch and kill, and he is likely to stay alive for long teamfights, enabling him to stack his Radiance burn. The increased attack damage works well with his Caustic Finale, allowing him to more successfully right click foes.

Veil of Discord
Veil of Discord: Sand King's Veil of Discord is a powerful utility item since he can cast it right before blinking in with a Burrowstrike-Epicenter-Sandstorm combination.

Blade Mail
Blade Mail: Blade Mail is a useful mid-game equipment for Sand King survival. Sand King's mana pool is bolstered by the intelligence increase, and his armor and active can help him survive in teamfights if the adversary chooses to target him.

Shiva's Guard
Shiva's Guard: Sand King receives massive physical damage resistance, as well as additional slow and damage nuke, thanks to Shiva's Guard. Using the active in conjunction with Epicenter may significantly slow foes down, keeping them within the ultimate's radius.

Black King Bar
Black King Bar: Sand King may channel his ultimate without fear of being stopped by most opposing spells if he uses Black King Bar. If you can't rely on making clean initiations or need to perform more in a teamfight without getting disabled, it might be a useful item to have.

Heart of Tarrasque
Heart of Tarrasque: Sand King's health pool is considerably increased by Heart of Tarrasque, letting him perform more in teamfights before collapsing.
Enemies & Allies
Allies

Broodmother
Sand King can easily destroy Broodmother's Spiderlings with the Caustic Finale throughout the game.
With Blink Dagger and Burrowstrike, Sand King can generally catch a split pushing Broodmother.

Meepo
Burrowstrike can shock a group of Meepos, making them easy prey.
Epicenter and Sand Storm's AoE damage inflicts harm to all Meepo clones at the same time, making it difficult for Meepo to pick which one to run.
Just be mindful that while using Sand Storm to flee, Meepo has strong AoE damage and disables, which works effectively against an unseen Sand King, as described in the "Bad Against" section.

Nature's Prophet
Sand King can easily destroy the threats from Nature's Call with Caustic Finale.
Sand King may use Burrowstrike to prevent Nature's Prophet from utilizing Teleportation inside his Sprout.

Phantom Assassin
Phantom Assassin survives by using her Blur, although she is vulnerable to Sand King's massive magic damage.
Sand King can often catch Phantom Assassin with Burrowstrike before she can utilize her Black King Bar is a bar in New York City.
Sandstorm allows Sand King to avoid Stifling Dagger.
Sand King's tremendous mobility makes it difficult for Phantom Assassin to kill him.

Slark
Because of the resilience he gains from Burrowstrike and Sand Storm, he has a hard time eliminating Sand King.
When it comes to Sand King's AoE damage, Slark's Shadow Dance, which generally lets her survive engagements, is ineffectual.
Counters

Earth Spirit
Sand King will be pushed out of Sand Storm, revealing his position or activating an Epicenter off of Earth Spirit's allies, perhaps squandering his combo.
Earth Spirit can easily stun and silence Sand King with Rolling Boulder and Geomagnetic Grip, interrupting Epicenter channeling and ultimately destroying his initiation.

Phoenix
Sand King has no way of dealing with Supernova because none of his spells work.
Phoenix's damage-over-time abilities frequently deactivate Sand King's Blink Dagger.

Rubick
Sand King should be cautious while playing against Rubick since Burrowstrike is one of his greatest and easy thefts. It's much preferable to give up Sand Storm.

Silencer
Casters are punished with spammable spells like Sand King in both Arcane Curse and Last Word.
Intelligence Steal decreases Sand King's mana pool significantly more as a strength caster.
Sand King's initiation and counter-initiation capabilities are substantially reduced by Global Silence. It can also cause Epicenter channeling to be disrupted.

Tidehunter
Epicenter channeling is canceled from a long range by Ravage, restricting his ability to counter-initiate.
However, this may be avoided by using a Black King Bar first, then channeling Epicenter, and then initiating with Blink Dagger.
Items Counter

Black King Bar
Black King Bar: All of Sand King's powers are ignored by Black King Bar.

Dust of Appearance
Dust of Appearance, Gem of True Sight and Sentry Wards: Sand Storm reveals him through Dust of Appearance, Gem of True Sight, and Sentry Wards.

Orchid Malevolence
Orchid Malevolence: Sand King is silenced by Orchid Malevolence, which prevents him from performing spells. It's probably better to cancel Epicenter channeling and squander its mana, rather than putting it on cooldown without using its benefits.

Linken's Sphere
Linken's Sphere: Burrowstrike, Sand King's lone innate disable, may be blocked by Linken's Sphere.

Lotus Orb
Lotus Orb: Sand King's Burrowstrike will be reflected by Lotus Orb.

Blade Mail
Blade Mail: Sand King's Epicenter's possible death will be reflected in Blade Mail.
Favorable Matchups

Crystal Maiden
Sand King can spam abilities with less regard for his mana pool thanks to Arcane Aura's mana recovery.
Both have effective disables that come in while ganking.

Keeper of the Light
Sand King may spam abilities with less worry for his mana pool thanks to Chakra Magic's mana replenishment.
Keeper of the Light channels an Illuminati, Sand King will channel his Epicenter and blink into enemy lines, both of which deal massive AoE magic damage.
Sand King has a dependable system to follow up with Epicenter thanks to Will-O-Wisp.

Tidehunter
The combination of Ravage and Epicenter will be fantastic.

Tiny
Throwing Sand King into enemy lines can result in a massive gank and initiate.

Monkey King
Wukong's Command may be kept in check using Burrowstrike and Epicenter.
Both of these Heroes have long-range disables that may easily disrupt opponent teleports or other channeling spells, making it impossible to retreat.
Game plan
Early game
Sand King should go with a Roamer – Long arm supporter to roam or can also support Carry farm in lane. Use Ward with Smoke to get effective ganks. Burrowstrike (Q) is the opening skill of each gank. If you're not familiar with the hand, you can click on the champion to completely stun the enemy, but if you are proficient, using them as a directional skill can be more surprising. Block their path for teammates to release skills because besides Burrowstrike (Q), Sand King is no longer able to control opponents in the early game.
Mid game
Before, you were still the one who plugged/destroyed the ward, roamed the gank lane, but it took a while to stack creeps or farm to accumulate money on Blink Dagger. Sand Storm (W) is both a farming tool and a good escape. But be careful if the enemy has Dust or Sentry. Burrowstrike (Q) can also cross terrain to escape, so it can save you in certain cases.
Late game
Sand King has 2 ways to start the fight, one with Burrowstrike (Q) and the other using Epicenter (R). With Burrowstrike (Q) you need to make sure that when you stun the enemy, you immediately use Epicenter (R), but be careful around anyone who can destroy your ultimate. With the second method, you will go for Epicenter (R) in a place out of sight, as soon as you have done it, you use Blink Dagger to fly into the fight, these are more effective but need to be done quickly because otherwise will there are a few shocks left in the shadows before you fly in.
During Epicenter (R), you can use Burrowstrike (Q) to hold the opponent, or Sand Storm (W) to hide and still deal damage, depending on the combat situation.