Lore & Bio
"I woke within the seed and saw my destiny, and many were its branches."
Verodicia, Goddess of the Woods, realized that her own time had come to an end and that, like one of the leaves whose fate she had imprinted in the seed, she would fall without witnessing the realization of her dream after finishing filling in the green spaces, planting the coiled-up spirit in the seed, luring the twining waters from deep within the rock, and swearing the sun its full attention to the growing things. She was sad to leave the world empty because the sprouts were still in the soil and were therefore delicate and susceptible to all kinds of harm. One final seed that she had overlooked during the sowing was discovered in her seed pouch.
She only uttered one word into the seed, which she then swallowed as she fell. Her enormous body rotted away over the long winter, turning into humus that would nourish the seedlings the following spring. That final seed ripened and burst in an instant on the morning of the vernal equinox, before the rest of the forest had even started to awaken. In full leaf, strong and wise, with the ability to predict where he would be most needed to defend the green places and anyone who might be fortunate enough to call him an ally Prophet Nature emerged from it.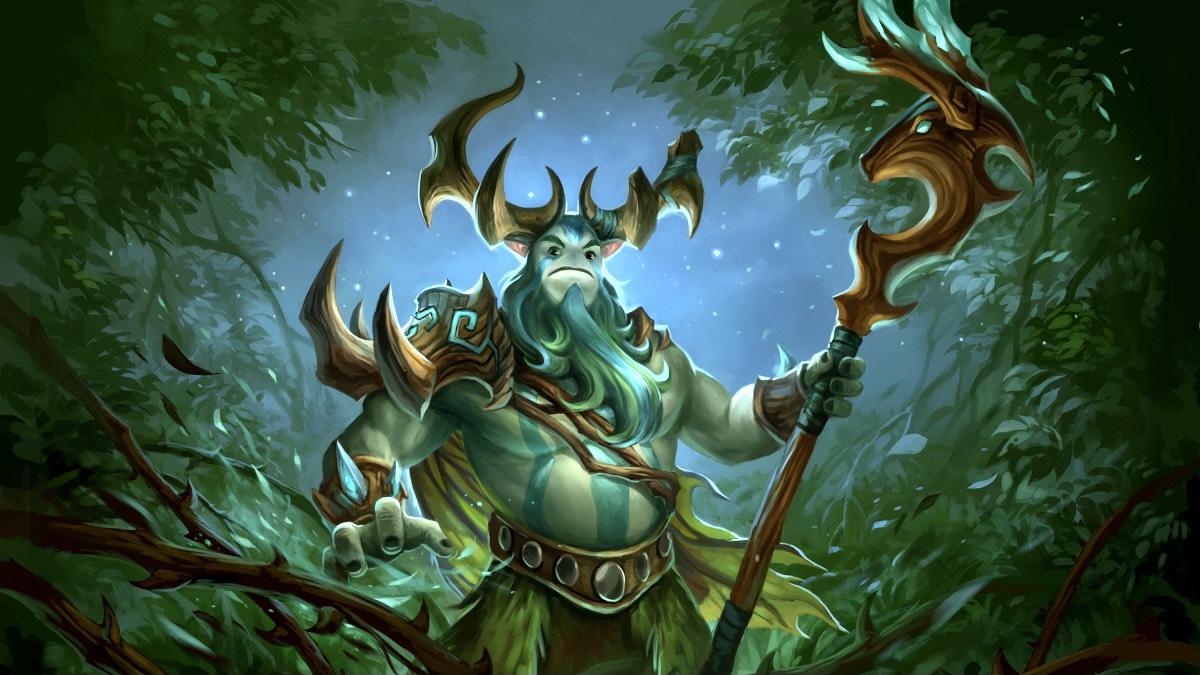 Attribute & Stats
Level: 0 1 15 25 30
Health: 200 620 1340 2100 2400
Health regen: +0.25 +2.5 +5.99+9.79 +11.29
Mana: 75 351 963 1551 1803
Mana regen: +0.75 +1.9 +4.49 +6.94 +7.97
Armor: 0 3.67 12.07 20.07 23.4
Damage Block: -
Magic Resistance: 25%
Status Resistance: 0%
Damage: 27-37 50-60 101-111 150-160 171-181
Attack Rate: 0.59/s 0.72/s 1.01/s 1.3/s 1.41/s
Attack Range: 600 (800)
Attack Speed: 100 (1.7s BAT)
Attack Animation: 0.4+0.6
Projectile Speed: 1125
Movement Speed: 295
Turn Rate: 0.9
Collision Size: 24
Vision Range: (G) 1800 • 800
Legs: 2
Gib Type: Wood.
Ability Upgrades:
Upgradable by Wrath of Nature.

Upgradable by Sprout.
Abilities & Talents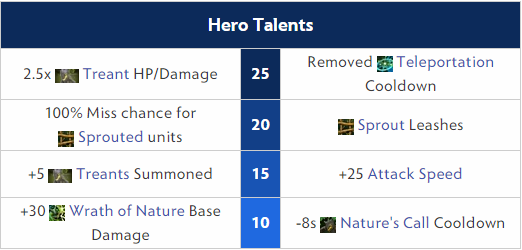 Skills building guide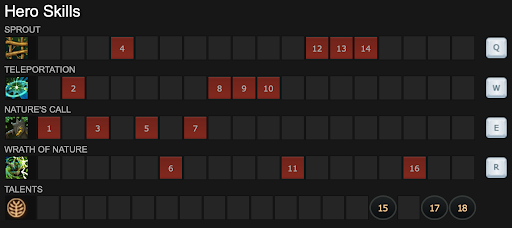 Abilities

Sprout
Mana: 70/90/110/130
Cast animation: 0.35+0.44
Cast range: 625/700/775/850
Radius: 150
Duration : 3/4/5/6
Effect: A unit is surrounded by a ring of trees that grows, trapping it and giving it vision out to 250 yards.

Teleportation
Mana cost: 50
Cooldown: 65/50/35/20
Cast animation: 3+0
Cast range: Global.
Effect: Relocate to any location on the map.

Nature's Call
Mana cost: 150
Cooldown: 37s
Cast range: 750
Duration: 60
Radius: 150/225/300/375
Effect: Under the direction of Nature's Prophet, transforms a forest of trees into Treants.
Note: As many Treants as there are trees in the targeted area can be produced by Nature's Call.

Wrath of Nature
Mana: 150/175/200
Cast animation: 0.5+0.97
Cast range: Global
Damage: 115/150/185
Cooldown time: 85
Effect: Enemies nearby the cast point who are in vision are hit by damaging energy as it bounces around the map. Damage increases after the first enemy hit. When an enemy is killed by this spell, you receive bonus damage for 50 seconds.
Effective items guides
Early game

Magic Stick
Magic Stick: Gives him a burst of health and mana that can help him survive an enemy gank or give him enough mana for one more spell.

Boots of Speed
Boots of Speed: Increase Nature's Prophet's movement speed, which is necessary for him to catch up to enemies during ganks and cast spells. Despite his strong global mobility in Teleportation, it's essential for him to move quickly enough to change positions during battles.

Town Portal Scroll
Town Portal Scroll: Increases the mobility of Nature's Prophet worldwide. A Town Portal Scroll enables him to move quickly between the front and backlines while defending a tower or ganking. Teleportation already gives him global presence without the need to target his destination at an allied building.
Mid game

Magic Wand
Magic Wand: Give Nature's Prophet more attribute bonuses, as well as more burst health and mana regeneration. Even when completely empty, a fully charged Magic Wand can provide Nature's Prophet with enough mana to cast any of his spells.

Power Treads
Power Treads: Give Nature's Prophet an increase to his stats and more attack speed. He can increase his health, mana, or base damage by using the attributes.

Shadow Blade
Shadow Blade: Increases Nature's Prophet's ability to initiate and flee, strengthening his already powerful global presence due to teleportation. When used offensively, Nature's Prophet can deal unwary enemies a potent first blow before disabling and focusing them down. When used defensively, the invisibility and faster movement allow him to avoid enemy rotations intended to stop his pushes and can be used to cast Teleportation while remaining invisible.

Orchid Malevolence
Orchid Malevolence: Is an effective pre-aggression tool. It is quick to obtain in the early game thanks to its low cost and simple buildup, and the bonuses it offers Nature's Prophet's physical attacks and let him effectively gank enemies by making them incapacitated. He can spend more time on the field without having to return to base as often thanks to the mana regeneration.
Late game

Nullifier
Nullifier: Complements Orchid Malevolence's silence with its dispel, which disables enemy options to disengage and slows them down so you can catch up, eliminating the risk when engaging a dangerous foe in combat.

Assault Cuirass
Assault Cuirass: Is a strong offensive and pushing weapon. Auto attacks become much deadlier by increasing his attack speed and giving towers and other enemy units a negative armor aura. He is also more resistant to physical harm thanks to his increased armor.

Silver Edge
Silver Edge: Enables Nature's Prophet to break important passives or simply add more damage by virtue of its crits. It is an upgrade to Shadow Blade.

Witchbane
Witchblane: The upgraded Witch Blade Revenant's Brooch increases the agility and attack speed of Nature's Prophet's right clicks, which greatly aids in bursting down enemies.

Scythe of Vyse
Scythe of Vyse: Additional lockdown is provided. When combined with Sprout, it becomes a very potent ganking and disabling item because the enemies cannot cut the trees or escape from them. Also appreciated are the extra stats.

Bloodthorn
Bloodthorn: Is a fantastic improvement over Orchid, increasing damage output.
Situation items

Hand of Midas
Hand of Midas: Obtaining this early, at the expense of early aggression, can significantly increase his late-game potential by accelerating gold and experience gain. Additionally, to increase damage per second, the bonus attack speed will make use of disabler abilities.

Scythe of Vyse
Scythe of Vyse: Gives Nature's Prophet a hex ability, giving him another way to control enemies' movements on top of Sprout, greatly increasing his ganking power. Along with giving him more damage and mana, as well as all-around attributes and potent mana regeneration, it also significantly raises his intelligence.

Aghanim's Scepter
Aghanim's Scepter: Increases the power of Wrath of Nature, reducing its cooldown and giving all enemies it hits a root.

Phase Boots
Phase Boots: It can increase Nature's Prophet's threat in ganks by enabling him to move into position more quickly after casting Teleportation, to corner an opponent with Sprout, and deal more devastating attacks. It also increases his attack damage.

Desolator
Desolator: Can significantly increase the offensive and pushing potential of Nature's Prophet. His physical attacks are much deadlier due to the targets' increased damage and armor reduction; this lets him soften gank targets or lower tower armor to speed up pushes.

Drum of Endurance
Drum of Endurance: Due to its active, which increases the movement and attack speed of himself and allies, assists Nature's Prophet in ganks and pushes.

Force Staff
Force Staff: Depending on the circumstance, can be a useful item to purchase on Nature's Prophet. By enabling him to swiftly change positions, it can improve his mobility by enabling him to do things like push himself off a cliff, move allies, or break Linken's Sphere on a gank target before other disabilities.

Blink Dagger
Blink Dagger: Can significantly improve Nature's Prophet's ability to dodge enemy ganks and move around. The Blink Dagger can be used to instantly jump away to evade any enemies trying to rotate in after using Teleportation to get to a lane for a push. On gank targets, it can also be used to initiate more quickly.

Dagon
Dagon: Gives Nature's Prophet considerably more ganking power because he can instantly reduce a portion of a gank target's health, increasing the likelihood of successful kills. His capacity for farming and killing also enables him to upgrade it, ensuring that it is effective for the duration of a game.

Mjollnir
Mjollnir: Is a potent all-purpose pushing and combat item. Nature's Prophet can quickly dispatch creep waves thanks to his greatly increased attack speed and attack modifier, which also boosts the power of his attacks during ganks and teamfights. By processing the shield, the active can be used to increase damage output.
Enemies & Allies
Allies

Lich
Chain Frost's ability to jump to Nature's Prophet or his allies can be stopped by his treants.

Monkey King
Tree Dance by Nature's Prophet's Nature's Call can kill trees while Monkey King is atop them, rendering him temporarily unconscious.

Treant Protector
Trees that the Treant Protecter is hiding in can be destroyed by Nature's Prophet's Nature's Call, exposing him.

Venomancer
Natures Prophet can use teleportation to protect himself from the long-term harm caused by Venomous Gale, Poison Sting, and Poison Nova.

With Nature's Prophet's Treants, plague wards can be destroyed.

Weaver
Weaver can be trapped in his lane using Sprout with True Sight items like Sentry Ward or Dust of Appearance icon.png Dust of Appearance until he purchases Quelling Blade or until he unlocks Time Lapse.

With the help of Nature's Prophet's Treants, the swarm beetles can be eliminated.
Counters

Batrider
Sprout's trees can be destroyed by Batrider and Nature's Prophet's Treants can be eliminated using Firefly.

Nature's Prophet cannot use Teleportation to escape because of the Flaming Lasso.

Broodmother
With the help of Spawn Spiderlings, Broodmother can eliminate Nature's Prophet's Treants and replace them with spiderlings.

The item Orchid Malevolence icon.png, which can stop Nature's Prophet from using Sprout and Teleportation to flee, is a favorite of the broodmother.

Clockwerk
It is incredibly difficult for Nature's Prophet to split push and show on the map by themselves due to Clockwerk's long range initiation and catch.

If Nature's Prophet is hiding in the woods, Rocket Flare can be used to locate him and can also give Sprout vision.

Death Prophet
Treant waves are cleared by Crypt Swarm.

Nature's Prophet is unable to use Sprout or Teleportation when there is silence.

Treants are easily destroyed by exorcism.

Doom
Doom can devour the creatures of Nature's Prophet and gain a lot of gold.

To quickly eliminate a horde of Treants, Doom can purchase Radiance or use his Scorched Earth.

Nature's Prophet is unable to use Sprout and Teleportation to flee due to Doom and a ministun from Infernal Blades.

Earthshaker
If Nature's Prophet and his teammates are standing close to his Treants, Echo Slam can deal a lot of damage to them.

Elder Titan
If Nature's Prophet sends every single one of his Treants at once, Astral Spirit can give Elder Titan a lot of damage and movement speed.

Echo Stomp not only stops Nature's Prophet from using Teleportation to escape, but Astral Spirit can also be used to get around Sprout and stop Teleportation with its own Echo Stomp from a great distance.

Nature's Prophet's Treants can be effectively eliminated by Earth Splitter.

Ember Spirit
Battle Fury with Sleight of Fist Icon If Nature's Prophet's team approaches his Treants, Battle Fury deals a lot of damage to them and easily dispatches all of the Treants.

Boots of Travel and Ember Spirit with Fire Remnant icon.png When Nature's Prophet tries to push, Boots of Travel can be very active around the map, allowing him to teleport out quickly and defend the target he is attacking.

Jakiro
He can get away from Sprout with the aid of Jakiro's Macropyre, which also dispatches Treants quickly.

Jakiro can thwart Nature's Prophet's attempt to flee by using Ice Path, Sprout, and Teleportation.

Lina
With the help of her Light Strike Array, Lina can easily thwart attempts by Nature's Prophet to teleport away, and she can quickly clear Sprout's trees.

Treants belonging to Nature's Prophet can be killed by Lina's Dragon Slave and Light Strike Array.

Luna
Moon Glaives and Lunar Blessing aid Luna in dispatching the treants of Nature's Prophet quickly.

Luna's Lucent Beam makes it simple to stop teleportation.

Meepo
Meepo can use Earthbind to capture Nature's Prophet's treants before Poofing them to end his pushing.

By combining Poof and Boots of Travel icon.png Boots of Travel, skilled Meepo minimap can rival and even surpass Nature's Prophet's global presence, which means that he can not only stop his push but also kill him if he is not careful.

Naga Siren
A natural split-pusher, Naga Siren. She will effortlessly maintain the lanes pushed out with a Radiance icon.png Radiance equipped, keeping backdoor protection enabled and preventing Nature's Prophet from causing building damage.

Teleportation is prevented by ensnare.

Even if the Nature's Prophet has hidden inside Sprout, Song of the Siren will prevent him from escaping.

Sand King
Treants will be easily killed by Sand King's Caustic Finale in combination with Sand Storm.

Even through Sprout, Sand King can use Burrowstrike to stop teleportation.

Shadow Shaman
If used defensively, the Mass Serpent Ward ability of the Shadow Shaman and Ether Shock can quickly eliminate a large number of Treants.

With Teleportation, Hex and Shackles can thwart Nature's Prophet's attempts to flee.

Spectre
Spectre can always teleport to him thanks to Shadow Step's short cooldown whenever he decides to push.

If Nature's Prophet is equipped with a Skull Basher or an Abyssal Blade, Spectre can pass through Sprout's trees and stun her with a Spectral Dagger.

Spectre enjoys purchasing Radiance because it can quickly dispatch Nature's Prophet's Treants.

Spirit Breaker
Charge of Darkness allows Spirit Breaker to pursue Nature's Prophet from anywhere on the map, making it difficult for Nature's Prophet to split-push.

When Nature's Prophet tries to sprout and teleport away, Charge of Darkness and Nether Strike give him a vision of the Prophet of Nature.

Storm Spirit
Ball Lightning can be used to easily destroy Sprout and eliminate Nature's Prophet's Treants.

Nature's Prophet cannot use teleportation to escape due to the Electric Vortex.

Timbersaw
Timbersaw can easily escape Sprout thanks to all three of his skills, and he can also flatten nearby trees to prevent Nature's Prophet from spawning Treants.

Timbersaw can easily cut down all of its trees to reach Prophet and deal more Whirling Death damage if he attempts to teleport or self-sprout away from the area.

Teleports are strongly discouraged by Chakram.

With all of his abilities that deal pure damage in an area of effect, Timbersaw is quite well suited to quickly dispatching large waves of Treants, preventing Nature's Prophet from pushing.

Reactive armor can receive a lot of charges from Treants very quickly.

Tinker
Tinker has excellent map presence thanks to Keen Conveyance and Rearm, so whenever Nature's Prophet tries to push, he can always teleport and defend towers.

Laser stops Nature's Prophet from launching an assault. Furthermore, Nature's Prophet cannot hit towers or buildings while the effect is active, not even with Monkey King Bar.

Underlord
Treants are easily dispatched by Firestorm, and his Atrophy Aura grants him temporary damage for each Treant killed.

Teleportation channeling can be halted by Pit of Malice.

Nature's Prophet has no other effective way to deal damage, and Atrophy Aura greatly reduces his damage output.

Nature's Prophet heavily relies on split-pushing, which Fiend's Gate can combat.

Visage
Nature's Prophet lacks an innate ability to effectively combat Gravekeeper's Cloak or eliminate Visage Familiar.

Flying over the Sprout-made trees is possible for familiars. In situations where Nature's Prophet tries to use teleportation, they can also transform into stone.
Items Counter

Boots of Travel
Boots of Travel: Allows heroes to teleport to the defense in the event that Natures Prophet attempts to split push.

Quelling Blade
Quelling Blade: Upgrade for Quelling Blade the Battle Fury icon Unless Nature's Prophet has an Aghanim's Shard, Battle Fury lets heroes cut down trees and let them get away from Sprout.

Heaven's Halberd
Heaven's Halberd: Because his basic attacks are his only source of damage other than Wrath of Nature.

Force Staff
Force Staff: Hurricane and the Force Staff Even when silenced by Nature's Prophet's common item, Orchid Malevolence, Pik allows heroes to flee from Sprout.

Battle Fury
Battle Fury: Battle Fury, Maelstrom, Mjollnir, Gleipnir, and Radiance help clear waves of Treants.
Favorable Matchups

Tiny
Tiny can use Sprout to grow enough trees for him to throw all six of them in a Tree Volley, allowing him to use this ability away from large clumps of trees.

Skywrath Mage
Skywrath Mage can use Mystic Flare after Nature's Prophet uses Sprout to trap an enemy.

Ancient Seal can prevent an enemy from using an ability to free themselves from Sprout and significantly increases the damage of Wrath of Nature.

Bloodseeker
Nature's Prophet can teleport and finish off targets with low HP using Thirst's vision, or simply use Wrath of Nature.

Invoker
When Nature's Prophet ganks with Sun Strike, Invoker can assist him anywhere. Sun Strike will also hit if the target is trapped by Sprout.

Windranger
Heroes who are trapped by Sprout will be stunned for the duration of Shackleshot.

Timbersaw
Timber Chain can be used with Sprout's trees.

Timbersaw gains bonus damage with Whirling Death against the trapped enemy hero thanks to Sprout.

Riki
Sprout can ensure that Riki can use all of his Tricks of the Trade attacks without the enemy being able to run outside of its radius.

Smoke Screen traps enemy heroes in Sprout who rely on an escape ability.

Mars
Spear of Mars is a reliable stun when an enemy is Sprouted.

Zeus
With Thundergod's Wrath and Nimbus, Zeus can assist Nature's Prophet from afar. Both also provide global vision, allowing enemy heroes to be targeted with Wrath of Nature later on.

Zeus can scout and remove enemy wards that may impede Nature's global mobility across the map.
Game plan
Early game
You have a lot of right-click output in the early game, so feel free to harass the enemy while also farming the lane. Upgrade ultimate without a doubt when you reach level 6, as it hurts a lot in the early game. Simply cast your ult whenever your team is fighting for kills, as this ability allows you to secure kills. You can also use your teleport to snipe the courier.
Mid game
Because you are the strongest in the mid game, feel free to jump on enemies to gank. Teleport to the enemy and request assistance from your teammates in ganking them. Remember to teleport to a team fight and assist your teammates if you are strong. If you see a creep wave pushing, you can teleport to that lane and push it out.
Late game
In the late game,you are comparably weaker so avoid engaging enemy heroes one-on-one and always move in groups. If you think your team isn't going to win a particular fight, don't enter like you're in the middle of the game; instead, go push the other lanes. If you think your team is winning, enter and support them. As I previously mentioned, you are significantly weaker in the late game, but your troops are at the peak of their abilities, so always split push. Push the lane whenever the opposing team is not noticing you, such as when they are engaged in bottom-to-top combat. This will either force the opposing team to also tp top and.