Lore & Bio
" It is only right that I am cast into this world, for I had a hand in breaking it."
Have you ever wondered, "How did this world come to be?". "Why is it that of all the worlds created, only this one has such strange properties, with a diverse and mixed collection of creatures, societies and civilizations? The answer – someone will whisper to ask the Titans."
The Builders have been here since before the Beginning – if not born at the same time as reality began to take shape. Walking with the first energies of the universe, their wish is nothing more than to continue the work of creating reality with their own hands. So they buried themselves in the forging of matter according to their own will: beating and heating, bending and blowing.
Until matter was no longer a difficult challenge, they turned their focus to themselves, forging mind and soul until becoming a creature of extraordinary endurance. And in the end, reality becomes the ultimate goal of their career. However, in this great career, they did it wrong from time to time. Because when ambition is too big, mistakes are inevitable.
The man we know as the Elder Titan was a great pioneer who thoroughly studied the forging of reality. While practicing his skills, he smashed something he considered uneditable and threw it aside. But then the Elder Titan fell into the very world he had destroyed, along with his broken soul. Here he rummaged through jagged patches of space and fractured planes, along with other fragments that had fallen through the fissures of the starting universe.
And this is precisely why the world as we know it is like a collection of drifting pieces, the remains of a long-forgotten mess. Forgotten by everyone else, except for one who always blames himself. He spent his eternity trying to find a way to fix the world, so that he could find the rest of his soul, so that we and the whole world could be healed. This is the Elder Titan we know.
Attribute & Stats
Level: 0 1 15 25 30
Health: 200 720 1560 2400 2740
Health regen: +0.25 +2.85 +7.05 +11.25 +12.95
Mana: 75 351 615 951 1071
Mana regen: +0 +1.15 +2.27 +3.67 +4.17
Armor: 0 2.33 6.53 11.53 13.37
Damage Block: 16 (50%)
Magic Resistance: 25%
Status Resistance: 0%
Damage: 23‒33 49‒59 91‒101 133‒143 150‒160
Attack Rate: 0.59/s 0.67/s 0.82/s 1/s 1.06/s
Attack Range: 150 (600)
Attack Speed: 100 (1.7s BAT)
Attack Animation: 0.35+0.97
Projectile Speed: Instant.
Movement Speed: 310
Turn Rate: 0.6
Collision: Size 24
Vision Range: 1800 • 800
Legs: 2
Gib Type: Default.
Ability Upgrades:
Upgradable by Aghanim's Scepter - Astral Spirit.

Upgradable by Aghanim's Shard - Echo Stomp.
Abilities & Talents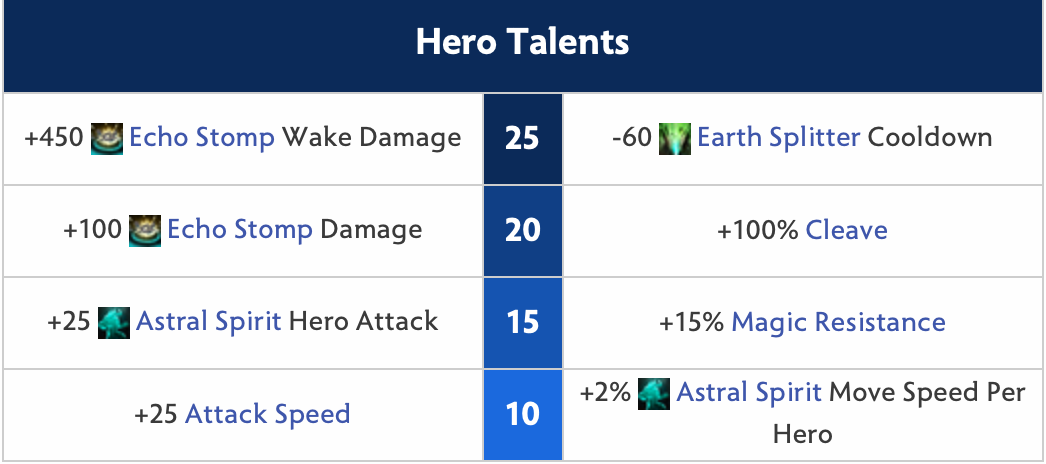 Skills building guide

Alternately raise Echo stomp (Q) and Astral Spirit (W) to perform combos that cause the most control time and poke the enemy, and ET can also farm with Astral Spirit (W). At later levels, you take the Natural order (E) note because at this point the opponent has quite a bit of armor and magic resistance, so this skill will maximize its effectiveness. Ultimate of course get the correct level.
Abilities

Echo Stomp
Consumption: 100 mana.
Cooldown: 15 seconds.
Effect: Raises foot and stomps the ground after a period of preparation, dealing 80/90/100/110 damage and causing enemies in the area to fall asleep for 1 time.
Effect radius: 500
Sleep time: 2/3/4/5 seconds.
Note: when ET stomps but the Astral Spirit skill is not available or not used, ET creates an Astral Spirit that stands at his position and stomps, the damage from the Spirit is magic damage.

Astral Spirit
Cost: 80/90/100/110 mana.
Cooldown: 16 seconds.
Usage range: 1200
Effect: release a soul at the specified location. This spirit is controllable, traverses terrain, and can use ET's Echo Stomp, which deals 60/90/120/150 damage to all enemies it passes through once only. Best. After reactivating this ability or its duration expires, this spirit returns to ET, granting him 1 bonus damage and movement speed based on the number of enemy units hit.
Damage radius: 275
Effect duration: 8 seconds.
Bonus Movement Speed: 1% per minion and monster, 5% per enemy champion.
Bonus Damage: 6/9/12/15 per minion and monster, 10/20/30/40 per enemy champion.
buff duration: 9 seconds.
Note: Soul's Echo stomp damage is magic damage, ET and Spirit will stomp Echo Stomp at the same time.
Natural Order
Effect: When enemies are near ET and his soul, they will lose 40%/60%/80%/100% of their base armor and 12%/19%/26%/33% magic resistance.
Radius of influence: 275
Note: the base armor here is the starting armor + armor bonus from the Agility stat (including the Agility stat plus from the item), the bonus armor from the equipment that adds straight armor (like Ring of Protection, Chain mail, Plate mail,…) are not affected.

Earth Splitter
Cost: 125/175/225 mana.
Cooldown: 100 seconds.
Usage range: 2400
Effect: Creates a crack that runs slowly across the ground in the specified direction, after a period of time, the crack breaks, dealing damage equal to 30/40/50% of his maximum health. Enemies standing in the crack's area of effect also draw them back to the crack's centerline then slow their movement speed.
Movement Speed Slow: 30%/40%/50% seconds.
Slow duration: 3/4/5 seconds.
Suction radius: 300
Breaking crack time: 3.14 seconds.
Upgraded by Aghanim's Scepter:
Bonus Effect: Grants Disarm ability to enemies hit.
Impact time: 4/5/6 seconds.
Note: half of the damage this skill deals is magic damage, the other half is physical damage.
Return Astral Spirit
Cast Animation: 0+0
Return Speed: 900
Effect: The Astral Spirit is returned to Elder Titan.
Effective items guides
Early game

Boots of Speed
Boots of Speed: Elder Titan's Boots of Speed provide him increased movement speed, letting him to avoid ganks from opponent supports in the offlane early on while also allowing him to get in position for his spells more swiftly. It also boosts Astral Spirit's mobility, which is dependent on Elder Titan's own movement speed.

Magic Stick
Magic Stick: Elder Titan may use the Magic Stick to gain burst health and mana. In an emergency, a fully charged Magic Stick can allow Elder Titan to perform any of his non-ultimate spells once more, as well as his ultimate spell if he is not entirely out of mana.

Wind Lace
Wind Lace: Wind Lace grants Astral Spirit a slight movement speed boost, allowing it to reach more troops; it may subsequently be upgraded to Tranquil Boots and Eul's Scepter of Divinity.
Mid game

Magic Wand
Magic Wand: Elder Titan gains traits from the Magic Wand, as well as a way to swiftly restore life and mana.

Tranquil Boots
Tranquil Boots: Astral Spirit can traverse through more units with the help of Tranquil Boots, which gives health restoration and enhanced movement speed.

Soul Ring
Soul Ring: Elder Titan's ability to cast spells may be considerably enhanced by equipping a Soul Ring, which allows him to drain mana from his health pool.

Eul's Scepter of Divinity
Eul's Scepter of Divinity: Eul's Scepter of Divinity grants Elder Titan and Astral Spirit extra movement speed, as well as mana and mana regeneration, allowing him to keep using his abilities. Cyclones can also activate Echo Stomp or Split Earth.
Late game

Rod of Atos
Rod of Atos: Rod of Atos has strong health and mana-boosting abilities, and the active root can set up Echo Stomp or Split Earth.

Lotus Orb
Lotus Orb: Elder Titan's tankiness is increased by the Lotus Orb, which gives armor and health restoration as well as mana regeneration to power his spell casting. Echo Shell can be used on an ally to prevent the adversary from casting specific spells on them, or on Elder Titan himself to boost his durability when fighting directly against the enemy.

Shiva's Guard
Shiva's Guard: Shiva's Guard is a powerful physical survival item that offers Elder Titan extra intelligence for casting spells as well as an active slow that helps him. Slowing down the opponent can make it more difficult for them to flee, enabling Elder Titan to catch up and apply his Natural Order aura, or it can be piled on top of a successful Earth Splitter to keep the enemy clumped together.
Situation items

Orb of Venom
Orb of Venom: Elder Titan's assaults are slowed by the Orb of Venom, allowing him to maintain Natural Order while hunting down adversaries in the early game.

Infused Raindrops
Infused Raindrops: Infused Raindrops is a decent survivability item to buy early because it regenerates mana and prevents some magical damage.

Arcane Boots
Arcane Boots: If Elder Titan is being constructed to spell rather than brawl, Arcane Boots will come in handy. It expands his mana pool and allows him to restore his own and his teammates' mana, substantially improving his utility and ensuring that he always has enough mana to perform spells in combat.

Force Staff
Force Staff: If Elder Titan is created in a support-utility capacity, Force Staff provides several advantages. The item's components are simple to assemble, and it improves his mana pool while also providing some health regeneration and an active that aids in placement, which is important for casting spells.

Meteor Hammer
Meteor Hammer: Meteor Hammer boosts strength, intellect, and regeneration, all of which assist Elder Titan stay alive. Additionally, Echo Stomp's extended sleep duration is an excellent setup for Meteor Hammer's channeling period, allowing him to stun and damage foes in the region.

Glimmer Cape
Glimmer Cape: The Glimmer Cape gives invisibility and resistance to magic, allowing you or an ally to flee.

Drum of Endurance
Drum of Endurance: Elder Titan gains helpful qualities across the board from the Drum of Endurance, as well as an aura that grants mobility and attack speed. Elder Titan gains an advantage in teamfights thanks to the aura and its active component, especially when paired with Astral Spirit's benefits.

Vladmir's Offering
Vladmir's Offering: Vladmir's Offering is a high-durability Elder Titan item with good accumulation because of the low cost of its components. It delivers an armor aura that increases Elder Titan's and his allies' resistance to physical damage, as well as damage and lifesteal auras that provide significant advantages in teamfights. Elder Titan's mana pool is also maintained thanks to the mana regeneration.

Crimson Guard
Crimson Guard: Crimson Guard provides Elder Titan with damage reduction, armor, and increased health. His active ability allows him to boost his team's resistance against physical assaults.

Pipe of Insight
Pipe of Insight: Pipe of Insight protects Elder Titan and his comrades from magical damage while also letting him participate in teamfights and use Natural Order against the adversaries.
Enemies & Allies
Allies

Meepo
Meepo lacks the ability to retreat in time to avoid an Echo Stomp, especially if Elder Titan is his current target.

Clones are treated as heroes, boosting the effectiveness of Astral Spirit's benefits, such as the spell immunity bonus from Aghanim's Scepter.

Meepo's great agility, along with his poor strength increase, makes him a valuable target for Natural Order.

Meepo and his clones prefer to join up in teamfights or ganks to hunt and kill, and can be readily neutralized with Echo Stomp.

Morphling
Meepo lacks the ability to retreat in time to avoid an Echo Stomp, especially if Elder Titan is his current target.

Clones are treated as heroes, boosting the effectiveness of Astral Spirit's benefits, such as the spell immunity bonus from Aghanim's Scepter.

Meepo's great agility, along with his poor strength increase, makes him a valuable target for Natural Order.

Meepo and his clones prefer to join up in teamfights or ganks to hunt and kill, and can be readily neutralized with Echo Stomp.

Phantom Lancer
Due to his lack of disables, Phantom Lancer finds it difficult to halt Echo Stomp from channeling.

Because his abilities have a long cast time, a competent Phantom Lancer can employ Manta Style and/or Doppelganger to avoid them.

Because of his great mobility and low strength, Phantom Lancer is extremely vulnerable to Natural Order.

Echo Stomp and Earth Splitter can also help remove his wave of illusions.

When Phantom Lancer invests in Heart of Tarrasque, Earth Splitter causes greater damage to him and his illusions.

Slark
Slark cannot acquire armor from the agility taken with Essence Shift because of the Natural Order aura.

Slark may be attacked by Echo Stomp and Earth Splitter thanks to his Shadow Dance ultimate.

Without his agility-based armor, Slark's stats increase is quite minimal compared to most agility carriers, making him rather squishy.

Terrorblade
Terrorblade has a lot of ultimate orb-based equipment and has a lot of base armor ( Manta Style and Eye of Skadi). Natural Order has an effect on armor obtained by agility, effectively decreasing armor to zero if all armor is obtained through agility. With Terrorblade's low health and this effect, an Elder Titan with an early value point in Natural Order may be a devastating adversary.

In teamfights, Terrorblade's illusions are frequently gathered together, making them more vulnerable to Echo Stomp.

Viper
Natural Order may be catastrophic, destroying all armor and drastically reducing the efficacy of Corrosive Skin, lowering Viper's magic resistance. Because Viper is an agility hero with a lot of agility items in his item setup, Natural Order can be deadly. Additionally, both magical and physical damage is dealt by Echo Stomp and Earth Splitter, which can help knock Viper down quickly.

Due to the break in Nethertoxin, Aghanim's Scepter may be required to defeat Viper.
Counters

Brewmaster
Brewmaster Earth has passive Spell Immunity, letting him stroll inside the Echo Stomp radius and use his Hurl Boulder to stun Elder Titan.

Storm's Cyclone can negate the channeling of Echo Stomp and pull Elder Titan out of the fight for 6 seconds, according to Brewmaster Storm.

Clockwerk
Due to Elder Titan's poor cast animation, Battery Assault's constant mini-stun makes it difficult for him to perform his spells.

If timed appropriately, Elder Titan's channeling with Echo Stomp creates an excellent setup for Hookshot.

Lich
Frost Shield helps to compensate for Natural Order's armor loss.

Lion
He could cancel your Echo Stomp if he has a bunch of disables with excellent range.

Elder Titan's already low mana pool may be drained with Mana Drain.

Sven
Echo Stomp is interrupted by Storm Hammer.

Juggernaut
Although Earth Splitter pierces spell immunity, Blade Fury renders Juggernaut resistant to Elder Titan's stun, thus there's a good probability he won't be caught in your ultimate.

Enchantress
Without Spell Immunity, Untouchable significantly reduces Elder Titan's physical damage output on her.

Enchant has the ability to remove the Astral Spirit's benefit without removing Spell immunity.

If she survives the complete combination and manages to juke around, Nature's Attendants can defend her.

Earthshaker
Because of Aftershock, all of his abilities can stun Elder Titan and stop Echo Stomp's channeling.

Fissure is especially useful for this because of its extended range.

Elder Titan is very reliant on his spells, and a chain-stun combo will almost always result in death.
Items Counter

Aeon Disk
Aeon Disk: Aeon Disk might negate your combo's damage and make it difficult to finish off your targets.
Favorable Matchups

Disruptor
Elder Titan's Echo Stomp works well with Glimpse and Kinetic Field, and vice versa.

A Static Storm may be created by using Echo Stomp.

Faceless Void
The Chronosphere is ideal for an Earth Splitter. Remember to use your Astral Spirit to apply your Natural Order aura to the trapped heroes inside the Chronosphere.

Kunkka
When used in conjunction with Kunkka's Torrent and Ghostship, Echo Stomp may quickly wipe out an entire opposition team if used appropriately.

Slardar
Corrosive Haze's negative armor and the Natural Order aura combine to render opposing heroes vulnerable to physical damage.

Luna
The combination of Luna's Lunar Blessing and Astral Spirit may deal massive damage against Elder Titan's basic strikes.

Luna may use Echo Stomp and Earth Splitter to temporarily cripple opponent heroes, allowing her to kill them with Luna's Eclipse.
Game plan
Early game
Elder Titan is quite passive in the early game due to his skills needing a smooth combination and very difficult to use, but once he reaches level 7 on, he is really dangerous in the opening of teamfights. Elder Titan can go hard lane or dual lane, tri lane. It is necessary to have enough levels to be able to exert power. The combo is also simple, but requires precise timing and location: shoot Astral Spirit (W), choose a position then use Echo stomp (Q) and use ultimate. Going roam / gank, you just need to use combo 2 moves is enough, if necessary, use ultimate. You can use Soul to scan questionable locations, detect opponents, or block some directional skills.
Mid game
At this stage you have to know the balance between farming and roam/gank. The Town portal scroll is an indispensable item in your inventory.
Late game
You are an initiator, so leaving the squad at this stage is extremely dangerous if your teammates are beaten down or forced to fight without people, what you need to do is use your skills correctly. to arrange the most beneficial combat for your team. When you have a Refresh orb and a standard combo for the first turn, up to 96.69% of the next combo will hit (if you have enough mana), then make sure the opponent will run away or wait for your team to collect them all because ET is an Initiator extremely strong.