Lore & Bio
"The blessing of Nyx gives me all the purpose I require."
An old book of entomological oddities is hidden away in the Archive of Ultimyr, shelved between academic works on dragon cladistics and books of unintelligible spells. The book, compiled by academics, describes the telepathic skills of the zealot scarab, an odd species of social insect with abilities specific to each of the seven planes.
Nyx Assassin did not emerge from metamorphosis with the sluggish thoughts and blunted appendages typical of the worker caste of his kind, unlike the majority of grubs in his colony. He underwent a unique transformation, assisted by Nyx's grace. From among the many, he was chosen and anointed with a substance from the queen goddess herself. Not everyone makes it out of the dark blessing of the queen's chamber, but he did. He had a perceptive mind, claws like daggers, and razor-sharp mandibles that raked the air as his thoughts penetrated the minds of those around him. He was the only zealot scarab chosen for the highest calling among all of them. He underwent a metamorphosis and was reborn by the grace of Nyx with powers that were specifically designed to shape him for killing in the service of his goddess.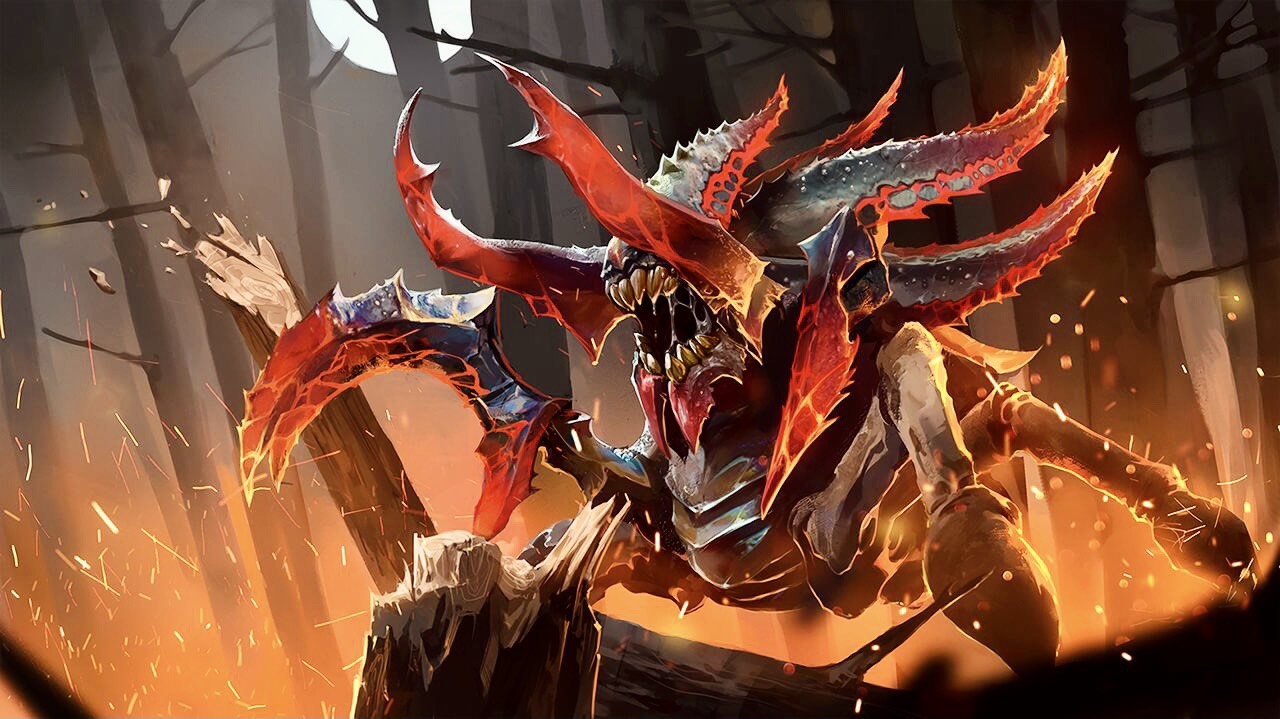 Attribute & Stats
Level: 0 1 15 25 30
Health: 200 540 1240 1980 2260
Health regen: +2 +3.7 +7.2 +10.9 +12.35
Mana: 75 327 675 1071 1215
Mana regen: +0 +1.05 +2.52 +4.17 +4.8
Armor: 1 4 9.83 16 18.42
Damage Block: 16 (50%)
Magic Resistance: 25%
Status Resistance: 0%
Damage: 27-31 45-49 80-84 117-121 131-135
Attack Rate: 0.59/s 0.69/s 0.9/s 1.12/s 1.2/s
Attack Range: 150 (600)
Attack Speed: 100 (1.7s BAT)
Attack Animation: 0.46+0.54
Projectile Speed: Instant.
Movement Speed: 310
Turn Rate: 0.6
Collision Size: 24
Vision Range: (G)1800 • 800
Legs: 6
Gib Type: Goo.
Ability Upgrades:
Upgradable by Aghanim's Scepter :
- Burrow.
- Unburrow.
Upgradable by Aghanim's Shard :
- Vendetta.
Abilities & Talents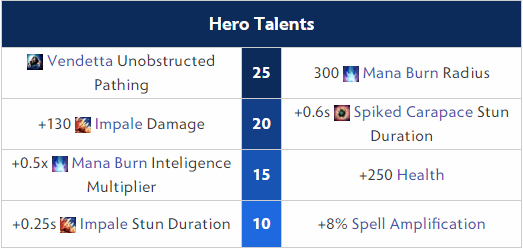 Skills building guide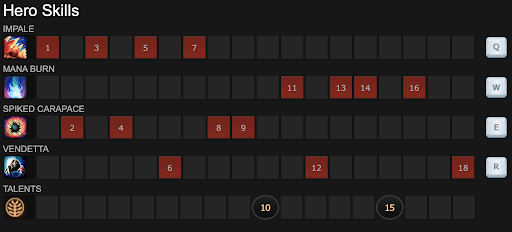 The ultimate should always be maxed out because of the increased damage, decreased cooldown, and longer duration. Impale (Q) is a good skill to max out in order to set up a kill on an enemy hero because of the stun duration and damage it deals. Mana Burn (W) and Spiked Carapace (E) are lower priority skills to max early on because they scale as the game progresses and enemy heroes become more powerful. Spiked Carapace is preferable to Mana Burn when maxed out due to its shorter cooldown and longer stun duration. Get an early point in Mana Burn (W) only when you're up against heroes with high intelligence who like to spam abilities, like Skywrath Mage, because that's when the power of the ability will be greatest. By doing so, you can maximize the value of a single early point without having to wait until the match's later stages to invest more points.
Abilities

Impale
Mana cost: 100/110/120/130
Cooldown: 17/16/15/14
Cast range: 700
Radius: 140
Effect: Straight rock spikes erupted from the ground. As they fall, stunned and damaged, enemy units are launched into the air.

Mana Burn
Mana cost: 70/80/90/100
Cooldown: 20/15/10/5
Cast range: 600
Cast animation: 0.4+0
Effect: Burns mana from the target hero, destroying it, and dealing damage corresponding to the mana burned.
Note: Mana Burn inflicts damage first, then mana loss.

Spiked Carapace
Mana: 40
Cooldown: 25/20/15/10
Duration: 2
Damage: 100%
Effect: Spiked Carapace stuns the source of damage when it is activated while Nyx Assassin is above ground and reflects and negates damage (maximum once from each source). Spiked Carapace activation won't render Vendetta invisible.
Spiked Carapace, when cast while Burrowed, instantly stuns nearby enemies.

Burrow
Mana: 0
Cast animation: 1.5+0.1
Cast range increase: 450
Radius: 300
Effect: Over a brief period of time, Nyx Assassin bury himself beneath the battlefield. Once burrowed, Spiked Carapace stuns nearby enemies instantly, increases the range of Mana Burn and Impale, and shortens the duration of Impale's cooldown. Nyx Assassin is immobile, powerless to strike, and invisible while burrowed. Nyx receives protection from all types of damage.

Vendetta
Mana cost: 180/240/300
Cooldown: 90/75/60
Cast animation: 0+0
Speed bonus: 50%
Damage: 300/450/600
Effect: Gives the speed boost and the ability to become invisible to Nyx Assassin. Massive additional damage is dealt with the attack if Nyx Assassin makes an attempt to break the invisibility.
Effective items guides
Early game

Boots of Speed
Boots of Speed: Makes it easier for Nyx Assassin to pursue or flee enemies, which is necessary to get close enough to a target to cast Impale on them.

Urn of Shadows
Urn of Shadow: Is crucial to get on Nyx Assassin as soon as possible because he can quickly obtain charges from successful ganks. It offers some inexpensive stats, armor, and mana regeneration to maintain his mana supply. The charges can be used to add more damage to a subsequent gank to increase the likelihood of success or to replenish any HP lost during a gank.

Magic Stick
Magic Stick: Gives burst health and mana, allowing the Nyx Assassin to keep casting spells.
Mid game

Arcane Boots
Arcane Boots: Are essential to acquire so that Nyx Assassin can roam for ganks. It expands Nyx Assassin's mana supply, making it easier for him to cast his entire spell combination, and it slightly speeds up his movement speed to give him a little more mobility. In order to ensure that Nyx Assassin can keep roaming without frequently returning to base, the active enables him to restock his own mana supply.

Ghost Scepter
Ghost Scepter: Is a helpful item that can be used in conjunction with Spiked Carapace to increase survivability should Nyx be targeted by automatic attacks. It also has the potential to develop into Ethereal Blade.

Blink Dagger
Blink Dagger: The mobility of Nyx Assassin is greatly increased, enabling him to engage enemies directly without using Vendetta. Spiked Carapace can be used in a pinch to stop enemy initiating nukes from putting it on cooldown, and Nyx Assassin can stun several enemy heroes at the beginning of a fight if she can quickly reposition to cast Impale.

Meteor Hammer
Meteor Hammer: Is beneficial on Nyx for two reasons: to expedite the gathering of other items, and to combine with Impale for a prolonged stun duration and a significant increase in damage dealt to your chosen target. Whenever your team needs to push, the additional building damage is also helpful.
Late game

Aghanim's Scepter
Aghanim's Scepter: Unlocks Burrow, which may provide Nyx Assassin with a significant tactical advantage against particular foes. Additionally, it enhances his overall qualities while boosting his mana supply and assisting with his survivability.
Situation items

Eul's Scepter of Divinity
Eul's Scepter of Divinity: Is a potent casting item that improves the Nyx Assassin's mobility and ganking potential. His spellcasting is sustained by his improved intellect and mana regen, preventing the need for him to return to base to resupply, while his increased movement speed offers him additional mobility for pursuing foes. The cyclone can be used to remove Nyx Assassin's buffs while granting momentary invulnerability, or it can be utilized to further impair enemies by casting it on them.

Force Staff
Force Staff: Is a useful utility item that provides Nyx Assassin with a number of potent perks. It offers greater intelligence to expand his mana pool and health regeneration to keep his health pool healthy. The active dramatically increases Nyx Assassin's mobility, enabling him to quickly change positions to cast spells or to flee from an opponent. It can also be used to reposition Nyx Assassin during Burrow and, in a pinch, as a cheap means of destroying an enemy's Linken Sphere before launching further disables and nukes.

Aether Lens
Aether Lens: Will broaden the cast range of Impale and Mana Burn, which is beneficial to counteracting their poor cast animation. You can construct it by using the Energy Booster you received with your pair of arcane boots.

Dagon
Dagon: Increases Nyx Assassin's burst damage significantly, increasing his capacity to kill. His intellect is increased by the item, making it easier for him to cast spells, and the active may be used with Impale and Mana Burn to provide extremely high burst damage to a single target in order to guarantee a kill.

Ethereal Blade
Ethereal Blade: Is a potent nuke enhancer that increases Nyx Assassin's capacity to destroy targets quickly. His primary attribute is agility, hence the increased agility will boost the damage that Ether Blast deals. Ether Blast's target's movement speed will also be significantly slowed, and their magic resistance will be severely reduced, leaving them vulnerable to Impale, Mana Burn, and Dagon.

Bottle
Bottle: Is a tremendously potent self-sustain item that increases Nyx Assassin's autonomy by allowing him to restore mana and health. Nyx is always moving about, so he may gather up runes to fill his Bottle and use them for ganks as needed.

Scythe of Vyse
Scythe of Vyse: Provides an instant ranged hard disable to Nyx Assassin, which is helpful in many circumstances. Additionally, it boosts his numbers all around, especially his intelligence for more mana and his ability to roam freely thanks to powerful scaling mana regeneration.

Lotus Orb
Lotus Orb: Enables Nyx Assassin to utilize Spiked Carapace in addition to casting the enemy's spells back at them. Nyx Assassin now has a tool to reflect opponent spells, and while it doesn't stop the damage these spells deal, Echo Shell can now reflect debuffs and stuns in addition to the damage. In addition, it offers armor to make Nyx Assassin more resistant and HP and mana regeneration for self-maintenance.

Orchid Malevolence
Orchid Malevolence: Gives Nyx Assassin a soft disable that will let him gank and kill adversaries more effectively. In addition, Nyx Assassin's strong burst damage can take advantage of the burn damage towards the conclusion of the silence to boost the likelihood of getting a kill during a gank. Silencing an adversary during a gank can prevent them from casting retaliatory disables to escape. Further enhancing Nyx Assassin's independence is the item's improved intellect and mana regeneration.

Drum of Endurance
Drum of Endurance: Is a practical stat-booster that is simple to construct. It improves Nyx Assassin's mana, attack power, and all-around traits. Nyx Assassin's movement speed is increased by the active, enabling him to pursue targets more rapidly.

Linken's Sphere
Linken's Sphere: Increases Nyx Assassin's ability to survive significantly and gives him the ability to engage and gank opponents with single-target disables. The Spell Block enables Nyx Assassin to disregard any targeted disabilities that adversaries may attempt to deal with, enabling him to carry on the pursuit and finish the adversary off.
Enemies & Allies
Allies

Invoker
The heavy damage spells of the Invoker pair perfectly with the initiation potential of the Nyx Assassin.

Impale makes it simple to aim Invoker's Sun Strike.

Nyx Assassin can easily land Impale thanks to Invoker's Tornado, Ice Wall, and Cold Snap.

Legion Commander
Duel damage is increased for Legion Commander thanks to Nyx Assassin's high burst damage.

Nyx Assassin's silences and Dust of Appearance are removed when you press the Attack button.

Lifestealer
Nyx Assassin is a good target for Infest because he can initiate with Blink Dagger and Vendetta.

Bloodseeker
Thirst aids Nyx Assassin in identifying and taking out vulnerable foes.

Impales can be placed with the aid of Rupture, and Blood Rite can then be activated.
Counters

Bounty Hunter
Nyx Assassin's attempts to gank with Vendetta are hampered by Track, making him an easy target for gold as well.

Bloodseeker
Nyx is a simple target for a Blood Rite while Burrowing, but he can at least partially block it with a well-timed Spiked Carapace.

Nyx Assassin is constantly in danger from thirst, which makes it difficult for him to use Vendetta to flee.

Rupture also makes Nyx Assassin immobile, making it impossible for him to flee with Vendetta.

Brewmaster
Since Nyx's Spiked Carapace's duration is less than the Cyclone's in Primal Split, it can be wasted.

Doom
Nyx Assassin is prevented from fleeing with Vendetta and is unable to break his engagement with Spiked Carapace by a well-timed Doom.

The high HP of Doom allows him to effortlessly withstand Nyx Assassin's burst attacks and repel him.

Juggernaut
With the exception of Vendetta, Lade Fury totally negates all of Nyx Assassin's abilities and prevents him from disengaging with Spiked Carapace.

Nyx Assassin is quickly dispatched by Omnislash, and Spiked Carapace provides little defense at all.

Visage
Spiked Carapace's efficacy is reduced by familiars' rapid, widespread damage dealing. However, they are very weak and easily dispatched by Nyx Assassin's strong burst damage, particularly from Vendetta.

Gravekeeper is challenging to kill with burst damage due to his Cloak and tanky item builds.

Visage is challenging to escape from because of his lengthy range on Soul Assumption and Grave Chill, and Spiked Carapace cannot compete with Soul Assumption's short cooldown.

Lifestealer
Except for Vendetta, all of Nyx Assassin's abilities are fully negated by Rage, however Open Wounds give him the ability to close the distance swiftly.

Nyx Assassin is an easy target with Dust of Appearance or a Gem of True Sight due to Infest and an antiquated creep.

Lycan
Due to Lycan's large HP, Nyx Assassin's burst damage is easily absorbed and he is repelled.

Slardar
Corrosive Haze makes Nyx Assassin's attempts to gank with Vendetta more difficult, reduces his armor, and leaves him extremely susceptible because of his little health reserve.
Items Counter

Gem of True Sight
Gem of True Sight: Prevents Nyx Assassin from initiating or escaping using Vendetta.

Black King Bar
Black King Bar: 80% of the damage done by the Nyx Assassin is blocked.

Eul's Scepter of Divinity
Eul's Scepter of Divinity: Can waste Nyx's Spiked Carapace because it lasts for less time than the Cyclone.Nyx's single ganking can be entirely neutralized by any potent strength/health item, including Bloodstone, Heart of Tarrasque, and Eye of Skadi.

Pipe of Insight
Pipe of Insight: Shields a number of heroes from the spell damage done by Nyx Assassin.

Lotus Orb
Lotus Orb: Prevents Nyx Assassin from using spells or items to target a hero. However, Nyx Assassin can respond to this with Spiked Carapace to exact revenge.
Favorable Matchups

Crystal Maiden
Freezing Field is quickly interrupted by Spike Carapace.

The cumulative damage from Frostbite makes it simple to stun with Spiked Carapace.

Due to her extraordinary brittleness, Crystal Maiden is easily killed by Nyx Assassin's burst damage.

Enchantress
Spiked Carapace reflects Impetus' damage.

Due to Enchantress's weakness to soft heroes, she is easily defeated by Nyx Assassin's heavy burst damage.

Enigma
Enigma is simple to stun with Spiked Carapace due to the uncontrollable damage he deals from Malefice and Midnight Pulse.

Impale or Spiked Carapace can quickly stop Black Hole.

Ember Spirit
Flame Guard or Battle Fury can quickly activate Spiked Carapace, setting up a lethal Impale.

Medusa
Spiked Carapace can quickly stop Medusa in mid-combat with her passive Split Shot, especially when she is using her prized Stone Gaze.

If Medusa only raises her mana pool through boosting intellect (which has the extra benefit of increasing Mana Burn's damage), Mana Burn swiftly destroys Mana Shield.

Spiked Carapace can be activated by Split Shot and Mystic Snake's uncontrollable damage.

A Burrowed Nyx Assassin is challenging to eliminate since Medusa lacks single target damage.

Outworld Destroyer
Due to his strong intelligence gain and vulnerability, Outworld Destroyer is a simple target for a powerful Mana Burn and may also be easily dispatched by the Nyx Assassin's high burst damage.

Nyx Assassin may easily take advantage of Astral Imprisonment using his skills. Nyx Assassin will have the chance to be easily stunned by either Spiked Carapace (if Outworld Destroyer concealed his friends or your allies) or Impale as long as Astral Imprisonment was not cast on him (if he hid himself). Since Spike Carapace has a 0 second cast time and Astral Imprisonment causes damage immediately after the disable finishes, if Astral Imprisonment was cast on Nyx Assassin, using Spiked Carapace while banished will trigger the stun after the disable.

Unless Outworld Destroyer utilized Black King Bar earlier, an improperly timed Sanity's Eclipse or a well timed Spiked Carapace can cause a lot of damage to and stun Outworld Destroyer.

Phoenix
Sun Ray and Icarus Dive can be stopped by Spiked Carapace, which responds to all of Phoenix's abilities that do damage over time.

Puck
With Spiked Carapace, Illusory Orb is simple to deflect, either shocking Puck and setting up an easy Impale or forcing an early Phase Shift.

Puck is a hero with intelligence who frequently creates intelligence-related items, making it susceptible to Mana Burn.

Impale may quickly stun Puck with a poorly timed Phase Shift.

Due to its low base armor and middling agility gain, Puck is always vulnerable to Vendetta.

Pugna
It is simple to time Spiked Carapace for a stun because to the motion of Nether Blast.

Pugna is a popular target for Mana Burn because he has the largest intelligence gain in the game.

Pugna must use Life Drain, which makes him vulnerable to Impale attacks.

Sniper
With Spiked Carapace, Assassinate is simple to reflect for significant damage.

Area damage from shrapnel can be used to set up a simple stun with spiked carapace, particularly when paired with vendetta.

Sniper is an easy target for Nyx Assassin in the early stages of the game due to his limited health pool and high intelligence.

Storm Spirit
Ball Lightning loses vital mana when Mana Burn is active.

Static Remnant triggers the Spiked Carapace for a quick stun.

Tinker
Heat-Seeking Missile and March of the Machines make Spiked Carapace stuns simple.

Tinker is a weak hero that depends on mana and intelligence items, making him susceptible to Mana Burn.

Stuns from Nyx Assassin can prevent Rearm and render Tinker helpless.
Game plan
Early game
You can use Nyx Assassin's strong base health regeneration to your advantage by trading blows with your opponents because you'll recover lost health much more quickly than they will. In order to stay in their lane, your adversaries will be compelled to regularly use their regeneration goods and purchase more. By forcing your opponents to use their regeneration or even return to base, you can gain the upper hand in the early going by depriving them of gold, time, and experience.
Most of the time, you'll be up against two heroes in your lane, therefore you should always aim to position yourself so that your Impale can stun both opponents.Impale can only be cast on ground, not on targets, and it stuns all enemies hit in a line, so be sure to aim well each time you cast it.
It's crucial to get the last hits in the early going. Use your harassing skills to prevent your enemy from getting creeps while securing creeps for your lane companion or even for yourself. To secure a ranged creep last hit or deny, it is nearly always worthwhile to give up your mana and cast Impale. Ranged creeps provide the most experience, and denying them is incredibly valuable, but so is protecting your own ranged creeps.
Mid game
Go scouting with your Vendetta and gank heroes. If you can avoid it, attempt to show the map to yourself as little as possible. If you must, try as little as possible. The opposition is forced to play more cautiously as a result of you being off the map, missing out on opportunities to farm and make plays. Because of their fear and paranoia, enemies will purchase wards to monitor your activities. Be aware of your power.
In team fights, positioning is crucial because your stun is incredibly potent and hitting many targets at once can quickly change the course of a battle.Additionally, keep an eye out for spells that Spiked Carapace can actively negate, like as those that deal "uncontrollable damage" (any Radiance bearer, Ember Spirit's Flame Guard, etc.), or powerful ultimate abilities like Sanity's Eclipse or the aforementioned Mortimer's Kisses.
Black King Bar is your natural opponent; your goal right now is to endure until they lose their magic immunity so that you can initiate from invisibility or land stuns on Black King Bar bearers before they can react.
Late game
Your game is much easier as soon as the opponent heroes' Black King Bars' duration shortens. By itemizing against their damage and reducing the remaining time (Eul's Scepter of Divinity provides 2.5 seconds of immunity, while Ghost Scepter provides 4 for physical damage), try to survive the 5 second window that Black King Bar affords the enemy heroes.
After that, attacking enemy cores is legal; your cores should take care of them with a stun or two. Never forget to use your meteor hammer or any other available skills or weapons; don't give your adversaries a chance!