Lore & Bio
It's been almost 2 months since Valve released the new hero Grimstroke at the biggest Dota2 arena of the year The International 8. Different from all the previously revealed new heroes like Monkey King, Dark Willow, … just seconds after revealed two new heroes, Mar and Grimstroke Valve released a new patch that brought Grimstroke into Dota 2 causing a stir in the community. With a history of "only bringing new heroes into the game half a decade after being revealed", Grimstroke's arrival is a surprise gift for players.
The Ashkavorians gathered around the temple square, eager to see the new squire perform the ascending ritual - to stand near the man who would bind their souls to him. But when his last brush stroke broke from the seal on the rock, and the bond between that superior and all the people, whether present or at home, was formed, they immediately felt terrible things happened.
The guard knew the situation immediately. The drops of sacred blood he had found that had been intended to strengthen the inkpot, had instead contaminated it, and the power of the chanted binding magic now threatened to devour the suffering master. The stream of corrupt ink crept up from the seal, flowed back down the handle of the brush, and quickly took possession of both hands. From there, it quickly spread. Then when it poured into his face and mouth, he couldn't even scream.
All his life he had been trying to find a way to gain greater power, surpassing the limits allowed by his masters--even to the point of breaking his sacred oath not to strengthen ink. Indeed, with the energy of the upward link now open to his eyes, he felt a power flowing through his soul that he had never imagined. The greatest success awaits, as long as he can survive.
He borrowed a lot of strength from the bond of bond, resisting the corrupt flow of ink. A cry filled the air -- a symphony of the screams of his countrymen. Some people were no longer standing. The weak will fall. Many parts try to run away. Still, he wanted to extract more bloodline power from them. But that is still not enough to stop the ink tide.
It was only when his own breath began to weaken, when the darkness of the lake completely enveloped him, that he saw the way out. The bond he had forged with Ashkavor -- his compatriots - that had only been mobilized in service to protect them... turned out to be bidirectional.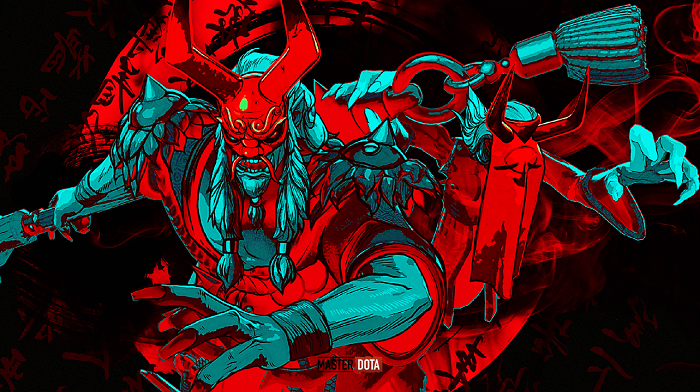 With the last bit of force - this time controlled not only by blind hatred - he pushed the ink straight into that bondage. Slowly, he felt the tide recede... and heard the anguished cry from the sack as the corrupt ink engulfed them. So that when the ink finally calmed down, he opened his eyes to see a changed world. The Ashkavor people he once knew were gone. All lives are transformed into terrifying ghosts - not flesh or bone, but slimy, unclean ink.
Attribute & Stats
Level: 0 1 15 25 30
Health: 200 620 1280 2000 2280
Health regen: +0.25 +2.35 +5.71 +9.31 +10.71
Mana: 75 375 1011 1611 1863
Mana regen: +0 +1.25 +3.91 +6.41 +7.46
Armor: 0 3 7.43 12.6 14.52
Damage Block: -
Magic Resistance: 25%
Status Resistance: 0%
Damage: 21‒25 46‒50 99‒103 149‒153 170‒174
Attack Rate: 0.59/s 0.69/s 0.85/s 1.03/s 1.1/s
Attack Range: 600 (800)
Attack Speed: 100 (1.7s BAT)
Attack Animation: 0.35+0.85
Projectile Speed: 900
Movement Speed: 290
Turn Rate: 0.6
Collision Size: 24
Vision Range: 1800 • 800
Legs: 0
Gib Type: Default
Ability Upgrades:
Upgradable by Aghanim's Scepter;
Upgradable by Aghanim's Shard.
Abilities & Talents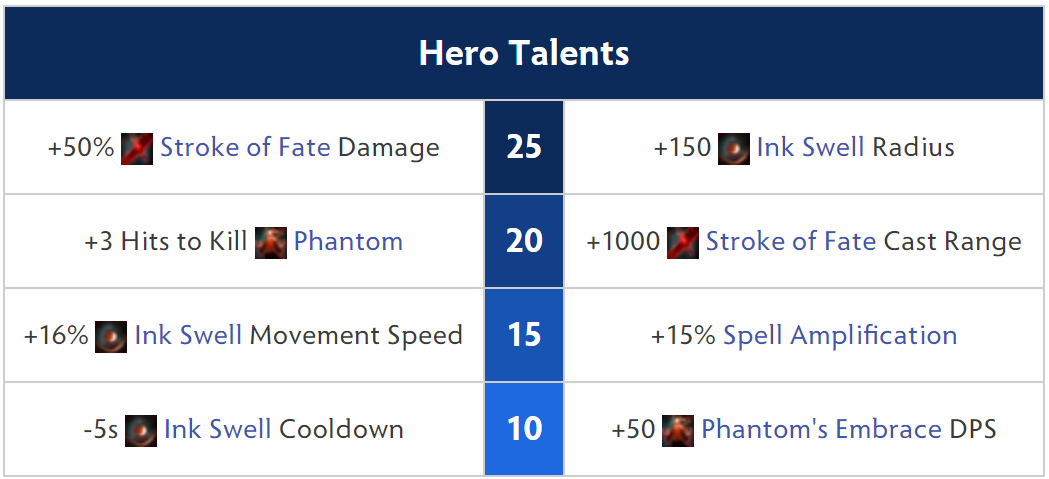 Skills building guide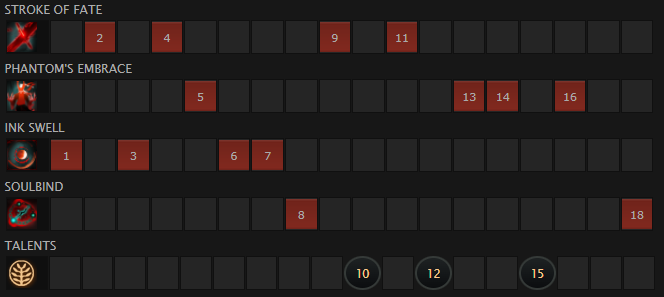 Always raise skill 1 first, can raise 3 if laning on a hero with slow/stun. This skill 1 at level 1 gives a very strong burst, slows up to 50% and cooldown is only 11s. This skill also only has 100 mana, so with the initial mana pool (420) and waiting for regen, you can spam up to 5 times. Having more Mango or Clarity is of course more spam. Skill 1 if you hit up to 5 targets, the end target can receive up to 137 magic damage (basic reduction 25% calculated), if 6 units, it will be 149, in the comments I will post pictures. Four times spam is four times. Note that this skill also includes creeps, so like I said, it is only strong when meta control equilibrium is not needed. If you hit 3 or more units and the 3rd or more unit hits the enemy creep Range (Magic resist 0%), its HP will drop below 50%.
Abilities

Stroke of Fate
Always raise skill 1 first, can raise 3 if laning on a hero with slow/stun. This skill 1 at level 1 gives a very strong burst, slows up to 50% and cooldown is only 11s. This skill also only has 100 mana, so with the initial mana pool (420) and waiting for regen, you can spam up to 5 times. Having more Mango or Clarity is of course more spam.
Skill 1 if you hit up to 5 targets, the end target can receive up to 137 magic damage (basic reduction 25% calculated), if 6 units, it will be 149, in the comments I will post pictures. Four times spam is four times. Note that this skill also includes creeps, so like I said, it is only strong when meta control equilibrium is not needed. If you hit 3 or more units and the 3rd or more unit hits the enemy creep Range (Magic resist 0%), its HP will drop below 50%.

Phantom's Embrace
Release a phantom that haunts the enemy for dmg every second and silences the enemy for the duration of the haunting, if the haunt is long enough without being destroyed, it will deal 360 dmg and restore this skill. Ghosts can withstand up to 9 hits from creeps and 3 hits from heroes. When a hero is hit by a specter that uses stealth, magic immunity (Black King Bar, Omni Repel) or immortality (Eul, Manta), the ghost will lose its effect.

Ink Swell
Buff yourself or an ally to increase movement speed and deal damage over time within 400 distance. After 3 seconds will create an explosion that deals damage and stuns enemy heroes depending on how long this skill was affected before. The longer the enemy hero is damaged by this skill, the more damage it will receive when it explodes and the longer it will be stun.

Soulbind
Connect the enemy hero hit by this skill to the nearest ally, making it impossible for the two heroes to move further than 550 distances apart. Every time one of the two affected receives the effect of a target skill, the other will also hit that ability. Simply, when 2 enemy hero names are connected, you Dagon one name, the other name is also Dagoned.

Dark Portrait
Create an ink clone of a specified enemy champion. This clone is immune to magic, gaining movement speed and damage.
Ink Over
Cover an enemy in ink for 6 seconds, slow down 50 attack speed of enemy, 25% movement speed and deal 320 damage.
Effective items guides
Early game

Boots of Speed
Speedy Boots To bring Grimstroke into position, boost your movement speed..

Magic Stick
Magic Stick is a cheap way to regain health and mana.
Mid game

Arcane Boots
Arcane Boots: Grimstroke's high mana use is compensated for by Arcane Boots. It may also be broken down into Aether Lens and Aeon Disk.

Magic Wand
Magic Wand: The Magic Wand bestows qualities as well as increased health and mana regeneration.

Glimmer Cape
Glimmer Cape: Grimstroke may use Glimmer Cape to get out of sticky circumstances and sneak up on adversaries for an Ink Swell stun (cast either on himself or his ally). Grimstroke is frequently used as a support, therefore this equipment is quite cost-effective for him.
Late game

Aghanim's Scepter
Aghanim's Scepter: Dark Portrait, a new incredibly strong and scalable single-target ability that can be cast on two targets when paired with Soulbind, is added to Aghanim's Scepter.

Scythe of Vyse
Scythe of Vyse: When used with Soulbind, Scythe of Vyse can hex two foes at once. It also makes it impossible for opponents to kill the phantom, forcing them to endure full damage.
Situation items

Force Staff
Force Staff: Grimstroke's Force Staff assists him in chasing down adversaries who have been slowed. In a pinch, it also acts as an excellent escape route for him.

Aether Lens
Aether Lens: Grimstroke's already vast cast ranges are extended by Aether Lens, which also grants him more mana regeneration. Grimstroke benefits from the cast range boost since winning team fights need Grimstroke to effectively cast all spell combinations. He stays secure in the backlines because of the range.

Aeon Disk
Aeon Disk: Grimstroke can maintain performing abilities in combat thanks to Aeon Disk's powerful dispel and damage reduction.

Dagon
Dagon: When paired with Soulbind, Dagon adds burst magical damage and may be performed on two targets at once.

Ethereal Blade
Ethereal Blade: Ethereal Blade combines with Soulbind to increase the amount of magical damage inflicted to two foes at the same time while also disarming them so they can't attack the phantom.
Enemies & Allies
Allies

Broodmother
Broodmother and her spiders may take a lot of damage from Stroke of Fate, and if there are enough spiders, it can kill her instantaneously.
When Broodmother is escaping into the forest, Phantom's Embrace gives her eyesight.

Crystal Maiden
Crystal Maiden can be silenced and Freezing Field's channeling can be disrupted by Phantom's Embrace. Stroke of Fate and Ink Swell will find her vulnerable due to her poor movement speed and frail nature.

Io
Soulbind has the ability to target both Io and its Tethered buddy, allowing Grimstroke and his squad to cast single-target spells on both. Phantom's Embrace can hinder Io's channel from escaping if he tries to move.

Necrophos
The damage taken by all of Grimstroke's abilities is amplified by Ghost Shroud. While in Ghost Shroud, Necrophos is particularly vulnerable to Ink Swell and Phantom's Embrace.
In lane, Death Pulse helps against Necrophos by keeping his creeps alive and increasing Stroke of Fate damage.

Phantom Lancer
The damage from Stroke of Fate increases when more units are struck, making it useful against Phantom Lancer's army of illusions.
If used at the right time, Phantom Lancer's Embrace and Ink Swell's stun can prevent Phantom Lancer from fleeing with Doppelganger.
If Soulbind has previously used a Doppelganger, he can tether Phantom Lancer to one of his own illusions to lock him in place or assure a kill if Grimstroke's squad isn't clear who the true hero is.

Terrorblade
Because Terrorblade lacks escape devices, he has a difficult time escaping both Ink Swell and Stroke of Fate.
The stillness of Phantom's Embrace will also keep him from casting Sunder to rescue himself.

Timbersaw
Timbersaw is reliant on his talents, thus the quiet of Phantom's Embrace makes things more difficult for him.
During Phantom's Embrace, Timbersaw is unable to utilize Return Chakram or strike the phantom, forcing him to suffer full damage and resetting Phantom's Embrace's cooldown.

Weaver
Weaver can't use Shukuchi or Time Lapse because of Phantom's Embrace and Soulbind.
Weaver is discouraged from going through and hurting allies with Shukuchi thanks to Ink Swell.
Counters

Puck
Phantom Embrace may easily be disjointed by Phase Shift, wasting half of the Soulbind's lifespan.
Puck is a nimble hero who can leap backwards and burst Grimstroke before casting any spells.

Shadow Demon
Disruption eliminates Phantom Embrace instantaneously and may save teammates who have been afflicted by Soulbind.
Ink Swell is removed by Demonic Purge.

Centaur Warrunner
Stampede allows Soulbound heroes to simply flee.

Sniper
During teamfights, Sniper's position in the far back line makes him unlikely to be targeted by any of Grimstroke's abilities.
The quiet from Phantom's Embrace has no effect on Sniper.
Sniper's vast range and swift projectile speed enable him to quickly dispatch any Phantoms pursuing his comrades.

Vengeful Spirit
Nether Swap may be performed to break one ally out of Soulbind and transfer the shared damage to Vengeful Spirit herself.
Items Counter

Black King Bar
Black King Bar: Black King Bar shields against spells transmitted by Soulbind and ends Phantom's Embrace when activated, blocking all of Grimstroke's magical damage.

Manta Style
Manta Style and Eul's Scepter of Divinity: Invulnerability is applied by Manta Style and Eul's Scepter of Divinity, which "dispels" Phantom's Embrace.

Lotus Orb
Lotus Orb: Phantom's Embrace and Soulbind are reflected back to Grimstroke by Lotus Orb.

Force Staff
Force Staff: Allies can use the Force Staff to break free from Soulbind.

Pipe of Insight
Pipe of Insight: Grimstroke's magical nuke damage is considerably reduced by the Pipe of Insight and its components.

Shadow Amulet
Shadow Amulet: The invisibility of the Shadow Amulet and any of its enhancements can be utilized to counter Phantom's Embrace.
Favorable Matchups

Doom
Doom has the ability to silence and mute two heroes that are joined by Soulbind.

Bane
Fiend's Grip or Nightmare may be used to disable enemies linked by Soulbind, allowing Bane to effectively disable two heroes with most spells for a lengthy time.
When used on opponents tied to Soulbind, Brain Sap heals Bane twice as much.
When coupled with Soulbind, Enfeeble paralyzes two foes.

Bloodseeker
Rupture may be used on two heroes at the same time, which is extremely dangerous.
Bloodseeker's great movement speed is boosted by Ink Swell, which also gives him a much-needed stun.

Bounty Hunter
Shuriken Toss may bounce and mini-stun foes connected by Soulbind when upgraded with Aghanim's Scepter (doubly so if both enemies are tracked).

Crystal Maiden
Crystal Nova slows opposing assaults, making it more difficult to shatter Phantom's Embrace and lengthening the quiet.
Frostbite gives Grimstroke a root, allowing him to land Stroke of Fate, while Soulbind roots two foes at once. Phantom's Embrace is likewise protected by the disarm, which stops adversaries from assaulting it.
Game plan
Early game
First take your teammates through the enemy team rune competition, with Ink Swell you can kill anyone who tries to eat runes with a large amount of dmg and long stun time at level 1 (max 220 dmg and 2.2 seconds stun) After If you eat runes, your lane will go to the offlane of the team with the main purpose of selling the early game to the enemy carry team. Spam Stroke of Fate and harras carry the enemy team, if it's a shorthand, the action will be flooded, and if it is a long hand, you will have to slightly guard your standing position to put as much pressure on the enemy carry as possible. Have a Town Portal Scroll ready to backup and counter gank for other lanes, but your main task at the beginning of the game is still harassing the enemy carry.
When you reach level 6 and have the ultimate Soulbind you can start roaming with your team's Mid or ganker. This is a very new and interesting skill, but the impact is also huge. Linking 2 enemy heroes together means that during this time, if your team holds one, the other won't run (unless he has a blink) and if your teammate is a hero with the skill set If you specialize in targeting like Lion, double stun, double hex and double Finger are easy.
Mid game
Go bully the enemy team with the team's ganker to create space for the remaining core hero to farm important items. Control vision with the Observer Ward and Sentry ward, have a Town Portal Scroll ready to assist and flee when needed. You can also take advantage of Stroke of Fate's amazing farming ability to mess around and farm a bit more in the enemy team jungle. Take advantage of the Ink Swell buff on the team's initiator (like Ax or Centaur) to stun it after this guy rushes into the fight.
Try to get important items like Aether Lens and Eul Scepter of Divinity to increase your effectiveness and increase your survivability in teamfights (because your face is so suggestive that the enemy team will leave the remaining 4 heroes behind. and chase you).
Late game
This is the time when you will shine the most in the match with the ultimate combat harassment skill set with Soulbind and target skills like Phantom's Embrace or Scythe of Vyse. Pay attention not to use the Eul Scepter of Divinity around because maybe instead of just disabling (saving) one enemy, it will become 2 enemies. Pay attention to choosing a standing position for yourself, but with a skill set that has a long range, this will not be difficult.
When starting the fight, use Soulbind on an enemy hero, preferably mid or carry, with the slow effect and binding 2 heroes in one place will make it difficult to position and create for your team. Use target disable (remember to dodge Eul Scepter of Divinity) on one of the 2 heroes hit by Soulbind to lock them down so your team can focus on important goals. Even if there are no skills or items to combine, Soulbind is still very good with 45% slow for his 10 seconds (if the link has another name, even better).
Try to ensure visibility for the team to avoid going solo and stay in the backline to take advantage of your harassment skill set. His existence is a threat in teamfights with his annoying skill set and short cooldown.