Lore & Bio
Gyrocopter, also known as Aurel, was a seasoned veteran essentially with a bit too much time on his hands post-retirement. After having served through a lifetime of trife and wars, including many upheavals, riots and such, it's decided from up top that he'd seen enough of them, and that it's time for him to go backstage. Aurel received a few trinkets along with quite a considerable pension, but the former engineer left with something in fact much more interesting: a forgotten, incomplete schematic drawing for the creation of what's called a Gyrocopter, the world's first manned and non-magical flying vehicle.
Once retiring fully to the tropical lands of the Ash Archipelago, with not much of anything else besides time and money, Aurel set to work on the device. As the years went by, and after countless failed prototypes, as they began to pile up, Aurel in turn also began to wonder if mechanical flight was even possible. Exactly a decade and a day after his retirement, on a windy afternoon, Aurel had another attempt of creating the Gyrocopter, but this time with more hesitation and expectant failure. With a grunt, he pulled the ignition cord waiting for the sounds of explosion. But to his surprise, the device began to lift, and with a few panicked adjustments, stabilized itself. Within an hour only, Aurel was ducking and weaving in his flying vehicle with the breeze, level with the gulls and enjoying all the wonders of flight.
As dusk settled in, he decided that it'd be time to return to his workshop. This was when the tragedy happened: a cannonball tore through his tailfin. Once able to disentangle himself from the wreckage, he started swimming towards the nearest piece of land in sight and swore that he would see the ship responsible for this destruction suffer one in return. Days later, when Aurel returned to his workshop, he started working on a new prototype, yet another gyrocopter but this time with a much heavier, much more dangerous payload.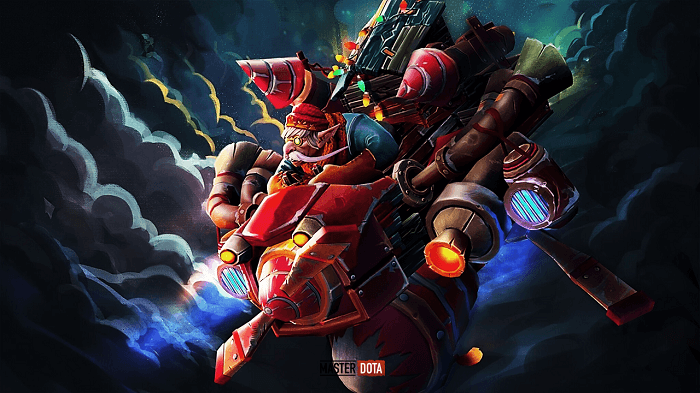 Gyrocopter in-game description reflects his tragedy, his tenacity and wants for vengeance:
"With his arsenal of firepower at the ready, Gyrocopter soars into battle. Blasting all nearby enemies with shots from his cannon or hammering them with a barrage of rockets, if he is able to gather his full strength, he demolishes foes with ease."
Attribute & Stats
Strength: 22 + 2.5 each level;

Agility: 26 + 3.3 each level;

Intelligence: 21 + 2.4 each level;

Health: 640;

Health regeneration: + 2.45 each second;

Mana: 327;

Mana regeneration: + 1.05 each second;

Damage: 327;

Amor: 6.33;

Magic Resistance: 25%;

Turn Rate: 0.6;

Attack Range: 365;

Projectile speed: 3000;

Attack Animation: 0.2+0.1;

Movement: 315;

Sight Range: 1800/800;

Base Attack time: 1.7 seconds per attack;

Damage Block: 0.
Abilities & Talents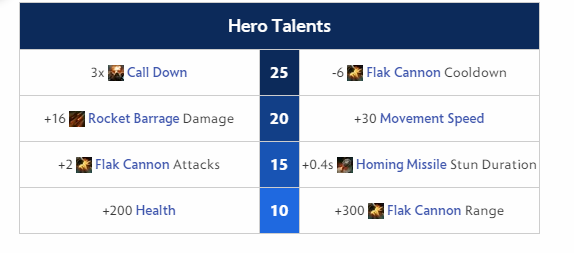 Skills building guide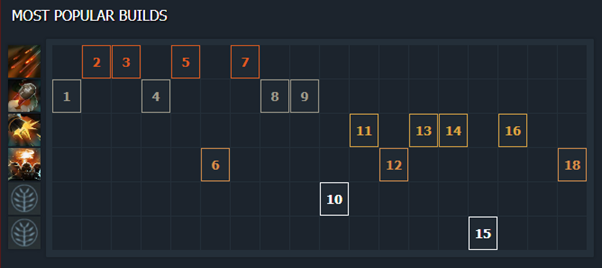 With Gyrocopter, skill building is a lot more dependent on how you play him when compared with other heroes. Whether you are a ganker or a farmer, it would be worthwhile to consider so as to likewise tweak your skill upgrading system. This build is geared towards being a ganker, which is the most popular build and way to play Gyrocopter. When you build his skills like this, you will be able to better combine Homing Missile and Rocket Barrage and utilize the combo to the fullest. It's not as easy as it sounds, but with practice you will do great.
In addition, building the ultimate at the right time will prove crucial in ganks or team fights in general. This build is geared in order to take that into account as well.
Abilities

Rocket Barrage
Rocket Barrage (No Target, Magical)
Effect: Launches a salvo of rockets at nearby enemy units in a radius around the Gyrocopter. Lasts 3 seconds.
Cast Animation: 0+0
Cast Range: 300
Search Radius: 400
Number of Targets: 1
Rockets per Second: 10
Damage per Rocket: 7/12/17/22 (Talent 23/28/33/38)
Barrage Duration: 3
Cooldown: 7/6.5/6/5.5
Mana: 90
Notes:
Rocket Barrage interrupts Gyrocopter's channeling abilities upon cast.
Despite the visual effects, the damage is dealt instantly, rather than on each rocket's impact.
Rocket Barrage cannot hit invisible units or units in the Fog of War.
Gyrocopter can act freely during Rocket Barrage.
Does not fire rockets while Gyrocopter is hidden.
Deals damage in 0.1-second intervals, resulting in 30 damage instances.
Can deal a total of 210/360/510/660 (Talent 690/840/990/1140) damage (before reductions), assuming all rockets hit.
Total damage: 210/360/510/660
690/840/990/1140 (Level 20 Talent)

Homing Missile
Homing Missile (Unit Target, Magical)
Effect: Fires a homing missile to seek the targeted enemy unit. The missile gains speed over time, dealing damage and stunning when it impacts the target. Enemy units can destroy the missile before it reaches its target.
Cast Animation: 0+0
Cast Range: 1050
Launch Delay: 2.5
Hero Attacks to Destroy: 3
Tower Attacks to Destroy: 6
Damage: 100/175/250/325
Stun Duration: 2.25/2.5/2.75/3 (Talent 2.65/2.9/3.15/3.4)
With Aghanim's Shard Rocket Barrage Radius: 700
With Aghanim's Shard Rocket Barrage Delay: 1
Cooldown: 26/21/16/11
Mana: 120/130/140/150
Aghanim's Shard upgrade: Homing Missiles now constantly fire a rocket barrage with a 700 AOE after 1 second of being cast. Barrage prioritizes the homing missile target.
Blocked by Linken's Sphere. Blocked upon impact.
Notes:
When cast, a stationary missile is placed 150 range in front of Gyrocopter, which begins to move 2.5 seconds later.
Homing Missile's initial speed is 500 and increases by 20 per second, growing by 1 movement speed every 0.05 seconds.
The speed acceleration is not capped, and continues to increase until it hits the target or is destroyed.
If the missile's target dies, it automatically switches to the nearest valid target within 700 range of the previous target.
Only attacks from heroes, illusions (counting as heroes), towers, and the fountains (counting as towers) can damage the missile.
The rocket first applies the debuff, then the damage.
The cross-hair over the target is visible to allies only.
Although the ability grants no vision or True Sight over the target, the missile follows and hits invisible units.
If the missile hits its target, its 400 range flying vision stays at the location for 3.5 seconds.
The missile can be targeted by Force Staff, Hurricane Pike and PPsychic Headband, pushing the rocket forwards (or backwards).
The missile cannot impact the target during the Forced Movement, and passes through, reorients, and continues to chase the target.
The missile is instantly destroyed when affected by Chronosphere.
With Aghanim's Shard, the missile starts firing Rocket Barrage of the current level 1 second after being deployed.
This Rocket Barrage has a radius of 700 and prioritizes its current target over other units.
Rocket Barrage notes fully apply. If it is not leveled, the missile will still fire at the target, but dealing no damage.
Although the missile launches the Rocket Barrage, the damage is sourced to the Gyrocopter, not the missile.
Acquiring Aghanim's Shard immediately updates all currently existing Homing Missiles.
Only attacks from heroes, illusions, and Towers can damage the missile. Illusions count as heroes for the number of attacks.
The missile travels at 500 speed and increases by 20 speed per second.
Enemies gain vision of the missile 1 second after it starts moving, which is 4 seconds after being deployed.
The crosshair over the target is only visible to allies.
Missile will follow and hit invisible units.
Has 400 flying vision.
Homing Missile will find a new target if its primary target dies. Prioritizes heroes.

Flak Cannon
Flak Cannon (No Unit/Instant Attack)
Effect: Gyrocopter's attacks hit all enemy units in an area around it for a limited number of attacks. Only the main target of attacks will receive attack bonuses such as Critical Strike. Lasts seconds or until the attacks are used.
Cast Animation: 0+0
Flak Search Radius: 1000 (Talent 1300)
Number of Attacks: 3/4/5/6 (Talent 5/6/7/8)
Flak Duration: 10
With Aghanim's Scepter Side Gunner Range: 700
With Aghanim's Scepter Side Gunner Attack Interval: 1.2
Cooldown: 24/22/20/18 (Talent 18/16/14/12)
Mana: 50
Aghanim's Scepter upgrade: Adds a Side Gunner that at random attacks enemy units near Gyrocopter. Prioritizes the furthest unit away within its range.
Side Gunner is disabled by Break..
Notes:
Flak Cannon interrupts Gyrocopter's channeling abilities upon cast.
Causes Gyrocopter to perform instant attacks on all nearby enemies whenever he launches an attack projectile.
The instant attacks do not trigger attack modifiers or any on-hit effects. They do not have True Strike.
The projectiles from the instant attacks travel at a speed of 800.
The flaks have no count limit. All valid nearby targets get targeted.
The primary attack target is not affected by Flak Cannon. It is only hit by the primary attack.
Does not target Couriers, wards, buildings, invisible units, or units inside the Fog of War.
However, attacking couriers, wards, buildings, or allied units still causes flaks to hit all valid targets within the radius.
The visual effect above Gyrocopter and number of attacks left on the buff icon are visible to everyone.
With Aghanim's Scepter, Gyrocopter performs instant attacks on the furthest enemy within 700 range of him.
These instant attacks can trigger any attack modifiers and on-hit effects normally, except for Flak Cannon itself. They do not have True Strike, but ignore disarms.
Does not target wards, couriers, and attack immune enemies, but does target buildings. Only targets units Gyrocopter has vision over.
The Side Gunner does not attack when Gyrocopter is hidden or invisible.
However, the gunner ignores fade times and fade delays of abilities. It only does not attack when fully invisible.
Flak Cannon does not need to be learned to unlock the Side Gunner.
Side Gunner is only available to Gyrocopter. Other heroes such as Morphling and Rubick who get hold on Flak Cannon cannot unlock Side Gunner.
In Ability Draft, the Side Gunner is available for anyone who drafts Flak Cannon, but the ability needs to be learned to work.
Gyrocopter's base attack range does not change.

Rocket Barrage
Call Down (Area Target, Magical)
Effect: Call down an aerial missile strike on enemy units in a target area. After 2 seconds, two missiles arrive in succession, with 2 seconds between them.
Cast Animation: 0.3+0.5
Cast Range: 1000
Effect Radius: 600
Number of Call Downs: 1 (Talent 3)
Number of Missiles per Call Down: 2
Delay per Rocket: 2
Missile One Damage: 150/250/350
Missile One Move Speed Slow: 30%
Missile One Slow Duration: 2
Missile Two Damage: 200/275/350
Missile Two Move Speed Slow: 60%
Missile Two Slow Duration: 4
Talent Distance Between Call Downs: 500
Talent Call Down Interval: 0.75
Talent Secondary Call Downs Damage Percentage: 50%
Cooldown: 90/75/60
Mana: 125
Does not pierce spell immunity. Slow persists if debuff was placed before spell immunity and when not dispelled.
Notes:
The first missile impacts 2 seconds and the second missile impacts 4 seconds after cast.
Provides 300 radius flying vision at the targeted area for 4 seconds upon cast.
Can deal a total of 350/525/700 damage (before reductions), assuming both missiles hit.
The missiles first apply their debuffs, then their damage.
The big red area indicator is visible to allies only. The sound effects are audible and the missiles visible to everyone.
With the Airstrike Talent talent, Call Down additionally gains vector-targeting functionality.
Causes 2 additional instances of Call Down, ergo 4 additional missiles to be launched after the main instance.
These instances are launched in 0.75-second intervals, starting 0.75 seconds after the primary Call Down, taking 1.5 seconds to launch them all.
The additional instances are launched along the selected vector, 500 range apart from each other, so that they overlap a bit.
This results in them covering a total area with a length of 2200 and a width of 600.
Each first missile of the additional instances deals 75/125/175 damage, and each second missile deals 100/137.5/175.
Each additional instance can deal a total of 175/262.5/350 damage.
All instances together can deal a total of 700/1050/1400 damage, if all 6 missiles hit.
Once cast, the additional instances cannot be stopped in any way, not even by Gyrocopter's death.
Effective items guides
Early game

Tango
Tango: if Gyrocopter wants to counter early harassment, this is the item to get.

Healing Salve
Healing Salve: this item will give him a helpful burst of health to keep him in lane.

Iron Branch
Iron Branch: gives cheap early stats and can be consumed to gether with a tango for extra regen.

Faerie Fire
Faerie Fire: to help with last hits.

Slippers of Agility
Slippers of Agility: this item will give quite a decent agility boost.

Boots of Speed
Boots of Speed: to quickly allow Gyrocopter to clock in early kills along with his Rocket Barrage

Magic Wand
Magic Wand: when Gyrocopter is in a pinch, this can come in handy.
Mid game

Phase Boots
Phase Boots: will give extra attack damage for Flak Cannon.

Drum of Endurance
Drum of Endurance: this item allows Gyrocopter to come online earlier as carry, by adding attributes, movement speed, attack speed which will help him in ganks.

Mask of Madness
Mask of Madness: this keeps his health up during jungle clearing with lifesteal, and in addition increases attack damage and attack speed. It also can be disassembled to be used later on for Satanic and Butterfly.

Dragon Lance
Dragon Lance: greatly improves his short attack range and has cost efficient stats.

Sange and Yasha
Sange and Yasha: a good mix of tankiness and chasing capability.

Black King Bar
Black King Bar: needed to make full use of Flak Cannon without any interruption.
Late game

Butterfly
Butterfly's evasion: makes Gyrocopter much harder to take down, allowing him to face harder carries

Satanic
Satanic: a natural supplemental item for Gyrocpter, which helps him survive late game teamfights longer when used with multiple damage items
Situation items

Hurricane Pike
Hurricane Pike: a natural extension to Dragon Lance, gives Gyrocopter more mobility, as well as helping Homing Missile hit target faster

Aghanim's Scepter
Aghanim's Scepter: allows Gyrocopter to continue to attack even if disabled, additionally giving more attacks to proc attack modifiers

Boots of Travel
Boots of Travel: enables Gyrocopter to be present in every fight.

Manta Style
Manta Style: good for pushing and disjointing projectiles.

Daedalus
Daedalus: multiplies well with Flak Cannon, which increases Gyrocopter's damage significantly. In addition the item also gives him a chance of inflicting critical hits on his primary targets

Monkey King Bar
Monkey King Bar: gives Gyrocopter decent attack damage, in addition to magical damage.

Divine Rapier
Divine Rapier: the best damage item for him, when used in combination with Flak Cannon can decimate the entire enemy team in mere seconds. Also a risky purchase and should only be bought if the hero is tanky enough or if you are under significant disadvantage
Enemies & Allies
Allies

Bloodseeker
Bloodseeker: Bloodrage on Gyrocopter can help buff his damage output along with Flak Cannon attacks and Call Down, which can mean massive damage during teamfights as well as healing him if he's able to kill a hero during it

Disruptor
Disruptor: Kinetic Field and Static Storm, both are useful abilities to help Gyrocopter land his Flak Cannon attacks as well as Call Down.

Earthshaker
Earthshaker: Echo Slam and his other many stuns will help Gyrocopter land his attacks

Enigma
Enigma: Blackhole will help the hero land his Flak Cannon as well as Call Down.

Magnus
Magnus: Reverse Polarity do similarly to Black Hole

Morphling
Morphling: with Aghanim's Scepter's help, he can Morph his ally Gyrocopter and Morphling activating Flak Cannon can deal huge damage in area since he has huge base damage.

Rubick
Rubick: Telekinesis's stun and throwback can assist Gyrocopter in taking down enemies with Rocket Barrage in the early game

Warlock
Warlock: Fatal Bonds synergies well with Flak Cannon and Call Down where all affected units will share the damage, which improves Gyrocopter's damage output. In addition, Upheaval can slow down enemies, keeping them in Gyrocopter's range of Flak Cannon and Call Down
Counters

Anti-Mage
Anti-Mage: Mana Break is dangerous to Gyrocopter who already has low mana pool, which keeps him from using his abilities which most of his damage output depends on. Counterspell negates magical damages from Gyrocopter, and it will also reflect Homing Missile back to himself. With Blink, Anti-Mage can also escape Gyrocopter's attack range and Call Down easily.

Arc Warden
Arc Warden: Magnetic Field evades his attacks.

Huskar
Huskar: Life Break and Burning Spear will kill Gyrocopter before he's able to do much of anything. Inner Fire will also apply a disarm on all enemies which can prove to be an obstacle to Gyrocopter.

Faceless Void
Faceless Void: Time Walk will make it difficult for Gyrocopter to pin him down. With Backtrack he's able to also negate most of Gyrocopter's attacks. Time Dilation will prevent Gyrocopter from using the cooldown spells.

Juggernaut
Juggernaut: Blade Fury and Omnislash will allow Juggernaut to avoid his area attacks altogether.

Lina
Lina: Laguna Blade will end Gyrocopter very quickly from early to mid game.

Lifestealer
Lifestealer: Rage will ignore all of Gyrocopter's main magical attacks, and Feast will help Lifestealer to be able to out damage Gyrocopter when in close range combat.

Omniknight
Omniknight: Guardian Angel will negate most of his area damage, while Heavenly Grace dispels the stun from Homing Missile

Queen of Pain
Queen of Pain: Blink will make it hard for Gyrocopter to pin her down, and Sonic Wave is very effective for ganking an early game Gyrocopter.

Timbersaw
Timbersaw: this hero is often too mobile and durable for Gyrocopter to bring down with area attacks.
Items Counter

Blade Mail
Blade Mail: will reflect damage from Flak Cannon, which Gyrocopter cannot avoid hitting.

Black King Bar
Black King Bar: negates Gyrocopter's magic damage.

Crimson Guard
Crimson Guard: reduces much of the damage from Flak Cannon.

Assault Cuirass
Assault Cuirass: reduces the amount of area damage from Flak Cannon.
Favorable Matchups

Abaddon
Meepo: Flak Cannon and Call Down will shred Meepo's clones. Homing Missile can catch and single out retreating Meepos, making them an easy kill.

Undying
Undying: Flak Cannon rips through Tombstone's zombies.

Phantom Lancer
Phantom Lancer: Flak Cannon destroys Phantom Lancer's illusions very quickly.

Chaos Knight
Chaos Knight: Flak Cannon destroys Chaos Knight's illusions very quickly.

Terrorblade
Terrorblade: Flak Cannon destroys Terrorblade's illusions very quickly.
Game plan
Early game
Gyrocopter shouldn't be a strictly solo Mid farmer but rather that he should hang out in two lanes so as to utilize his harassment skills. Because of his ability to be a ganker with a farming strength, Gyrocopter is able to upgrade items quite fast and can gank in the early game.
It's preferable to gank with a teammate that can tie down enemies with a stun or slow, since it will enable Gyrocopter to fully make use of his abilities such as Homing Missile. Because he's an agility hero, you should take care to note his low health.
Mid game
When you've leveled up enough and have in possession some necessary items, you can gank more, but since Gyrocopter can farm very well as well you need to balance between two things. The best thing to do is combining the first two skills and ultimate most appropriately to secure kills during this time.
Late game
Gyrocopter is not exactly strong during the late game, but because he can upgrade his items fast and his ultimate is quite strong in teamfights, he can perform well. Because of these things, you should farm fast and as much as you can to get you to a good late game, and you should also always go with the team and join the fights.