Lore & Bio
"Who needs a big brain when you've got teeth like mine?"
Tidehunter, also known as Leviathan, was the champion of the Sunken isle. However, even with his own people, Tidehunter remains an unpredictable mystery. Most of us know the importance of the Drylander sea route, empires rise or fall to be decided by who owns this sea. Compared to it, the sea lane under the sea and the story of the Meranthic Diaspora tribe are very few people know. What is that tribe? And how did it have to go through countless battles large and small to expand its territory? That's a difficult question for all the inhabitants of the continent.
All we know, through the weak agreements between humanity and the Meranthics, are vague fantasies of some part scale of this underground empire. Having said that, its politics seems incredibly complicated and fraught with controversy. And also because he was disgusted with the meaningless conflicts of that institution, Leviathan left alone, then pledged his allegiance to a single Demon God of the abyss, Maelrawn the Tentacular.
Currently, Leviathan is still patrolling alone in the shallows, looking for anyone who accidentally stood in his way, as well as his 'unlikely' rival - Kunkka the Admiral, whom he had always particularly hated. However, the reason why the two became enemies, was buried in the deep sea long ago with a fierce naval battle.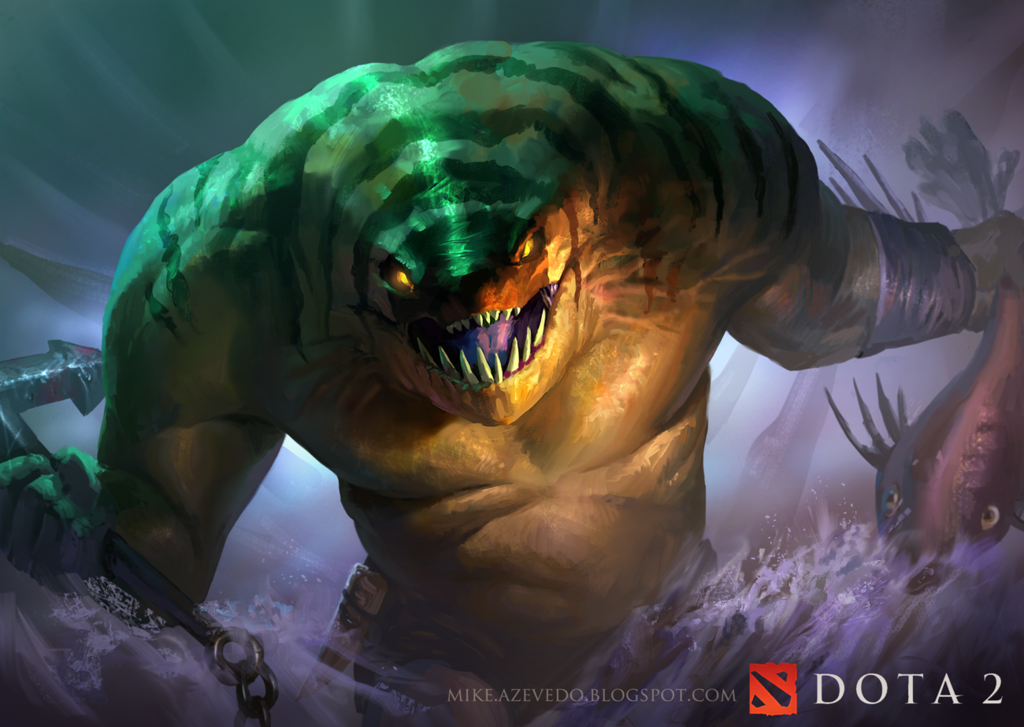 Attribute & Stats
Level: 0 1 15 25 30
Health: 200 740 1720 2660 3040
Health regen: +0.25 +2.95 +7.85 +12.55 +14.5
Mana: 75 291 567 915 1047
Mana regen: +0.5 +1.4 +2.59 +4.04 +4.57
Armor: 0 2.5 6 10.5 12.08
Damage Block: 16 (50%)
Magic Resistance: 25%
Status Resistance: 0%
Damage: 25‒31 52‒58 101‒107 148‒154 167‒173
Attack Rate: 0.59/s 0.68/s 0.8/s 0.96/s 1.01/s
Attack Range: 150 (600)
Attack Speed: 100 (1.7s BAT)
Attack Animation: 0.6+0.56
Projectile Speed: Instant
Movement Speed: 300
Turn Rate: 0.6
Collision Size: 24
Vision Range: 1800 • 800
Legs: 2
Gib Type: Default
Ability Upgrades:
Upgradable by Aghanim's Scepter.

Upgradable by Aghanim's Shard.
Abilities & Talents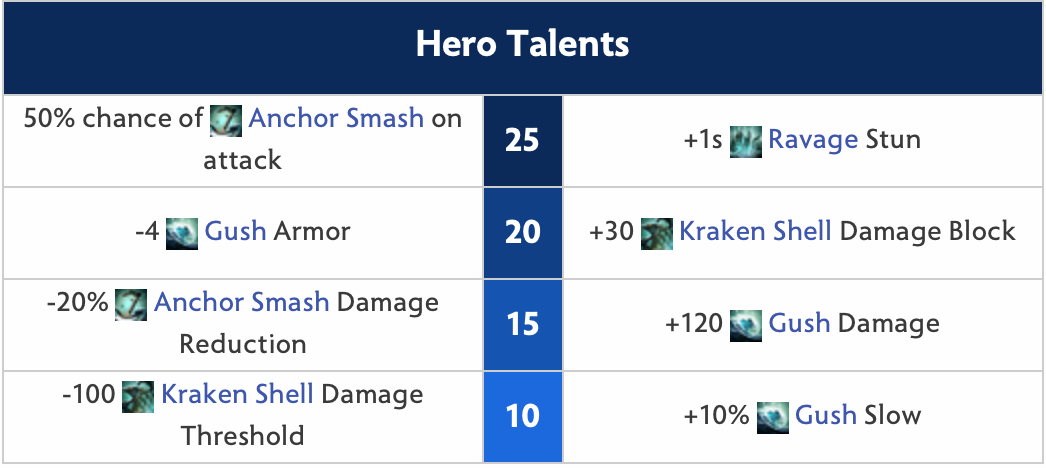 Skills building guide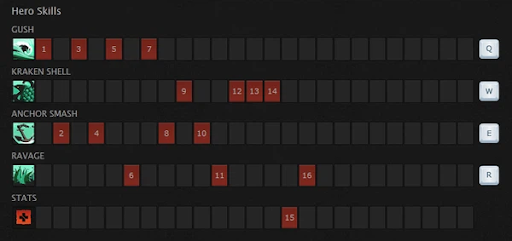 With the first build, you are more inclined to the turret, or you can also enter the jungle early when maxing out the Anchor smash (E) first. Since Gush (Q) slows movement speed by 40% at all ranks for 4s, taking 1 point on this skill should be enough.
As for the second build, you are more inclined to support teammates in the case of dual lane or roam / gank when you spit phlegm on the enemy to slow down and reduce armor for teammates to beat.
The last maximum skill is Kraken shield (W) in the first 3 skills, or you can increase the 2nd maximum after you have accumulated enough points in 1 of the remaining 2 skills if the opponent has too much damage, hand injuries or skills that leave a detrimental buff on you. Ultimate of course get the correct level.
Abilities

Gush
Cost: 120 mana.
Cooldown: 12 seconds.
Usage range: 700
Effect: squirts a powerful jet of water at the target enemy, dealing 110/160/210/260 damage, slowing their movement speed and reducing their armor for a short time.
Movement Speed Slow: 40%
Armor Reduction: 3/4/5/6
Impact time: 4 seconds.

Kraken Shell
Effect: he takes 12/24/36/48 damage reduction from basic attacks from units, also when taking damage beyond a certain health, he will cancel all adverse buffs on body
buff cancel health: 600/550/500/450
Skill Reactivation Time: 6 seconds.

Anchor Smash
Cost: 30/40/50/60 mana.
Cooldown: 7/6/5/4 seconds.
Effect: stomps the ground, dealing 75/125/175/225 damage to the surroundings and reducing the hand damage of the victims hit.
Damage Reduction: 45%/50%/55%/60%
Impact time: 6 seconds.
Radius of influence: 375

Ravage
Cost: 150/225/325 mana.
Cooldown: 150 seconds.
Effect: Summons tentacles of water monsters that radiate around the person from the ground, knocking up enemies in the area, dealing 200/290/380 damage and stunning them.
Stun: 2.02/2.32/2.77 seconds.
Throwing radius: 1025
Effective items guides
Early game

Magic Stick
Magic Stick: In an emergency, Magic Stick can provide Tidehunter with a measure of burst regen. In the early game, a fully charged Magic Stick can provide enough mana to perform one additional spell.

Boots of Speed
Boots of Speed: Boots of Speed are required for Tidehunter purchases, whether in the safe or off-lane. More movement speed may be necessary in the off-lane to avoid gank attempts, and in the safe-lane to rapidly position oneself to spell Gush during a gank.
Mid game

Magic Wand
Magic Wand: Tidehunter's stats are improved, and his charge capacity is increased, thanks to the Magic Wand. Given his limited mana pool, a Magic Wand may be used in the same way as a Magic Stick and is useful to have on hand at all times.

Arcane Boots
Arcane Boots: Arcane Boots expand Tidehunter's limited mana pool, making it easier for him to perform spells and giving him the ability to restore friends' mana, which is a vital role for a support hero.

Blink Dagger
Blink Dagger: Tidehunter's most significant core item is the Blink Dagger, which allows him to easily position himself to perform Ravage in a teamfight. It also makes it easier for him to pursue down adversaries and cast Gush, and it may be utilized as a means of escape.

Drum of Endurance
Drum of Endurance: Tidehunter gains qualities from Drum of Endurance, including increased mana pool and mobility. During fights, the active enhances the mobility and attack speed of teammates.
Late game

Refresher Orb
Refresher Orb: By casting Refresher Orb twice, friends can increase Ravage's duration, making it simpler for them to alter the tides of a teamfight. However, make sure you have enough mana to pull it off.

Shiva's Guard
Shiva's Guard: Shiva's Guard increases Tidehunter's mana pool, letting him to cast spells more often, while the armor and aura increase his resistance to physical damage. After a successful Ravage, it can activate its active ability, which slows the enemy's movement speed after the extended stun time.

Aghanim's Scepter
Aghanim's Scepter: Gush's efficacy is considerably increased by Aghanim's Scepter, allowing Tidehunter to use the nuke and debuff on several foes at once. It also boosts his health and mana, making him more tanky and allowing him to use Gush more frequently.

Guardian Greaves
Guardian Greaves: Guardian Greaves is a costly buy, but it dramatically boosts Tidehunter's survivability and allows him to contribute more to teamfights. If the opponent merely places low-damage disables on Tidehunter to avoid proccing Kraken Shell, the active allows him to clear debuffs off of himself, and the HP and mana regeneration are enormous boons for pushes and teamfights. In addition, comrades who are low in armor and HP might benefit greatly from the aura.
Situation items

Force Staff
Force Staff: Force Staff is a cost-effective mobility item that also functions as a team utility. The increased intelligence helps Tidehunter's mana pool grow, and the active ability may be utilized to better position yourself or allies for spell casting. While it is not as strong as Blink Dagger, it is simpler to construct if you are having difficulty farming.

Pipe of Insight
Pipe of Insight: Pipe of Insight is a potent tank and aura item, since it drastically decreases the amount of magic nuke damage Tidehunter receives, allowing Kraken Shell to be used more effectively. Its active ability also protects colleagues from the effects of magic.

Glimmer Cape
Glimmer Cape: The invisibility and magic resistance of Glimmer Cape may be used to allow Tidehunter to initiate with Ravage without the need of Blink Dagger, or to aid a teammate who has been caught out of position and is being targeted by foes.

Mekansm
Mekansm: Mekansm is a helpful utility item that can be bought as a tank Tidehunter and can be upgraded to Guardian Greaves. In addition to providing him with armor and increased stats, the heal may be quite beneficial to your squad because you are unlikely to die before utilizing it. You can further deter the opponent from attacking you by healing yourself and your team at any moment throughout the engagement, in addition to your overall durability and ability to interrupt the other team's initiation with Ravage. However, keep in mind the high mana cost, and if you plan to create this, be sure to first raise the amount of your mana pool.

Octarine Core
Octarine Core: The Octarine Core decreases the cooldown of your skills, making opponents more vulnerable to Ravage.

Lotus Orb
Lotus Orb: Lotus Orb provides Tidehunter with a slew of valuable perks as well as a powerful active ability. Tidehunter's armor and HP regen make him even more tanky, while the mana regen keeps his mana pool topped up so he can fire spells more quickly when needed. The Echo Shell damages foes that rely on targeted spells, especially fragile casters with limited HP pools, and the active can dispel debuffs from Tidehunter or an ally.

Vladmir's Offering
Vladmir's Offering: Vladmir's Offering gives teammates important auras, while the lifesteal allows Tidehunter to heal with Anchor Smash.

Desolator
Desolator: Anchor Smash's damage is increased by Desolator, and it can shred many adversaries' armor.

Solar Crest
Solar Crest: Tidehunter's durability is increased by using Solar Crest, which also aids in focusing down priority targets. It may also be used on creeps to speed up the farming process.

Helm of the Dominator
Helm of the Dominator: Allies benefit from the Dominator's Helm in terms of attack damage and health restoration. Tidehunter may also manage a neutral creep, giving him access to additional valuable abilities and auras.

Heart of Tarrasque
Heart of Tarrasque: The Heart of Tarrasque is a costly luxury item to get, but it allows Tidehunter to stand in the heart of a teamfight and withstand a lot of damage, especially thanks to Kraken Shell.

Radiance
Radiance: Radiance is a situational aura item that can help with tanking and chasing. Its burn damage and induced miss chance can force enemies to engage you in teamfights, casting spells on you rather than teammates, and it can be a useful chasing tool because it allows Tidehunter to damage enemies without pausing to cast spells, as well as prevent any Blink Daggers from coming off cooldown.
Enemies & Allies
Allies

Bane
Fiend's Grip is readily dispelled by Kraken Shell.

Batrider
Kraken Shell is extremely effective against Sticky Napalm and Flamebreak, routinely dispelling them.
Flaming Lasso is generally the worst hero to target with it, because Kraken Shell will remove it, and Tidehunter will frequently live long enough to cast Ravage in the middle of Batrider's squad. Tidehunter will have the perfect opportunity to counter-initiate if Batrider begins on his buddy.

Shadow Fiend
Shadowraze's damage amplification stacks and Requiem of Souls' damage reduction are both removed by Kraken Shell (provided he has taken enough damage).

Shadow Fiend's huge attack damage is reduced by Anchor Smash, while Kraken Shell makes Tidehunter the last target Shadow Fiend wishes to attack.

If Shadow Fiend isn't protected by Black King Bar, Ravage can easily cancel Requiem of Souls.

Phantom Lancer
Shadowraze's damage amplification stacks and Requiem of Souls' damage reduction are both removed by Kraken Shell (provided he has taken enough damage).

Shadow Fiend's huge attack damage is reduced by Anchor Smash, while Kraken Shell makes Tidehunter the last target Shadow Fiend wishes to attack.

If Shadow Fiend isn't protected by Black King Bar, Ravage can easily cancel Requiem of Souls.

Windranger
Shackleshot's long-lasting stun is readily dispelled by Kraken Shell.

Kraken Shell (and potentially Anchor Smash) deflects a large percentage of Focus Fire damage.

Because Anchor Smash is one of the few sources of True Strike, Tidehunter may do massive damage while lowering Windranger's damage output through Windrun.
Counters

Anti-Mage
Tidehunter's mana pool is swiftly depleted by Mana Break, stopping him from spamming his abilities, while Kraken Shell has no effect on the additional damage component.

After Ravage, Blink allows Anti-Mage to join the fight fast and securely.

Nyx Assassin
Mana Burn may quickly drain Tidehunter's tiny mana pool, especially early in the game, making it impossible for Tidehunter to perform Ravage.

Nyx Assassin can easily stun Tidehunter with Spiked Carapace thanks to Ravage's travel delay.

Death Prophet
Spirit Siphon is unaffected by Kraken Shell, which neither dispels nor reduces damage. This ability also depletes health depending on percentage damage, making Tidehunter's vast health pool an attractive target. Death Prophet will always heal a big amount from Tidehunter's pool, even if Tidehunter has magic reduction items or abilities on him, making her an untargetable adversary for you because this significantly outweighs any damage output you can deliver.

Exorcism is another ability where Kraken Shell is useless, since the spirits ignore the damage reduction and are unaffected by the dispel. This ability also creates a hostile environment in which your blink is frequently canceled, decreasing your chance to land a good Ravage.

Ravage has little impact on Spirit Siphon or Exorcism, rendering it mostly ineffectual against her. In addition, Death Prophet frequently constructs Eul's Scepter of Divinity, which may be utilized to completely avoid the stun.

Razor
The damage stolen by Static Link is not restored by Kraken Shell's dispel, and the stolen damage significantly outweighs Anchor Smash's damage reduction. Razor may continue to assault Tidehunter from distance, preventing him from using Anchor Smash.

Tidehunter's armor is melted by Eye of the Storm, making him substantially less tanky.

Razor can follow Tidehunter without relying on his crowd control ability, therefore Kraken Shell's powerful dispel is less beneficial.

Juggernaut
Omnislash and Swiftslash are both unaffected by Kraken Shell.

Omnislash, Swiftslash, and Blade Fury can all avoid Ravage if used at the right time, providing Juggernaut a number of options for negating your best ability.

Blade Fury is an excellent approach to harass Tidehunter in the laning stage because Tidehunter has no way of escaping Juggernaut. Tidehunter's ability to harass Juggernaut is substantially reduced by Healing Ward.

Anchor Smash's damage mitigation is less effective when Blade Dance is used.

Rubick
Anchor Smash's damage output is reduced by Fade Bolt.

When playing against a Rubick, Ravage is a prime target for Spell Steal, therefore be sure to use Anchor Smash right after Ravage.

Due to the lack of cast animations, Rubick's skills, and his passive Arcane Supremacy, spells stolen by him have the potential to be more powerful.
Items Counter

Black King Bar
Black King Bar: For the duration of Black King Bar, practically all of Tidehunter's spells are prevented.

Silver Edge
Silver Edge: Kraken Shell may be disabled by Silver Edge's break.

Diffusal Blade
Diffusal Blade: Diffusal Blade depletes Tidehunter's mana pool, while Kraken Shell can negate the slow.
Favorable Matchups

Underlord
Two good spells to use with Ravage are Pit of Malice and Firestorm.

When you combine Atrophy Aura with Kraken Shell, you will be almost impervious to physical damage until the adversary has dealt a significant amount of damage.

Earthshaker
Ravage is a fantastic way to set up Echo Slam.

Elder Titan
Elder Titan may then follow up with an Echo Stomp and Earth Splitter combination thanks to Ravage.

Invoker
Ravage is the ideal setup for Sun Strike, and it also lets you to fully exploit the Aghanim's Scepter effect.

Shadow Fiend
Ravage is an excellent prelude to Requiem of Souls.
Game plan
Early game
At the beginning of the game you can't do anything aggressive, at least you have to wait for lvl 3 when you have 3 skills. You can farm if the conditions are good and you will farm very quickly by maxing out the Anchor smash (E) in the 2nd build, otherwise just build in the 1st basic way. Gush (Q) is a control skill Very useful mechanism to hold the opponent.
When in lane you can sometimes hit Anchor smash (E) to harass the opponent. You need to get to lvl6 as quickly as possible in order to gank with your teammates. You should have the Town portal scroll ready in your body early so that you can reverse lanes to support your teammates in time if they need you. You tank creeps pretty well thanks to two skills Kraken shield (W) and Anchor smash (E) so your problem of staying in lane is quite easy (except in case you get a gank).
Mid game
Ravage (R) is a very good teamfight opening skill, you can use it in ganks, small teamfights or team rescues.
You should ask for full ward support for effective ganking, or you can do it yourself, that's okay. With Blink dagger, your ganking ability is greatly improved. The Town portal scroll is an indispensable item in your inventory.
Late game
You are a tanker, initiator, so it is extremely dangerous to leave the squad at this stage if your teammates are beaten down or forced to fight without people. With Ravage (R) you start the fight extremely easily thanks to its influence.
Then just slam the big hand damage guys and stomp Anchor smash (E) to reduce their damage, Gush (Q) on those who are trying to run away or dive into your team. When you have Refresh orb, you can easily decide the outcome of the fight 2 times using the correct ultimate. Tidehunter is a fairly easy-to-play and win-win hero.