Lore & Bio
Beastmaster was born as a child of a family that worked for the court. His mother died shortly after giving birth to him, his father was a horseshoe for the king, and was trampled to death by the king when he was only five years old. Then Karroch was assigned to take care of the King's zoo, where he grew up, with all kinds of animals: Lions, Deer, monkeys, .... with limited understanding of everything outside. Everything was like that, until one day, an adventurer brought to the kingdom a beast that no one had ever seen, it was chained and dragged to the king, the beast could talk, but its mouth did not move at all. It conveys a call for freedom. The king just laughed and used the animal as a showpiece, when it refused, the king beat it with his staff and ordered it to be thrown into the kennel. In the months that followed, young Beastmaster brought in food and herbs to care for the injured animals, but only tried to keep the animals alive. Without saying a word, the beast started talking to the boy, and gradually, a bond between them formed and increased day by day until the boy discovered his ability to talk to everyone. the king's beasts.
One night the poor animal died, the boy's fury came, he opened the cage door for all the animals and drove them into the Palace, the Last King fell and he was beaten. tattered. In the chaos, a King Deer bowed to him, who had freed it and the other beasts. With the King Deer, he clung to it and it leapt over the wall surrounding the Palace, they escaped successfully.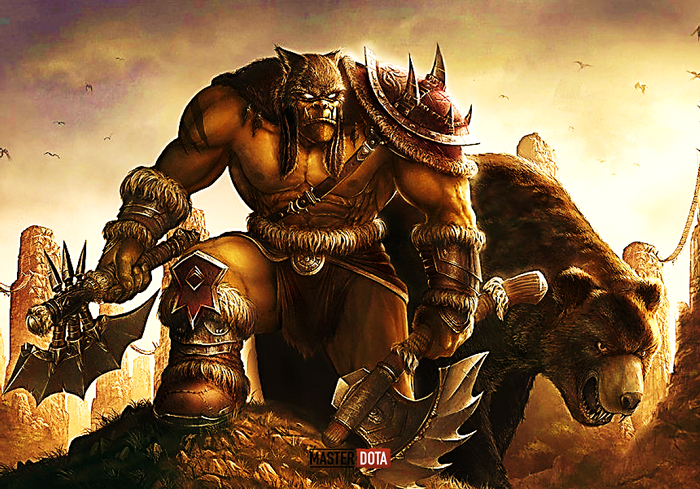 Now, as a man, Beastmaster still has not lost the ability to communicate and converse with animals. From a boy, he became a great warrior representing wild creatures, carrying the wildness of nature in himself.
Attribute & Stats
Level: 0 1 15 25 30
Health: 200 660 1460 2280 2620
Health regen: +0.25 +2.55 +6.61 +10.71 +12.36
Mana: 75 267 579 951 1095
Mana regen: +0 +0.8 +2.13 +3.68 +4.26
Armor: 0 3 6.73 11.4 13.07
Damage Block: 16 (50%)
Magic Resistance: 25%
Status Resistance: 0%
Damage: 33‒37 56‒60 96‒100 137‒141 154‒158
Attack Rate: 0.59/s 0.69/s 0.83/s 0.99/s 1.05/s
Attack Range: 150 (600)
Attack Speed: 100 (1.7s BAT)
Attack Animation: 0.3+0.7
Projectile Speed: Instant
Movement Speed: 305
Turn Rate: 0.6
Collision Size: 24
Vision Range: 1800 • 800
Legs: 2
Gib Type: Default
Ability Upgrades:
Upgradable by Aghanim's Scepter;
Upgradable by Aghanim's Shard.
Abilities & Talents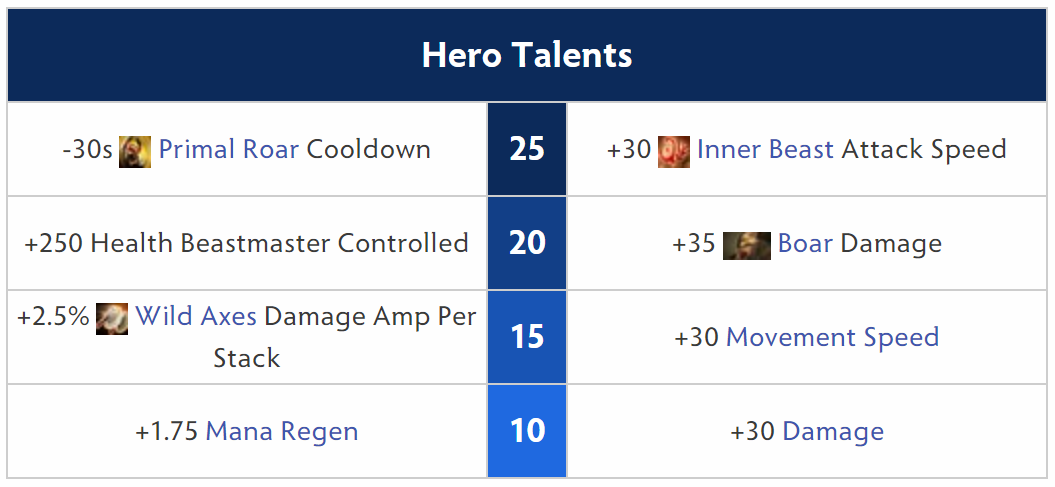 Skills building guide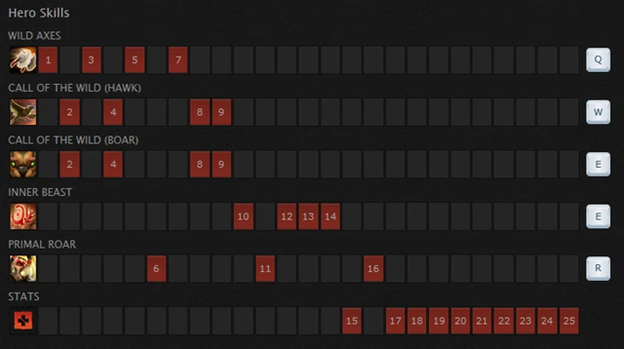 Maximize 2 skills Wild axes (Q) and Call of the wild (W) (E) to take advantage of extremely many aspects: vision, damage, ability to slow the enemy to gank (pig). it slows 40% at level 4 and penetrates bkb too, the bird gives a lot of vision, replacing wards in many situations). Inner beast (D) is obtained at later levels, when during this stage Beastmaster and his gang have already started pushing. Ultimate get the correct level
Abilities

Wild Axes
Cost: 120 mana.
Cooldown: 13 seconds
Usage range: 1300
Effect: throw 2 ax blades to the specified position, these 2 ax blades will fly into an arc touching each other at the destination then return to BM, each ax blade passes through dealing 70/100/130/160 damage Damages enemies and destroys trees on the way. Each ax blade can only deal 1 damage to 1 target —> stick both blades at the point of contact for x2 damage
Damage radius per blade: 140
Spacing of 2 axes: 353
Flight speed: 700 distances/second
Through the state of magic immunity

Call of the Wild Boar
Consumption: 15 mana
Cooldown: 42/38/34/30 seconds
Effect: summons a wild boar to fight under the control of BM, this pig has the ability to slow the opponent on each basic attack
Health: 200/300/400/500
Armor: 0
Attack Range: 550
Damage: 15/30/45/60
Movement speed: 350
Duration: 60 seconds
Run Speed Slow: 10%/20%/30%/40%
Attack Speed Slow: 10/20/30/40
Impact time: 3 seconds
Effect of pig's attack through magic immunity

Call of the Wild Hawk
Consumption: 15 mana
Cooldown: 42/38/34/30 seconds
Effect: Summons a falcon under BM's control, this bird gives high visibility (ie vision is not affected by trees and terrain). When not moving, the falcon gains stealth
Movement Speed: 250/300/350/400
Health: 40/60/80/100
Armor: 5
Visibility radius: 700/1000/1300/1600 and daytime and 700/800/900/1000 at night
Stealth delay: 3 seconds
Duration: 60 seconds
Note: when adding 1 of 2 skills to summon a bird or a pig, BM also receives the ability to summon the other (ie, just adding points to 1 summoning skill, you can summon a bird-pig duo)

Greater Hawk Invisibility
Fade Time: 1
Fade Delay: 3
Effect: If motionless for four seconds, the Greater Hawk becomes invisible.
Notes: The fade time + the fade delay equal the total time before the hawk goes invisible (4 seconds).

Inner Beast
Effect: Grants 15/25/35/35/45 Attack Speed to nearby allies
Effective radius: 900

Primal Roar
Cost: 150/175/200 mana
Cooldown: 80/75/70 seconds
Casting Range: 600
Effect: A loud roar creates a shockwave that deals 200/250/300 damage to the target enemy and stuns the target for a duration. Enemies standing in the path of the shockwave will be swept aside, taking the same amount of damage and being slowed.
Stun Duration: 3/3.5/4 seconds
Slow duration: 2/3/4 seconds
Movement Speed Slow: 50%
Attack speed slow: 50
Drift Radius: 300
Displacement distance: 300
Upgraded by Aghanim's Scepter
Cooldown: 45 seconds
Casting Range: 950
Through the state of magic immunity, blocked by Linken's Sphere
Effective items guides
Early game

Magic Stick
Magic Stick offers burst life and mana, useful to maintain Beastmaster.

Boots of Speed
Boots of Speed gives increased movement speed to get Beastmaster in the cast range of his abilities.v
Mid game

Magic Wand
Magic Wand has various advantages over Magic Stick, including greater burst health and mana.

Tranquil Boots
Tranquil Boots offers health regeneration and huge movement speed benefit, easing Beastmaster's initiation with Primal Roar.

Blink Dagger
Blink Dagger increases Beastmaster's mobility and allows him to perform Primal Roar on slippery targets.
Late game

Refresher Orb
The Refresher Orb allows you to use Primal Roar twice in a row. You'll be able to call an additional boar and hawk as well.

Black King Bar
Black King Bar: With spell immunity and strength, Black King Bar boosts Beastmaster's durability, allowing him to contribute with Wild Axes and Inner Beast, which improve total damage output during combat.
Situation items

Quelling Blade
Quelling Blade: Beastmaster can last hit easier with the Quelling Blade since it deals extra damage to creeps.

Soul Ring
Soul Ring: Beastmaster's Soul Ring provides him with strength and health restoration, as well as mana to utilize skills.

Drum of Endurance
Drum of Endurance supplies life, offers you much needed mana, and boosts your ability to reach in range to utilize Primal Roar on opponents. It also greatly boosts the attack speed of your Boar.

Helm of the Dominator
Helm of the Dominator: The Helm of the Dominator grants control over a creep with its own powers and auras, as well as bonuses from Inner Beast and other auras.

Vladmir's Offering
Vladmir's Offering works nicely with Inner Beast since it increases both damage and survivability for your squad. Also, Beastmaster is able to stay outside of base thanks to the lifesteal.

Solar Crest
Solar Crest adds more armor, attributes, and mana regeneration to your character. You may assist teammates in bringing down Roshan sooner in the game by using Inner Beast and summoning.

Heaven's Halberd
Heaven's Halberd: Enemy heroes are disarmed by Heaven's Halberd. It also boosts your health, resilience to status changes, and evasion.
Enemies & Allies
Allies

Monkey King
While perched on a tree, the Hawk can easily locate Monkey King.
Monkey King can be knocked out of a tree by wild axes.
Monkey King's attack speed is greatly reduced by boars, making it more difficult for him to obtain Jingu Mastery stacks.

Phoenix
Inner Beast assists Beastmaster's troops in easily defeating Supernova.

Sven
Even with Black King Bar, Primal Roar utterly eliminates Sven from the fight.

Templar Assassin
Boar attacks and Inner Beast's attack speed increase will swiftly wear down Refraction.

Tinker
While Tinker is pushing or blinking into trees, Beastmaster's Hawk may easily locate him.

Tiny
Tiny is relatively simple to kite because of Primal Roar and the slowness from Boars.

Troll Warlord
Troll Warlord is particularly simple to kite thanks to Primal Roar and the slow from Boars.

Ursa
Ursa is particularly simple to kite because of the Primal Roar and the slowness from Boars.

Wraith King
Because Wraith King lacks area of effect spells, Beastmaster's summons quickly overpower him.
Counters

Abaddon
Primal Roar's single-target initiation on allies is substantially negated by Aphotic Shield.
Borrowed Time, even if begun by Primal Roar, may make killing Abaddon incredibly tough.

Crystal Maiden
Frostbite quickly kills boars in the laning stage, granting experience or preventing Beastmaster from using Boar Crystal Nova nukes, as well as slowing Beastmaster's summons' attack and movement speed.
Freezing Field increases self-armor, provides nukes, and slows Beastmaster and his summons.

Enchantress
Inner Beast's attack speed advantage is negated by Untouchable, making her difficult to kill even when stunned by Primal Roar.
Beastmaster's summons can also be taken over by Enchantress.

Earthshaker
When you have a lot of summons out, Echo Slam will do more damage.

Keeper of the Light
Illuminate removes Beastmaster's summoning and counters his push.

Oracle
Primal Roar's single-target initiation on allies is effectively nullified by False Promise.
Purifying Flames instantly kills Beastmaster's Hawk and takes two casts to slay Boar.

Timbersaw
During the laning stage and throughout the game, Reactive Armor is extremely efficient against Beastmaster's summons.
Timbersaw's nukes can rapidly dispel Beastmaster's summons.

Winter Wyvern
Primal Roar's single-target initiation on allies is mitigated by Cold Embrace.
Beastmaster's summoning and Inner Beast can be turned against him by Winter's Curse.
Items Counter

Linken's Sphere
Linken's Sphere: Primal Roar is blocked by Linken's Sphere, making Beastmaster much less valuable.

Aeon Disk
Aeon Disk: Primal Roar's stun is automatically dispelled by Aeon Disk's passive.

Battle Fury
Battle Fury: Beastmaster's summoning is quickly cleared by Battle Fury's cleave.

Maelstrom
Maelstrom and Mjollnir: Beastmaster's summons can be cleared by Maelstrom and Mjollnir.
Favorable Matchups

Lifestealer
The Hawk or the Boar can be infested by Lifestealer and then ambushed.

Nature's Prophet
Because it offers threats of increased attack speed, Inner Beast makes quick work of towers.

Phantom Assassin
Beastmaster's early ganking and pushing style complements Phantom Assassin's snowball potential.
Phantom Assassin benefits from Primal Roar's lockdown and assures kills.

Spirit Breaker
Spirit Breaker may target remote goes with Charge of Darkness thanks to Beastmaster's Hawk's eyesight.
Spirit Breaker gets some much-needed attack speed from Inner Beast.
Game plan
Early game
You can go dual lane, solo lane or mid lane, with any lane you can still play on par with the opponent, but the amount of mana is your main problem, about the skill Call of the wild ( W) (E) it consumes very little mana, you can use pigs often to harass the enemy, release birds for vision. Wild axes (Q) is quite mana-consuming, so you should use it carefully, moreover, with the range, speed of the ax blade and the way it deals damage, throwing the ax deals damage at the point where the two axes touch each other. most damage, pay attention to this. Once you have your ultimate, just pick up your ass and gank.
Mid game
At this stage you have to know the balance between farming, pushing and ganking. With Blink dagger, your ganking ability is greatly improved. The Town portal scroll is an indispensable item in your inventory. Call of the wild (W) (E) is still very important throughout the game, using the right bird-pig pairing gives your team a huge advantage in terms of vision and ability to slow the opponent.
Late game
You are an initiator, so leaving the squad at this stage is extremely dangerous if your teammates are shoved or forced to fight without people. With Primal Roar (R) you start the fight extremely easily by combining with Blink dagger, then release the pets to beat the enemy. Wild axes (Q) now do not deal much damage to champions anymore so at this stage their armor is relatively thick, but creep armor is different, this is your very good home defense or cleanup tool.
At this stage, birds are an extremely important tool to control vision, using birds appropriately will help your team capture the opponent's moves, thereby making decisions to catch the basket. The opponent is unexpected and highly effective. Primal roar (R) stuns through bkb, so you can use it on any target that doesn't have Linken's sphere, but the priority is still on dangerous targets: nuker, initiator, carry.