Lore & Bio
"It is not to aid the Ancients that this war is joined, but to destroy them both. This disunity must end."
Before all things began, there was an existence: a primordial consciousness, limitless and terrifying, to fulfill a profoundly unfathomable purpose. When the universe was born, this consciousness shattered and drifted into many small pieces. The two largest pieces - often called Radiant and Dire - oppose each other on two fronts, circling around and then beginning to enchant every creature to serve the war between them.
As war and catastrophe threaten this nascent universe, the will of the third fragment emerges. Naming itself Zet, this consciousness seeks to resolve discord and bring everything back to its proper unity. Disgusted at the strife of his kin, Zet gathered his strength. In the blink of an eye, it completely overpowered its brethren, merging them all into one star and hurling it into eternal darkness, making it a satellite for some unknown planet. The balance is restored, at the cost of Zet remaining only the most primitive of power. Even though he had little strength left, Zet was determined to devote all of his time and energy to the task of administering this prison. Thousands of years have passed, the warden never neglected his duties.
Life had thrived in the world below, oblivious to the dangers ensnared in the bright moon above, or Zet's struggle to contain them. The prison Zet held in captivity appeared in turmoil, the surface of the prison shook, and began to gradually crack. In the end, Zet's depleted power was unable to hold back this rebellion, and the moon broke. The ancient prisoners of the prison have escaped to sow the seeds of their conflict once again.
Pushed as far as possible by the explosion, Zet was transformed by the inconsistent energies of the former prisoners. No longer a separate entity and consciousness, its presence was broken up into many fragments - some small, some large - each connected by an arc of consciousness. To combat the inconsistency of consciousness, Zet rushes into the escalating conflict his brothers have wrought, to bend his shattered consciousness toward a single concept. : all fragments of primordial consciousness must be united, or all must be annihilated to prevent the conflict from spreading...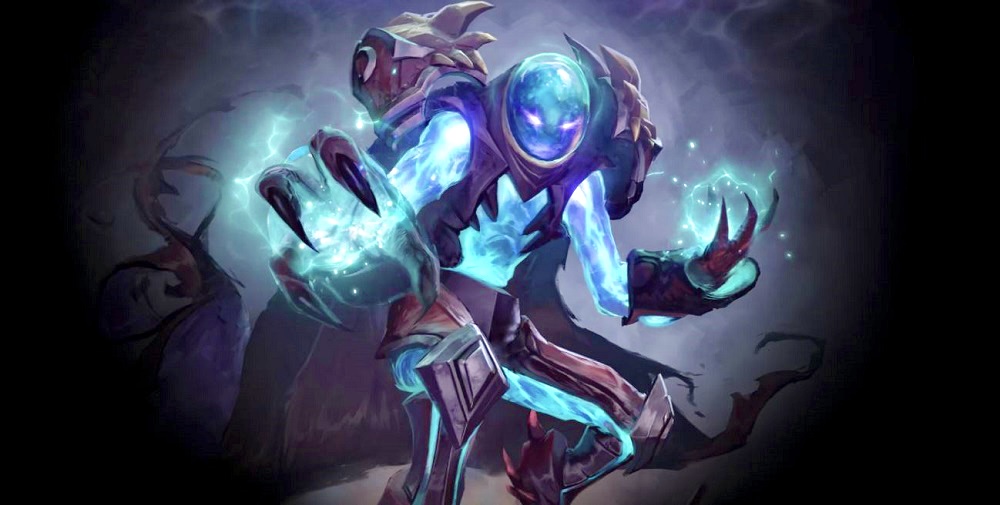 Attribute & Stats
Level: 0 1 15 25 30
Health: 200 640 1360 2120 2420
Health regen: +0.25 +2.45 +6.09 +9.89 +11.39
Mana: 75 363 795 1251 1431
Mana regen: +0 +1.2 +3.02 +4.92 +5.67
Armor: -1 2.33 8.17 14.33 16.75
Damage Block: -
Magic Resistance: 25%
Status Resistance: 0%
Damage: 27‒37 47‒57 82‒92 119‒129 133‒143
Attack Rate: 0.59/s 0.71/s 0.91/s 1.13/s 1.21/s
Attack Range: 625 (800)
Attack Speed: 100 (1.7s BAT)
Attack Animation: 0.3+0.7
Projectile Speed: 900
Movement Speed: 285
Turn Rate: 0.7
Collision Size: 24
Vision Range: 1800 • 800
Legs: 2
Gib Type: Ethereal.
Ability Upgrades:
Upgradable by Aghanim's Scepter - Magnetic Field.

Upgradable by Aghanim's Shard - Spark Wraith.
Abilities & Talents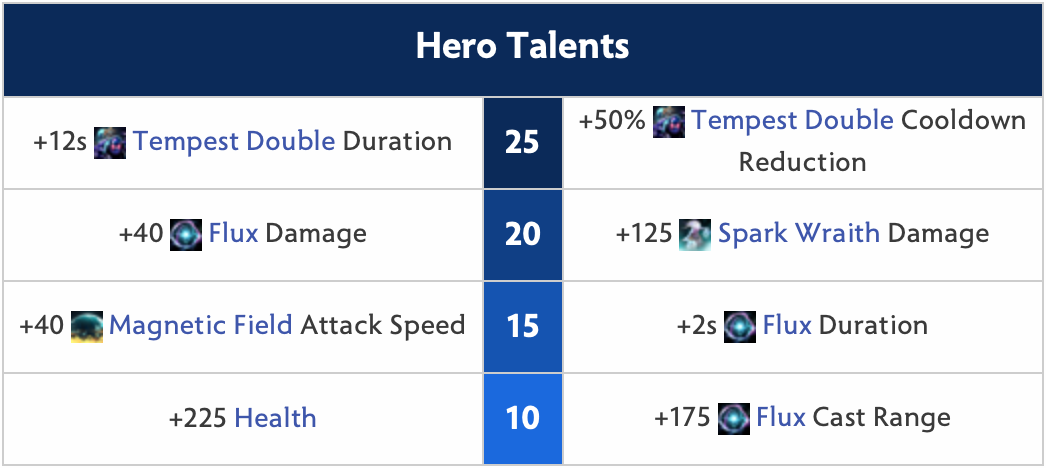 Skills building guide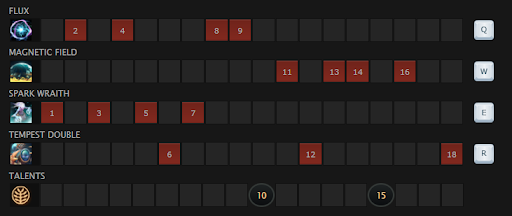 E - Spark Wraith is Zet's most versatile ability in dealing damage to enemies. That's why you should raise the max level of this skill first. Next will go to Flux to improve the ability to catch odd, single target damage. Finally, W - Magnetic Field to support teammates in big late game teamfights. In addition, the ultimate ability Tempest Double should be upgraded according to the level milestones.
Abilities

Flux
Cast Animation: 0.3+0.77
Cast Range: 500/600/700/800 (Talent 675/775/875/975)
Search Radius: 225
Damage per Second: 15/30/45/60 (Talent 55/70/85/100)
Move Speed Slow: 20%/30%/40%/50%
Duration: 6
Effect: Infuses a single enemy unit with whirling, volatile energy, limiting their mobility and causing damage over time. If another enemy unit is close to the target, the effect is muffled.

Magnetic Field
Cast Animation: 0.3+0
Cast Range: 900
Effect Radius: 300
Evasion: 100%
Attack Speed Bonus: 50/60/70/80 (Talent 90/100/110/120)
Aura Linger Duration: 0.1
Duration: 3.5/4.5/5.5/6.5
Effect: Creates a magnetic energy field with a circular distortion that shields allied heroes and structures within it from assaults from outside the field.

Spark Wraith
Cast Animation: 0.3+0.77
Cast Range: 2000
Search Radius: 375
Activation Delay: 2
Move Speed Slow: 100%
Damage: 100/170/240/310 (Talent 225/295/365/435)
Slow Duration: 0.4/0.5/0.6/0.7
Wraith Duration: 45
Effect: Summons a Spark Wraith, which materializes slowly and patrols a designated area until an adversary gets within range. The wraith unites with the victim after it has been identified, causing magical damage and slowing the unit.

Tempest Double
Cast Animation: 0.15+0.5
Number of Doubles: 1
Duration: 18/22/26 (Talent 30/34/38)
Bounty: 180/240/300
Effect: The Arc Warden is able to make a flawless electrical copy of itself by briefly focussing its broken pieces into a single shape. Except for most consumables and equipment that drop on death, the replica can utilize all of Arc Warden's existing items and spells. The duplicate has its own cooldowns for items and abilities. When foes are slain by the Tempest Double, they get bounty money.
Effective items guides
Early game

Boots of Speed
Boots of Speed: Boots of Speed boosts Arc Warden's sluggish mobility speed and allows him to flee from opponents.

Magic Wand
Magic Wand: Arc Warden's health and mana are restored by the Magic Wand, allowing him to perform his abilities and avoid weapons like Hurricane Pike.

Hand of Midas
Hand of Midas: The Arc Warden farming game is accelerated by the Hand of Midas. Keep an eye on Tempest Double's cooldown to figure out when the best moments are to utilize it.
Mid game

Boots of Travel
Boots of Travel: Boots of Travel provides a large presence on the Arc Warden map for fighting, pushing, and farming.

Maelstrom
Maelstrom: Arc Warden's farming, wave clearing, and combat powers are all improved by Maelstrom, which may be upgraded to Mjollnir or Gleipnir later.

Gleipnir
Gleipnir: Gleipnir is a good alternative with good stats and crowd management. It's great for skirmishes in the early to mid game, as well as late-game teamfights. Although the active avoids Linken's Sphere, the item's main drawback is substantially mitigated by dispels and a lack of attack speed.

Mjollnir
Mjollnir: Mjollnir increases the attack speed of both you and your Tempest Double, as well as penalizing opponents who attack either of you.

Manta Style
Manta Style: Manta Style is an excellent mid-game item since its component, Yasha, is one of the most cost-effective items for agility heroes, providing Arc Warden with much-needed agility and movement speed. Some negative effects are removed by the active, and four illusions from Tempest Double and Zet can cause havoc. The Manta Style of the double and the original are separate and do not replace each other. Magnetic Field also helps illusions by making them more resistant to physical attacks and increasing their attack speed.
Late game

Hurricane Pike
Hurricane Pike: With his enhanced attack range, Hurricane Pike allows Arc Warden to stay in the back and provides him with an escape that, when employed by Tempest Double, essentially doubles the distance covered.

Monkey King Bar
Monkey King Bar: Monkey King Bar is very effective against evasive and well armored heroes, but less so against those with great magic resistance.

Nullifier
Nullifier: Arc Warden may use Nullifier to dispel and delay foes, preventing them from being shielded by protective equipment like Glimmer Cape or Force Staff. It's also impossible to overlook 80 damage and 8 armor at such a low price. Kite melee rightclickers like Sven and prevent heroes like Drow Ranger or Zeus from fleeing using this equipment.

Scythe of Vyse
Scythe of Vyse: Arc Warden's mana and mana regeneration are increased by Scythe of Vyse, allowing him to use abilities more freely. The Tempest Double may also employ hex, which doubles the duration of the disabling effect. When chain disabling, be cautious since the opponent may immediately employ Black King Bar.
Situation items

Blink Dagger
Blink Dagger: The aggressive Arc Warden and Tempest Double can use Blink Dagger to swiftly approach enemy targets and unleash their abilities and equipment.

Shadow Blade
Shadow Blade: Arc Warden can use Shadow Blade to increase attack speed and damage, as well as invisibility, to flee or launch attacks on adversaries. It can be upgraded to Silver Edge, which applies break and suppresses both offensive and defensive passives.

Bloodthorn
Bloodthorn: With attack speed, attack damage, and True Strike, Bloodthorn increases mana regeneration and damage output. The quiet also makes it difficult for opponents to retaliate or flee. This effect may be countered by Black King Bar and other dispel items, so use caution.

Black King Bar
Black King Bar: Most disables are countered by Black King Bar, allowing Arc Warden to strike and utilize equipment. It may also be utilized to send in the backup Arc Warden while remaining safe with the primary Arc Warden. The Double may utilize Avatar, but its duration is unaffected by the Black King Bar of the primary Arc Warden.

Butterfly
Butterfly: Butterfly transforms Arc Warden into a formidable opponent. Because agility is his core trait, he gains a lot of benefits from it. Because the Tempest Double is not an illusion, it has no attack damage penalties, hence it may considerably enhance Arc Warden's overall damage output. The two destructive spells of Arc Warden deliver both magical and non-scaling damage. In the late game, a Butterfly assists him in continuing to deal damage to the enemies. The item's attack damage is also excellent for pushing and synergizes nicely with Magnetic Field.

Daedalus
Daedalus: Daedalus, like Butterfly, enhances your damage output greatly, as Arc Warden can consistently throw crits because to Magnetic Field's massive attack speed boost. It's worth noting that this passive doesn't function against structures.

Ethereal Blade
Ethereal Blade: In the late game, Ethereal Blade can be handy, especially when dealing with attack damage. Combines effectively with the abilities of the Spark Wraith. It also grants 40 agility, so it's worth considering even if you're only looking for attack damage.

Eye of Skadi
Eye of Skadi: Arc Warden's stats, HP, and Mana are all increased by the Eye of Skadi. Its freezing attack, when combined with Flux, his Tempest Double clone, and his Manta Style, makes adversaries far more difficult to escape.
Enemies & Allies
Allies

Templar Assassin
Flux swiftly depletes Refraction charges, and Arc Warden, with his superior attack animation, speed, and range, can hit her with ease. Spark Wraith may swiftly kill the ranged creep if she attempts to mute in the middle of a creep wave, forcing her to stay near the melee creeps and enabling for simple right clicks.
Arc Warden can easily generate 1000 damage (with the stacking of Flux and Spark Wraith) and kill Templar Assassin in seconds with Tempest Double. Spark Wraith will still attack her in Meld, therefore she can't dodge this combination.
A competent Arc Warden may demolish a Templar Assassin's item timings and reduce her influence during the mid-game, when she is at her most powerful.
If Templar Assassin tries to split push with Aghanim's Scepter late in the game, Arc Warden's duplicate, if equipped with a Bloodthorn and a Blink Dagger, or a Hurricane Pike, can always threaten to kill her, compelling her to utilize Black King Bar to live.
Arc Warden and his allies can be protected from Meld strikes with Magnetic Field, and if equipped with a Hurricane Pike, Arc Warden can double force himself away from the attacking Templar Assassin to safety, where she can die to Arc Warden's right clicks after her Black King Bar ends.

Mirana
Arc Warden can use his summons to protect himself and his allies from Sacred Arrow.

Mirana seldom builds armor-granting items, therefore she can't normally battle a late-game Arc Warden.

Terrorblade
If Arc Warden uses Metamorphosis, his Magnetic Field helps him to protect against Terrorblade.

Arc also purchases a Bloodthorn or a Scythe of Vyse, both of which can prevent Terrorblade from utilizing his abilities.

Phoenix
Tempest Double, the attack speed bonus from Magnetic Field, and the long attack range of Arc Warden will easily destroy a Phoenix utilizing Supernova considerably faster than normal.
Phoenix's talent works best in teamfights, therefore he's vulnerable to pushers, especially ones like Arc Warden who can quickly kill him.

Sniper
Sniper's strikes are fully negated by Magnetic Field's evasion unless he possesses True Strike.

Sniper like to stay far away from combat, making him particularly vulnerable to Flux and Spark Wraith.

Drow Ranger
Arc Warden and friends are protected by the Magnetic Field from Drow Ranger's ranged assaults. She is unlikely to take the field because she will lose her additional agility from Marksmanship.

However, because Marksmanship procs have True Strike, the most destructive arrows will still hit you when inside the Magnetic Field.
Counters

Broodmother
Against Broodmother and her spiderlings, none of Arc Warden's powers are extremely effective.

A good Broodmother prefers to conclude the encounter quickly, but Arc Warden, a hero that relies heavily on items, excels in lengthy battles.

Broodmother may use Insatiable Hunger to drain Arc Warden's life and shred through his lower armor because he has no intrinsic disables.

Invoker
His Forge Spirit has the ability to nullify Flux.

Invoker may easily blast down Arc Warden if he uses the perfect combination with Chaos Meteor (plus his clone if he spawns it.)

Arc Warden may be easily shut down by an early Orchid Malevolence, especially if Invoker has a decent lane against him if he kills him early on.

Arc Warden's movement and damage are severely limited by Deafening Blast and Ice Wall.

Anti-Mage
Because of Arc Warden's emphasis on casting skills, he is reliant on mana, which Anti-Mage may swiftly deplete with Mana Break.

Anti-Mage can shorten the gap between himself and Arc Warden by using Blink to lessen the danger of Flux slowly.

Anti-ability Mage's to farm swiftly helps him to stay up with Arc Warden's farming while also de-pushing the lanes that Arc Warden uses his Tempest Double to push into.

Manta Style is also widely purchased by Anti-Mages, who may use it to dispel Arc Warden's goods that endanger Anti-Mages like Bloodthorn.

Arc Warden's magical damage is considerably diminished by Counterspell.

Axe
Berserker's Call and Counter Helix are not protected by Magnetic Field, and his strong attack speed combined with Tempest Double will frequently activate Counter Helix.

The prospect of a blink and Berserker's Call may cause the genuine Arc Warden to retreat, essentially lowering the team's damage output for the time being.

With his Manta Style and Aghanim's Shard build, Axe can even solo kill a Tempest Double, and can also de-push the lanes Arc Warden pushes in.

Bristleback
Arc Warden's armor and mobility are both poor, making him an ideal target for Quill Spray and Viscous Nasal Goo stacks.

Arc Warden also dislikes constructing a Silver Edge since it takes a long time to complete and may interfere with the timings for other crucial items in the game. (For instance, an Orchid Malevolence vs. a Storm Spirit)

However, in a game when your team has a lot of leaping abilities or good passives, like a Tidehunter or a Spectre, a Silver Edge on Arc Warden becomes extremely beneficial since he can not only run away from the leaps, but he also gets two breaks, therefore Bristleback may not be the greatest choice.

Chaos Knight
Phantasm may be used by Chaos Knight to dispel Flux.

Arc Warden may be pulled out of Magnetic Field by Chaos Knight using Reality Rift.

Due to his limited mobility, Arc Warden struggles to flee after Chaos Knight uses Reality Rift on him. Phantasm may be used by Chaos Knight to dispel Flux.

Arc Warden may be pulled out of Magnetic Field by Chaos Knight using Reality Rift.

Due to his limited mobility, Arc Warden struggles to flee after Chaos Knight uses Reality Rift on him.
Items Counter

Black King Bar
Black King Bar: Arc Warden's largely magical damage is negated by Black King Bar.

Lotus Orb
Lotus Orb: Most of Arc Warden's commonly created goods are reflected back upon him by Lotus Orb.

Monkey King Bar
Monkey King Bar: The Magnetic Field allows foes to assault Arc Warden through the Monkey King Bar.

Manta Style
Manta Style: Manta Style can reduce the effectiveness of Spark Wraith by dispelling Flux, a commonly purchased Orchid Malevolence.
Favorable Matchups

Ancient Apparition
Flux and Cold Feet work well together. In the event that Flux is muted by allies or neutrals, Spark Wraith additionally adds a 100% slow.

The strong magic damage dealt by Spark Wraiths and Flux is slightly boosted by Ice Vortex. The damage from two Fluxes thrown by both clones stacks.

Any hero with pick-off potential, such as Arc Warden, can benefit from a global Ice Blast.
Game plan
Early game
At the beginning of the match, Arc Warden is quite weak and fragile. So the possibility of surviving in the early stages is quite low. So, after picking Arc Warden, please use the 603 gold you get to buy items that help increase / heal, better lane. In case if your Team lacks Support, you can buy more chickens or wards to support yourself and your teammates. Besides, Magic Stick is also a quite useful item for Arc Warden when dealing with opponents with many skills.
At the beginning of the Arc Warden should focus on farming.
Then, take Arc Warden in the direction of Top lane or Bot lane to avoid being ganked in this time. Focus on farming to get the earliest item. In particular, you need to pay attention to the Mini map continuously to avoid being ganked and dying unjustly. Farm for a while, you can take advantage of the long range and short cooldown time of the Spark Wraith skill to turn-creep.
Mid game
By the middle of the game, you now have Ultimate and Arc Warden's stamina has also increased significantly. You can combine with teammates to gank and push towers. Stop farming and focus on organizing and coordinating with your team to achieve more results in the Mid Game period.
See also: Bich Phuong Idol Born Year of Birth, Career and Private Life, Singer Bich Phuong.
Work well with your teammates to Gank and push turrets.
At this point, you can spam the Spark Wraith skill continuously because Arc Warden has excess mana. Besides, Flux skill needs players to have calculation and observance to not make "errors" in combat. More importantly, during a teamfight or when your team is pushing a tower, place a Magnetic Field to increase your chances of victory.
Late game
Towards the end of the game, try to level up the remaining items. Although the strength of Arc Warden mainly depends on the skill system. But at this stage, both Spark Wraith and Flux are not as strong as before. Besides, this moment the total teamfight broke out a lot. Therefore, always use BKB to preserve your life and use Heart of Tarrasque to best support your teammates. Magnetic Field still needs to be used and placed in place to be able to increase attack speed for allies.
Besides, you should choose weak Support targets to focus them first. The power of Arc Warden can completely finish these enemies. Try to win the teamfight and go with your teammate to eat Roshan. Finally, focus on pushing straight into the enemy Foutain for a perfect endgame.