Lore & Bio
"I feed the darkness and the darkness feeds me."
Night Stalker is a myth to everyone as no one knows its origin story or history. There are just several ancient folktales from different races and cultures about the period when there was no daytime as everything was covered in darkness and night time engulfed the whole world. Therefore, creatures like Balanar the Night Stalker were dominant at that time.
But their time was coming to an end soon, As on the First Day that the day time appeared on the world, the night creatures were wiped out totally except Night Stalker, an embodiment of evil. He loved granting the terror and horror to the younglings that was why he created Night Terror which is more well-known with the name Boogeyman. His prey are often the heedless and vulnerable who have been too far away from shined places or ignored the warnings from others. The presence of Night Stalker works as solid evidence that every child's worst nightmare is real.
In-game, Night Stalker is described as:
"Once the sun goes down, Night Stalker's hunt begins. Charging through the shadowy forests, he snares prey in a slowing void as he tears them to shreds. Should sunrise threaten to end his terror, he can darken the skies to extend his onslaught.."
Attribute & Stats
Strength: 23 + 3 each level

Agility: 18 + 2.3 each level

Intelligence: 15 + 1.6 each level

Health: 660

Health regeneration: + 4.55 each second

Mana: 255

Mana regeneration: + 0.75 each second

Damage: 63-67

Amor: 5

Magic Resistance: 25%

Turn Rate: 0.6

Attack Range:150

Projectile speed: Instant

Attack Animation: 0.55+0.55

Movement: 295

Sight Range: 800/1800

Base Attack time: 1.7 seconds per attack

Damage Block: 16

Collision size: 24
Abilities & Talents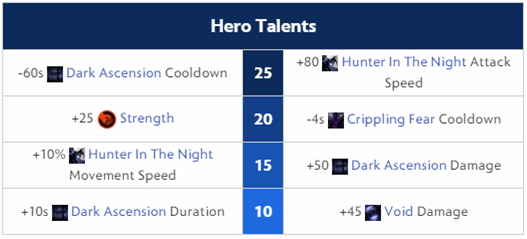 Notes:
The strength talent provides Night Stalker exactly 500 health, 2.5 health regeneration, and 25 attack damage.
Skills building guide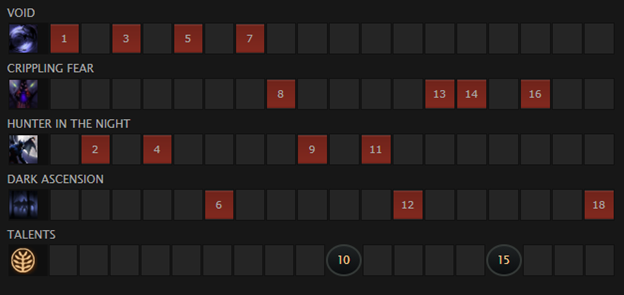 In this build I will focus on guiding you how to play Phoenix as an Offlaner. Then the first ability I recommend you max out is Void as it is a great tool for harassment besides the damage it deals. In addition, the attack speed reduction effect can make enemy heroes struggling to last hit. Furthermore, the mini-stun can prevent the enemy from escaping by using Town Scroll Portal or other channeling abilities.
The second ability to max out is Hunter In The Night due to the movement and attack speed it grants. With Hunter In The Night, Night Stalker can gank or support other lanes in the night time and gain the advantage for the team. It is also useful when chasing the enemies or escaping from the gank.
Crippling Fear is your last priority. Although this ability is great and can silence nearby enemies for a short period of time, it is really easy to dodge and get out so you should consider adding one point when the game is dragging to the mid as there are more teamfights occuring at this time.
Abilities

Void
Void (Unit Target, Magical)
Effect: Nightstalker summons the dark matters covering the targeted enemy for a specific period of time which slows the target and deals damage. Void also applies mini-stuns which disrupt channeling abilities. The slow debuff will endure longer at night time.
Mana cost: 80/90/100/110
Cooldown: 11/10/9/8
Cast Animation: 0.3+0.33
Cast Range: 525
Damage: 80/160/240/320 (Talent 125/205/285/365)
Move Speed Slow: 50%
Attack Speed Slow: 50
Day Slow Duration: 1.25
Night Slow Duration: 2.5/3/3.5/4
Day Stun Duration: 0
Night Stun Duration: 0.1
Upgraded from Aghanim's Scepter:
Effect: Void become an AoE ability and its mini-stuns duration will be increased
Cast Range: 0
Night Stun Duration: 0.5
Radius: 900
Notes:
The night created by Eclipse also affects Void.
When Void is cast, the slow effect is applied first then the damage and stun debuff is the last.
When Hunter in the Night is active, Void has a cast backswing of 0.57
With an upgrade from Aghanim's Scepter, Void becomes an AoE ability which can stun and deal damage on enemies within 900 radius.
Invisible units or units in the Fog of War won't be affected by Void within the active range.

Crippling Fear
Crippling Fear (No Target)
Effect: Night Stalker generates dark matters in the field around him which horrifies the nearby enemies and silences them for a while. The debuff will remain longer at night time.
Cooldown: 30/25/20/15 (Talent 26/21/16/11)
Mana Cost: 50
Cast Animation: 0.2+0.43
Radius: 375
Day Duration: 3
Night Duration: 4/5/6/7
Aura Linger Duration: 0.5
Notes:
The night created by Eclipse also affects Crippling Fear.
The silence debuff radiates around Night Stalker in the form of aura which lasts for 0.5 seconds.
While the Crippling Fear is cast before the change of day and night time, the aura's duration will stick to the time this spell is cast.
When Hunter in the Night is active, Crippling Fear has a cast backswing of 0.57

Hunter in the Night
Hunter in the Night (Passive)
Effect: Night Stalker is at his best at night, He gets his movement speed and attack speed increased.
Cooldown: 0
Mana cost: 0
Passive Move Speed Bonus: 22%/28%/34%/40% (Talent 32%/38%/44%/50%)
Passive Attack Speed Bonus: 20/40/60/80 (Talent 100/120/140/160)
Upgraded from Aghanim's Shard:
Effect: Hunter in the Night becomes a castable spell which means when it is activated, a creep will be killed instantly. That consumed creep will heal his health and restore his mana.
Cooldown: 20
Cast Animation: 0+1.07
Cast Range: 150
Active Max Health as Heal: 35%
Active Max Mana as Mana Restore: 35%
Notes:
The night created by Eclipse also affects Hunter in the Night.
With the upgrades from Aghanim's Shard, Hunter In the Night can be cast by the Night Stalker. The origin passive from this spell still affects Night Stalker.
illusions, clones, creep-heroes, and Roshan are the units that Hunter in the Night can be cast upon.

With ancient creeps, they are immune to this spell during the day time but they are affected in the night time.

The consumed creep will grant gold and experience bonus if it is an enemy or neutral creep. If it is an ally, the denying effect will be applied.

Night Stalker will get healed and mana restored immediately right after the spell is cast regardless of visual effect.

Dark Ascension
Dark Ascension (No Target)
Effect: The darkness suddenly covers all the map and Night Stalker's abilities reach their full potential. During this moment, Night Stalker can fly through the terrain and deal extra damage. Besides, his vision is unobstructed.
Mana cost:125/175/225
Cooldown: 150/140/130 (Talent 90/80/70)
Cast Animation: 0.3+0
Attack Damage Bonus: 50/100/150 (Talent 100/150/200)
Duration: 30 (Talent 40)
Notes:
Daytime created by Supernova can outweigh the night time from Dark Ascension.
In the case that Supernova is cast to outweigh the Dark Ascension, Night Stalker is still granted with flying ability, bonus damage and unobstructed vision, however the vision is stuck to the daytime vision.
The cast backswing when this spell is cast in the nighttime is 0.5 seconds.
The damage which is granted from level 15 talent can be updated immediately on the currently running occurrence.
Effective items guides
Early game

Healing Salve
Healing Salve keeps Night Stalker in lane longer by restoring his health.

Tango
Tango grants a small amount of health regeneration for a specific period of time which keeps Night Stalker's HP in the sustain state in the laning phase.

Enchanted Mango
Enchanted Mango: helps Night Stalker cast more Void to finish the enemy by restoring mana in the early game.

Magic Stick
Magic Stick instantly restores mana and health which helps Night Stalker to cast more Void.

Boots of Speed
Boots of Speed synergizes with Night Stalker's Hunter In the Night and grants him more mobility at night.

Urn of Shadows
Urn of Shadows: Besides the bonus attributes and armor it grants to Night Stalker which allow him to survive the gank, this item can heal the allied hero as well as damage the enemy.

Observer Ward
Observer Ward: As Night Stalker's daytime vision is limited, this item is really useful for him to inform him about the imminent threat. With his mobility, he can place this ward in the enemy's jungle which allows him to set up for a gank better.
Mid game

Magic Wand
Magic Wand restores mana and health with more charges.

Solar Crest
Solar Crest grants Night Stalker a great amount of bonus stats. Besides, its activation can be used to help Night Stalker and his allies deal more damage on the targeted units.

Observer Ward
Observer Ward: As Night Stalker's daytime vision is limited, this item is really useful for him to inform him about the imminent threat. With his mobility, he can place this ward in the enemy's jungle which allows him to set up for a gank better.

Phase Boots
Phase Boots: grants movement speed and attack damage as well as a small amount of armor which works well with Hunter in the NIght.

Spirit Vessel
Spirit Vessel is a valuable update from Urn of Shadows, granting Night Stalker various bonus stats and its activation is extremely useful when encountering enemies with high health regeneration.

Aghanim's Scepter
Aghanim's Scepter makes Night Stalker become a threat in the teamfight by updating his abilities into AoE ones. He can also use the upgraded abilities to accumulate more golds and experiences.
Late game

Assault Cuirass
Assault Cuirass makes Night Stalker much tankier by granting a decent amount of armor. Besides, Assault Aura can increase the damage output, armor of his allies as well as decrease the armor of enemy units which is extremely useful in combat.
Situation items

Lotus Orb
Lotus Orb grants Night Stalker health and mana regeneration which allows him to survive better in the teamfight and casts more spells.

Smoke of Deceit
Smoke of Deceit: With this item, the position of Night Stalker and his allies can not be unveiled by enemy's wards which allows him to set up a kill-secure gank or a perfect combat.

Gem of True Sight
Gem of True Sight grants great vision as well as spot the position of the invisible enemies. If using this item during nighttime, Night Stalker can have an enormous vision around the map which helps him roam and support other lane batters.

Blade Mail
Blade Mail reflects a portion of the damage dealt by the enemies which keeps Night Stalker alive and makes the enemies think twice when choosing the target.

Heaven's Halberd
Heaven's Halberd grants great bonuses as well as a hard counter for any physical damage heroes. Besides, Halberd can prevent a target from attacking for a certain amount of seconds.

Black King Bar
Black King Bar grants Night Stalker the spell immunity whose abilities are lacking. Therefore, he can use up his spell in the teamfight and attack enemies without being disrupted.

Nullifier
Nullifier: When most of the heroes in the enemy team purchase Black King Bar, you should consider buying Nullifier. Besides the health regen, armor and attack speed it grants, Nullifier is a hard counter against enemies who rely on items like Manta Style Manta Style + Skull Basher like Anti Mage, Spectre and so on.
Nullifier will be more efficient if paired with Blink Dagger or Shadow Blade ( you can consider upgrading Shadow Blade into Silver Edge if the enemies relies heavily on the passive abilities).

Silver Edge
Silver Edge: besides granting a great amount of attributes, attack speed and attack damage, its activation Shadow Walk in combination with Hunter in the Night will improve his ganking ability, deal more damage, and disable enemy passive.

Abyssal Blade
Abyssal Blade grants Night Stalker damage block and bonus health which makes him tankier. Furthermore the stun and bash debuffs are extremely useful when preventing the enemies from escaping.

Heart of Tarrasque
Heart of Tarrasque: A total 1300 health and 14.5 health regeneration are what Night Stalker receives when buying this item. Night Stalker can survive longer in a teamfight and keep its health in the sustain state.
Enemies & Allies
Allies

Oracle
Oracle: With the help from Fortune's End, Night Stalker can duel with his counters such as Batrider, Ursa, Razor and Monkey King more easily. Besides, it also prevents Night Stalker from being caught by rooting the enemy down for a specific time. Fate Edict in combination with Fortune's End, Night Stalker can deal with Juggernaut's Blade Fury better. Oracle's combo in combination with Crippling Fear can kill the enemies instantly.

Luna
Luna: As aforementioned about the synergy between Luna's Eclipse and Night Stalker's abilities, Luna might be considered a great ally of Night Stalker. Luna can help him clear the illusions and summons which bother Night Stalker. Night Stalker also takes advantage of Lunar Blessing as it grants him more damage.

Magnus
Magnus: Reverse Polarity can accumulate enemies in the same spot so Night Stalker can cast Crippling Fear on them. With the buff from Empower, Night Stalker can farm better and deal with enemies who create illusions and summons by granting cleaving damage.
Counters

Chaos Knight
Chaos Knight: With Reality Rift, Chaos Knight can quickly close the gap between him and Night Stalker which prevent him from running. As Night Stalker's abilities can not deal with multiple targets, he is vulnerable against the illusions summoned by casting Phantasm. However, Owning Aghanim's Scepter can help him clear the illusion better.

Lycan
Lycan: Void has no effect on Lycan during Shapeshift. As aforementioned, Night Stalker struggles when dealing with multiple targets which means he can not clear out the wolf summoned by Lycan in the early game.

Naga Siren
Naga Siren: Even in the night time, getting away from Ensnare and Song of the Siren is nearly impossible. Rip Tide makes Night Stalker become an ideal target by reducing his armor. Night Stalker will take a lot of time to clear off Naga Sire's images created by Mirror Image.

Phantom Lancer
Phantom Lancer: Night Stalker will take a lot of time to clear off Phantom Lancer's illusions created by Doppelganger even with the upgrade from Aghanim's Scepter. The Void's slow effect has little effect on Phantom Lancer during Phantom Rush. Even with the help from Void and Crippling Fear, Night Stalker hardly escapes from Phantom Lancer when casting Spirit Lance and using Diffusal Blade.

Sven
Sven: During Warcry, Sven is tankier which means Night Stalker can not finish him easily. High physical damage output from Sven can kill Night Stalker before he uses up his abilities.

Troll Warlord
Troll Warlord: the damage output from Night Stalker has been decreased significantly due to the miss chance debuff caused by Whirling Axes (Melee). A great combo from Troll Warlord can allow him to finish Night Stalker quickly.
Items Counter

Town Portal Scroll
Town Portal Scroll: Void is the only tool that Night Stalker can use to stop Town Portal Scroll which means the owner can easily escape from Night Stalker.

Manta Style
Manta Style creates illusions which Night Stalker is hard to encounter. It also dispels the slow debuff created by Void.

Lotus Orb
Lotus Orb: reflect the slow's debuff of Void on Night Stalker

Linken's Sphere
Linken's Sphere blocks Void's slow and damage.

Force Staff
Force Staff pushes Night Stalker away so he can not approach and cast Crippling Fear.

Ghost Scepter
Ghost Scepter or Ethereal Blade grants owners with immunity which help them survive Night Stalker's high damage.

Eul's Scepter of Divinity
Eul's Scepter of Divinity's cyclone disables Night Stalker for a while and makes Crippling Fear debuff ineffective.

Silver Edge
Silver Edge makes Hunter of the NIght less effective on the owner

Black King Bar
Black King Bar: most Phoenix's abilities become useless.
Favorable Matchups

Storm Spirit
Storm Spirit has no chance to fight back when being caught in the silence range of Crippling Fear. Besides, the core items of Storm Spirit can not help him dispel the silence.

Puck
Puck: When being caught by Crippling Fear, Puck will go down instantly.

Clinkz
Clinkz can not get away from Night Stalker even in the invisibility state due to the long silence. Clinkz can not stand the high damage output from Night Stalker as he has a small health pool.

Earthshaker
EarthShaker's Fissure can be outplayed by Dark Ascension. At night time, due to his poor agility, it will be really hard for EarthShaker to escape from Night Stalker even with the help of Blink Dagger.

Keeper of the Light
Keeper of the Light's power received from upgrading Aghanim's Scepter relies on the daytime which can be outplayed easily by casting Dark Ascension.

Tinker
Tinker: with Dark Ascension, Tinker can not hide away from NIght Stalker.

Riki
Riki's position might be spotted easily by Dark Ascension and Gen of True Sight. As Night Stalker is quite tanky which means Riki must take a lot of time to kill Night Stalker.

Slark
Slark: Night Stalker has his eyes on Slark during Dark Ascension even when he is invisible during Shadow Dance.
Game plan
Early game
As an offlaner, Night Stalker does not rely much on farming in the early game. What you try to do is to prevent the enemy hero from farming by denying as much creep as possible as well as supporting your ally to last hit easier. You might have your eye on the rune in the river as It can help you stay in the lane longer and survive better. And if your ally can not get to the lane on time to farm some creeps, feel free to do so on behalf of him.
Mid game
In the mid game, your job is pretty the same as the early game. It means you also stick with your ally in the lane and fully support him in farming as well as getting the kill from enemy heroes. When the night begins, you can start to roam to other lanes if they need your support or to secure a kill but remember your main task is to help the carry in your team have their strength get accelerated as fast as possible. And always be prepared for the teamfight that might happen any time.
Late game
In the late game, your team will mostly focus on the key objectives like Roshan or buildings and winning the crucial teamfight.With the Blink Dagger and Black King Bar, you should find yourself a good spot among enemy heroes,then cast Crippling Fear and let your team do the rest. You are quite tanky in the late game so you should absorb more damage and draw the attention of enemies so your teammate can have enough room to execute the opponents.