Lore & Bio
Tinker belongs to a race known for their superhuman intelligence, slyness, and a troubled relationship with magic. They find pride in using wisdom to survive, and using only natural sources of strength, unlocked through science and reason, raising the development of the whole nation to a new level. Yet, as Boush could demonstrate, even this good quality led to a great deal of trouble. Once a key researcher on the laws of nature, Boush led a large group of intellectuals, learning about how nature works. They set up a laboratory deep underground in the misty and rumored Violet Plateau.
According to rumors, this is a place to store ancient knowledge beyond the understanding of all things, and also a cemetery for those who come to this place by themselves. On the one hand, scorning wizards for the dangers they pose to the world, Boush and his associates Tinker inadvertently open a portal to a dimension beyond perception, and invites the nightmare of the world. themselves. A jet-black smoke rose from the cavern below the Violet Plateau, casting an eternal veil of darkness over the place, followed by endless horrifying sounds. Boush fortunately escaped with his quick wits, and the strange machines he brought with him, and became the only Tinker to survive the tragedy of Violet Plateau.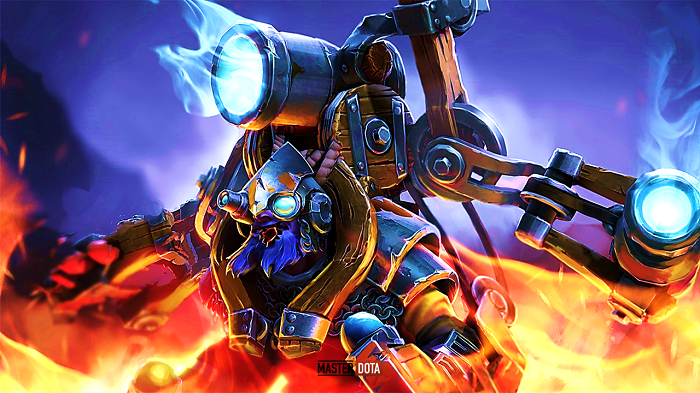 Attribute & Stats
Level: 0 1 15 25 30
Health: 200 560 1260 2000 2280
Health regen: +0.25 +2.05 +5.55 +9.25 +10.7
Mana: 75 435 987 1527 1743
Mana regen: +0.75 +2.25 +4.56 +6.81 +7.74
Armor: 2 4.17 6.97 10.97 12.3
Damage Block: -
Magic Resistance: 25%
Status Resistance: 0%
Damage: 24‒30 54‒60 100‒106 145‒151 163‒169
Attack Rate: 0.59/s 0.66/s 0.76/s 0.9/s 0.95/s
Attack Range: 500 (800)
Attack Speed: 100 (1.7s BAT)
Attack Animation: 0.35+0.65
Projectile Speed: 900
Movement Speed: 290
Turn Rate: . 0.6
Collision Size: 24
Vision Range: (G) 1800 • 800
Legs: 2
Gib Type: Motor
Ability Upgrades:
Upgradable by Aghanim's Scepter;
Upgradable by Aghanim's Shard.
Abilities & Talents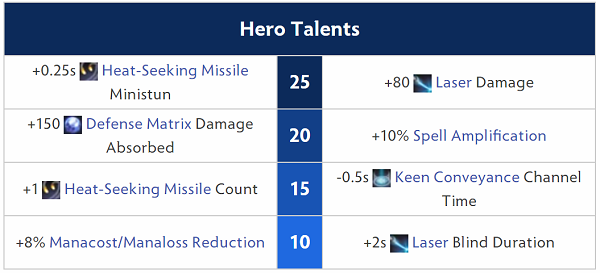 Skills building guide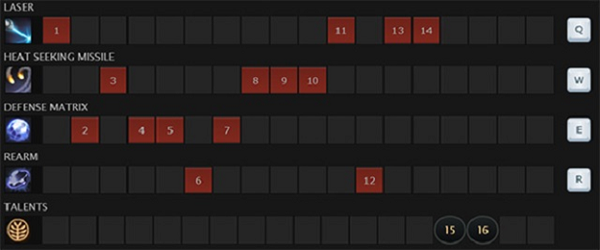 There are 2 ways to increase skills for Tinker:
– Tinker Ganker: By taking advantage of the powerful combo of Laser (Q) and Heat Seeking Missile (W), Tinker will raise these 2 skills first. Since Rearm (R) consumes a lot of energy and doesn't have much effect at level 6, we will raise it to level 9, then raise it to March of the Machines (E). Finally lift complete Rearm (R) and Stats. This increase is suitable when you play Normal or Rank single.
– Tinker Pusher: In pro matches, the fact that Ward from the opposing Supporter is always around makes Tinker's life by ganking difficult so Tinker will instead use March of the Machines (E) as an ability. farm lane and jungle to get early Boots of Travel and other gear. Laser (Q) and Heat Seeking Missile (W) lift depending on the situation (like the example in the picture below). Rearm (R) should still be at level 9 and last Stats.
Abilities

Laser
Cost: 95/120/145/170 mana.
Cooldown: 14 seconds.
Cast Range: 550 range.
Effect: Tinker fires a powerful laser that deals 80/160/240/320 damage to targets hit and blinds them, causing their physical attacks to miss for 3 seconds (6 seconds for minions)

Heat-Seeking Missile
Cost: 120/140/160/180 mana.
Cooldown: 25 seconds.
Cast range: 2500 distance.
Effect: Launches 2 rockets to destroy the 2 nearest enemies in sight and deal 100/175/250/325 damage each.

March of the Machines
Cost: 145/150/165/190 mana.
Cooldown: 35 seconds.
Cast range: 300 distances.
Effect: Summons an army of robots to destroy enemy units in a certain area around Tinker for 6 seconds.
Range of Robots: 900 distances.
Robots collision range: 50 distances.
Robots damage range: 150 distance.
Damage per robot: 16/24/32/40.

Rearm
Cost: 150/250/350 mana.
Cooldown: 0 seconds.
Scope of development: Self.
Effect: Restores the cooldowns of Tinker's skills and equipment after 3/2/1 second channeling.

Defense Matrix
Damage absorb: 100 / 180 / 240 / 320
Status resistance: 20 / 30 / 40 / 50
Time: 15.0
Effect: Select an ally target that shields, blocks damage, and grants resistance.

Keen Conveyance
Effect: After channeling for 4.5s teleport to a target friendly structure. Level 2 allows teleporting to friendly units and Level 3 to friendly heroes.
Effective items guides
Early game

Boots of Speed
Boots of Speed are basic mobility requirements for any hero. Getting them early on Tinker allows him to more easily position himself for casting his spells.

Null Talisman
Null Talisman provides Tinker with more damage, which helps with last-hitting. As such, it is advised to start with a Null Talisman when playing mid, as the extra damage can make a huge difference against certain lane opponents.

Bottle
Bottle is essential for a mid Tinker, as it provides HP and mana regen critical for allowing him to stay in-lane to farm. Bottle remains vital on Tinker throughout the game, as it extends his mana pool when teleporting forward to cast spells and speeds up healing in fountain, so consider dropping it in the Stash instead of selling it later.
Mid game

Boots of Travel
Boots of Travel provide global mobility and map presence in the form of teleportation to any friendly building or creep. Combined with Rearm, Tinker can reposition himself globally at will to swiftly push lanes, join teamfights, and then return to the fountain to replenish his mana.

Soul Ring
Soul Ring greatly extends Tinker's mana pool when teleporting around the map to cast spells, as he can dip into his HP pool to extend his active operation time. As he can reset its cooldown at will with Rearm, using Soul Ring once per cycle can give him vastly more mana to use. As well, he can offset the HP cost via the use of Bottle, keeping him at full HP even with regular use.

Blink Dagger
Blink Dagger drastically improves Tinker's mobility, and gives him great survivability when pushing lanes with March of the Machines. As it can be shift-queued after teleporting to the front lines, Tinker can instantly blink into the treeline to safely cast his spells without giving the enemy an opportunity to spot him.

Kaya
Kaya grants intelligence and mana regen amplification so Tinker can use more abilities outside of base. The increased spell damage also helps with pushing waves and bursting heroes.

Aether Lens
Aether Lens increases mana pool and cast range so Tinker can use Laser and March of the Machines from a safe distance.
Late game

Bloodstone
Bloodstone greatly increases mana regen, which is quite useful for Tinker as he can quickly run out of mana.

Aghanim's Scepter
Aghanim's Scepter gives Tinker a vast amount of teamfight contribution, as he can use Laser to blind and deal pure damage to multiple enemy heroes per cast, forcing them to dispel the debuff if they want to deal any physical damage, and bombarding them with long-range artillery using Heat-Seeking Missile.

Dagon
Dagon is a very powerful burst damage nuke on Tinker that additionally increases the size of his mana pool as it is upgraded. Combined with Laser and Heat-Seeking Missile, it can instantly blow up lone targets, especially once combined with Rearm to increase the damage output by multiples.

Scythe of Vyse
Scythe of Vyse greatly improves the size of Tinker's mana pool, and gives him powerful mana regen, increasing the number of spells he can cast on deployments before returning to base. The Hex is extremely powerful as combined with Rearm it allows Tinker to permanently hard-disable an enemy for as long as he has the mana to do so.
Situation items

Shiva's Guard
Shiva's Guard gives Tinker much needed intelligence to continue use of Rearm, and gives him a magic nuke to assist in pushing. The extra armor and passive attack speed slow also give him resistance against physical damage if he shows up to teamfights, and the active nuke can be refreshed and cast multiple times.

Boots of Travel 2
Boots of Travel 2 is a useful upgrade to Boots of Travel for engaging in fights at inopportune locations. The ability to teleport to allied heroes rather than just creeps allows Tinker to bring instant reinforcements to any unfolding fight, particularly if they take place where there are no friendly creeps to jump to.

Eul's Scepter of Divinity
Eul's Scepter of Divinity is a good cheap mana item that gives Tinker good mana regeneration and a useful disable. Used properly, the Cyclone can be used to set up disables on enemies offensively, or buy Tinker time if he's caught while pushing a creep wave.

Glimmer Cape
Glimmer Cape can be a strong survivability item, both for Tinker and his team. As he can constantly have the effect up with Rearm, Tinker becomes much harder to catch since the enemy must bring detection, and their magic nukes become far less potent for focusing him down. In fights, Tinker can use the active on multiple allies simultaneously, allowing him to either save them en masse or give them increased initiation ability.

Black King Bar
Black King Bar prevents Tinker from being locked down in teamfights, particularly since Rearm is a channeled spell that can be interrupted. While it cannot be refreshed by Rearm, it can give Tinker the survivability he needs to cast his spells uninterrupted in a fight.

Lotus Orb
Lotus Orb is an extremely strong defensive item, both for pushing and for teamfighting. Echo Shell can prevent enemies from easily disabling Tinker, as using targeted disables or nukes reflects them back, disabling or nuking the enemy in turn and forcing them to reconsider the engagement. As well, since Echo Shell can be refreshed with Rearm, it can be placed on multiple allies at once, giving your team a strong edge in fights.

Ghost Scepter
Ghost Scepter builds into Ethereal Blade and makes him invulnerable to physical damage. It can be refreshed to keep him safe from attacks.

Ethereal Blade
Ethereal Blade does not give Tinker very beneficial stats, however it is useful for augmenting Tinker's already impressive burst magic damage against enemies, especially if he has built numerous intelligence items, and can be used on himself or teammates to grant immunity against physical damage. In a pinch, it can also be used on one of the enemy's carries to prevent them from attacking if Laser was already used on another target.
Enemies & Allies
Allies

Bloodseeker
Laser can be very effective against Bloodrage as the damage will be amplified while the blind prevents Bloodseeker from landing hits.
Tinker is a natural Boots of Travel carrier and Rearm guarantees him escape from Rupture.

Chaos Knight
With Aghanim's Scepter, Tinker's Laser completely stops Chaos Knight's damage, forcing him to buy either a Black King Bar for his own survivability while leaving his illusions still vulnerable, or a Monkey King Bar leaving him still vulnerable to Tinker's nukes, though improving his damage.
Tinker rarely finds himself in the middle of a fight, which is where Chaos Knight typically thrives, and even in the rare cases of being so, at level 3 Tinker's constant rearm and blink away can kite and dodge Chaos Knight's spells reliably, so Chaos Knight has very little catch against Tinker's mobility. This gives Tinker impunity to create more chaos in a teamfight than Chaos Knight can control, laying down the field with March of the Machines and constantly being hit by rockets and lasers.

Faceless Void
If Tinker can stay outside of Chronosphere, Laser can cause Faceless Void to miss all his attacks.
Faceless Void has low health and strongly relies on Time Walk's healing factor to remain alive. Getting caught by Tinker with Scythe of Vyse will almost always spell a quick end for Void.
Rearm ignores Time Dilation completely.

Shadow Fiend
During the laning stage Laser will reduce Shadow Fiend's last hits, preventing him from getting Necromastery souls.
Shadow Fiend has low health and is vulnerable to Tinker's high magic burst.

Terrorblade
Tinker can single-handedly stop Terrorblade's early-push and quickly clear his illusions with Laser (especially with Aghanim's Scepter) and March of Machines.
Tinker has perfect tools to reveal Terrorblade from his illusions as well as to burst him down if he is low-health before he will be able to Sunder.

Timbersaw
All Tinker's damage is magic/pure and completely ignores Timbersaw's Reactive Armor.
Timbersaw very rarely builds Black King Bar, making him very vulnerable if Tinker builds Scythe of Vyse.
Counters

Dazzle
Shadow Wave provides good sustain against Tinker's spammable abilities.
Shallow Grave can stop Tinker from bursting down a target.

Doom
Tinker is heavily reliant on casting his spells and Doom can disable all of his abilities and items. An Aghanim's Scepter only makes it harder for Tinker to survive.

Legion Commander
Press the Attack can dispel Laser's blind while providing great attack speed and health regeneration.
Once caught in a Duel, who completely relies on his spells to be effective, has little chances of survival with his low health pool and armor.

Lifestealer
Rage will dispel Laser's blind and turn him spell immune for the duration so Tinker cannot damage him.
Feast will quickly bring down Tinker due to being so fragile.

Luna
Luna can easily prevent Tinker from escaping with Boots of Travel or Rearm with Lucent Beam.
Luna can also quickly tear Tinker to shreds with Eclipse as soon as he jumps in with Blink Dagger.

Night Stalker
Night Stalker can easily find Tinker in the trees during Dark Ascension.
Void's mini-stun will stop Rearm and Boots of Travel.
Crippling Fear's silence will prevent Tinker from fighting back, as Tinker relies on his spells.

Nyx Assassin
His whole skillset acts like a counter to Tinker:
Impale prevents Tinker from blinding Nyx Assassin or fighting back, while giving Nyx' allies time to catch up to Tinker's position.
Mana Burn generally deals more damage to intelligence based heroes like Tinker
Spiked Carapace can stun Tinker at a moment of Nyx Assassin's choosing if March of the Machines has been cast. It is also quite easy to time Spiked Carapace against Heat Seeking Missiles.
Vendetta allows Nyx to approach Tinker in the trees or wait for him in common hiding spots and deal heavy damage to his low armor.

Pudge
He can Meat Hook a Tinker hiding in the trees and follow it up with Dismember and Rot for an easy solo kill, as Tinker doesn't tend to buy survivability items.
His innate magic resistance and huge health pool from Flesh Heap makes it hard for Tinker to deal serious damage to Pudge.
Items Counter

Blade Mail
Blade Mail can reflect a lot of damage back to Tinker, especially while using March of the Machines.

Linken's Sphere
Linken's Sphere prevents Tinker from using Laser and his targeted items.

Black King Bar
Black King Bar makes all of Tinker's spells and items useless, because they are all magical and don't penetrate spell immunity.

Lotus Orb
Lotus Orb reflects his spells and items back onto himself.
Favorable Matchups

Faceless Void
Faceless Void's Chronosphere provides a great setup for Tinker's spells.

Kunkka
X Marks the Spot allows Tinker to teleport out of base and get recalled as soon as he's in danger.

Nature's Prophet
Tinker and Nature's Prophet are both very good at pushing lanes, and their combined global presence means they can easily show up to help each other.

Spirit Breaker
Tinker can teleport onto Spirit Breaker during Charge of Darkness with Boots of Travel 2 and gank heroes.
Charge of Darkness provides vision of the target, allowing Tinker to chase it with repeated casts of Heat-Seeking Missile.

Bloodseeker
Thirst can help Tinker finish off foes after his Dagon, Heat-Seeking Missile, Laser, Rearm combo by providing vision when enemies are at low health.
Bloodrage significantly increases Tinker's already massive damage output.

Keeper of the Light
Chakra Magic reduces Tinker's mana usage so he won't have to return to the fountain as often.
Illuminate spam along with March of the Machines makes an area difficult to traverse for the enemy team, so as long as a hero doesn't commit spell immunity.

Bounty Hunter
Track gives True Sight of the target, allowing Tinker to chase it with repeated casts of Heat-Seeking Missile.

Slardar
Corrosive Haze gives True Sight of the target, allowing Tinker to chase it with repeated casts of Heat-Seeking Missile.
Game plan
Early Game
You should pay attention to the minion stats to be able to quickly equip the equipment, but you should still use Laser (Q) when the enemy is about to last hit so that they will miss the minion stats. Heat Seeking Missile (W) has a very long range but requires vision to be able to shoot, please note this to not miss any delicious opportunities. Use March of the Machines (E) often because it is a very good tool to farm minions.
Mid Game
Complete Bottle, Soul Ring and possibly Boots of Travel if green. At this point you need to use a combination of Bottle and Soul Ring to be able to push minions and push as quickly as possible, interspersed with ganks if necessary, otherwise just keep pushing and farming to complete. into fast Boots of Travel. After having "flying shoes", what you need to do is Teleport to a place where there are soldiers to farm or fight.
Launch skills or farm monsters, Rearm (R) + Charge the Bottle and Soul Ring to cast again. Cast the skill and then use Boots of Travel teleport back to the regen house to continue doing the same.
Late Game
When you have quite a lot of equipment, what you need to do is toss skills (in order and equipment available) like some of the following examples:
Blink -> Return the enemy to Ghost Form -> Laser (Q) + Heat Seeking Missile (W) + Dagon + Rearm (R) + Return to Ghost Form…
Blink -> Hex (when there is Scythe of Vyse) or Silence (when there is Orchid Malevolence) -> Similar combo…
March of the Machines (E) is now a very good tool to def, push or deal damage to AOE in total teamfights. Use them often after each Rearm (R). Control your energy intake to ensure that you always have it when you need it.