Lore & Bio
"The mist that chills you keeps me warm."
The Drow Ranger was given the name Traxex – a name suitable for short Drows. However, Traxex is not a Drow. Her parents were murdered by bandits during a journey, whose brutal carnage caught the attention of the Drows who lived peacefully nearby. After dealing with the robbers, the Drows discovered the girl was hidden under the carriage, and they agreed that they could not abandon her. Despite being only a child, Traxex demonstrated the natural talents of a Drow: Mystery, silence, and sophistication. Although her physique is completely different from that of the Drow, her soul is like a lost Drow genius who has returned. But gradually she became more and more mature, her height gradually became superior to her family members and so she considered herself an ugly Drow. Though she had smooth skin and a lean build, she was completely free of the warts and rough whiskers of the Drow. Feeling herself becoming more and more distant from the Clan, she separated from them and lived alone in the depths of the forest.
Many travelers passing through the forest often say that they met a very beautiful sniper who quietly watched them from the trees, then disappeared like a dream before they could. approach. Subtle and mysterious, cold and hot she moved like a still fog. And if you hear the whispers, it's her cold arrows tearing the wind to find the hearts of enemies.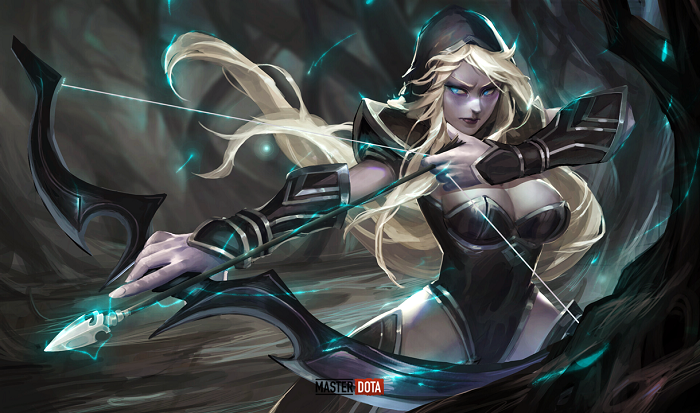 Attribute & Stats
Level: 0 1 15 25 30
Health: 200 560 1080 1700 1940
Health regen: +0.25 +2.05 +4.71 +7.81 +8.96
Mana: 75 255 483 795 903
Health regen: +0 +0.75 +1.73 +3.03 +3.48
Armor: 0 3.33 10.1 16.93 19.68
Damage Block: -
Magic Resistance: 25%
Status Resistance: 0%
Damage: 29‒36 49‒56 89‒96 130‒137 147‒154
Attack Rate: 0.59/s 0.71/s 0.94/s 1.19/s 1.28/s
Attack Range: 625 (800)
Attack Speed: 100 (1.7s BAT)
Attack Animation: 0.5+0.3
Projectile Speed: 1250
Movement Speed: 295
Turn Rate: 0.7
Collision Size: 24
Vision Range: 1800 • 800
Legs: 2
Gib Type: Default
Ability Upgrades:
Upgradable by Aghanim's Scepter.
Upgradable by Aghanim's Shard.
Abilities & Talents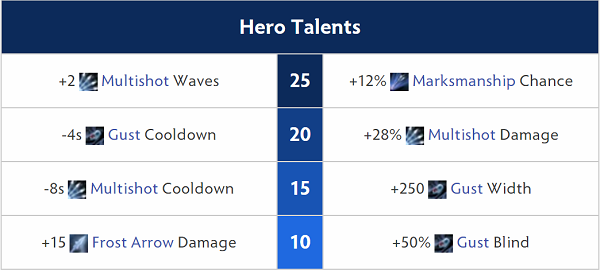 Skills building guide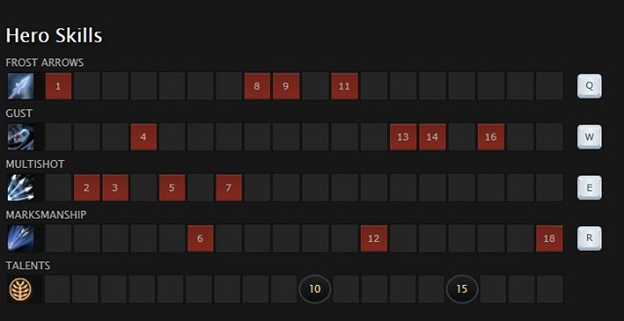 This is a popular skill increase for both ensuring the ability to chase, hold the opponent as well as the output damage of the DR, moreover with the addition of 1 Gust (W) at the first levels for DR. 1 bit of defense, blocking the enemy's muzzle and interrupting spell skills. Ultimate of course get the correct level.
Abilities
Frost Arrows
Consumption: 12 mana
Casting Range: 625
Effect: Allows DR's basic attacks to slow the opponent's movement speed
Duration: 1.5 seconds on enemy champions and 7 seconds on minions and monsters
Movement Speed Slow: 15%/30%/45%/60%
Note: this skill does not interact with items that have on-hit effects (lifesteal, slow, armor subtraction, ...)

Gust
Consumption: 90 mana
Cooldown: 13 seconds
Casting Range: 900
Effect: blows a blast of cold air in the specified direction, knocking back and silencing enemy targets hit
Silence duration: 3/4/5/6 seconds
Movement Speed Slow: 100%
Repulse Time: 0.6/0.7/0.8/0.9 seconds
Airflow Width: 250

Multishot
Arrow Count: 12
Arrow Base Damage Bonus: 85% / 110% / 135% / 160%
Arrow Slow Duration: 1.25 / 2 / 2.75 / 3.5
Arrow Range Multiplier: 2
Mana Cost: 50 / 70 / 90 / 110
Cooldown Time: 26 / 24 / 22 / 20
Effect: Drow fires a barrage of arrows in rapid succession, doing more damage and causing Frost Arrows to last longer. This effect might last up to 1.75 seconds.

Marksmanship
Effect: Increases DR Agility by 40/60/80 when there are no enemy champions near her.
Disable Radius: 400
Effective items guides
Early game

Boots of Speed
Boots of Speed: Drow Ranger gains a speed boost from Boots of Speed, which is useful for traveling around.

Magic Wand
Magic Wand: If the adversary uses a lot of spells, Magic Wand is an excellent choice since the burst heal might help her survive or win early bouts.
Mid game

Power Treads
Power Treads: Drow Ranger gains attack speed and other benefits from Power Treads.

Dragon Lance
Dragon Lance: The improved range allows Drow Ranger to quickly establish ideal placement, while the Dragon Lance delivers useful stats at a moderate cost. It also enables her to out-range towers and demolish them without putting herself in harm's way. Upgrades to Hurricane Pike later.

Shadow Blade
Shadow Blade: Drow Ranger benefits from Shadow Blade's mobility and stealth, allowing her to reach an optimal position for team battles. It also gives you a boost in attack speed and damage.
Late game

Butterfly
Butterfly: Butterfly gives Drow Ranger a lot of helpful agility. It's commonly chosen to aid Drow Ranger's defense against backline attackers.

Black King Bar
Black King Bar: If Drow Ranger is up against a team with a lot of disables, Black King Bar will provide her ample time to deliver at least some damage.
Situation items

Mask of Madness
Mask of Madness: Mask of Madness is an excellent source of lifesteal and may be used for farming. It also gives Drow Ranger a considerable increase in attack and movement speed, but at the cost of her being unable to utilize her Frost Arrows. It may be dismantled late in the game to make Satanic and/or Butterfly.

Silver Edge
Silver Edge: Silver Edge is a logical extension of Shadow Blade, giving useful stats and a break.

Diffusal Blade
Diffusal Blade: Diffusal Blade allows Drow Ranger to use Gust to ambush an opponent hero, then burn away their mana during the silent phase.

Aghanim's Scepter
Aghanim's Scepter: Drow Ranger's strikes are splintered by Aghanim's Scepter, striking two random troops near the original target. It's a poor improvement on its own, but when paired with many attack modifier items, it may allow Drow to wreak havoc on a huddled up opposing squad.

Mjollnir
Mjollnir: If you're intending to build Aghanim's, Mjollnir is a good choice because it speeds up her early farming ability and the secondary splinter shots can trigger Chain Lightning.

Satanic
Satanic: Drow Ranger gains a large amount of lifesteal for a brief period of time when she uses Satanic, allowing her to stand her ground and recoup nearly all of her health with just a few shots.

Manta Style
Manta Style: Drow Ranger gains mobility, stats, and the ability to dispel debuffs and create illusions with Manta Style. The item greatly enhances Drow Ranger's damage output, especially while sieging structures, because the illusions that spawn with it benefit from the Marksmanship agility advantage.

Eye of Skadi
Eye of Skadi: If you're facing speedy and/or tanky heroes late in the game, consider using an Eye of Skadi. It has helpful health and mana for sustaining Frost Arrows for longer, and the slow stacks with Frost Arrows, decreasing most opponents' movement speed to a minimum.
It also has the benefit of lowering health regen, which makes it extremely useful versus tanks. Pick up Aghanim's Shard to slow down your target's regeneration even further.

Monkey King Bar
Monkey King Bar: Monkey King Bar increases damage by a significant amount. It does not, however, give any defensive benefits, turning Drow Ranger into an even more dangerous glass cannon. Furthermore, Drow Ranger does not require it as a counter to evasive heroes, as she benefits from Marksmanship's accuracy.

Daedalus
Daedalus: Drow Ranger gains a critical strike chance from Daedalus, which works well with her attack speed and damage from her abilities, boosting her damage output.
Enemies & Allies
Allies

Juggernaut
Gust may be used by the Drow Ranger to drive Juggernaut back before he can perform Omnislash or Blade Fury.

Anti-Mage
Anti-abilities Mage's are ineffective against the Drow Ranger. Gust stops him from blinking in or out, Counterspell is completely worthless against Drow's physical damage, and Mana Break and Mana Void are ineffective against Drow's mana pool.
Anti-Mage will require heroes that can deal a lot of damage per second if they want to take down Heart of Tarrasque and Black King Bar.
However, because you have no natural weapons to escape from Anti-Mage, he may finally harvest enough to Blink on top of you and kill you right away.

Weaver
Weaver cannot escape with a well-timed Gust, and a silent Weaver typically dies swiftly.
Precision Aura can quickly eradicate The Swarm insects, or Shadow Blade / Silver Edge can neutralize it.

Mirana
Gust keeps Mirana from fleeing Leap and Moonlight Shadow before she can construct protective goods.
Mirana, on the other hand, can Leap or use Moonlight Shadow to bridge the gap and eliminate the Drow Ranger's Marksmanship boost.

Rubick
Rubick's lack of abilities and low health pool make him vulnerable to a well-timed Gust, which prevents him from firing Spell Steal skills.
With Manta Style, Drow Ranger may remove Fade Bolt's decrease debuff.
Counters

Faceless Void
Drow Ranger's Marksmanship bonus might be harmed by using Time Walk to close the gap between them.
Due to Drow Ranger's limited health pool, Faceless Void might use Chronosphere to shut her down before she can counterattack.

Tinker
Laser causes Drow Ranger to go blind, causing her to miss her high-damage strikes.
Tinker can outrange Drow Ranger and hit her in the backline of a teamfight with the Heat-Seeking Missile.

Arc Warden
Drow Ranger assaults from outside the field miss, forcing them to move within the field, nullifying their marksmanship.

Tusk
Drow Ranger is held down by snowballs and ice shards, preventing her from fleeing.
Tusk is also able to reach Drow Ranger and disable her Marksmanship boost thanks to Snowball. It might also be used to save allies who have been harmed by Gust.
Tusk may use Tag Team to slow her down and strike a fatal blow on her.
PUNCH Drow Ranger is slowed and is dealt a large amount of damage.

Axe
Drow Ranger is forced to assault Axe up close by Berserker's Call, which disables her Marksmanship perk.
With the Drow Ranger's great strike speed, Counter Helix happens more frequently.
Culling Blade is a deadly ability for a hero with little health, such as Drow Ranger.

Clockwerk
Clockwerk may narrow the distance on Drow Ranger by using Hookshot, which disables her Marksmanship bonus.
Drow Ranger is thwarted by Power Cogs and Battery Assault.
Drow Ranger is also kept nearby by Power Cogs and Battery Assault, which negates Marksmanship.

Chaos Knight
Drow Ranger's Marksmanship will be disabled by Reality Rift, but with Chaos Bolt, he can hold her imprisoned for long enough to be slain.
Drow Ranger struggles to cope with Phantasm's illusions since she lacks AoE damage.

Huskar
Huskar and Drow Ranger are closer together because of Life Break, which does a lot of damage and disables Marksmanship.
Huskar can beat Drow Ranger straight and pile on damage with Berserker's Blood and Burning Spear.

Lycan
Lycan can use Shapeshift to come close and impair Marksmanship.
Shapeshift also renders him resistant to slows like the Frost Arrows of the Drow Ranger.

Nyx Assassin
Impale, Mana Burn, Dagon, and the additional damage from Vendetta provide a lot of burst damage for Nyx Assassin. Drow Ranger will die as a result of all of this damage.
Nyx Assassin is typically undetectable because of his ability Vendetta, which allows him to quickly gank Drow Ranger.

Omniknight
Guardian Angel negates Drow Ranger's physical damage in team battles.

Phantom Lancer
Phantom Lancer may use Phantom Rush to swiftly bridge the distance between them and disable Marksmanship.
Juxtapose's illusions are difficult for Drow Ranger to deal with because she doesn't have any AoE damage.

Pudge
Meat Hook summons Drow Ranger, who disables Marksmanship and deals massive damage to Pudge.
Pudge is kept near to Drow Ranger by Rot, who constantly disables Marksmanship.

Razor
Drow Ranger's high attack damage is zapped by Static Link.
Razor is kept near to Drow Ranger by Plasma Field and Storm Surge, which keeps Marksmanship disabled.

Riki
Riki is brought near to Drow Ranger by Blink Strike, which disables Marksmanship.
Drow Ranger misses her assaults due to Smoke Screen.
Cloak and Dagger allows Riki to remain near to Drow Ranger while weakening Marksmanship.

Slark
Frost Arrows and Gust may be dispelled with a well-timed Dark Pact, allowing Slark to fight and flee easily.
Without giving Drow Ranger a time to counterattack, Shadow Dance allows Slark to rapidly cover the gap and do massive damage.
Pounce negates the slow Frost Arrows, allowing Slark to quickly pin or flee the Drow Ranger.
Items Counter

Blink Dagger
Blink Dagger: Heroes can cover the distance on Drow Ranger and nullify her Marksmanship with Blink Dagger.

Blade Mail
Blade Mail: Blade Mail returns Drow Ranger's damage, punishing her for her strong attack damage and attack speed.

Black King Bar
Black King Bar: Gust is kept silent by Black King Bar.

Heaven's Halberd
Heaven's Halberd: Drow Ranger gets disarmed by Heaven's Halberd, cutting off her only source of harm.

Manta Style
Manta Style: Gust's stillness is broken by Manta Style.

Eul's Scepter of Divinity
Eul's Scepter of Divinity: Gust's stillness is broken by Eul's Divinity Scepter.

Rod of Atos
Rod of Atos: The extended cast range of Rod of Atos makes gap-closing more easy.

Shadow Blade
Shadow Blade: Heroes may ambush Drow Ranger from close range with Shadow Blade. Precision Aura may be broken by its upgrade, Silver Edge.
Favorable Matchups

Visage
When Precision Aura is triggered, Summon Familiars do significant damage since they attack very quickly.
For maximum effect, get an Aghanim's Scepter and his +1 Familiar talent at level 25.
With the attack speed bonus from Grave Chill, Visage is a decent physical attacker.

Windranger
Early in the game, Focus Fire and Windrun are great for sieging highground.
If Drow Ranger and Windranger are both cores/carries, you'll need a robust third core to keep your lineup from being too squishy!

Vengeful Spirit
Having a large number of auras might help you boost your hero lineup. One such aura is the Vengeance Aura.
Has used Nether Swap to save Drow Ranger, ensuring her continued service to the squad.
When you max up Wave of Terror, your enemies have -6 armor, supercharging your strikes even further. It's very useful when doing.

Medusa
Precision Aura and Split Shot work nicely together.
In teamfights, Stone Gaze assists Drow Ranger with her Marksmanship damage.

Enigma
If adversaries jump Drow Ranger during a combat, Black Hole offers her plenty of time to reorient herself. Gust may then be used to further encircle any foes who have survived the Black Hole.

Clockwerk
Power Cogs may be used to lock down a target so that Drow Ranger can utilize her Marksmanship to deal damage to it.
Power Cogs can also be used defensively to keep an attacker from coming too near to Drow Ranger's Marksmanship and deactivating it. Even if the adversary has Black King Bar's spell immunity, Clockwerk can disable it with Hookshot long enough for Drow Ranger to draw distance and regain the Marksmanship bonus agility.
Rocket Flare has the ability to fly, which he, Drow Ranger, and his comrades may use to hunt down adversaries.
Game plan
Early game
The early game is when you should focus on farming, not being aggressive, you really don't have any defensive skills called high efficiency. DR's gameplay is quite boring at all stages, because other than "farm farm" with pushing turrets, DR's other abilities don't allow her to roam, gank or solo 1vs1 if there are too few items keep distance, farm safe, withdraw at the right time is what you need to do now. Wait until lv6, your ability to push lanes and farm minions will be improved by ultimate. You can use orb walk with Frost arrow (Q) skill to poke the enemy's health while lane.
Mid game
This stage is the period when you farm intensively (or farm compensating if the early game is a bit slow). Ask your teammates to fully ward, pay attention to the minimap farm for safety, or push the lane to take down the enemy turret. You should note that your ultimate will lose its effect immediately if there are enemy champions nearby, even if they are in stealth, so pay attention to your stats if it suddenly changes unusual (surely someone is stalking you).
In small clashes, you keep a relative distance, combine the use of Frost arrow (Q) or turn off and then turn on the MoM to shoot because these two things do not stack together. Gust (W) all those close to you and then back to shoot again or run quickly after that if you don't want to die.
Late game
This is the time when you need to follow the team, or farm near your teammates so that you can receive timely support or assistance. If you go to split push, ask your support team to fully ward to ensure life.
In total combat or home defense, you take a favorable position to shoot, it's best to Gust (W) whoever is closest to you come out and shoot, remember to turn on bkb if it's on armor and back out if it feels unsettled. Your job in combat is just shoot and shoot, Gust (W) when needed and turn on Frost arrow (Q) to shoot running targets, that's it.