Lore & Bio
"Purer than flesh, stronger than bone, imperishable is the essence of the wraith."
King Ostarion spent countless years constructing his empire from the remains of his adversaries. It was an obsessional task carried out to fill the length of a monarchy that looked destined to last forever. He thought that he could not pass away as long as he continued to erect the towers of his palace. However, he finally realized that his delusion—that the bone could die—was unfounded. Deeply distrusting of flesh, he looked for a more long-lasting means of extending his rule and finally decided to pursue wraith energy, a type of pure spirit released by some dark souls upon passing. He believed that if he infused himself with Wraith Essence, he could build a body that was as brilliant and immortal as his ego.He consented to a ritual of change on the millennium solstice known as Wraith-Night, ordering his minions to gather enough souls to support his desire for immortality. Nobody is aware of the exact number of his warriors who perished since the Wraith King, who rose with the sun the following morning, was the only important survivor. He no longer spends much time sitting on his glimmering throne, preferring instead to walk around with his sword drawn and demand allegiance that goes well beyond death.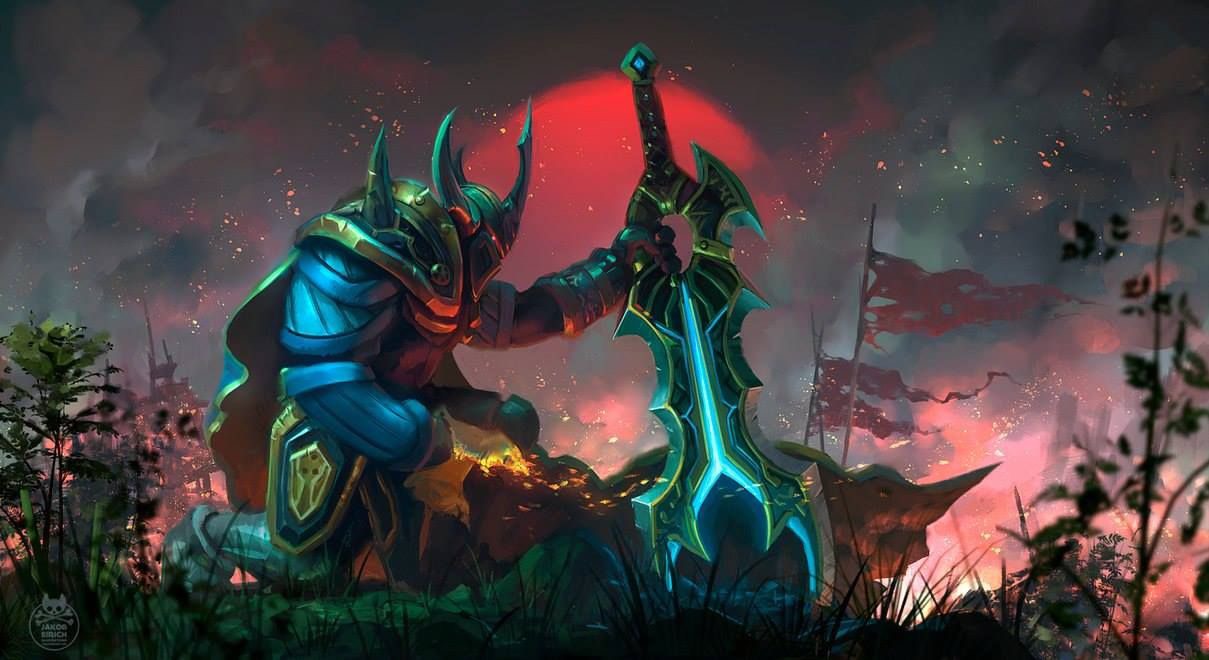 Attribute & Stats
Level: 0 1 15 25 30
Health: 200 640 1480 2320 2660
Health regen: +0.25 +2.45 +6.65 +10.85 +12.55
Mana: 75 291 555 891 1011
Mana regen: +0 +0.9 +2.02 +3.42 +3.92
Armor: -1 1.67 5.63 10.47 12.22
Damage Block: 16 (50%)
Magic Resistance: 25%
Status Resistance: 0%
Damage: 38‒40 60‒62 102‒104 144‒146 161‒163
Attack Rate: 0.59/s 0.68/s 0.82/s 0.99/s 1.05/s
Attack Range: 150 (600)
Attack Speed: 100 (1.7s BAT)
Attack Animation: 0.56+0.44
Projectile Speed: Instant.
Movement Speed: 315
Turn Rate: 0.6
Collision Size: 24
Vision Range: (G) 1800 • 800
Legs: 2
Gib Type: Ethereal.
Ability Upgrades:
Upgradable by Aghanim's Scepter - Reincarnation.

Upgradable by Aghanim's Shard - Reincarnation.
Abilities & Talents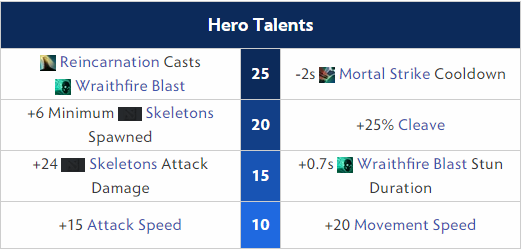 Skills building guide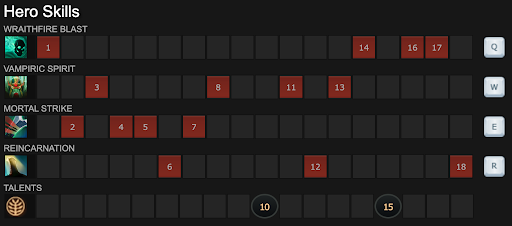 In general, your leveling priority of R>E>W>Q. Reincarnation can occasionally be bypassed until levels 8 or 9, but generally speaking, you should level it, especially if you face a high probability of passing away. The fundamental idea is that by maxing Mortal Strike, you increase your likelihood of dealing critical damage and gain access to skeletons, both of which are incredibly helpful for farming. Additionally, Vampiric Aura's additional damage and lifesteal give you the endurance needed for farming.
However, in general, you receive a point in it to battle for runes first, then max your damage and farming spells. If you have a fully free lane with no chance of killing anyone, you can even skip Wraithfire Blast.
Abilities

Wraithfire Blast
Cast Animation: 0.35+0.5
Cast Range: 525
Impact Damage: 60/80/100/120
Damage over Time: 20/40/60/80
Move Speed Slow: 20%
Debuff Duration: 2
Stun Duration: 1.1/1.4/1.7/2
Cooldown: 17/14/11/8
Mana cost: 95/110/125/140
Effect: With ghostly fire, Wraith King pierces an opponent unit, dealing damage and stunning the victim before dealing damage gradually and slowing it.

Vampiric Spirit
Cast Animation: 0.1+0.5
Lifesteal: 9%/16%/23%/30%
Charge Gain Radius: 1200
Skeletons Spawn Radius: 300
Max Skeleton Charges: 2/4/6/8
Skeleton Respawn Delay: 3
Skeleton Duration: 60
Cooldown: 50
Mana cost: 70/80/90/100
Effect: Depending on the harm the Wraith King causes when assaulting enemy units, restore health. Skeletons may be summoned by casting Vampiric Spirit. Vampiric Aura adds a skeleton charge for each two kills Wraith King or any unit under his control score against adversary troops. When killed, skeletons only reappear once.

Mortal Strike
Critical Damage: 150%/190%/230%/270%
Cooldown: 5.5/5/4.5/4
Effect: Wraith King has a passive ability that increases damage on attacks with cooldowns.

Reincarnation
Enemy Effect Radius: 900
Reincarnation Delay: 3
Enemy Move Speed Slow: 75%
Enemy Attack Speed Slow: 75
Enemy Slow Duration: 5
Cooldown: 200/130/60
Mana: 180
Effect: When the Wraith King is killed in battle, his body reassembles after death, enabling him to rise again. Enemy troops within a 900-meter radius will slow down after death.
Effective items guides
Early game

Magic Stick
Magic Stick: Can can mean the difference between a kill and a death. Usually, its active provides enough mana to keep Reincarnation going. As one can disable, use Magic Stick, and then reactivate it to buy enough time for it to offer the 500 additional HP, it also works in conjunction with the Armlet of Mordiggian toggle.

Boots of Speed
Boots of Speed: Give any hero a fantastic boost in speed.

Clarity
Clarity: Maintains mana while jungling, where hero damage is less likely to cancel it.
Mid game

Radiance
Radiance: Rushing this item after upgrading your boots will make Wraith King an incredibly quick farmer and it gives amazing teamfight presence, which is prolonged by his reincarnation. Skeleton charges are useful for stacking when taking out weak units, and during chases the AoE burn will also take out blink daggers on fleeing foes.

Magic Wand
Magic Wand: Provides a similar kind of advantage to the Magic Stick, but it also offers a few more features. It makes excellent use of the Iron Branches that were previously purchased, providing place for new goods.

Phase Boots
Phase Boots: Provides defense and damage to aid in lane conflict. Wraith King can stay on targets in battles even while Wraithfire blast is on cooldown thanks to his increased speed and phased movement.

Power Treads
Power Treads: If the treads are switched to intelligence before performing a spell, he gets attack speed and attribute switching to stretch his meager mana pool further.

Armlet of Mordiggian
Armlet of Mordiggian: Gives a lot of damage at a fair price, and Vampiric Aura and Reincarnation lessen the health loss. With Desolator, this item produces greater critical hits and heals with Mortal Strike and Vampiric Spirit.

Blink Dagger
Blink Dagger: Enables the Wraith King to move more freely, allowing him to fight and pursue targets more successfully and to flee after reincarnating.
Late game

Desolator
Desolator: Destroys armor, increasing the lifesteal of Vampiric Aura and the damage output of Wraith King and his skeletons.

Mjollnir
Mjollnir: Gives attack speed and effectively dispatches swarms of summoned or illusionary forces.

Assault Cuirass
Assault Cuirass: Helps Wraith King with his armor issues and increases his, his teammates', and his skeletons' damage output.

Black King Bar
Black King Bar: Provides the Wraith King with spell immunity, allowing him to withstand disables and mana breaks and continue to do damage.

Heart of Tarrasque
Heart of Tarrasque: Wraith King's excellent health pool and regeneration make him difficult to kill, and his ability to reincarnate prolongs his useful presence in battles.
Situation items

Blade Mail
Blade Mail: Gives him a respectable armor and damage boost while deterring his attackers from kiting and focusing on him.

Heaven's Halberd
Heaven's Halberd: Provides Wraith King the ability to disarm an opponent carry, cutting down their main source of damage output, and gives him strength, evasion, and status resistance to tank up.

Abyssal Blade
Abyssal Blade: When combined with Wraithfire Blast, Wraith King has a significant degree of lockdown potential, and the bash improves his ability to manfight.

Aghanim's Scepter
Aghanim's Scepter: Can ensure an ultimate cast or some additional damage for Wraith King and his allies, but its stats aren't much use to Wraith King.

Refresher Orb
Refresher Orb: Is highly situational because it allows him to utilize Reincarnation twice in a single battle, extending the duration of his damage output.

Divine Rapier
Divine Rapier: Combining this ability with Aegis of the Immortal and/or Refresher Orb will produce the best results; it deals damage that works in conjunction with Vampiric Aura and Mortal Strike and is not dropped if Reincarnation occurs.
Enemies & Allies
Allies

Bloodseeker
Wraith King's attacks deal substantially more damage when Bloodrage is active (Especially with Mortal Strike crits). This spell works exceptionally well with Wraith King because of his excellent tankiness and ability to survive death thanks to his ultimate.

Ogre Magi
If not stacked, Wraith King's Wraithfire Blast and Fireblast abilities can be utilized to disable a target for a very long time, allowing him to trade effectively during the laning phase.

The attack speed that Wraith King needs to deal greater damage is provided by bloodlust.
Counters

Anti-Mage
Unless Wraith King has his Aghanim's Shard, which reduces the mana cost from Reincarnation, Mana Break can prevent Wraith King from reincarnating.

Because illusions may also use Mana Break, his mana burning will triple when using Manta Style.

Broodmother
With the help of Spawn Spiderlings, Broodmother may quickly remove the skeletons left by the Wraith King and replace them with spiderlings.

Broodmother can stop Wraith King from reincarnating if he doesn't have his Aghanim's Shard by using Diffusal Blade.

Chaos Knight
Chaos Knight's illusions cannot be removed from Phantasm by Wraith King using an AoE attack.

If Wraith King reincarnation in the midst of his delusions, he will be extremely vulnerable.

Juggernaut
Wraithfire Blast is quite predictable, and quick-thinking players will separate it from Blade Fury.

Unless the Wraith King has his Aghanim's Shard, which reduces the mana cost from Reincarnation, Omnislash with Diffusal Blade and Aghanim's Scepter can prevent him from reincarnating.

Invoker
If the Wraith King does not have his Aghanim's Shard, the Invoker can use EMP to drain the Wraith King's mana and stop him from reincarnating.

Invoker still has a spell arsenal to contain Wraith King, including an easily put up Ice Wall, even if he survives and reincarnates.

To cleanse the region of skeletons, Tornado uses an area dispel.

Lion
Lion's Mana Drain assists in draining Wraith King's mana, preventing him from reincarnating unless he has his Aghanim's Shard, despite the fact that he is unable to combat Wraith King on his own.

Additionally, Wraith King is effectively locked down by Lion's Earth Spike and Hex, preventing it from reaping the benefits of Vampiric Spirit enhancements.

Monkey King
Trees from Tree Dance cannot be destroyed by Wraith King.

Monkey King frequently acquires the Diffusal Blade, which prevents Wraith King from being able to reincarnate unless he possesses his Aghanim's Shard.

The Wraith King is the perfect prey for Wukong's Command.

Phantom Lancer
Wraithfire Blast is disjointed by Doppelganger.

Since Wraith King only has a single-target disable, he struggles to defeat illusion-based heroes.

Phantom Lancer frequently receives Diffusal Blade, which prevents Wraith King from reincarnating.

Riki
Riki is a Diffusal Blade symbol by nature. It doesn't help that he is a Diffusal Blade carry and can approach you covertly thanks to Cloak and Dagger.

As you are reincarnating, Riki can use Smoke Screen on top of you, leaving you vulnerable to attack in your subsequent life. The blind also prohibits Wraith King from using Mortal Strike's critical hits.

Because Wraithfire Blast is very predictable, quick-thinking players can separate it from Tricks of the Trade.

He might possibly lose his visibility once more as the projectile moves, breaking it up.

Slark
If used at the right moment, Dark Pact can cancel the stun and slow of Wraithfire Blast.

Slark may maintain acquiring Essence Shift stacks, improving armor, damage, and attack speed, and can defeat Wraith King twice despite his high health and several lives.

Slark occasionally carries a diffusal blade, which she uses to burn mana in an effort to stop reincarnation.

Wraith King cannot perform AoE attacks, therefore Shadow Dance is a highly effective strategy against him.

Terrorblade
There is no AoE available for Wraith King to destroy Terrorblade's illusions.

A typical Manta Style and Diffusal Blade bearer is Terrorblade.

Due to Terrorblade's extremely strong armor, it can withstand physical damage from Wraith King.

If Terrorblade's health is low, Sunder will make an excellent target out of a resurrected Wraith King.

Weaver
After slaying the Wraith King once, Weaver is able to flee due to Shukuchi.

It is rather easy to predict Wraithfire Blast. Weaver will separate it from Shukuchi if he moves quickly and then start pursuing the Wraith King.

Shukuchi has a fade period. If you use it close next to them, they won't be able to separate it. If they used Shukuchi before the stun took effect, they would still become invisible even though they would be stunned and take damage.

Weaver's high base damage and Geminate Attack allow him to effortlessly harass Wraith King outside of his lane.

When Wraith King buys Aghanim's Shard to eliminate Reincarnation's manacost, Weaver can fast burn Wraith King's mana with his Mana Break or Diffusal Blade.
Items Counter

Diffusal Blade
Diffusal Blade: Until Wraith King picks up Aghanim's Shard, can fast burn Wraith King's mana, stopping him from Reincarnating.

Manta Style
Manta Style: Due to his single-target skills and immobility, he poses a challenge to Wraith King.

Book of the Dead
Book of the Dead: The Wraith King's mana can also be burned by summons, stopping him from reincarnating.

Scythe of Vyse
Scythe of Vyse: Allows Wraith King to get focused when defending for a full three seconds.

Spirit Vessel
Spirit Vessel: Hinders his ability to sustain his own lifesteal, making it more difficult for him to soak area damage.

Eye of Skadi
Eye of Skadi: When gained by a ranged-capable hero, it keeps him at a distance and lowers his lifesteal power.

Battle Fury
Battle Fury: Skeletons must be eliminated through area harm.

Heaven's Halberd
Heaven's Halberd: Permits the user to avoid and defeat the physical attacks of Wraith King when he engages in a pursuit.

Ghost Scepter
Ghost Scepter: Protects against physical strikes from the Wraith King, but isn't completely protected from magical damage from Wraithfire Blasts. Instead of being a last resort, it must be used as a counterattack.
Favorable Matchups

Bloodseeker
Rupture has no purpose while Reincarnation's cooldown is not in effect.

Bloodseeker cannot acquire Thirst bonuses while using Vampiric Spirit or Mortal Strike.

Doom
Even though he is doomed, Wraith King can still reincarnate when it is off-cooldown and use physical attacks to destroy Doom.

Legion Commander
Wraith King is a bad Duel opponent since, after being defeated the first time, he can be quite difficult to defeat because of his second life.

Legion Commander will still get the permanent victory damage increase even if she prevails in the duel when Reincarnation's cooldown has expired because taking out the Wraith King's first life still counts as a "kill."

Necrophos
Wraith King cannot be killed by Reaper's Scythe while Reincarnation is not on cooldown.

Vampiric Spirit can heal faster than Heartstopper Aura's slow DoT during the laning phase.

Rubick
The majority of the Wraith King's skills are passive, rendering Spell Steal useless.

This might also imply that the Wraith King will receive a stun spell if he uses Rubick's Spell Steal on him.

Physical strikes from the Wraith King can swiftly destroy Rubick's limited mobility and poor health reserve.

Techies
When he goes into mines with his Reincarnation prepared, Wraith King has no fear.

Witch Doctor
Within reasonable range, Wraithfire Blast dispels Death Ward.

While Reincarnation's cooldown is not active, Death Ward has no purpose.

Maledict's DoT can be outhealed by a vampire's aura.
Game plan
Early game ( 0:00 - 12:00)
Gaining experience and final hits are your key priorities in the early going. You'll be vulnerable to ranged adversaries who may harass you from a safe distance since you're a melee hero. But because you have a stun, you can usually kill most opposing heroes with the aid of your support. This will enhance your overall damage output and farming speed since you'll be maxing your Mortal Strike first. It's important to consider the damage from critical strike because it makes you hit incredibly hard and most opponents won't anticipate the amount of damage you'll deal.
The produced skeletons are useful for farming as well as for concentrating an enemy hero. When casting Wraithfire Blast, keep in mind that the skeletons will focus the target you choose, so you can choose a different adversary to focus. If they have enough vision, they can also be utilized to farm neutral camps or the lane while you're in another location. While Vampiric Aura will help you maintain your health, if you're continually being bothered, you'll need to spend gold to use your courier to receive extra regeneration. Avoid going overboard with regeneration because returning to base will cost you extra gold and experience.
Once you have your Ring of Health, you shouldn't be frightened to go jungling. It is the preferable option to choose if you can't get last hits in your lane. Additionally, do not be scared to change lanes because the offlane is safer and their tower has already been destroyed. Switch lanes with your teammates so they can continue fighting while you farm. They are stronger than you and you are simpler to harass.
Mid game (12:00 - 25:00)
You should keep your attention on farming while also assisting your squad as needed. One of the benefits of the Wraith King is his ability to travel, aid his team in battle, and have his skeletons continue to work as farmers. Try to make a rapid assessment of the fight's value; if you're certain it won't be one worth your time, it could be best to continue farming instead, as losing a fight and possibly getting killed is not ideal. Once you have Radiance, you will pose a serious threat to the adversaries.The Radiance will be more potent the earlier you obtain it. You can start harvesting much more quickly if you have Radiance, and you can already engage in combat more skillfully. Despite the fact that you'll feel and seem strong, be careful not to overdo it in battle. Even though you might appear unbeatable, in unfavorable circumstances, attackers might take you out and gain a lot of gold while also lessening your visibility on the map and farming time.
Late game (25:00-75:00)
When your team has won a battle, be sure to capitalize on the opponent heroes' downtime. If you want to help your team while the map is still open, destroy towers, kill Roshan, farm the enemy's neutral camps, and plant wards. By not wasting time and attempting to be as effective as you can, you should never return to farming your own jungle when you can defeat significant objectives.
Reincarnation can offer your squad extra time to get to you and assist before you are reincarnated, so keep that in mind if you get caught and killed. Try your best to run in the direction of your squad while dodging opponents to get to a place where you can meet your comrades. Even though you have a high damage output and are difficult to kill, your team's support makes you more powerful. It's also critical to be aware of how the enemy are using their mana, as doing so could render your Reincarnation utterly ineffective.